When you look at the expensive catcher's mitts, then All Star Pro CM3000SBT Mitt is one of them.
There is no doubt that this is a high-quality mitt, but, should you spend that much money on it?
Today, I'm going to share the review of All Star Pro CM3000SBT Catcher's Mitt. So that, you'll get an exact idea of what you can expect after spending that much money.
So, let's get started. F
All Star Pro Elite Catcher's Mitt Review
Features
Design
If you look at the design of this catcher's mitt, then believe me, it is one of the most stylish catcher's mitt that you can purchase.
Wilson a2000 Catcher's mitt is another high price mitt, but it is not as stylish as the All Star Pro Elite.
The yellow and black color looks nice along with the black laces.
Performance
The All Star Pro Catcher's Mitt is one of the best mitt on the market.
It has a deep pocket that helps you to catch a pitch very easily. Even after using it for a long time, it'll not lose its shape.
You can use it for years without any decrease in its performance.
After unboxing, you may find it a little stiff but as you know, you need to break in every glove. So, after catching some pitches you will love to use it.
Being lightweight is another plus point for this mitt, and it allows the users to catch pitches quickly and move their arms as they don't have to carry heavy gloves.
Ajustable Strap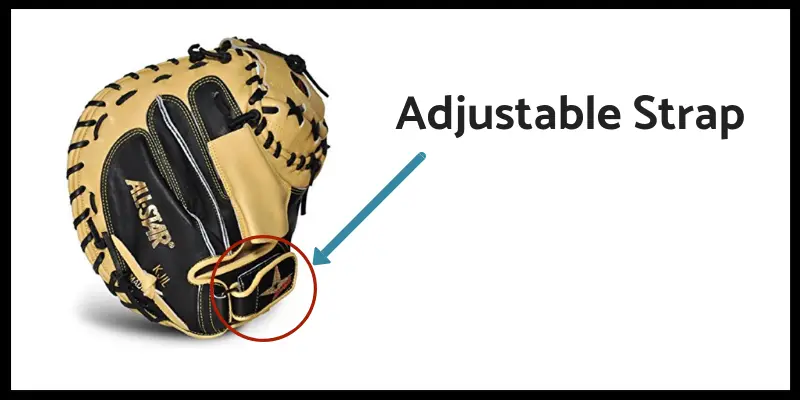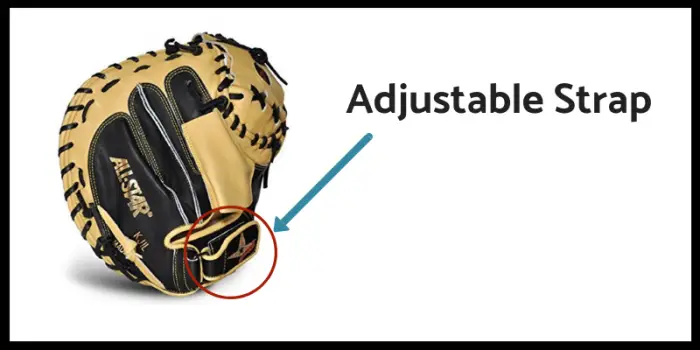 In the All Star Pro Catcher's Mitt, the adjustable strap is one of the features that you rarely find in other baseball gloves.
The adjustable strap is super helpful for all baseball players because the hands of every person are not exactly same. So, if you purchase a mitt by measuring your hand size, then it is possible that you feel like your mitt is slightly loose or tight.
In that case, adjustable strap becomes the most helpful feature a glove can offer.
There is no use of having a great glove, if you're not comfortable in it.
Many players find this common problem like if they purchase a 33.5 inches catcher's mitt, then it's slightly tight for them. While if they go with 34 or 34.5 inches mitt, then it'll be loose for them.
In that case, you can easily adjust the fitting of your catcher's mitt by using the adjustable strap.
See Price & Customer Reviews of All Star Pro Catcher's Mitt
Breaking In Time
How much time a glove or mitt will take in the breaking process depends on the leather quality.
The All Star Pro Elite Mitt is made with Japanese Tanned Steer Hide leather.
This mitt quickly breaks in, and doesn't take much time.
If you unbox a new All Star Mitt, you can easily do your hand movements in the new mitt. So, you can expect that, if you can control your hand movements within a new mitt, then obviously it'll not take much time to break in.
But, if you expect your mitt will be already broken in, then you're wrong. Whether you purchase a high-quality expensive mitt or cheap one, every mitt needs to broken in.
Leather Quality
Whether your catcher's mitt will last for many years or if it will be of no use, that depends on the quality of leather.
If your catcher's mitt is made with high-quality leather, then you can wear it for many years.
This All Star Pro Elite Catcher's Mitt is made with Japanese tanned steer hide leather. It is one of the best leather that glove manufacturers use.
With great leather quality, you can easily use this mitt for many years. So, if you're a high school or college baseball player, then it's a great choice for you.
Pocket Area
The pocket area is deep as required.
There is nothing much to discuss about the pocket area because it is appropriate for the players so they can easily catch the balls and the ball doesn't come out from the glove.
Watch this short video to learn how you can make a deeper pocket for your glove and mitt.
Webbing
It has a traditional half moon web style with cross laced web at the on the mitt. The laces are of high quality and they won't break as long as your catcher's mitt last.
Color Options
Currently, All Star Catcher's Mitt is available in two different colors.
The one is the original color that is black and yellowish green.
While the other color option is black.
Initially, there was no color option, you have to choose only the original color. But, now you have two options.
Size Options
This catcher's mitt is definitely available in different sizes.
But, when it comes to finding different sizes on online stores like Amazon, then you can find a lot of difficulty.
The 33 inches and 33.5 inches are the most popular sizes for the All Star Pro Elite Catcher's Mitt which are good for high school players.
Padding
The padding is really nice, and while catching the baseballs, you'll not feel shock on your hands.
The proper padding absorbs the force of the fast pitches, and helps you to easily catch them.
Price
This is definitely a high-price mitt. You have to pay much more than $50.
So, if you are looking for a baseball glove for less than $100 price, then this is not for you.
You have to pay 2 or 3 times more money to purchase it.
When it comes to price versus quality of this product, then I must say, this mitt deserves this price tag.
However, with this price tag, everyone can't buy it but if you can purchase it then it is definitely worth the price you'll pay. It is one of the top-rated catcher's gloves on the market.
After spending 3 times money on this mitt as compared to the average mitt, it'll last for many years and will give you a great performance.
Hand Made
Each All Star catcher's mitt is hand made.
There could be machine work, but all the major work is done my humans who are expert in their field, and helped in each process to make this great mitt.
Pros
Nice design with good use of colors
Adjustable strap
Proper amount of padding
High-quality leather
Easy to break in
Durable for many years
Fully Handmade
Two color options
Cons
Who Should Buy This Catcher's Mitt?
This baseball catcher's mitt is perfect for the baseball players who are currently in high school or college.
After buying this mitt, you do not have to buy another one for years. This is very durable that after buying it, you can wear it for many seasons.
But, for that you have to spend 2 to 3 times more money as compared to the cheap catcher's mitt.
You should also note that if your boy is young, 10 or 11 years old, then you should not buy it because in this age, children grow faster, and after two to three years, this catcher's mitt will be tight for him, and it'll be of no use.
The Final Verdict
The All Star Pro Elite Catcher's Mitt is one of the most trusted mitt available on the market.
Yes, it is costly, and you have to spend two to three times more money as compared to other average price mitts.
But, if you see the durability of this mitt, then you can understand that why these mitts are so costly.
The design and performance are great. They are easy to break in, and after breaking in, they'll be very comfortable. You can also read this article to learn more about breaking in gloves.
I hope that this All Star Pro CM3000SBT Mitt Review helped you to take the design of whether you should buy it or not.
If you have any questions, then feel free to let me know in the comments section.