*As an Amazon Associate I earn from qualifying purchases. I will get commission for purchases made through links in this post.*
Baseball caps are a staple in a casual and street fashion not only for baseball players and enthusiasts but pretty much for everyone. Men and women love to wear them because they look good and feel good as well.
Although it can be tricky to find the perfect cap, some baseball caps are indeed so comfortable that you wouldn't want to take it off.
Here's a list of the most comfortable baseball caps for men and women this 2021.
This article is to help you decide what to pay attention to if you are planning on adopting this trend.
Why Should You Buy Baseball Cap?
Besides being a baseball player and donning a baseball cap for the sheer purpose of protection against the sun, what else could be the reason for someone to buy a baseball cap?
The very obvious answer would be for the aesthetics of it and the fact that it is a great style statement. Besides its practical benefit of keeping the sun out of your peepers, you can match it with sunglasses to add to your style.
The concept of wearing a baseball cap fully took off around the 1900s and it became an important accessory in the game mostly to identify the teams. Soon after, the style picked up the pace and it didn't just stay confined to the diamond but to almost all wardrobes as essential casual comfort wear.
There is no hard and fast rule that you have to be a baseball player, you can just be a big-time fan and can even choose to wear a baseball cap in solidarity with the team you are supporting. It can as much be a choice of a non-player to wear a baseball cap as it can be a choice of an actual baseball player.
Best Baseball Caps in 2021
MLB '47 Clean Up Adjustable Hat, Adult
This is an imported adjustable hat with a strap-up closure. It does not come in various sizes. It is a garment-washed look for a softer appearance. It is made from 100% cotton twill.
It features a high-quality raised embroidered logo on the front. It promises a loose and relaxed fitting cap for a casual situation. The depth of the cap is good enough to cover even heads with dense long hair.
The cap does not take much time to break in and once it takes the shape of your head, it remains the same. It is an unstructured fit but does not look sloppy like other unstructured fitted caps do.
This cap gives you a worn and comfortable feel. It not only fits well on a woman's head but also looks good as well.
Falari Classic Baseball Cap 100% Cotton Soft
There are 33 different vibrant colors to choose from to match with any outfit of your choice. It is an excellent quality baseball cap that is made for both men and women. It is an unstructured cap with a soft crown, which is low fitting and styled 6 panels.
The material is 100% cotton and it is washable. It is lightweight which makes it comfortable to wear.
It is an adjustable hat with a plastic snap sizer to adjust the size and the hat has a half-moon size cut out behind its back. The bill of the cap is not too long, not too short, just the perfect size to protect your eyes from the sun. It is a good hat for such a reasonable price.
Under Armour Men's Blitzing 3.0 Cap
For one thing, it is Under Armour. The name is a big deal in itself. This cap is manufactured for guys only. It offers 16 color options to choose from. The material is polyester. It could be machine washed.
The UA Classic Fit features a pre-curved visor and a structured front panel backed with foam padding for extra added comfort. The cap retains the shape with a low profile fit.
The cap is made with micro thread fabric that uses re-engineered fibers which are specially designed to give superior stretch factor and also makes it breathable. The built-in HeatGear sweatband helps keep it cool and dry by wicking away all the sweat. It is built in a way so that it is comfortable to wear.
Rapid Dominance American Flag Baseball Cap
This hat comes in 26 different color options for you like. Made of 100% washed cotton, this hat comes in one size that fits most. There are stitched eyelets for ventilation and features a high-quality embroidery too. There is a brass buckle closure for the adjustability factor. It is a classic 6-panel cap that promises a relaxed and comfortable fit.
The bill is pre-curved. It is integrated with a cotton sweatband that keeps the scalp dry and cool.
Vintage Year Plain Two Tone Cotton Baseball Cap
This cap comes in 39 varied colors. It is a structured cap with a firm front and the style is a 6 panel low fitting. The front panel is seamless with full Buckram. The crown is pro stitched and there are 6 rows of stitching on the visor.
It has an adjustable snapback closure. It is designed in one size to fit most. The mesh back is 100% polyester while the front is 100% cotton.
Things to Consider Before Buying Baseball Caps
Even though it is a no-brainer, it still requires a bit of attention while you choose a baseball cap for yourself. You would want to mind a few necessary points before buying a baseball cap.
Fitting
The first and foremost thing is the fitting of the baseball cap around your head. It is no rocket science to choose a cap that fits well, all you have to pay attention to is if it sits comfortably above your ears and the bill rests in the middle of your forehead. The crown of your cap should also rest at the top of your head with a little space left between your head and the cap.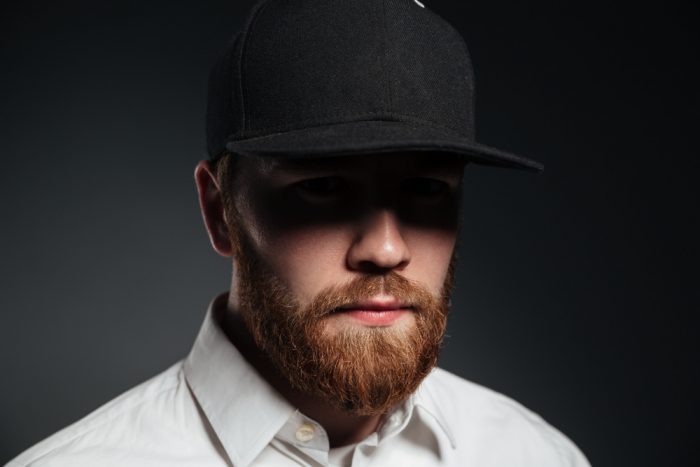 It is important that the cap fits you well so that it does not come off easily if a gush of wind blows over. If you are a player and you are in the middle of a game, it would be a distraction if the cap does not sit well and there is always a chance the cap might fall off. Also, it should be not so tight that it leaves a mark on your forehead or it feels uncomfortably snug.
You should always measure your dome and buy according to the measurement. The caps are available in sizes similar to the circumference of your head. They can be measured in inches. However, often there is room for adjustments.
Material Used
The material of the cap is another important pointer I wanted to bring to your notice. The material used in the making of the cap should be a breathable fabric. It should not make the head sweaty because excessive sweat and heat can cause damage to the scalp and hair health which could lead to serious fungal infections. There should be decent ventilation so that the air circulation is maintained.
Material like nylon is used in the crown area so as to add an extra feature of water resistance. Waterproof hats are always a show-stealer. Cotton, however, is the most preferred fabric as it works as a sweatband and is a breathable material. Regularly using it throughout the day can sometimes make it wrinkly.
Adjustability
There should be scope for your cap to be adjusted according to your preferred fitting. There are a variety of caps according to the adjustability type.
Fitted Hats
Fitted hats are usually the standard baseball caps which are made from 6 cloth triangles and like a cherry on top, there is a fabric-covered button called a squatchee.
Snapbacks
These are caps with a plastic snap that is used to adjust the diameter of the cap.
Strapbacks
Strapbacks are snapbacks with adjustable leather or polyblend. They do not have the plastic snap. The adjustable leather or polyblend functions as the adjustable mechanism.
Flexfit
Flexfits are made of poly-weave spandex that is stretchable and can fit according to the size of your dome. These usually come in just one size for all.
Trucker
Originally worn by truck drivers and farmers, these caps are breathable and are made with mesh and foam, and are usually snapbacks.
5 panel
A descendant of cycling caps, 5-panel caps are constructed differently than regular ball caps. The difference is that these are made of two top panels, two side panels, and one front panel when compared with the standard 6 triangle construction. The adjustability function is that of a strapback style.
Final Thoughts
In the end, it boils down to personal preference. I have tried my best to write unbiased reviews on the above-mentioned caps, the rest depends on the buyer.
When you first wear a baseball cap, the rule of the thumb is to frequently curve the bill to customize it according to your preferred shape. After a few uses, the cap is manipulated accordingly and retains its shape.