*I may get commissions for purchases made through links in this post.*
What if I told you finding the best baseball sunglasses is not as difficult as you think?
Sounds good, right!
When finding a perfect sports sunglasses, you need to consider a lot of things because you have to run a lot, quick movements, and everything should look crystal clear.
This is one ultimate guide that'll answer all your questions regarding sunglasses for playing baseball.
Do You Really Need Sunglasses for Playing Baseball?
If they exist, they do have a purpose!
Yes, you do need to wear sunglasses for playing baseball. It is in fact believed by many professionals that sunglasses can help in a win. The question is just about the right fit and a good pair of sunglasses can add as that extra helping hand in your game.
It's hard to keep your eyes focused on the ball against the bright sky while you are at a game of baseball. The sunglasses work as a protection shield for the eyes and prevent the harmful UV rays from penetrating. UV rays are cancerous plus can also affect the eyes in multiple ways, cataract being one such condition. Sunglasses also aid to better vision while playing.
Best Brands for Baseball Sunglasses
Under Armour
Under Armour is an athletic gear and apparel name that brings to us sunglasses which are pretty promising as the name of the brand itself. These are essentially durable glasses. Most of the lenses are polarized and are treated with an anti-scratch coating.
The 'multiflection' refers to a lens coating that prevents water or dirt from sticking to it. They manufacture glasses with adjustable nose pads and cushion hinges that make the glasses impact resistant. These glasses block 100% UVA, UVB and UVC rays.
Oakley Path Sunglasses
Extremely durable sunglasses that keep your vision unbothered as you play your game of baseball in the sun. It perfectly snugs around your face while you pace around the field. It wraps around your face with such firm grip that it leaves you with no worry of them falling off.
The lens provides UV protection and as well as optical precision. The lens is also coated with a permanent coating called Hydrophobic that protects the lens from sweat, rain or dirt.
Rawlings Youth Baseball Glasses
From batting gloves, mitts, pants, baseball gloves, and in this case; baseball & softball sunglasses, Rawlings have served baseball well. The lens is coated with UV protection that also works as anti-scratch and prevents sweat build-up in your lenses and guards them against anything moist or oily.
The padding on the bridge of the nose is very comfortable that prevents leaving marks on your nose. Rawlings is a trustable brand that is safe to invest in.
Franklin MLB Flip Up Glasses
Sponsored by the MLB itself, Franklin MLB Flip glasses are authentic and re the perfect catch for anyone who is a digger of authenticity. What marks them unique is their flip-up lens feature. This feature makes it easier to switch between a clear view and the shade of your glasses as change is just a flip away. However, these glasses are not polarized.
Nike
Donned with some of the best qualities that are available, Nike Show sunglasses count to be one of the best brands in manufacturing sunglasses. These glasses do not fog up as there is a well-ventilated nose bridge. The lens is not polarized but it does offer a precise and enhanced peripheral vision to the user nevertheless.
Easton Diamond Sunglasses
Easton is one of the most prestigious athletic brands that are available in baseball. Superior value baseball equipment is provided by Easton. These brand promises durability and delivers it.
The lenses are shatter resistant and they do stand by their words when it comes to scratch resistance. The lenses are hard to get scratched.
Easton is very particular in terms of comfort and the flexible, soft material installed near the nose and earpieces makes sure to keep it comfortable while you have them on.
Best Baseball Sunglasses for 2020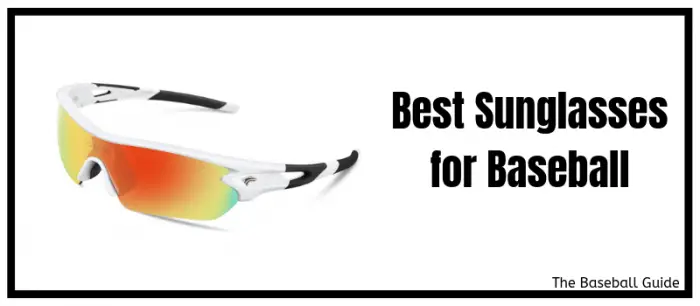 Oakley Flak 2.0 XL Sunglasses
These are polarized sunglasses that help you combat sharp glares. The Lens is HDO (High Definition Optics) and is interchangeable that let you prepare for any weather.
The glasses are equipped with nose and temple pads. Oakley Flak 2.0XL sunglasses are just the shining armor for the game you are going to play. The frame size is standard frame size. The 'XL' refers to the enhanced coverage High definition Optics lenses.
The lenses offer a curvature of 8.75 that optimizes every millimeter of your peripheral vision while protecting your eyes from the sun. These lenses are also impact-resistant. These glasses promise that your vision is never compromised. The hydrophilic Unobtanium temple detailing is soft and is the factor behind the increased grip.
They fit the face perfectly so that you can pace around without the fear of them falling off. Blocking the right amount of love, Oakley makes sure it's not too dark. Your eyes are not visible when you have them on as the lenses are black iridium coated and it gives a mirror-touch. The shape of the lens shape protects your eyes from side glare.
The frame is a sturdy one and it does support prescription glasses.
Fun Fact: Oakleys have been given over 540 patents for design, innovation and artistic style! Oakleys was after all specifically created for athletics.
RIVBOS Polarized Sports Sunglasses
The frame is made of High-Grade SWITZERLAND TR 90 material. It is Super Lightweight and durable. To appease that fashion buff in you, these glasses are stylish too. Now you can not only play safe but also make a unique style statement. The frame sits comfortably on your face wrapping around in a perfect snug.
To protect your eyes from harmful UV rays, these lenses come in TAC Polarized and Mirror Coated. The clarity that the lenses offer is impressive. It blocks out UVA, UVB and UVC rays providing 100% protection against sunlight and blue light up to 400nm. It restores true color by eliminating reflected light and scattered light and protect eyes perfectly.
The manufacturers guarantee on an unbreakable frame and lens. They can bend under pressure but won't break. There is a lifetime breakage warranty on frame & lens and are specially designed for fitness enthusiasts who work outside in the sun. They leave no marks on the bridge of your nose even if you wear them all day long.
This pair of glasses is a total value for money and more actually.
TOREGE Polarized Sports Sunglasses
All the lenses are treated with 100% UV400 protection coating. These lenses are built to block 100% harmful UVA and UVB rays. You won't have to compromise on clarity as it restores true color eliminating reflect light and scattered light. The black lens is the polarized one.
It has a rimless jacket frame design that enables a clear lower visual field. Talk about its durability, it is top notch while keeping it lightweight, the glasses are designed in a way to give you full protection from the sun yet making them look stylish. The lens and frame are made of polycarbonate which makes them impact resistant and scratch resistant. Torege sports glasses feel comfortable on your nose, thanks to its soft rubber nose pad.
What we all look for when we look for a pair of sunglasses is clarity, which is the basic requirement and trusts me when I say, these glasses provide great clarity. They do not fog up and for such a reasonable price, you end up owning 5 lenses. It's a big win already.
However, what can be a little bothersome is that they don't come with any instruction on how to change the lenses. That you have to figure it on your own. There is room for a lot of improvement nonetheless. The hinges could be a little better as they sometimes snap and the frame would go a long way it is more flexible.
Oakley Men's Radar Ev Shield Sunglasses
Oakley is the name that entices you to choose them. They are the front runners when it comes to incorporating technology in their products. Oakley is the ray Ban among non-designer sunglasses brands. Their dedication drives them to see beyond the conventions of industry standards.
This particular model of sunglass is built with a taller lens that extends the upper field of view. It also helps your ability to see the ball increases. It cushions on your nose making it comfortable for you to wear them all day long.
However, these are not polarized that can be a deal breaker for some. But the upside is the clarity of the lens is outstanding.
Rawlings Youth Ry107 Sport Baseball Sunglasses
This model is particularly designed for younger athletes. They offer ' shatter' and scratch-resistant mirror lenses. The lenses help prevent eye strain keeping your young one's eyes calm and improves vision in bright conditions.
The perfect grip it offers ensuring the glasses do not fall off and remain intact in place letting your young ones play a distraction-free match. The 2.0mmA polycarbonate lenses provide 100% UV protection.
Plus, the price being so reasonable, this pair s a definite win for the young baseball players.
Things to Consider Before Buying Baseball Sunglasses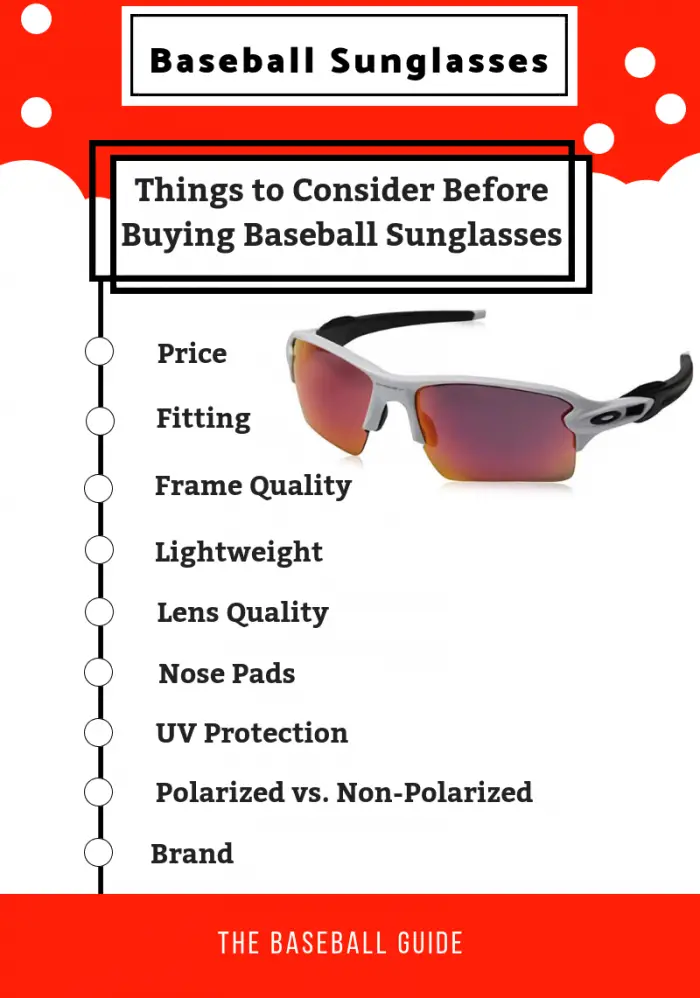 Price of baseball Sunglasses
The athletic baseball sunglasses can come in a wide range of prices. The higher the price, the better and more premier protection they promise.
However, just like any other equipment in your baseball kit, if you take proper care, your glasses can last really long. Generally, a pair of good quality athletic sunglasses are designed to last multiple seasons.
Do not go for the cheaper ones even if they are a few extra dollars less expensive, the idea is to save your eyes and give a better clarity so you can play well, therefore putting in a little extra would go a long way.
Perfect Fitting
Baseball sunglasses are different from your usual sunglasses. In fact, they are far from usual. These are specially designed sunglasses to fit your face into a perfect snug and so that while playing, the sunglasses stay put in place, wrapped around your face and you do not have to adjust them after every play.
The sunglasses should not be a distraction for you. Sunglasses with silicone nose and temple pads are what you should be looking for as this material creates a perfect grip on your skin and keeps the glasses secure, making them comfortable. These sunglasses come in various shapes and designs. You just need to choose what fits you the best.
Frame quality
The American National Standards Institute (ANSI), and the American Academy of Ophthalmology and the American Society of Ocular Trauma approves two standard rating system, they are by the American Society of Testing and Materials (ASTM), as well as the American National Standards Institute (ANSI).
It is very important to consider these two rating systems if you want to play by the rule of buying that perfect pair of sunglasses. ASTM F803and ANSI is the two respective standards.
ASTM F803
If you look at impact resistance, the pair of sunglasses meeting this standard is the safest option when it comes to impact resistance. This standard deals specifically with athletic eyewear.
ANSI
Sunglasses meeting this standard are certainly safer than other usual sunglasses. However, this standard deals with general safety eyewear but not specifically sports eyewear.
Field of vision is an important point to remember while choosing frame designs for your athletic sunglasses. To play to the maximum potential, you must be able to see the full field.
Usually, bulky arms or thick lens rim can compromise a full field of vision. Therefore, paying close attention to such details is important.
Lightweight
The material of the frame is another deciding factor when it comes to picking up eyewear that suits your need. Polycarbonate is most popular among players.
This material is light in weight and super durable and is built in a way to withstand impacts during a game of baseball.
You would not want a pair of sunglasses bogging you down with its weight on your face while playing a game of baseball.
You would want your glasses to enhance comfort while you pace around in the field. There are different materials available on the market but those are less durable and do not offer the same protection.
Lens Quality
Can you imagine a pair of sunglass without the lens? Sounds ridiculous right?
The function of a sunglass lies in the lenses and without good lenses; the whole purpose of wearing them in the first place is lost. The lens is what protects your eyes from the harmful UV rays. The lenses have a huge impact on the overall quality of your sunglasses.
It is the best when your lenses provide 99 to 100 percent of protection from UV rays. So, do make sure you have that piece of information prior to buying.
Lenses should also provide impact resistance to some amount. Lenses when made of polycarbonate and at least they are 3 millimeters thick, can meet the ASTM F803 standard.
There are lenses that are of a single shield(one lens) and there are lenses for sportswear(two lenses) and players can choose from either type.
Adjustable nose pads
Adjustable nose pads are the saviors for glasses with a bad fit. If your glasses have adjustable nose pads it's no less than a blessing as you can adjust your glasses to the perfect fit.
This feature helps the wearer to achieve a pantoscopic angle adjustment. Not only this but also they provide wearer-selected fit for a particular nose and face shape. Without these nose pads, most sunglasses leave a mark where they sit on their nose. They cushion the sunglasses on your nose keeping it comfortable.
Usually, most nose pads are made of silicone as it is generally the most comfortable material for nose pads. Silicone is flexible and soft and also molds according to the shape of the wearer's nose. These silicone made nose pads also prevent your glasses from sliding off your nose.
UV Protection
Another point to focus on while choosing your right pair of sunglasses is to look for 99 percent to 100% UV protection. The UV protection is important in your lenses as it blocks the harmful UV rays such as UVA, UVB and UVC rays from damaging your cornea.
Long time exposure to the sun can have an equally adverse effect on your eyes like it has on your skin. Excessive exposure can lead to inflammation of the cornea, in layman's term sunburn.
Your cornea is prone to sunburn and in order to protect your cornea and prevent your eyes from succumbing to other retinal damage and individuals from developing a cataract, Pterygia, and macular degeneration, it is necessary for individuals to wear sunglasses treated with coatings that block UV rays.
The UV protection is not present in all sunglasses. Even when they do, in the cheap ones the UV coating wears off eventually but there is a UV blocking film embedded in the lens of better quality UV lenses that do not wear off. Your clear lenses too can be treated with YV protection coatings.
Polarized vs. Non-Polarised glasses
Polarized glasses are sunglasses with polarized lenses. What makes them different from non-polarized lenses is that the former is treated with an anti-blur and anti-haze protection which keeps your vision clearer in the sun.
Light can come in a different orientation, polarized lenses filter out light in a horizontal orientation, horizontal light causes glares when reflected off a surface. Glares can range between mildly annoying to dangerous depending on the sensitivity of your eyes.
Polarized glasses are basically non-polarized glasses with an added bonus of anti-glare and anti-haze protection. Non-polarized glasses do provide protection from bright light and UV rays, however, they are not equipped to prevent glares.
Non-polarized glasses cannot help with the problem of glares but can surely help in blocking more light getting into your eyes. They do reduce the brightness of all kinds of light which helps the wearer to see without a hint of discomfort on a sunny day.
Polarized glasses are obviously recommended for players. However, whether or if one should wear polarized glasses are completely a choice of preference.
Final Words
To help combat the harsh sunbeams off of the sun, choosing a good pair of sunglasses with a good aerodynamic shape, lenses that clarify your vision while protecting you from the sun is very important.
Now, blindly picking one does no good to you, it is a must that you have proper knowledge of what you need to invest in. In the article above, I tried to review the best sunglasses and gave you a brief knowledge about baseball sunglasses in general.
When purchasing online, it is important to confirm that the sunglasses you are buying are completely authentic prior to purchase.
I hope this article was useful and will help you in picking your next pair of glasses.