*I may get commissions for purchases made through links in this post.*
What if I told you finding the best baseball sunglasses is not as difficult as you think?
Do you know that sunglasses are considered one of the most essential pieces of equipment for enhancing on-field performance?
Aside from making the ball easier to spot, it provides protection from the sun or stadium lights.
Not all sunglasses are made in the same manner, and we're here to tell you what lenses are best suited for baseball. We will cover what you need to look for in this guide and provide you examples of high-quality sunglasses that can boost your game.
So, let's get started!
Best Baseball Sunglasses for 2021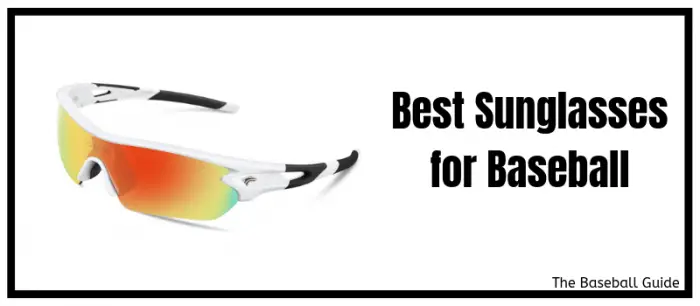 Under Armour Octane Sunglasses
The Octane sunglasses by Under Armour contain key features that make them the best baseball sunglasses. First off, these sunglasses are designed to deliver the most comfortable feel without compromising the fit and security needed by players when pitching, catching, or fielding on the mound.
The glasses feature a sporty 8-base and semi-rimless design allowing the glasses to sit comfortably on your head. It has UA AutoGrip self-articulating temples to conform to every head shape without being too tight and restrictive. The screwless cam-lock hinges enable the temples to quickly lock into place for a sturdy fit yet lightweight feel. It also has a multi-positioning nose pad for added security and customized fit.
When it comes to vision, the Octane sunglasses ensure that whatever there is on the mound, an enhanced, distortion-free, and edge-to-edge vision is provided to help you perform your best. These claims are made possible thanks to the Armoursight lens technology employed in the glasses. Aside from creating a maximum field of vision, it also protects the eyes from long-term sun damage caused by UVA/B/C. It also has Multiflection coatings that block intense sun rays as well as protect the glasses from scratches and smudges.
The Under Armour Octane Sunglasses is available in three colors. However, some stated that the glasses are not durable enough as they didn't hold up well and found that some minor pieces started to chip off.
Oakley Radar EV Path PRIZM Sunglasses
The Radar EV Path PRIZM Sunglasses showcase an expansive field of view for maximum vision when playing baseball that players love. It is engineered with a sleek modern style and advanced technologies utilized by Oakley to come up with the perfect sunglasses to meet all your needs on the mound.
The Path lenses work to expand the player's vision by extending the upper field of view making it easier for fielders to catch fly balls and high throws. Furthermore, the High Definition Optics delivers continuous clarity at every angle of view which is helpful when fielding.
The glasses feature Oakley HDPolarized lenses that filter out 99% of reflected glare without the blur and optical distortion. Another thing that makes these glasses great is the PRIZM lenses which are designed to enhance visibility by increasing contrast to help you pick up on the differences in textures with greater detail on the field and to track fly balls easier.
These lightweight sunglasses have surge ports placed on the temples to maximize airflow to keep you cool and comfortable and have Unobtainium ear socks and nose pads to ensure that the glasses stay in place despite perspiration.
You can get the Oakley Radar EV Path PRIZM Sunglasses in four different colors. It has Interchangeable Lenses that allow you to change lenses to optimize vision depending on the environment and weather. However, others mentioned that the temple arm is a little too long which makes the glasses quite uncomfortable and tends to move a lot even when slightly touched.
Rawlings Youth 103 Baseball Sunglasses
If you are looking for baseball sunglasses for youth players, then check out the Rawlings Youth 103 Baseball Sunglasses. It has the clarity and protection needed by players on the mound plus the stylish and modern look that younger athletes want.
These glasses are made with Polycarbonate 2.0 mm and 8 base and 10 base de-centered lenses to ensure durability and to resist impacts and scratches for longer-lasting glasses. The outer lenses have a hydrophobic coating to repel any moisture, oil, and dirt to prevent any distortion for a precise and crystal clear vision. It also offers 100% protection against harmful UVA and UVB to keep your eyes free from sun damages.
The glasses come with a rubberized finish for added comfort and have soft rubber nose pads and inserts to keep the glasses in place.
The Rawlings Youth 103 Baseball Sunglasses meet the CE standards to ensure the quality product for safer gameplay. It is also significantly cheaper which makes it suitable for high school players, however, others noticed that these glasses are not as durable.
Marucci MV108 Performance Sunglasses
The Marucci MV108 performance sunglasses are made specifically for on-field use with lenses produced by Carl Zeiss Vision. It is engineered to enhance clarity, improve visibility, and balance color perception to give you superior vision quality.
The Impacto lens technology is tested by Zeiss to ensure that the glasses can provide the highest level of eye protection for players. The glasses feature Ri-Pel polycarbonate lenses which are scratch-resistant and can repel oil, dirt, and water by easily wiping and cleaning it off from the lenses. It also utilizes TR90 sport-specific frame with rust-proof cam hinges allowing the glasses to have mobility as well as ensure that it stays in place.
These glasses have an adjustable rubberized nose piece for comfort and to prevent it from slipping off as well as custom rubberized earsocks for solid stability and grip inside the temples.
The Marucci MV108 Performance Sunglasses come in four different colors that you can choose from which are all highly efficient in providing high contrasting vision allowing you to see the field with crisper details and reduced sun glares. It is available in only one size that fits most head shapes and sizes, however, these glasses might be too big for younger players.
Oakley Radar EV Path Baseball Sunglasses
The Radar EV Path Baseball Sunglasses are another product from Oakley that features an expansive and taller profile with an extended upper field of view needed by baseball players when catching and fielding.
Moreover, it has Prizm lens technology that offers athletes enhanced color vision that enables them to differentiate textures and elements in the field and optimized contrast and detail to help the players gain a better judgment when it comes to the speed, power, and direction of the ball allowing them to respond faster and more accurately. The Plutonite lenses also offer 100% UVA, UVB, UVC protection, including harmful blue light to protect the eyes.
The glasses are constructed with an O Matter frame material known to deliver maximum durability with significantly reduced weight for all-day comfort and protection. The frame also includes an Oakley ellipse metal icon for added style and aesthetics.
It utilizes a three-point fit system to ensure that the glasses stay in precise optical alignment for a distraction-free fit and feel. However, like the other Oakley sunglasses, the Radar EV Path Baseball Sunglasses have long temple arms which can be uncomfortable and interfering especially if you're wearing a baseball helmet.
Things to Consider Before Buying Baseball Sunglasses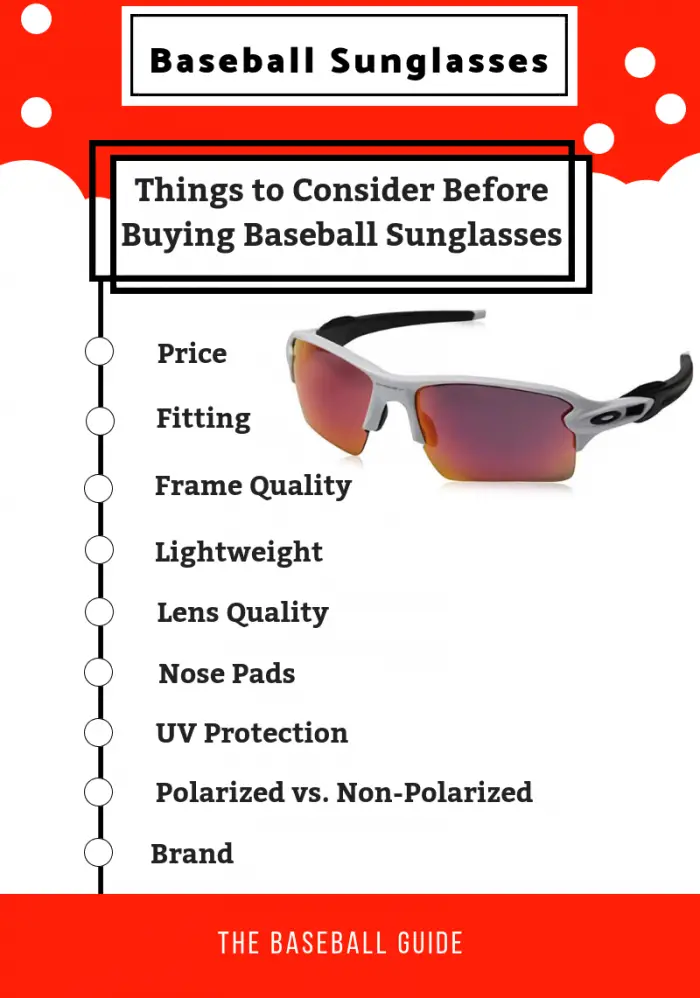 Price of baseball Sunglasses
The athletic baseball sunglasses can come in a wide range of prices. The higher the price, the better and more premier protection they promise.
However, just like any other equipment in your baseball kit, if you take proper care, your glasses can last really long.  Generally, a pair of good quality athletic sunglasses are designed to last multiple seasons.
Do not go for the cheaper ones even if they are a few extra dollars less expensive, the idea is to save your eyes and give a better clarity so you can play well, therefore putting in a little extra would go a long way.
Perfect Fitting
Baseball sunglasses are different from your usual sunglasses. In fact, they are far from usual. These are specially designed sunglasses to fit your face into a perfect snug and so that while playing, the sunglasses stay put in place, wrapped around your face and you do not have to adjust them after every play.
The sunglasses should not be a distraction for you. Sunglasses with silicone nose and temple pads are what you should be looking for as this material creates a perfect grip on your skin and keeps the glasses secure, making them comfortable. These sunglasses come in various shapes and designs.  You just need to choose what fits you the best.
Frame quality
The American National Standards Institute (ANSI), and the American Academy of Ophthalmology and the American Society of Ocular Trauma approves two standard rating system, they are by the American Society of Testing and Materials (ASTM), as well as the American National Standards Institute (ANSI).
It is very important to consider these two rating systems if you want to play by the rule of buying that perfect pair of sunglasses. ASTM F803and ANSI is the two respective standards.
ASTM F803
If you look at impact resistance, the pair of sunglasses meeting this standard is the safest option when it comes to impact resistance. This standard deals specifically with athletic eyewear.
ANSI
Sunglasses meeting this standard are certainly safer than other usual sunglasses. However, this standard deals with general safety eyewear but not specifically sports eyewear.
Field of vision is an important point to remember while choosing frame designs for your athletic sunglasses. To play to the maximum potential, you must be able to see the full field.
Usually, bulky arms or thick lens rim can compromise a full field of vision. Therefore, paying close attention to such details is important.
Lightweight
The material of the frame is another deciding factor when it comes to picking up eyewear that suits your need. Polycarbonate is most popular among players.
This material is light in weight and super durable and is built in a way to withstand impacts during a game of baseball.
You would not want a pair of sunglasses bogging you down with its weight on your face while playing a game of baseball.
You would want your glasses to enhance comfort while you pace around in the field. There are different materials available on the market but those are less durable and do not offer the same protection.
Lens Quality
Can you imagine a pair of sunglass without the lens? Sounds ridiculous right?
The function of a sunglass lies in the lenses and without good lenses; the whole purpose of wearing them in the first place is lost. The lens is what protects your eyes from the harmful UV rays. The lenses have a huge impact on the overall quality of your sunglasses.
It is the best when your lenses provide 99 to 100 percent of protection from UV rays. So, do make sure you have that piece of information prior to buying.
Lenses should also provide impact resistance to some amount. Lenses when made of polycarbonate and at least they are 3 millimeters thick, can meet the ASTM F803 standard.
There are lenses that are of a single shield(one lens) and there are lenses for sportswear(two lenses) and players can choose from either type.
Adjustable nose pads
Adjustable nose pads are the saviors for glasses with a bad fit. If your glasses have adjustable nose pads it's no less than a blessing as you can adjust your glasses to the perfect fit.
This feature helps the wearer to achieve a pantoscopic angle adjustment. Not only this but also they provide wearer-selected fit for a particular nose and face shape. Without these nose pads, most sunglasses leave a mark where they sit on their nose. They cushion the sunglasses on your nose keeping it comfortable.
Usually, most nose pads are made of silicone as it is generally the most comfortable material for nose pads. Silicone is flexible and soft and also molds according to the shape of the wearer's nose. These silicone made nose pads also prevent your glasses from sliding off your nose.
UV Protection
Another point to focus on while choosing your right pair of sunglasses is to look for 99 percent to 100% UV protection. The UV protection is important in your lenses as it blocks the harmful UV rays such as UVA, UVB and UVC rays from damaging your cornea.
Long time exposure to the sun can have an equally adverse effect on your eyes like it has on your skin.  Excessive exposure can lead to inflammation of the cornea, in layman's term sunburn.
Your cornea is prone to sunburn and in order to protect your cornea and prevent your eyes from succumbing to other retinal damage and individuals from developing a cataract, Pterygia, and macular degeneration, it is necessary for individuals to wear sunglasses treated with coatings that block UV rays.
The UV protection is not present in all sunglasses. Even when they do, in the cheap ones the UV coating wears off eventually but there is a UV blocking film embedded in the lens of better quality  UV lenses that do not wear off. Your clear lenses too can be treated with YV protection coatings.
Polarized vs. Non-Polarised glasses
Polarized glasses are sunglasses with polarized lenses. What makes them different from non-polarized lenses is that the former is treated with an anti-blur and anti-haze protection which keeps your vision clearer in the sun.
Light can come in a different orientation, polarized lenses filter out light in a horizontal orientation, horizontal light causes glares when reflected off a surface. Glares can range between mildly annoying to dangerous depending on the sensitivity of your eyes.
Polarized glasses are basically non-polarized glasses with an added bonus of anti-glare and anti-haze protection. Non-polarized glasses do provide protection from bright light and UV rays, however, they are not equipped to prevent glares.
Non-polarized glasses cannot help with the problem of glares but can surely help in blocking more light getting into your eyes. They do reduce the brightness of all kinds of light which helps the wearer to see without a hint of discomfort on a sunny day.
Polarized glasses are obviously recommended for players. However, whether or if one should wear polarized glasses are completely a choice of preference.
Final Words
To help combat the harsh sunbeams off of the sun, choosing a good pair of sunglasses with a good aerodynamic shape, lenses that clarify your vision while protecting you from the sun is very important.
Now, blindly picking one does no good to you, it is a must that you have proper knowledge of what you need to invest in. In the article above, I tried to review the best sunglasses and gave you a brief knowledge about baseball sunglasses in general.
When purchasing online, it is important to confirm that the sunglasses you are buying are completely authentic prior to purchase.
I hope this article was useful and will help you in picking your next pair of glasses.