*As an Amazon Associate I earn from qualifying purchases. I will get commission for purchases made through links in this post.*
Baseball and softball batting tees are among the most important tools for players to incorporate into their drills and practices. The best batting tee will take your practices to another level.
Practice is key to be skilled in anything. This is especially the case for baseball and softball.
However, the challenge arises when you have no one to practice with. Batters need someone to pitch for them but what happens if there are no available pitchers?
That's when batting tees come into the picture. The best batting tee will help the players develop their batting accuracy and swing control.
In this article, we have included the best batting tee this 2021 that you should buy.
My Personal Recommendation for Toddlers
If you're looking for a lightweight batting tee for kids from 1 to 10 years of age, then I highly recommend ToyVelt TBall Set.
This is perfect for toddlers if you want to introduce them to baseball. It is made from high-quality non-toxic materials that are safe for kids to play with.
The set includes nine oversized balls, an easy-to-handle thick bat, and a cool hang-on-the-wall design. You can also adjust the tee according to your kid's height.
It has a sturdy base that will not budge even with a few hits off the bat. Toddlers will surely enjoy playing with this.
My Personal Recommendation for Grown-Up Kids
For slightly big kids aged nine and up looking to improve their swings, I will recommend Tanner Tee – The Original. 
It is made from the original Pro-style batting tee with a hand-rolled FlexTop that allows you to feel the ball at contact, giving you a realistic hitting experience.
It has an adjustable metal stem that goes from 26 to 43 inches and a nine-inch rounded base that is weather-resistant. Also, it is easy to carry around to your batting practices because it is lightweight.
With Tanner Tee's popularity and good reviews on all their products, you can never go wrong choosing this.
Best Batting Tees in 2021
ATEC T3 Professional Batting Tee
Professionals use the ATEC T3 Professional Batting Tee but can also be used by all levels of players from T-ball to adult baseball players and is one of the best baseball tees out there.
It features a Hi.Per Composite Cone to minimize swing interference and maximize positive contact zone feedback. This way, the batting tee can have more resistance and the hitter gets more feedback in every swing.
It has a patented internal construction allowing the height of the tee to remain consistent by maximizing the friction between tiers. With this batting tee, you can practice different hitting contact points enabling you to master your accuracy by keeping the ball at a consistent spot.
In addition, the adjustment setting is there so you can easily manipulate the height of the batting tee that is anywhere within the strike point allowing you to practice with a variety of batting drills.
The CNC Aluminum tee stem maximizes performance and ensures durability. You are sure that it will last for a long time since it is precision-milled and weather-resistant.
The High-Density Base gives the batting tee stability while also ensuring its durability. You can also easily remove the base from the stem allowing you to easily transport it whenever you want. It also enables you to quickly assemble and disassemble it before and after baseball or softball practices with ease.
Even so, some think the base should be heavier and larger to have better stability as it tends to fall so they have to pick it up every time.
Tanner Heavy Premium Built Batting Tee
The Tanner Heavy Premium Built Batting Tee is the heavy version of the Tanner Tee the Original. It has a weighted "claw" that firmly maintains the tee in place swing after swing.
The uniquely designed base delivers solid footing, perfect balance, and maximum durability so you can keep your baseball practices going. You can use this for hitting on portable rubber home plates commonly found in batting cages and local training facilities. No need to worry about the batting tee tipping over whenever you miss hitting.
Moreover, it has a ten-pound heavy "claw" that provides three points of contact for extra grip on any hitting surface. It grasps on any surface for added stability.
This batting tee features Tanner's patented hand-rolled rubber FlexTop. This flexible yet strong rubber allows the bat to pass through the contact point with the least interference without harming your bat providing instant feedback with every hit.
It enables you to feel the ball not the tee at contact for the most realistic hitting experience during baseball practices.
The Tanner Heavy batting tee has a patented friction technology that provides a smooth and simple height adjustment so you can practice at any contact point. It also enables players of all ages to practice with it.
In any case, this batting tee can be difficult to move and transport since it is quite heavy so keep that in mind if you like to practice at different places.
Jugs T-Pro Style Batting Tee
If you're looking for a softball tee, then check out the Jugs T-Pro Style Batting Tee. You can adjust this batting tee from 24 inches to 46 inches ideal for slowpitch softball practices.
This wide adjustment range makes it great for practicing high- and low-tee drills. It allows you to practice a variety of contact points plus you can adjust it in seconds.
Aside from the height adjustment setting, the base measures a large 14 x 11 inches and has a thickness of ¼ inch. The durable steel construction guarantees maximum stability as you swing your bat.
Furthermore, the base covered with rubber and rounded edges protect the surface of the gym, your floor, or anywhere you use it.
This softball tee has an Always-feel-the-ball flexible top that enables you to feel the ball when hitting instead of the tee. This will also protect your bat in case you miss a hit.
It has an internal interlocking bolt design which ensures that the top stays in place and prevents the upper tee stem from slipping.
You can use this batting tee anywhere thanks to its Patented Grip-n-Go Handle that allows you to transport it easily. It also enables the tee to fit into most travel bags which makes it so convenient and portable.
Additionally, the Telescoping stem lets you unscrew the stem from the base so you can assemble and take it down for transport. However, a few mentioned that it takes quite a time when unscrewing it since it has a lot of layers.
Tanner Tee the Original Batting Tee
If you prefer the original and lighter baseball batting tee version of the Tanner Heavy, go for the Tanner Tee the Original.
You can adjust this batting tee from 26 to 43 inches perfect for baseball and softball. Adults and kids aging 9 and above can use this tee. This way, you can practice hitting different contact points from high to low points.
Moreover, it utilizes Tanner's patented friction technology which enables you to adjust the height smoothly and easily.
It also has a hand-rolled rubber FlexTop that allows you to feel the ball when hitting not the tee. The baseball or softball rests high on the tee so hitters can contact the correct strike zone of the ball to produce line drives without feeling the tee. This produces a game-like hitting experience when practicing.
The base is also designed to be rounded allowing you to safely transport and carry it in your travel bag.
As mentioned, Tanner Tee the Original Batting Tee is a lighter version of the Tanner Heavy which means it has less stability and weight so it has a greater tendency of tipping over when you're hitting. However, it is a better choice if you tend to carry it around.
SKLZ Pro Heavy-Duty Baseball and Softball Batting Tee
This batting tee can be adjusted from 24 inches to 48 inches in seconds. With this plenty of adjusting features, you can practice high, middle, and low contact points without the hassle. Simply adjust the height accordingly and you're good to go.
It has a removable 8-pound weighted base to ensure maximum stability. It enables you to hit the ball at full power without worrying about it falling over. This stable footing keeps the tee planted firmly on the ground.
Apart from that, it is also very easy to transport thanks to its snap-locking steel shaft. You can easily assemble and take it down so you can practice baseball or softball anywhere.
The stable base and low friction tee-top design enable the players to hit the ball more and less of the batting tee creating a game-like experience every time.
This patented low friction design enables you to do batting drills to focus on certain parts of your swing and hitting.
However, others pointed out that the SKLZ Pro Heavy-Duty Baseball and Softball Batting Tee is not as durable and is more suitable for 6-year-old players and up.
Things to consider before buying batting tees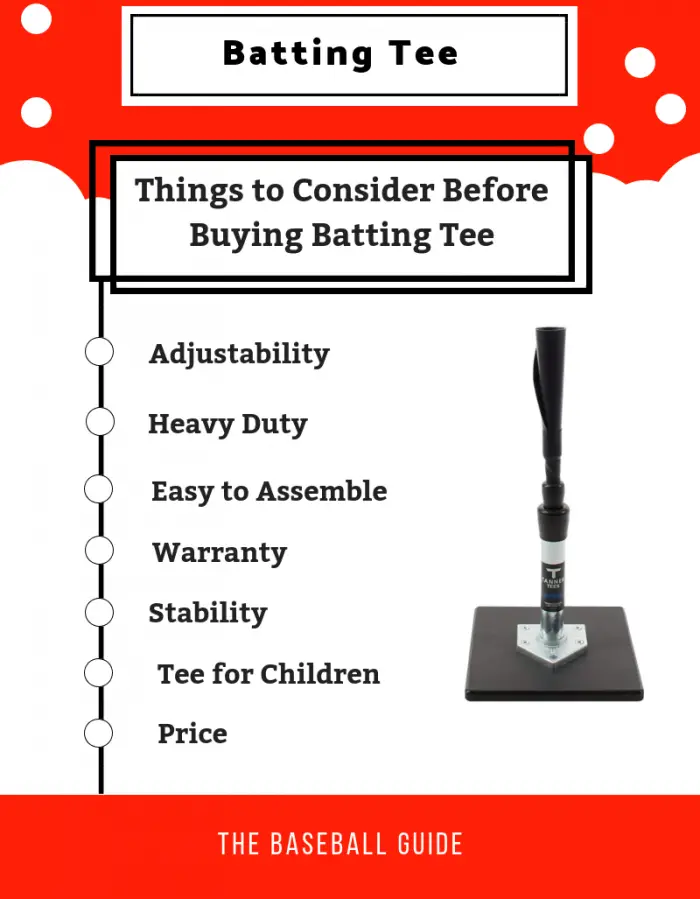 Adjustability
Adjustability is a major factor for a batting tee. The ability of the hitting tee to alter its height is very important as the tee should be usable for all contact points. While practicing swings at a fixed height help strengthen the swing motion, all pitches do not go down the middle. So, variety in the height allows the batter to practice all kinds of swing actions.
Thus, the player can swing the bat comfortably and cover the entire strike zone while playing in the field. Practicing swings with a batting tee with an adjustable length of the tube can also be useful to adapt for players of different heights. The tube length is adjustable between 20'' to 40'' on average for most tees.
Heavy-duty
It is an important aspect that is to be looked for while buying a baseball batting tee. While in general, a batting tee should withstand a huge number of hits before showing some damage, a heavy-duty tee is made of strong, steel or aluminum.
They should have a heavy base so they don't topple when hit. A strong and heavy base also ensures the ball is held stiff in place. The rubber at the top of the tee should also take a lot of hits before showing signs of damage. A heavy-duty tee is always good as the weight prevents it from toppling and being made of metal they don't break easily.
Easy to Assemble
Batting tees for baseball or softball are made of a rigid base and a tube with durable rubber on top to hold the ball. The tees are usually adjustable and can be taken out into smaller parts to help easier transport.
But not all batting tees can be broken down into small parts. A tee that can be assembled or broken down with just a screw motion is the best.
The removable base of the tee also comes in various forms which can be changed whenever required. The different bases are diamond flat base, tripod base, heavy weighted base, etc.
Expensive vs Rubber Batting Tees
A good hitting tee will have an adjustable metal tube to alter the height, a sturdy base, the holder made of composite or heavy-duty rubber.
The average cost of the best tees will be around $60. It should take a lot of hitting to show signs of damage. It usually takes months of practice to damage an expensive hitting tee.
A cheap rubber and plastic-made hitting tee are for very small kids trying to learn to bat. It is very cheap, but it is not suitable for a good practice session due to the inability to alter the height.
Being light, it topples a lot and is not so sturdy as a metal-made tee. The rubber holder also breaks after a few days of practice. It can be used for very light practice.
Warranty
For any product, the manufacturer's warranty is very important. A batting tee has so many parts that can be defective or damaged at times when it is delivered from the manufacturer. So, each manufacturer provides different warranties on each part and the warranty period is fixed by the manufacturer.
A 1-year warranty on all parts is the minimum requirement for a tee produced by a top manufacturer.
The warranty covers any defective part of the tee, in case of repairs the customer has to ship it back to the manufacturer.
On the other hand, it does not cover damage to the metal section caused by the swings, acceptable wear and tear caused by practice, and negligence of the user.
Stability
A good portable batting tee will have a sturdy base and a metal tube to add enough weight. The tee should not topple due to a few hits off the bat. It should not move or shake during the practice and thus a strong and heavy tee is to be used.
The base design of the tee is also associated with its stability. A light base with added extra weight to keep the tee in position is a cheap and the best solution for starters or amateurs.
A medium-weighted diamond base can provide the same sturdiness as a lightweight tee but is a little expensive.
A heavy tripod base has the best stability and can stay in one position throughout the practice session. It is very pricy but can be used by major league and pro players to practice swings.
Batting Tee for Children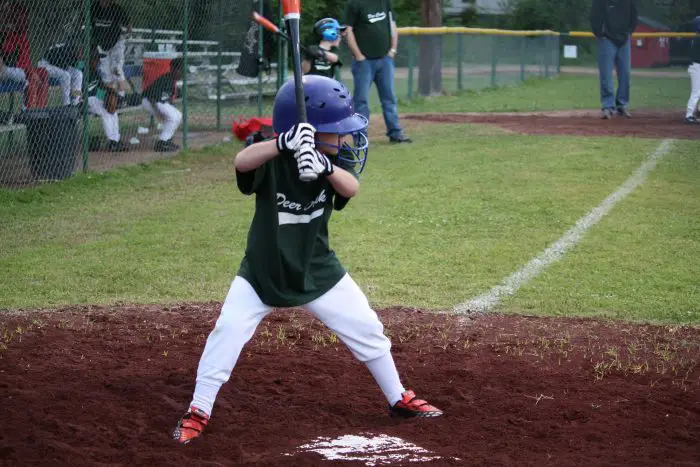 As much as adults get to play these games, kids love to play too. There are also very good quality baseball tee for toddlers available on many websites and also many retail stores. These come in different sizes.
It is very easy to choose one according to the height and age of the child. Usually, the ones made for very small kids are made of plastic. These are designed to take up very small space as they are usually used inside the house. These also come out in different colors.
The ones made for slightly elder children are more professional and are usually used to play outside.
Batting tees for 4-year-old children should be very easy to assemble.
You must choose something that is according to the height and age of the kid. It is important to select the right brand and the perfect tee and make sure the child is comfortable with it.
Price
These are available in various sizes and with different specifications and specialties. There are different batting tees for kids and for adults.
The price also differs according to the features and the brand. It is available in many price ranges. The average price of a high-quality batting tee is between $40 to $80. You just have to look for the features and buy what you need.
Final words
Batting tees are an important training aid as they allow the players to practice their batting skills without the need for a pitcher.
From beginner to professional players, kids to adults, men, and women, all players can benefit from a batting tee. This important training aid will help you be a better batter in no time so make sure to get one.
There are many options that you can choose out there. The products mentioned above are some of the best ones so make sure to check them out.