*I may get commissions for purchases made through links in this post.*
What if I told you finding a perfect batting tee is quite easy?
Before purchasing any batting tee, you should know a few things like the adjustable functionality, easy to assemble, the material used, and a few more.
In this article, I tried my best to provide one ultimate guide that will help you to find the best batting tee on the market.
Let's find it.
Best Baseball Batting Tees in 2019
Tanner Tee – The Original
I personally think that Tanner Tee – The Original is the best batting tee for kids on the market.
This tee features a patented tip design which is specifically made to make sure the player feels the ball when they have contact rather than the tee itself. This is one of the most expensive tees on the list but it is also one of those situations where you get what you pay for.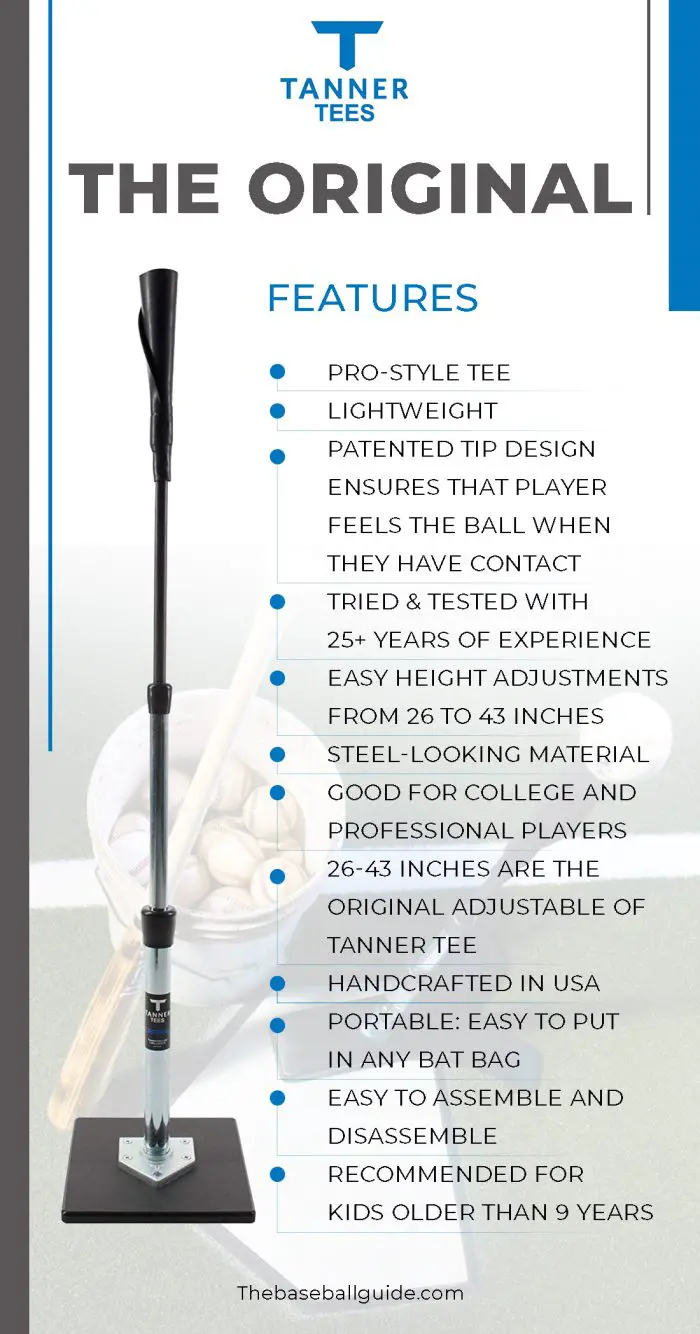 This tee is lightweight for easy travel and is also a pro-style tee. Its sturdy construction means it will continue to hold up after a thousand hits too. It is made from a steel-looking material and hence, it is not quite as durable as all the rubber tees would be.
This tee is comprised of two parts – the weather-resistant polymer base and the adjustable stem. It is highly recommended only for the youth or has to be at least nine years of age before using this tee. There are various size options and the tees are capable of placing the ball in any spot of the strike zone.
The Hitting Tee Original adjustable standard is 26-43 inches. Unlike other tees, this tee has got a hand-rolled top made from rubber which helps the hitter feel the ball instead of the tee.
This tee is probably the most popular one in the world today due to its ability to help the hitters of all types to learn how best is their mechanics.
These are most commonly used by professionals, college players, travel ball players, etc. Tanner Tee Original is and also has been the standard for the batting tees for more than 25 years.
It is one of the best tees of all time. If you want to know more about Tanner Tee, then you can read my in-depth review of Tanner Tee.
Little Tikes T-Ball Set
The Little Tikes T-Ball Set is the best starter kit for your toddlers while you introduce to the game of baseball. This includes an oversized bat, two oversized baseballs and a sturdy tee. This T ball set makes it easy for your kids to make contact with the ball and practice their swing.
This Tee ball set can help improve 4 years old coordination and motor skills. The oversized bat and ball which is lightweight make the makes the child lift them and take it to the backyard for practice.
Made of high-quality plastic, this tee is safe for kids to use. This t-ball set can be adjusted according to the height of your child. Little Tikes T-ball set has been the first choice of most of the parents as this keeps the kids occupied positively.
Franklin Sports Kids Batting Tee and Ball
This batting tee is designed specifically to help and adjust young tee ball players to practice their hitting as they continue to grow and improve. This batting tee sits on a plastic home plate and boasts a high impact post having a flexible PVC connector to prevent tipping.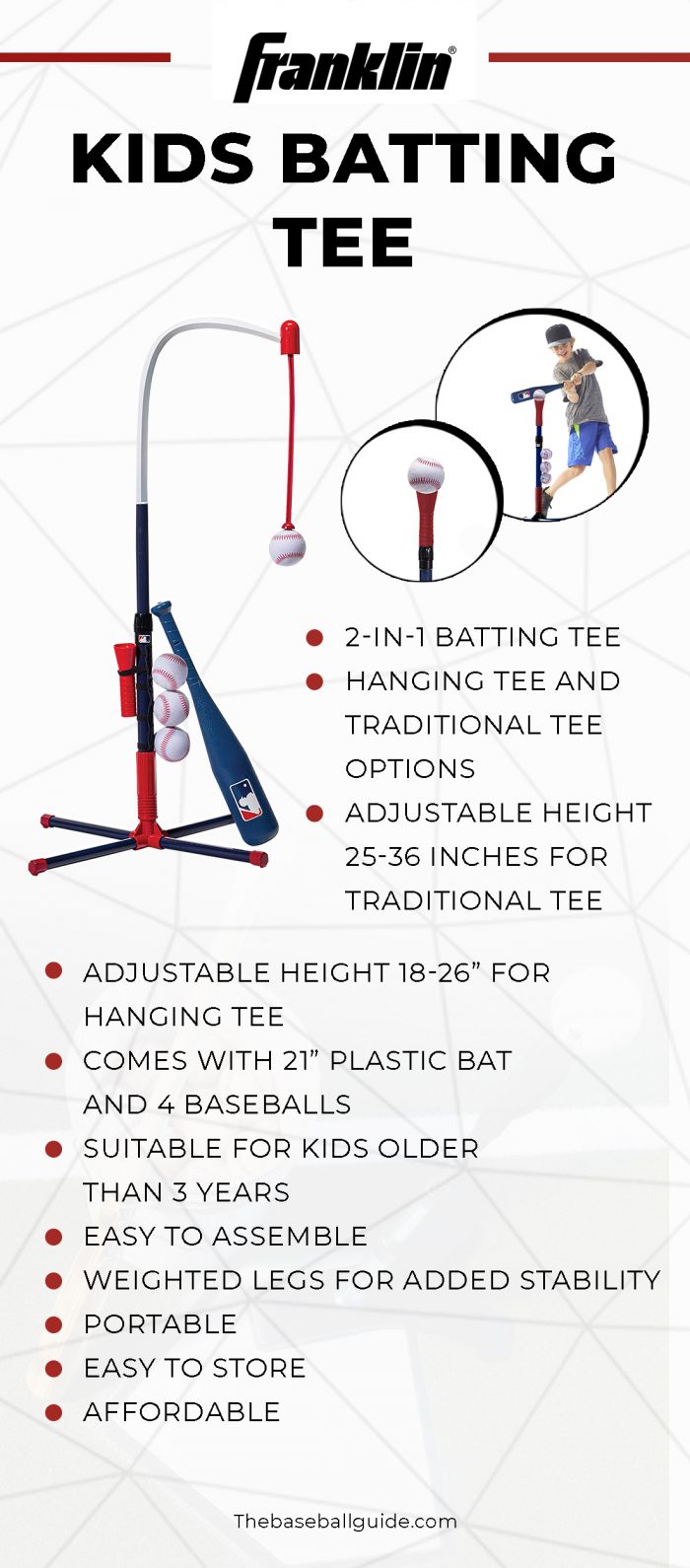 It helps to protect your swing and hand-eye coordination. The height adjusts from 22-36 and features a 360-degree full range locking post for the infinite hitting positions. It has a durable RUBBER-TEK plate with a steel support extender for additional stability.
This practice tee is designed 18-26'' for the youngest players from the ground by using the self-stick straps so that the young hitters can practice with their hand-eye coordination.
Once the player is familiar with the sports and starts to grow and improve, he can remove the hanging attachment to transform it into a traditional tee in seconds. This traditional tee adjusts from 25-36'' in height.
This set comes with the Grow-with-Me Tee, (1) 21-inch plastic bat and (4) baseballs with a self-stick cover.
Franklin Baseball tee was developed to allow batters to practice hitting middle, high, low, outside and inside the pitches. This innovative tee swivels and locks into position for full plate coverage.
Jugs T- Pro Style Batting Tee
This tee is adjustable from 24'' to 46'' by allowing the hitters to work on mechanics throughout the strike zone. This is an extremely durable pro-style tee. The base is constructed by using steel and later covered with rubber.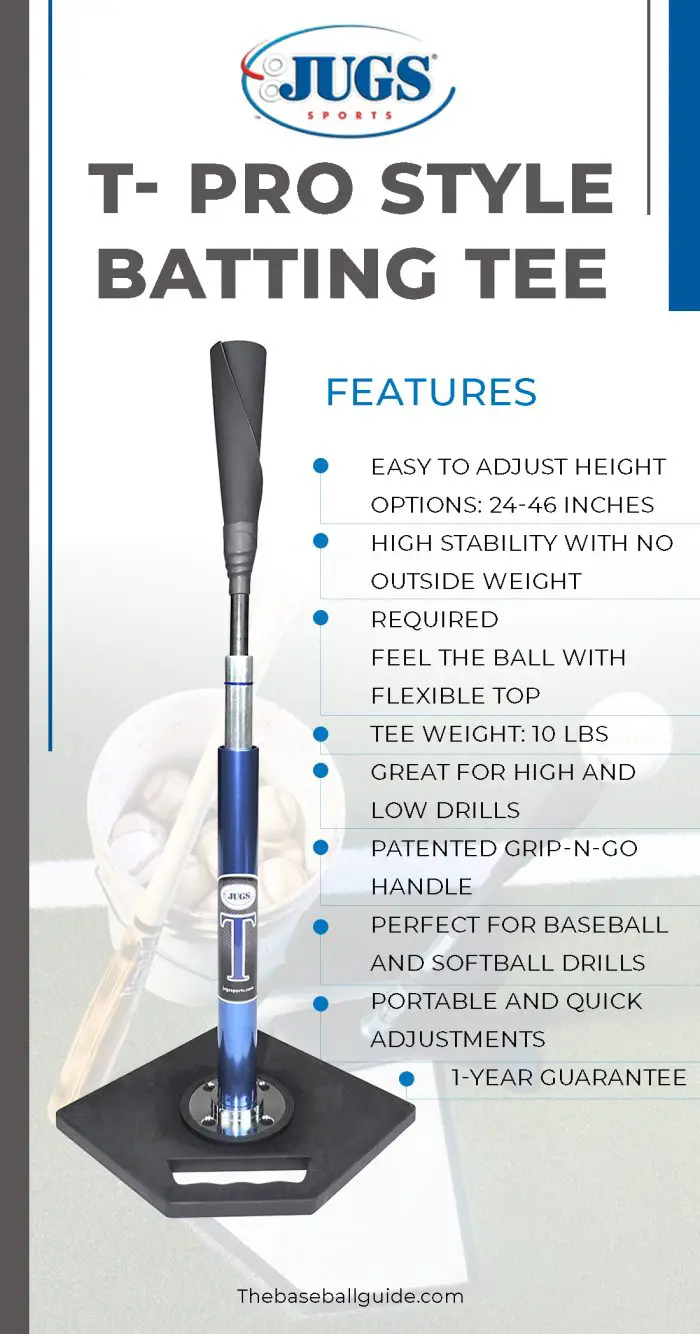 This lends to the tee weighing in at a stable 10 pounds. It includes a patented grip-n-go handle on the base for easy transport.
Something best with this tee is that it folds into itself which makes it more portable than many of the tees out there. The telescoping stem can be unscrewed from the base for better storage.
This tee has the stability, durability and the ability to be carried easily and can also be used without an extra weight added to it. This also has a helix-like hand-rolled top which allows the ball to be hit more constantly every time.
JUGS patents the interlocking bolt design which prevents the slippage of the upper system. This tee is highly suggested for the older players with better technique. It has the longest guarantee and the lowest price with all the features for a pro-style tee.
Jugs T is well-known for its long time in the world of pitching machines. They are the #1 selling pitching machine companies in the world. Jugs T seems similar to Tanner Tee. The claim of the Jugs T is that with the total weight of 10lbs, there are no additional accessories required to keep the tee on the ground and not tip over.
Rukket Baseball/Softball Batting Tee
The longest tripod feet provide a sturdy base that won't fall over on an errant swing. This is specially while used with the included ground stakes. Rukket is a solid piece of equipment and will easily outperform much better than your expectations.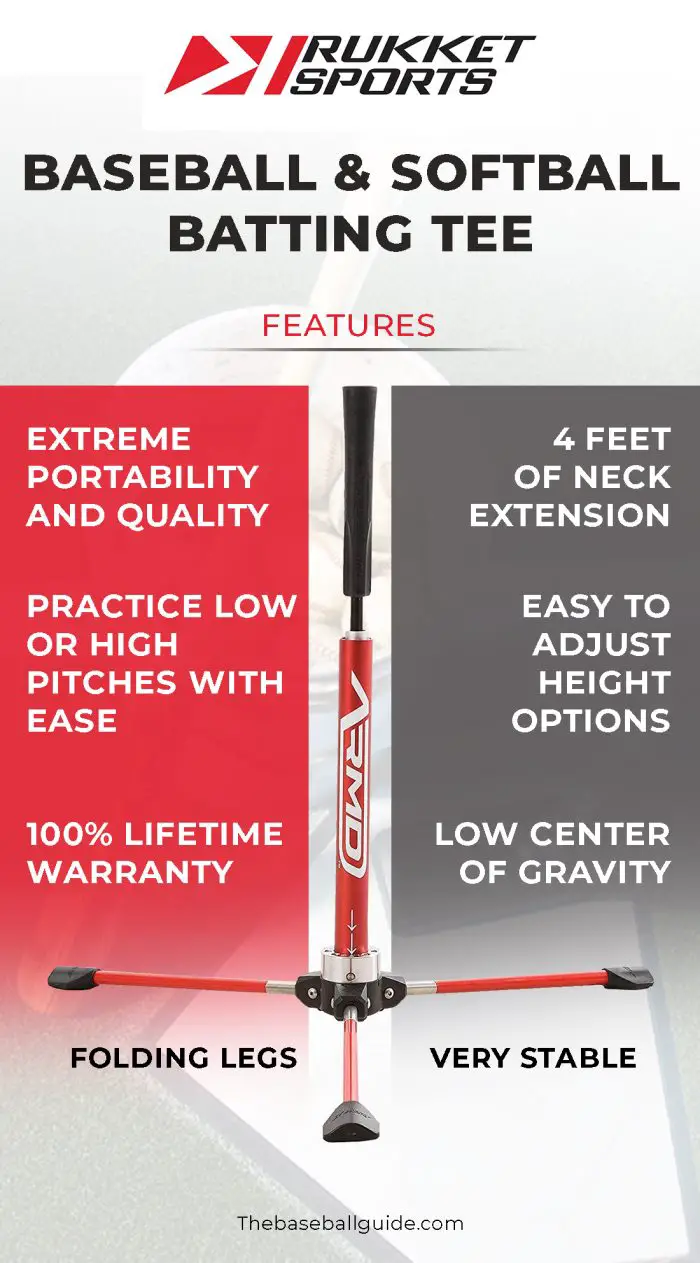 This tee can be extended all the way to 4 feet off the ground. You can place the tee at any height for any age groups or you can also practice low or high pitches in the box. It is designed to travel the size portability that makes it easy to pack and put in a car to travel with.
The heavy-duty stainless steel bearing keeps the center of gravity low to the ground so that you need not bend over to pick up a knocked over tee often. The locking mechanism keeps the softball tee in place while you use it and separates easily while the practice is over.
This Baseball/Softball batting tee is rated amongst the best and the loved of all the tees. This is due to its style, design and how the same can be used. Rukket batting tee serves as an individual or a team's training equipment.
It is the only tee on the market which can be maneuvered all-around home plate without touching the base itself in order to keep it level.
This will surely be the last tee you will ever need and will also be the perfect tool for all ages and the skill levels. This is also the most portable tee on the market as this can be disassembled in seconds and put into a durable carry bag.
All you need to do is just flip the stand over and lock back in, bend the legs up and you are stored away and ready to go.
Champion Sports Deluxe Batting Tee
This tee comes with two adjustable ball holders which extend from 20'' to 36''. The 17'' home plate allows customizing the baseball equipment into 5 different batting sections. This comes additionally with a reinforced steel handle for hassle-free transport.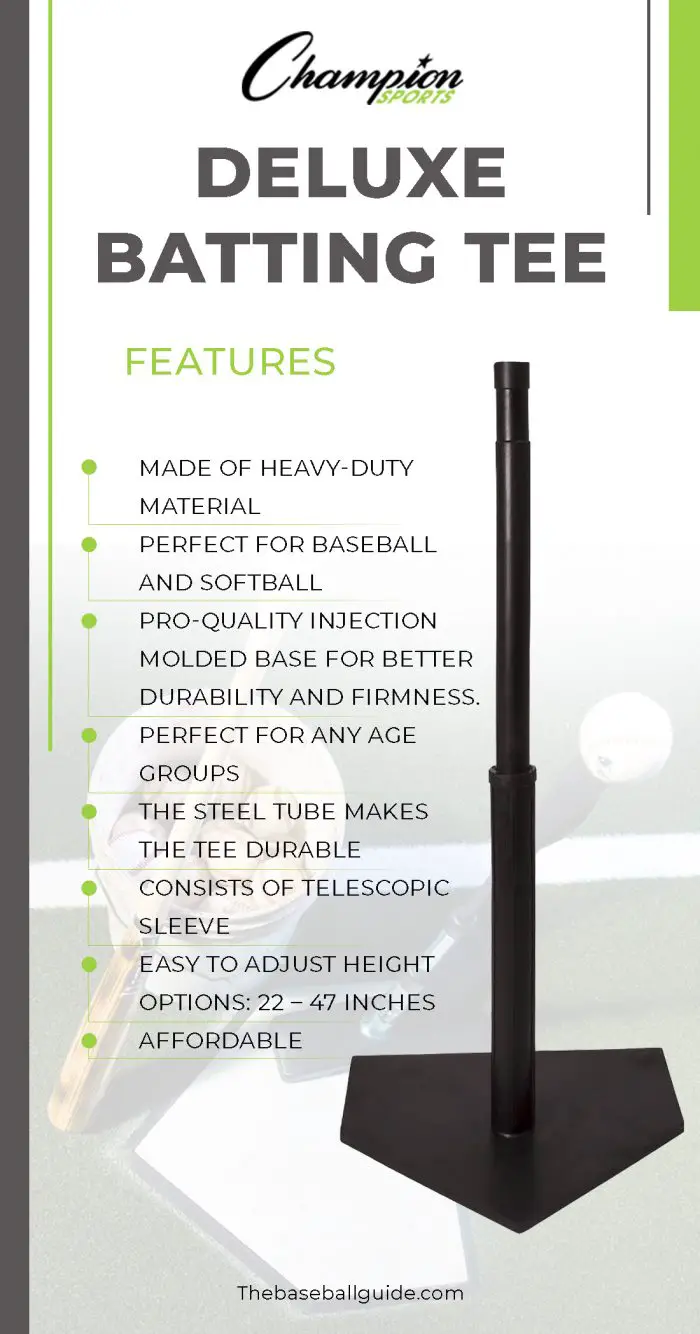 This tee is designed as a great training aid for batters. Having a telescopic sleeve, this batter's tee adjusts from 20 to 36'' depending on the player's height and can also be practiced hitting balls from different angles and heights.
The steel tube makes this tee durable against the wild swings ensures to remain stable after the consistent use. The deluxe tee is built with a steel tube for excellent stability while you set up and knock the softballs deep into the fields.
The tee also includes an official rubber home plate that works as a training aid and also as a plate for tee-ball games. This is the perfect training aid for the players looking to improve the swing style accuracy and speed.
Whether you are a young athlete just starting to learn the sport or the league player, this Champion Sports Deluxe Batting Tee will assist and train you on hitting better and more accurately.
This softball/baseball equipment is made of heavy-duty and is equipped with a pro-quality injection molded base for better stability and durability.
This tee is perfect for any batting practice players for any age group. Whether you are a young athlete just starting to learn the sports, or a major league player, this Champion Sports Deluxe Batting Tee will definitely be the one you were in search of!
McHom Baseball & Softball Batting Tee
McHom tee is stable and durable and this will help you condition repeat muscle memory training with eye-hand coordination and bat swing. The height can be adjusted from 27.5'' to 44'' to accommodate your stance.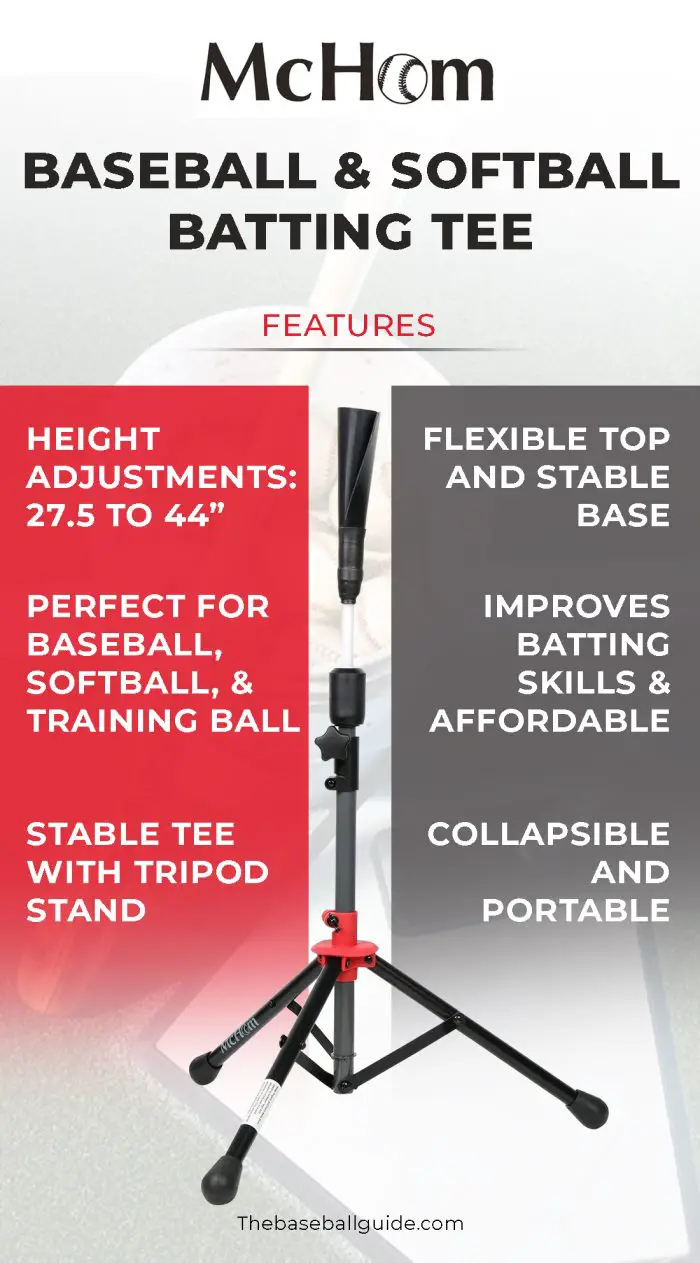 Having a practice net, you can pitch and hit from the comfort of your home. It has a 7' x 7' softball and baseball net and as such, you can spend less time chasing the balls and more time in improving your skills.
Having a stability base, the stability of the tripod base helps upright even during the most inaccurate swings.
The net can be packed in a bag for easy transportation and storage which weighs 18.4 lbs. This net is the perfect one for all indoor and outdoor use. This assembles with no tools in minutes by allowing you to practice anytime and anywhere.
The rubber top is flexible to hold all your hits and also the mis-hits so the tee stays in place even during the bad hits. It can fold up for better and easy storage. Throw this in your gear bag and it will very less space as the bat.
The 3 weighted training balls and the collapsible tee helps to improve the power of your swings. The strike zone will provide you with the target to improve the accuracy of pitching. This is perfect for players of different ages and also helps to adjust your batting angles.
Things to consider before buying batting tees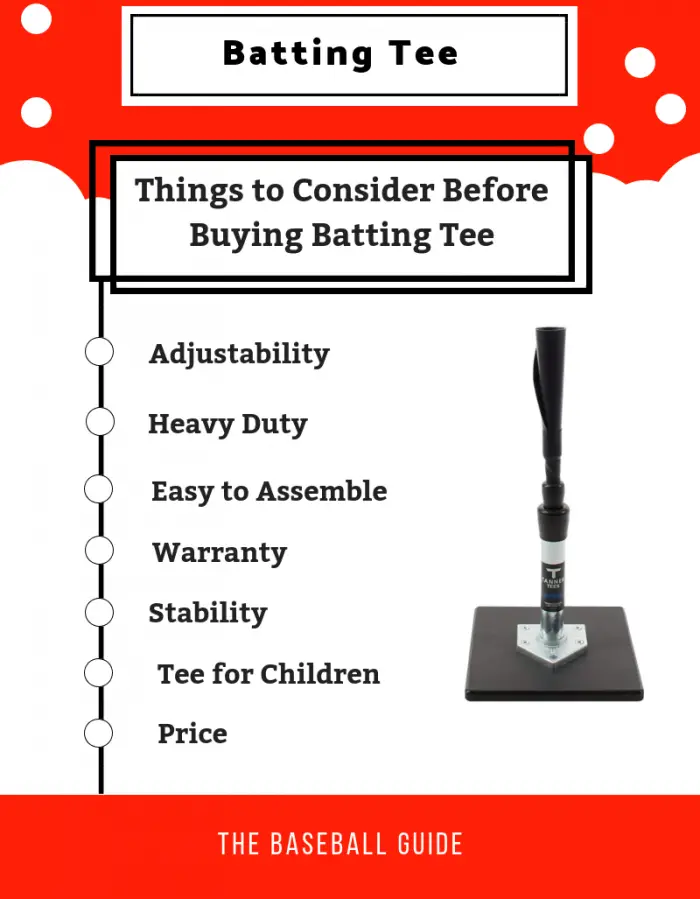 Adjustable batting tee
Adjustability is a major factor for a batting tee. The ability of the hitting tee to alter its height is very important as the tee should be usable for all contact points. While practicing swings at a fixed height help strengthen the swing motion, all pitches do not go down the middle. So, variety in the height allows the batter to practice all kinds of swing actions.
Thus, the player can swing the bat comfortably and cover the entire strike zone while playing in the field. Practicing swings with a batting tee with adjustable length of the tube can also be useful to adapt for players of different heights. The tube length is adjustable between 20'' to 40'' on an average for most tees.
Heavy duty
It is an important aspect that is to be looked for while buying a baseball batting tee. While in general, a batting tee should withstand a huge number of hits before showing some damage, a heavy-duty tee is made of strong, steel or aluminum.
They should have a heavy base so they don't topple when hit. A strong and heavy base also ensures the ball is held stiff in place. The rubber at the top of the tee should also take a lot of hits before showing signs of damage. A heavy-duty tee is always good as the weight prevents it from toppling and being made of metal they don't break easily.
Easy to Assemble
Batting tees for baseball or softball are made of a rigid base and a tube with durable rubber on top to hold the ball. The tees are usually adjustable and can be taken out into smaller parts to help easier transport.
But not all tees can be broken down into small parts. A tee that can be assembled or broken down with just a screw motion is the best. The removable base of the tee also comes in various forms which can be changed whenever required. The different bases are diamond flat base, tripod base, heavy weighted base, etc.
Expensive vs rubber batting tees
A good hitting tee will have an adjustable metal tube to alter the height, a sturdy base, the holder made of composite or heavy-duty rubber. The average cost of the best tees will be around $60. It should take a lot of hitting to show signs of damage. It usually takes months of practice to damage an expensive hitting tee.
A cheap rubber and plastic made hitting tee is for very small kids trying to learn to bat. It is very cheap, but it is not suitable for a good practice session due to the inability to alter the height.
Being light, it topples a lot and is not so sturdy like a metal made tee. The rubber holder also breaks after a few days of practice. It can be used for very light practice.
Warranty
For any product, manufacturer's warranty is very important. A batting tee has so many parts that can be defective or damaged at times when it is delivered from the manufacturer. So, each manufacturer provides different warranties on each part and the warranty period is fixed by the manufacturer.
A 1-year warranty on all parts is the minimum requirement for a tee produced by a top manufacturer. The warranty covers any defective part of the tee, in case of repairs the customer has to ship back to the manufacturer. The warranty does not cover damage to the metal section caused by the swings, acceptable wear and tear caused by practice and negligence of the user.
Stability
A good portable batting tee will have a sturdy base and a metal tube to add enough weight. The tee should not topple due to a few hits off the bat. It should not move or shake during the practice and thus a strong and heavy tee is to be used.
The base design of tee is also associated with its stability. A light base with added extra weighs to keep the tee in position is a cheap and the best solution for starters or amateurs. A medium-weighted diamond base can provide the same sturdiness of a lightweight tee but is a little expensive.
A heavy tripod base has the best stability and can stay in one position throughout the practice session. It is very pricy but can be used by major league and pro players to practice swings.
Batting tee of children
As much as adults get to play these games, kids love to play too. There are also very good quality kids batting tees available on many websites and also many retail stores. These come in different sizes.
It is very easy to choose one according to the height and age of the child. Usually, the ones made for very small kids are made of plastic. These are designed to take up very small space as they are usually used inside the house. These also come out in different colors.
The ones made for slightly elder children are more professional and are usually used to play outside. It is very easy to assemble.
It is very easy to choose what you need according to the height and age of the kid. It is important to select the right brand and the perfect tee and make sure the child is comfortable with it.
Price
These are available in various sizes and with different specifications and specialties. There are different batting tees for kids and for adults. The price also differs according to the features and the brand. It is available in many price ranges. The average price of a high-quality batting tee is between $40 to $80. You just have to look for the features and buy what you need.
Final words
There are many batting tees that are very easy to use and also have all the required features. It is very important to look into the details and make sure you get everything you need on the particular batting tee. Check for warranty, price and other details properly to make sure you get the best possible batting tee.