What if I told you finding a perfect batting tee is quite easy?
Before purchasing any batting tee, you should know a few things like the adjustable functionality, easy to assemble, material used, and a few more.
In this article, I tried my best to provide one ultimate guide that will help you to find the best batting tee on the market.
Let's find it.
Purpose of batting tees
As boring as it may sound, helping in practicing swings for a baseball or softball player is the role of a batting tee. While finding a local baseball cage with a pitching machine can be expensive, a batting tee is cheap.
It is also very portable and can be adjusted to size for different contact points. As it is used for practice swings, it is also called practice tee. The main advantage of using batting tee for practicing is to remove various variables that are to be accounted while swinging by keeping the ball stationery.
Things to consider before buying batting tees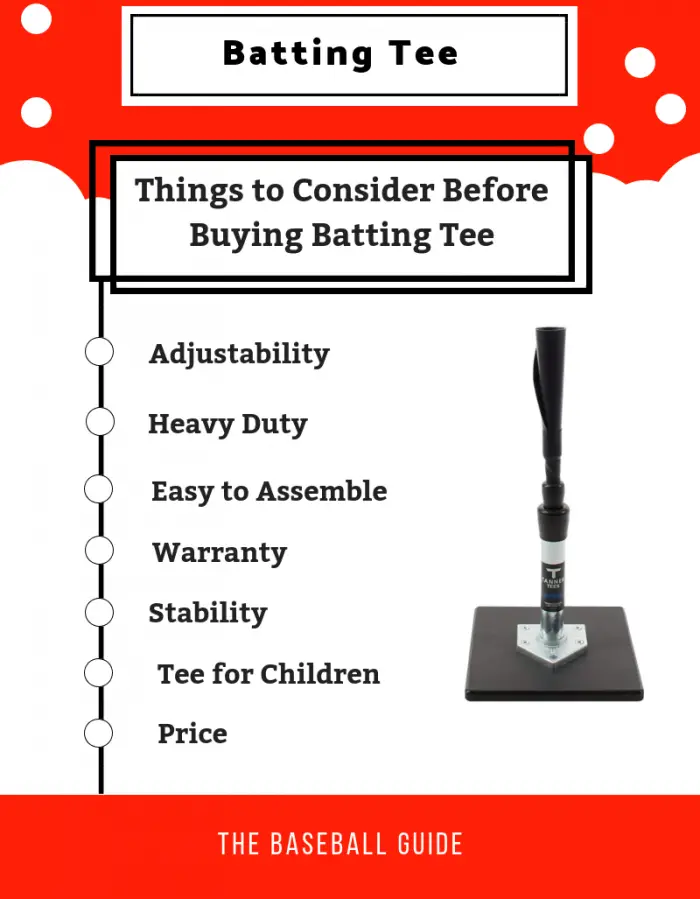 Adjustable batting tee
Adjustability is a major factor for a batting tee. The ability of the hitting tee to alter its height is very important as the tee should be usable for all contact points. While practicing swings at a fixed height help strengthen the swing motion, all pitches do not go down the middle. So, variety in the height allows the batter to practice all kinds of swing actions.
Thus, the player can swing the bat comfortably and cover the entire strike zone while playing in the field. Practicing swings with a batting tee with adjustable length of the tube can also be useful to adapt for players of different heights. The tube length is adjustable between 20'' to 40'' on an average for most tees.
Heavy duty
It is an important aspect that is to be looked for while buying a baseball batting tee. While in general, a batting tee should withstand a huge number of hits before showing some damage, a heavy-duty tee is made of strong, steel or aluminum.
They should have a heavy base so they don't topple when hit. A strong and heavy base also ensures the ball is held stiff in place. The rubber at the top of the tee should also take a lot of hits before showing signs of damage. A heavy duty tee is always good as the weight prevents it from toppling and being made of metal they don't break easily.
Easy to Assemble
Batting tees for baseball or softball are made of a rigid base and a tube with a durable rubber on top to hold the ball. The tees are usually adjustable and can be taken out into smaller parts to help easier transport.
But not all tees can be broken down into small parts. A tee that can be assembled or broken down with just a screw motion is the best. The removable base of the tee also comes in various forms which can be changed whenever required. The different bases are diamond flat base, tripod base, heavy weighted base, etc.
Expensive vs rubber batting tees
A good hitting tee will have an adjustable metal tube to alter the height, a sturdy base, the holder made of composite or heavy-duty rubber. The average cost of the best tees will be around $60. It should take a lot of hitting to show signs of damage. It usually takes months of practice to damage an expensive hitting tee.
A cheap rubber and plastic made hitting tee is for very small kids trying to learn to bat. It is very cheap, but it is not suitable for a good practice session due to the inability to alter the height.
Being light, it topples a lot and is not so sturdy like a metal made tee. The rubber holder also breaks after a few days of practice. It can be used for very light practice.
Warranty
For any product, manufacturers warranty is very important. A batting tee has so many parts that can be defective or damaged at times when it is delivered from the manufacturer. So, each manufacturer provides different warranties on each part and the warranty period is fixed by the manufacturer.
A 1-year warranty on all parts is the minimum requirement for a tee produced by a top manufacturer. The warranty covers any defective part of the tee, in case of repairs the customer has to ship back to the manufacturer. The warranty does not cover damage to the metal section caused by the swings, acceptable wear and tear caused by practice and negligence of the user.
Stability
A good portable batting tee will have a sturdy base and a metal tube to add enough weight. The tee should not topple due to a few hits off the bat. It should not move or shake during the practice and thus a strong and heavy tee is to be used.
The base design of tee is also associated with its stability. A light base with added extra weighs to keep the tee in position is a cheap and the best solution for starters or amateurs. A medium weighted diamond base can provide the same sturdiness of a lightweight tee but is a little expensive.
A heavy tripod base has the best stability and can stay in one position throughout the practice session. It is very pricy but can be used by major league and pro players to practice swings.
Batting tee of children
As much as adults get to play these games, kids love to play too. There are also very good quality kids batting tees available on many websites and also many retail stores. These come in different sizes.
It is very easy to choose one according to the height and age of the child. Usually, the ones made for very small kids are made of plastic. These are designed to take up very small space as they are usually used inside the house. These also come out in different colors.
The ones made for slightly elder children are more professional and are usually used to play outside. It is very easy to assemble.
It is very easy to choose what you need according to the height and age of the kid. It is important to select the right brand and the perfect tee and make sure the child is comfortable with it.
Price
These are available in various sizes and with different specifications and specialties. There are different batting tees for kids and for adults. The price also differs according to the features and the brand. It is available in many price ranges. The average price of a high-quality batting tee is between $40 to $80. You just have to look for the features and buy what you need.
Best Batting Tees
Tanner Tees Youth: Adjustable 20-32 Inches
This is one of the most famous and well-known brands. It makes the best quality batting tee and makes sure the sales are always quite high. This can be adjusted very easily and hence is preferred by a lot of people.
This gives a very unique feel of the ball alone. That is, the person hitting will not feel the tee at the contact. The best part is that this has a weather resistant base. This can be assembled easily. It can be broken down into pieces and can be made to fit inside a small carry bag.
Pros
It is very light and is very easy to transport. This is one of the main reasons for people to prefer and buy this.
It is made with very strong raw materials and has proved to last quite a long time.
It can be used by players of all ages and also by amateurs and professionals. It is a buy once and uses forever product.
The top is very flexible and also in case of any problems, the top alone can be replaced.
This has a one year warranty that is provided by the manufacturer.
Cons
It is more expensive compared to other batting tees but people say it is worth the investment.
Jugs Hit Like a Pro Hitting Tee
The jugs hit like a pro is a very good choice for both kids and adults. This is fully made of rubber and is hence very long lasting. It has height adjustment from 24 to 46 inches. This makes it usable for people at various heights.
It is very easy to carry around and is perfect if you have to keep moving. This is perfect for beginners too. They will find it easy to take it to the field for practice. The entire shipment weight is only 10.3 pounds which implies that this is very light. This also has a grip and go handle which is patented.
Pros
It is very easy to disassemble.
It is extremely sturdy and is very durable.
This is also very easily portable from one place to another.
It is not very expensive.
Cons
This is too light and hence there is always a fear of it being of bad quality.
Jugs T – Pro Style Batting Tee
This is yet another batting tee made by the same manufacturer. It is a very high-quality batting tee which is very widely used. This is extremely stable and incredibly durable. It weighs around 10 lbs. it can be adjusted to a lot of sizes and lengths and this makes a very good advantage for buyers. This also has an interlocking bolt design. This is also an antislip tee. It is portable and is very easy to use.
Pros
It is very easy to adjust lengths. This is better as it can be done quickly even though, there are a lot of lengths available.
The bolt locking system in this batting tee makes sure that there are no chances of the upper stem to slip.
It is very easy to transport it as you can put it inside a travel bag and take it along.
Cons
This tee rusts a little. This is a big advantage as when the rust gets visible, it can become worse.
Schutt Baseball Batting Tee
This is a product that weighs only 1 pound and the shipping weight here is about 8.6 pounds. The height of this baseball batting tee is between 22" and 36". This has a very defined structure. The top tube is replaceable and hence in case of any damage, It is very easy to work on it and replace it. It is extremely durable and is perfect to use.
Pros
This has a separate regulation plate. It is very easy to remove it and use it separately.
Schutt baseball batting tee has very good customer reviews and reading this makes the user want to buy it immediately.
This is extremely affordable and is hence preferred by people who are very keen about learning baseball.
Cons
It is not very easy to find the stem replacement. It is very rarely available. You may even end up replacing the entire tee.
In case of very heavy use, the stem tends to start bending a little, causing a lot of problems.
Easton Delux Batting Tee
Many users find the Easton very good to use. This is one of the best batting tees available. This can be adjusted between 27" and 36" heights. This is hence perfect for varying players at different heights.
It is extremely easy to assemble and disassemble. It is made of very good raw materials and hence is very durable. This also has a base that can withstand heavy duty. It is proved to withstand a minimum of thousand hits.
Pros
The rubber and the plate are very perfectly made to withstand heavy duty.
This has a 5-star quality and is highly recommended.
It can be used by beginner and experts and also children and adults.
It is not very expensive for the quality it has.
It is very durable and perfect to carry around.
In case it wobbles, it is very easy to flip and repair the screws.
Cons
This batting tee is said to have a toxic smell which stays on it for a very long time.
Final words
There are many batting tees that are very easy to use and also have all the required features. It is very important to look into the details and make sure you get everything you need on the particular batting tee. Check for warranty, price and other details properly to make sure you get the best possible batting tee.