So you are looking for the best type of commercial pitching machines out there? Looked through so many options but nothing clicked for you. 
Well done worry I got just the type of list for you! In this list, I have compiled some of the best commercial pitching machines in 2023 
So without further ado, scroll down to know more!
The Top Best Pitching Machines in 2023 
Louisville Slugger Blue Flame Pitching Machine
The Louisville Slugger Blue Flame Pitching Machine is absolutely perfect it has everything that you need, it throws any type of ball, including fastballs, hard balls, light flight, and even plastic balls as well. So these are practically the perfect type of pitching machine and they will give you everything that you need to have the perfect batting and pitching skills as well.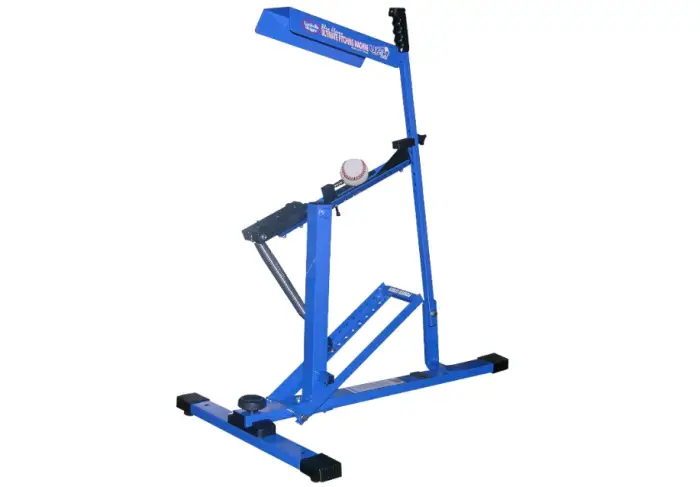 The hard balls can be adjusted around 18 to 45 miles per hour and they will throw perfectly each time. While the softballs can be adjusted around 12 to 60 miles per hour. So this depends on what type of ball you are practicing on. The Lousiville slugger is absolutely perfect and can throw any type of ball including ground balls, fly balls, and even any type of throwing strikes as well. The best thing about this is it's completely manual so you don't have the need for batteries or even electricity. 
SKLZ Lightning Bolt Baseball Pitching Machine
The design of the SKLZ lightning pitching machine is super sleek and slender. Plus it is lightweight as well, they are absolutely perfect and have everything that you need as well. The design itself is remarkable it doesn't have any complicated machinery and is super simplistic as well. They are super lightweight and portable as well, so you can just carry them anywhere and go and start practicing at any time. This also builds visual acuity and also hitting accuracy as well, so that's another plus point with this machine you are gonna be a pro in no time.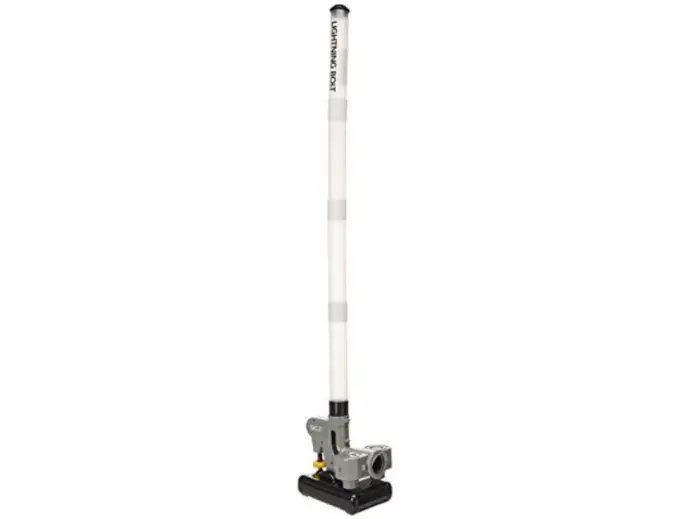 The pitching machine, pitches around soft practice balls at 30 miles per hour. The pitching machine gives around 5 seconds delay each time you are playing on the field. This gives great solid repetition training. You can also adjust for different pitching locations as well. Another great thing is that it holds up to 26 balls at a time, so that's another great thing that you do not have to continuously load balls each time. 
Sports Attack Junior Hack Attack Pitching Machine
The junior hack attack pitching machine is super great and they are perfect each time when you are playing on the field. The Junior Hack Attack throws different types of balls, like curve balls, left and right-handed throw split fingers, knuckleballs, and any type of balls. So honestly this will help you improve your technique on the next level.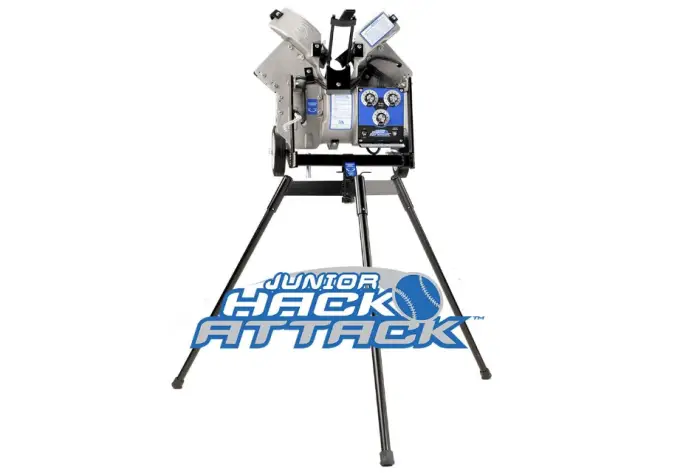 The sports attack junior is recommended for any players who just wanna have a casual time in the backyard playing some catch and it's even recommended for youth players as well. They can even be sued by college as well as high school players alike, so they are quite versatile in use. These are also extremely portable and will easily fit in your car without any hindrance whatsoever. They can also shoot balls in any direction like ground balls, line drives, and even pop-ups. 
PowerNet Launch F-lite Pitching Machine
The PowerNet Launch F-lite Baseball Pitching Machine is a great tool for baseball players of all levels. It is easy to use and can be adjusted to simulate pitches from different speeds and locations. This makes it perfect for practicing your batting skills and improving your reaction time. The machine is also very portable, so you can take it with you to the park or the batting cage for a quick workout.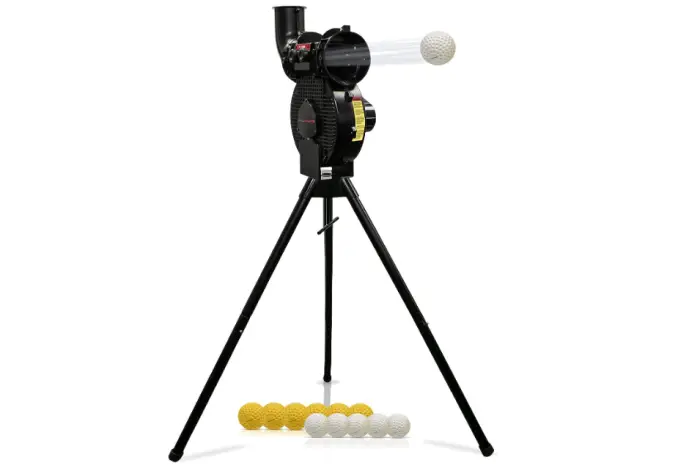 Moreover, the pitching machine also comes with speeds ranging from 45 mph to almost 90 mph so that's another great plus point as well. They will pitch each of these things up to 25 feet so it's gonna be really helpful for you to try and experiment with different types of pitches and even speeds as well.
If you are looking for a baseball pitching machine that is easy to use, adjustable, portable, and affordable, the PowerNet Launch F-lite Baseball Pitching Machine is a great option.
Heater Sports Base Hit Lite Pitching Machine
The heater sports base hit lite pitching machine is perfect for those trying to get those ideal and really tough swings at the same time. Yes, this heater sports base hit liter pitching machine is gonna be perfect and one of your dreams especially. It has speeds from 10 mph to around 45 mph as well, so they are pretty awesome if you ask me. But this is only for actual real baseballs.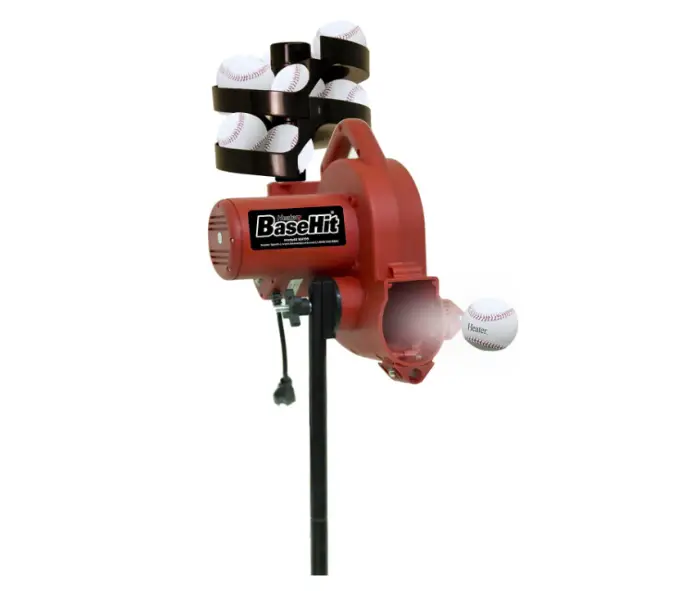 If you were to use something like maybe, pitch lite baseballs then it can go up to the speed of around 80 mph so that's super great as well. The pitching machine can throw balls up to 200 ft if you just slightly adjust the angle. That's gonna help you go for a couple of ground pitchers and even pop flies as well. So this is really gonna give you a range of different shots and hits for you to work with and get your technique straight as well. 
SKLZ Catapult Soft Toss Pitching Machine
Another great machine is the SKLZ catapult soft toss pitching machine, these are super great as well, they will give you everything that you need as well as give you much more room to work with as well. The pitching machine can work on both sides, it can work as offensive and defensive as well so they are overall, really great honestly.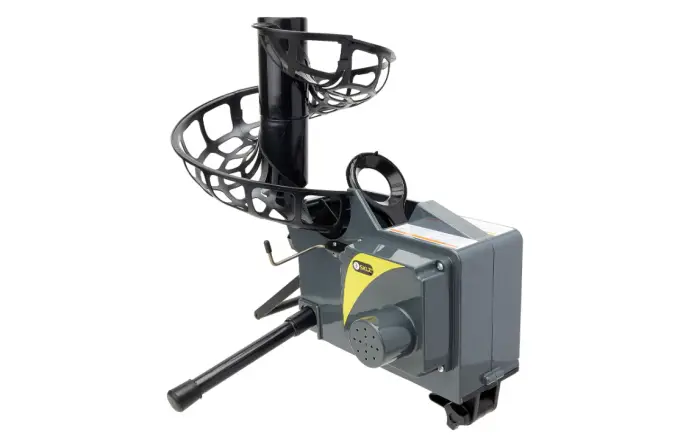 The pitching machines also give enough visual acuity as well, so it really builds and gives you proper vision as well, that's really gonna add some sort of finesse to your technique each time you are on the field. It also automatically tosses balls easily and also they are easy to use and will help you practice easily. This will give you each a gap of 8 seconds to work with each time. You can also easily adjust the height and distance. These are powered by AC or batteries so it's very convenient. 
Furlihong 666BH Dual-Wheel Pitching Machine
The Furhilong dual-wheel pitching machine is perfect for solo practice or just even coach practices also. They have a detachable automatic ball feeder as well. So they are super great as well. The pitcher machine also throws up to speed from around 40 mph to around 68 mph as well. They are easy to assemble and even portable, so you can just take them in the back of your car unload it, and then you are good to go.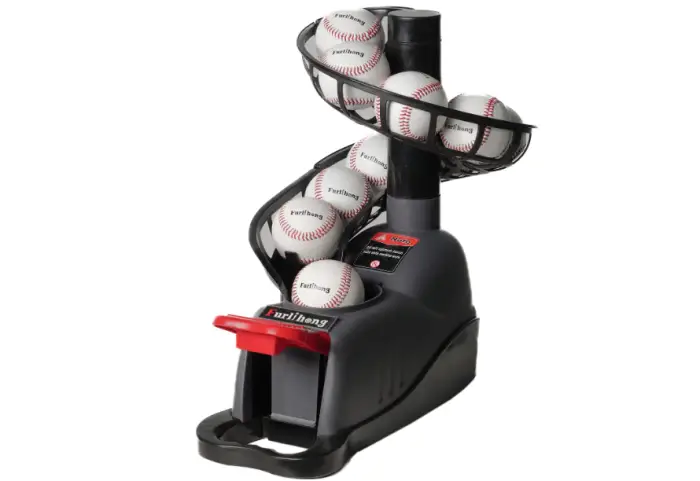 The pitching machine is absolutely perfect since it will be on the tripod stand and they are super steady as well. So they won't shift each time a ball is pitched against you. The ball feeder is also perfect as well since you can load as many balls as you want and you will be good to go. So this is honestly a great investment overall, and you wouldn't be disappointed investing in the Furlihong Dual Wheel etching machine.
 Louisville Slugger Blue Flame Pro Pitching Machine
The Louisville slugger blue flame pro pitching machine is super great as well. It will give you all the types of styles and techniques that you need to improve on as well. So you wouldn't have to worry about anything. The baseball machine pitches from 30 mph to around 58 mph balls, so you can improve your technique simultaneously each time you are on the field.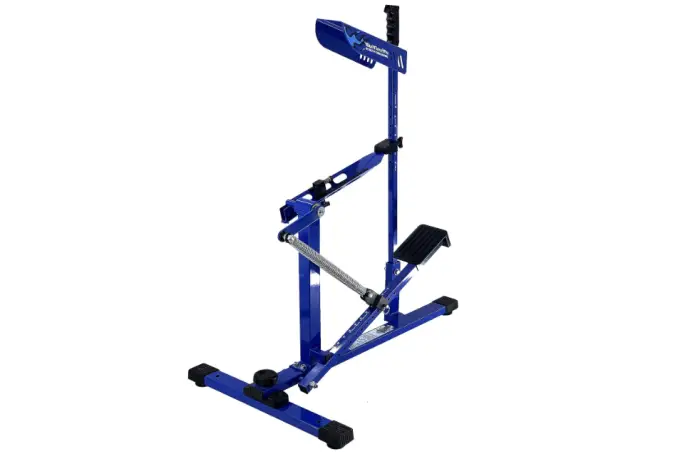 The new ball-throwing arm helps to throw the balls in a much more smoother and efficient way as well, so this gives a much smoother ball-throwing experience and each of the pitches can be thrown easily. They have a more smoother foot pedal as well, this will help you to get more stability when playing the game as well. This is gonna help for a smooth experience in operating the machine. So this is overall, a great machine for pitching. The pitching machine will also throw higher fly balls and even stronger ground balls, so this gonna help you improve your technique consistently. 
Conclusion
So well there you have it all you need to know about the different types of pitching machines and how they are gonna help you. Each of these is gonna help you to improve your technique and they will also give you so much more freedom when you are playing on the field. 
The best thing about these is it's gonna help you to have different types of balls and this is gonna help you catch or even bat with these techniques conveniently. So well, I hope that this article helped you to get an understanding of what's the best type of pitcher machine for yourself.