You are probably looking for the best youth catcher gear for baseball. All those search findings and mindless scrolling on the net got you tired already? 
Well well, today's the day, cause I have compiled some of the best catcher's gear for baseball and softball players alike. 
I'll get right into it!
Best Youth Catchers Gear in 2023
Wilson EZ Gear 2.0 Youth Catcher's Gear Kit
So first on the list right here is the Wilson EZ gear and hear me out Wilson has always outshone each and every time they have designed products. Fairly so, Wilson has the best customer base out there that will always provide the best for them and their customers. Now coming back to the topic, the Wilson catcher's gear comes with a helmet, chest protector, and leg guards as well. They have various size options as well for you to choose from and see what best fits you. 
Each of these items from the helmet to the leg guards all have a really great adjustable property.  They have super comfortable properties as well and are super lightweight as well. So you won't feel that congesting or choking feeling every time you play on the field. Each of these fits like a glove and will have several points of adjustments that you can make if you even feel the slightest bit of hindrance in your movement. 
Pros: 
Adjustments are easy 
Lightweight 
Glossy finish 
Vented systems 
Cons: 
Durability may be compromised 
Under Armour PTH Victory Series Catching Kit
The under armour PTH victory series catching kit is the perfect type of catcher gearing kit that you'd need when you are playing on the diamond. This delivers the ultimate protection that you need on the field while giving you optimal coverage from all sides and therefore helping you to perform safely and effectively on the field. 
The components that come in this catcher's gear are the helmet, leg guards, throat guard, and even a chest protector, so this really gives you protection all over which is really great honestly. The chest protector is certified by NOCSAE so they are super great, and you won't face any issue with them since they are approved by the highest sports institution thus offering and providing ultimate security. So the Under Armour catcher's gear is absolutely perfect for any type of fastpitch or baseball player. 
Pros: 
Leg guards have knee and shin padding 
NOCSAE approved 
Lightweight 
Optimal protection 
Cons: 
Components might be smaller
Rawlings Velo 2.0 Baseball Catcher's Set
Next, we have rawlings on this list. Rawlings is absolutely great, and they have everything that you need in a catcher's gear. The catcher's gear consists of a chest protector, a leg guard, and even a helmet that is hockey-style. These all will give you the ultimate coverage that you need and will protect you each time you go on the field. The helmet has ultimate ventilation and air circulation due to its moisture-wicking lining and moreover, the chest protector also has a heat exchange technology that will be sure to keep you cool the entire time your playing on the field. 
The catcher's gear is also made with high strength, impact resistance, and even a recessed helmet cage, all these contribute to the protection of the player and will help you to catch each of these balls easily without any issue whatsoever. The helmet is designed in a way that you wouldn't feel the need to keep adjusting it at every point, they have a three-way adjustable system that helps it to be easily adjusted. 
Pros: 
Well adjusted 
Moisture wicking 
Impact absorbing foam 
Impact resistant
Cons: 
Sizing may not be accurate 
Mizuno Samurai Youth Baseball Catcher's Gear
Mizuno has always been a great sporting brand it has everything that you require in a sporting brand, it delivers each time to its customer base and therefore it is quite popular amongst many. If you are looking for the perfect catcher's gear, well then the Mizuno Samurai Youth baseball catcher's gear is just the one meant for you. The catcher's gear comes with a leg guard, helmet, and chest protector as well. 
The catcher's gear meets the NOCSAE standards so they are pretty good if you ask me and you would have to have that extra bit of worry whether or not everything will be okay, or whether it will just fall apart after one use. When they meet the NOCSAE standard they are carefully designed to ensure that the components are made to meet the necessary standards of protection. They have a K pad on the knee area of the leg guard which ensures maximum comfort. They also have ABS plastic shells, which adds to their durability and toughness as well.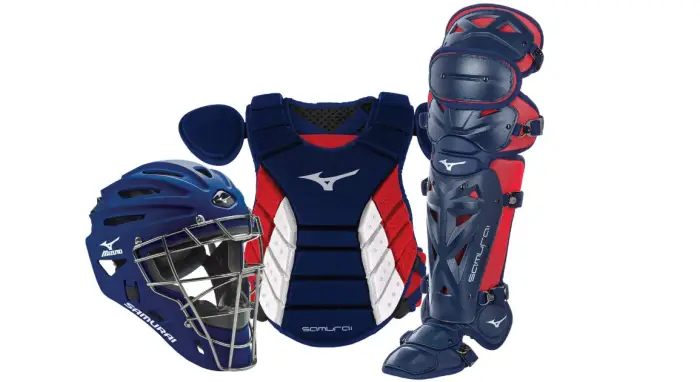 Pros: 
Great protection 
Good comfort 
Tough 
Rebound foam 
Cons: 
All-Star Baseball-and-Softball-Catcher Gear
The all-star baseball and softball catcher gear is the next on the list. This catcher's gear is perfect if you wanna get the ultimate protection on the field without the risk to expose anything for you to get hurt. The company is made to give its players the confidence that they need in their playing style. Whilst having all this they all give their players the necessary protection they need on the field. 
The catcher's gear is designed perfectly to fit youth players alike and give them safety when they are playing on the diamond. This catcher's gear is one of a kind and you should definitely have no doubt when it comes to protection because each of their components is designed to provide that purpose and solely dedicate themselves to protecting the player every time they are behind the batter. 
Pros: 
Protection 
Great support 
Helps to keep players sturdy 
Fits perfectly 
Cons: 
How to Choose Youth Catchers Gear 
There are a few things that you must keep in mind when buying a youth catcher's gear. Following these points you will ensure that your youth players are protected at all times when they are on the field. 
The sizing 
Each of these pieces of equipment must be of the right size they should not have anything off and they should be properly on your body. If it is too loose, you might have the risk of letting it slip or fall down when you playing on the field, and that could risk a very serious injury. If your equipment is super tight, then that might hinder your movement seriously and you won't be able to go for any catches with a lot of issues. Do make sure that they are rightly sized for you and have adjustment systems that will make it easy for you to adjust based on how tight or loose you'd like it to be. 
Pick The Best Mask 
Yes! Kind of feels like that line came out of a Marvel comic or something. But in all seriousness, pick the right mask to protect yourself from all those speed balls that will be thrown your way. For little leagues these days, hockey-styled helmets are in choice. This is mostly because these give good all-round coverage and you won't have the risk of getting hurt or injured when you are behind the better. They might risk or hinder your peripheral vision but are still optimal for kids.  
Check The Chest Protector 
Now what I mean by that is that you simply try and find a good chest protector that will help you to absorb all that shock that is coming from the impact of the ball. Check for something shock absorbing materials or even shock-resistant ones, because those will ensure that you will be protected at all times when you are behind the batter. You must be sure to take something of durable quality as well, high-end or expensive brands tend to give much better quality and better protection to its customer when they are on the diamond. 
Sturdy Leg Guards
Leg guards tend to be designed in such a way that it gives comfort to their user, having things like padding and enough cushioning so you will feel at ease when playing, but have a rock, sturdy outside to prevent any of those unwanted injuries. They start just above the cleats and they end up all the way to your knees, ensuring that you get the optimal coverage when playing on the field. 
Conclusion
Well, there you have it! some of the best catcher's gear out there that will help you flourish and excel on the field while still protecting and keeping yourself behind the batter. Do consider the methods of choosing the right gear as well, so that even if you don't wanna buy the ones above you can always see for the other factors and if they meet in the other catcher's gear that you wish to buy. But if you are looking for the best catcher's gear, well then! This is the best and you don't wanna miss out on them.