Have you ever thought of becoming a professional baseball player?
Baseball players must be protected from top to bottom. So if you are a youth catcher, this article is for you!
A catcher's helmet is important as it keeps them protected at all times, despite the extreme movements they make. 
Youth catchers have high energy for playing, so we might as well give them the best catcher's helmets for baseball this 2021!
Ready to take the ball? Let's go!
My Personal Recommendation for Catchers
If you're looking for a well-ventilated catcher's helmet that is durable and will surely protect your head, then I highly recommend Mizuno G4 Youth Samurai Helmet.
It is a high-performance helmet crafted to help the youth perform well behind the dish. Its design is a bit similar to a hockey mask that is made up of strong steel. And with its three layers of shock-resistant foam with DryLite technology, it is guaranteed to give your head maximum protection. 
It also has an adjustable jaw pad that not only wicks moisture but also ensures the player a secure fit and comfort.
With its built-in ventilation modifications, this helmet will help youth catchers be more alert to their surroundings. You do not have to worry about pairing it with other catcher's gear, like your chest protector and shoulder guards, as it has multiple detachable and adjustable features.
Best Youth Catcher's Helmets in 2021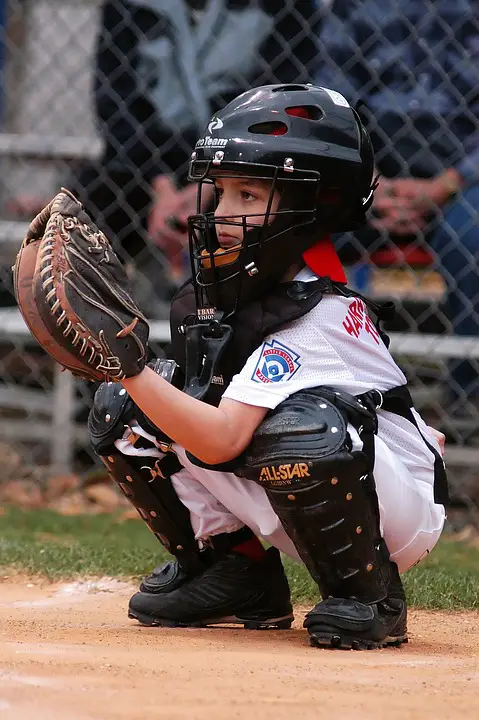 Mizuno G4 Youth Samurai Catcher's Helmet
Make the Mizuno G4 Samurai your top pick for a youth catcher's helmet because this one's going to be poppin' and slayin' on the field! 
This helmet is engineered for an excellent performance that does not disappoint the youth. It is an innovative, high-performing gear that baseball players would ever want to have to protect themselves from harsh contact, and it can hold up to the rigors of the season, helping youth catchers perform behind the dish.
Beginners and intermediate youth players are fit for this helmet because it protects them very well with the three-layer Eva foam padding designed to add cushion and superior comfort and protection. This helmet also does not stink because it has a strategic ventilation system, enhancing comfort and breathability. 
A robust and steel-framed mask is incorporated with this helmet built to give maximum protection and durability. It ensures that visibility is clear enough for players to see the field they are running on.
This helmet not only protects the catcher, but it also looks great when worn, and it comes in various playful colors. 
This can be one of the best youth catcher's helmets available in the market. Although it's not perfect, it will be an outstanding choice for youth catchers.
Rawlings Velo 2.0 Baseball Catcher's Helmet
This Rawlings Velo 2.0 helmet is designed for youth players, and it features an innovative moisture-wicking liner technology that ensures outstanding ventilation and air circulation throughout the helmet.
No matter how sweaty the catcher can be, this helmet won't smell even when soaking wet from running around the field!
This helmet is made impact-resistant with high strength capacity, and it makes this mask an excellent choice for keeping catchers safe. It can give the catcher enough confidence to make contact without hurting himself, even behind the plate. 
This helmet's visibility is not compromised because it has a great mask structure, allowing the catcher to see the field at the greatest view. It also has a good fit and comfort for the youth because it has a three-way adjustable backplate and a redesigned chin strap, making the mask feel customized for each catcher.
It comes with a two-tone matte finish making this helmet look stronger and neat, and it comes in various colors.
This protective apparel can be a youth catcher's choice for training alone or competing in baseball. Not only can you be protected big time, but you will feel like this helmet is made especially for you.
Wilson Prestige Catcher's Helmet
The Wilson Prestige helmet can protect you during baseball games, and you might as well check how this helmet works for catchers!
No matter how strong the balls and bats are, this helmet can provide 360-degree protection to keep your face away from any bruises and your head from any injury that you might get during severe contact. Being a catcher might be a challenging job in baseball, but worry no more if you have the best gear to keep you aided the whole game.
This catcher's helmet is made with a premium-grade Acrylonitrile Butadiene Styrene shell for maximum protection, and it keeps the helmet away from breaking easily in case there's an extreme motion going on with you.
It also has strategic venting to keep your head cool, so you won't feel suffocated from moving on the field.
The mask of this helmet provides good vision depth for catchers because the eye area has enough grills to protect them, and they are not too much in hindering visibility for catchers. 
Youth catchers can appreciate this helmet because it is not that heavy when worn, but the sizing is off, making the helmet narrower compared to the standard size for the youth.
It also comes only in one color.
EASTON PRO X Baseball Catchers Helmet
The most advanced catcher's helmet that Easton has ever introduced comes in the show, the Eastern Pro X Catcher's Helmet!
This helmet has an ABS shell outer material and a mesh inner, and it comes with strategic airflow vents that allow your head to be kept cool during intense encounters. It is designed with a durable, black steel cage with a flat middle bar that enables catchers to see a great depth of view during games, and the visibility cannot be any clearer to help catchers enjoy!
It comes with a breathable air mesh with a plush wrap padding to avoid any stink from extreme sweating. It also has the BrioDri moisture-wicking fabric that promotes the helmet to become more durable after multiple uses.
Efficiency is vital for all the catcher's gears, and we are lucky to have this helmet because of its ergonomic and washable chin cup. Its design allows catchers to have a better custom fit and communication and provides more comfort. 
This catcher's helmet has the Poron XRD technology in the upper crown to incorporate shock on impact and an extra-wide rear top strap to ensure a secured locked-in adjustment. It contributes to a better fit, too!
It meets the NOCSAE standard for all levels of play, and the youth can enjoy this helmet. 
This helmet comes in different colors.
How to Choose Catcher's Helmet
Durability
Before anything else, how can you make sure that the helmet will last you long if you don't check its material?
Well, if you check for its sturdiness, then the helmet will stay by your side!
Baseball players, whether adults or youth, can be safe and protected during baseball games if durability is the first thing to check before looking for any more features of the chosen helmet. Even when the helmet looks fantastic and suits your preference, it won't be of use if durability is not ensured and secured. 
Keep in mind that baseball is a contact sport, and players give strong attacks. To keep the youth away from getting small to harsh injuries, the helmet must be stable enough to meet unrelenting conditions, keeping people protected.
Helmet Ventilation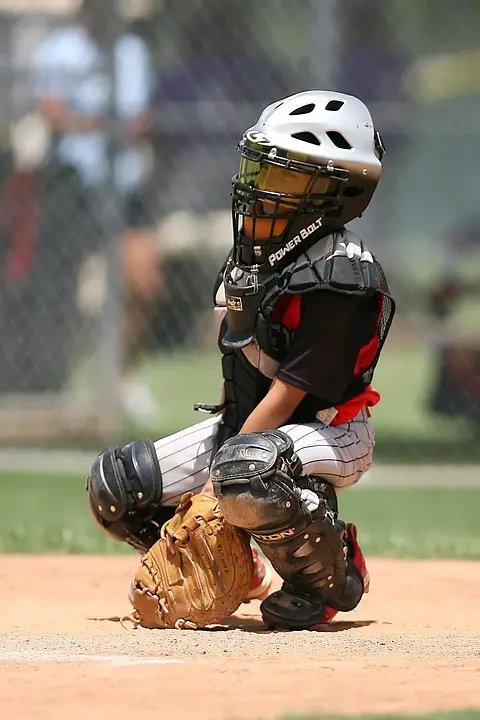 You must wear the helmet the whole duration of the game, and you cannot just let it stay on your face without even caring about the sweat running down your skin.
Youth catchers stay active and swift, and the body may excrete so much sweat that it might produce odor in the long run. So, you need to ensure the helmet you have bought has sufficient ventilation so that it won't suffocate you from the smell and perspiration.
Breathability is very much important to keep you feeling fresh every game, plus it keeps the helmet away from stinking even after numerous baseball games.
Adjustment
Helmets are made according to what's required, but some are just more extra than the others.
In fact, if you want to ensure that the helmet will protect your head during baseball games, you might as well check its adjustability.
Make sure that the straps are enough to lock the helmet on your head and look for some more possible adjustments that might fit the helmet more for you as if it's customizable. That way, you will be more confident about how you play without even worrying about the helmet falling off your head.
Some straps are even durable, while some are very thin. Make sure that the straps in the helmet are heavy-duty to make the adjustments more accurate of your head size.
Final Words
We hope you have found the one you love and can bring to the field to protect you from solid contacts from all the youth catcher's helmets that we have enlisted. You realize that being a youth makes one stronger and quicker in the field, so you need to have the best catcher's helmet possible to keep you safe during play.
Before choosing the youth catcher's helmet, remember to consider some factors because those make the helmet the best piece for your good. Don't worry if it takes you too long before picking out one, so long as you got your best choice in hand.
Have a safe game!