*As an Amazon Associate I earn from qualifying purchases. I will get commission for purchases made through links in this post.*
DeMarini CF7 BBCOR Bat was one of the most popular bats for the high school players.
When it was launched, every hitter wants to have it.
But, things have changed now.
It's 2020, and there are a lot of other bats emerged.
Now, the question arises, should you invest in DeMarini CF7 Baseball Bat?
Here, we will do the review of DeMarini CF7 Bat, and let you know that is it good or not.
Along with that, we will also share the alternative bbcor bats that can be used in 2020.
So, let's get started.
DeMarini CF7 Review: In a Nutshell
The DeMarini CF7 is a great option for the contact hitters because it comes with the balanced swing weight.
The Paradox Plus Composite Barrel makes it even lighter and stronger that provides maximum pop.
The company used D-Fusion FT Handle so that it can redirects the energy back to the barrel instead of producing unwanted vibrations.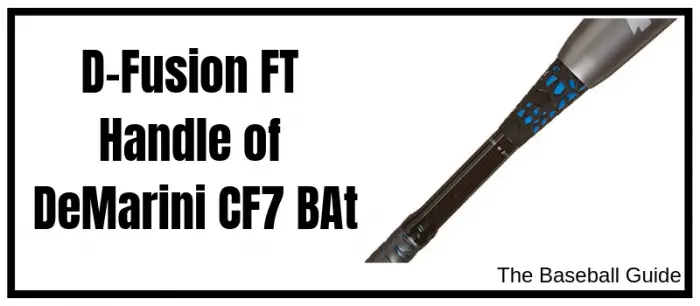 The grip of the handle is good, and doesn't slip from the hands of the hitter.
If you take a look at the price, then it is slightly costly.
But, there is a catch!
This bat is a 2015 model, and now there are many great options available which can be used.
There is nothing wrong in using DeMarini CF7 bat, but you can purchase latest bats at this price range which are according to the new rules & regulations.
I will suggest you buy the latest 2020 bat like DeMarini CF Zen Balanced Bat or DeMarini Voodoo Insane. Both of these bats are considered as one of the top BBBCOR bats of 2020.
Should You Buy DeMarini CF7 in 2020?
The DeMarini CF7 became very popular among the high school baseball players when it was launched.
It offers great quality, but when we compare it with the latest bbcor bats, we find that it is a little outdated.
If you are spending a good amount of money, then why not buy a 2020 bbcor bat.
So, my suggestion is, if you are DeMarini fan, then instead of CF7, you can choose from some of the DeMarini's top-rated bats for 2020.
Best Alternative of DeMarini CF7 in 2020
When it comes to the best alternative of the DeMarini CF7 BBCOR Bat, then you need to consider both types of players; contact hitters and power hitters.
If you're a power hitter, then you need an end-loaded bbcor bat. This kind of bats provide more power when you hit. They may feel a little bit heavy because the weight is more at the barrel.
So, the number one end-loaded bat for the power hitters in 2020 is DeMarini 2020 Voodoo Insane BBCOR Bat.
I highly recommend that you take a look at the DeMarini 2020 Voodoo Insane, before even thinking about another bat.
While, if you're a contact hitter, then you need a more balanced bat having properly distributed weight.
When it comes to the balanced bbcor bat, then there is nothing better than DeMarini 2020 CF Zen Balanced BBCOR Bat.
This is one of the most preferred bats by the contact hitters.
In 2020, DeMarini CF Zen is gaining a lot of attraction from the high school players. So, you should take a look at DeMarini 2020 CF Zen Balanced Bat.
DeMarini CF7 BBCOR Baseball Bat Review
DeMarini CF7 Performance
This bat is chosen mostly by the players in college and is the top choice amongst many top class players as well. The Really Cool Knob, or RCK, while making you feel extremely comfortable when you hold it in your hands and will provide you with a super solid grip and an amazing swing.
It also features a D Fusion handle which consists of a flame tempered technology which gives you a stiff feel along with little vibrations. The bat has the lightest swing due to the composite form which it is made.
Paradox plus composite is used to make the barrel of the bat which makes its speed faster and gives it more pop. Also, the bat's low pro end cap is made flat and with a dual density which in promoting a balanced and smooth swing.
DeMarini CF7 Design
The D Fusion FT handle provides the base for the barrel which will give you a stiffer grip. The amount of energy is also managed by the handle of the bat.
Energy is redirected back to the barrel to make the bat more comfortable for its use without any kind of sting. Since this bat is BBCOR certified, it can be used at all the levels of baseball games. As, it is BBCOR certified, so the drop weight can't be higher than 3. If you are confused about drop weight, then read this article to learn more about baseball bat drop weight.
There are a variety of sizes that you can choose from which will help to progress from an amateur to a pro. This will give you an experience of the playability of the barrel.
This bat is one of the best options in the market if you are looking for a good technology to improve the performance of your game.
Since it so lightweight and made up of only two pieces, young players can also use it effectively. You will experience a great performance at a senior level once you are familiar with the technology and are used to it.
This is one of the models that provide you with a variety of drops and sizes.
See Details of DeMarini CF7 BBCOR Baseball Bat
Properties of the CF7 Bat
Here are all the features of the bat that you can look forward to.
BBCOR certified
Barrel is made up of composite
Handle is also made up of composite
Diameter of the barrel is 2 5/8 inches
Warranty of the bat is 12 months
Advantages of the CF7 Bat
Here are a few things about the bat that will make you fall in love with it.
It is the lightest bat available on the market today with a great bat swing speed.
It features a two-piece design made up from paradox plus composite that enhances its performance.
One of the most advanced technologies is used for the construction of this bat.
This bat features an advanced knob barrel design that provides you with a perfect and superior grip on the handle.
The low vibration of the bat provides you with a stiffer feel.
The end cap design adds to the sophistication of an incredible balance that the bat already has.
This bat is balanced very well when you swing it.
Disadvantages of CF7 Bat
Here are a few things about the bat that you might not like.
The bat is a bit pricey and might not be affordable to all.
People who prefer to use the end loaded bat might not like this bat and will not be a good option for them.
Players, who like a consistent delivery of power, might not feel comfortable in using this bat.
It is not as much widely available as the other bats in the market.
Pricing of DeMarini CF7 Bat
Although this bat is a bit costly, the features that it provides and the performance it gives is worth each and every penny spent. It is a guarantee that you will never be let down when it comes to the department of performance. You will definitely not regret purchasing this bat.
If you want quality and a great performance and if the price is a secondary consideration for you, then you should definitely go for this one.
Final Words
The design and technology used in the DeMarini CF7 are good.
But, when you compare it with the 2020 bats, then definitely this year's bats are better than CF7.
If you want to buy the CF7, then it's your choice.
But, as told earlier, I'll suggest you DeMarini Voodoo Insane for power hitters, and DeMarini CF Zen for the contact hitters.
If you have any questions, then feel free to put down in the comment section. I'll get back to you as soon as possible.