*As an Amazon Associate I earn from qualifying purchases. I will get commission for purchases made through links in this post.*
Easton Diamond Sports is a leading manufacturer of Baseball and Softball accessories. The brand is well known for its high quality and durable products that not only boost confidence but also improve the player's performance.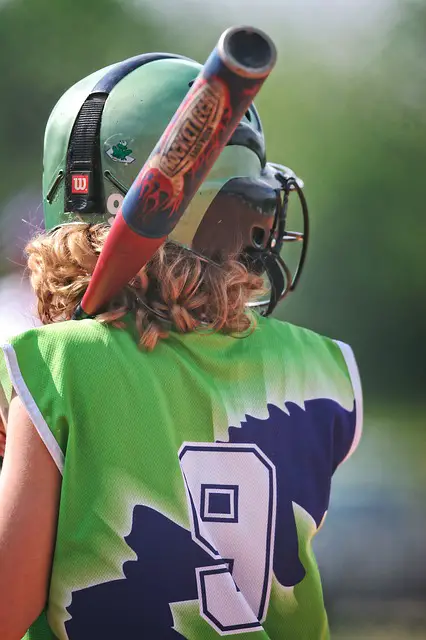 Easton actively manufactures a wide range of Baseball and Softball bats, and so it recently introduced one of its latest products in the Maxum 360 series. Now, for those who don't know, Maxum 360 is Easton's popular baseball bat series that is turning everyone's head in 2020.
Therefore, in this article, we will be taking a full Easton Maxum 360 review to understand why this bat has created so much hype and what it has to offer. 
Easton Maxum 360 Review
The Maxum 360 is one of the three baseball bat series recently launched by Easton. This new bat has attracted a lot of attention in a short time. It's like a 2020 New Year surprise that nobody was expecting. With sturdy barrel, durable construction, excellent exit speed, lightweight, and powerful swings, it is currently the best bat in the market.
Different Options in Easton Maxum 360
It doesn't matter what baseball league you play in; there is a version of Maxum 360 you can use. This is because the Easton Maxum 360 comes in 3 main variations, which include BBCOR, USSSA, and JBB certified bats. For more details, given below are short reviews of Easton Maxum 360 for each of its available versions. 
Easton Maxum 360 BBCOR Speed Balanced Bat
Launched in the market as the biggest surprise of the year 2020, the Maxum 360 BBCOR is precisely what every baseball hitter needs. The big barrel size creates an incredibly reflexive sweet spot that can send the ball flying with the best pop ever. In comparison, the lightweight material used for making the bat allows players to swing it swiftly.
This single piece hitting monster is in complete contrast with its barrel size and swing weight. It is an excellent choice for those who are looking for a BBCOR certified bat that has a big barrel and offers extra hitting power.
Easton Maxum 360 JBB Speed Balanced Bat
Boasting a -12 drop weight and a 2 ¾ inch barrel diameter, the Easton Maxum 360 JBB claims to have the most extended barrel and the most significant sweet spot in the game. It is constructed using seamless carbon combined with 360-degree engineering to create a barrel that is tuned to a 360-degree precision. 
The Easton Maxum 360 JBB bat offers uniform barrel strength, great trampoline effect, and maximum performance from top to bottom. Its lightweight allows for natural swinging, and the big barrel construction makes hitting a comfortable practice. This bat is one of the best choices in the market and is approved for play in USSSA and all associations that allow 1.15 BPF factor.
Easton Maxum 360 USSSA Speed Balanced Bat
This version of Maxum 360 is specially designed for players participating in the USSSA certified associations. It is a speed balanced bat with a composite construction that provides a perfect balance of power and swing.
Maxum 360 USSSA 2020 bat is further available in two variations, where one variation offers a -10 drop weight, while the other provides a -12 drop weight. However, the barrel diameter is the same for both the differences, which is 2 ¾ inches. If you are looking for a good baseball bat to play in USSSA leagues, then right now, there is nothing better than the Maxum 360.
Easton Maxum 360 USSSA Pro Balanced Bat
The pro balanced version of Maxum 360 USSSA bat is just as good as any other version of the Maxum series. Just like its brothers, this pro balanced bat also comes with a large barrel and is constructed using an extremely lightweight composite material. Everything about this bat is highly attractive, making it one of the most popular bats of 2020. 
From smooth swinging to high performance, this bat offers everything a baseball hitter would expect from a good bat. In any case, it is a one-piece bat and is approved for play in the USSSA league and in all the baseball associations that accept the 1.15 BPF standards. Get your hands on this hitting monster now and dominate the game like a pro.
Dominating Features of Easton Maxum 360
The Maxum 360 series did not achieve the diamond status just because it has a large barrel and looks cool. Instead, it became famous mainly because it delivers high performance and is exceptionally comfortable to swing. Therefore, to help you understand why this bat is so popular, given below is a list of all the features of Easton Maxum 360.
Sturdy Construction
The Maxum 360 is constructed from a single piece of composite by using seamless carbon to shape its body. This seamless construction is also one of the primary reasons why the bat gets a massive barrel on the top and why it is so lightweight.
Apart from this, Easton also claims to have used the "360" engineering technique to tune the barrel to a 360-degree precision. This allows the bat to have high reflexes, excellent pop, and maximum performance from knob to cap. Considering all of this, the construction of Maxum 360 in itself is a strong feature of the bat.
Big Barrel Size
The size of the barrel on Maxum 360 is one of the most reliable features of the bat. The large barrel creates a large enough sweet spot for players to comfortably hit the ball off the ground. The surprising thing is that despite the barrel being so vast, the weight of the bat is entirely in contrast with it, making it one of the lightest baseball bats ever.
Maxum 360 is available in two barrel sizes, which are 2 ¾ inches and 2 5/8 inches. The BBCOR and JBB certified bats are available only in the 2 5/8 inches barrel size, while the USSSA bats are available in both barrel sizes.
Different Bat Lengths
The length of the bat always plays a significant role in swinging. Therefore, choosing the right bat length according to your height is extremely important. In this matter, Easton made sure that the Maxum 360 is available in every length possible.
In BBCOR certification, the 2020 Maxum 360 comes in 30, 31, 32, 33, and 34 inches. Among these, the most popular sizes are the 32 and 33 inches. However, in USSSA certification, the bat lengths are classified depending on the drop weight of the bat.
For drop 5 USSSA Maxum 360, the sizes available are 30, 31, and 32 inches. However, for drop 10 and 12, the bat lengths available are 27, 28, 29, 30, and 31 inches. An additional 32-inch variation is also available in the drop 10 version. 
Varied Drop Weight
Drop weight can be simply defined as the difference between the bat weight and length. For instance, a 27-inch bat with a weight of 24 oz. will have a drop weight of -3. The higher the drop, the lighter the bat will be.
Now, when it comes to drop-weight, the Maxum 360 comes in a drop -3, -5, -10, and -12. The drop -3 is only available in BBCOR certification, while the -5, -10, and -12 drop weight versions are available in USSSA certification.
Easton managed to create bats with such low drop weights because of the lightweight composite material they used in creating the bat. Also, such low drop weight numbers are the sole reason why the Maxum 360 is so lightweight and easy to swing, despite its large barrel size. 
Conclusion
Easton Maxum 360 is undoubtedly one of the best bats in 2020. Everything about it speaks of quality. Moreover, every Maxum 360 comes with a custom lizard skin that keeps your bat new and protects it from scratches and tears.
From delivering maximum performance to being incredibly lightweight, Maxum 360 offers everything a baseball hitter needs to deliver a perfect batting performance. Get your Maxum 360 now and dominate the field with your confidence because as long as this bat is in your hands, hitting home runs is just a matter of pop.