*As an Amazon Associate I earn from qualifying purchases. I will get commission for purchases made through links in this post.*
When you are in the world of sports, Mizuno is a familiar brand. It is a reputable manufacturing company that originated in the early 1900s.
They manufacture a variety of sports accessories, including good baseball gloves.
Today in this article, we will be discussing the Mizuno MVP gloves. We will focus on their two types, the MVP Prime and MVP Prime SE. Read on to find out all about Mizuno MVP gloves.
Mizuno MVP Prime and MVP Prime SE Gloves
In the Mizuno MVP glove series, there are two variants, MVP Prime and MVP Prime SE, so that might be confusing to some of the buyers, as there is a slight change in name.
But worry not, as we have made a table below summarizing the major differences between the two variants.
| | | |
| --- | --- | --- |
| Category | MVP Prime | MVP Prime SE |
| Palm Liner | Steer Soft | UltraSoft |
| Weight (Exact weight subject to size) | 1.31 Pounds | 1 Pounds |
| Colors | Black and Black/cherry | 5 available colors |
| Web type | Tartan-Web or Shock2Web | Deep III-V Web |
| Adjustable Velcro strap | No | Yes |
So, from the table above, it is quite easy to understand the basic differences between the two gloves.
Detailing on the points mentioned above, the palm liner present on the MVP Prime SE is the UltraSoft liner, which is a bit more game-ready, comfortable and protective when compared to the Steer Soft liner on the Prime.
Talking about the weight, Prime weighs at around 1.31 pounds, while the Prime SE weighs around 1 pound, which means that for longer durations, you might want to consider Prime SE, as it is lighter and will be easier to handle as well.
Further, the web type on the Prime is available in two configurations, either Tartan or Shock2 Web, and on the Prime SE, only one option is provided, which is Deep III-V Web, which makes the Prime SE more suitable for catching high-speed throws, as the Deep III-V Web are deeper and sturdier than the other two web options present on the Prime variant of the gloves.
Sometimes, you might need to adjust the wrist grip on your gloves as well, which is quite easy on Prime SE, as it features an adjustable Velcro strap, as compared to Prime, which doesn't.
As opposed to adjusting the laces for fit, anyone would prefer the Velcro strap, which is one of the strongest points of Prime SE over the Prime gloves.
Finally, we come to the color of the gloves, which might just be a personal preference, but add appealing aesthetics to a glove, for which Prime SE provides you with 5 color schemes, but the Prime-only provides you a couple of.
So this was all about the difference between the Prime and Prime SE gloves. In the next section, we will discuss the general features and review of the MVP Prime Series (both the Prime and Prime SE) and what makes them so tempting to buy.
Mizuno MVP Glove Review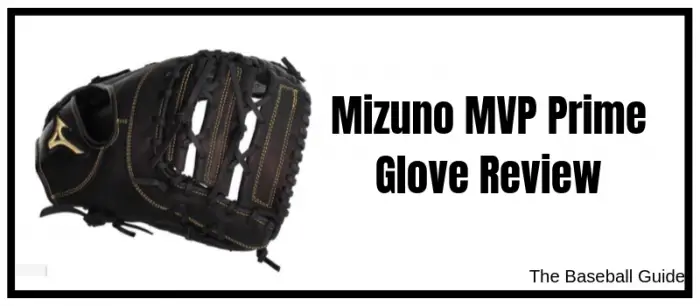 There are people who swear by the quality of Mizuno MVP Gloves, which will come as no surprise to you if you have ever used one. These gloves are very good, and most importantly, come at a justifiable price, making them suitable for everyone, ranging from students to recreational players.
MVP family of gloves is suitable for infield, outfield, and pitcher positions, and available as fast pitch and slow pitch options as well.
These gloves are made from Bio-soft leather, which is a synthesized smooth leather, that is soft and feels great in the hands. Soft leather usually means that you'll be able to clinch and open your fist faster.
An added advantage that one gets by using Mizuno gloves is that these gloves have a relatively shorter break-in period when compared to other competing options available in the market at similar or even higher prices.
If you see the marketing of the glove, there is a lot of stress laid on how the lacing that is used is of very high quality and is of the same level as of other professional level mitts. Apart from marketing, taking the glove in the hand and upon feeling it, we can confirm that it is true.
There is one thing to note though, that the custom, strong edge pinky, and thumb design, is good, but may cause problems with fitting in large or very large hands, as they are hard, so make sure to try it out once before committing to it.
The MVP gloves also come with a one-year warranty, that helps you be at ease while playing, that if it breaks, you will be entitled to a replacement, which is seldom a case, as these gloves get no complaints after being purchased.
Final Words
Mizuno has a lot going for them in the budget market with the introduction of the MVP Prime series, and the addition of certain professional level elements is just good.
Our verdict of the Prime gloves has been very positive, and it is safe to say that it will not disappoint anyone willing to buy it.
Of course, Prime SE is a bit pricier than the Prime gloves, but it is worth that extra price.
We will just conclude by saying, that if you want entry-level gloves which perform well, just go for them. You couldn't go wrong choosing these.