Whether you're a hitter or a fielder, you have to improve your speed and agility. They are some of the determining factors for a player's success in making offensive hits and defensive pitches.
To do this, many professional baseball coaches use a speed training tool to measure the speed of the ball when pitched, thrown, and hit.
This allows them to have a detailed analysis of a player's performance and have a better understanding of the areas that require improvement.
Nowadays, there are plenty of speed training tools that you can choose from. But, the Pocket Radar Ball Coach is one of the best radar guns for Baseball & Softball.
So, in this review, we will talk all about this speed training tool to help you decide whether it is worth purchasing this 2022.
Pocket Radar Ball Coach Review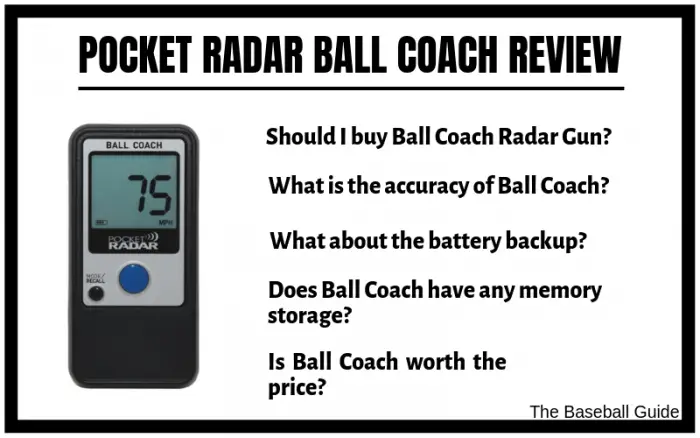 Ball Coach speed radar by Pocket Radar is currently one of the most popular speed training tools. It is actively used in training players for various games such as baseball, hockey, softball, volleyball, cricket, and many more.
It is a highly accurate device that can record precise speed measurements of the ball, when in flight.
Ball Coach speed radar features a compact size that is lighter than iPhone and weighs around 4.5 ounces, including the batteries, which makes it easily portable and comfortable to carry around.
Apart from this, the Ball Coach can provide highly accurate speed measurements, but only within a range of 120 feet.
The best part about using Ball Coach is that, unlike many cheap speed radars, it can differentiate between the body movements and the ball movements. This simple speed radar is smartly designed to measure the highest velocity of the ball in flight, which is the most common metric used while training ball game players.
The Ball Coach works on two essential speed reading modes, i.e. Constant-On mode and User-triggered mode. In constant-on mode, it can be used hands-free, and it will automatically keep on reading the speed of the ball. In User-triggered mode, the user has to hold the button and release it when the speed reading appears.
This compact speed radar also features an extensive memory that can save up to 25-speed readings that can be easily accessed by the user any time later. There is also a memory clear function included, which can wipe out the previously saved readings instantly.
The users can use two rechargeable AAA NiMH batteries or high-drain alkaline batteries for the device to work. In both cases, the batteries last for a considerably long time, making them an efficient tool for long-term training.
It is also very durable as it is made of the same plastic used in hockey helmets and can be handled rough and can be tossed from one hand to another without causing any damage.
What Will You Get with Pocket Radar?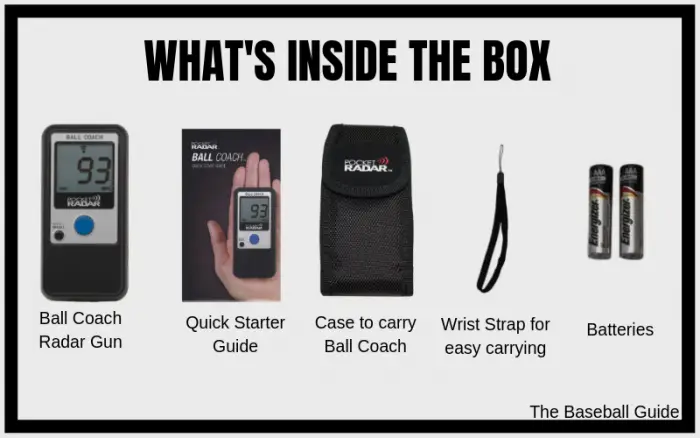 What do Coach & Parents think About Pocket Radar Ball Coach?
Discussed below are all the features of Pocket Radar Ball Coach in a one-by-one fashion so that you can analyze this simplified and handy speed radar on your own and decide whether it is good enough for you or not.
Accuracy
Pocket Radar Ball Coach features a pro-level accuracy, which matches evenly to the measurements of a high-value radar gun. This simple lightweight device can read accurate speed measurements with a maximum distinction of +/- 1 MPH.
It was also tested by comparing it to the readings of a high-value radar gun. The only difference that was observed in both these devices was that the Ball Coach rounded off the measurements, while the high-value radar gun counted even the decimals. For instance, if the radar gun read 76.4 MPH, the Ball Coach read 76 MPH.
The Ball Coach was also compared with many other speed detecting tools and the result was just the same. The Ball Coach is simply as accurate as any other speed training tool.
However, in order to get the most accurate readings, it needs to be placed directly in the line of the ball path. If it is kept even slightly to the left or right, you may not get the most accurate readings.
Durability
Ball Coach might look feeble and ready to break with little force. However, it is actually made of the same plastic which is used to craft hockey helmets. It is fully designed to perform with full accuracy even in the most demanding sports environment.
It can easily handle rough usage, which includes tossing, falling on solid ground, and even accidental foot-stomping. Moreover, it is smartly designed to hold the interiors firm in their place. This ensures proper functionality even after the device has been roughly handled.
In many cases, it has been observed that Ball Coach has been efficiently working for more than 2 years. This only proves that this device is highly durable and can be a good speed reading companion for a long time.
Speed Range
Pocket Radar Ball Coach is designed to be compact in size and it can easily measure the speed of the ball accurately over the range of 120 feet for a baseball. The range increases as the size of the ball increases.
You can count on this small speed detection device to measure the speed of the ball accurately from 25 to 130 MPH, which is 40 to 209 KPH. With this wide speed range, one can easily record the accurate speed of the ball thrown by a well-trained baseball pitcher and also the speed of the ball when the batsman hits it in the air.
However, Ball Coach fails to perform at very large distances. The range limit is 120 feet, anything beyond that will be completely missed by the Ball Coach. If you are hoping to use this device to scout players from the stand, then this may not be the most ideal choice for you.
Another distance-related drawback that Ball Coach users have been facing is that it does not work consistently in extremely short distances as well. When placed too near, it struggled to show the correct readings.
Battery Life
The Ball Coach usually runs on rechargeable AAA NiMH batteries, which provide enough power to run continuously for over 2 hours in Constant-On mode and can measure over 4,000 readings in user-triggered mode.
You can also use high-drain alkaline batteries instead of AAA NiMH batteries. If you are using high-drain alkaline batteries, then this device can measure over 2,000-speed readings in user-triggered mode and can run for an hour in Constant-On mode.
Therefore, it is recommended that you use the AAA NiMH rechargeable batteries for the best functionality.
It is designed smartly to automatically switch off the power after 30 seconds of inactivity in user-triggered mode and after 5 minutes of inactivity in Constant-On mode.
When the training is done, conveniently recharge the batteries for the next session. With the Ball Coach speed training tool, you can always be powered up for continuous training.
Portability
With the size of 2.3 x 4.7 x 0.8 inches (width x height x depth), Ball Coach is very comfortable to hold and convenient to carry around. In simple words, it is basically the same size as an iPod.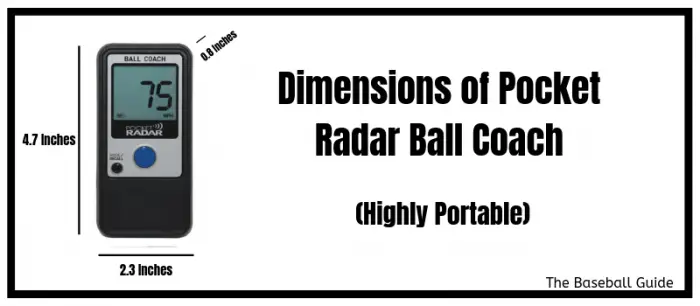 Apart from being small in size, it is very lightweight as well. The total weight of the device is 4.5 ounces, including the batteries, which is hardly 130 grams.
The small size also helps in measuring the speed discreetly. Most professional radar guns usually have camera visuals and are quite big, which can make the new players conscious and nervous.
Memory
The extensive memory of this speed radar can easily record up to 25 previous readings. Thanks to this, coaches and players can efficiently measure performance growth and enables them to compare the performance of different players accurately.
Ball Coach also features a Memory Clear Function, which smartly wipes out the memory of previous measurements. You can comfortably wipe out the memory of earlier measurements by holding the mode buttons for 2 seconds to change between the features and then finally tapping the central button when the "clear" mode appears.
However, know that there is no way in which you can increase the memory of the Ball Coach. You can only save 25 readings at a time, no more than that. Also, there is no way in which you can export this data to another storage device.
For someone, who is highly determined to practice and improve his game, only 25 readings cannot always be sufficient.
Hands-free Capabilities
One of the most useful features that Ball Coach offers is that it can work hands-free, i.e., without anyone operating the controls. All you have to do is set it to Constant-On mode and just place it in the line of sight. It automatically triggers on without any push of a button.
This feature proves to be extremely handy as many players can use this speed radar to train solo. Thanks to the hands-free usage of the device, players can record their own progress without always needing someone to hold it for them.
Display
Pocket Radar Ball Coach features a display screen of approximately 1.8 x 2.1 inches (width x height). The size of the screen may not be very big, but it is big enough to display the readings in a large and clear format. It can also easily display measurements in both MPH and KPH units.
The screen also clearly displays various modes of usage thanks to which users can comfortably choose the mode on which they want to operate.
The display is likely suitable for only one person to clearly see. Other high-value speed radars come with an external port through which the readings can be displayed in an output device. But since Ball Coach does not have any ports, the small screen is all you have to make do.
Other Features
Ball Coach speed radar, unlike other cheap speed radars, provides just the right speed measurements. It is smart enough to differentiate between the player's body movement and the ball's movement, giving an accurate speed reading of the ball. As a matter of fact, the Ball Coach analyses and reads the maximum velocity at which the ball is moving when in flight.
Warranty
Pocket Radar Ball Coach is one of the most affordable speed radars available in the market. However, even after being sold at a very affordable price, Pocket Radar offers a 2-year warranty on it.
Its affordable price and extended warranty allow coaches and players to be carefree and focus all their attention on improving their performance on the field.
In any case, if the Ball Coach device you bought turns out to be defective, you can easily get it changed for a better one.
Is Ball Coach Worth the Price?
Ball Coach speed training tool, if used properly will always provide an accurate speed reading. It has been compared with many other high-value speed radars such as SKLZ, Stalker 2 Radar Gun, Rapsodo, Bushnell, etc. and the results were surprisingly the same.
Apart from this, the extensive battery, memory, and speed reading modes make the Ball Coach one of the most simplified speed radars for sports training. Anyone can comfortably use this device for assessing self-guided drills or for a one-on-one training scheme.
When every feature of this device is fairly considered, Ball Coach proves to be a well worthy speed training device. As of now, the reviews prove that it is one of the most preferred speed radars by a large number of coaches and ballplayers.
Pocket Radar Ball Coach vs. Smart Coach
Every detail of the Pocket Radar Ball Coach and Smart Coach has been designed with the highest level of coaching in mind making it easy to collect relevant data regarding a player's speed, velocity, and time.
These ball speed training aids are designed to record any baseball, softball, or other ball projectiles in flight. They both use the same radar technology to track pitch velocity, exit velocity, and other types of ball speeds.
Moreover, the Pocket Radar Ball Coach and Smart Coach accurately measures the speed of any ball at distances up to 120 feet.
Both the devices proved to be a powerful training and coaching tool that provides users with instant feedback about velocity, distance, and slope on any type of ball.
In comparison to the Ball Coach radar, the Smart Coach offers a host of new features that can prove to be a real game-changer for recreational and competitive ballplayers.
The Smart Coach allows you to wirelessly view and control the radar from your device via Bluetooth or USB by connecting to the Pocket Radar Companion App.
The app adds several features such as speed and distance to your videos, giving you the ability to create professional-quality training videos complete with speed and distance data as well as share and export those tracking results.
It's safe to say that the Smart Coach is the upgraded version of the infamous Ball Coach by Pocket Radar.
Conclusion
Considering all that we mentioned, Pocket Ball Radar Coach is certainly one of the best speed radars currently available in the market.
It provides accuracy comparable to high-valued speed training tools, has an acceptable wide distance range, and portability features making it a perfect choice for professional coaches and solo baseball practices.
Whether you are a coach, player, or a parent, Ball Coach is well recommended for all growing players to improve their performance on the diamond.