*I may get commissions for purchases made through links in this post.*
'Practice makes a man perfect.' We have all heard this probably a thousand times and yet we sometimes tend to forget how much truth this one line holds.
Baseball is one such game where adequate practice is imperative, and this is why today, we are going to discuss 'SKLZ Zip-N-Hit Baseball Trainer.'
This baseball training device is one simple and easy-to-use solution to perfect your hitting techniques and improve your baseball swings.
It acts like a pitching machine where you can practice for all types of pitches, thus helping you to enhance your performance.
But how does it really help? Is it a smart purchase or a waste of money? Let's find out.
SKLZ Zip-N-Hit Baseball Batting Trainer Review
How SKLZ Zip-N-Hit Works?
SKLZ Zip-N-Hit is a simply designed trainer for baseball and softball. It helps the baseball players to practice different types of techniques at the various level of speed as the trainer is equipped with changeable straps.
The design of the baseball trainer is quite compact, and hence it can be used in various places. It gives a really versatile performance. If you want to practice with SKLZ Zip-N-Hit, all you would need to do is find an open space and adjust the cords as per your comfort so that you can practice different shots on the trainer.
This product is beneficial for the players to practice some good shots, and it is ideal for the children who are just beginning with the game.
You can help your child to learn some good baseball shots with this easy to use a trainer and even after several hits, it holds on with the cords really well.
The Unfair Advantage of Using Zip-N-Hit
Baseball is one of the most famous games across the world. There are multiple layers involved in the game which are needed to be perfected by all the players.
The baseball trainer SKLZ Zip-N-Hit basically helps the players to learn different techniques and tackle the ball at different speeds, which can be a challenge when they typically practice as multiple players might not always be available during the practices.
The players would be able to practice and game whenever they want at their own convenient time and not have to rely on someone else.
The design of the trainer is really light and compact which makes it really easy to move the equipment from one place to another and the best thing is that you being a player, would be able to practice the game at any available pitch.
Features of SKLZ Zip-N-Hit Baseball Trainer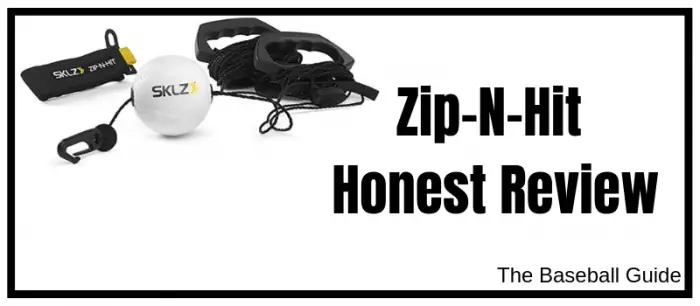 A much-improved swing dynamics
The swing dynamics for this plastic baseball trainer is excellent. You would be able to get a much better analysis of all the playing techniques without fearing about the balls being hit to your face. You would also get an idea about the stance of the players along with their swing and eye-tracking when the ball would come down the line.
You would also get much focused on the game and see your techniques improving for good within the next few weeks. Your game hits would surely improve a lot and you would also get acquainted with the dynamics of the game.
You can combine the Zip-N-Hit with Swingrail or Velopro Harness. These two are the swing trainers that help to improve your batting. These two batting aids are very popular, so if you want to know more about these, I'll recommend you should check my reviews of Swingrail Swing Trainer and Velopro Harness for Baseball & Softball. If you combine Zip N Hit with these two training aids, you'll drastically improve your performance.
Practice without a pitcher
You would not need a pitcher to improve your batting techniques. SKLZ Zip-N-Hit is a great pitcher who can help you to excel in all the different types of methods at different paces and levels of swings at varied timings.
You would get different types of throws like sliders, curveballs, and changeups. In other words, the trainer would pitch with all the different techniques so that you can excel in your batting skills. You would now not have to wait for a pitcher to tackle all the types of pitches, the trainer can help you to excel all of them. You would be able to practice hitting balls at different paces and movements.
The most compact design
The design of the SKLZ Zip-N-Hit is very compact and can fit in even a small baseball glove. You would not have to think about storage spaces in order to store the training equipment.
High portability of Zip-N-Hit
With such a compact size and sleek design, you would be able to take the equipment easily from one place to the other. The portability factor of SKLZ Zip-N-Hit is really quite good.
Fully equipped standalone trainer
You would get all the major equipment that you need with the trainer in order to enhance your batting skills. The attachment clip, along with the adjustable strap helps you to practice the game almost anywhere and in all the pitches. This also proves to be helpful for assembling the whole product in no time. All you would need is some open spaces to practice the game.
No need to run around
This is hassle-free equipment as you would be saved from chasing the balls and picking it up from different corners of your yard. This would save your energy and you can fully concentrate on your batting techniques.
Learn all the different techniques
With SKLZ Zip-N-Hit you would be able to learn all the different techniques required for baseball batting. You would be able to reinforce level swing while learning the art of top-half hitting.
Built with the highest quality materials
The SKLZ Zip-N-Hit is built with the best quality material which helps it to maintain its durability even after several hits. The material is impact resistant which in turn maintains its longevity and you can use it for years to enhance your batting skills without any worries.
Maintain speed with Zip-N-Hit
With SKLZ Zip-N-Hit, you would able to maintain and increase your bat speed according to your requirement. You will also be able to enhance your batting skills with better ease when you use the SKLZ Zip-N-Hit trainer.
The portable batting cage
SKLZ Zip-N-Hit is the most advanced portable batting cage that is loaded with all-round features. It is not only easy to store and transfer, but it is equally comfortable to use the product. You can use it to enhance the skills of your child, or you can put to use for practicing with your baseball team. All the equipment put together would make practicing baseball really easy for you. All you would need to do is a zip down the pitch line, and you, as a batter, would be able to analyze all the moves of the pitcher.
The SKLZ Zip-N-Hit is equipped with all the features which would help you to enhance your baseball skills. It would really be a great boost to your confidence. You would be able to use the equipment very easily and the flexible nature would make things much easier for you.
This is the most efficient way to learn new baseball and softball skills and keep up with the speed of the balls when you do not have many people to practice with. An open space that has the equipment properly fixed would help you to learn all the different techniques which are used in the baseball game.
And you would not require much space to store the equipment and you would also be able to carry it from one place to another without any hassle or struggle of transportation.
Who Should Buy Zip-N-Hit Baseball Trainer?
If you or your children wish to enhance your baseball batting skills then you should definitely buy it. It would be a great boost to your performance and your technical skills would also enhance a lot.
You can use the trainer anywhere and anytime as per your requirements, and you would also not have to worry about the presence of a pitcher. The best thing about the baseball trainer is, it is effortless to use, and the design is quite compact. Hence you can carry it with you at your preferred place and can use it without worries.
The Final Verdict
The SKLZ Zip-N-Hit is really easy to use. You can buy it to practice baseball, and it is perfect for children above 7 years of age. All baseball players can even warm up with the product before the real matches.
Since the balls are pitched every time with different angles and speeds, it would be a great way to tackle the ball with varying styles of batting. This is a perfect trainer when you do not have enough people to practice with, and as it can be used anywhere, hence the flexibility factor also adds to the quality of the product.