Should you buy Swingrail Baseball Training Aid?
Is Swingrail worth buying?
If yes, then is it suitable for you?
Let's find out the answers to these questions in this review article of Swingrail Baseball Training Aid where you'll find each and everything that you want to know.
In a Nutshell
The Swingrail Training Aid is wonderful training equipment that corrects common swing flaws and gives immediate feedback on the incorrect swings.
After a few days of using it, you can see the difference. There will be no more flaws in your swinging.
You can use it for both baseball and softball.
A good thing is it can be used by players of all the ages. However, special assistance may require for the too young players because they may not be able to manage it.
It is tried and tested, and a lot of parents & coaches use it to improve their kids swinging.
I highly recommend that you take a look at the price and customer reviews of Swingrail Training Aid, and then make your final choice.
Swingrail Baseball Training Aid Review
How does Swingrail Training Aid work?
Swingrail helps you to reach your goal of swinging flawlessly. It's a teacher that corrects your swing flaws and unleashes your full potential. It enhances your knowledge of swing mechanics. Even for an amateur player, it works just right.
If swung incorrectly, the Velcro that attaches to the pieces on the bat snaps and it gives immediate feedback to the player. It prevents your hands from dropping off too soon.
The swingrail helps in creating muscle memory which ultimately allows you to become a better hitter.
The Unfair Advantage of Using Swingrail Training Aid
Swingrail training is advantageous over normal practice and the results are miraculous. Just in a few days or maybe after a few swings, you would notice the difference.
Swingrail is believed to increase bat swing speed up to 5.4mph which is not that possible by normal practice.
Swingrail helps hitters to better their swing mechanics.
A bad quality swing gets immediate feedback thus giving the scope to correct it.
Features of Swingrail Baseball Training Aid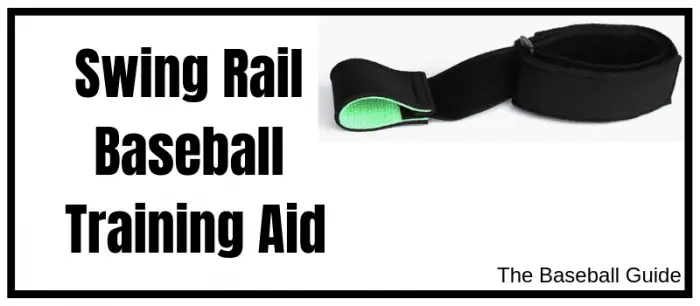 Eliminates casting
Casting is one of the most common problems among baseball hitters. While initiating their swings, many young hitters cast their hands, their hands swing away from their body.
Due to casting, a longer and more rotational bat swing is created. With casting, comes the chance of jamming. Hitters who cast have higher chances of jamming themselves as the sweet spot of the bat will not stay in the contact zone.
But fret you not! Casting won't be an issue if you use this product while practicing your swings. This training product helps eliminate casting.
Hit inside the ball
Thorough training with this swingrail can train a player to hit inside the ball. "Hitting inside the ball' is the highest used phrase in reference to baseball yet it is so not easy to grasp the concept of the same.
The concept of staying inside the ball has very little to do with the ball itself but more to do with hitter's hands in reference to the hitter's body. Hitting the ball simply means when the hitter's hands are closer to the body and bent, they are in a strong position and that position means he is staying inside the baseball.
Staying connected
It trains a baseball hitter to stay connected with the rotational energy of the body, which is the most important factor behind hitting a ball with power. The more powerful muscles of leg, hips and torso powers the rotation of the body.
To stay connected with the body's rotational energy, efficient use of these powerful groups of muscles must be made. As the baseball hitter initiates staying connected with the rotational energy, he prepares to take a proper launching position.
A proper launching position is important to swing the ball with full power by rotating a batter's body and shoulder to a fully loaded position.
The position where the upper torso turns inwards and the shoulder stretches the muscles of the upper body and pelvic region is known as the loading position.
And when good transfer mechanics is used along with the contraction of the muscles and energy of hip rotation to convert into an angular acceleration of the bat-head and powerful launch position is achieved.
Swingrail helps to achieve this mechanism with just a few practices!
Corrects dropping off hands
While using the swingrail, make sure to strap it on right below your armpit. Now, when you practice your swings, you will see, it automatically corrects your 'dropping off the hands and shoulder', reinforcing staying connected and short to the ball.
Fits all sizes
It is designed in such a way that it can fit the smallest of arms. The armband is usually adjustable to 2.5″ diameter but can be adapted to fit arms smaller than 2.5″
What We Didn't Like in Swingrail?
Amidst all the praises that we have sung about the swingrail, there must be a few things that need to be brought into the light that we don't like about the swingrail.
Pros
Helps you to achieve a great launching position
Fits all sizes from 9 years and above
Your personal coach that never tires and only stops once you have achieved your goals.
A self-learning aid that requires no external help.
Trains you to hit inside
Delivers immediate feedback
Cons
Sometimes fitting smaller arms could be an issue
It can be a little confusing for younger players to get the mechanism.
There are chances of it creating a different swing flaw
It works only when the hands are swung forward
It prevents the hitter from initiating an extension at the proper position.
The design could be a little better and simple.
A little clumsy to use.
Who Should Buy Swingrail Baseball Training Aid?
There are innumerable training aids on the market that are available today. Swingrail is also one among them.
If you cast the bat and your swing is too long, then probably you are in need of the swingrail. Anyone who needs to create the right muscle memory needs to use it. To improve the upper body mechanics for both baseball and softball player, at any level of the sport is important, thus, it can be used by both baseball and softball players.
It's a little confusing for the young baseball players and therefore, maybe if you are thinking of buying it for your young one, then probably you should not.
If you are facing difficulty in staying inside the ball, then swingrail is just right for you.
The Final Verdict
Swingrail or no swingrail, practice is what makes perfect. It's a self-learning guide for people who are not blessed with great coaches. Regular practice, hard work, and dedication can, of course, help you to achieve your goal and be an excellent hitter.
So, swing away with glory.