Coaches recommend Swingrail Baseball/Softball Training Aid, and a lot of players openly admit that Swingrail helped them a lot.
But, is it really that helpful?
How Swingrail improves your hitting skills?
And, why should you invest your time and money on Swingrail instead of any other training aid?
Everyone asks these type of questions.
Therefore, we're here to review the Swingrail Training Aid to find how it helps to swing better and much more about it.
So, let's get started.
My Personal Recommendation
The Swingrail Baseball/Softball Swing Trainer is the perfect way to improve your swing mechanics. It helps you understand the importance of hand position, keeping your elbows in, and keeping your hands back. With a few practice swings, you'll notice an improvement with your swing.
Using this trainer makes it easy for players to feel how the body moves at the plate and also to repeat that move for maximum hitting power to develop proper muscle memory for live hitting during games.
Furthermore, it features an adjustable, breakaway guide strap that provides immediate feedback when you swing incorrectly, correcting major mistakes that players make when swinging.
This portable and affordable device helps athletes of all skill levels to improve their swings, at home or on the go. The product can be used for batting practice, soft toss, or tee work and recommended for players ages nine and up.
If you want to be the best batter in no time, then go check out the Swingrail Baseball/Softball Swing Trainer now. You have nothing to lose but everything to gain.
|   | SWINGRAIL Baseball/Softball Swing Trainer |
| --- | --- |
| Perks | Improves hitting style |
| | Guides player's hand through swings |
| | Great way to learn proper swing technique |
| | Provides immediate results |
| | Builds muscle memory |
| | Has instructional videos to follow |
Swingrail Baseball/Softball Training Aid Review
What Professionals Say about Swingrail?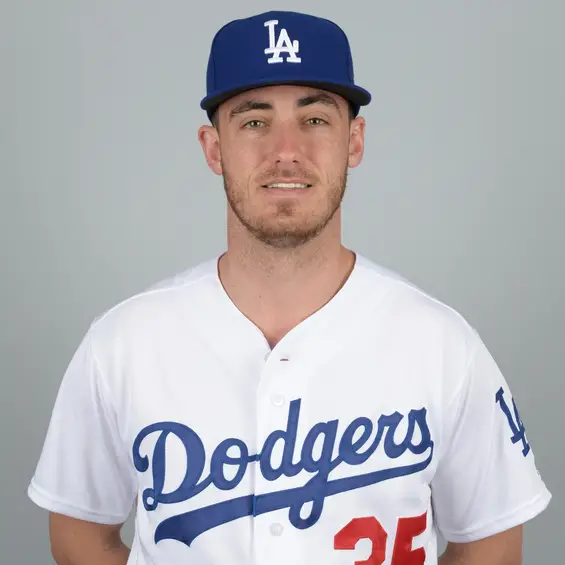 SWINGRAIL helps me stay inside and take a great path to the ball.
It's great for all levels — It's a teaching tool for young players and a maintenance tool for advanced hitters.
Now, you must be thinking, what is Swingrail, how it actually help hitters, and most importantly, what you can expect from it.
So, without further due, let's talk about it.
What is Swingrail Training Aid?
The Swingrail Training aid is a fantastic self-training equipment that enables you to rectify common swing flaws and gives you prompt feedback on improper swings.
This aid helps the player to give their best performance by fine-tuning their swinging techniques and building their muscle memory, which conclusively helps them to become a better hitter.
It also helps the player to strengthen their upper-body form while allowing them to become an advanced batter.
In fact, it not only improves your game but also provides you with a great launching position to further enhance your competence.
So to sum it up, it is an effective batting aid and swing trainer that immediately corrects frequent swing mistakes and helps the player to experience the correct swing techniques while allowing them to perfect their game.
Also, the Swingrail Training Aid can be used for both baseball as well as for softball practices.
How Swingrail Improves Your Hitting Skills?
Did you know that it's been scientifically established that Swingrail increases your bat speed by approximately 8%? That's how this training aid improves your hitting skills while allowing you to ace your game. Take a look at the images and the table that shows how Swingrail helps to improve your hitting performance.
|   |        BAT SPEED |   |
| --- | --- | --- |
| Swing Number | Before | After |
| 1 | 67 | 73 |
| 2 | 70 | 77 |
| 3 | 69 | 76 |
| 4 | 70 | 77 |
| 5 | 71 | 73 |
| 6 | 71 | 77 |
| 7 | 74 | 75 |
| 8 | 72 | 75 |
| 9 | 73 | 75 |
| 10 | 71 | 77 |
| 11 | 72 | 75 |
| 12 | 70 | 76 |
| 13 | 73 | 78 |
| 14 | 71 | 77 |
| 15 | 72 | 77 |
| 16 | 73 | 76 |
| 17 | 72 | 74 |
| 18 | 74 | 77 |
| 19 | 69 | 78 |
| 20 | 71 | 75 |
| | 1423 | 3033.3 |
| Median | 70.9 | 76.3 |
| CHANGE | | 5.38 |
| CHANGE % | | 0.08 |
|   |    Time to Contact |   |
| --- | --- | --- |
| Swing Number | Before | After |
| 1 | 0.138 | 0.131 |
| 2 | 0.139 | 0.124 |
| 3 | 0.137 | 0.118 |
| 4 | 0.132 | 0.121 |
| 5 | 0.136 | 0.125 |
| 6 | 0.136 | 0.119 |
| 7 | 0.131 | 0.116 |
| 8 | 0.129 | 0.119 |
| 9 | 0.132 | 0.121 |
| 10 | 0.129 | 0.12 |
| 11 | 0.139 | 0.126 |
| 12 | 0.136 | 0.124 |
| 13 | 0.138 | 0.111 |
| 14 | 0.138 | 0.114 |
| 15 | 0.129 | 0.118 |
| 16 | 0.131 | 0.113 |
| 17 | 0.135 | 0.123 |
| 18 | 0.127 | 0.117 |
| 19 | 0.141 | 0.115 |
| 20 | 0.127 | 0.121 |
| | 2.676 | 4.792 |
| Median | 0.135 | 0.119 |
| Change | | -0.016 |
| Change% | | -0.12 |
The Swingrail is like a personal coach that not only helps you to correct your swing flaws but also assists you in developing your knowledge on swing techniques.
It provides immediate external feedback in case of incorrect swings and assists hitters to develop a slow, powerful swing that enables them to stay 'inside of the ball.'
It also helps the player to remain connected with the rotational energy of the body; this is one of the significant factors behind swinging a ball with power.
You see, the powerful muscles of the hips and legs accelerate the rotation of the body, which directly affects the player's hitting potential.
It improves your upper body mechanics by helping you to build the right muscle memory for refined performance during real games.
The Swingrail allows a player to 'feel' the swing correctly by guiding the player's hand through a swift hit.
It also corrects the 'dropping off the shoulder and hands,' thus assisting you to stay connected to the ball.
This training aid comes with a rail (a plastic piece) and a padded adjustable Velcro armband that needs to fasten around the arm of the hand you will be holding your bat in.
You have to fit the rail with the bat and the armband; now, when you swing the bat wearing these gears, then in case of any incorrect swing, the Velcro from the armband will detach from the rail and give you immediate negative feedback informing you of your mishit.
This is how the Swingrail will help you to correct your swing style while you practice improving your hitting skills.
Overall Quality of Swingrail Training Aid
The Swingrail Training Aid is not only used by hundreds of players of all ages but also by hitting coaches in MLB to improve the skills of their younger players.
The reason behind this is that this training aid has several advanced mechanics imbibed within it that helps a player to work on their flaws.
To begin with, Swingrail's patented design enables the baseball players to get a 'real feel' of using the correct swing techniques.
It also comes with a 'Breakaway Guidestrap' that provides instant feedback to players in case of an incorrect swing.
This training aid also includes an adjustable armband and rail that can fit a bat of any size.
It also uses an 'elastic band and hooks' system to boost the sound mechanics that will keep the player alert and inform him in case of mishits.
The Swingrail swing trainer can be used by any player from the age of 9 and above.
It also has a newly redesigned armband that can fit and adjust well even to the smallest arms; this makes it accessible for players of all different sizes.
To be more specific, the armband has an adjustable diameter of 2.5," but it can be rearranged and modified to fit on even smaller arms.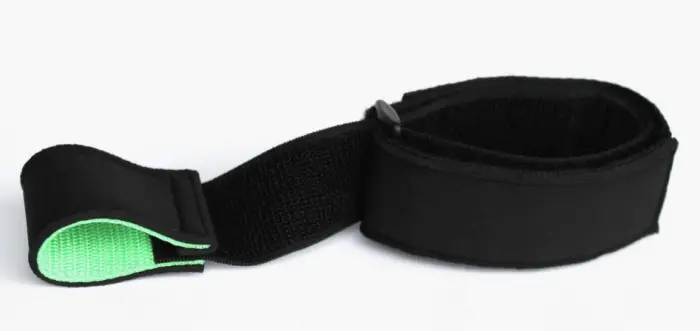 These attributes and the visible improvements are what make them such a great hit among younger players, their parents, and coaches.
In brief, the Swingrail provides durable and well-made training aids with noticeable results.
Features of Swingrail Training Aid
I mentioned above how the features offered by Swingrail makes it such a popular choice in the baseball world.
Let's dive in deeper to understand what these features actually provide and whether they are worth your time and money.
For starters, it helps the players to keep their hands and body 'connected' so that they can use their arms in an ideal way that creates an efficient and powerful swing.
It actually enables the hitter to stay in sync with the rotational energy of the body; this rotational energy not only helps him to maximize his hitting potential but also helps him to take a correct launching position.
A proper launching position is crucial for a hitter, and the Swingrail helps the player to achieve this.
Another important feature offered by the swing trainer is that it helps to obliterate casting.
Now casting is a persistent problem among hitters where many of them cast their arms while swinging and jam the 'sweet spot' offered by the bat by not staying in the contact zone.
This obstacle is more prevalent than you think, and Swingrail helps you to get rid of this casting problem.
The Swingrail also corrects the 'dropping of the arms and shoulders' issue by giving you immediate negative feedback if and when your arms fall a couple of inches below while blocking the direct path to the ball.
It also trains the player to 'hit the inside of the ball' which is a common baseball term of keeping the hand close to the body and hitting the ball in a way that creates the right bat path and maximum bat swing.
The above-mentioned features are what make them so well-known and widely accepted among the baseball players.
Reasons to Use Swingrail Training Aid
A Swringrail Training aid is an excellent option for anyone who wants to improve their upper body coordination and build muscle memory for both baseball and softball.
It is an efficient self-learning training gear that is suitable for every age player.
For example, if you are struggling with your batting form and you want to have a more confirmed stance on the track, then this aid could help you train for it.
Also, if you want to eliminate casting or correct the 'dropping of arms and shoulders,' then you can use Swingrail.
This aid will also help any player who wants to master 'hitting inside the ball' or achieve a strong launching position.

It lets you experience how you'd feel if you swing correctly; it enables you to develop your talent while immediately informing you when you swing a mishit.
This gear helps you to train better and reach the shortest path to the ball while improving your hitting ability.
In fact, you should start with dry swings and slowly increase your speed; I promise you will see the difference yourself.
You can also use this for tee-work and soft tosses and make your way up from there.
After using this training aid, several players have successfully improved their bat path along with better alignment with their swings
To sum it up, a Swingrail helps a player to rectify any flaws in his swings and reach their full potential during a game; this itself is an adequate reason to practice your game with this training aid.
FAQ about Swingrail Baseball/Softball Training Aid
How to Set Up a Swingrail?
A Swingrail comes with two gears, as mentioned below:
A padded adjustable Velcro armband and
A rail with a versatile band to fit all bats.
To set-up the gear, you need to fasten the armband around your arm and fit the rail on the top-hand of the bat.
Then you need to bring the bat close to the armband and slowly put the loop (the Velcro on the armband) in the rail.
Who Should Buy Swingrail Training Aid?
Anyone who is struggling with their swinging techniques or who wants to further refine their skills on the field should buy a Swingrail.
It's not just meant for beginners or amateurs; even those players who want to perfect their game, irrespective of whether its baseball or softball, can buy this.
Does Swingrail Really Work?
Yes, Swingrail does help you to enhance your swing mechanics if you put in effort and practice enough.
Many amateur players have improved their game with this training aid.
In fact, it is used by hundreds of players and coaches in baseball and is well-trusted in more than 20 MLB (Major League Baseball) organizations.
Why Should I Buy Swingrail Training Aid?
If you want to refine your swings by eliminating common flaws, then Swingrail can help you achieve that.
It builds your upper-body mechanics for both baseball and softball and also helps you to develop muscle memory while actively correcting poor swinging techniques.
In short, if you are a novice or an intermediary hitter who wants to improve his stance on the field, then this is for you.
Final Words
I don't mean to get your hopes up when I say that Swingrail helps a player perfect his swinging skills.
Because the improvement will not come in a day or two, you will have to practice enough and pay attention to where you are going wrong.
In the end, it is a self-learning aid, and it will only work if the player is willing to put in the necessary effort.
That being said, if you do make the correct use of this, then there is no reason why 2020 can't be the year you ace your swinging!