*As an Amazon Associate I earn from qualifying purchases. I will get commission for purchases made through links in this post.*
I'm sure you have heard about Wilson A700 Glove and A900 Glove.
Wilson A700 is a baseball glove that's quite popular among young players because of its affordability, different web designs, full-grain leather construction, and game-ready pre-broken in feature.
All these things make it one of the best baseball gloves for young players and also for the adults who love to play baseball casually with their family and friends.
What about the A900 Glove? What are the differences between these two gloves both by Wilson? Are they really that good?
Let's do a review and a comparison between the Wilson A700 glove and A900 glove to answer these questions and to find out which gloves you should buy this 2021.
So, let's get started.
|   | Wilson A700 Glove | Wilson A900 Glove |
| --- | --- | --- |
| Material | Full-Grain Leather | Leather |
| Design | Single post web | H-web pattern |
| Size | 12.5 inches | 12.5 inches |
| Color | Blonde | Brown |
| Hand Orientation | Left and Right | Left and Right |
| Perks | Lightweight construction | Double palm construction |
Wilson A700 Baseball Glove Review
Wilson A700 baseball glove is built with full-grain leather and available for both hands. The web design makes it an ideal glove for pitchers, infielders & outfielders. The A700 glove is pre-broken in which means break-in is not required to use it. Along with that, it's quite affordable. So, let's learn in detail about Wilson A700.
Wilson A700 Glove for Different Positions
Watch this short video to know about the different varieties under Wilson A700, and which size is perfect for pitcher, infielder and outfielder.
Wilson well knows and fully understands that even the minutest difference in size makes a huge impact which is why they have made their A700 gloves available in 4 different sizes (11.25", 11.50", 12" and 12.50") to cater to the needs of all the players. So, make sure to check the size of your hands before buying a glove.
The choice of the glove also depends on the primary position of the players so as to maximize their performance and make sure that their gloves do not create any hindrance for them.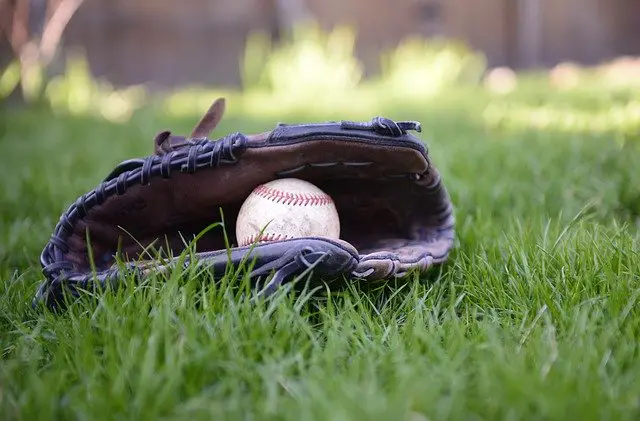 And although these gloves are suitable for younger athletes playing all the different roles on the field, they are particularly recommended for positions listed below:
Outfield
Infield
Second Base
Third Base
Short Stop
The size of the glove and the primary position of the player- these two factors play an extremely vital role and must be considered when choosing the ideal glove for a player.
Overall Quality of Wilson A700 Glove
Watch this unboxing video of Wilson A700 Baseball Glove.
The Wilson A700 is made of full-grain, robust cowhide leather, which is one of the highest grade leather available in the market.
The full-grain leather skin diminishes the overall density of the gloves which makes them airy and spacious.
Its soft and supple touch, along with the light-weighted construction makes it very comfortable for the players to wear them for hours without tiring their hands.
Apart from this, they are very durable and last for several seasons even after continuous use.
These gloves have laces made of real leather which holds them together; this further explains why they are sturdier as compared to some of their competitors.
They are also available in discrete sizes for both hand orientations; this mainly caters to the individualistic needs of the players.
Wilson is known to set their standards by providing quality gears for their customers and this glove is one such example of how they strive to provide the best fit for all their players.
What Does Wilson A700 Baseball Glove Has to Offer?
These baseball gloves feature the modified H-web style, Pro Laced T-Web, and single post web that makes it ideal for any pitcher, infielder, and outfielder players. If you don't know the difference between these webbings, then you should read my other article that talks about baseball glove web types.
The H-design of the glove also enables any debris or dirt to fall right through the opening while keeping the glove solid enough to field hard balls.
The Wilson A700 also provides a luxurious and athletic look because of its visually pleasing blonde color and velvety touch.
The glove has an open bac to ensure that your fingers inside the glove remain dry and agile even on hot summer days, thus making sure you make fewer mistakes during the game.
The real leather laces, along with the robustly engineered construction design, will make sure that your glove holds up even during the most demanding games and enable you to give your best.
Another notable feature of these gloves that makes them such a popular choice among the players is that they are game-ready right out of the package.
They are one of the few gloves in the market that can be used right out of the wrapper.
Unlike other gloves, you don't need to put in hours of your time rubbing the oil in the glove to break in; you can directly take them from the box out to the field without a second thought.
However, despite these claims by the company, a couple of users have asserted that some kind of break-in was required before the use. Even if a little break-in is required, it's not a big deal. You can break-in this glove in no time.
In spite of this, the Wilson A700 has managed to provide quality-fit gloves along with innovative features that have been designed to meet the requirements of their varied consumer-base.
They offer different sizes for both (right and left-handed players) while providing the utmost support and comfort to the throwers.
And what else, Wilson also offers a 1- year manufacturer warranty in case there are defects in the quality of the glove, or if you are unsatisfied with the product.
Missing Features in Wilson A700 Baseball Glove
Although A700 pretty much takes care of all the major components needed in a baseball glove, there are still a couple of features missing that I would like to address here.
For starters, the Wilson A700 is not available for Catcher's position i.e. in the 'mitt' form.
These gloves are suitable for many different positions, as mentioned above; however, they cannot be used for Catcher's position.
Catcher's gloves (aka mitts) are actually different from the standard baseball gloves because they don't have openings for your four fingers as compared to the regular gloves.
Catcher's mitts only have two openings, one for your thumb and one for your four fingers; this design is more comfortable and fits better for players who are at the receiving end of hard-thrown pitches in these games.
So, if you want to play at any position on the field, even if you want to use your Wilson A700 as pitcher's glove, you're welcome. But, when it comes to catcher's mitt, Wilson A900 is the straight choice.
Also, A700 doesn't offer any options for custom fittings or wrist adjustments since they do not provide any 'Velcro wrist strap.'
However, in their defense, very few baseball gloves offer Velcro straps since they are more commonly available in the catcher's mitt.
Additionally, the inner sides of the A700 model are made of synthetic material as opposed to the outside, which is made with 100% leather.
This synthetic material sometimes tends to make your hand sweaty during hot weather if you wear them for a more extended period.
Who Should Buy Wilson A700 Baseball Glove?
The Wilson A700 is suitable for juvenile baseball players between the age groups of 7-12 years.
They are a good option for younger players who are looking to develop their skills and get better in their game.
Adults can also use them for playing catch with children at home or for playing a couple of friendly baseball matches with their friends.
In the case of more professional matches or big-league games, Wilson offers many better choices as compared to A700.
Like for in case of high school baseball league matches, the Wilson A2000 would be an ideal option for you to consider.
The A700 gloves are incredibly affordable and come with unique features; however, they are preferable for younger age group players (like beginners or intermediary) or adult amateur players who like to play catch with their kids.
Wilson A700 Glove vs. Wilson A900 Glove
To further understand the characteristics of Wilson A700, we are going to compare it with an advanced and upgraded version of the same brand gloves, the Wilson A900.
The reason why we chose A900 is that it's almost the same price as A700, and despite the price similarity, some noticeable changes do set them apart.
Watch this video to see different sizes and features of Wilson A900 Glove.
To begin with, the Wilson A900 uses the ECCO leather, which is much more durable than the cowhide leather used in A700.
However, even with the superior-quality leather, the A900 is stiffer and harder in comparison to A700 (which is softer and suppler in nature).
Apart from this, A700 feels exceptionally comfortable on the hands, whereas many players have complained that A900 isn't firm enough and feels rubbery without retaining the shape.
Also, A900 has a complete leather construction, whereas A700 has some synthetics added to the inner part of the glove.
Wilson A900 also offers the Pedroia fit and a low-profile heel to their players; this not only gives the glove extra flexibility to open and close but also makes it a great fit for players with smaller hands.
It also has a double-palm construction installed in the front-side of the glove, which has reportedly enhanced the overall performance of the glove.
The Wilson A900 also provides a strong game-ready feel without much break-in needed before the game, just like the A700 series.
But, A700 is not available in the catcher's mitt as mentioned earlier; on the other hand, the Wilson A900 is available for the catcher's position.
Final Words
The Wilson series has been dominating the market for a long time with its premium quality and high-performing gears.
Wilson A700 gloves are an excellent choice for people who don't want to splurge and at the same time, want an above-than-average glove with unique attributes.
On the other hand, the A900 glove is as amazing as the A700 glove and comes on par with it when it comes to features and quality plus something more.
To sum it up, both these baseball gloves are definitely worth trying this 2021. It all depends on your position on the mound and your personal preferences.