A lot of pitching machines available on the market and Zooka ZS740 is one of them.
But, it is worth buying?
Should you give it a try?
The Zooka ZS740 pitching machine is one of the popular baseball pitching machine that offer all the necessary features that a baseball player needs.
In this Zooka ZS740 Review, you'll get to know a lot about it, and you'll get a clear idea of whether you should try it or not.
Zooka ZS740 Review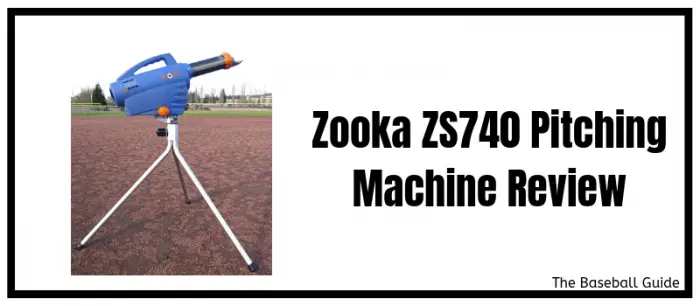 Whenever we buy something, it is very important for us to check in details, features, and specifications. This is what makes the product we buy stand out of the products of the same kind. There are a number of things we expect from a pitching machine and hence we need to make sure Zooka ZS740 has all the features we expect it to have.
Battery
The ZS740 is powered by a battery. It is a 12-volt sealed battery and is rechargeable. When the battery is fully charged, the pitching machine can throw nearly 800 pitches at the speed of 40 MPH. It can throw 700 and 500 pitches at the speed of 50 MPH and 70 MPH respectively.
The battery and the charger are included with the pitching machine and have a life of about 4 to 6 years on normal use. The best part is that it can be fully charged in about 10 hours and can work well.
Weight
There might be necessities to carry around the pitching machine and hence looking into the weight of the machine is also very important.
The entire system weighs only 30 Lbs, which is around 13.6 kg, including the tripod stand which usually comes along with the machine.
The length of the machine is also not that much, it is just 36 inches and it is hence very easy to place at the required position. These are small features that have attracted a lot of buyers.
Construction
The pitching machine is made of steel and is about .125 inches thick. The outer housing is made of high impact polycarbonate. This makes it even special. It is also very strong. Also, the barrel is made of Aluminium alloy. The tripod is also made with the alloy of aluminum. This alloy is made very strong and light. This is the main reason for the light weight.
Pitch types
The pitch machines usually are capable of producing many types of pitches. This is a very good machine and is capable of giving out fastballs with topspin rotation. This can help a lot of people get properly trained. The pitch distance of this machine is 20 to 65 feet.
The tripod also has adjustments. The high tripod has a pitch release height of about 43 inches while the low tripod has a pitch release height of 24 inches. This gives the players a very wide choice of pitch release height to choose from.
There is a necessity for changeups too. The changeups here can be done using a computer. The computer controlled changeup is a very good advantage as it makes your job much easier than it is.
Throws
There are quite a few balls that work perfectly in the pitching machine. The Zooka ZS740 will be able to throw a real baseball, dimple balls, safety balls and also tennis balls. Since it is possible to use all kinds of balls, people prefer this over other pitching machines.
The speed adjustments
The best part here is the digital speed reader. It is possible to read the perfect speed and make sure you make no mistakes. The speed can be adjusted from 10 miles per hour to 70 miles per hour and it is possible to change at the minimum of 1 MPH, increase or decrease. It is very easy to adjust the speed on the pitching machine.
Pros and cons
We always tend to look into the pros and cons in detail to make sure you have everything you need in it and make sure the cons really don't matter.
Pros
The machine can very easily be protected by password and hence not everybody can operate it. It is very safe and secure.
It does not need a generator to make it work. It also does not need gasoline or anything else to make it work properly. It is run with the help of batteries, which makes it safer
The battery here can work for nearly 4 to 5 hours continuously which is a very long time. Just remember to turn it off when it is not being used. It does not need a power cord or an extension cord. It works perfectly well. The battery power can depend on the speed of the ball.
It is possible to throw a small or large ball using it. It is important to check all the settings before you work on it. This can help you do what you need with the machine.
It can help throw heavy balls without damaging the machines. The only thing that might get damaged is the wheel part of it. It is also very easily replaceable.
It is very easy to use and is good for fielding practice. This can throw many kinds of balls and is also safe for kids to learn to catch balls. It is a very big advantage.
It works perfectly well for a very long time. It has worked for more than 5 years without any hassle for many users.
Cons
If you set the speed high then you have to make other necessary adjustments. You may have to lower the point the machine's barrel. If not, there can be problems and the ball may not fly properly.
The cup can get dirtier very easily. It is very important to keep it clean and proper.
The final verdict
There are a lot of people who need this machine to learn to catch or to learn to play with these balls. This is perfect for beginners. It is not very expensive. It can also be used by children to learn to play. This pitching machine is very easy to buy as it is available on many online sites.
The only important thing here is to check all the manufacturer details, specifications, and the manual of ZS740 to get each and every detail that you need.
This has got very good reviews and ratings. Just check all the instructions on the manual before using this. Keep it away from the reach of children to prevent any accidents.