It's a beautiful day for some baseball, and we're here to bring you all the action! 
A classic American sport, baseball is loved by millions of people around the world. 
As we all know, traditionally, baseball is played outdoors, modern technology and advancements in design have enabled indoor baseball stadiums to be built that offer a unique experience to both players and spectators.
Indoor baseball facilities offer a variety of benefits, such as weather protection, year-round availability, and comfort and convenience, making them increasingly popular. 
In this article, we will discuss some of the top indoor baseball stadiums around the world, the challenges and prospects, and the advantages and disadvantages of indoor stadiums.
So, Let's get started!
Dimensions of an Indoor Baseball Field
Get ready for a bombastic game on an indoor baseball field! (Just Kidding)
A baseball field's dimensions vary based on the stadium, but the infield is usually the same size as an outdoor baseball field. Due to space limitations, the outfield is usually smaller in indoor stadiums.
The outfield dimensions can vary, but they are often smaller in indoor stadiums due to space limitations.
Here are the dimensions and features you need to know:
The rectangular field measures approximately 90 feet (27.4 meters) long by 50 feet (15.2 meters) wide.
The outfield wall can vary in height but is typically between 8 and 12 feet (2.4 to 3.7 meters) high.
The pitching mound, located at the center of the field, is raised to a height of 10 inches (25.4 cm) above the playing surface. The distance from the mound to home plate is typically 60 feet 6 inches (18.4 meters).
The bases are positioned in a diamond shape, with a distance of 90 feet (27.4 meters) apart from each other.
And don't forget, the ceiling height should be high enough to allow for safe play and to accommodate any necessary equipment, such as batting cages or pitching machines. 
Let's play ball!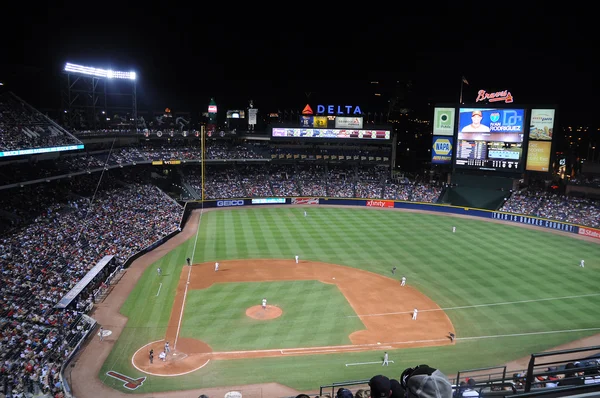 Top Indoor Baseball Stadiums Around the World
Tropicana Field
Want to catch the Tampa Bay Rays play without worrying about the weather? Tropicana Field's got you covered! 
The domed stadium, which opened in 1990, is the only MLB stadium with a fixed roof. It can seat up to 25,000 fans and offers a climate-controlled environment, making it the perfect spot for sports fans who want to enjoy the game rain or shine.
Globe Life Field
Get ready for an epic game at Globe Life Field, the newest addition to the retractable roof fields! It's the home of the Texas Rangers and was built in 2020 with a retro-modern design. 
Featuring artificial turf and a 407 feet centerfield, it's a perfect spot to hit a home run. Plus, the retractable roof is a game-changer for Arlington, Texas, which often experiences rain and high temperatures. Construction costs exceeded $1 billion dollars, making it a true masterpiece.
LoanDepot Park
Yo, Marlins fans, This one is for you! 
You gotta check out LoanDepot Park, their home stadium! It was built in 2012 and has a retractable roof, plus it can seat over 36,000 of you! 
The design is neo-modern and totally screams Miami vibes, and it cost a whopping $630 million to make. Bonus: the park is eco-friendly and LEED-certified, and there's a parking complex and trolley service.
American Family Field
Wait, If you're looking for a cool place to catch the Milwaukee Brewers play, check out American Family Field in Milwaukee, Wisconsin. 
This retro-modern ballpark has a super-unique retractable roof that can open and close in under 10 minutes, so you won't miss a minute of the action. 
With more than 41,000 seats, a grass and dirt field, and tons of awesome amenities, you're guaranteed to have a good time. 
And it only cost about $400 million to build, with almost $290 million coming from public funds. 
Not too shabby, huh?
Minute Maid Park
Okay now, Lemme take a deep breath! I got too excited :')
Let's talk about Minute Maid! Experience the thrill of Minute Maid Park, home to the Houston Astros!
With its retro-modern design, retractable roof, and grass and dirt field, this stadium offers a unique and exciting game-day experience. 
Don't miss out on the action in Houston, Texas, where the ballpark can hold up to 41,188 fans. And if that's not enough, the stadium also hosts various events outside of baseball, including soccer, wrestling, concerts, and weddings. 
Plus, you'll stay connected throughout the game with Wi-Fi throughout the stadium and the fourth-largest HD screen in the league.
T-Mobile Park
I know you are a Die-Hard Baseball fan & I bet you don't wanna miss this one.
For the ultimate baseball experience, visit T-Mobile Park in Seattle, Washington. This iconic field, formerly known as Safeco Field, is home to the Seattle Mariners and has a retro-modern design with a retractable roof that opened in 1999. 
With a seating capacity of 47,929, it has hosted not only MLB games but also amateur baseball games and Wrestlemania. 
The roof's partial closure allows you to stay comfortable in Seattle's mild climate, and with two perfect games and six no-hitters, T-Mobile Park is a must-visit for any baseball fan.
Chase Field
Looking for a retro-modern stadium experience in sunny Phoenix, Arizona? Look no further than Chase Field! 
Home to the Arizona Diamondbacks and boasting a retractable-roof design, this stadium offers a unique cooling system involving a plant located outside of the stadium. 
But it's not just baseball – Chase Field also hosts international soccer games, concerts, college baseball, and basketball games, all with a seating capacity of 48,405 fans. Don't miss out on the action!
Rogers Centre
And, the last one is the Rogers Centre!
Believe me, Don't miss out on the chance to visit the Rogers Centre in Toronto, Canada! 
This $570 million dollar multi-purpose stadium, with a retractable roof, offers a one-of-a-kind experience for sports fans. 
Home to the Toronto Blue Jays, the Rogers Centre has hosted various sports events, including basketball, wrestling, cricket, soccer, and hurling, and set the attendance record during Wrestlemania X8 with 66,237 wrestling fans. 
over and above that, the stadium offers a hotel, restaurant, and team store. Make sure to add the Rogers Centre to your list of must-visit sports destinations!
Advantages of Indoor Baseball Stadiums
Now, It's time to discuss some advantages!
Weather Protection
One of the main advantages of indoor baseball stadiums is weather protection. Outdoor stadiums are often at the mercy of the elements, which can lead to game delays or cancellations. 
Indoor stadiums with retractable roofs provide protection from rain, wind, and extreme temperatures, ensuring that games can be played regardless of the weather conditions.
Comfort and Convenience
Indoor baseball stadiums provide a more comfortable and convenient experience for players and spectators. 
Indoor stadiums have comfortable seating arrangements, modern amenities, and access to food and beverage options, making it a more enjoyable experience for fans. 
Players also benefit from the climate-controlled environment, which ensures that they can perform at their best regardless of the weather conditions outside.
Year-Round Availability
Indoor baseball stadiums are available year-round, providing a consistent and reliable venue for games and events. 
Outdoor stadiums are often limited to the baseball season, making it difficult to schedule events and games outside of that time frame. Indoor stadiums allow for more flexibility and can host a variety of events throughout the year.
Disadvantages of Indoor Baseball Stadiums
How can we forget the disadvantages? So, here are some:
Limited Capacity
Indoor baseball stadiums often have a limited seating capacity compared to outdoor stadiums. This can make it difficult for teams to sell as many tickets and generate as much revenue as they would in an outdoor stadium.
Higher Costs
Indoor baseball stadiums are often more expensive to build and maintain than outdoor stadiums. This can lead to higher ticket prices for fans and higher expenses for teams.
Lack of Tradition and Atmosphere
Indoor baseball stadiums lack the tradition and atmosphere that outdoor stadiums provide. Outdoor stadiums often have unique features and traditions that make them special and add to the overall experience for fans. Indoor stadiums can feel more sterile and less exciting than outdoor stadiums.
Frequently Asked Questions
Why are baseball stadiums different sizes?
Baseball stadiums vary in size due to factors such as historical tradition, geographical location, and team preference. Some stadiums are larger to accommodate bigger crowds, while others are designed to provide a more intimate experience for fans.
What are some of the indoor baseball stadiums in MLB?
There are three indoor baseball stadiums in MLB: Tropicana Field (home of the Tampa Bay Rays), Rogers Centre (home of the Toronto Blue Jays), and Chase Field (home of the Arizona Diamondbacks).
Conclusion
Phew! I think I didn't miss anything due to excitement!
Indoor baseball stadiums offer a unique experience for both players and spectators. Modern technology and advancements in design have led to the creation of some of the top indoor baseball stadiums around the world. 
While there are advantages to indoor stadiums, such as weather protection, comfort, and year-round availability, there are also disadvantages, such as limited capacity and higher costs. 
We can expect to see more indoor baseball stadiums and other indoor sports facilities being built in the future, despite these challenges.
Before finishing I'm adding some blogs related to updated Little League Rules for you:
Little League Bat Rules, Little League Pitching Rules, Pony League Bat Rules & Pitching Rules.