I know you're looking for some good baseball chants, and now, your search is over.
In the below, I have shared many chants that can be used in the little leagues to motivate young players.
So, without wasting any time, I would like to show you my favorite baseball song which was written in 1908 by Jack Norworth and Albert Von Tilzer.
I think you'll enjoy it even more if you listen to this song. It's only a 1-minute long video. You'll love it:-D. Just play this below-mentioned video, and enjoy.
" Take me out to the ball game,
Take me out with the crowd;
Buy me some peanuts and Cracker Jack,
I don't care if I never get back.
Let me root, root, root for the home team,
If they don't win, it's a shame.
For it's one, two, three strikes, you're out,
At the old ball game. "
Pre-Game Hype Up Chants
I want you to watch this great video of players using chants to motivate before the game.
At some points, try not to laugh 😀
Now, it's time to take a look at some more baseball cheers.
Home Run Chants
---
"We want a single, just a little single,
S‐I‐N‐G‐L‐E, single, single, single.
We want a double, just a little double,
D‐O‐U‐B‐L‐E, double, double, double.
We want a triple, just a little triple,
T‐R‐I‐P‐L‐E, triple, triple, triple.
We want a home run, just a little homerun,
H‐O‐M‐E‐R‐U‐N, homerun, homerun,
Homerun."
When little league players hear this baseball cheer, I'm sure they'll get motivated.
Now, let's look at some more home run chants for little league players that you can't ignore.
Chant – 2
"Ooooooooooooooohhhhhhhhhh,
Our team is the best,
They never lose a game,
They hit the ball,
Out of the park,
And around the base,
The other teams see us,
We scare them all awaaaaaayyyyyyyy,
And that's because we're the best,
Our team will win today."
Chant – 3
"H O M E,
That's the best place for us,
We have got the bases loaded,
C'mon,
And we're going, going, going,
H O M E,
Yes, that's right, it's the place for us."
Team Chants
---
Hit it!
We are the (team name) and we got that beat!
So come on you all and move off your feet!
Hit it!
Mighty, mighty, mighty (team name)
Do it, do it, do it, do it!
Mighty, mighty, mighty (team name)
Do it, do it, do it, do it!
Here we go, ready to roll,
We're the (Team name),
We're green and gold!
One more time! Do it again!
Come on (Team name)! Let's WIN-WIN-WIN!
Chant – 2
"Can't be at number two!
And we are going to beat,
The whoopsie out of you!"
Chant – 3
We are number one!
We can't be number two!
So if you step up our way, you might as well move
'Cause we're climbing higher each and every day
So (opponent team name) move outta our way!
Stand up and cheer! Let 'em know we're here! C'mon (team name) don't be lame! You'll win the game!
Chant – 4
We're number one!
Can't be number two!
And we're going to beat,
The whoopsie out of you!
Chant – 5
Hey, Hey!
Hey, Hey!
Are you ready?
Are you ready?
To play!
Say, Go, team!
Go, team!
(Team name) all the way!
Chant – 6
Let's get fired up!
Get rough, get tough, get mean!
Let's get fired up!
And roll right over that team!
Chant – 7
"Be aggressive, be, be aggressive,
B‐E‐A‐G‐G‐R‐E‐S‐S‐I‐V‐E.!"
Baseball Chant for Pitchers
---
"Slider Speedy,
Or even a curve,
Pitch, Pitch, Pitch that ball,
We don't care how but,
Strike him out!"
Chant – 2
"Concentrate, Pitch that ball,
Make that player strike at the plate!"
Baseball Chants for Hitters
---
Harder!
Faster!
Whatever it takes!
When you hit that ball,
We wanna see the bat break!
Chant – 2
Down the field,
Over the line!
Let's do it!
ONE. MORE. TIME!
Chant for Little League Players
---
"The "yay-ers" might argue it's all in good fun. Ehhh…
It's meant to build comradery. Perhaps…
It's part of every sport. shrug
They're just cheering their friends on. True.
It's "cute". Is it really though?"
This is another great video of how players use chants to get motivated before the game.
What is a Baseball Chant?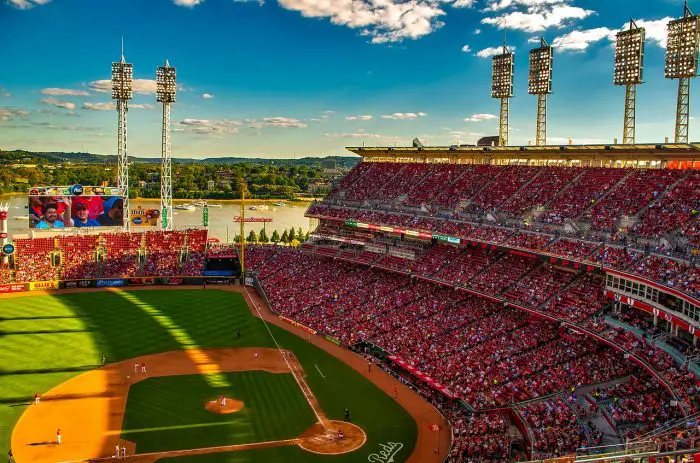 Baseball Chants is actually the cream of the cake which we generally garnish the cake i.e. it can, therefore, add tons of excitement and energy to a game.
If you see this video, you'll feel the energy from these baseball chants.
These chants are often very short and sweet as the main part of the game is to get all the attention of the fans involved in the chant. There is no doubt that enthusiastic fans love the baseball cheers and thus participate in all kinds of bleacher antics.

But the chanting depends not only on one person because sometimes it's a simple yell, sometimes a group motion in the chants, or just a simple chant for a particular player. Moreover, Baseball fans love to cheer on their favorite team by chanting their names.
When To Perform Baseball Chants?
A baseball game is very much unique among all the other ball sports games i.e. the offense whereas the defense plays one at a time. Though basketball and football both the game have actions that could be defensive and offensive in the blink of an eye, in the case of baseball, it, therefore, takes turns for offense and defense.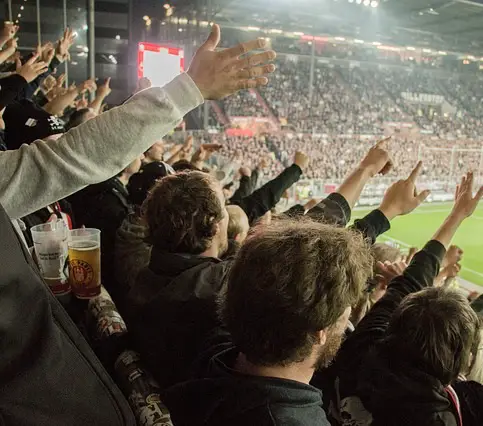 Here we have listed some of the situations when chanting is needed. They are thus listed below one by one.
Some of the baseball teams do their own baseball chant from the dugout.
Even during the 7th inning stretch, everyone will, therefore, notice a baseball chant or sometimes even see a dance where everyone knows the motion like the Macarena.
Normally fans often chant after hitting a home run and especially after he has hit a home run and was thus running when the bases were thus loaded.
Other than this, fans even chant when a new player is coming to the ground for batting.  But it is sometimes considered poor to cheer a player who is at bat because it is very important to know basic baseball etiquette.
Popular Baseball Chants for the Dugout
"Let's go [Team Name]!"
"We want a pitcher, not a belly-itcher!"
"Take me out to the ballgame"
"Defense! Defense!"
"Here we go [Team Name], here we go!"
A. "Let's go [Team Name]!"
This is perhaps the most popular baseball chant of all time. Simply replace "[Team Name]" with your team's name and encourage your teammates to chant it loudly and enthusiastically. This chant is great for getting everyone fired up and showing support for your team.
B. "We want a pitcher, not a belly-itcher!"
This chant is often directed at the opposing team's pitcher and is a playful way to show your team's support for your own pitcher. It's also a fun way to get under the skin of the other team and show them that you mean business.
C. "Take me out to the ballgame"
This classic baseball song is a crowd favorite and can be a great chant for the dugout. Encourage your team to sing along and show their love for the game.
D. "Defense! Defense!"
This chant is a great way to show your support for your team's defense. It's short, simple, and effective. Get everyone chanting it together to show the other team that you're not going to let anything slip by.
E. "Here we go [Team Name], here we go!"
Similar to "Let's go [Team Name]!", this chant is a great way to get everyone energized and show their support for the team. It's simple, easy to remember, and effective in creating a fun and supportive environment in the dugout.
Why Baseball Chant is Necessary?
It is very much important because any repetitive thought or any action thus forms an impression that if reinforced becomes a center. Even the same principle is maintained or used to create the devotion center through chanting.
As a result, when the chanting is negative our subconscious mind is nullified. So for discouraging the opposite team, chanting also plays an important role.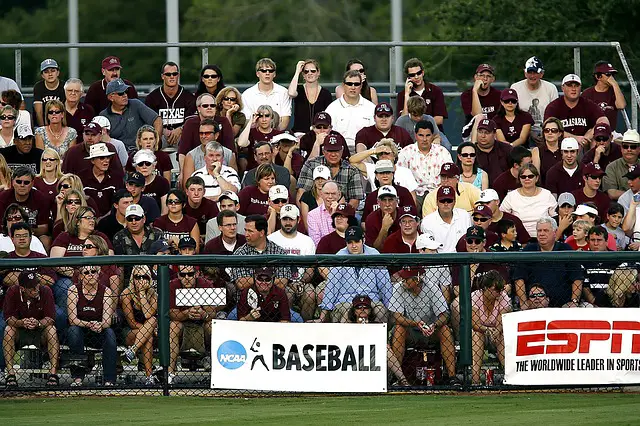 Other than the negativities, there are also some benefits which thus include medical, psychological, and spiritual benefits. Baseball chants, therefore, are a great way to add some energy and enthusiasm to a game.
But it is best recommended that the chants should be kept short and sweet so that they are memorable and are not too difficult to coordinate with everyone.
Thus chants not only bring about fighting spirit and pride in a particular team and supporters but also help the team members to strive hard and give the game all they have got.
So, these cheers thus help them to gain some confidence that their people are rooting for them. Even these attributes and sounds could then be utilized rather than an attempt and make some rhymes.
Baseball chant is therefore acted as an incredible approach to vitality and fervor to a diversion.
Baseball Cheers or Sounds
There could be so many baseball sounds and cheers. If you are in a large stadium, you can feel the energy.
I suggest you take a look at the Large Stadium Crowd at Baseball Game. In this, you can hear many cheers that are full of energy.
The cost of a Large Stadium Crowd at a Baseball Game is just a few cents.
Another very cheap thing is Baseball Sound Effects in which you'll get many chants, umpire calls, bat ball hits, and many more. Take a look at the price of Baseball Sound Effects and see what different sounds you're getting.
Final Words
These baseball chants help to support your team in each individual game.
And even the chants can be changed sometimes for an individual player or for someone who's supposed to make a home run. However, there are plenty of different opportunities to try out new chants.
So, now you're aware of these baseball chants to cheer up your favorite player/team and build a serious bond with them.