You probably have chosen baseball as your sport in high school and investing in a high-quality baseball bat is important to make a great performance.
After choosing a baseball bat for your little league career, a wooden bat is a good choice for high school baseball. But not all wooden bats are as effective as the best ones.
You must buy one which will give you excellent quality and performance, help save money since you won't be spending for more, and save time since you won't need to research for the best wooden bats all day.
Below are the highly recommended baseball bats for high school in 2021.
My Personal Recommendation
If I have to recommend just one wooden bat that is the best for high school baseball, I'll go with Louisville Slugger Genuine Series 3X Ash Mixed Bat. 
It has a black finish and is available in sizes 33 and 34. This bat has a cupped end and a lightweight feeling that gives you a good swing and balance.
You will also have a comfortable grip with the bat's thin handle. With all these good features and the affordable price, you can never go wrong in choosing this.
Best Wooden Bats for High School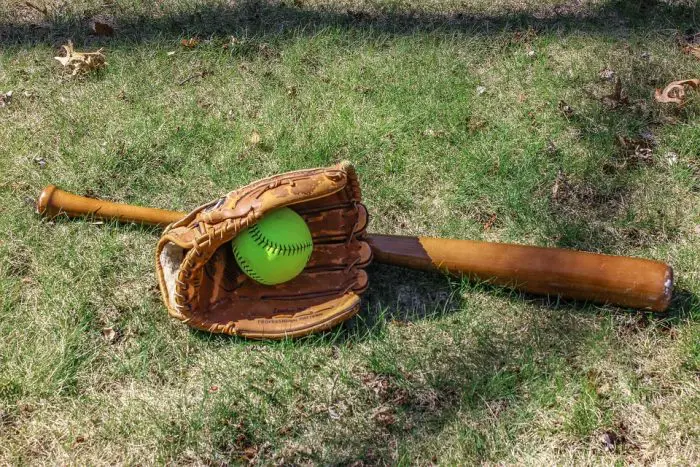 Axe Bat Pro Hard Maple (-3) Wood Baseball Bat / 271 Profile
There are different baseball bat drops, and this is a drop 3 baseball bat. They can be used by high schools and adults as it is available in three sizes which are 32, 33.5, and 34 inches.
With this baseball bat, hitting will have great impact and more optimal contact while providing a very lightweight feeling when swinging. It was proven that many players who used this performed a lot better than average in the game.
Compared to traditional round knobs, Axe Handles greatly help the hitter to position himself correctly. It has also gained 0.6 mph of exit velocity.
The 271 turns tapered allows the hitter to hit the ball with speed and power. Also, the cupped end was designed to provide improved balance. 
Plus, it features an enhanced launch angle of 4 degrees and 22 feet of distance. 
Moreover, a hitter won't be able to perform better if they are not comfortable with their bat. So, the overall feature of this wooden baseball bat, especially the Axe handle, gives excellent stability to execute powerful hits at maximum speed while ensuring the hand's comfortability with the thin handle.
Louisville Slugger Genuine Series 3 Maple C271 Baseball Bat
The Louisville Slugger Baseball Bat is in color black and available in sizes 30, 31, 32, 33, and 34 inches.
This baseball bat has a cupped end thus providing a good swing and balance because of this very lightweight feeling, made perfect for beginners or those in high school. This feature also greatly contributes to the bat's swing speed.
Plus, using this wooden baseball bat will allow the hitter to make powerful hits as it is heavier than other wooden bats. With this, every ball hit will be faster and more impactful.
The C271 turning is matched with the thin handle that gives a comfortable grip for the hitters.
Moreover, this wooden baseball bat has an increased exit velocity.
These features help in making the hitter feel comfortable during the game.
Rawlings Sporting Goods Adirondack Ash Wood Bat
The Rawlings Sporting Goods Adirondack Ash Wood Bat
is in color black and comes in sizes 33 and 34 inches. It can be functional for experienced hitters as it is considered one of the best wood bats for adults.
Rawlings brings you a high-quality and highly reliable wooden baseball bat since ash is known for being lightweight and durable. Because of these features, the hitter won't easily get hurt by holding the bat tightly when making a hit.
Plus, the large barrel size allows the hitter to have a larger surface area. Hence, it leads to a greater reach. The only negative side about this feature is that a lengthier bat is equivalent to a heavier bat so it can be difficult to swing.
Moreover, the laser engraved knob allows easy personalization.
Louisville Slugger Prime High Roller – Maple C271 Wood Baseball Bat
This wooden baseball bat comes in color black with touches of gold to represent the brand. It is available in sizes 31.5, 32.5, and 33.5 inches. 
Louisville Slugger brings you this C271 version that has been best-selling ever since its first release. This gives the bat a high-end and clean look.
Aside from its look, the C271 design includes a longer barrel with a thinner handle and a weighted. These features are what high school students are looking for as it gives them the quality performance they need. 
These features provide a good balance of swing weight allowing the hitter to do impactful and faster hits.
As to its durability, the baseball bat has a thicker width edge along the end of the barrel. This contributes to giving the bat an excellent resistance to cracks despite many uses. 
Furthermore, medallions are embedded in this wooden baseball bat's knob. This includes the features of the bat, especially improved ones such as length, species, and the wood's MLB prime grade.
Mizuno Maple Elite Baseball Bat – MZM 110
The Mizuno Maple Elite Baseball Bat is in color brown and comes in four sizes including 31, 32, 33, and 34 inches. This can be used by adults of both genders.
This wooden baseball bat was made of high-quality and lightweight premium materials making it highly durable for moderate to extensive baseball games.
The large barrel design allows a greater reach that will lead to greater performance and increased sweet spot. 
Plus, the cupped end makes it easier and lighter for the hitter to swing the bat. This will avoid fatigue in less time so it gives comfortability to the hitter matched with the supra-helix grip. Having the security and comfortability they need, the hitter will have a peak performance.
Louisville Slugger Prime Yelich – Maple Cy22 Wood Baseball Bat
This baseball bat has a glossy black finish and gold seamless decals that give a high-definition and high-end look. It comes in sizes 31, 32, 33, and 34 inches.
It can be used by men from youth to adults. So, it is recommended as one of the best wood bats for high school and adults.
The medium-barrel design with a traditional, slight knob taper and a short barrel-to-handle taper provide the players a weighted end-loaded feel. This weighted end allows for more impactful hits.
This wooden baseball bat is also a craftsman-style cup that features a thicker width edge along the end of the barrel to provide extreme resistance and durability. This will be able to withstand impactful hits without breaking during extensive baseball games.
Additionally, the knob medallion possesses details about the baseball bat including its updated special features such as species and length.
How to Choose a Wooden Bat for High School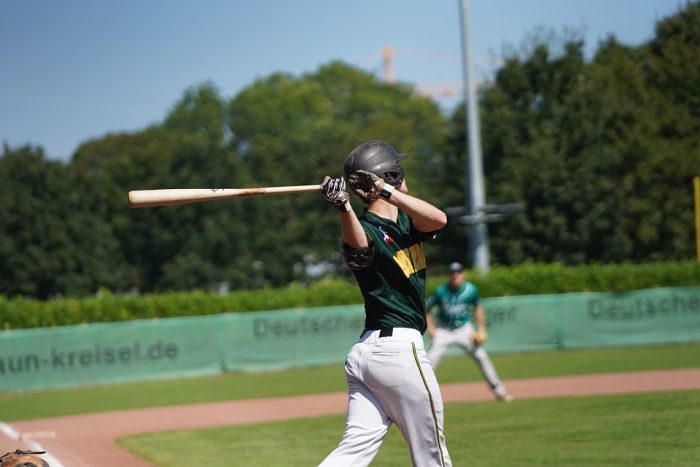 We all know that a wooden baseball bat is highly recommended by many players and can be used by beginners to professionals. Good starting equipment will greatly help the rest of the process to result in an incredible performance in baseball.
If you are still in high school, it doesn't mean you'll just buy whatever baseball bat you see in the market. In fact,  a certain requirement for high school is BBCOR or drop 3 bats. Hence, this is the first thing you need to consider when buying a high school baseball bat. BBCOR approved bats have a certification stamp that proves it possesses the features needed for a high-quality baseball bat.
Though BBCOR bats are proven to have excellent characteristics, you still need to know what those are specifically. Here, you will be provided the things you need to consider when buying a high school baseball bat.
Wooden Bat Features To Consider
Like in any other sports equipment, baseball bats, specifically wooden, need to possess lots of characteristics that will make it possible to give the hitter a great performance in high school baseball. Those characteristics are types of wood materials used, weight, and length. Moreover, the features of knob, grip, taper, and end can also contribute to the bat's performance.
Type of Wood
Not all wooden bats are the same as they are made of different types of wood. Examples of wood materials are ash, maple, birch, and bamboo. All of these wood types provide the baseball bat with different levels of density, strength, flexibility level, durability, and grain visibility. Some may not totally have flexibility. But, the sure thing is they are all reliable wood materials for high school baseball bats.
Weight and Length
The weight and length are important if you want to execute impactful hits while ensuring comfortability. Many players prefer lengthier because the lengthier it is, the greater reach it has. But, a lengthier bat usually means a heavier one.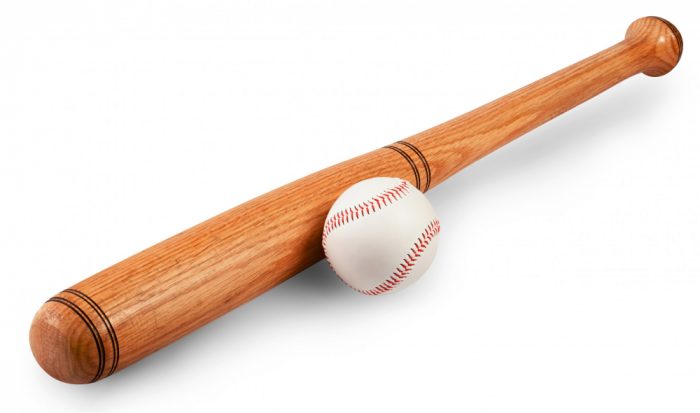 Here's a tip for you to know if a baseball bat's length is suitable for you: Stand next to the baseball bat positioned vertically. When its height reaches your mid-hip, it means that it is appropriate for you.
Moreover, choosing the baseball bat's weight depends on the hitter's body. If the hitter is bigger, it is advisable to use a heavier bat for maximum power. Then, smaller players, usually beginners, benefit from a lighter bat for maximum speed.
To choose an appropriate bat for you, test different bat weights by swinging. Whichever of them you're the most comfortable with, go for it.
Other Additional Wooden Bat Features
Every part that composes the wooden bat contributes to its performance. For instance, a thinner handle with excellent grip is preferred by many players as it can be easily held while ensuring hand comfort. Also, a cupped end makes it possible for the bat to have a lighter swing weight and good balance & stability. These will help the player hit the ball with maximum power and speed.
Conclusion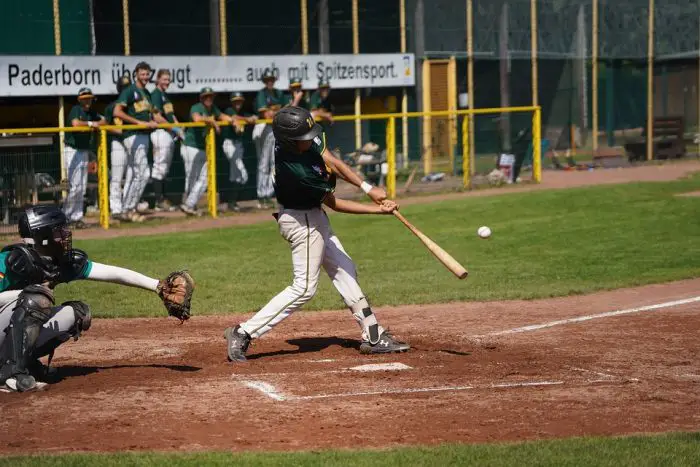 High school baseball players deserve high-quality wooden baseball bats to improve their hitting skills using reliable equipment. The six recommended wooden bats above will then be very functional in high school baseball.
In order to know which of them is the best, it depends on the user's personal preference matched with the guide provided. Overall, a wooden baseball bat is proven to give the player a peak performance in high school baseball.