*I may get commissions for purchases made through links in this post.*
It is said, "Winning is not everything, it is the only thing."
While being in a game, you cannot let anything get in the flow and mentality of winning. Playing a sport is all about channelizing your energy and gathering your focus for the most-awaited win.
You cannot let anything hamper that. It is extremely important for you to choose your gear and ensure that it is a perfect fit for you.
That is the sole reason why we have researched and created this article for you to see to it that you get the best wood bat in 2020. Our prime focus will be to show you the best wood bat for youth and kids. After going through this article, we hope you find the best-suited bat that guarantees your win!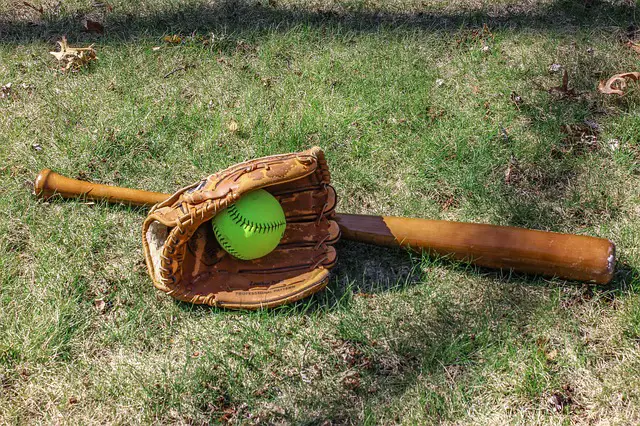 Best Wooden Bats in 2020
Comparison of Wood Baseball Bats
[table "30" not found /]
EASTON B2000 White Ash Wood Baseball Bat
Easton is the baseball brand receiving more awards than any other brand to date. It was also awarded Best Bats 2020 by Bat Digest. Easton is one of the world's leading manufacturers of bats, gloves, apparel, bags, and more.
 It focuses on creating high-quality products and also limited editions. Easton is committed to innovation and getting game-changing technologies out in the world.
The Easton B2000 White Ash Wood Baseball Bat is one of the most desired youth wood bats for 2020. It is specially handcrafted in the United States of America. It is made out of the North American White Ash, and it gives a balanced feel in your hand.
This balance is critical during the game as it decides the fate of the match. The ash contributes to the bat being flexible due to its unique grain structure. It allows you to notice and check the quality giving you the boost you need to step up your game.
Designed to broadcast a professional look, this baseball bat shows off the quality from barrel to the knob. The rounded edge on top of the bat gives the player to score a powerful home run! The 5-inch handle makes the bat easy to swing and control. The traditional knob
This bat is certainly cost-effective and long-lasting due to its quality and make. Coated and completed with a sleek shiny black finish, this bat also adds to the aesthetic value of baseball bats!
This is one of the most recommended bats in 2020 for hitting those home runs and simultaneously stepping up your game.
Mizuno Maple Elite Baseball Bat
Mizuno Corporation is a Japanese sportswear and sports equipment company that was founded in Osaka in the year 1906. It is a brand that urges you to reach beyond to be the best version of yourself. Mizuno is committed to providing high- quality products regardless of the sport. It has the gear and equipment for running, golf, softball, volleyball, swimming, and more. 
The Mizuno Maple, Elite Baseball Bat, is made with rock hard selected maple, which presents with consistent high-end performance and durability. Professional players mostly prefer this as maple features the ultimate surface hardness.
At the same time, it provides an unmatched sound and feels at contact with the ball. It gives out strength at impact making it one of the best wood bats for youth baseball players.
This bat comes with a newer and bigger barrel design, which paves the way for it to be highly efficient and give a higher candy spot. With a luxurious finish, this bat is equipped with a unique supra helix grip, which enables the convenience to use the bat and projects sturdiness. It is designed for a distinctive feel and durability.
It is designed to have a cupped finish, which is optimized for much lighter swing weight. The gentle weight helps maintain a steady balance of the swing weight. The bat is complete with a matte finish, which is prominent in giving a rich furniture-grade premium look.
This is the best wood bat for home runs and surely a must-have item in your 2020 baseball wooden bats list!
Louisville Slugger 2020 Youth Genuine Baseball Bat Series
Louisville Slugger is produced by Hillerich&Bradsby Company, which is originally in Lousiville, Kentucky. The term "Louisville Slugger" was coined in 1894 when Bud Hillerich took over his father's company. In 1905, this became the first bat that Honus Wagner officially endorsed, starting the revolution of baseball players endorsing bats.
Made out of Youth 125 Ashwood, this bat is lightweight and flexible. The visible grain lines allow you to confirm the quality of the bat. This bat is curated explicitly for youths as the flexibility of the bat allows for a larger and more forgiving sweet spot for back to back home runs.
Louisville Slugger 2020 has a regular and a cupped finish. The primary purpose of a cupped finish is to make the bat lighter by removing the material from the barrel end of the bat. It is advised to avoid snapping the bat from the lathe once it is cupped. The bat is sturdy, durable, and easy to hold due to the comfortable grip. Since it is lightweight, weighing 1.3 pounds, the balance will be effortless.
It is one of the lightest wooden bats and is, therefore, best suited for beginners and the younger generation of 2020.
Wilson Louisville Slugger Youth Ash Natural Teeball
Wilson is the brand that is at the heart of the sports industry. It has produced world-wide classics and has earned legitimacy and trust in each aspect. It is considered as the true American icon in the sports equipment world and also as a breakthrough in technologies.
The company is revolved around sports like tennis, golf, baseball, squash, soccer and many more. This Wilson Louisville Slugger Youth Ash Natural Teeball has a natural and regular finish. Having a weight of 1.1 pounds, it becomes perfect for your child. It is among the most approved wooden bats for little league.
Tee Ball Bats are extremely lightweight and are specially made for kids who are six years old or younger. They are only made to hit off a baseball batting tee and not pitching.
Wilson Louisville Slugger Youth Ash Natural Teeball is cost-effective and highly flexible, which makes it the perfect bat your child can start baseball with. It is made out of dependable ash wood, which is seen in the texture of the bat.
The flexibility this bat offers is for a larger and more forgiving sweet spot. With the length of 26 inches, this is a cupped bat which is further dulled, so that the child is not harmed. It is of a moderate proportion for your child to balance and maintain stability during the game.
This is surely the perfect choice for your children who are six years old, or under six old and looking for a baseball bat.
Louisville Slugger 2015 K100 Fungo Wood Bat
This product comes from a company who is rich in experience in making high-quality bats for over a century.
This 2015 version of the Fungo Wood Bat was designed to keep the coaches in mind. It enables them to hit the ground balls and fly balls from infield or outfield. It is made out of the Northern White Ash which is considered as the most dependable wood in the market.
It oozes out the durability and a long-lasting feel. Their end weight design gives you the chance to get a much higher distance and speed with a light hit. This is mainly used during practices where the team has to go through continuous defense reps just to get a winning chance over the opposing team.
The natural size of the bat begins with 36 inches making it just perfect for adults. It has a foam core that points it to be lightweight weighing just a pound. The end design of this bat helps to get a strong swing with minimal effort.
It gives the players awesome sturdiness and an exceptional feel with the end of the bat being herbal.
In our opinion, this is the apt baseball bat in 2020, if you are looking for bats for practice and to use for long durations, especially if you are a coach.
Rawlings Natural Mini Bat
Rawlings Sporting Goods Company Incorporated is a marketer and manufacturer of sporting goods in the United States of America. Its mission is to develop and produce new and innovative, high-performance equipment. It curates bats for amateurs, beginners, entry-level players, and professionals.
Rawlings' product line consists of various team sports including baseball, football, and basketball.
The Rawlings Natural Mini Bat is 17 inches making it a wooden bat for kids. It is a scaled-down version of the bigger bat by Rawlings. It is also ideal for display purposes if you want to get it signed by your favorite baseball player.
It is recommended for children who are around three to four years old; it would be considered as their very first bat, that they can actually start playing baseball with. It is advised to use a tennis ball or a Wiffle ball, as the child and the bat both would be protected.
Rawlings Natural Mini Bat has a natural wooden look and is said to be one of the lightest wood bats. According to us, this bat serves to be great for budding children interested in baseball and, at the same time, as a display purpose showcasing the signed bats. It automatically becomes the bat you carry to a game having your favorite player.
Louisville Slugger Pro Stock Ash Wood Baseball Bat
The Louisville Slugger Pro Stock Ash Wood Bat Series is highly recommended and considered as the best wood bats for high school students. It can also be used by college students, in the adult senior leagues, and minor league professional baseball games. 
This can also be used in the place of metal bats, as this bat allows you to practice non-stop for the upcoming game, saving the metal bats for the actual game. It is made of the Northern Ash Wood, which is used to make the majority of the bats worldwide, as Ash is considered the lightest and the most dependable wood in the market.
For the longest time, sluggers like Ruth, to A-Rod have been using ash wood bats in their game. It is durable and hence lasts for a long time. It is also available in various styles and colors, which allow you to pick the one which is a perfect match for you and your game personality. It is cupped, so it aids in overall balance and increases exit velocity.
It further helps in increasing the swing speed and allows for a harder piece of wood during construction. Due to cupping the bat, any excess weight towards the end of the barrel is removed giving the player full control of the shot.
Therefore, if you are looking for a baseball bat for high school or college, we have got you covered.
Harley Quinn Baseball Bat Prop Replica
This baseball bat is inspired by Harley Quinn from the Hollywood movie Suicide Squad. It was made for sale by The Noble Collection after being officially authorized by Warner Brothers and DC Comics.
The Noble Collection is an officially licensed creator of movie merchandise. This is the most favorite bat for the current youth, and can primarily be used for Halloween dress-ups as well. Measuring about 31.5 inches, it is made out of hardwood and feels like a real baseball bat, unlike the plastic ones, which are usually sold as merchandise.
This is an exact replica of the bat Harley Quinn is seen with, in the movie. The Noble Collection has mastered the details and the artwork, bringing forth a bat that looks as if it is clearly out of the movie. 
It is packed in a very aesthetic way, which appeals to the eye, which automatically makes it favorable for children and youth who are huge fans of DC Comics. For the grip, they have put a real cloth, original material that completes the look of the bat.
This bat is more used for the show-off appeal and owning DC Comics merchandise more than actually playing baseball. Although, it could easily be used to play baseball as its grip and the overall finish are like a normal usual baseball bat.
Louisville Slugger Youth 125 Maple Genuine Baseball Bat
This drop -10 bat is useful for little baseball leagues if approved by your respective local leagues. It is lightweight and this 30-inch baseball bat is available in various sizes, including the default one.
It is made out of maple wood, which compresses after each hit. It is strong and durable. Maple is also considered the hardest wood; therefore, it is challenging to break, wear, or tear. This enables this bat to become one of the best wood bats for power hitters as the knob, in the end, facilitates a smooth swing with minimal effort.
The unfinished baseball signifies that there is no paint or overall finish, but due to the maple wood, there is no scope for flaking of the wood.
It gives a great pop, more than usual ash wood bats do. It is heavier than most non- wood bats which is awesome if you want to practice and strengthen your game.
EASTON 110 Maple Wood Baseball Bat
Handcrafted in California, USA, this bat is equipped with a traditional knob. This ensures a firm hold over the bat and prevents it from slipping. The Easton 110 Maple Wood Baseball Bat is made out of North American Maple, which is extremely tough and durable.
This bat is suited for power hitters and players having mighty swing ability. The overall feel of this particular bat is balanced and stable due to a medium-sized handle. The bat is very sturdy and solid due to the maple wood.
Personally, we would recommend this baseball bat for players who are in practice and training every day, as this baseball bat is strong, long-lasting and well balanced.
Things to Consider Before Buying Wooden Bats
Material
There are two primary materials to choose from- wood and metal. Usually, wooden bats are used by experts and professional players for practice and training during leagues. In contrast, metal bats are used by the general youth ranging from high school students, college students, and more. To ascertain a proper feel, it is advised that you should wear batting gloves and try a few swings to know if it fits and feels perfect.
League
Youth baseball bats are governed universally by the 1.15BPF (Bat Performance Factor). Therefore, while buying the bat, you must check the 1.15BPF number, which shows the measure of how fast the ball comes off the bat. It is advised that you purchase the bat, after confirming with the League's Coach, if any, to ensure a correct purchase. The main purpose is to make sure that the bat meets all legal requirements.
Length
The weight, height, and age play a crucial role in choosing the appropriate length of the bat. The store or the website will usually recommend a size suitable for you, so be careful to match that to the factors before considering the purchase of the bat. Longer bats require more effort and swing than shorter bats, but they fluctuate with the ability to reach and hit the balls accordingly.
Weight
For this factor, it is essential that you consider your strength, endurance, and stamina as the weight of the bat can affect all of these. Choosing a heavy bat can reduce the hitting power and also hamper the swing ability. The idea is to choose a heavy- enough bat that is easily swung by you to ensure a strong powerful hit.
Handle and Grip
Bats are generally made in a way to have a wide barrel end, which eventually becomes a thin handle end. A thick handle absorbs the shock during miss-hits, and a thinner handle allows the player to move their hands quickly and anticipate the hit. During hard swings, to prevent the bat from slipping out of hands, most bats are required to have knobs that maintain a firm hold over the bat.
Frequently Asked Questions about Wood Bats
Which wood's bat has the best pop?
Unlike ash wood, maple wood grain is tight and durable. It also gives a structure to maple wood bats and adds onto the weight of the bat, making it sturdy. Therefore, it provides a more significant pop than ash on battled balls. Hence, maple wood is considered to have the best pop.
Which wood bat has the best pop?
Marucci AP5 Maple Baseball Bat
Louisville Slugger 2019 MLB Prime Maple C271
Rawlings VELO Composite Wood Bat: R110CR
Easton PRO 271 Ash Wood Baseball Bat
Are bamboo wood bats good?
Bamboo bats are usually very durable, but they do not hit like wooden bats. They do not have a pop. Bamboo bats are not approved to be used in the pros as they are considered composite and not wood. For these bats to be used, they need to have a 50 certification checkmark and must be adorned by BBCOR.
Do wood bats lose their pop?
It is said that over time, due to wear and tear by constant practices and training, some wood bats lose their pop. Other bats outlast these bats and are durable but eventually will need to be replaced. It is also argued that some bats have the same pop and keep giving the same pop until the bat breaks, cracks, or is damaged.
What wood bat is the hardest to break?
A maple bat does not flake apart, the more you hit with this bat, the more the grains compact themselves and compress together. Maple is considered to have the hardest and most durable surface as compared to the other woods used to make wooden baseball bats. Therefore, it can be concluded that a baseball bat made out of maple wood is the hardest to break.
Final Words
We believe that with the perfect means, any match, any league, and any sport can be mastered. We hope that our guide to getting you your well-suited means of a top-rated wood bat to win is helpful, and it gives a boost to your performance.