What if I told you that finding a wide pair of baseball cleats is not as difficult as you think?
There are many big brands like Under Armour, Nike, Mizuno that manufacture good cleats for the baseball players.
But, when it comes to finding cleats for wide feet, players often get a lot of difficulties.
If you have wide feet or your kids have wide feet, then this is the last article that you are going to read for finding wide cleats.
Let's get started.
My Favorite Cleats for Wide Feet Players
If you're a baseball player with wide feet, then my number one preference will be New Balance.
Whether you need turf shoes, molded cleats or metal cleats, there is nothing better than New Balance Baseball Cleats.
Why?
The New Balance cleats are available in two different sizes.
For example, you can find the same length shoes in two different versions. One in normal width and the other in wide width.
For the wide width, you can see the 'W' or '2E' in the sizing table that represents the wide width.
Along with the normal and wide width option, these cleats are durable, comfortable, and provides optimum grip to the player.
So, if you want metal cleats, then New Balance L4040v3 Metal Cleats are perfect for you.
If you want molded cleats, then New Balance 4040v4 Baseball Shoes are good for you.
While, if you need turf shoes, then go with New Balance TY4040 Turf Shoes.
What Exactly You Need?
The reinforced toe, ankle support, durability and other aspects of a good baseball shoe are considered only when they're perfectly fit in your feet.
Image Credit: Esther Max
If your cleats are not according to your feet, then its design, ankle support, and durability will be useless to you.
So, for the wide feet players, the most important thing is "Wide Baseball Cleats".
For wide feet players, the durability, design, reinforced toe becomes the secondary things because perfect fitting is the most important thing to consider.
It is important to see the sizing of your cleats, for that this size chart by New Balance can be helpful to you.
The Problem When Finding Wide Cleats
It is recommended to go to a physical store and try a bunch of cleats before buying one.
But, for most of the people, buying online is more affordable and time-saving.
The popular brands like Mizuno, Under Armour, Nike, and Adidas manufacture some great comfortable cleats that are durable & supportive.
But, when buying online, then finding a pair of wide cleats becomes a headache.
Off course, these brands may also manufacture some wide cleats but finding that exact pair of cleats from a world full of standard width cleats is so much time-consuming.
Best Brand That Manufacture Wide Baseball Cleats
If you have wide feet, then there is nothing better than New Balance.
New Balance is a well-known brand that is trusted by thousands of young baseball players.
The Professional MLB Players like Dustin Pedroia and Miguel Cabrera also wear New Balance Cleats.
Whether you're buying online or at a physical store, the New Balance is the number one brand that you need to consider.
Every New Balance Baseball Cleat is available in different widths.
They manufacture each cleat in two to three variations; standard width (D) or (M), wide width (W), and extra wide width (WW) or (X-Wide).
Therefore, they are considered one of the most comfortable shoe manufacturer for wide feet.
Best Youth Baseball Cleats for Wide Feet Players
If your kids have wide feet and they play in the little leagues, then probably, their league won't allow metal cleats due to the safety reasons.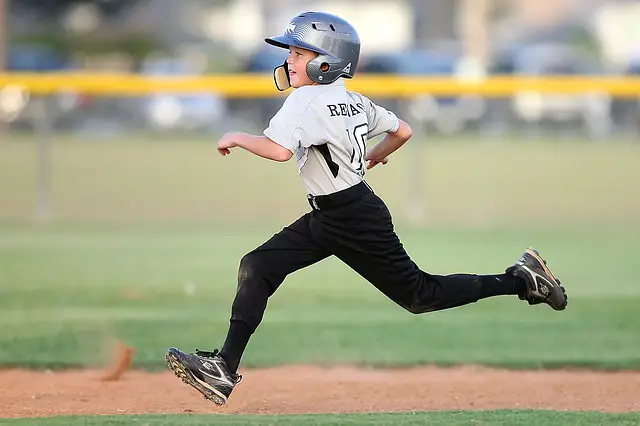 If they allow metal cleats, then you can find the perfect metal cleats for them in the next section.
So, the best youth cleats for the players with wide feet are New Balance 4040v4 Baseball Shoes.
They have rubber spikes because some little leagues don't allow metal spikes.
The design & color combination is perfect. The strategically designed rubber cleats provide optimum grip on the ground.
And, when buying, you have the freedom to choose a standard size (M) or wide width (W).
They are also budget friendly. They're not expensive. Believe me; your kids will love them.
If you check the customer reviews of New Balance 4040v4 Baseball Shoes, you'll see that there are many customers who purchase these molded cleats for their kids, and they love it.
Turf Shoes for Wide Feet
If you want turf shoes, then New Balance T4040v4 Turf Baseball Shoes are great.
Just like every other New Balance shoes, they are comfortable, durable, affordable, and available in wide width.
Wide Width Metal Cleats
The players who wide metal cleats, for them, New Balance L4040v4 Cleats are great. Dustin Pedroia wears these cleats, so you should definitely try them at least once.
There are various color options available, so you can easily find a pair of wide metal cleats that'll match your uniform.
These metal cleats fit as expected, so there will be no need to replace and start searching for another pair of cleats.
I highly recommend that take a look at the customer reviews of NB L4040v4 Cleats before purchasing.O
Adidas Performance Men's Ace 16.2 Primemesh FG/AG Soccer Shoe
The Ace 16.2 Primemesh by Adidas is for that player who looks for perfection in every shot. It is made up of imported and synthetic material that provides the player with a perfect combination of performance and comfort. It fits just perfectly without any wear and tears with time.
The sole of the cleats is made up of rubber and designed in a way that the player can comfortably play even on artificial grass and firm grounds. The control/ground design of the stud creates a sort of small pocket under the foot so that you can have a number of studs on the ball for better control.
Zephz Wide Traxx Soccer 2.0 Cleat Youth
The Wide Traxx cleats by Zephz are the perfect choice for the young players. They are made up of synthetic leather and provide ultimate comfort to your kids. If you are looking for cleats that are wide enough for your kid's feet and make them feel comfortable, these would be the best ones.
The looks are good, not very attractive, but your child will surely fall in love with the comfort it provides while playing the game. The laces of the shoes are nylon black and the other colored laces that come with them are green, orange, yellow, blue and teaberry. Moreover, these cleats are quite affordable than many other popular brands, so you won't need to have any second thoughts while making a purchase.
Diadora Forza MD Soccer Cleat (Little Kid/Big Kid)
The Diadora Forza Cleats are yet another pair of cleats for children or young players. They are made up of polyurethane soft synthetic material along with a Velcro closure for a secured fit. The EVA foam is totally shockproof and shock absorbing along with fixed cotton for an amazing experience.
The outsole that is made up of rubber consists of 14 studs in total that minimize the points of pressure on your child's feet. The design of these cleats will definitely put up a smile on your young one's face. And moreover, these are so cost-effective that you would surely want to buy them for your child.
New Balance Men's T4040V3 Turf Baseball Shoe
The New Balance T4040V3 Baseball shoes are designed in such a way that it helps the players to achieve their targets and goals. With over a century of deep research and development, they have come up with designs that are suitable to fit for people and not simply fit into a picture.
These cleats have a rubber sole and are made up of imported synthetic material. They provide the maximum required traction for the player to increase the performance during the game. They cost average, but they are worth investing in.
Zephz Wide Traxx Black/Yellow Soccer Cleat Adult
Another pair of cleats from Zephys, the Wide Traxx Cleats, is the one for the adults. They have similar configurations and features just like the ones for the young players with a few modifications. They are also made up of synthetic leather to give you maximum comfort while the game is on and to increase your performance.
They come with many colored laces apart from the black nylon laces, like orange, yellow, blue, teaberry, and green. It is just the perfect pair for the ones with wide feet as it does not compromise on the quality and fit.
Final Words
Now that you are aware of the best baseball cleats to look forward to for wide footed players, choosing the right ones may not be that difficult. And if you are looking forward to cleats for your kids, make sure you consider the factors related to investing.