So, you need baseball pants.
But, what should be the length: full length or knee-length?
What about the fitting? Slim Fit or Relaxed Fitting?
Don't worry, I've covered everything!
So, let's jump into the topic!
The Best Baseball Knickers list in 2023
Easton Men's Pro + Knicker Baseball Pant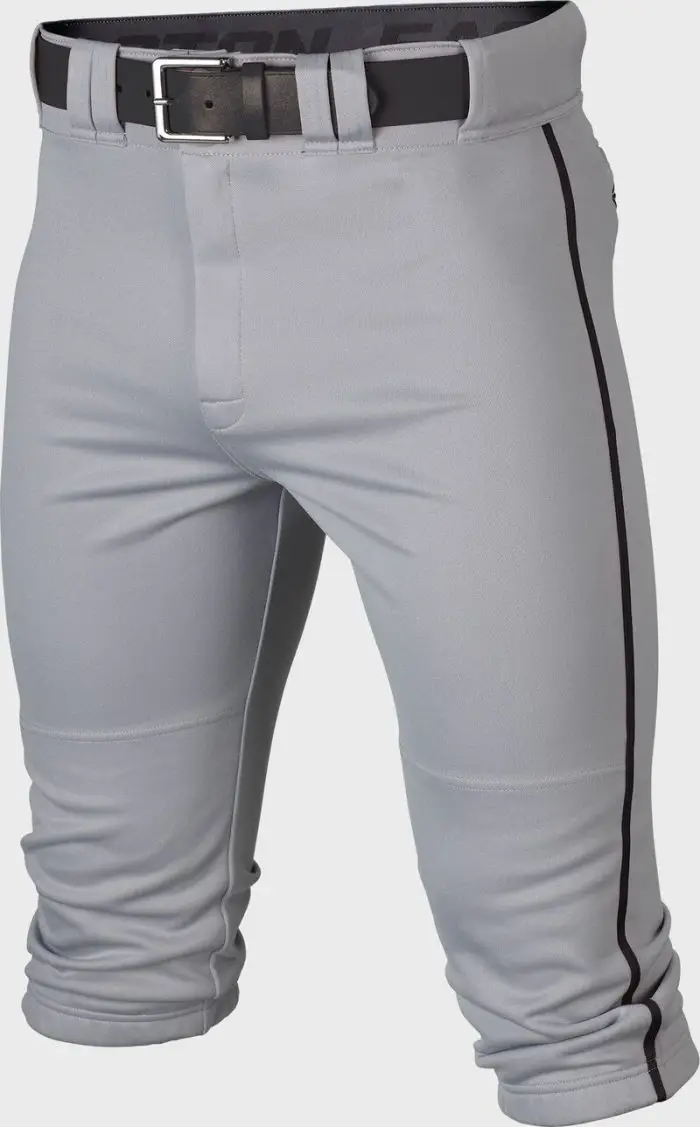 The Easton Pro + knicker pant is made with 100% polyester jacquard that is known to be very resilient, durable, and lightweight making this material perfect for baseball players who are constantly running infield and outfield, sliding, and pitching.
It also provides a nice stretch to the knickers so players can have maximum mobility and flexibility when playing on the mound.
The double-reinforced knees are also nice features to the knickers for added durability and protection as players run around the bases.
That additional reinforcement can save the players from injuries by absorbing the impact when hitting the ground as well as prevent the knickers from easily tearing and ripping apart. It also has a three-color elastic waistband to deliver additional support and comfort.
Running and sliding into a home plate can get your knickers dirty. Thanks to the Scotchgard stain release technology, washing and removing stains has now been made easy. It has moisture-wicking properties to repel sweat and any moisture out to prevent discomfort.
It also allows the knickers to dry fast. In turn, these knickers are guaranteed to give you long-lasting wear and comfort like no other.
The Easton Men's Pro + Knicker Baseball Pant has elastic cuffs that are tight at the bottom and has a skinny-cut design that flatters most body types. However, others pointed out that the fabric of the pants is a little thinner and can appear a little sheer.
I am absolutely baffled by this product. For me, the quality of the product is top-notch and I think what makes it even better is the grip. If I have to buy the next pant, I am definitely ranking this high on the list.
Rawlings Men's Knee-High Pants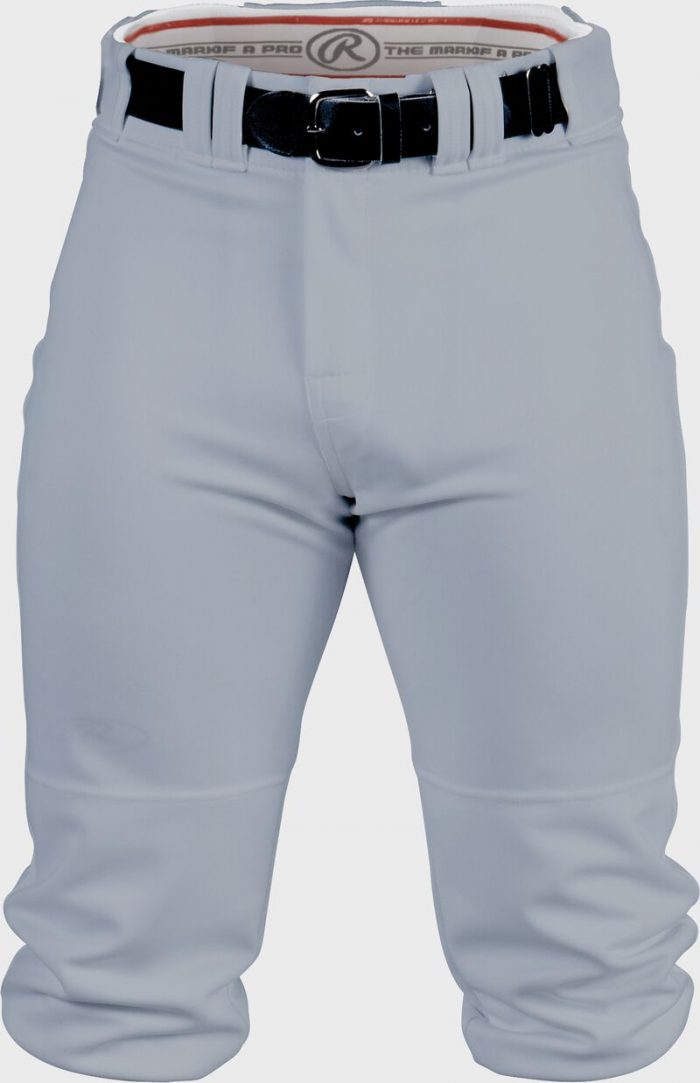 These knee-high baseball pants feature a two-way stretch 100% polyester circular knit that has great elasticity and resistance to tearing. The circular knit is cleverly employed allowing the player to move, run, and pitch freely with confidence without worrying about the pants getting torn.
It also utilizes flat-lock stitching and pocket tie-downs that add to the reinforcement and durability of the pants. These pants are incredibly lightweight and comfortable to wear perfect for long hours of practice and intense baseball games.
The double-knee fabric offers enhanced durability to prevent it from tearing easily from the impacts that the players are prone to receive from running and sliding on the mound.
It has an elastic gel grip waistband to ensure that the pants are secured tightly on the hips and enables you to put them on and off more easily and quickly.
The Rawlings Men's Knee-High Pants have a semi-relaxed knee-high fit which is a great choice if you're someone who doesn't like the feeling of elastic cuffs on the knee.
The fit is also relatively looser so if you prefer loose-fitting pants or if you have a larger body build, then this is for you. However, if you have a skinny build, this might not flatter you well.
Talking about my personal verdict, I think the approach of the company is quite clear and that was delivering a splendid product. And I am pretty sure, they have managed to achieve to do so.
CHAMPRO Triple Crown Knicker Style Pants
The Triple Crown Knicker Style baseball pants are made with 100% abrasion-resistant TEK-KNIT polyester which is highly flexible and durable to last for many seasons.
It allows four-way stretch so whether you are pitching in any form, running and sliding around the bases, or catching behind the home plate, these pants will adapt and conform to your natural movements to give you the best performance with incomparable comfort.
The sliding seat and knees are reinforced with double-ply fabric to withstand impacts when running and sliding and act as protection on these areas in case you fall and hit the ground. It also prevents it from tearing down giving you longer-lasting pants that you can use through the seasons.
This modern knicker-style pant has elastic leg openings just below the knee to give you unrestricted feel and movement like that of a traditional baseball pant. It creates a gentle but secure fit to deliver more freedom and ease to your movements.
It has a 2. 5-inch knit waistband that includes Super-Grip Gel strips to keep the pants tucked in place. Others mentioned that the waist is a little big for the sizes especially if you're on the skinny side but the good thing is that these pants have 7 pro-style tunnel belt loops that you can use to easily slide a belt through to adjust the fit.
Okay, that was a lot to talk about. But you know, that it would've been criminal for me to be ignorant about all of the banger specs this thing comes with. I am in love with this product and I definitely rate this high.
Top Baseball Pants in 2023
Under Armour Utility Relaxed Baseball Pants
The Utility Relaxed Baseball Pants by Under Armour is definitely one of the best baseball pants that you can use for all seasons. It is light enough to use for summer and hot weather but can still provide the durability and flexibility needed for pitching, running, hitting, and catching.
It is made with 100% stretchy polyester to give you more freedom in your movements while playing on the mound. It also helps in wicking away sweat and moisture when you perspire during the game and allows the fabric to dry really fast.
The stretch-engineered waistband offers maximum comfort and security giving you a tight and solid fit. It is also engineered in a way to help the players with mobility when running infield and outfield.
The knees have a dual-layer fabric that acts as an impact absorber as well as protection in cases where you might hit the abrasive ground when running and sliding. It also adds up to the durability of the pants so they can withstand regular wear and tear.
They're very comfortable and you wear baseball sliding shorts under your pants for protection.
However, others noticed that the fabric is a little thin which is fine since it adds to the lightweight feel of the pants but the appearance can come off as sheer.
I know I know! You're already impressed! I mean who wouldn't be? I am keen to know about your thoughts on this product!
Mizuno Adult Premier Players Baseball Pant
This baseball pant is made with 100% polyester utilizing a durable double knit fabric designed to last with its incredible durability and breathability. It stretches nicely to adapt to your natural movements so it doesn't give you any restriction and discomfort when pitching, running, hitting, or catching the baseball.
It has a dual-layer knee construction to reduce the risk of injury when running, sliding, and hitting the home plate. It also contributes to the durability of the pants so it doesn't easily tear off.
It utilizes DRYLITE technology that works by using a dual filament yarn construction to transport excess moisture away from the body to keep you dry and cool while in-game.
Other features include a tunnel-belt loop to adjust the fit on the waist, a fly front with extended two-snap closure, and set-in back pockets with button closure.
The fit and design make these tight-fit baseball pants a flattering choice for skinny body types as these pants narrow down to the leg area giving you a slimmer fit and not the awkward baggy fit. However, if you need more room on the legs, this might be too restricting and tight for you.
According to me the most impressive thing about this product is its build quality. It's solid and I am pretty sure that it would be able to endure the workload for a long time!
Easton Men's Mako II Piped Pants
The Mako II piped pants are designed with the natural movement of elite athletes in mind. It has an athletic fit developed to withstand the player's dynamic and vigorous movements while on the mound.
It is constructed with pro-weight 100% polyester that is thick and highly durable to match the strong impacts that the player will make and receive without compromising the weight and flexibility of the pants to give the player as much freedom as he needs to throw strike pitches, run around the bases, or catch and block the baseball.
It has double-reinforced knee construction to protect you from the risks of injuries when running and sliding. This reinforcement also helps in keeping the pants durable and hold up better for longer.
It utilizes Scotchgard Stain Release technology for easy care and washing to ensure that these pants look good game after game. It also allows the pants to wick away any sweat and moisture when perspiring keeping you cool and dry during intense baseball games.
It has a logoed Mako two-color elastic waistband with silicone grippers to keep the pants in place while giving that attractive look, a double metal snap closure with metal zipper, and a double back welt pockets with a five belt loop system.
These slim-fit baseball pants are perfect for slender players and offer a flattering fit and look. However, if you have a larger body build, you might find these baseball pants too small and tight.
I am impressed with the design of this thing and the attention to detail from the company should be praised! I mean, this is an all-around product and I can guarantee that you would say the same after getting your hands on it!
Things to Consider Before Buying Baseball Pants
Dress to impress, and by that, we mean that you should look at the part of how well you play.
This can be a bit more sophisticated than what one might guess unless you exactly know what pair of pants have to buy. Just like regular pants, baseball pants come in many styles, fits, et cetera, which we will be further discussed below.
Also, you might be tempted to think that only men and boys (males) in general have a large assortment of options to choose from, but shake that thought out of your mind as with increased involvement of women and the formation of women's teams, companies have started to roll out such products with many options and choices for females as well.
So, to all the ladies out there, this guide holds good for you as well, just jump right in!
Size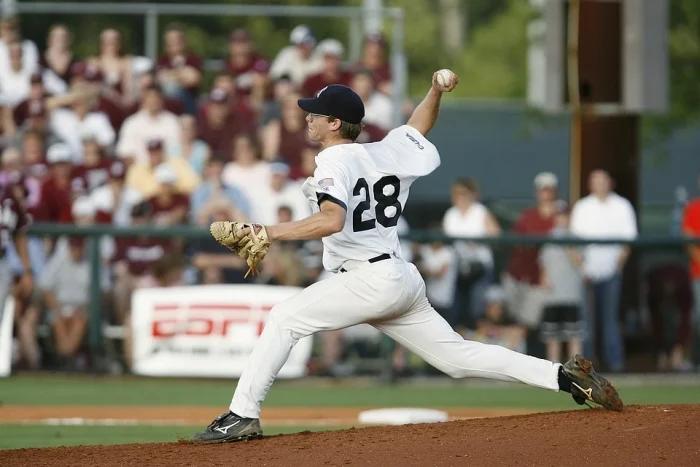 As with any other wearable, size should be of concern when buying baseball pants.
This is because a pant that is either too tight or loose will cause inconvenience and discomfort while you are on the ground.
The sizing scheme varies from the manufacturer (or brand) to manufacturer, for example, some manufacturers denote waist size by size in inches, while others categorize the fit in sizes such as small, medium, large et cetera.
So, you should consult the manufacturer's sizing chart/scheme, where they denote the size ranges for each denotation, for knowing the exact size that you will need to buy, whether you are shopping pants for youth, kids, or even aged players.
Fit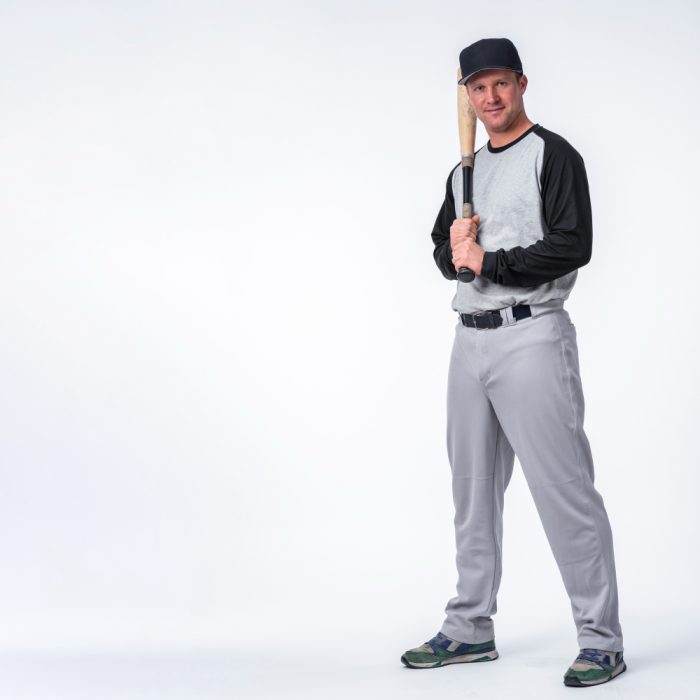 Sometimes, even after getting a proper waist size, people are not happy and comfortable while wearing the pants. This is because while the size is perfect, the fitting might not be.
For example, take the case of slim-fit pants. If a thin-legged person with size 40 wears a pair of slim-fit pants, there would be no trouble for him to get a good fit and he will feel comfortable, but if a person with the same size and relatively thicker legs wears them, he will not feel so comfortable, as the legs of the pants would be narrower.
This also raises a concern that if someone wears way tighter pants, they risk affecting the blood flow to their legs, which might even cause problems in walking, let alone running.
Also, if a skinny guy wears regular-fit pants, they might be just too loose for him, causing discomfort.
Recently, there has been the introduction of relaxed-fit pants as well, which are more relaxed, as the name might suggest, than regular-fitting pants. These have broader legs and more hip space. You can buy these if regular-fit pants are too tight or uncomfortable for you, this is one of the primary reasons why they have gained so much popularity.
Hence, choosing a good fit is very important, and it is a great idea to try a pair on before you go ahead to buy them.
Trust me, mistakes like choosing skinny fit when you should be selecting slim fit baseball pants or (something else) might look minuscule right now, but in the long run, it will only create discomfort and uneasiness on the pitch.
Reinforcements
As this sport is very physically involved, one might slide or fall often, for which provisions on areas that are more prone to damage should be made to make them stronger.
This process is known as reinforcement. Reinforcement is required in the areas of the knees and back.
It is generally done by stitching a layer of more substantial fabric over the regular fabric on the knee and back area, which makes sure that the more reliable material faces wear and tear, while the normal fabric is unaffected. It makes sure that these pants, which are meant for husky players, can survive harsh sessions and environments without weakening.
Sometimes, what can be done is that a layer of padding can be provided as well, which absorbs the impact that comes on the knee and back areas, which further protects the joints and prevents any injury.
Material
The material of construction of the pants is essential to be thought upon as well because there are some desirable properties from the material, which are:
Elastic
If the pants are stretchable or elastic, they can accommodate multiple sizes by stretching to compensate for bigger sizes.
Also, elastic material allows one to freely stretch your pants, creating no problems in even the most complicated poses.
Some players who find such fabric not comfortable always have the option to opt for simpler fabric as well.
Moisture Venting
Sometimes, when the weather is a bit hot, there might be moisture forming inside the pants, which may lead to discomfort as humidity will increase sweating, which will again increase the moisture inside the pants, working quite like a loop.
If the fabric allows the moisture to pass through, it will stop the moisture from building up, breaking the cycle of moisture building, and allowing you to play for a long time without any discomfort.
Stain Resistant
Since baseball is played in fields, soil from the ground can stain the fabric.
To counter this problem, manufacturers have come up with stain-resistant fabric, which doesn't hold the material that rubs on it.
This ensures that upon washing the pant, they will look new again, without any spots and stains.
Design and Hem style
We will talk about the types of design and hem styles in detail in the next section.
Pockets
If you want pockets in your pants, you should be mindful of that as well, because baseball pants have three pocket options available to choose from, which can be easily understood by their names.
No pockets
As the name suggests, these types of pants have no pockets and are suitable for people who do not carry anything in their pockets.
Back pockets
As the name suggests, these pants have pockets on the back, suitable for carrying cards or papers.
Side pockets
The most versatile type of pocket, which can be used for keeping mints and other similar items.
Combination
These pants have both sides and back pockets.
Different Types of Baseball Pants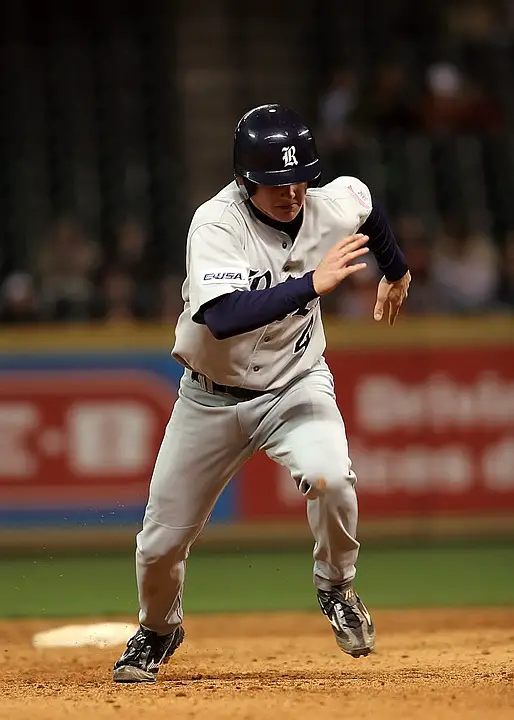 There are different types of pants available in the market; the classification is done on the basis of factors such as length, fit, hem styles, etc. which we will discuss in this section.
Length
Half or Knee length
Half or knee-length, as evident from the name, covers your legs only till your knees.
This is chosen by some players, as it offers the least resistance to your motion, and you can choose various colors for your sports stockings, which can help you to give a more fashionable touch to your appearance.
These are very easy to wash and maintain as well.
Traditional or Mid-Calf
As the name suggests, the pants only come down to the calves, from where sports stockings can be worn to cover the rest of your legs.
Mid-calves offer some of the mobility of knee-length pants, as well as save you from the trouble of possibly getting your pants legs stuck in the cleats.
This was, in fact, the design that was meant to be adopted, but as time passed, it changed and several other styles came into being as we see today.
Ankle length
These pants stretch up to the ankles, covering your legs fully and allowing you to wear your crisp baseball socks (if you like them).
These pants gained massive popularity and adaption since the 2010s and continue to dominate to date.
Hem style
Completely based upon personal preference, you can choose from hem styles as well, which are as follows.
Hemmed
The leg-ends of the pants are folded and then sewed to give them a cleaner look.
Unhemmed
The leg-ends are not sewed, they are more appropriate for a trendier look.
It should be noted, though, that hemming can be done for adjusting the length of pants as well, so even if you have bought unhemmed pants, they can easily be converted to hemmed ones.
Decoration Style
Pinstriped
Pinstripe is the classic look of baseball pants, having lines of color running from top to bottom on a solid-colored fabric.
Pinstripe gives a minimalist, yet elegant-looking pant design.
Piped
Piping is the solid colored pipes or fabric, that you observe at the sides of a pants, running throughout the length of the pants.
These are currently the most popular among the options available in the market.
Solid or Plain
Plain pants look the simplest and most formal of all the other options.
There is a total absence of any other color on the pant. Even if the pocket lips and belt loops are colored, the pant won't be considered plain.
How are Baseball Pants Supposed to Fit?
Baseball pants just have one golden rule of fitting, they are supposed to fit tightly along the leg-ends, fit snug around the waist, and adequately accommodate your hips, keeping them tight as well, and there are good reasons why it should be so.
The tight leg-ends ensure that while you are running or doing any movement, there is no interference, and in the case of ankle-length pants, the ends don't come out and interfere with your cleats. Conclusively, getting yourself a pair of comfortable and tight baseball pants is very crucial.
To ensure that the ends don't come out, what you can do is wear the pants and secure the ends by rolling them properly. Now you might be wondering, well, how do I roll the ends properly?
The trick is to first wear your socks. If you wear two layers of socks, do it. After that, wear your pants regularly and then take them off, while lining the inner side of the leg-ends with the starting point of socks.
Now, pinch the end of the socks along the leg-ends of the pants, and using your forefinger, try to roll them, at least two full times. You will know when you have rolled too much, as the roll will start to squeeze your leg harder. In case you do feel stiff, simply unroll it.
Having a snug fit around the waist ensures that your t-shirt does not come out while you are playing, which might be harder to fix while you are in the game, for which you can buy a pant of your exact size.
Sometimes, you might not find a pant of your exact size, for which you can buy belts, provided your pants have belt loops.
Apart from leg-ends and waist, there is not much to discuss and think about, as we have already covered the fit types in the sections above.
However, if you mistakenly bought a size that is too large for you, you can shrink your baseball pants to the right fit.
As said earlier, you should never buy a pant that is way too tight, which might lead to severe injuries later. And never buy pants that you do not find comfortable for any reason, as there are plenty of options available in the market to choose from, and eventually, in time, you will find your perfect pair of pants.
Common FAQs about Baseball Pants
What is the golden rule of fitting baseball pants?

Baseball pants are supposed to fit tightly along the leg-ends, fit snugly around the waist, and adequately accommodate your hips, keeping them tight as well.

Why is it important for baseball pants to have a tight fit around the leg-ends?

A tight fit around the leg-ends ensures that there is no interference while running or doing any movement. It also ensures that in the case of ankle-length pants, the ends don't come out and interfere with your cleats.

How can one ensure that the ends of the baseball pants don't come out?

To ensure that the ends don't come out, you can wear the pants and secure the ends by rolling them properly. First, wear your socks and then line the inner side of the leg-ends with the starting point of the socks. Pinch the end of the socks along the leg-ends of the pants, and using your forefinger, try to roll them, at least two full times.

What can one do if they mistakenly bought a size that is too large for them?

If you mistakenly bought a size that is too large for you, you can shrink your baseball pants to the right fit. However, you should never buy a pant that is way too tight, which might lead to severe injuries later.
Final Words
There are many baseball pants that came out and are coming in 2023. It is imperative to check all the details properly before buying the pant.
There are different types and colors of baseball pants.
You must know what to choose and how to choose. Check twice before using the pant to make sure you have made the best choice.