When it comes to baseball pants, you have so many options.
Many brands manufacture really good pants at a budget-friendly price. Rawlings, Nike, Under Armour, and a few other brands are manufacturing pants that are affordable as well as comfortable and long lasting.
But, before purchasing pants for your baseball game, you must know a few things like material used in the manufacturing, size, design, comfort level etc.
Comparison of Baseball Pants
My Favorite Baseball Pants
In my personal opinion, if you want a knee-high pant, then there is nothing better than Rawlings Knee High Pant.
It is made with 100% polyester fiber that makes it very comfortable. The 2-way stretch material is used in manufacturing.
A lot of players prefer this half pant because it's very comfortable, and you can play for hours wearing it.
It is also very cost-effective. It's quite affordable.
While, if you want a full-length baseball pant, then I'll recommend Mizuno Youth Baseball Pant.
This Mizuno pant is trusted by hundreds of baseball players, and they really love it.
It is available in 4 different colors, and quite inexpensive.
Things to Consider Before Buying Baseball Pants
There are a lot of things to consider before buying a pant. A baseball pant is what you will be wearing to play and hence it has to be more comfortable and perfect. You should be able to run around, jump and catch to be able to win. Comfort is what matters most.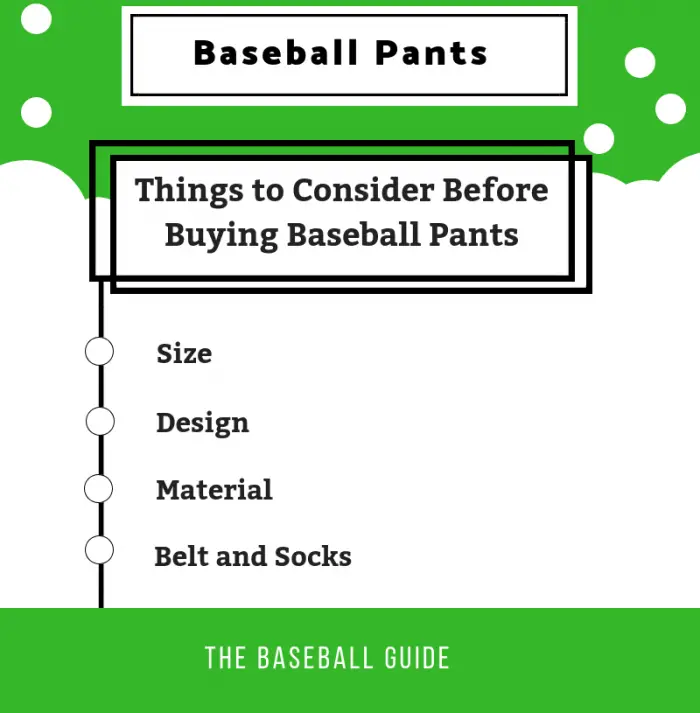 Here are a few things that you need to look into to be able to buy the best possible baseball pant also making it look stylish.
Size
When you want to buy a baseball pant, you cannot just try every single pair of pants on. Especially if you are planning to buy it online, you cannot keep returning it to the seller till you get the pant of the right size. The size is very clearly put on the websites.
There are sizes ranging from XS to XXXL for almost all pants and might be a bigger range in a few brands. There is a proper size chart on the internet and you just have to measure and match to the size chart and buy whatever you want.
The size chart isn't just some random number. You might have to sit and measure the length and waist size. It is important to check it properly. Pants are the most important part of the game. Make sure you are totally comfortable to play while wearing that pant.
The Design
Usually, baseball pants are a part of the uniform of the team or the place you are playing for. You need to look into the design and color properly to make sure it is perfect. The design of the pant decides the look it gives to the player when he wears it. It is hence important to check the design of the pant properly.
Basically, there are 3 types of pant designs for any sport pant and it is the same for baseball pants too. The design types are pinstripe pants, piped and solid design pants.
The pinstripe pants have stripes all over the pant. It can be two different colors and it is easy to represent the colors of the team.
The next type is the piped design. This can give the most standard baseball player look. It has one color small pipe on the sides of the pant and it looks like a track pant. This looks perfect and the pipe can be of any color to make it a perfect combination with the color of the pant.
The 3rd and the simplest looking type is the solid design which is plain and has one single color. It is plain but is perfect. It is very easy to make sure everybody in the team has the same color on.
Material
There are a number of materials that are used to make a proper pant. It is very important to buy the pant of perfect material. It is important to make sure the material is comfortable and soft. It shouldn't be sweaty or be hot inside the legs. It should have pores for air to get inside the pant and so your leg will have some air.
The Belt and the Sock
In the case of most baseball pants, you may need to wear a belt. In that case, you need to check if the pant has loops for the belt and it is good enough for the belt of your choice to get in.
In some cases, when you buy a pant, there is an offer on the belt. In that case, it is important to check for the material of the belt.
It is the same with the socks. When you get a pant, there is a possibility that there are socks coming with it. Make sure the sock matches your pant.
It is important to check for the pant properly to make sure it is comfortable and also to make sure you don't trip and fall off. It is hence important for the customers to check for all the required details before buying the pants.
Best Baseball Pants for 2019
Under Armour Boys' Clean Up Baseball Pants
Players need their baseball pant to be very comfortable and this is one of the best baseball pants in 2019 that has delivered the required comfort. Most players prefer buying these pants as they are very light in weight and very soft.
The main reason for this being preferred is durability. It does not tear fast as it is made of the good materials. It stretches enough and hence players find it very comfortable to run around with it. The waistband is perfectly stretchable and the sizes from S to XL are usually available online all the time.
Other than this, the pant has double layer protection for the knees and the zip fly also has a double snap closure and hence the player feels safer. It has 7 belt loops that are perfectly stitched to the pant and can easily balance the weight of a leather belt.
Pros
This material is made in such a way that it can just wick away the sweat and it makes the player feel better. In simple words, this polyester keeps the player's leg cool and dry.
The belt loops make it better as you can very easily make it stay on the waist.
The protective construction near the knee makes it safer and better.
The quality of the material is very good and perfect to use.
It has a perfect design and it works perfectly well.
Cons
It is a little too expensive and not everybody affords to buy this pant, though it has all the necessary qualities.
There is no elastic in the bottom and there is a possibility that your trip and fall if it is even a little bit longer.
There is only one color available now.
Rawlings Men's Knee-High Pants
This is an excellent brand of sport pants and it also makes very good and comfortable wear for playing baseball. It is only up to the knee and is extremely comfortable. This gives a very traditional look and feel. It is perfect and the most traditional looking pants for baseball.
The fit isn't too tight. It has a relaxed fit and is preferred by most players who find the half pants very comfortable to wear during a game. It is made of perfect fibers for the player to feel good about wearing them. The material is very breathable and hence this is good to wear during the summer. It is made of polyester and hence can also provide a little warmth during the winters. They are extremely durable and are also very soft to wear.
The inseam is perfect and it works very well for long term use. It is perfectly stretchy and the waistband is perfect too. Here are the pros and cons of the pant for better details.
Pros
This particular pant has an ultra-high cut and hence gives a perfect and the maximum possible comfort.
It is fully made of polyester without any mix. This makes it a very good choice for the pant. It can be worn in any weather or climate. It is hence preferred in places where different climates come up.
This is a 2-way stretch or elastic material. It can stretch perfectly well.
This has got 2-back pockets with a tie down. This makes it a multi-purpose pant.
Cons
This is not very stylish. It is less stylish but very much comfortable.
Does not offer protection to the part of the leg below the knee.
The waistband is not that good. It is a little weak.
CHAMPRO Adult MVP Open Bottom Relaxed Fit Baseball Pant
This is yet another very good pant for a proper baseball game. It is made of polyester fabric and is perfect for adults as the fit is set accordingly. This is an open bottom pant and is available in all sizes varying from S to 3XL.
The construction of the pant is made of pro-weight 12.5 oz. fabric. It has better abrasion resistance. The tailoring is done very well and also it looks very stylish. This also has a double snap closure. It is very durable. This is made very well to make sure the players never get distracted due to the discomfort.
The legs on this pant are very straight and a wide waistband which is also soft and does not make any marks on the hips. People also prefer wearing this for practice as it is comfortable and not very expensive.
Pros
The best part of this pant is that it has an extra wide waistband which makes it more comfortable and better to wear.
It can be washed in a machine very easily and can also be dried up very easily.
It is an open bottom pant and hence most players prefer it.
It has very well stitched seven pro-style belt loops.
It also has a proper reinforced double knee to make sure the knee is properly protected.
There are 3 different colors available namely white, grey and black.
It has back pockets that can hold the batting gloves. This is a very big advantage.
Cons
It is fairly affordable.
There is a very big size difference between 2 consequent sizes. If you are in some size in the middle it is difficult to find the perfect fit.
Easton Youth Rival 2 Solid Baseball Pant
When people look for baseball pants, they give more importance to the comfort and the feel of the pant on their legs. This is an open bottom hem opening pant which makes it better for most players to wear this pant. This design gives a star look.
Some people play in a hot climate and some in cold. This is a very good pant that can be worn in any climate. It is made of premium microfiber polyester and is said to be resistance to the stain of any kind. It is very easy to wash in a machine or by hand.
In the beginning, it came out in grey color alone, now there is white and black coming out too. The sizes available are from Small to XL. It usually fits perfectly and has very good customer reviews.
Pros
It has 2 back pockets which are meant for keeping batting glove.
The knee part is double reinforced to provide safety in the knee area.
This pant has a full cut design and this makes it more comfortable.
This has moisture-wicking technology. The players can wear this in summers and still stay cool.
Cons
It is quite expensive in comparison with other pants.
The number of sizes available is lesser. There is no XS or other sizes above XL.
Mizuno Youth Select Pro Pants
This is one of the pro baseball pants with the most number of colors available. This fits perfectly well and is chosen by a lot of expert players. The pant is entirely made of double knit polyester and it feels very soft.
This is one of the very stylish options that Mizuno has come up with. This is totally meant for youth and the sizes vary from small to XXXL. This bottom is also hemmed and the length is also perfect.
This pant is very breathable and is very durable. It lasts very long and it has belt loops. It also has two-snap closure and there are 2 sets in pockets for the glove and it also has buttons for safeguarding the glove inside.
Pros
This pant has features like UV protection and is totally resistant to stain.
There are also adult pants in the same brand that has the same features.
This is very breathable and hence keeps the legs cool and dry and very comfortable.
It also fits students who are very slim.
There are very good options for colors in this pant.
Cons
The waist of this pant is a little smaller.
The length is a little longer than expected.
Final Words
There are many baseball pants that came out and are coming in 2019. It is very important to check all the details properly before buying the pant. There are different types and colors of the baseball pants.
You must know what to choose and how to choose. Check twice before using the pant to make sure you have made the best choice.