*I may get commissions for purchases made through links in this post.*
If you're thinking about buying a Marucci Bat, then inevitably Marucci F5 Baseball Bat comes in your mind.
The Marucci F5 is not as popular as CAT 7, but it is getting an excellent response from the players.
In this Marucci F5 Review article, we will take a close look into the design, performance, and other aspects.
We will also do the comparison of Marucci F5 with Marucci CAT 7, to find out the key differences and similarities between them.
So, let's get started. 
Marucci F5 Bat: In a Nutshell
The Marucci F5 is a great bat that offers good performance at a much lesser cost as compared to the high-priced baseball bats.
The F5 bat series is available in two options: Marucci F5 BBCOR Bat with drop 3 and Marucci F5 USSSA Bat with drop 10.
When it comes to performance, it offers excellent performance at a much lesser cost as compared to the high-priced bats.
Both of these bats; BBCOR and USSSA bats, are made with one-piece alloy construction and that makes it ready to use straight out of the wrapper.
The balanced weight along with the high-quality grip helps the hitter to easily swing the bat without losing any control.
As it is only in drop 3 and drop 10, therefore, this bat series is not for every hitter.
A few players also face some vibrations when hitting. But, the vibrations are definitely lesser as compared to the other bats of this price range.
Another thing that attracts a lot of young baseball hitters towards F5 is its price. It's quite affordable and will not cost you much money.
Of course, this bat can't compete with a $400 bat, but it's simply much better as compared to the other bats at this price range.
Before purchasing any bat, you should definitely take a look at the customer reviews of Marucci F5, and compare it with other bats.
Marucci F5 Review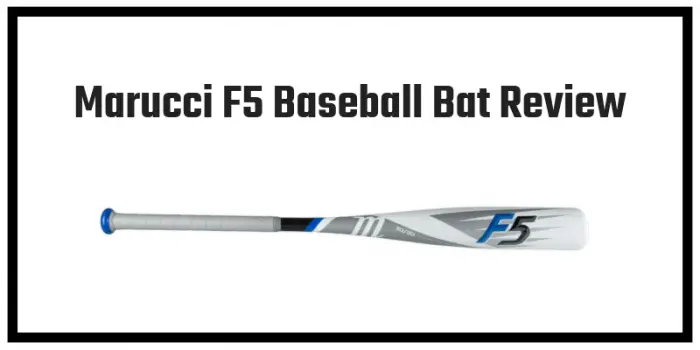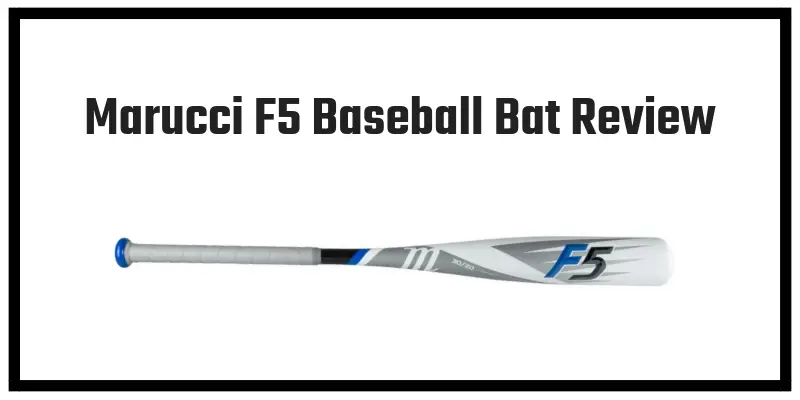 The Marucci F5 lineup is similar to the top-rated CAT lineup, including Marucci CAT 7. But, there are many differences between Marucci F5 and CAT 7, and we will also learn about them.
The Marucci has opted for the F5 name from a disastrous weather phenomenon (tornado). According to the old scale, an F5 tornado is having a wind speed of 261 to 318 mph, while with the new range, it becomes EF5 with a wind speed of above 200 mph.
The new Marucci lineup generates enormous power while hitting; that's why they opted for this name inspired by a tornado.
The Marucci F5 Baseball Bat may not be popular as much as CAT 7, but it is one of the best bats for the baseball players.
Let's discuss each and every aspect of this bat in detail.
Design & Construction
The whole Marucci F5 Bat lineup is available in only one color combination (white + gray + blue). 
All the three bats are slightly different from each other in terms of design, but the basic design is the same.
The One-Piece Alloy is used in the construction along with the ring-free barrel technology to provide the maximum performance without any dead spots.
The weight is properly balanced that helps the player to swing the bat easily with full control.
Sizing
The F5 bat is only available in Drop 3 or BBCOR and Drop 10 with 2 ¾ for both juniors and seniors.
So, it is only for those hitters who need a bat with drop 3 and drop 10. If you're a hitter with the requirement of drop 7, drop 8 or something like that, then it is not for you.
So, before making your purchase, make sure it is according to your size, and it's possible that you may not find the desired size.
Marucci Bat Grip
The whole Marucci F5 bat lineup comes with a grey color grip. A few players reported that the grip started to tear off after a few months, while others didn't face any issue with the grip.
But, this is not a deal breaker.
If you face a problem with the grip, which is very unlikely to happen, you can always add your own bat grip.
Performance
To improve the performance, a ring-free barrel is used in the manufacturing. Therefore, you'll not find any dead spots in the barrel which provides optimum pop.
With the one-piece alloy construction, it gives a traditional feel when hitting a ball. The multi-variable wall design not only expands the sweet spot but also helps in increasing its durability.
But, it'll be wrong to say that it is completely vibration free.
You will feel some vibration when you hit a ball hard. But, Marucci has definitely worked on their new lineup.
The vibrations are really less as compared to the other bats at this affordable price.
By using a thicker bat grip, the extent of vibrations that you feel will decrease a lot.
So, when it comes to performance, it may not be as good as expensive bats. But, it gives an excellent competition to them, and don't forget, it comes at half the price as compared to the high-priced bats.  
Break In Period
The Marucci F5 baseball bats are made with alloy, therefore, they're ready to hit balls straight out of the wrapper.
There is no break in the process required for this F5 lineup.
Price of Marucci F5
The affordable price is one of the main reasons to buy it.
The Marucci F5 is a high-quality bat that performs similarly to some expensive bats at a much lower price. Of course, it lacks in a few things as compared to the costly bats, but in some cases, it is as good as an expensive bat.
For the young kids, this bat is perfect because they may outgrow a certain size in the next season. So, buying this affordable bat with good performance is a good choice.
Marucci F5 vs. CAT 7
If you compare F5 BBCOR with CAT 7 BBCOR, you'll find that CAT 7 has two-piece hybrid construction that features a carbon composite handle with an AZX4 alloy barrel.
But, the F5 BBCOR has One-Piece Standard Alloy Construction. The alloy used in the CAT 7 is upgraded and gives better response rate than the standard alloy.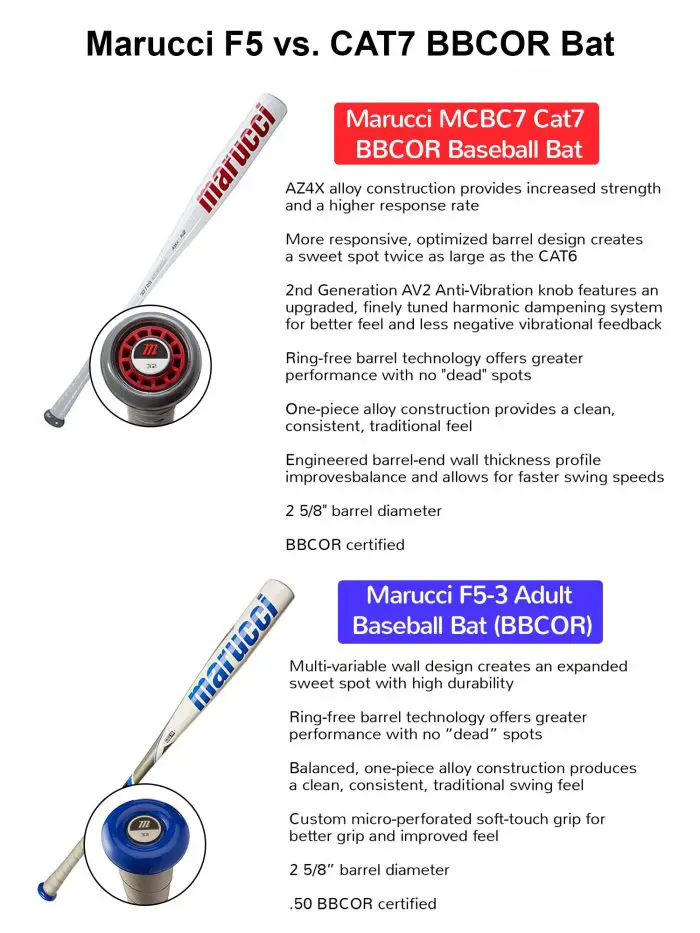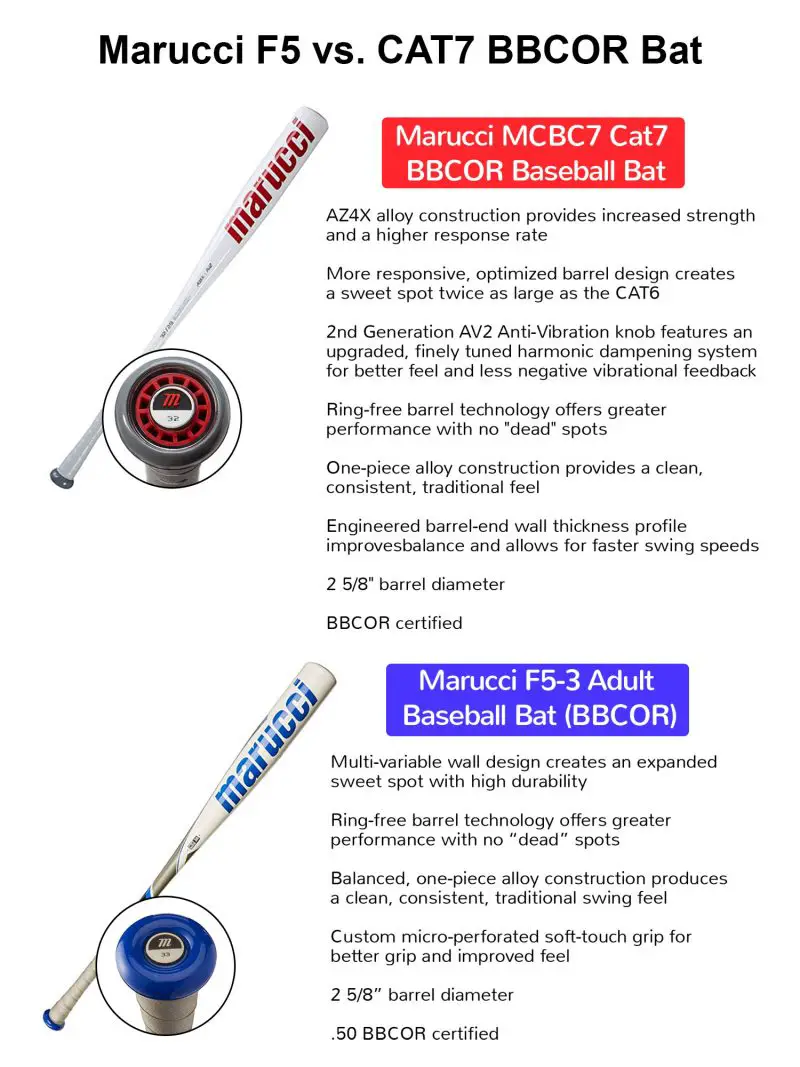 The Senior League Drop 10 Bat of both F5 and Cat 7 has One-Piece Alloy Construction. There is no difference in Drop 10 bats in terms of construction.
To reduce vibrations and provide better feel, the CAT 7 has AV2 knob. So, the CAT 7 does a better job in reducing the vibrations as compared to the F5.
The CAT 7 is slightly more balanced than F5.
But, when it comes to price, Marucci F5 is much more affordable than CAT 7. If the price is not an issue, then definitely CAT 7 is a better choice.
But, even at nearly half the price of CAT 7, F5 gives a tough competition to CAT 7 in terms of performance.
The Final Verdict
The Marucci F5 is an awesome bat that provides great performance on the field.
The balanced weight, big barrel, alloy construction with no dead spots makes it an excellent choice for the players.
The Marucci F5 is one of the best affordable bats in Drop 10 and BBCOR bat range.
But, it is not available in Drop 5 and in other drop weights.
So, as a whole, this bat is great for the young players because they may outgrow a bat in the next season. Therefore, for young players, this is the right choice as it provides excellent performance and it saves good money.