Scrolling through all those misleading titles of "The Best Catcher's Helmet", tired and lost hope that you won't find the ideal helmet for yourself. 
Good thing that mindless scrolling has led you to this article because I am here to tell you some of the best helmets and how each of them is good in a specific category as well. 
Let's get right into it! 
Best Overall Catcher's Helmet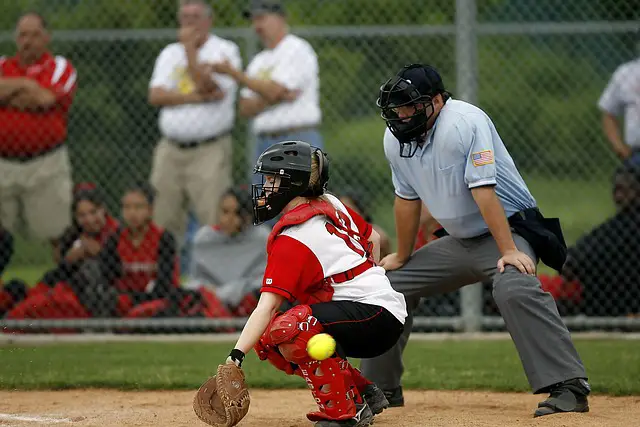 Rawlings | Velo 2.0 Catcher's Helmet
It was always Rawlings and it's always gonna be Rawlings! Why you may ask? Well, Rawlings has a stupendous reputation for their sports equipment and frankly enough you won't get disappointed by the things they provide to you. If you were to buy a Rawlings product it is gonna definitely last you for a good amount of time and that's why it is a famous choice amongst many.
 The Rawlings Velo 2.0 Helmet is designed for maximum protection, these are designed with a resistant cage that will protect you from all those foul balls and will block anything that comes your way. Moreover, it also has a great fit and customizable adjustment that will help you to customize the fit as you desire it.  They also come with a moisture-wicking liner and ventilation slots that will help you to get much better airflow. 
Pros: 
Keeps you cool and dry 
Sleek design 
Durable 
Protects you 
Cons: 
Best Youth Catcher's Helmet
Mizuno G4 Youth Samurai Catcher's Helmet
If you are looking for the appropriate type of catcher's helmet for your youth players well then, the Mizuno G4 Youth samurai Catcher's helmet is just the perfect one for them. The helmet is seriously built like a samurai! No jokes I'm literally serious. They have a ventilation system for comfort and breathability allowing you to perform consistently, without having that awkward or icky feeling each time you perform. 
The helmet also has 3-layer EVA Fpaming that will help you to have ultimate comfortability each time you are playing and you won't feel it pinching you or just sticking right into your forehead. The helmet is made with a strong framed mask for maximum protection and durability and therefore they will give you a lot of protection when you are on the field. They meet the NOCSAE standards so that's an added plus point about this helmet. 
Pros: 
One size 
Adjustable jaw pad 
Moisture control 
Framed mask 
Cons: 
Padding may fall out after some time of use
Best Fastpitch Catcher's Helmet
Easton JEN SCHRO Softball Catcher's Helmet
The Easton JEN SCHRO softball catcher's helmet is perfect for fastpitch softball. The best in fact, it has everything that you'd need in the helmet, while still protecting you from those wide or even foul pitches it gives you a lot of freedom and the ability to move at the same time. But also gives you the necessary protection that you need when you are playing on the diamond. 
The Easton JEN SCHRO softball catcher's helmet is designed with a new ABS plastic shell, that gives it the toughness and durability that you require in a helmet. This also contributes to the protection factor as well. So it's pretty much a really great helmet. They also have enough padding placed inside for your comfort, they also have a material that kind of drives off the bacteria, each time you sweat. And to put the cherry on top it is certified by NOCSAE, so they are pretty much the ideal type of helmet for you. 
Pros: 
Meets NOCSAE standard 
Good enough padding 
Great protection 
Drives off bacteria from sweat
Cons: 
Best Budget Catchers Helmet
Rawlings Players Series Catchers Helmet
We have another Rawlings on the list and rightfully so, we have included this one on the list as well, since these are perfect for all my broke buddies out there. Mostly when you are in college but you still wanna invest in a good helmet and don't wanna go about frantically finding one, that is gonna cost you twice your living expenses and you want something that's well within your pocket and your wallet won't cry after you've swiped the money. I feel you and that's why I included this helmet on the list. The Rawlings Players series helmet has everything that you'd require or want in your ideal helmet. 
The helmet is styled in a hockey-style way so it really provides you the ultimate protection and gives you a lot of safety behind the batter. They have interior padding that contains the Pro Dri Plus so that's gonna keep you dry the entire time and you won't get that icky feeling each time you perform on the diamond. They have high-resistance cages and are built with high strength as well. They also have an ABS plastic shell for added impact resistance. 
Pros: 
Hockey style helmet 
Affordable 
Gives you great protection 
Padding for extra added comfort 
Cons: 
Best Premium Catchers Helmet
EvoShield Pro-SRZ™ Catcher's Helmet
If you are looking for something super fancy and super sleek, looking like a prop from a star wars set, well this is literally the helmet. Like honestly it's super good-looking just right off the bat. It has a stylish look, with clean finishes. The helmet is designed to meet the standards of NOCSAE so it definitely will give you great protection each time you play on the field and will help you gain much more better mobility each time. 
They have a shock-absorbing padding system that will help you to diverge all those impacts that come to you at great speeds through the ball. They are great and give you greater protection and comfort each time you play on the field. The helmet is engineered to give you the desired performance that you need on the field each time you play. They have a durable steel facemask engineered for maximum field vision and enhanced impact protection. Also, it comes with a fleece bag so you can easily carry it around anywhere you go, knowing that it's easily protected and you'll be game ready each time. 
Pros: 
Great protection 
Durable 
Good comfort 
Meets NOCSAE standards 
Cons: 
How to Choose a Catchers Helmet 
Well after reading the above-listed products, Im pretty sure you got an idea of how to be able to select the right type of helmet for you. But if you are still confused and need some guidance, fret not I'm right here to help you out with that.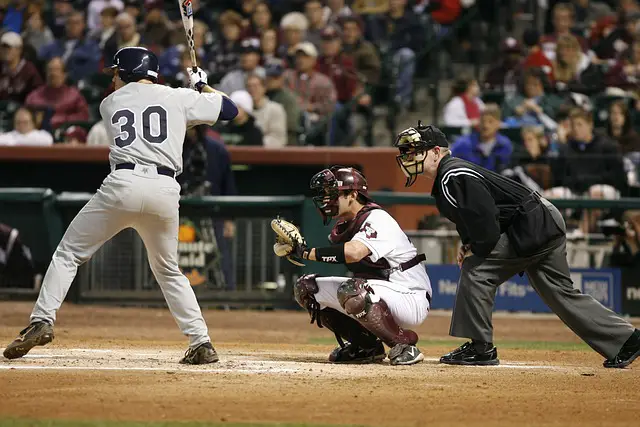 Durable Outer 
When considering buying a helmet it is of utmost importance to check something that will have tough outer, ideally designed with tough plastic like ABS, that's not only gonna protect you but also will last for a good long enough time. Something that is flimsy may not be able to protect you and may get a dent or even scratches super easily just with the use of even the slightest use. So when buying a helmet be sure to consider something that has a super tough outer covering. 
Optimal Caging 
Now what I mean by this is that the caging should be perfect, as in it shouldn't have any unnecessary flaws in it that will make the balls spring back or even just get stuck in between. It has to have good enough spacing for you to be able to see your surroundings easily without any hindrance but also gives you ultimate protection each time a foul pitch is made. 
Padded Comfort 
It's pretty obvious at this point you obviously need something that will not pinch you or annoy you every time you play on the field. Having a helmet doesn't mean it has to be super bulky and hindering every time you play in it. It should give you enough comfort and flexibility on the field time you set foot on the diamond. The helmet should have enough padding around the jaw areas and even the forehead area to give you optimal comfort each time you play. 
Breathability 
Try to find helmets that have a system or fabric that will give you enough air and circulation each time you are playing on the field. Finding something cheap without these properties may suffocate you each time you play and may cause a lot of hindrance to your peripheral vision and that hinders your performance as well. So it's best to get something with a vented and circulating air system to allow you to be comfortable on the field.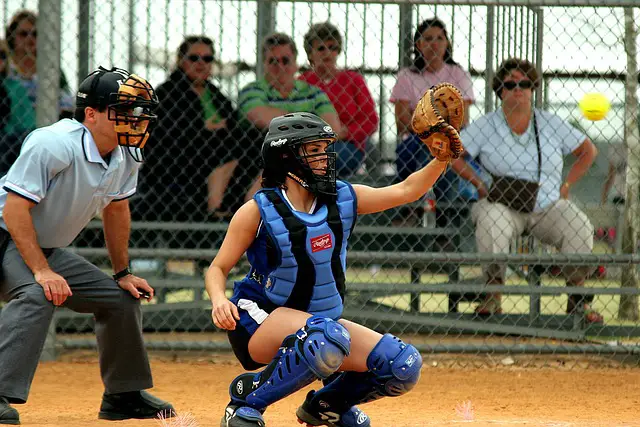 Conclusion
Well, there you have some of the best helmets out there for softball and baseball catchers alike. I hope this article helped you to understand what to consider before buying a suitable catcher's helmet and also I hope it helped you to get a better idea of which helmet is best for you.