Want to know what's the better option the commander baseball bags or the cadet baseball bags? 
Well, I know you must be there sitting confused and in despair about what's right for you. I'm here to give you a review of both and you can see what's best suited for your style. 
Jumping right into it!
Bownet Commander vs Cadet 
The Bownet Commander has around 14 pockets same as the Cadet for the ultimate storage of all the products that you need in your bag. You can carry all your essentials and equipment in these pockets so it's pretty spacious and easy to store. But this all comes down to size and the amount each of these bags can hold.
So, when looking at the Bownet commander, the main storage has a molded semi-hard case underneath for your helmet or spikes, plus they do have removable shelving for uniforms, pads, masks, or any other essential that you'd like to carry. Along with that, it has a side bat panel that can hold up to three bats in total, a batting glove attachment panel, and pockets of course for your shin guards and water bottles. Not to mention you do have the panel, where you can always personalize by writing your name or your team's name. 
Now let's look at the Bownet Cadet, the main compartment has the same features just like the commander. The two side panels are there and this can hold up to six bats in total. Plus you do have hooks for hanging gloves and helmets. So in comparison, the Bownet Cadet will help you store more of your accessories and is literally perfect for storage. 
Bownet Commander and Cadet are both made of weather-resistant fabrics so your bags are gonna be safe, all-weather round safe. They both have their BigTrax trademark wheels that will help you carry it around quite easily. The Commander baseball bag has feet so it wouldn't touch the dirty surface or ground and your equipment will be safe. So in terms of storage, the cadet has more space to accommodate most of your items in the bag easily. When it comes to Commander's baseball bag it will try and protect your gear easily. 
So both the Commander and Cadet baseball bags from Bownet Sports will really give you the best of the best bags to store your equipment. So it's very great both of them in terms of protecting your equipment, and even storing them super well. They come in different color options so they are super good to choose what's best suited to your style. The Commander is slightly more expensive than the Cadet, but it doesn't compromise in terms of quality and gives you the best experience in storing your goods easily.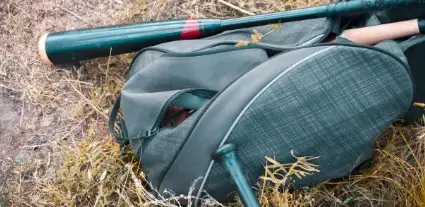 Final Thoughts
So well that's about it Bownet really doesn't compromise on storage and quality. So buying either of these bags will really not give you any sort of hindrance but instead, give you the best of the best experience.