Practicing hitting is essential when it comes to baseball, especially for budding players like kids and youth. Before becoming a good baseball hitter, every player needs hours of continuous practice every day and finding a person who can keep up with the pace of throwing the pitches can be quite difficult.
This is the time when pitching machines would really come to your rescue. Considering the advanced technology in the recent times, there are many different types of pitching machines that are available to practice hitting. But, finding the right one for your kid can be a tricky task.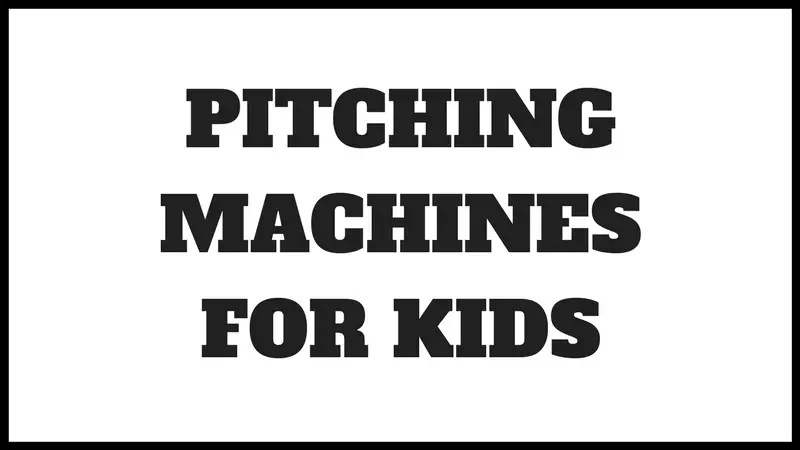 There are many factors that you have to consider before purchasing the machine such as the type of usage (team or individual), price, customizations available (specific balls, specific pitches), etc. To make your selection easy, here are the top 3 pitching machines for your kids that you can look forward to for them to practice hitting with ease.
Best Pitching Machines for Kids
Louisville Slugger UPM45 Blue Frame

This pitching machine from the company Louisville Slugger is famous due to the fact that it is used by Pony Baseball and Babe Ruth League. Also, the company is very well known to offer the best of the baseball equipment for young players. This pitching machine is very simple to use and is one of the affordable models.
It is recommended for kids of 6 years of age and above and throws consistent, reliable and accurate pitches without the requirement of a power supply.
The speed of the pitch can be varied from 18-45 mph along with variations in the throw so that your kid can practice swinging in a better way. It not only throws softballs and baseballs but can also handle volleyballs and soccer balls in case your kid is into these sports as well. The design of the machine is so compact that it can easily fit inside the trunk of your car and it weighs just 25 pounds.
These features make it super portable and you can carry it wherever you want to. The body of the machine is so sturdy and of a higher quality that it is a must-have machine for all the coaches and parents. You just need to adjust the speed and height in the beginning but once the required height and speed are finely tuned, they are locked in the machine and then it can deliver consistent pitches.
This is one of the best machines that can help your kid with all the practice of sports they need.
Check Price & Reviews of Louisville Slugger UPM 45
Jugs Light- Flight Pitching Machine for Baseball

The company Jugs Sports is known as one of the best selling companies when it comes to pitching machines. The machine Jugs M600 Light- Flight is one of the least expensive and long lasting machines that you can choose from.
This machine features a technology Select A Pitch that enables you to throw curveballs, fastballs, sliders, and even right handed or left handed. This is a feature which is rarely available in a pitching machine that costs less. It also features a swivel design that enables a rotation 360 degrees and you can easily adjust for pop-ups, fly balls, and grounders. This is a great feature to practice defensive drills for your kids.
Not only is this machine limited to these features, but also it consists of a quick change of design so that you can switch between softball and baseball within few seconds. As this pitching machine throws lighter pitches to your kids, it provides excellent fear free sessions of practice.
Your kids will be able to develop their hitting techniques without the worry of getting hurt or damaging themselves. This machine will surely provide your kids with fruitful practice sessions at the end. The old and experienced players can also use this machine to get a variety of pitches for practicing swinging and improving the playing skills.
This is one such low-cost pitching machine with great features thlat can be used by both kids as well as experienced baseball players.
Check Price & Reviews of JUGS Lite-Flite Pitching Machine
Zooka Pitching Machine

The Zooka Pitching Machine is a revolutionary pitching machine that has more of technical features to make your pitching easy. It the first fully digital machine which can deliver pitches at a speed of up to 65mph when used on the battery. This is the most innovative pitching machines which you can get at a nominal price.
It features a rechargeable battery that makes this machine one of the best choices. Also, this feature makes it portable that you can charge it at your home and take it with you on the field. The battery power lasts really long and can deliver approximately 500 pitches, which is more than enough for a single practice session.
Also, the fully digital system of this pitching machine enables you to adjust the height and speed digitally with its simple and easy to use digital controls. The design of this machine is safe such that it doesn't feature any external moving parts which might be dangerous for users. It doesn't contain any electric cords or dangerous spinning wheel which can interfere with the safety.
Hence, most of the coaches and parents prefer this pitching machine over others if they want one with digital features. It has a sturdy built design that makes it highly versatile and portable and makes it easy to use. You will definitely not come across such a pitching machine with various features at a cheaper price.
Check Price & Reviews of Zooka Pitching Machine
Final Words
Whether it's a kid who is a budding player or an experienced one, practicing hitting along with hand and eye coordination is very important.
Considering the various factors for pitching machines like the design, type of pitches, ball speed, source of power, brand, portability, control, defensive drills, and price, you choose the perfect pitching machine for your kids to practice hitting. It is always recommended to use a pitching machine for practice so that your kids can develop their hitting skills and techniques in a better manner.
The earlier you make them practice with a pitching machine, the earlier they will be able to reflect their skills in the field.