Finding the best pitching machine? What's the best pitching machine to improve my hits? Which Pitching machine will help me improve? 
If I just exposed your entire Google history, well then, you are at the right place. Cause, I'm gonna tell you some of the best pitching machines for softball.  
Let's get into it!
Best Softball Pitching Machines
Junior Hack Attack- Best Overall 
Well must have been obvious from the very beginning, but the hack attack is one of the best softball pitching machines, and for good reasons too. People at hack attack were committed to making the best type of pitching machine which would be fairly easy to operate.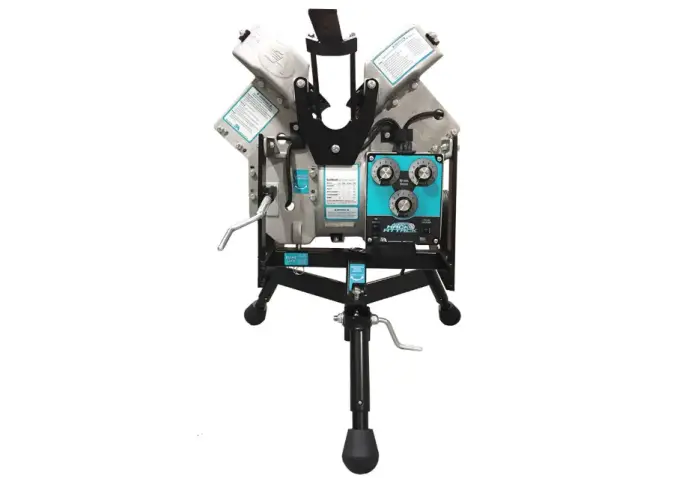 They improved their pitching machine as they noticed that a lot of issues were noted by their professional teammates who had been in the game for a long time and saw what was most required to make the ultimate pitching machine. Wheels were the most important factor in the pitching machine, they added a third wheel to improve the efficacy of the pitches being thrown, and they also added the ease of moving the pitching machine horizontally and vertically, the cherry on top of all this, portability was another added feature for easy storage in-field and out-field. 
Pros: 
Portability 
Safety of operator 
Wheels for efficacy in pitching 
Cons: 
Is on the higher end of the price scale 
Hack Attack Pitching Machine – Most Accurate
The hack attack pitching machine is really great in terms of accuracy. You can try and hit those accurate shots in different settings and angles. This will just generally make you a better catcher or even a batter with these.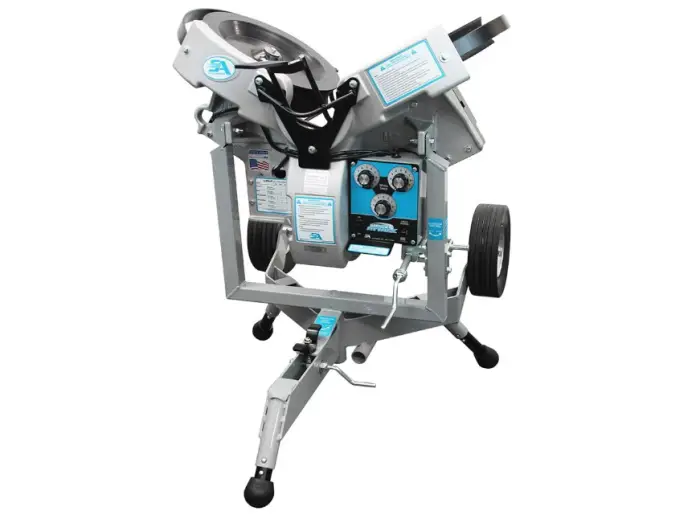 Hack attacks can throw various pitches ranging from sliders to knuckle balls, curve balls, split fingers, and fastballs. So you can be sure that these pitching machines are worth your big bucks. Like honestly, this pitching machine will bring that finesse and technique to your batting and catching skills. The feature of the hack attack pitching machine allows you to see the pitches super clearly and also the pitcher goes all up to 100 MPH! So hey, your gonna be hitting some pro shots without the need of using a partner to pitch these for you. So yea, if you want those accurate shots and some speed pitches, then these are your best shot, quite literally!
Pros: 
Accuracy 
Visible to batter eyes 
Speed pitches
Different pitches 
Cons: 
ATEC M1.J Pitching Machine – Best Machine For Softball Leagues
So you wanna practice for your next softball league? Well then the ATEC M1.J is literally the best out there in terms of practicing and getting your game to the next level. But how are they perfect? What are their features?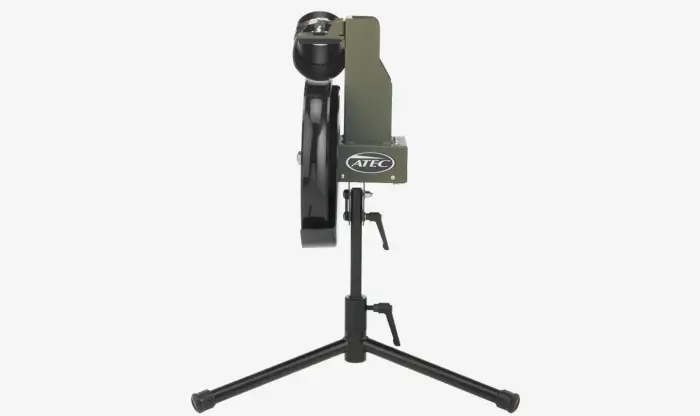 Well firstly, the ATEC M1.J fires fastballs quite easily, and moreover these fire in the range of 30-70 MPH, so you need not worry about those extremely fastballs. They are first in a perfect range allowing players to practice easily and with finesse. The set up literally a piece of cake! And they also come with a portable feature. So coaches take some notes, you could buy this and then easily take this to the field for coaching purposes. They have a concave wheel, that delivers pitches with accurate efficiency and flawlessly with the right amount of speed as well. You can always adjust the pitching machine however you like, maybe from a batter position to a ground ball or even a line dive training. Pretty neat if you ask me. 
Pros: 
Line dive and batting training 
Good for youth players 
Portable 
Adjustable 
Affordable 
Cons: 
Does not throw breaking pitches
Jugs BP1 Pitching Machine- Best for Youth Softball
So this machine is another absolutely terrific, and stunning piece for practice. The Jugs Bp1 never fails to ring home the best of the best action while delivering you the best performance on the field. This automatic pitching machine is portable and will travel anywhere, carrying the fun and the joy of baseball with it.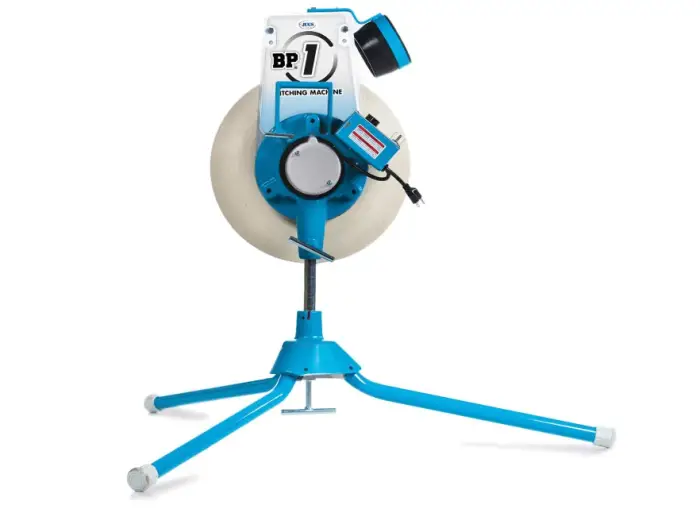 The Jugs BP1 comes with a softball chute with a 12-inch circumference. Dont want those speedballs or anything extremely well not to worry, these go up to 70 MPH, so they'll be really perfect in terms of delivering and even execution. They have a digital read-out display and the fun part is a full 360 degrees swivel base, perfect for those offensive and defensive drills. The machine throws from a realistic release point for softball players. They throw consistent strikes, So players you can confidently get into the batter's box and keep swinging efficiently with a lot of finesse.
Pros: 
Portable 
Easy to set up 
Perfect for beginners 
Great for offensive and defensive drills
Cons: 
Has the set limit speed of only 70 mph 
Heater Sports Softball Pitching Machine- Best Budget-Friendly 
Not looking for something crazy expensive. I know how expensive these pitching machines can be. It's probably because of the amount of work and instruments and machinery put into it, to create the best pitching machine that will simply cater to your needs.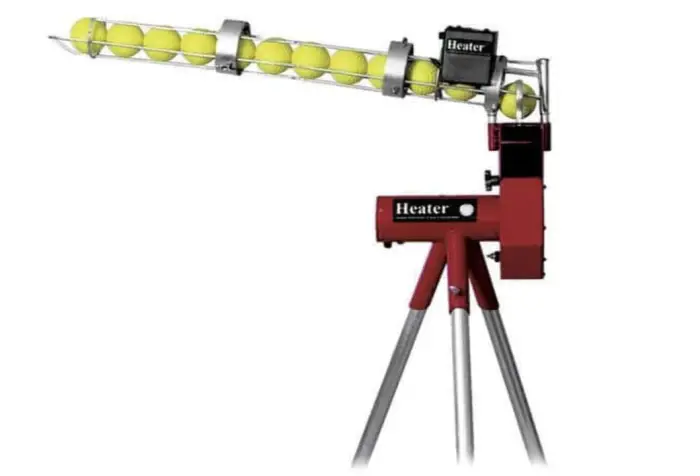 Wel Heater sport a wide range of budget-friendly pitching machines, which will be super convenient for you to use, plus they'll deliver the performance that you need on the field. They have options to choose from, you could use a pitcher machine that serves the purpose of giving fastballs and curve balls, they hold a set amount of ball and pitch after every 9 seconds or so. Well, most of their pitches are up to only 45 mph, so maybe if you are looking to just play these indoors or maybe just for fun then these pitching machines are super handy and will be perfect for you. 
Pros: 
Different machines available 
Affordable 
Pitches every 9 seconds 
Can run on batteries or an AC generator 
Cons: 
Speed only upto 45 mph, not ideal for real softball practice
Jugs Lite Flite Pitching Machine – Best For Backyard 
Looking for something to play with your kids or you are looking to play it on those weekend barbeque nights? Well, then this pitching machine is your best shot. The Jug's lite flite has been used since 2003 and has consecutively been sold since that time and has created memories and honed the skills of many players.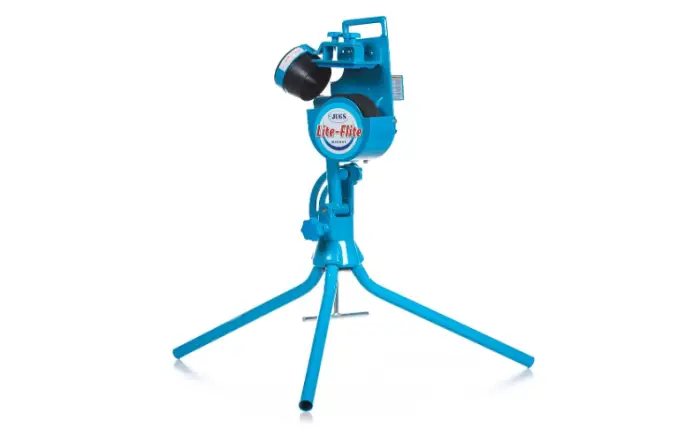 The pitching machine can throw curve balls, fastballs, and even sliders of both variations, so these are stunning. They come with these lite flite softball and baseball, which are made out of foam, so they are super safe. Oh, your grass is wet, well they have poly balls too, which essentially have holes around them that won't let any water pass through them. They have both knobs, for baseball and softball, so you can always switch and play, depending on your mood or day. So what are you waiting for get the best pitching machine for softball, right now!
Pros: 
Witch and play 
Great for recreational baseball 
Good enough pricing 
Cons: 
Designated balls are designed for it, limiting the type of balls that you can play with. 
Things to Consider When Buying a Softball Pitching Machine 
Does It Throw Real Softballs
When you invest in a pitching machine, you should make sure that these take in the load of the Softball glove without it harming, the wheel or even the ball. Check something that won't have specific balls to throw, but the real balls. So that you don't have to spend extra on buying these specific balls. 
Portability 
It's pretty obvious you must try and consider something that is portable. If you're a coach looking to train your kids or just a normal player, you can't just expect that you can play in your backyard. Portability is a really important factor that you should consider. So that you try and go to fields, with bigger space and better field surface area. Thus allowing you to play batter or even practice your diving catches. 
Price 
If you are looking for something casual or you are experimenting with pitcher machines for fun, go for something cheap. But if you are training professionals or even kids, then go for something on the pricier side. 
How Fast Can It Throw 
Yea, it's pretty obvious you need something to determine how to throw. If your professional consider something with a high miles per house limit. But if you are just an amateur get something with a lesser mph. 
Auto Feeder or Not 
Go with an auto feeder, because you won't have the hassle of trying and putting the ball continuously or even trying to grab them every time it falls off. 
Accuracy 
You need something with high accuracy, balls that don't have a fixed trajectory will be difficult to locate and will not be easy to work with. Catching balls that don't have fixed trajectories will be super difficult to locate and even harder to catch or hit. 
What Type Of Balls 
Check balls that will enable you to, throw different types of balls. This will enable you to practice very well. Pitching machines that throw a curve balls, knuckle balls, sliders, and even fastballs give you a wide area to practice and better fielding techniques.
Battery or Manual 
Battery-powered pitching machines are a really great option to consider, but they might hinder the pitching power. But if you are going for a manual or a generator-powered pitch, then they'll give more power and more efficiency.  
Conclusion 
Well, this is it, the best type of pitching machine here that will meet our needs and specification. Taking something expensive would be great for training youth players or even professional players. But if you are looking for something, to play just for fun, then a cheaper option would be better.