You are probably in search of the best youth baseball cleats and after tireless searching you ended up on this article. 
Well, I got your back, I have the list of the best youth baseball cleats in 2023, that will be perfect for you every time you choose to conquer the field.  
Gettin' right into it! 
Best Baseball Cleats for Youth Players
Adidas Unisex-Child Icon 7 Cleats
You know one can never go wrong with Adidas they are the absolute best in the sports industry. They give yout that grip that you need and help you perform excellently on the field. Adidas shoes have all been a go-to for most sports fanatics, it's because of how perfectly they have catered to their customer base. 
So they have a size range that is specifically made for youth players as well as they have options for little league players. So it's pretty much really great. These are rubber cleats so they are super safe to work with on the ground and you won't have any worries about them getting injured or hurt when they play. The Adidas Unisex-Chold Icon 7 Cleats are pretty much the perfect cleats that you need in your life. They have the rubber sole, for that excellent grip. They have a wide lacing system that gives them a snug fit and not an overly tight fit. These shoes ensure that you have the right amount of breathability when you're playing the game so you won't have any unprecedented hindrances when playing. 
Pros: 
Breathability 
Great size availability 
Rubber cleats 
Rubber soles 
Cons: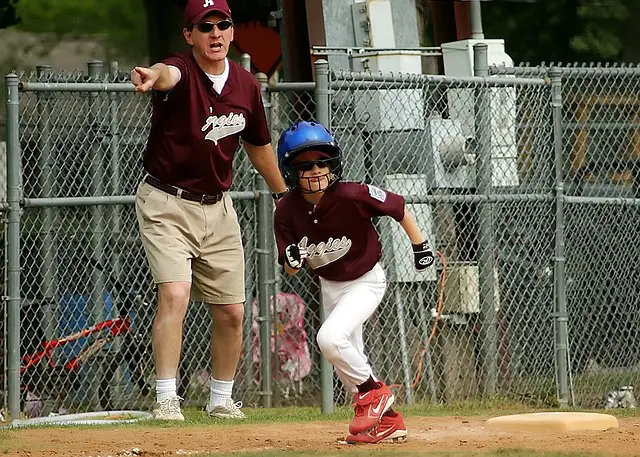 Under Armour Leadoff Youth Cleats
Under Armour has always been a leading sports brand as well so you can always trust that their quality will never disappoint you but instead keep delivering the best for you every time. Under Armour's Leadoff Youth Cleats are just perfect, and are absolutely awesome for baseball to help you rock the field consistently and give you the performance that you so desire. 
They come in different colors so you can always choose what's best for you. These cleats are designed to match the desires and needs of youth players making them really great baseball cleats for kids. They have the rubber sole that is a must for most cleats put there to increase your grip and consistently be steady when playing. It is synthetic and lightweight and also has perforations in the toe box that help increase the breathability factor. So honestly these are really great pair of cleats. 
Pros: 
Lightweight 
Cushioning for comfort 
Breathability 
Padded heel construction 
Cons: 
Mizuno Unisex Wave Lightrevo Cleats
We have another famous yet all-time favorite sports brand on this list and that is Mizuno. Mizuno has always and consistently will deliver the best quality to its customer base without any compromising on its products. It delivers the best so that you can perform your best on the field consequently each time. Mizuno cleats are just perfect for any little league or youth players. 
The youth baseball cleats are made of rubber, so they are perfect on the field and will give you the best in your performance each time you're on the field. They have an added feature of the EVA midsole for that extra support and comfort on the field consistently. It also features Mizuno Wave Technology a trademarked technology by Mizuno, which reduces the pressure that you apply and gives you extra comfort and stability on the field. 
Pros: 
Comfortable 
Stability 
Rubber cleats 
Support 
Cons: 
New Balance 3000 V6 Youth Baseball Cleats
The new balance 3000 V6 Yputh baseball cleats are absolutely perfect for any day you're on the field. They are exceptionally great and will give you the type of performance that you require on the diamond every time. The New Balance youth baseball cleats are designed to give you comfort and support each time you play on the field. 
The cleats are made in the USA so you can be sure that their quality won't be compromised at all. They have a rubber sole that will give yout the type of comfort that you are looking for in a shoe while improving your grip consistently. They have an EVA midsole that will improve the cushioning and comfort of your feet which will give you that added comfort when you are playing on the diamond. They also have an upper mesh for extra breathability when playing. They have a midsole foam that also improves comfort and support. So these are really a great pair of cleats for you to invest in. 
Pros: 
Breathability 
Rubber cleats for traction 
Flexible cushioning 
Absorbs impact 
Cons: 
Adidas Afterburner 8 Youth Cleats
We have another Adidas on this list and maybe if the other one did not impress you as much maybe this one will for sure. These shoes will give them the lightweight characteristic so they'll be playing on the diamond with absolute finesse in no time. The shoes are great for anyone who wants the best and wants to also perform the best as well. 
The Adidas Afterburner 8 Youth Cleats youth players and little league players as well so you wouldn't have to worry too much about what exactly to select. They have to bounce midsole and elevated cushioning for that extra comfort and support when playing on the field thus making them really great baseball cleats for kids. They have all the features that you require in a cleat and will consistently improve your performance while still giving the breathability and comfort factor as well. 
Pros: 
Comfort 
Stability 
Elevated cushioning 
Molded rubber studs 
Cons: 
Guardian Youth Baseball Cleats
The Guardian Youth Baseball cleats are perfect for any youth player they give the performance that you require on the field without comprising on any factor one bit. They give players the ankle support that is needed for any baseball cleats. It allows for great support and breathability and also ensures that you are protected when you are playing at all times. 
The cleats were designed with cushioned insoles that provide the support and comfort that you need on the diamond. They have a lightweight design that promotes them to be able to play on the field with ease and with no hindrance whatsoever the Guardian Youth Baseball cleats work as an absolute dream when playing. So when looking for the next best baseball cleats this is definitely worth your shot. 
Pros: 
Breathability 
Support 
Comfort 
Stability 
Cons: 
Not suitable for wide feet
Conclusion
So here are some of the best cleats out there for youth baseball players that will constantly give them the performance that they need while also ensuring that have maximal comfort when doing so. I suggest getting these for yourself since each of these brands has always given the best in what they make and do, so they won't fail you in terms of expectations.