Confused about which is the right pick Bownet Commander Vs. No Error No E2 baseball bag. 
Fret not! I'm gonna give you a detailed review and tell you what's best for you. 
Let's get into it! 
Bownet Commander vs No Error No E2 Bag
Bownet Commander and No Error No E2 both are pretty amazing in terms of quality. But to be honest, the better option to go for is the No Error No E2, No error No E2 although expensive is pretty awesome, it has enough storage space for you to store all your belonging and also all your sports equipment easily. 
It has space for all of your shoes, gloves, helmets, and even cleats so it's pretty easy to work with honestly. It has 9 storage units and shelving as well, to help you organize it very well. Also, they have an expandable shin guard pocket so that also helps for easy storage. These also have a separate heavy-duty cleat pocket, making this super easy for you to carry all the things together rather than in a separate bag.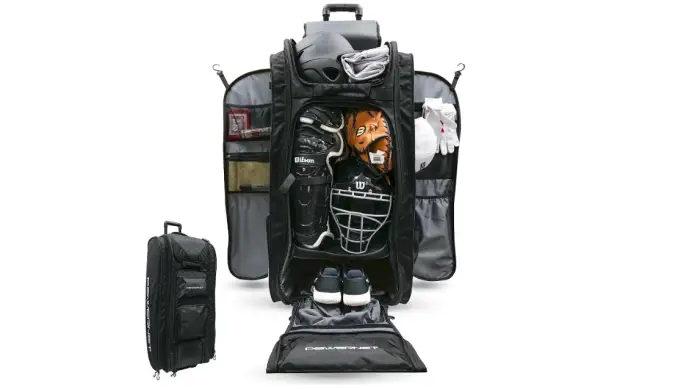 The best thing about this is that it has ventilated pockets so you can store all of your sweaty clothes towels or anything else, so this won't mix in any of your clothes and you will have complete freedom to put them all together in one bag without any issues. The bag has also enough space to store three bats altogether so that's quite spacious. 
When we look at Bownet Commander baseball, they have 14 compartments to store, but these 14 compartments are sort of smaller than usual. They do have different sizes to hold your protective gear and all sporting goods. It has a semi-hard compartment that will hold all your helmets or gloves to protect them easily. You can even store your spikes or cleats if you do need that. You do have shelving options as well for easy organization of your uniforms, pads, masks, or any other baseball equipment. There is a bat panel that can hold up to 3 bats in total, a batting glove attachment panel and pockets for your shin guards, and your water bottles too. They also have a panel where you can add your name or your team's name just for personalization's sake if you need it. So in this case Bownet's Command is also really great if you are spending your money on it. 
Now let's compare to the real comparison in terms of quality and just the fame within the baseball bags, we all know that No Error No E2 has got a really great customer base. Also, let's talk about the other factors like how the No Error No E2 baseball bag has a ventilated pocket system that will help you air out your cleats or even your sweaty towels or clothes, so that way it's really great honestly. I think that the No Error No E2 is definitely something you should spend your big bucks on it! 
Final Words
Well so here's the review of both these bags and honestly it's all up to your personal preference and your choice. But if you are looking for quality and even worth your money, then definitely get the No Error No E2. it will be worth all of your money.