Have you ever wondered which are the best fastpitch bats in 2023?
If you are a baseball enthusiast, you probably know that an overwhelming number of brands, styles, and models of fastpitch bats are available in the market.
DeMarini is a trusted name in the world of sports equipment. Most players from amateurs to pros choose DeMarini because of its high quality, performance, and durability.
They make a variety of different bats for different hitting styles and skill sets. They also offer a good deal of variety in their product line that can accommodate all levels of players.
This season, they have introduced the CF and Prism Fastpitch bats. But which one should you choose?
Comparing the two best fastpitch bats isn't easy. The bats offer different features and benefits that can make or break your decision.
Here's what you need to know about the new DeMarini CF and Prism fastpitch bats. The more you know about these bats, the better your decision will be.
DeMarini Prism vs DeMarini CF: Which Softball Bat Is Right for You?
DeMarini Prism and DeMarini CF are two of the most popular softball bats. The Prism features a double-wall composite design, larger barrel size, and balanced weight distribution, while the CF has a single-wall composite design, slightly end-loaded weight distribution, and a slightly smaller barrel. Additionally, the Prism is certified for use in USA Softball leagues and is generally more expensive than the CF.
DeMarini CF vs. Prism
Barrel
The 2022 CF bat from DeMarini is constructed with their proprietary Paraflex Plus composite barrel that provides the lightest weight swing for softball players of all ages.
The Paraflex Plus Composite Barrel is engineered to increase the energy transfer delivering more power potential with every swing.
It is designed to achieve maximum energy transfer at impact while maintaining consistent pop time after pop time.
This bat also creates a more trampoline effect due to the Paraflex composite construction of the barrel. Because of the barrel's technology, no energy is lost on the off-center hits.
The Paraflex design also generates a whip effect on balls hit with the bat resulting in added power and giving hitters explosive acceleration from contact to ball flight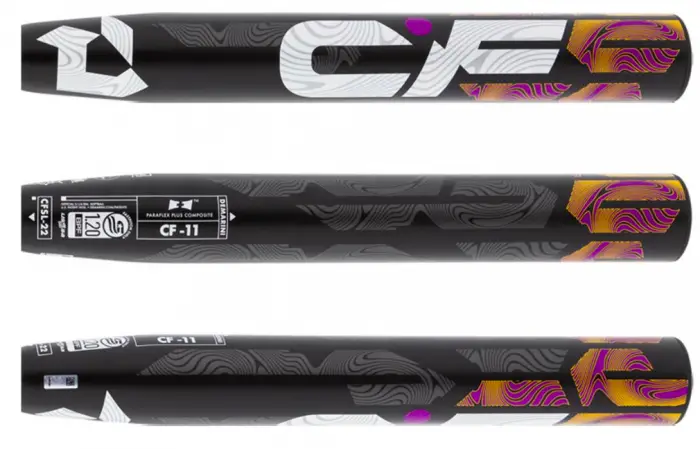 This barrel provides superior flex that leads to more consistent and connective contact. It is the perfect tool for all contact hitters to break through those hitting slumps and bring the ball back into the zone.
The bat is designed for fast-pitch softball players looking to add massive barrel size and a wide sweet spot without sacrificing control. Thanks to its large sweet spot, you can now gain more pinpoint precision and more power on every swing.
This massive barrel diameter with maximum barrel control also creates unmatched pop to get the ball in play and crush the competition.
On the other hand, the barrel construction of the DeMarini Prism is a lot different.
It features a gapped wall continuous fiber composite barrel that allows for added weight throughout the barrel while maintaining a balanced swing weight.
Unlike the lightweight Paraflex Plus composite barrel of the CF, the interior barrel technology on the Prism creates a more heavy-loaded barrel to generate more power and speed in every swing.
Despite being more on the heavier side, the gapped wall composite barrel gives you great balance and strategic barrel weighting allowing you to feel the ball at contact.
The result is an added weight throughout the barrel while still maintaining a balanced swing weight perfect for power hitters and contact hitters alike.
Construction
The DeMarini CF and Prism are both composite fastpitch bats but DeMarini employed different connection technology to connect the bat's barrel and handle on each model.
The CF utilizes 3Fusion Connection to give you an entirely new level of performance and feel. It is designed to deliver optimal performance in the hands of all styles of sluggers.
This technology increases control and enhances feel while allowing for a bigger sweet spot, more consistent swing speed, and more power.
The bat's ability to reduce vibration and minimize sting sensation offers greater control. It also provides players with an exceptional feel while dramatically reducing vibration at ball impact.
It also actively redirects energy back into the barrel to create more power. The result is a high-performing softball bat that maximizes your ability.
Aside from that, the 2022 CF uses a ReAction End Cap made with a blend of strong and light materials.
The end cap creates speed through the zone while remaining extremely balanced due to its lightweight design.
The DeMarini Prism fastpitch bat, meanwhile, utilizes the all-new Type V(TM) Connection technology.
This new connection is tuned specifically to complement and work together with the Gapped Wall barrel.
This connection produces maximum barrel performance and creates the best feeling bat possible that is focused on the overall craftsmanship, balance and feel in this new design.
With the Type V connection which has been updated from previous models for a more consistent bat-to-barrel connection, you can now take your game to the next level.
The Prism bat also uses a different end cap construction than the DeMarini CF bat. It features a new end cap material called the Refract End Cap that helps players generate extreme bat speed.
The new Refract End Cap maximizes bat speed to help players hit balls with incredible distance and accuracy to take advantage of the elite performance provided only by the Prism bat.
Performance
The DeMarini CF fastpitch softball bat features a balanced swing weight for extreme control of your bat.
Athletes looking to increase power and speed will benefit from the increased swing speed offered by this composite bat.
DeMarini also claims that the CF is their lightest bat in this season's lineup, making it perfect for younger players.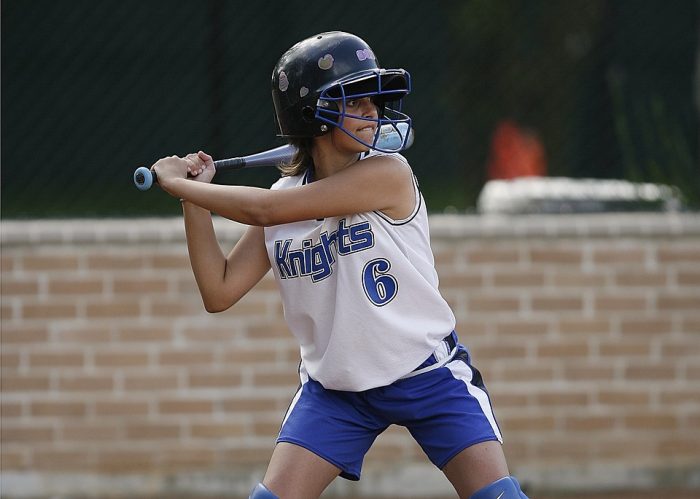 Having options available for a drop weight of -10 and -11 enables younger fast-pitch softball players to swing the bat with great confidence and control without sacrificing optimal performance and power.
Likewise, the DeMarini Prism fastpitch bat is also a composite bat with a balanced swing weight.
However, the extra barrel weight makes it a lot different when it comes to the feel and performance compared to the CF.
This makes it an all-around great option for power hitters and contact hitters alike.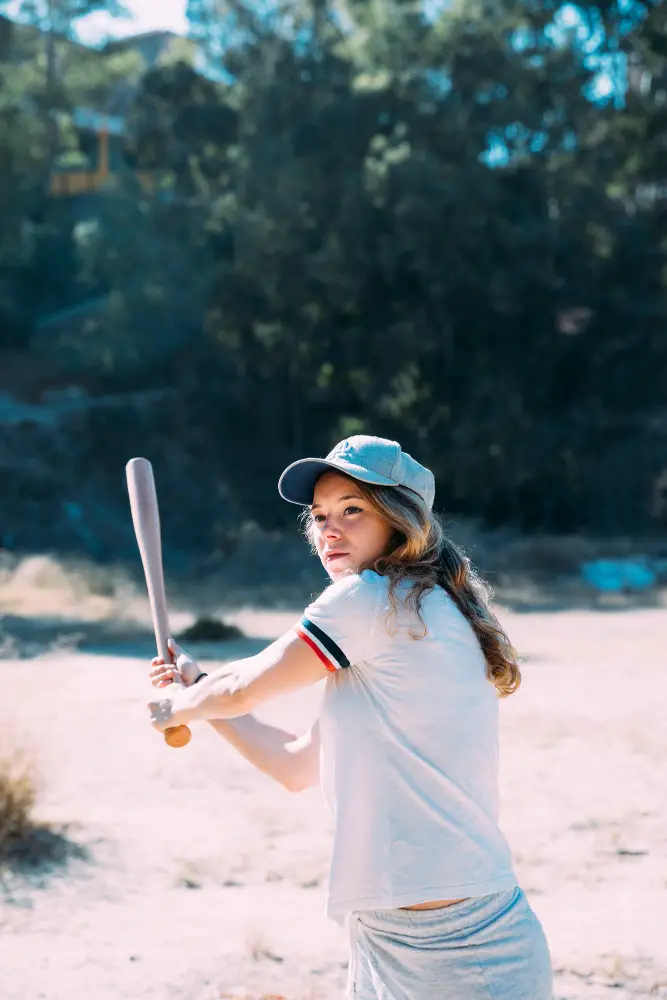 The extra swing weight on the bat makes it ideal for power hitters who want to send balls into the home run territory. Contact hitters love the bat's balance as it empowers them with control when hitting balls into play.
The Prism fastpitch bat comes in -11 drop and -10 drop weight options which allows for a more comfortable swing on contact for younger players.
Both these bats also come with a USSSA stamp of approval, meaning it's ready to perform on the batter's box.
Price
The DeMarini Prism is generally more expensive than the DeMarini CF. The price of the DeMarini Prism can range from around $350 to $500, depending on the specific model and where you purchase it.
This higher price point is due in part to Prism's unique double-wall composite design, which provides a larger sweet spot and more power. The Prism also has a larger barrel size and a balanced weight distribution, which can enhance a player's performance.
On the other hand, the DeMarini CF is slightly less expensive than the Prism. The price of the DeMarini CF can range from around $250 to $400, depending on the specific model and where you purchase it.
While the CF also has a composite construction and a 2 1/4-inch barrel diameter, it does not have the same double-wall design as the Prism. The CF has a slightly end-loaded weight distribution, which can help players generate more power, but may make it more difficult to control their swing.
It's important to note that the prices of these softball bats can vary depending on a number of factors, including the specific model, where you purchase it from, and any sales or promotions that may be available.
Additionally, investing in a high-quality softball bat can be a worthwhile expense for serious players who are looking to improve their performance and compete at a high level.
Final Words
This article has looked at some of the factors that should be taken into account when choosing between the DeMarini CF and Prism fastpitch bat for your game.
No two bats are the same regardless if they are crafted by the same brand. For players who want to really step up their game, you need to compare these two bats carefully to decide which one will suit your hitting style and skills best.
Each one has its own particular benefits and trade-offs, which is why it's crucial to know about the different features of these bats so that you can make the right choice for yourself.
I hope you enjoyed reading this article and found it useful whether you should go for the DeMarini CF or choose the Prism.