*I may get commissions for purchases made through links in this post.*
The USA and USSSA Bats are different from each other.
In most of the cases, you can't use USA Bat in the tournaments organized by the USSSA Baseball.
But, in which leagues you can use the USA or USSSA Bats?
There are a lot of questions related to this topic.
So, here, I'll do the comparison of USA and USSSA Baseball Bats, and will answer all the questions that come to your mind.
What are USA Bats?
All Baseball bats that are approved by the USABat standards can be considered as USA Bats. According to officials, this new bat standard will help maintain the integrity of youth baseball games and will also make the game uniform at the youth level and all over the world.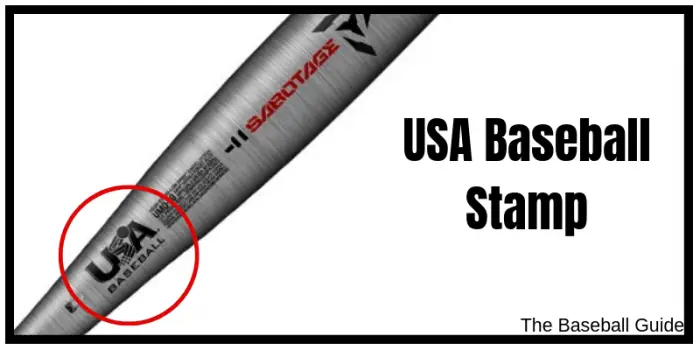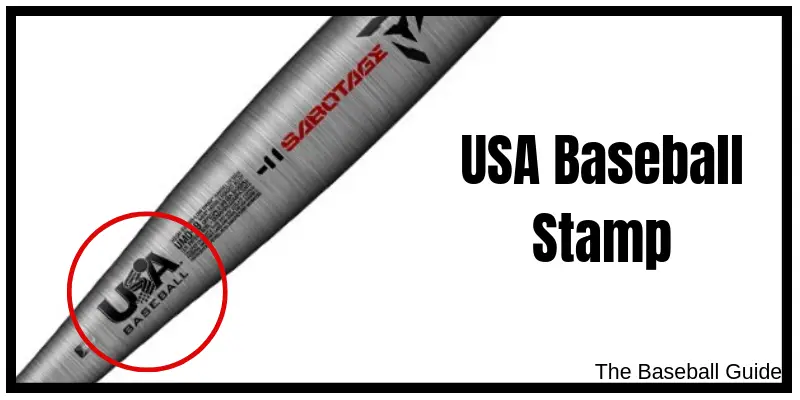 USA Baseball, the official governing body for Baseball in the US, along with the USA Baseball Bat Study Committee has concluded that the advancements in science, technology, and the materials available to manufacture non-wood bats, now allow the manufacturers to create youth baseball bats that have properties similar to that of wooden bats.
The newly engineered bats also do not feature a drop-weight limit, allowing youth baseball players to use lighter-weight bats in games and ultimately improve their hitting abilities. Convinced with the new USABat Standards, organizations adopting it will also allow its youth players to use bats with 2 5/8 inch barrel diameter.
In any case, all non-wood bats and multi-piece wood bats are required to must have a USABat certification mark on the barrel of the bat to signify that it has undergone lab testing and meets the USABat Standards. However, bats made of solid one-piece wood do not require any certification marks.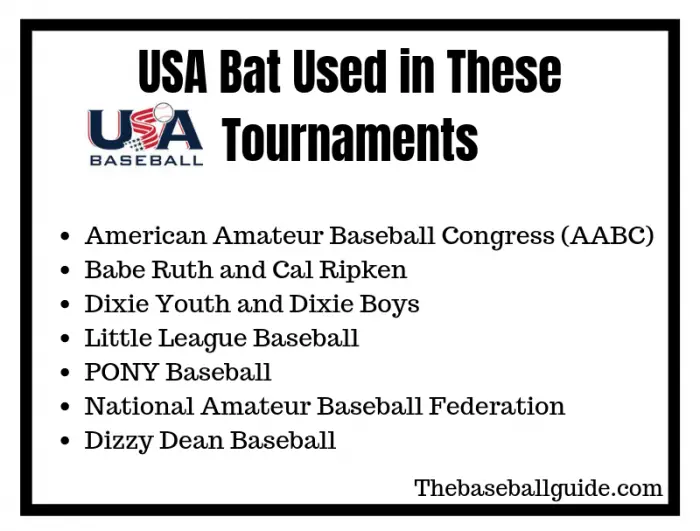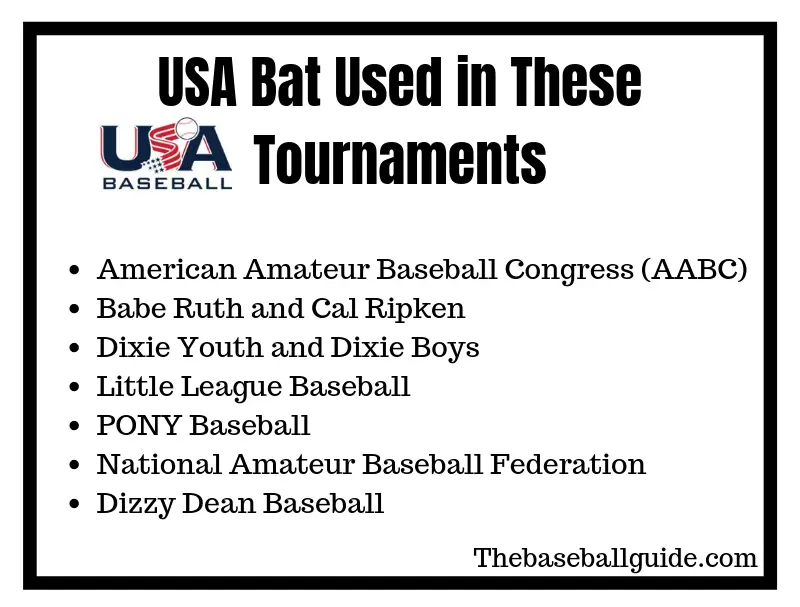 The list of leagues and divisions which have adopted the new USABat standard are mentioned below:
What are USSSA Bats?
Baseball bats that are approved by the USSSA Standards and manufactured by an approved USSSA bat manufacturer can be considered as USSSA Bats. The new USA Bat rules have not affected the regulations provided by the USSSA, and hence all players willing to participate in USSSA baseball tournaments must use bats that are approved by USSSA Bat Standards.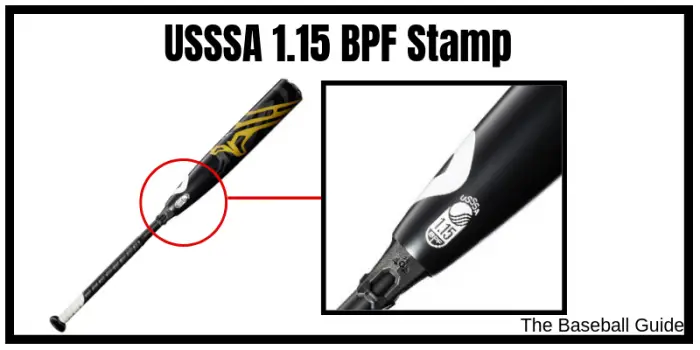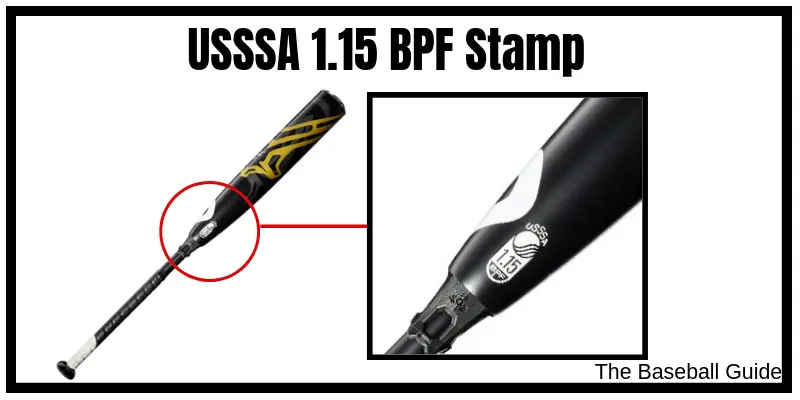 According to the USSSA Bat standards, the bats must have the 1.15 BPF USSSA stamp on the taper, or have the certified .50 BBCOR stamp (-3), or should be a wooden bat. In any case, the barrel diameter of the bat cannot exceed 2 ¾ inches and all bats must be manufactured by an approved USSSA bat manufacturer.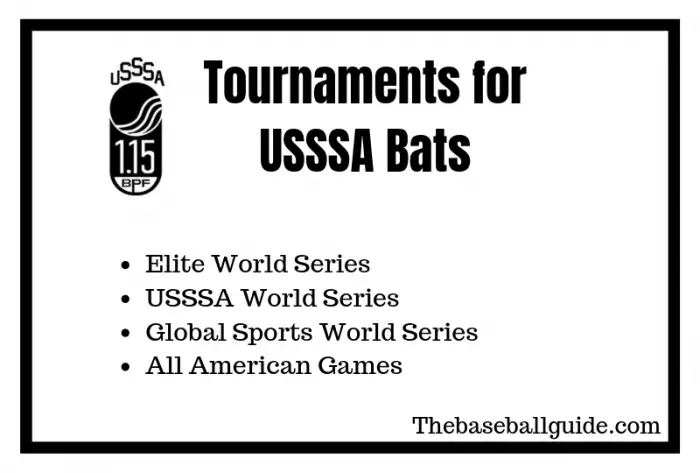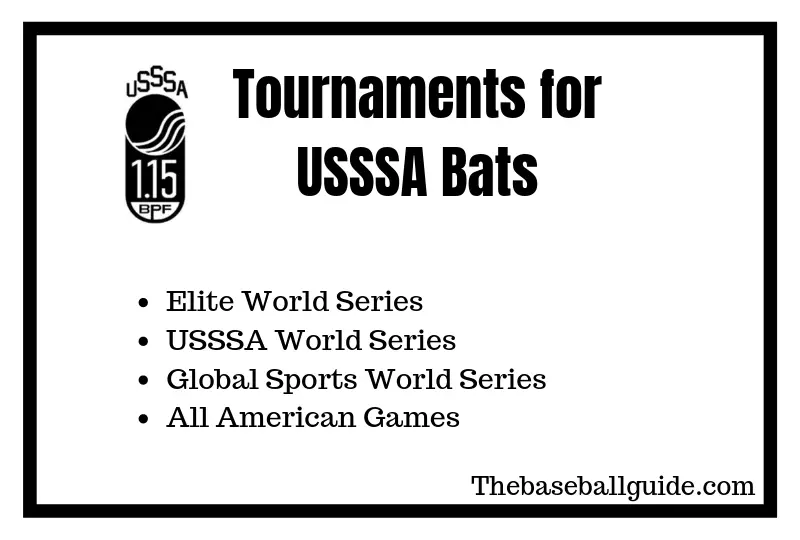 All players participating in the USSSA baseball tournaments are required to must follow the given USSSA bat standards according to their age. The USSSA mainly has 7 age divisions starting from 8 years to 14 years. List of baseball tournaments organized by USSSA Baseball are given below.
Elite World Series

Elite World Series Qualifiers

Elite World Series 9U-12U

Elite World Series 13U-14U

USSSA World Series
Global Sports World Series
All American Games
Difference between USA and USSSA Bats
Performance Difference
The biggest difference between USA Bats and USSSA Bats is the performance attribute, which is quite sizable. USSSA Bats are designed to provide the players with a performance advantage and prove to be more effective in the game when compared to USA Bats and wooden bats.
Moreover, USA Bats are designed to be lighter in weight and to allow youth players an easy swing and hitting experience so that they can understand the foundation of the game, which in turn reduces the hitting strength, whereas the USSSA Bats are designed to have optimized performance and increased hitting strength.
Approval of Bat Standards
The new USABat Standards have been in effect since 1st January 2018 and 7 Nation Member Organizations and its divisions that are mentioned above have adopted these new bat standards.
However, USSSA remains unaffected with the introduction of USABat Standards and continues to follow the bat regulations that are being followed since 2005.
USA Baseball Stamp vs. USSSA Stamp
If you want to find whether a bat is USA Baseball Approved or USSSA Approved, you need to find the stamp somewhere on the barrel.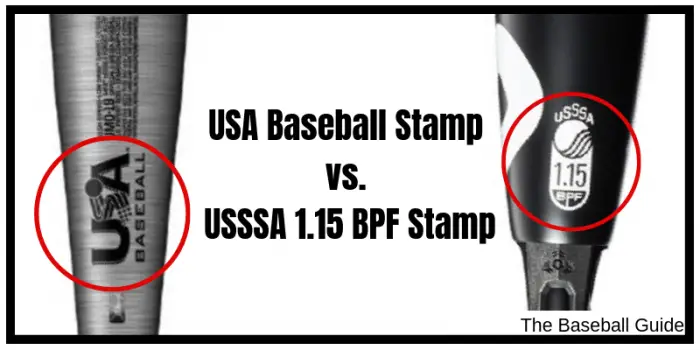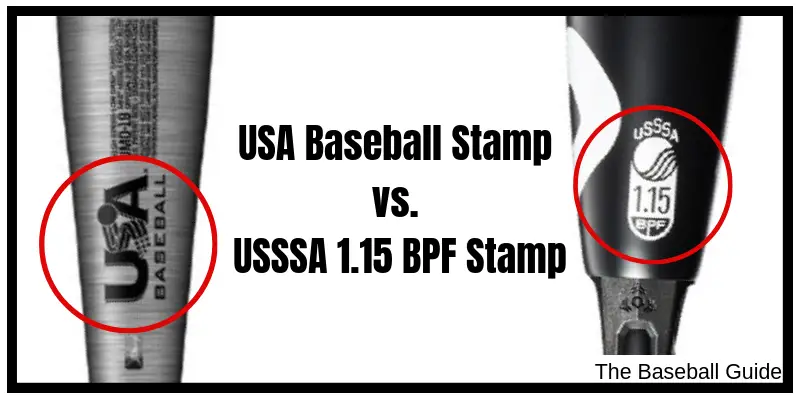 Age Criteria
The USABat standards mainly aim to involve the youth baseball players with the game fundamentals by allowing them to use lighter-weight bats and develop more of their hitting abilities. Keeping that in mind, the target players for the new USABat standards are players falling under the age criteria of 8 to 14 years.
In case of USSSA, all players participating in the USSSA Baseball tournaments irrespective of the age must follow the given USSSA bat standards according to their age division.
Who should buy USA Bats?
Youth baseball players within the age range of 8 to 13 years or playing in any one of the leagues that have adopted the USABat standards are recommended to buy the USA Bats. All the leagues and specific divisions that have adopted the USABat standards are mentioned above.
Those players who also participate in USSSA baseball tournaments can also purchase USABat standard baseball bats provided that the bat manufacturer is USSSA certified.
Best USA Bat on the Market
I checked a lot of USA approved bats, and I found that the cheap bats do not offer good performance, while some bats are good, but they're too expensive.
So, after a lot of research, I found that DeMarini Voodoo 2019 Balanced Bat is the best USA bat on the market.
As it's a balanced bat, therefore, it gives more control on the swing. If you're not familiar with the balanced and end-loaded bats, then you should read my other article about balanced and end-loaded bats in which I've talked about the benefits of using both types of bats and who should buy them.
This bat is approved to use in USA Approved Leagues like Babe Ruth, AABC, Little League, Pony League, etc.
To provide the maximum pop and improved durability, Ultra Premium X14 alloy is used in the construction of the barrel.
The weight distribution is way better than the other bats, and this is very helpful for the young players as they can easily control the bat.
If you take a look at the price 2019 Voodoo, you'll see that it's not overpriced like other bats. But, still, you've to pay more than $100.
The Affordable Option
In my research, I found Rawlings 2019 5150 USA Bat which is affordable and gives decent performance.
The other benefit of considering Rawlings 5150 is that it's available in drop 5, 10, and 11, while the other USA approved bats included Voodoo are only available in drop 5 and 10.
If you know the concept of drop weight, then you're good to go. If you're a little confused, then to help you, I've written a simple easy to understand article about the concept of drop weight in the baseball bats.  
With its one-piece alloy construction, it's durable and offers decent performance.
I liked this bat because its performance is way better than the price you pay, and that's the reason, why so many players buy Rawlings 5150 USA Bat.
Who should buy USSSA Bats?
All baseball players eligible and willing to participate in USSSA baseball tournaments are recommended to buy USSSA bats. List of all the baseball tournaments organized by USSSA are mentioned above.
Best USSSA Bat on the Market
If you need to buy USSSA Bat, then Marucci F5 is probably the best option.
With the balanced one-piece construction along with the micro-perforated grip, this bat is very easy to control and gives a balanced swing.
Due to Ring-Free Barrel Technology along with the multi-variable wall design, there are no dead spots along with the large sweet spot.
This bat is available in the length from 28 inches to 31 inches. Just like the bat performance, it's important to choose the correct length according to your height. I suggest that you read this article in which you can find everything about how to find a bat of the right size.
One thing that makes it better than other bats is that it's affordable and you'll get the performance of a $300 bat at a way less price.
I also thought that at an affordable price, you can't get a good performing bat, but I was wrong.
That's why I've written a detailed review article about Marucci F5 bat in which I've talked about everything that a player wants in his bat.
Final Words
The introduction of the USABat standard was an elaborated effort made by USA Baseball and other Nation Member Organizations in accordance with the USA Baseball Bat Study Committee. The research conducted behind it was extensive and enough data was collected and standards were improved before finally bringing it into the picture.
Many Nation Member Organizations are very much convinced with the new USABat standards and have readily adopted it, while others are still giving it a thought and may adopt it in the near future.
In any case, USSSA strongly believes that its bat standards have worked fairly well in its last 12 years of organization and suddenly adopting a bat standard with less performance attribute will only decline the overall competitive and dramatic nature of the game. Hence, USSSA continues to follow its previous bat standards and remains unaffected.