The USA and USSSA Bats are different from each other.
But, do you know what are the differences?
Let's do the USSSA vs. USA Bats comparison, and get some helpful information that'll point you in a direction, so you can buy your desired bat.
What are USSSA Bats?
USSSA approved Baseball Bats have to be marked with 1.15 BPF stamp. This 1.15 BPF stamp is the standard for 14u. They can have up to 2 3/4 inch barrel diameter. Youth bats are mainly regulated by USSSA 1.15 BPF. It stands for bat performance factor which measures how fast the ball can come off the bat. It is available in 2 ¼ Barrel, 2 5/8 Barrel, and 2 ¾ Barrel.
USSSA bats have a fastpitch softball bat certifications. USSSA marks and graph are applied permanently by USSSA licensed manufacturer. There have not been any changes in the 1.15 BPF Standard and 14u for over 12 years as informed in 2017.
What are USA Bats?
The standard for USA Baseball bat applies for the bats that come under NCAA and NFHS level and this regulation was implemented on January 1, 2018. The USA Baseball bats standard establishes a performance standard for bats made mainly for the youths.
After the new standard was implemented, the metal and composite bats feature the USA bat certifications mark. Thus allow it in the youth league. Manufactures with proper license and retailers have begins to sell the bats that are certified since 1st September 2017.
Babe Ruth Baseball, Dixie Youth Baseball, Dixie Boys Baseball, Dizzy Bean Baseball are some of the organizations that have implemented the USA bat standard.
Difference Between USSSA and USA Bats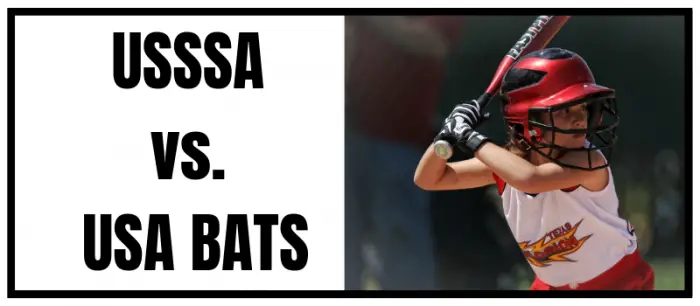 Previously USSSA 1.15 BPF stamped bats were the universal regulations for youth baseball bats. But Since 1st January 2018, USA Baseball Stamped Bats will go in effect in many leagues. For the season of 2018, USSSA will allow USSSA 1.15 Stamped bats for 14u and below.
Several youth associations of baseball had announced to creates a performance standard for bats with the new wood-like feature, USSSA didn't make any changes in its standard as on 15th August 2017.
USA Baseball bats want a wood-like performance standard which will provide long term integrity of the game. AABC, Babe Ruth, Little league are to be affected by the change in rule except for USSSA. They will currently allow the use of USA Bats. According to USA Bat Standard, these will not have a drop weight limit.
USSSA Baseball and Amateur Athletic Union are not affected by USA Bat Standard. Since USSSA Bats will still have 1.15 certifications of BPF.
Bats which meet the USSSA Bat Rules will be allowed in USSSA play unless the bat is listed on the Non- Compliant Bats list. USSSA bat rules are differentiated under big barrel bat rules and small barrel Baseball bat rule
Who Should Buy USSSA Bats?
USSSA bats are often called as "Senior League" bats. Those players intending to play in the senior league would need to buy USSSA bats. The USSSA bats are engineered for a player in the ages group of 8 to 13 years & is ideal kind of bat for youth and senior league players.
The bats are available in 27 inches/17 ounces, 28 inch/18 ounces, 29 inch/19 ounces, 30 inches/ 20 ounce and 31 inch/21 ounces. The size and weights have been manufactured keeping in view of the different age groups.T
Best USSSA Bat for 2019M
If I have to recommend you just one USSSA youth big barrel bat for 2019, then I'll go with Marucci CAT 8 USSSA Bat.
It has everything that you want in your big barrel bat.
It is one of the strongest aluminium bat in the Marucci bat line. It is approved for 2019 baseball leagues, and with balanced feel, a hitter can easily control it that'll drastically improve his performance.
This bat features a 2nd generation Anti Vibration Knob that has reduced the vibrations, and when you'll hit a ball you'll feel the difference.
It also has a USSSA BPF 1.15 Certification stamp, so there'll be no doubt about its usage in the leagues.
In my opinion, Marucci CAT 8 is one of the best option for you.
However, if you don't like it for some reason, then you can also buy from one of these high performing 2019 USSSA Bats.
Who Should Buy USA Bat?
Little league players of age between 14 or under should have a USA bat. Players participating in little league Baseball are the only ones who are affected by USA bat standard. Players participating in Tee Ball, Minor Division & Major Division have to use a bat that has been approved through the standard laid out by USA bats.
But while playing for Intermediate Baseball Divisions & Junior league Baseball division players have an option to use either USA bat. Thus, who are of 14 years or under play in the little league Tee Ball, Minor Division & Major Division should buy the USA Baseball Bat.
Best USA Bat for 2019
If you need a USA Baseball Bat for 2019, then you have a lot of options.
But, from all of these, I'll recommend only two bats.
If you like a budget-friendly bat that is quite affordable then you should go with Rawlings 2019 5150 USA Baseball Bat.
While, if you're willing to spend more than $200, then my number one recommendation will be DeMarini 2019 Voodoo Balanced USA Bat.
Whatever bat you buy, make sure you think about your requirements and how much you're willing to spend on it.
Both of these bats are top-rated, but, DeMarini 2019 Voodoo is better than Rawlings 5150. It is more balanced, durable, and gives less vibrations.
Along with these bats, if you want some more options for your next USA Bat, then take a look on these high performing USA Bats for 2019.
Final Words
A USSSA approved Bat license when given to a Big Barrel Bat has at least 3 ounces different from the length of the bat. The minimum length of the bat is 29 inches. Many 14u and 13u USSSA tournaments and leagues allow only BBCOR and wood bats approved by USSSA Bat license.
From the fall of 2017, 14u USSSA tournaments have limited bat to those having minus five or less differential weight is ounces and length in inches.
From 1st January 2018, USA Baseball Bats that are manufactured by an approved USSSA Bat License have been allowed to play in the USSSA tournaments.