Are you a baseball pitcher searching for the perfect pitching glove? Look no further!
In this article, we will provide you with a list of the best pitching gloves in 2023 that have been tested and approved by baseball pitchers.
A baseball pitcher knows how important a reliable glove is.
We will cover everything you need to know about choosing the right pitching glove, including the materials used, the design, and the fit.
The pitcher in baseball is one of the most crucial positions on the field. You are involved in every play so you have to give your best for the team to win.
You don't want to compromise your performance by using a subpar glove and that is why today's article is a must-read for you.
Below mentioned is our updated list of the finest baseball gloves for pitchers that 2023 has to offer.
Top-Rated Pitching Gloves
| | | |
| --- | --- | --- |
| | | |
| | | |
| | | |
| Rawlings Heart of The Hide | | |
| | | |
| | | |
| Rawlings Player Preferred | | |
Best Baseball Gloves for Pitching of 2023
Wilson A2K Baseball Glove Series
If you want to complete your iconic pitcher look, then try out the Wilson pitching gloves!
Or more specifically, the Wilson A2K!
Other than the traditional, high-quality leather which Wilson always sorted THREE TIMES, it also uses a microfiber material called SuperSkin.
You might be worried that adding another layer might be heavy for your hand, but that's not the case!
Although it's twice the durability compared to the stock leather, it only weighs HALF the leather!
And it helps that it's much easier to clean than your normal leather, so pair this with its moisture resistance, and the Wilson A2K can live a long life!
Not only that but the dual welting technique used strengthens the back of every five fingers on the glove!
To have everything stay in place while you're pitching, there's a double palm construction included that's placed between the palm liner and outer shell.
Also, it keeps the palm from wrinkling too much, which lessens the chance of your balls rebounding when it hits the glove.
If you prefer playing with a finger outside your glove, Wilson A2K got your back!
With its flat finger binding, it reduces the space in-between your finger and the back of the glove, making it comfy for your hand!
Of course, all these materials might make it difficult to break in the gloves, so you'll want to wear them out first before a big game.
Rawlings Sandlot Series Baseball Gloves
Here's another classic-looking pitcher glove. 
This time, it's from Rawlings Sandlot! 
Rawlings Sandlot Series Baseball Gloves are a popular choice for both novice and experienced players.
This glove has been designed to provide maximum comfort, durability, and performance on the field.
Don't be fooled by its rich brown leather. Although it looks all-natural, Rawlings uses synthetic leather to retain the aesthetic of natural leather while being easier to care for!
And unlike Wilson, this glove is already broken in by the factory at ninety percent to give you all the comfort you need!
Not only that, but the glove's fingers all have padded back lining for maximum comfort!
To keep your palms in working condition, Rawlings' zero-shock palm pads can absorb any amount of force working against your hands.
One of the standout features of this glove is its webbing. The H-web design is a popular choice among infielders because it allows for quick and easy ball transfer.
The webbing is also sturdy and durable, ensuring that it will hold its shape over time.
However, since it's not as layered as Wilson A2K, you might find Rawlings leaning more towards the thinner side, so you'll probably find this all worn out after some time.
Wilson A2000 CK22 Pitcher's Baseball Glove
While the Wilson A2K is going for that "vintage pitcher" aesthetic, the Wilson A2000 pitching glove aims for a more modern look with its all-black colorway with bright yellow used for highlights.
Since we're talking about its leather, Wilson has its trademark signature that you've probably read about earlier at A2K, wherein the leather used in this glove has been sorted THREE TIMES despite all of them being high-quality!
This gives Wilson a better shot at a long-lasting life!
And stabilizing this material is a dual welting technique that goes along the back of each finger to keep its shape, even after many games!
But just like the problem we have in A2K, you'll struggle to break in the A2000, so you better do this entire process ahead of time before any big games, got it?
The glove also features a Dri-Lex wrist lining that wicks away moisture and keeps the player's hand dry, preventing the glove from slipping during use.
The double-welting construction of the glove adds an extra layer of durability and helps to maintain the glove's shape over time.
Once you get that over with, you'll be able to experience the comfort Wilson promises you to have with its DriLex wrist lining for cool, dry skin throughout the game.
Rawlings Encore Baseball Gloves Series
Take it to the top!
Rawlings is here to give you another great pitching glove, and it's the Rawlings Encore!
Whereas the Sandlot has that classic vintage look, Rawlings Encore shows how nicely white and black go along with that clean, gold trim lining the edges.
You know, this is perfect for both kids & adults since it can keep its shape after many, many games thanks to Encore's web base extended just long enough for the fingers to close around the glove fully!
The glove base is ALSO extended to distribute less stress on your entire hand, prolonging your endurance against any strong swings!
One of the most impressive features of the Encore series is its innovative webbing design. The gloves feature a unique, patented webbing that is specifically designed to provide a larger catching surface and a more secure grip on the ball.
This results in improved catching ability and greater control over the ball.
And it helps that the hand opening is adjustable! This way, all kinds of pitchers will be able to customize the size of their Rawlings pitching glove!
Be mindful that you use this BEFORE any big games, though, because this guy is a tough nut to crack when you still have to break it in to be comfortable for playing.
Mizuno Select 9 Baseball Glove Series
As the only odd one out without anyone to pair up with, Mizuno Select 9 takes up last!
But does its quality deserve to be in the last place, as well? Keep reading on to find out!
Made of bio-soft leather, comfort is guaranteed to be at the top of your list! The leather is so smooth, you can't resist touching it while you're not doing anything.
Along with that smoothness is a certain level of softness you're looking for that balances out well with its firm other half.
Both of these combined, and you get to relish that exceptional sensation while having no problem pitching, especially since this material gives you the control you wanted.
And it helps that it's already broken in by the factory so you're all raring to go for a new game of baseball, right off the bat!
The Select 9 series also features an innovative webbing design that is specifically designed to improve catching ability and control over the ball. The webbing is strong and durable, and it holds its shape over time.
The gloves in the Select 9 series also feature a padded thumb loop and palm pad for additional comfort and protection. The sleek and stylish design of the gloves is sure to turn heads on the field.
For that vintage look, professional-level laces are all over this glove, and they can hold up against your pitching with how durable they are!
However, you should be aware that Mizuno Select 9 is a size short of the usual glove for pitchers with 11.25 inches.
But if you're a player in the infield, then you're in luck!
What Does a Pitcher Want in his Glove?
Pitchers are advantageous in allowing opposing hitters and players in guessing what pitch or ball is coming.  The pitcher's glove is pretty useful in hiding the ball that a player uses for his next pitch.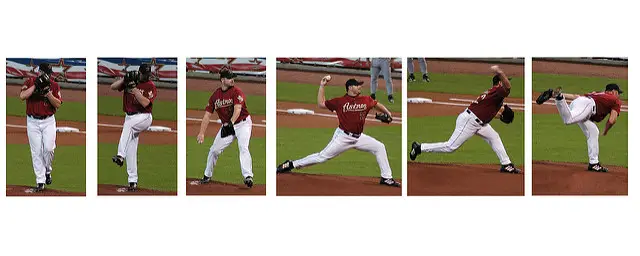 Image Taken By: M&R Glasgow
This is accomplished by the intricate types of webbing designs on the inside surfaces of the glove. The advantages of using special pitching gloves include:
Facility to conceal the ball from the opposing players on the ball type
Ensure a great advantage of gripping the ball during a catch
Profound gripping on the ball for holding, concealing and catching with ease
Intense tractability in fielding
The comfortable pace of deep pocket gloves for prolonged use
Specially designed webbing to hide the ball
Perfect size for the pitchers
Things to Consider Before Purchasing Pitcher's Gloves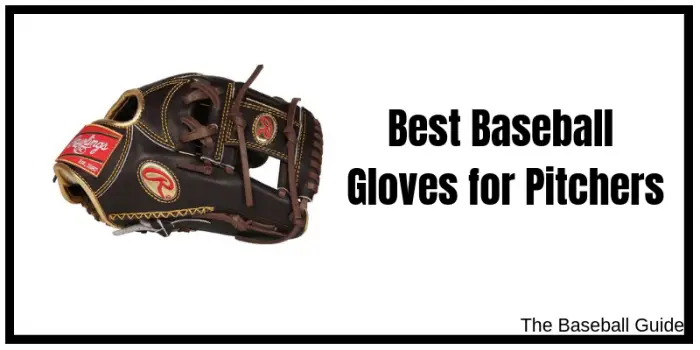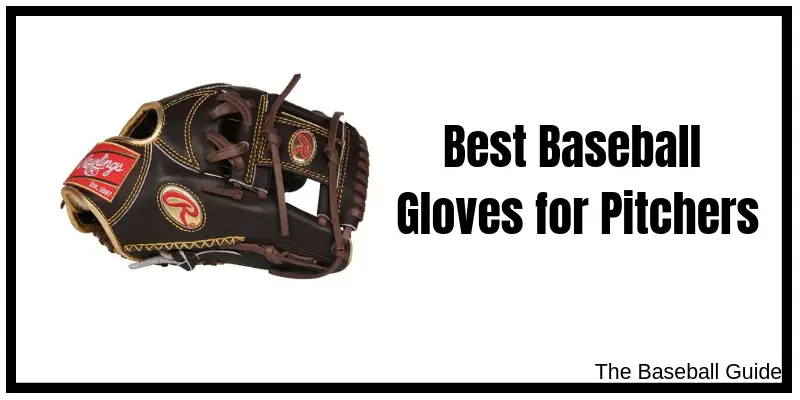 Webbing
The webbing in a baseball glove comes diverse. There are closed web, H-web, I-web, Trapeze web, Modified trapeze web, Two-piece closed web patterns for gloves.
The trapeze woven model is a popular type of webbing suitable for pitchers. Closed model webbing is very beneficial to pitchers in hiding the ball cryptic from hitters. Closed webbing keeps the ball hidden from the hitter's view as well as provides a fortuitous chance in easy gripping to the pitcher.
Brand
The brand is also a crucial one to decide upon. Some of the major brands that manufacture gloves for baseball pitchers include Rawlings, Mizuno, and Wilson. Some other brands produce gloves, but these are the prominent brands.
Rawlings makes adept pitcher's gloves from excellent American cowhide. They have remained in the glove production industry for the past 130 years well enough to understand the needs of a softball & baseball pitcher. There is a provision for customizing gloves as per the player's will.
Mizuno has some of the best classic models of pitcher gloves. They manufacture gloves with excellent quality and better gripping firm for players. The gloves made by Mizuno are a bit more expensive than others on the market.
Wilson offers some great pitching gloves in a reasonable price range. Made of hard leather and fine techniques to enhance its life, it is another reputed brand among baseball pitchers.
Glove length
Holding gloves of correct size and length are essential. If it's too small, gripping the ball would be difficult without hiding. If the glove is large, then it will be heavy and awkward to carry around in the game. Generally, the preferable size is between 11 ¾ inches to 12 inches.
However, a gradual variation in length is possible to suit the player's grip and hand size. Usually, a glove's size should be large enough to hide the pitcher's grips while playing and diminutive not to deter pitching gestures.
You may also want to check if there are some rules related to pitching and gloves that you can use before buying something.
Cheap vs. Expensive Gloves
Each piece of the glove is unique in its own way. The price can differ from $50 – $400 in general. The quality of the gloves depends highly on the amount you are ready to pay.
There are cheaper gloves that don't last long. But if you are ready to pay a better price, then fine-quality leather promises extended durability. Each piece comes with its pros and flaws. It all depends on how much you can pay for your pitching glove and what quality you need.  
But, if you want to purchase the best pitcher's glove, then you have to spend some good money on it. 
Break-in Period
The break-in period is predominantly useful while playing baseball, and the gloves ensure that during catch or throw. Softer leather material is ideal in case you need a petite break-in period for your gloves. Whereas synthetic gloves are sturdily made of rawhides, it requires a very long break-in period, though they may be cheaper to buy.
A good glove will fit and close around a ball, taking little effort to get hold of the catch. It will let the glove remain curved even when no force is acted upon it.
Pocket Area  
The pocket size will have a significant impact on baseball playing. The pitcher's gloves will have a larger pocket area to move around with the ball enclosed in the gloves as well as conceal it from opponents.
The material padding is also not too heavy to give better room to hold the ball tight. This, in turn, also reduces the weight of the gloves drastically. A larger pocket area size is generally preferable for the pitchers during selection.
Final Words
If you reach out to any good baseball pitcher, their most prized possession is their pitching gloves. The baseball gloves are all not created with the same designs and features.
There are gloves for outfielders, middle, and infielders, with each category requiring their own set of designs to achieve their targets.
Baseball gloves come in a variety of shapes, sizes, designs, and features to cater to various players' needs. It is essentially the requirement of a player to identify the right size and texture of gloves and their affordability.
This buying guide might help you introduce to the different brand's bests of the market.