If you're a baseball pitcher for your team, then you need one of the best pitching gloves on the market.
A pitcher is the most important player on the field, so, your performance matters most.
As a pitcher, you don't want to compromise your performance by using a low-quality pitcher's glove.
That's why; here I'm sharing some of the best baseball pitching gloves on the market that are perfect for the pitchers.
If you're short on time, then I suggest you take a look at the next section.
My Personal Recommendation
If I have to recommend you the best baseball glove for pitchers, then I'll go with Wilson A2000 Baseball Glove.
This extraordinary glove has 2-Piece web, great pocket, perfect size, and high-quality leather used in manufacturing. You can use this glove for pitching baseball for years without any problem.
This is an exact Clayton Kershaw's Game Model Glove, so you can expect that this is perfect for the baseball pitchers.
But, this glove is a little expensive. If you're tight on budget, then you should look for another glove. But, if you can afford, then there is nothing better than Wilson A2000 Glove.
The Affordable Alternative
If you want an affordable pitching glove that offers good quality, then you should go with Rawlings Select Pro Lite Glove.
This is a budget-friendly glove that offers everything that you want in your pitching glove.
The Rawlings Select Pro Lite glove is manufactured on the David Price Game Model Glove.
If you compare it with Wilson A2000 glove, then the Wilson glove is slightly better than this one.
But, when it comes to affordability, then you cannot buy a better pitching glove than Rawlings Select Pro Glove.
What does a pitcher want in his glove?
Pitchers are advantageous in allowing opposing hitters and players in guessing what pitch or ball is coming. The pitcher's glove is pretty useful in hiding the ball that a player uses for his next pitch.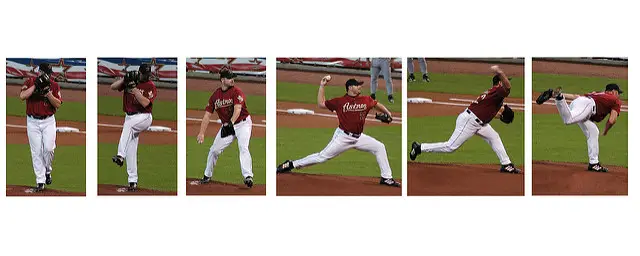 Image Taken By: M&R Glasgow
This is accomplished by the intricate types of webbing designs on the inside surfaces of the glove. The advantages of using special pitching gloves include:
Facility to conceal the ball from the opposing players on the ball type
Ensure a great advantage of gripping the ball during a catch
Profound gripping on the ball for holding, concealing and catching with ease
Intense tractability in fielding
The comfortable pace of deep pocket gloves for prolonged use
Specially designed webbing to hide the ball
Perfect size for the pitchers
Things to Consider before Purchasing Pitcher's Gloves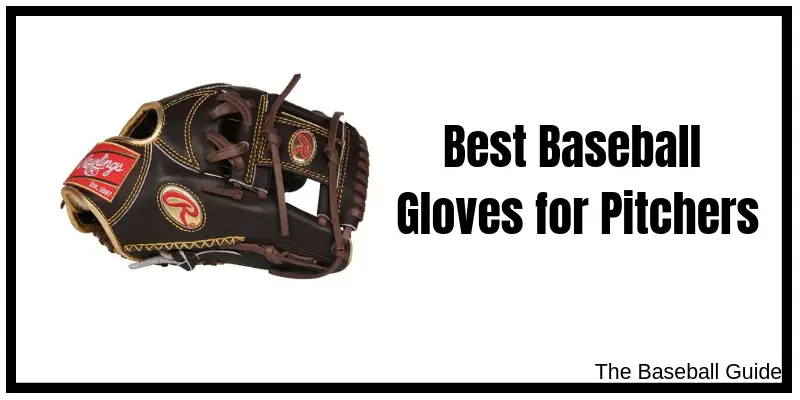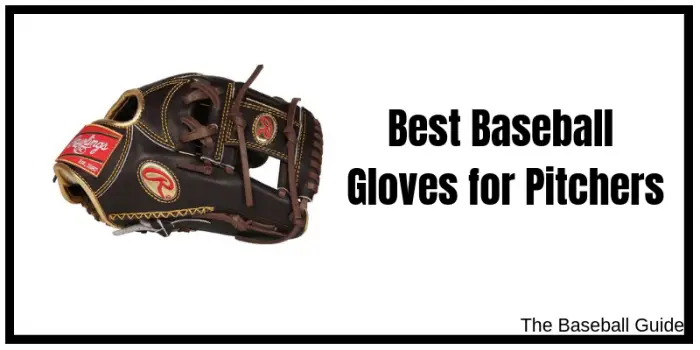 Webbing
The webbing in a baseball glove comes diverse. There are closed web, H-web, I-web, Trapeze web, Modified trapeze web, Two-piece closed web patterns for gloves.
Trapeze woven model is a popular type of webbing suitable for pitchers. Closed model webbing is very beneficial to pitchers in hiding the ball cryptic from hitters. Closed webbing keeps the ball hidden from hitters view as well as provides a fortuitous chance in easy gripping to the pitcher.
Brand
The brand is also a crucial one to decide upon. Some of the major brands that manufacture gloves for baseball pitchers include Rawlings, Mizuno, and Wilson. There are also some other brands that manufacture gloves but these are the prominent brands.
Rawlings makes adept pitcher's gloves from good American cowhide. They have remained in the glove production industry for the past 130 years well enough to understand the needs of a softball & baseball pitcher. There is a provision for customizing gloves as per the player's will.
Mizuno has some of the best classic models of pitcher's gloves. They manufacture gloves with fine quality and better gripping, firm for players. The gloves made by Mizuno are a bit expensive than others on the market.
Wilson offers some great pitching gloves in a reasonable price range. Made of hard leather and fine techniques to enhance life, it is another reputed brand among the baseball pitchers.
Glove length
Holding gloves of correct size and length are very important. If it's too small, gripping the ball would be difficult without hiding. If the glove is large, then it will be heavy and difficult to carry around in the game. Generally, the preferable size is between 11 ¾ inches to 12 inches.
However, a gradual variation in length is possible to suit the player's grip and hand size. Usually, a glove's size should be large enough to hide the pitcher's grips while playing and diminutive not to deter pitching gesture.
Cheap vs. Expensive Gloves
Each piece of Pitchers glove is unique in its own way. The price can differ from $50 – $400 in general. The quality of pitcher's gloves depends highly on the price you are ready to pay.
There are cheaper gloves that don't last long. But if you are ready to pay a better price, then fine quality leather promises extended durability. Each piece comes with its own pros and flaws. It all depends on how much you can pay for your pitching glove and what quality you need.
But, if you want to purchase the best pitchers glove, then you have to spend some good money on it.
Break-in Period
Break in period is predominantly useful while playing baseball and the gloves ensure that during catch or throw. Softer leather material is ideal in case that needs a petite break-in period for your gloves. Whereas synthetic gloves are tough made of rawhides, requires a very long break in periods though may be cheaper to buy.
A good pitcher's glove will fit and close around a ball, take little efforts to get hold of the catch. It will let the glove remain in curved shape even when no force is acted upon it.
Pocket Area
Pocket size will have a major impact on baseball playing. The pitcher's gloves will have a larger pocket area to move around with the ball enclosed in the gloves as well conceal it from opponents.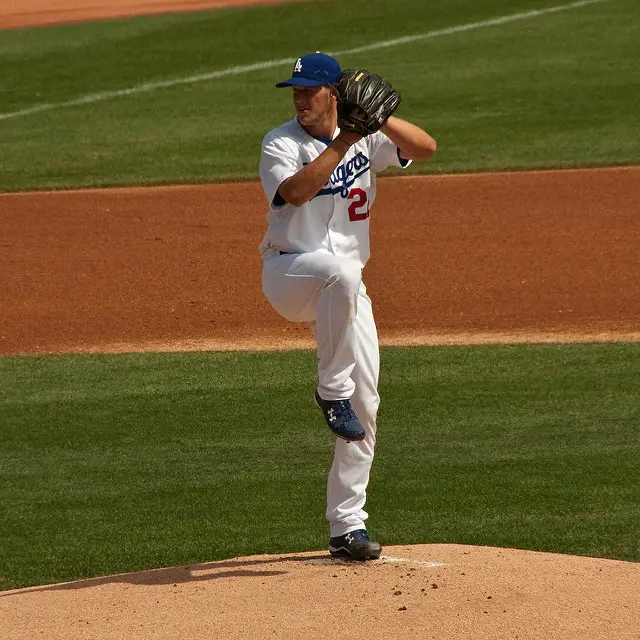 Image Taken By: Bryce Edwards
The material padding is also not too heavy to give better room to hold the ball tight. This in turn also reduces the weight of the gloves drastically. A larger pocket area size is generally preferable for the pitchers during selection.
Best Pitcher's Gloves in 2020
Wilson A2000 Baseball Glove Series
If you're a rising pitcher of your high school baseball team, then there is nothing better than Wilson A2000 Baseball glove on the market.
Withstanding impacts and throws is robust. There are varied sizes and length preferences offered. The Wilson A2000 is of superior quality and extended durability. The model has a glove length of 11.75 inches.
The gloves are designed on a specific pattern based on the perfection model by Clayton Kershaw's game exemplary. It has deep pockets and two web design to ensure better cover-up of ball and grip.
There are distinctive patterns of webbing available for numerous versions of A2000 along with the difference in requirements for altered positions in the baseball game. It is provisioned with super skin material, which lets the material being light as well as sturdy at the time.
Notable Features
Best leather quality and offers inordinate durability.
Empowers improved playability from all positions.
It is incorporated with dual-welting, which allows a durable pocket size.
For comfort over wearing, DriLex wrist lining is provided. This helps in dry protection from sweat and keeps your hands cool over prolonged usage.
With the DriLexfeature, helps to prolong the life of your gloves.
Snug fit wearable gloves with pro stock leather technology for ultimate comfort.
Made for young baseball pitchers
Rawlings Select Pro Lite Youth Series Baseball Glove
With an extensive line-up of various gloves in the market to cater to the baseball player's needs, the Rawlings always stands out with their best collections for a nominal price.
Rawlings Select Pro is one of the best baseball glove for high school players because it is affordable, easy to break-in, and comes with great features.
The glove manufacturer glorifies a promise of 90% in factory break-in and a 10% gamer break-in period. The baseball glove cases a conventional open back feature. The finger backs are well-cushioned lining throughout to render a comfortable feel to the user.
The gloves come with a tapered fit, which holds a smaller hand opening. One of the notable features that come along with the Rawlings pro lite gloves is the palm and index finger special padding for better shock resistance.
Set out your baseball playing with the best from Rawlings, a reputed brand in the pitcher's glove making industry.
Notable Features
Supports both infield and outfield players with its vertical hinge web design
Better shape retention possibility with soft leather shell lining.
Well-formed pocket sustained with an even and uniform leather laces.
The glove designed is styled according to the exemplary usage by David Price.
Comfortable and well impressed Cushioned finger back lining.
Assuring shock resistance with palm and index finger padding.
Easton Future Legend Series Pitcher Pattern Glove
Easton has come up with the astounding future legend series for the young players with smaller hand size. The gloves are designed with JProcowhide material.
This ensures better flexibility of the gloves while playing, being very thin and soft on hands. The Easton future legend series gloves are a perfect combination of being lightweight as well as delving on secured safety influences on players hands.
It comes with the 11.5 inches size range. With innovation bars in raise, Easton, a company with around 30 years of experience in producing gloves with extensive research ideal for young baseball players.
The gloves are suitable to cater to the needs of tender young hands with the right levels of padding material.
Notable Features
It is a specifically designed infielder pitcher's glove.
Oiled hog hide palm is used to provide lining for protection to hand stings.
Tricot finger linings give a spongy feel to the wearer and deliver extreme comfort.
A well designed professional pattern of webbing for essentially greater comfort to players. The professional patterns are scaled down for young enthusiasts.
Grip T web design which enhances gripping and game ability.
The minimal break-in period is required.
Rawlings Gamer Series Baseball Glove
The Rawlings gamer series is one of the best range of products satisfying the overall needs of gloves within economical price ranges.
The entirely leather built gloves are set to decent durable life for a good amount of use. The gloves are perfectly ready for use invoking almost no break in time required to intake your gaming needs.
Rawlings offers an 80% work-in period from the factory's side with only a minimal input for a game setting.
The robust leather shell gives a better shape retention technology that can be straight to the field without much and minimal training work.
The padding is moldable with pro soft material used in the making. The gloves have a padded thumb loop that gives easiness to use over a prolonged period of time.
Notable Features
Baseball gloves with a glove length of 11 3/a inch size. Designed to match the adult-based experienced glove designs.
Better durability achieved due to the use of Tennessee tanning rawhides for the making of the pitcher's gloves.
Basket-web webbing design that is suitable for different levels of game players.
Oriented for the right-handed throw paced players
Wilson A2K Baseball Glove Series
Wilson A2K baseball gloves are from the finest cut leathers providing scrupulously designed gloves for attractive layout and safe overuse.
Each glove is picked up from finest pro stock leather assuring finest quality and maximum durability. With flawless build, the Wilson is the right choice if you are looking for gloves with 11.75 inches size. The gloves with bold colors, it offers some of the outstanding pitcher's gloves that allows quick exchanges and is also on edge comfy wear.
The leather is highly immaculate in texture, perfectly safe to use for any skin type on prolonged usage.
Notable Features
Offers high-quality pro stock leather ideal for sturdy baseball playing usage in bold colors like black, dark brown and blonde.
Skived into dual welting technology to provide shape retrieving material that lasts longer.
Quicker break-in possible, ready from factory side.
To ensure higher pocket stability, dual-layered lining for best safety to the fingers and palm of the player.
2x palm construction retained in the design. This helps in better pocket stability in the game for the player.
Final words
If you reach out to any baseball pitcher, their most prized possession is their pitching gloves. The baseball gloves are all not created with the same designs and features.
There are the outfielder, middle and infielders, with each category requiring their own set of design to achieve their targets.
Baseball gloves come in a variety of shapes, sizes, designs, and features to cater to various players' needs. It is essentially the requirement of a player to identify the right size and texture of gloves and its affordability.
This buying guide might help you introduce to the different brand's bests of the market.