*I may get commissions for purchases made through links in this post.*
If you're a baseball pitcher for your team, then you know the importable of a reliable glove.
The pitcher in baseball is one of the most crucial positions on the field, so obviously you need to give your best.
You don't want to compromise your performance by using a subpar glove and that is why today's article is a must-read for you.
Below mentioned is our updated list of the finest baseball gloves for pitchers that 2020 has to offer.
However, if you're short on time, then I suggest you take a look at the next section for concise knowledge.
My Personal Recommendation
If I have to recommend you the best baseball glove for pitchers, then I'll go with Wilson A2000 Baseball Glove.
This extraordinary glove has 2-Piece web, great pocket, perfect size, and high-quality leather used in manufacturing. You can use this glove for pitching baseball for years without any problem.
This is an exact Clayton Kershaw's Game Model Glove, so you can expect that this is perfect for the baseball pitchers.
But, this glove is a little expensive. If you're tight on budget, then you should look for another glove. But, if you can afford it, then there is nothing better than Wilson A2000 Glove.
The Affordable Alternative
If you want an affordable pitching glove that offers good quality, then you should go with Rawlings Select Pro Lite Glove.
This is a budget-friendly glove that offers everything that you want in your pitching glove.
The Rawlings Select Pro Lite glove is manufactured on the David Price Game Model Glove.
If you compare it with Wilson A2000 glove, then the Wilson glove is slightly better than this one.
But, when it comes to affordability, then you cannot buy a better pitching glove than Rawlings Select Pro Glove.
What Does a Pitcher Want in his Glove?
Pitchers are advantageous in allowing opposing hitters and players in guessing what pitch or ball is coming. The pitcher's glove is pretty useful in hiding the ball that a player uses for his next pitch.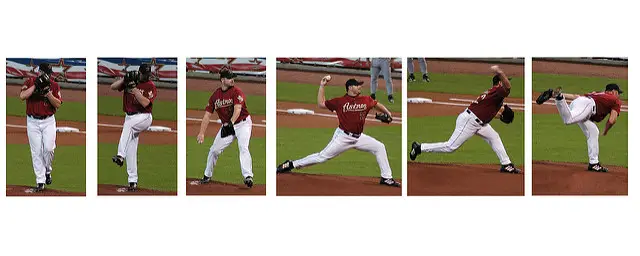 Image Taken By: M&R Glasgow
This is accomplished by the intricate types of webbing designs on the inside surfaces of the glove. The advantages of using special pitching gloves include:
Facility to conceal the ball from the opposing players on the ball type
Ensure a great advantage of gripping the ball during a catch
Profound gripping on the ball for holding, concealing and catching with ease
Intense tractability in fielding
The comfortable pace of deep pocket gloves for prolonged use
Specially designed webbing to hide the ball
Perfect size for the pitchers
Best Pitcher's Gloves in 2020
Wilson 11.75″ Clayton Kershaw A2000 Series Glove
Being one of the most reputable brands in the baseball world, Wilson offers many reliable and well-tested gears.
This time too, they surpassed expectations when they launched this particular series of gloves.
Selected and pitched personally by the amazing MLB player Clayton Kershaw himself- Wilson Clayton Kershaw A2000 gloves are undoubtedly one of the best pitching gloves 2020 has to offer.
Available in the size of 11.75", they come with a closed 2 piece web construction which offers the players a deep pocket for a complete grip and ball concealment.
Furthermore, it is made of 'Pro-Stock Leather' which is well-known for its robust durability and smooth feel.
They also have 'Dual Welting' technology installed in the gloves- where two pieces of leather are positioned along each finger to give the most long-lasting experience with an easier break-in.
Along with this, the gloves have an ultra-airy wrist lining (aka DRI-LEX); this transfers the dampness from the skin and keeps your fingers dry and cool.
Wilson has spent numerous hours working with different MLB players to fine-tune and perfect the A2000 gloves and trust me, you won't be disappointed with the results.
However, there has been one complaint with the glove that they take additional time to break-in.
Apart from this one issue, these gloves are an excellent choice for baseball players looking to get an original feel of the actual MLB pitchers.
Nokona 11.25" Youth Alpha Series Glove 2020
Another great alternative of 2020, these baseball pitching gloves are meant for youth players looking to give their best on the field.
Made with a combination of Nokona's trademarked high-quality leather- 'American KIP' and 'Super Soft'; they provide excellent durability along with a game-ready feel.
They are incredibly light-weighted but, at the same time sturdy enough to give you that optimal blend of performance and quality.
Again, available in the size of 11.25 inches, they come with an open-back design, which provides added mobility to the hands.
Furthermore, these gloves are accommodated with flexible 'Modified T-Trap Web'; this helps you to grab and conceal the ball smoothly when you pitch.
They are also easier to break-in and can be played directly off the shelf.
In fact, this youth model is suitable for various infield positions apart from the pitchers'.
However, there are some issues reported with the gloves like they don't have adequate padding in the palm, which makes the player feel the sting of an incoming fastball intensely.
Also, since these gloves are a youth model, they have smaller and tighter finger openings, which make them inadequate and unsuitable for bigger players.
Despite these occasional instances, the Nokona Youth Alpha Gloves are quite versatile and one of the top-rated youth gloves for pitchers available in the market.
Akadema 12" Precision Series Glove (ADU135)
Moving on to our next preference for top pitcher's gloves of 2020, Akadema ADU135 Precision Series is exceptionally airy and comfortable.
These gloves are made of KIP leather- they are 20% lighter and come with a mesh palm and an open back; this enhances their style without compromising on their performance.
Furthermore, it has a 'Double Web' design and deep pocket pattern, which offers better ball control and makes it a perfect option for any pitcher or infielder.
Available for both left hand and right-hand throw- these gloves also have a cushy fur-lined wrist strap that gives extra comfort along with added strength.
These 12 inches design gloves are also equipped with powerful lacing, which further strengthens the pocket and the shell and provides a more robust overall glove.
This unique lacing also makes the glove easier for a player to adjust the size according to his/her preference; they can tighten or loosen it according to their requirement.
Overall, the AkademaPrecisiongloves are incredibly flexible, very easy to break-in, and have high malleable strength.
They are a fantastic option for players looking to take their game to the next level without compromising on quality and performance.
Rawlings 11.5" GG Elite Series Glove
Rawlings is one of the oldest household names in baseball that have been manufacturing premium gears for a very long time.
Believe me, these pair of gloves is enough proof about the superior and top-notch quality gears they produce under their brand name.
The Rawling Gold Glove (GG) Elite is another great pitcher's gloves of 2020 that has been doing exceptionally well in the market.
They are made of 'Pro-Soft' leather, which provides easy and quick break-in.
Furthermore, they also come equipped with Pro-Grade leather laces, which are 100% full-grain American made that offer long-enduring performance.
Along with this, the padding in the glove is also moldable- this is extremely helpful for players who need to occasionally shift positions on the field and therefore need extra versatility.
This 11.5″ design further comes with cowhide palm lining, which gives you that additional durability and comfy feeling even after wearing it for hours.
These highly wearable gloves give you that superior quality experience you would expect from such a rich brand like Rawlings.
They are an excellent choice for pitchers and various infield players who are looking to fine-tune their game and excel in their profession.
Mizuno 12″ Classic Pro Soft Series Glove
Moving on to the next option in our list of best pitcher's glove of 2020, Mizuno Classic Pro Soft Glove is a comfortable pitcher's gear that you can wear for hours without tiring out your hands.
Equipped with their trademarked 'Ultra Soft Pro' palm liner, these gloves give you that royal feel with maximum durability and softness.
They have a 12-inch opening with original leather laces and a closed-web pattern for smooth pitching.
They come with an outlined 'Mizuno patch' attached to the glove with gives that formal and professional look to the gear.
Along with this, the elongated opening of the glove provides that extra length to the players to quickly catch, hold, and hide the ball.
These gloves also come with a 'rolled welting' feature installed in them- this increases the stability of the glove and, at the same time, makes them more versatile.
Another essential feature of the glove that sets them apart is that they already come in pre-oiled leather, which makes them very easy to break-in.
However, some players have complained about the leather being a little rubbery and that the glove feels a little stiff at the start, but it isn't anything that wasn't solved after a bit of break-in.
In a nutshell, the overall robust construction of the glove makes it very suitable for players to cover various positions without any problem.
These gloves present the best professional patterns designed for the most exceptional players in the world, and therefore they are such a hot pick in their field.
Rawlings 11.75" Premium Series Glove 2020
Another Rawlings addition to our list, the Premium Series Gloves, is uniquely designed with Pro-Style patterns to provide optimized performance to all its players.
It has full-grain leather construction with a pre-oiled shell, which further provides a durable and soft exterior to the glove.
They have Boa-hand opening and padded finger back lining, which maintains that cushioned feel along with consistent durability.
They also have 'Zero Shock' palm pad installed in the glove, which substantially decreases the sting a player feels when they catch a ball at full-speed.
This 11.25 inches glove is also contoured with their trademarked 'Modified Trap-Eze' web, which provides pitchers and even infielders with steady support and even versatility as they hold and hide the ball.
However, they do tend to be tighter and uncomfortable for players with wider hands as compared to the other gloves in the market.
Other than this one tiny problem, these gloves are a fabulous substitute that offers many unique features to its players while maintaining its quality and performance.
Wilson 11.75" A950 Series Glove
Moving on to the last one in our updated list of 2020, Wilson A950 is a fantastic alternative for pitchers and even outfielders.
It is built with traditional open back design and a low profile heel that provides maximum comfort and flexibility.
Besides this, the glove comes with an adjustable Velcro wrist strap that allows the players to adjust the glove according to their requirement and hand size.
They have excellent durability and versatility, which is needed for players covering different positions in the game.
Furthermore, constructed with cowhide full-grain leather and 'Dual-Welting' technology, they come game ready with minimal break-in required.
These gloves also use 'Victory Web' design along with double-palm construction to provide extra support and protection.
They are available in the size of 11.75" and are a perfect glove for pitchers and other younger players who wish to improve their pitching abilities.
Nonetheless, some players have complained that the lacing of the web tends to break or rip-off within a couple of months.
This is one setback faced by a couple of its users, but besides this, they have proved to be a hassle-free and is a great purchase.
The custom feel and the robust performance of the glove are why it's such a big hit among the baseball players and their coaches.
Things to Consider Before Purchasing Pitcher's Gloves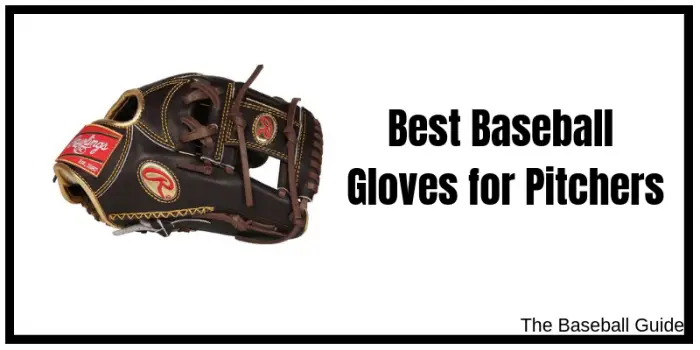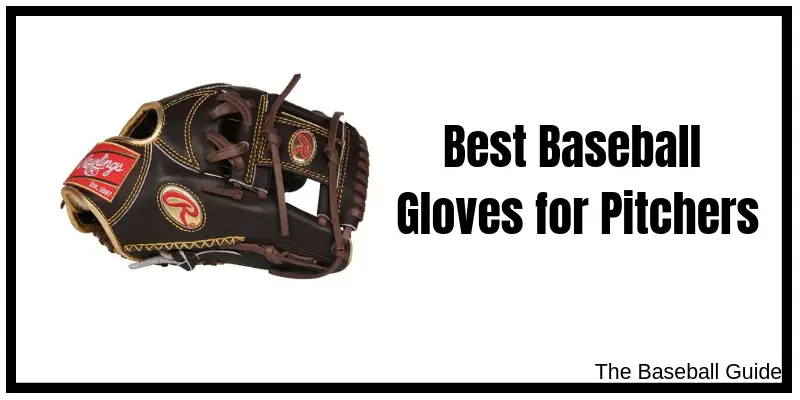 Webbing
The webbing in a baseball glove comes diverse. There are closed web, H-web, I-web, Trapeze web, Modified trapeze web, Two-piece closed web patterns for gloves.
The trapeze woven model is a popular type of webbing suitable for pitchers. Closed model webbing is very beneficial to pitchers in hiding the ball cryptic from hitters. Closed webbing keeps the ball hidden from hitters view as well as provides a fortuitous chance in easy gripping to the pitcher.
Brand
The brand is also a crucial one to decide upon. Some of the major brands that manufacture gloves for baseball pitchers include Rawlings, Mizuno, and Wilson. Some other brands produce gloves, but these are the prominent brands.
Rawlings makes adept pitcher's gloves from excellent American cowhide. They have remained in the glove production industry for the past 130 years well enough to understand the needs of a softball & baseball pitcher. There is a provision for customizing gloves as per the player's will.
Mizuno has some of the best classic models of pitcher's gloves. They manufacture gloves with excellent quality and better gripping, firm for players. The gloves made by Mizuno are a bit expensive than others on the market.
Wilson offers some great pitching gloves in a reasonable price range. Made of hard leather and fine techniques to enhance its life, it is another reputed brand among the baseball pitchers.
Glove length
Holding gloves of correct size and length are essential. If it's too small, gripping the ball would be difficult without hiding. If the glove is large, then it will be heavy and awkward to carry around in the game. Generally, the preferable size is between 11 ¾ inches to 12 inches.
However, a gradual variation in length is possible to suit the player's grip and hand size. Usually, a glove's size should be large enough to hide the pitcher's grips while playing and diminutive not to deter pitching gesture.
Cheap vs. Expensive Gloves
Each piece of pitchers glove is unique in its own way. The price can differ from $50 – $400 in general. The quality of the pitcher's gloves depends highly on the amount you are ready to pay.
There are cheaper gloves that don't last long. But if you are ready to pay a better price, then fine quality leather promises extended durability. Each piece comes with its pros and flaws. It all depends on how much you can pay for your pitching glove and what quality you need.
But, if you want to purchase the best pitchers glove, then you have to spend some good money on it.
Break-in Period
The break-in period is predominantly useful while playing baseball, and the gloves ensure that during catch or throw. Softer leather material is ideal in case you need a petite break-in period for your gloves. Whereas synthetic gloves are sturdily made of rawhides, it requires a very long break-in period, though it may be cheaper to buy.
A good pitcher's glove will fit and close around a ball, take little effort to get hold of the catch. It will let the glove remain curved even when no force is acted upon it.
Pocket Area
The pocket-size will have a significant impact on baseball playing. The pitcher's gloves will have a larger pocket area to move around with the ball enclosed in the gloves as well as conceal it from opponents.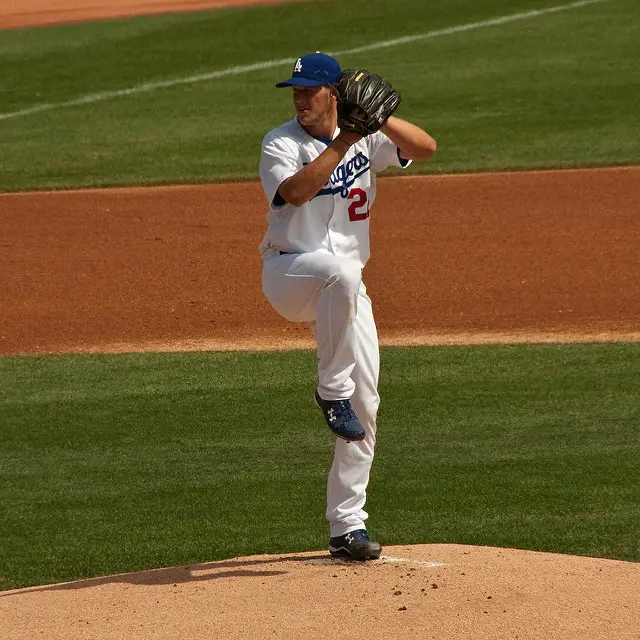 Image Taken By: Bryce Edwards
The material padding is also not too heavy to give better room to hold the ball tight. This, in turn, also reduces the weight of the gloves drastically. A larger pocket area size is generally preferable for the pitchers during selection.
Final Words
If you reach out to any baseball pitcher, their most prized possession is their pitching gloves. The baseball gloves are all not created with the same designs and features.
There are the outfielder, middle, and infielders, with each category requiring their own set of designs to achieve their targets.
Baseball gloves come in a variety of shapes, sizes, designs, and features to cater to various players' needs. It is essentially the requirement of a player to identify the right size and texture of gloves and its affordability.
This buying guide might help you introduce to the different brand's bests of the market.