Wanna play baseball or catch, but don't wanna go through the immense process of trying and finding one? 
Don't worry I got you! Here I have the best baseball gloves for dads. Gloves that will help you play catch with your son. 
So let's get going! 
Our Top Picks
Best Overall Gloves for Dads: Rawlings Player Preferred Gloves
Best Budget-Friendly Glove: Franklin Baseball Glove
Best Baseball Mitt for Dads: Wilson A1000 Mitt
Best Beginner-Friendly Glove: Rawlings Renegade Glove
Best Overall Gloves for Dads
Rawlings Player Preferred Gloves 
We start strong! Here, we have the classic Rawlings. Now I'm gonna spare you all the details about how the quality is absolutely wonderful and oh so stunning. Yea, they are of course. But I know you're looking for something that's utility wise just versatile. 
So the Rawlings Player Preferred Gloves are one of the best out there they come in all the different types of positions, but what's more to that is that they don't come in specific positions. So all you gotta do is just click your option which is all the more simplified to baseball or softball or catcher. You choose that and you are good to go. 
In terms of the price range, these are astounding they are super affordable and will last you for a good while, so it's really that "all-rounder' type of glove and that's why it's more of the reason why I like them. So, this is for sure the best dad glove out there. And for sure if anything, you should try and consider buying these without a doubt. 
Pros: 
Lesser commitment 
Quicker break-in 
Super affordable 
Comes as a utility glove 
Designed for recreational players 
Cons:
Could cause wear and tear real quick 
Compromise on longevity 
Best Budget Friendly Glove
Franklin Baseball Glove 
Maybe you really don't want something of a big brand or maybe you prefer something for a short while, just for a backyard game, or maybe just playing with your kids once in a while. Well, the Franklin Baseball gloves are your choice to go for. 
The Franklin baseball gloves are super easy to break in, therefore, making these game ready just as you buy them. They have various sizes available which is quite good if you ask me. More than that, they come for softball and even baseball so another good ol' utility glove that could benefit you. 
Just to put it out there, I was searching for affordable gloves and I honestly thought something like Rawlings would pop up. But, Franklin's gloves outdid themselves here. So if you are just looking for some casual time out with friends or just playing catch then these are the best gloves for playing catch in the backyard.  
Pros: 
Super Affordable 
Great break In 
Durable 
Adjustable 
Good for any purposes 
Cons: 
The longevity factor is severely compromised 
Doesn't allow enough air circulation
Best Baseball Mitts For Dads 
Wilson A1000 Mitt
Any list would be incomplete if the Wilsons are not mentioned. And we've got the best choice out there for you. Now the reason I bought this category on the list is that these gloves offer really good comfort to all the Dads out there especially.
When it comes to finding something with great quality and comfort then Wilsons is your best bet. It comes in various sizes that are made perfectly to be wrapped around your hand giving you enough room to breathe. While also keeping your palms dry whenever you sweat. 
This mitt is made breathable enough to be able to for long hours at a stretch. More than that, the Wilson A1000 has a really good longevity period, therefore making these extremely durable and last you for a good couple of years. 
Pros: 
Durable than most gloves 
Perfect for all positions or softball 
Come in different sizes 
Comes in breathable fabric 
Cons: 
Best Beginner Friendly Glove
Rawlings Renegade Glove 
We've made it to the final glove on our list and of course, they are Rawlings themselves, now maybe you're looking for something that allows you to get the basic of baseball down. Then these gloves are the best choice to go for. 
These come within the middle of the price scale so they are quite affordable if you ask me. Especially maybe if you're just having some friendly catch sessions or some other fun activities. Just like Rawlings Player Preferred gloves these come with the same options. They have two different types of positions and direct gloves that are best suited for either baseball or softball. 
These also have good enough impact protection and also come in game ready. They come in with 90% of the break-in done so this pretty much molds to your hand when you play, which is perfect because it saves from the excess time of trying to get it to fit properly. So if you're looking for something that will cater to your needs plus maybe a different series of Rawlings then the Rawlings renegade series is your best go. 
Pros: 
Quite affordable 
Game ready 
Come in different sizes 
Comes with utility purposes
Cons: 
They may last you a few months probably not years
How To Choose Dads Baseball Glove For Playing Catch
Okay so here's somewhat of an ideal guide to how to choose the best baseball gloves for yourself in terms of versatility and utility purposes of course. If you were to play catch or just have a friendly neighborhood feud you should definitely know your stuff before buying them.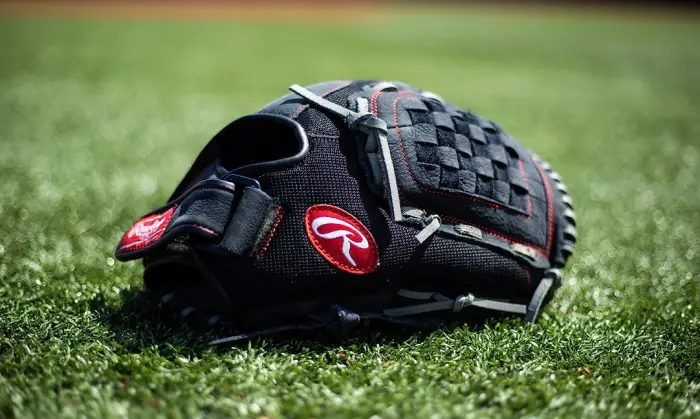 Buy Larger Gloves
Larger gloves are always your best bet to go with when looking for the right globe the reason being that, you can never go wrong with them. Smaller gloves can lead to variations and a lot of other unprecedented changes when you play. 
So it kind of hinders the way you play. So go for something which is on the larger side because you'll have added protection as well you can catch any type of catches that come your way easily. 
Budget 
Now maybe if you are someone who is having a humble lifestyle, then you might wanna go for something affordable, of course when you buy something affordable you cannot guarantee that it may have a great quality. 
But the reason I suggest buying something cheaper side is cause you might occasionally use these gloves, so it's better to get something cheap since they are just for fun rather than anything likely serious. But if you're a baseball fanatic then I wouldn't stop you from buying any of those fancy gloves out there.
Buy Gloves With Wrist Strap
Now, it may seem like the most obvious factor stated out there but some people tend to overlook this criteria. Buying gloves that are adjustable is on a major advantageous scale. 
You should buy something adjustable because you can easily try and use them for different purposes or you can always lend it to someone who's in need anyway, adjustability is a really important factor that you should not overlook. 
Left Or Right Hand Throw Glove
If you're not familiar with the basics of baseball or you're just new to this and somehow this article popped up in front of you. The orientations with which you throw are known as the Left or Right-hand throw. 
And when you buy gloves online that's the first option that's gonna be presented to you. To put it simply the hand with which you throw is named after the orientation and the hand with which you'd catch is where you'd put the glove on. So if you were to throw with your right hand then you'd choose right-hand throw and catch with your left hand thus wearing the glove on the left hand. 
Webbing
Webbing is one of the key features of choosing a glove. It all depends on how you play honestly and your personal preference of course. But if you're a rookie to baseball the best type of webbing is such. 
The I web and H web is a versatile web design that most players prefer so you should go with something like that but if your gonna do a lot of catching then maybe a closed web is the best option you can go for. 
Final Thoughts
So here are my final thoughts on all the above categories I mentioned, I think the best-suited option for most utility and recreational players is the Rawlings Player Preferred series.  
Because these are not only affordable, but they will also last you for a good whole and they come in different sizing options, plus you can never go wrong with a good Rawlings glove. Moreover, they are quite literally created for recreational purposes therefore they are the best option I'd say you should go for if you're looking for something like that.  But this is all up to your personal choices and preferences also.