Children love playing baseball with their dads, and therefore, many fathers think about buying a special glove for themselves.
And like everything else in the world, when they go to purchase one, they are bombarded with thousands of options to choose from.
But don't worry, this is where we come in! Because just like how you want the best for your kids, we want the best for you!
So while the ultimate choice depends on you, we still wanted to help by providing an updated list of the best baseball gloves for dads looking to have a fun time with their children.
So, let's dive in and find out what's explicitly available for the dads out there.
List of the Best Baseball Gloves for Dads
Wilson A900 Baseball Glove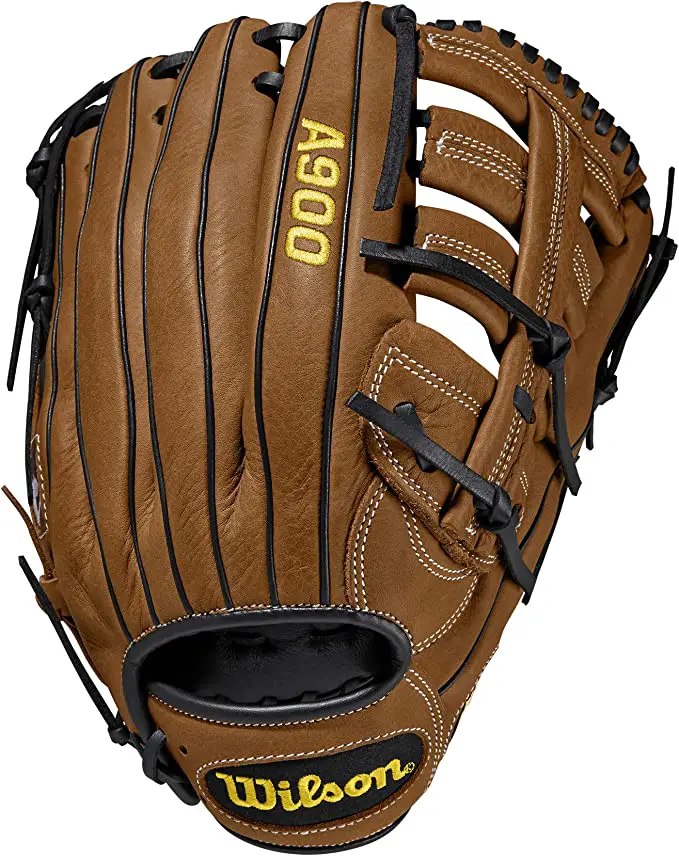 Truly designed for professional baseball players, the Wilson A900 baseball gloves are one of the perfect choices you have for playing catch.
It has an old-school dark leather design that looks classic and since it's game-ready from day one, you don't have to put any extra effort into breaking it in.
It is a full leather glove series that is made with a perfect balance between its leather shell, durable laces, and palm liner.
It also features a double-palm construction that greatly reduces the impact and makes it possible even for kids to catch the ball effortlessly and a low-profile heel that adds great mobility and flexibility.
With the Wilson A900, dads can have a fun time playing catch with their sons and daughters, without actually having to worry about their safety.
These baseball gloves are strong, durable, and perfectly safe to play with kids or beginners, who are interested in joining the little league.
In my opinion, the company did a great job in facilitating the product.
Given below are the pros and cons of the Wilson A900 Baseball glove series:
Mizuno MVP Prime Baseball Glove Series
Mizuno is a well-known brand that manufactures high-quality sports equipment and gear, and its MVP Prime Baseball glove series is perfect for a good game of catch.
I think the product quality is top-notch as the company is already well-known to deliver well-rounded products.
Whether you want to play it with your dad, son, friends, or anyone else, these pro-level baseball gloves are highly durable and rough usage is not a problem at all.
Even if you are a father who just wants to spend time playing catch with your son, these baseball gloves are one of the best options you have.
It is made using pro-level smooth bio-soft leather that gives you firm control with an exceptional feel. Moreover, the laces used in these gloves are pro-level too, making them as durable as any other pro gloves.
Lastly, the Mizuno MVP baseball glove series come with a center pocket design that allows you to catch the ball easily and effortlessly.
With these gloves on, even kids and inexperienced dads will learn and start enjoying playing catch in no time.
If I have to get the baseball gloves, that too under a budget, without a question this is what I would get. I mean, the quality is there, and the shape suits me. But, I believe the pricing would've been better.
Given below are the pros and cons of the Mizuno MVP Baseball glove series:
Rawlings Renegade Series Baseball Gloves
Rawlings Renegade Series Baseball gloves are 12-1/2-inch slow-pitch adult baseball gloves, which are an excellent choice for dads looking to play some recreational matches.
Given all the specifications this product comes with, I can't imagine going with any other product. I mean, you are getting everything for the price.
The high-density cushioned leather palm helps in increasing impact protection. It comes with Neo-Flex back with a Velcro strap, which will help in an adjustable fit.
It has a deep, flexible pocket and provides you with a game-ready feel as a player and as a dad!
The basket web allows you to play any position in the field.
It is already game-ready and comes with a 90% break-in from the factory and will provide adequate ease in playing.
The gloves come with a durable design that is a leather shell palm and has a lightweight pro mesh back to provide you with optimal balance, durability, and perfect shape retention.
It is available in various adult sizes and 3 different colors. Furthermore, It's also available for both hands.
Another perfect glove for playing catch, they are considered a great pair for dads.
Okay, lemme take a deep breath and sum this up. The product is great and I think this could be your next gloves. Lemme know your thoughts.
Since it's a popular brand that is tried and tested by hundreds of players for many years you can surely consider buying this product.
Wilson A500 Outfield Baseball Glove
Purposely developed for outfielders who catch a fly and ground balls is the Wilson A500 Outfield Baseball Glove which also makes a perfect and reasonable choice if you need a basic baseball glove to play catch with your kids.
It is also relatively cheaper but still a competent glove that you can use for recreational activities.
This glove has a deeper pocket and better pocket stability for you to be able to catch your kids' clumsy throws to keep the fun going.
It has an added length to give you a better reach and a redesigned hand opening that's smaller to deliver a snug fit.
You don't really need a tough and heavy glove to protect you from your kid's throws so the lightweight and all-leather construction of this glove is decent enough for this purpose.
It allows you to catch and throw balls with better control and precision for a safer game. Since it is lightweight, it also reduces the amount of strain on your hands for longer playtime.
It features a dual welting that allows the glove to maintain its shape for longer and provides a quicker break-in time for constant ready-game play with your kids.
Phew, that was a lot to talk about and I mean I'm as impressed as tired I am after going through the huge list of qualities this thing comes with.
The Wilson A500 Outfield baseball glove measures 12.5 inches and is available in one color and design only.
You know what? I'm thinking of gift these gloves to my dad. After reading all these praises, you're thinking the same, aren't you?
Rawlings Player Preferred Baseball Glove
Rawlings player preferred baseball glove is a regular, slow-pitch pattern, basket web which has a 12-1/2-inch slow-pitch adult baseball glove.
After going through the product specification, I'm seriously impressed. They have provided everything they could and most importantly within this budget too.
This is a great baseball glove for recreational baseball games and therefore a great option for dads.
It has zero shock palm padding which helps in increased impact protection while catching.
It comes with an 80% Break-in.
It has a conventional back with a Flex Loop Velcro strap which allows an adjustable fit.
Basket-Web will allow you to play nearly any position in the field.
It is available for both hands in different colors.
And also available in adult sizes.
It has a full-grain leather design which comes with comfortable construction.
And, what about you? I mean I am pretty impressed with this thing right here and I think they couldn't have done it any better. Lemme know what you think.
This glove can be a perfect fit for your father.
Things to Consider Before Buying Gloves
Price
Price is a significant factor for dads as the gloves will only be used for playing at home. So, a cheap price glove will rather be your first preference.
But, if you want a durable material, you need to spend some extra money.
In the end, price and quality are relative, so you need to figure out, as a dad, what is your preference- the cost or the durability of the gloves.
Comfort
Dads should be comfortable with their baseball gloves while playing with their children. So, consider the glove which will provide the best comfort to you.
When it comes to sports gear, comfort should be one of your top priorities and it's imperative that you only buy the one that delivers you maximum support.
Webbing
As you will just be playing at your home, you can opt for any type of webbing for your gloves. You can go for open or closed webbing according to your choice.
Webbing is one crucial aspect of baseball gloves, which makes big difference for a player, but since your use is more for recreational purposes, you can go for what suits you the best.
Pocket Size
The pocket is the part where the ball should be kept. So, consider buying a deep pocket size in order to play comfortably.
A deeper pocket makes it easier for you to grasp and hold hard-hit shots.
In a nutshell, pockets are a big indication of glove use so choose them accordingly.
Size
This is definitely a no-thinker but surprisingly many dads forget the importance of this!
The size of the glove should be according to your hands. It should be ideal in order to provide ease and comfort.
Even a little difference in size can ruin your game with your son, so make sure that your glove fits you perfectly without being too tight or loose.
FAQs – Baseball Gloves for Dads
What are some best baseball gloves for dads?

The best baseball gloves for dads are the Wilson A900 Baseball Glove, the Mizuno MVP Prime Baseball Glove Series, the Rawlings Renegade Series Baseball Gloves, and the Wilson A500 Outfield Baseball Glove. These gloves are all designed for recreational activities and are perfect for a good game of catch with your children.

What are some key features to look for in a baseball glove for dads?

When choosing a baseball glove for dads, it's important to consider features such as durability, safety, comfort, and mobility. Look for gloves that are game-ready, made of high-quality leather with durable laces, and offer palm liners to reduce impact. Double-palm construction and low-profile heel are also important features to look for.

Which brands make the best baseball glove for dads?

Wilson, Mizuno, and Rawlings are all well-known brands that produce high-quality baseball gloves for dads. These gloves are designed to be durable, safe, and comfortable, and come in a variety of styles and sizes.

What are the benefits of buying a baseball glove for playing catch with children?

Playing catch with children is a great way to bond and spend quality time together. It helps improve hand-eye coordination, motor skills, and overall fitness. Having a good quality baseball glove ensures that the activity is safe and enjoyable for both the dad and the child.

How much do baseball gloves for dads cost?

The cost of baseball gloves for dads varies depending on the brand, features, and quality. You can find gloves ranging from around $50 to over $200. However, there are several good quality gloves available for around $100, which is a reasonable price for a product that is designed to last for several years.

Are the baseball gloves designed only for dads or can they be used by anyone?

While the gloves are marketed toward dads, they can be used by anyone who wants to play catch or recreational baseball. They come in various sizes to fit both adults and children and offer features that are beneficial for players of all levels.
Final Words
It can be said that if you want to buy the best baseball glove for playing catch, you should consider not only the material but also the price.
A cheap baseball glove with the perfect quality can help you play with your children every evening.
Some of the great gloves which are available for dads are mentioned above in order to help you make a decision.
Finally, it can only be said that even though in the end, it's a personal choice, you can always make a better decision by considering each factor along with your specific requirements.