*As an Amazon Associate I earn from qualifying purchases. I will get commission for purchases made through links in this post.*
Slowpitch softball bats come in all styles, brands, and sizes. The length, weight, and material of each bat determine its performance.
With so many options to choose from and factors to consider, it can be a bit difficult to find which bat suits you best.
In this article, let's take a look at some of the very best slowpitch softball bats to help you decide what to buy this 2021.
In slowpitch, the ball is pitched at relatively low speed as compared to pitches in fastpitch. Due to this, the batting techniques used in slowpitch are also slightly different from those in fastpitch. This makes choosing a softball bat very tricky. Therefore, to help you select the perfect slowpitch bat, given below are the best slowpitch softball bats in 2021.
Best Slowpitch Softball Bats in 2021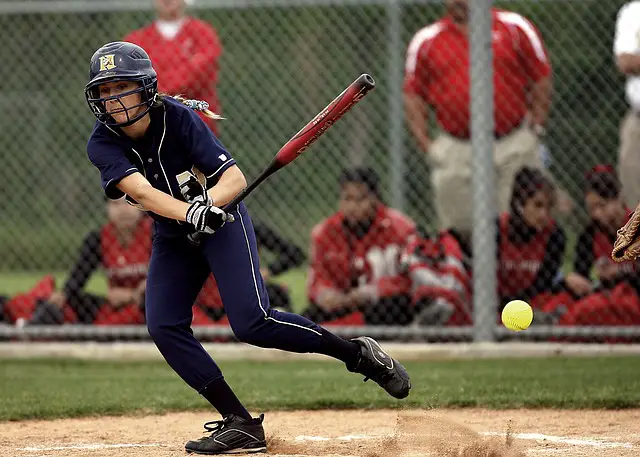 There are plenty of slowpitch softball bats available for softball players to buy. However, not all bats are as efficient as you want them to be. Therefore, given below are the top slowpitch softball bats that you can buy in the year 2021.
Miken DC41 Supermax Slowpitch Softball Bat
The Miken DC41 Slowpitch Softball Bat is designed for adults who love to perform recreational and competitive slowpitch softball activities in the field. If you are looking for good slowpitch bats in the market, you might want to check this out!
This slowpitch softball bat has an extended sweet spot with an increased flex while being used because of its 14-inch barrel with the F2P Barrel Flex Technology. It is one of the great bets for ASA slowpitch softball bats that a player can have, plus it has revolutionary 100 COMP composite fibers that will help you deliver a legendary performance in the field.
Men can attain increased power through the hitting zone because of the 1 oz Supermax Endload, and this bat is approved for play in all ASA leagues.
This bat can be a man's choice for use, but it may not be of the best quality one can attain.
Miken Last Call USSSA Maxload Slowpitch Softball Bat
If you are looking for one of the best USSSA slowpitch softball bats, give the Last Call USSSA Maxload by Miken a chance!
This slowpitch softball bat features the Triple matrix core technology that helps increase the sweet spot during use, helping men and women achieve an unmatched performance every time!
It has an extended 14-inch sweet spot and increased flex for use because of the F2P Barrel Technology, together with the revolutionary 100 COMP composition fibers that engage you in delivering a legendary performance.
This bat can give you better control while hitting with the help of the 100% carbon fiber barrel!
Not only is the material exceptional, but the excellent Black/Green design, too!
This bat is approved for play in USSSA Slowpitch Softball Leagues, so if you want to use this for competition, don't hesitate.
However, you need to be careful with the bat because it may crack in unexpected intense situations.
DeMarini Senior Nautalai Balanced Slowpitch Softball Bat
This Senior Nautalai model of the DeMarini slowpitch bat can be your best buddy during games, and you will never get bored with slowpitch softball if you get ahold of this bat!
This bat has a continuous fiber barrel that offers a consistently good and legendary performance from your first hit up to the last one. It has a ZnX alloy handle that provides increased stiffness and durability during the session.
With this bat, you need not stress your arm and body because you will have less flex in the handle and more deflection for improved barrel performance.
This is a 13″ balanced barrel, and it was designed and built in the USA by DeMarini himself. DeMarini dedicated himself to keep working on this company because of his love for slowpitch softball. Still, his intensity and drives remain on this company with one of the hottest slowpitch bats in 2021 that men can use.
Easton POW Slowpitch Softball Bat
The Easton POW slowpitch bat is made for adults who love to play a competitive slowpitch softball game, and this bat offers unmatched performance at the plate every time an adult tries to win the game!
This bat eliminates vibration in the bat's handle, offering a better feel while you are holding onto it during the games. It is one of the best slowpitch softball bats you can ever have; in fact, it is approved for play in USSSA, ISA, and NSA leagues and tournaments!
This slowpitch bat has a FireFlex barrel technology that creates insane pop right out of the wrapper, and it has a 12.75″ barrel with an end-loaded weighting for ball flight distance contribution.
Not only does this bat perform very well, but it also has a great, energetic design that players would love to look at every time!
Miken Exclusive Chaos All Association Slowpitch Softball Bat
Another bat by Miken is the Chaos Slowpitch Softball Bat made for adults who love to play recreational or competitive games!
This bat maximizes speed and hitting distance for users, and it does not fail in helping you deliver your maximum performance during competitions.
It has a maximized barrel flex and performance because of the bat's thinner walls, but despite that, it does not easily deform amid high-intensity play.
It has the 100% Eflex technology alloy composition and a 0.5 oz XL Endload and 14-inch barrel length that increase power through the hitting zone!
This bat is approved for play in all slowpitch softball leagues, so you need not worry about bringing this bat and get banned just because it is not certified for leagues and tournaments!
This bat is also one of the hottest slowpitch softball bats but is careful when using it because it may not easily get deformed during high-intensity games, but the barrel may crack if not supervised.
Easton HAMMER Slowpitch Softball Bat
The Easton Hammer bat has an evenly balanced barrel made with 100% durable aluminum alloy, offering great performance for slowpitch softball games!
This slowpitch bat gives players super fast swing and incredible bat control with a minimum vibration every hit. It has a stiffer feel and impact feedback that every slowpitch softball player could ever want to attain stability.
This bat is a 1-piece bat construction with an all-sports bat grip, and it has a balanced swing weight to help you achieve a stable yet powerful hit without stressing your arm and body during the deed.
Don't worry about this bat's weight because it is light enough for you to carry and hit and heavy enough to make your most powerful move. It does not easily pop on sudden impacts and makes you feel good when you hit the sweet spot. However, this bat may not be legal for competitive plays.
Worth Krecher XL Ryan Harvey Slowpitch Softball Bat
If you want the best ASA slowpitch softball bat to bring anywhere you'd like to play, whether it is for leisure or competition, your search must end here because Worth's Krecher XL Ryan Harvey will be your best pal!
This bat comes with a 13.5″ barrel with a 2 1/4″ diameter. It is made with exclusive carbon fiber that promotes bat durability and accessibility without worrying about its weight during intense games.
This slowpitch bat has many great reviews, making it belong to the hottest bats a player can have without worrying about the damage it may attain despite extreme hits. It has an impressive Flex 75 handle that allows users to have more whip and feel without straining the arms, and it has a Quad Comp technology that increases handle to barrel flex, contributing to a more prominent sweet spot during the game with greater distance.
This bat is worth having, so long as you know how to take care of it before and after the game.
How to Choose Slowpitch Bats
Choosing a slowpitch bat requires patience because unlike choosing a baseball or fastpitch bat, slowpitch bats are actually a matter of player preference. Many players like heavy hitters so as to get the extra power to hit the ball far, while others prefer a fast swinging bat which they can comfortably swing to hit every pitch.
Standard Barrel Diameter
However, before you start deciding which bat is perfectly suitable for you, there are a few things you must understand. For instance, all softball bats have a barrel diameter of 2 ¼ inches.
Now, if the barrel diameter exceeds this number, then that bat is not eligible for use in any softball league, and if the barrel diameter is too less than this number, then the chances are that it might not be very sturdy and can break soon.
Weight Range
Other things to keep in mind include the fact that slowpitch bats are 34" long and range in weight from 26-30 oz. Bigger and heavier players who can swing a heavy bat should go for bats that are 28-30 oz. in weight, while the smaller players looking for more swing can go for bats that are 25-27 oz. in weight.
Balanced Vs End-Loaded
Apart from this, another thing to keep in mind is that softball bats come in two distinct weight options, which are balanced and end-loaded. Balanced bats have their weight equally distributed throughout the bat's length, i.e. from knob to end cap. However, end-loaded bats have extra mass at the end of their barrel and generate high-hitting power.
Balanced bats are easier to swing because they have a low moment of inertia due to the even distribution of weight. Therefore, these bats are more suitable for "contact hitters" or "base hitters", who aim to have more bat control and swing speed.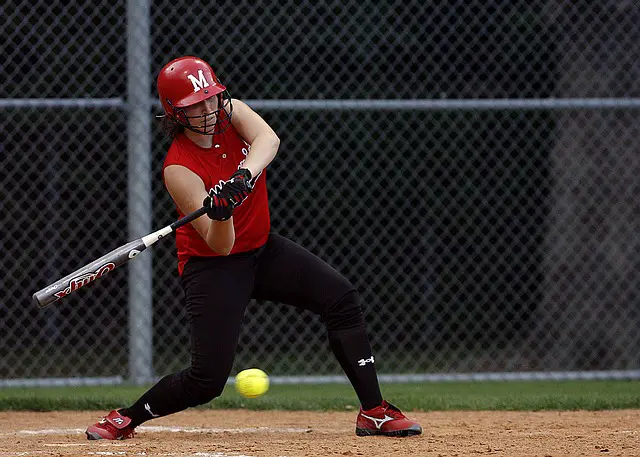 On the other hand, end-loaded bats have weight-oriented barrels. Therefore, these bats are more suitable for players who can already generate high swings. Due to the added weight and high swings, end-loaded bats can send the ball to great distances upon contact. Hence, this bat design is a preferred choice for almost every power hitter.
End-loaded bats usually have a 0.5 oz. or 1 oz. weight added to the end of the barrel. However, some end-loaded bats even have 3 oz. weight added so as to gain even more whip.
In any case, it is important for players to understand which type of bat is more suitable for them. Picking up something that's too heavy will result in poor swinging and can greatly affect the performance. Similarly, picking up something that's too light will result in undermining the player's performance.
Length, Weight, and Drop
Now that you have all the information needed, it's finally time to decide which softball bat is best suitable for you. There are three main criteria when it comes to deciding a suitable slowpitch bat, length, weight, and drop.
Getting the bat of the right length is extremely important. If the length is too short or too long, then it can greatly affect your swing. Follow the tips given below to decide the right length for your bat.
Place the knob of the bat at the centre of your chest and then extend the barrel out horizontally towards your shoulders, then try to touch the end of the bat with your fingers, if you can touch the end of the bat then it is of appropriate length
Place the bottom knob of the bat at the centre of your chest and then extend the bat perpendicularly outwards, if you are able to hold the barrel with your hands in this position, then the bat is of appropriate length
Stand the bat up vertically parallel to your leg, if the bat reaches your mid-hip, it should be of appropriate length
Once you have decided the suitable length for your bat, it's time to check if the bat weight is suitable for you or not. As mentioned before, the weight of the bat is entirely a matter of preference. However, you would not want to get a bat that is either too heavy or too light for your performance.
Therefore, to check if the bat is of the right weight for you, hold the bat out with one hand while extending the hand from your side. If you can hold the bat like that for 30 seconds without falling, then that bat is of the right weight for you.
Once you have decided on the length and weight of the bat, you will also have to check the bat's drop. The drop of the bat is the difference between the length and weight of the bat. A bat with a lesser drop means that it's heavier and vice versa. Make sure to take the length and weight numbers from before and select the right drop for your bat.
Conclusion
Softball slowpitch bats are designed to hit slower and heavier balls. Therefore, the bats that you choose should be highly durable and should have enough strength to send the heavy softball flying. Every softball slowpitch bat mentioned in this article is highly efficient and comes under top-rated slowpitch softball bats.
Slowpitch hitters can pick any of these bats to improve their performance and gain an advantage on the field. These bats are approved for play in almost every softball league and are well recommended for professional as well as recreational players. This slowpitch softball bat review is genuine and strongly promotes slowpitch softball.