Let's come to the point.
What are the best Softball & Baseball Cleats for Catchers on the market?
There are various popular brands that manufacture baseball cleats, and they're trusted brands.
But, when it comes purchasing catchers cleats, you need to check a lot more than just brand name.
In the below, I've discussed a few things that'll help you to decide which pair of cleats you should choose.
Things to Consider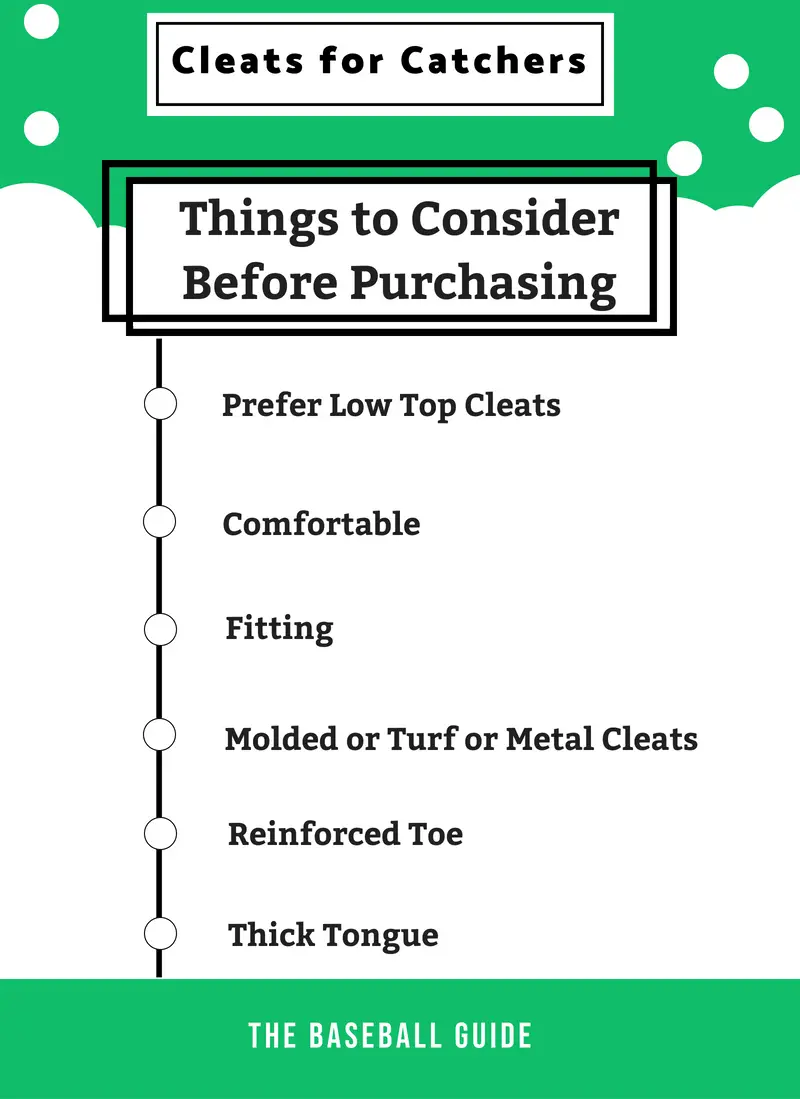 Prefer Low Top Cleats
The catcher should have mobile ankles. The mobility of ankles helps a catcher to get into the perfect position of catching a pitch. For that, low top or mid top cleats are perfect. To be more specific, low top cleats are the best option, but, you can also choose mid to high top cleats, in case, if you need ankle support.
Comfortable
There is no need to discuss why your cleats should be comfortable.
Fitting
After wearing cleats, your toes should have some wiggle room for movement.
Molded or Turf or Metal Cleats
This totally depends on where you're playing.
The metal cleats provide more traction on the dirt & grass fields, while molded cleats is a good option for the soft grounds. If you're playing on artificial turf ground, then go with turf shoes.
Along with that, make sure you know the rules of your league because there are many leagues that do not allow metal spikes cleats. So, if your league doesn't allow metal spikes, then go with molded catcher's cleats.
Reinforced Toe
When they're in the catching position, they put a lot of pressure on the toe area of their cleats. Therefore, before purchasing cleats for catching position, make sure to check it has toe protection or toe reinforcement. This helps the cleats to last longer.
Thick Tongue
The tongue of your cleats should not be too open; otherwise, dirt can get inside your cleats.
Best Baseball Cleats for Catchers
I Recommend…
According to me, the best cleats for catchers are New Balance 3000v3 Baseball TPU Cleat.
These are comfortable, stylish, durable, and they're also affordable.
Catchers need to stay alert all the time, and when they're in the catching position, they place a lot of stress on their forefoot, and especially on their toes. Therefore, we need cleats that have a solid & strong forefoot.
These New Balance cleats have a special toe protection that gives extra strength to the toe area of your cleats.
The strategically placed rubber spikes give you maximum grip & stability on the field. While the Rubber sole & Revlite midsole gives you durability and comfort.
As catchers need more ankle movement, and these low top cleats provide exactly what you need.
Some players need wider cleats than the normal size, and sometimes it becomes really difficult to find the perfect size for them. New Balance has done a really great job in that field. They give you the option to select extra wide cleats, the 2E option stands for wide cleats. You can find more information about their size chart on New Balance's website.
Check Price & Reviews of New Balance 3000v3 Cleats
You can also buy the same cleats with just metal spikes: Check Details of New Balance L3000v3 Metal Cleats.
You can also check their turf shoes for practice: Check Details of New Balance 3000v3 Turf Shoes
Other Good Alternatives of Catcher Cleats
Mizuno 9-Spike Franchise 7 Low Baseball Cleat
These are synthetic cleats that contain 9 strategically placed rubber spikes that provide maximum grip on the field. The 9-Spike is a successful design of Mizuno and it worked really well on the field, therefore, in a very short period of time, these cleats became very popular among young players.
The padded tongue and full-length midsole provide a great level of comfort while you're playing.
In these cleats, the toe is protected that makes it durable.
Adidas Performance Men's PowerAlley 3 TPU Mid Baseball Shoe
These imported baseball shoes are well-designed and contain synthetic sole. These are highly durable and comfortable.
If you're a catcher, then the toe area of your cleat is the most important part for you. In these cleats, you'll get Adituff, which gives you the best abrasion resistance in the toe area.
Adidas has installed Ortholite sockliner which provides a great cushion and it also works as a resistance to odor. For the light-weight cushioning, full-length EVA midsole is installed in it.
A light-weight thermoplastic polyurethane outsole is also present in it, which gives you enhanced performance and traction.
These cleats are very suitable for catchers.
Final Words
So, in the above, I mentioned 3 catcher cleats that you can purchase. But, as I mentioned earlier, from all the available products, my personal favorite is New Balance 3000v3 Cleats.
This is also one of my recommended baseball cleats for speed.
I like them so much that, I also recommend them as the best pitcher cleats on the market, because pitcher and catcher have similar requirements like they both need low top cleats with toe reinforcement.
I hope that you found some helpful information in this article. If you've any question, then feel free to ask in the comment section.