Let's come to the point.
When it comes to being a catcher in baseball, having the right gear can make all the difference. And one of the most important pieces of equipment? Your cleats! 
With so many options on the market, it can be tough to know where to start. But fear not – we've done the research for you and rounded up some of the best baseball cleats out there for catchers. 
From comfort and support to traction and durability, these top picks have got you covered behind home plate. So let's dive in and find your perfect pair!
Our Top Picks
Best Overall Catcher's Cleats: Under Armour Leadoff Molded Cleats
Best Runner Up: Adidas Adizero Afterburner 8 Metal Cleats
Best Catcher's Cleats for Youth: Adidas Icon 7 Md Baseball Shoe
Best Wide Cleats for Catchers: New Balance FuelCell 4040 V6 Molded Cleats
My Recommendation for Baseball Catchers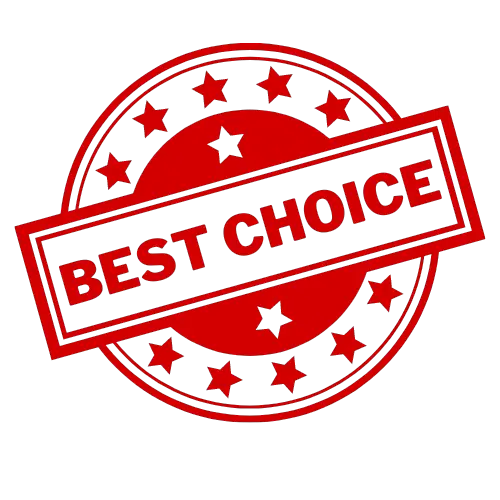 Best Overall Catcher's Cleats
Under Armour Leadoff Molded Cleats
The Under Armour Leadoff Molded Cleats are undoubtedly the best overall catcher's cleats on the market, offering a range of features that enhance the softball player's experience on the field. With four color options and sixteen size options, these cleats cater to players of all preferences and sizes, ensuring a perfect fit for everyone.
One standout feature is the synthetic upper, which is not only lightweight but also highly durable. The toe box perforations provide excellent breathability, preventing discomfort from excessive sweat and ensuring optimal airflow to keep the feet cool and dry during intense gameplay. Additionally, the durable overlay on the toe cap offers enhanced protection, guarding against potential impacts and injuries.
Comfort is prioritized in the design of these cleats, with a padded collar and heel construction that allows for ultimate step-in comfort. The full-length EVA midsole provides exceptional cushioning, evenly distributing cleat pressure underfoot and reducing the strain on the player's feet.
Another key advantage is the rubber molded cleats, which deliver superior traction and durability on all field surfaces. This feature ensures optimal stability and grip, allowing catchers to make quick movements and maintain balance, even on slippery or uneven terrain.
Furthermore, the comfortably wide toe box is particularly beneficial, offering ample room for the toes to move freely without restriction. Softball players can enjoy the game without the worry of getting blisters between their toes, thanks to the well-designed lace system that secures the cleats firmly in place.
As for drawbacks, it's worth noting that the Under Armour Leadoff Molded Cleats weigh 11 oz., which may be slightly heavier compared to other cleat options. However, the overall performance and durability of these cleats more than make up for the slight increase in weight.
Pros:
Lightweight and durable synthetic upper
Excellent breathability with toe box perforations
Enhanced protection with durable toe cap overlay
Padded collar and heel construction for superior comfort
Full-length EVA midsole for cushioning and pressure distribution
Optimal traction and durability with rubber molded cleats
Comfortably wide toe box for unrestricted movement
Secure lace system to prevent blisters between toes
Cons:
Cleats weigh 11 oz. (slightly heavier compared to some)
Best Runner Up
Adidas Adizero Afterburner 8 Metal Cleats
The Adidas Adizero Afterburner 8 Metal Cleats are a great option for softball players who are looking for lightweight and high-performance footwear. They come in a variety of colors and sizes to fit individual preferences.
The best thing about these cleats is their lightweight design. They are built for speed, so players can move quickly and easily on the field. This is especially important in softball, where agility and quick movements are essential for success.
The cleats also have a snug fit that provides a secure and locked-down feel. This added stability and support are helpful for softball players who need to make sudden changes in direction or burst into a sprint.
In addition to being lightweight and supportive, the Adizero Afterburner 8 Metal Cleats are also comfortable. The textile lining provides a pleasant and cozy sensation, keeping players at ease during extended play sessions. The cleated outsole also provides exceptional grip, so players can maintain traction and execute sharp maneuvers without the fear of slipping.
However, it is worth noting that these cleats may not be suitable for individuals with wider feet. They tend to have a more narrow fit, so it may be advisable to consider other brands that cater to wider foot sizes.
All in all, the Adidas Adizero Afterburner 8 Metal Cleats are a great option for softball players who are looking for lightweight, high-performance, and comfortable footwear. They offer a variety of features that are beneficial for softball players, such as a snug fit, exceptional grip, and a comfortable textile lining.
Pros:
Lightweight design enhances speed and agility.
Snug fit with wide lacing system for stability.
Comfortable textile lining for prolonged wear.
Cleated outsole provides excellent grip on the field.
Wide range of color and size options available.
Cons:
May not be suitable for individuals with wider feet.
Best Catcher's Cleats for Youth
Adidas Icon 7 Md Baseball Shoe
The Adidas Icon 7 Md Baseball Shoe is the ultimate choice for young catchers in the game. With its standout features and excellent design, these cleats offer an unparalleled experience for softball players.
Firstly, the variety of color options available allows young athletes to express their style and individuality on the field. This personal touch can boost their confidence and make them feel more connected to the game.
The rubber sole is a game-changer for catchers. It provides exceptional traction, ensuring stability during intense plays behind the plate. The molded rubber cleat outsole enhances grip, allowing quick movements and preventing slippage.
The lace closure system is a crucial feature for youth players. It guarantees a snug fit, minimizing discomfort and maximizing performance. This secure fit enables catchers to move with agility and confidence, without worrying about their cleats coming loose.
Comfort is a top priority, and Adidas delivers. The textile upper and lining offer breathable comfort, preventing excessive sweating and discomfort during long hours on the field. The bounce midsole provides cushioning, reducing impact and enhancing overall comfort, making every step feel lighter.
Furthermore, the Adidas Icon 7 Md Baseball Shoe is designed to accommodate wider feet, which is perfect for many young athletes. While they may run slightly bigger, they can easily be adjusted with thick baseball socks or by tightening the laces.
However, it's worth noting that a few users have reported discomfort and narrowness in the shoe. In such cases, purchasing additional insoles can offer extra support and alleviate any discomfort.
overall, the Adidas Icon 7 Md Baseball Shoe is a must-have for youth catchers. Its combination of style, performance, and comfort makes it the best choice for young athletes. With its secure fit, excellent traction, and lightweight design, these cleats will elevate any player's game on the softball field.
Here are some additional thoughts from parents of youth baseball players who have used the Icon 7 MD Baseball Shoe:
"My son loves these cleats. They are comfortable and he says they help him move faster on the field."
"These cleats are a great value for the price. They are well-made and my son has had no problems with them."
"I would definitely recommend these cleats to other parents of youth baseball players."
Pros:
Variety of color options for personal style
Rubber sole for exceptional traction
Lace closure for secure fit
Textile upper and lining for breathability
Bounce midsole for cushioning
Accommodates wider feet
Cons:
Narrow fit for some individuals
Additional insoles may be required for extra support
Best Wide Cleats for Catchers
New Balance FuelCell 4040 V6 Molded Cleats
The New Balance FuelCell 4040 V6 Molded Cleats are an exceptional choice for softball catchers in search of wide cleats that deliver performance and comfort. These cleats stand out among the competition, providing a range of features that enhance the user's experience on the field.
One of the key reasons why these cleats are regarded as the best wide cleats for catchers is their Fit Weave upper. This feature ensures durability and stretch, allowing catchers to have a secure and comfortable fit during intense gameplay. The lace closure further contributes to a secure fit, reducing the risk of slippage or discomfort.
In terms of traction, the TPU molded cleat outsole shines brightly. It offers superior grip on both turf and natural surfaces, making it a versatile option for catchers who play on various field conditions. Even in muddy or sloppy environments, these cleats perform admirably, allowing players to maintain their footing and agility.
Comfort and lightweight design are also notable highlights of the FuelCell 4040 V6 Molded Cleats. Softball players can experience prolonged comfort during games and practices, without feeling weighed down by bulky footwear. Additionally, the FuelCell foam incorporated in the design provides a propulsive feel, assisting catchers in driving forward with every step.
It's important to note that these cleats are wider than regular sizes, which is ideal for players with broader feet. However, this could be a downside for individuals with narrower feet, as the fit may not be as snug as desired.
Pros:
Fit Weave upper for durability and stretch
TPU molded cleat outsole for superior traction
FuelCell foam provides a propulsive feel
Lace closure offers a secure fit
Comfortable and lightweight design
Performs well in muddy/sloppy field conditions
Cons:
May not provide a snug fit for narrow feet
Things to Consider Before Buying Catcher's Cleats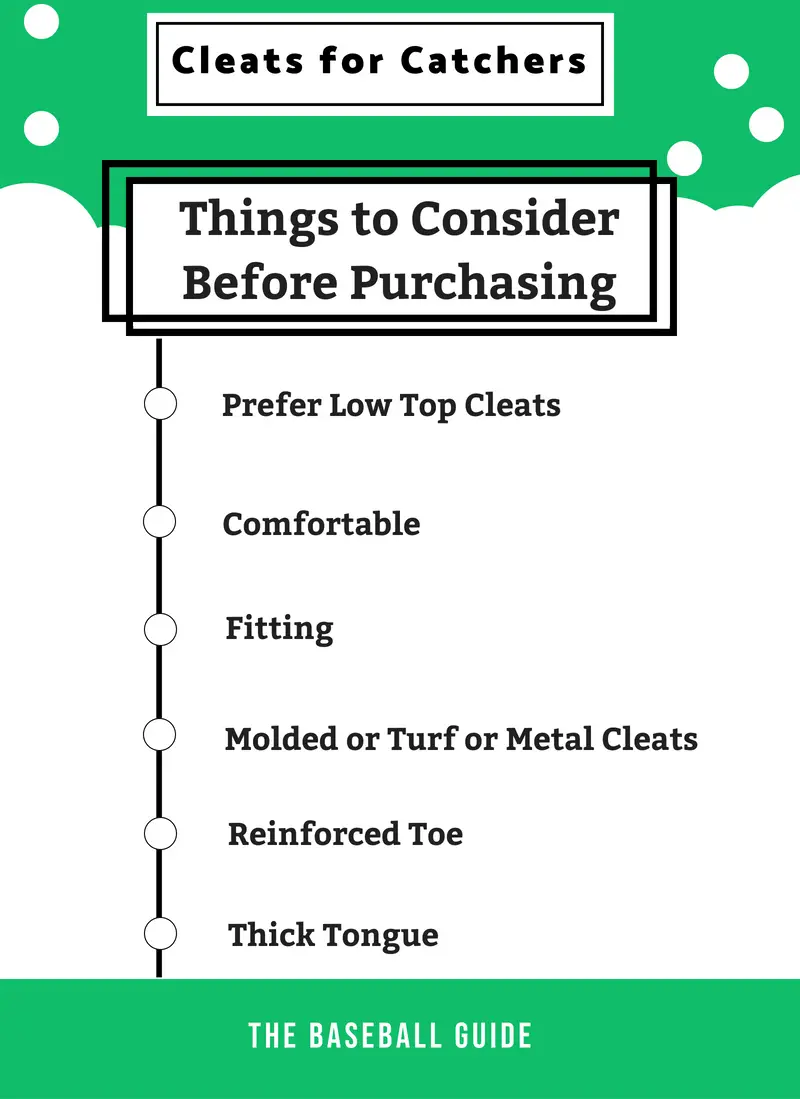 How Much Ankle Support Do You Need?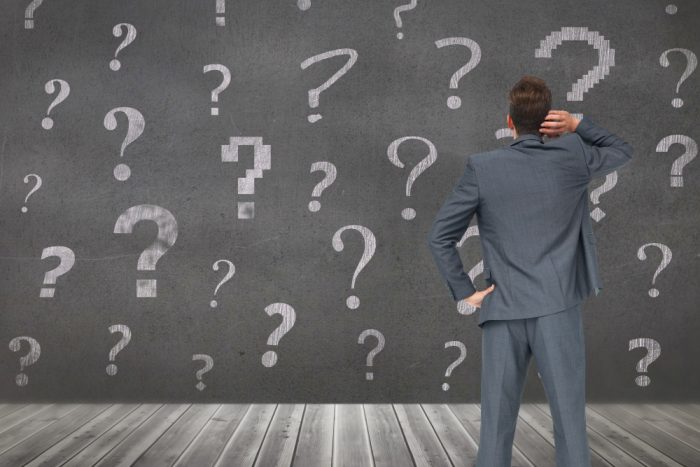 How much ankle support you'll get depends on what type of cleats you're wearing.
The low-top cleats do not provide ankle support. They are not for ankle support, they are lightweight and built for speed.
The mid-top cleats provide some amount of ankle support. Along with that, they are slightly heavy as compared to the low tops.
However, if ankle support is the priority, then high-top cleats are the best. They are designed with this purpose in mind.
Now, when it comes to baseball catchers, they should have mobile ankles. The mobility of ankles helps a catcher to get into the perfect position of catching a pitch.
For that, low top or mid top cleats can be a good option.
Another thing that needs to be considered is that most catchers do not need to run. Sometimes, a catcher has to take initiative and run toward the baseball to catch it.
Just like these super catchers.
But, in most cases, the catcher serves behind the hitter in the squatting down position.
So, if you neglect the rare cases, where you have to take a quick run, the most comfortable cleats you should buy.
If you require ankle support, then go with high tops or mid-tops. If not, then low tops are a good option.
Can You Squat in your Cleats?
Whether you are a softball catcher or a baseball catcher, you need to be in squatting down position a lot.
When buying your cleats, just ask yourself,
Can I squat in these cleats?
The best thing is to take your catching position by wearing your newly purchased cleats. If you are not comfortable in them, then they are not a good fit for you.
The high-top cleats provide good ankle support, but if you prefer high tops, then make sure they're comfortable.
The high tops cover the ankles, so, when you squat down, then the cleats can be uncomfortable around the ankles.
It depends upon the player to the player, but at least think about it before making your final purchase.
Buy Insoles for Comfort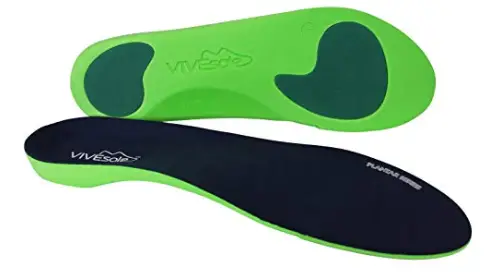 Sometimes, just replacing the insole of your cleats makes them very comfortable.
It is not something that is necessary to buy.
If you are comfortable in your cleats, then there is no need for insoles.
But, for some catchers who have flat feet or high arches, just replacing the insoles can be a lot helpful.
It happens with some players whether they play baseball, softball, soccer or football, they don't find a comfortable pair of cleats. They move from one brand to another, but later they find that they just need the right type of insoles.
Perfect Fitting
If your cleats are not a proper fit for your feet, then you need to change them.
When buying your catcher's cleats, make sure they have some amount of wiggle room for your toes.
If you buy cleats in which your toes are touching the front area of the cleats or they're tight, then they'll not be comfortable when you'll be in the catching position.
In the catching position, you're on your forefeet, and it forces your forefoot in the forward direction. So, tight cleats can be uncomfortable for you.
But, buying loose cleats just for some wiggle room is not recommended. As you wear them, and you break them in, they're going to expand a little.
One thing you should consider is whether you need wide cleats or not.
If you have flat feet or wide feet, then buying a wide pair of cleats can be a good option for you. There are many baseball cleat manufacturers that give the freedom to choose from standard-width or wide-width cleats.
Reinforced Toe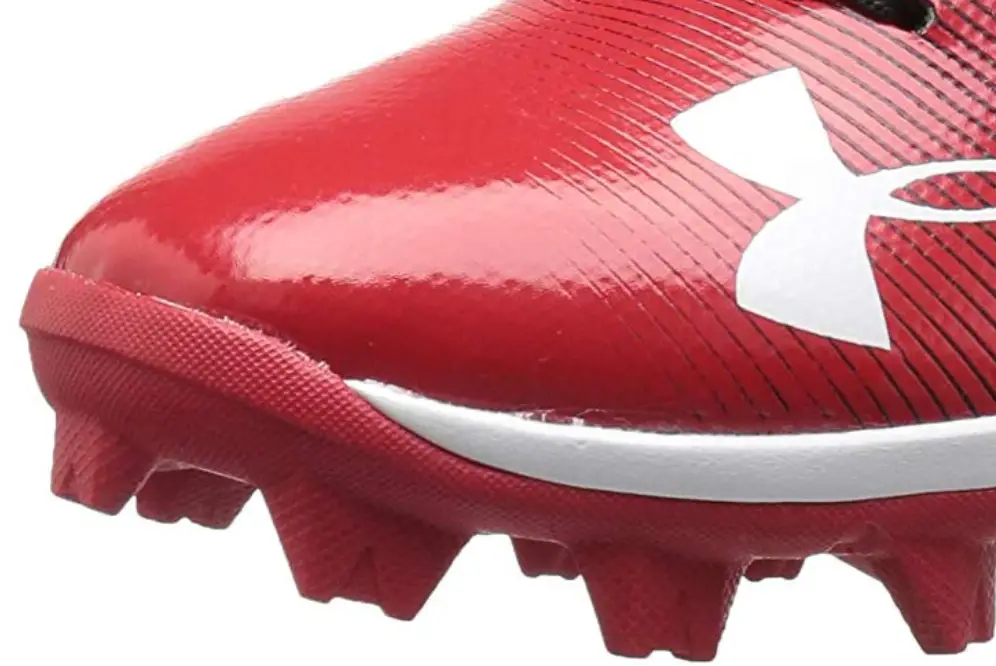 When they're in the catching position, they put a lot of pressure on the toe area of their cleats. Therefore, before buying our catching cleats, make sure they have toe protection or toe reinforcement.
The toe reinforcement helps the cleats to last longer and protects the front part of the cleats from getting damaged.
Final Words
These were some of the best baseball cleats for players at the catching position. . But, whatever cleat you choose, make sure they're comfortable and of proper fitting.
I hope that you found some helpful information in this article. If you've any questions, then feel free to ask in the comment section.