Let's come to the point.
What are the best Softball & Baseball Cleats for Catchers on the market?
There are various popular brands that manufacture baseball cleats, and they're trusted brands.
But, when it comes to purchasing catcher cleats, you need to check a lot more than just the brand name.
Below, I've covered a few topics below to assist you in selecting the best pair of cleats for you.
My Recommendation for Baseball Catchers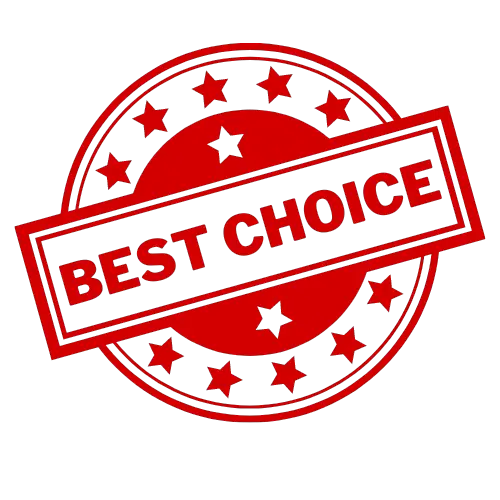 My Recommendation for Softball Catchers
Best Baseball & Softball Catcher's Cleats – Our Top Picks for 2023
New Balance 3000 V4 Metal Baseball Cleats
Recommended for: Baseball
The New Balance 3000 V4 Metal Baseball Shoe is the best baseball cleat for catchers that you can find in the market. It encompasses great features that contribute to the incomparable comfort it provides making these cleats feel like running shoes on spikes.
New Balance introduces the extraordinary softness of their Fresh Foam midsole in these 3000 V4 baseball cleats. It is made with a single piece of foam that offers unmatched comfort and improved mobility that can adapt to the catcher's every move giving him a more natural and cushiony feel.
These baseball cleats have a new running shoe-inspired spike plate design that can provide plenty of grip and traction while on the mound to maintain the catcher's position and place while also offering the comfort you get from running shoes. The 8-spike metal plate also provides plenty of flexibility to give you more freedom when squatting or changing your positions.
It has Ultra-Heel cushioning that delivers added softness and a plush feel to the heel and a synthetic and mesh upper with bootie construction that gives you breathability and a perfect fit.
The New Balance 3000 V4 Metal Baseball Shoe is available in 15 colors and many appreciate that it also comes in a lot of sizes and has standard and wide options for people who have narrow or wide feet. However, many noticed that the insole of the cleats wore out quite quickly.
Under Armour Women's Glyde Rm Softball Shoe
Recommended for: Fastpitch Softball
The Glyde Rm Softball Shoe by Under Armour is hands down the best softball cleat for catchers. It is so lightweight and comfortable that it feels like sneakers when worn.
Since catchers are in a squatting position behind the plate most of the time, all the weight and pressure from that position will be put in their toes and can cause sprain and discomfort that's why it's a no-brainer that is strong and reinforced yet comfortable and lightweight toes on the softball cleats are a must.
The durable synthetic upper and lightweight textile provide just that to give the catcher supreme comfort. Furthermore, it has a durable overlay on the toe cap for added protection and firmness.
These softball shoes have rubber-molded cleats that provide aggressive traction on all surfaces to keep your balance and position in place. It is also lightweight allowing you to move or make changes to your position easier and more comfortably.
It has a full-length EVA midsole that delivers a cushiony and soft feel as well as works to absorb and disperse impacts throughout the cleats. A padded ankle collar and tongue construction is also incorporated to give you more comfort and better mobility on the ankles.
The Under Armour Glyde Rm Softball Shoe is available in three colors. Many pointed out that these cleats have narrow sizes so if you have wide feet, these cleats might not be for you.
New Balance 4040 V5 TPU Molded Baseball Shoe
Recommended for: Baseball
Another baseball cleat from New Balance is the 4040 V5 TPU baseball shoe that has molded cleats. It is specifically developed to improve your performance in baseball. Garnering improved lightweight and comfortability with enhanced flexibility features, these baseball cleats will definitely elevate your game.
It has an ultra-light REVlite midsole that is designed to be 30% lighter than other foams. It is also developed in a way to provide better responsiveness and durability which is especially advantageous when changing positions or blocking the ball giving you an incomparable performance behind the plate.
The TPU molded cleat outsole offers excellent grip and traction on both turf and natural surfaces and is very flexible yet supportive to maintain your stability and position. It has 11 spike plates that are specifically designed and strategically placed to meet the needs of baseball.
It is made with a finely-tuned Kinetic Stitch TPU-coated upper that enables you to have maximum mobility and flexibility all while delivering enhanced zonal strength. The kinetic stitch is employed with the baseball player's movements in mind to conform to the player's natural movements.
It also has a TPU film overlay on the toes to deliver more support which is helpful when squatting down for a long time.
These baseball cleats are made with synthetic Nubuck upper with perforations that contribute to the breathability of the shoes. They also have a thin elasticated molded foam tongue and Nylon combat mesh collar lining for durability.
The New Balance 4040 V5 TPU Molded Baseball Shoe is available in 15 color options and has a wide selection of sizes that has wide and medium width options. However, many pointed out that since it has elastic rubber and nylon construction, it does not provide as much stretch and can be hard to break in.
Adidas Adizero Afterburner V Baseball Shoe
Recommended for: Baseball
The Adidas Adizero Afterburner V Baseball Shoe features an improved Litestrike EVA midsole that has doubled thickness to provide more impact absorption and pressure dispersion without compromising the lightweight feel of the cleats.
The baseball cleats have a sock-like construction that hugs the feet giving you a soft and comfortable feel. It also provides a nice stretch and flexibility to give you more freedom in your movements.
The Sprintframe plate with an external heel features a rotational traction zone that delivers excellent traction on any surface to help you maintain your position behind the plate.
It is also lightweight so you can move at high speed when blocking the balls as well as allow you to change positions while maintaining traction. It features Sprintskin upper laminated package that offers incredible support without the added weight.
These baseball shoes have an Ironskin toe cap that provides superior abrasion resistance in the key toe-drag area which is helpful for catchers. These reinforcement and resistance enable the catchers to stay in a squatting position for longer and keep the cleats durable despite the weight and force the toes to accumulate.
The Adidas Adizero Afterburner V Baseball Shoe is available in 18 different colors to match your gear. However, others mentioned that these cleats are not as breathable.
Mizuno 9-Spike Advanced Finch Franchise 7 Softball Cleats
Recommended for: Fastpitch Softball
These softball cleats have a synthetic leather upper that offers great breathability and flexibility for a more comfortable fit and feel. It gives you more freedom in your movements when catching and blocking the balls.
It features a full-length midsole that has thick padding to absorb and disperse the pressure throughout the sole for more comfort and stability. It also has toe and heel cushioning which is extremely beneficial for catchers since they are constantly in a squatting position.
That extra cushioning on the toes will give the catchers more comfort and support despite all the weight being put on their toes.
The rubber-molded outsole and stud layout deliver exceptional traction on any field type to help you maintain and hold your position when catching behind the plate. It is also lightweight to give you speed and support when blocking the ball and allows you to change your position quickly.
The Mizuno 9-Spike Advanced Finch Franchise 7 softball cleats come in three colors. These cleats are incredibly lightweight however, a few noticed some slight tearing on the cleats after long and intense use.
Things to Consider Before Buying Catcher's Cleats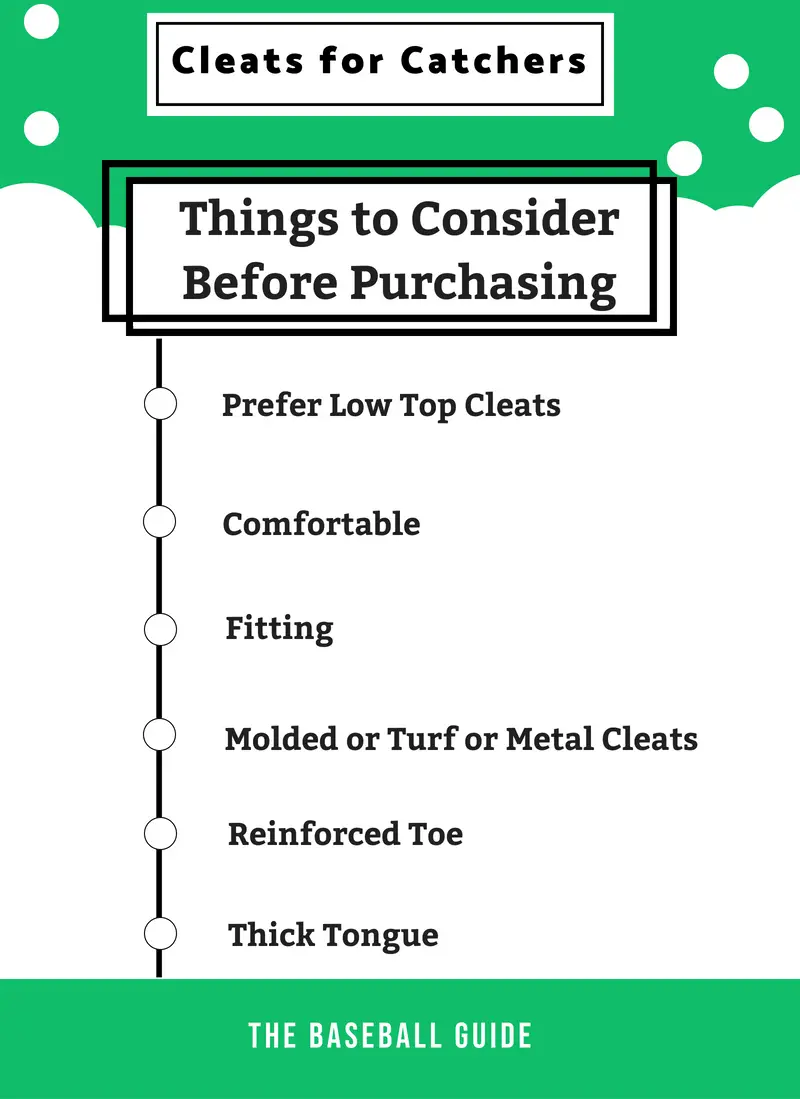 How Much Ankle Support Do You Need?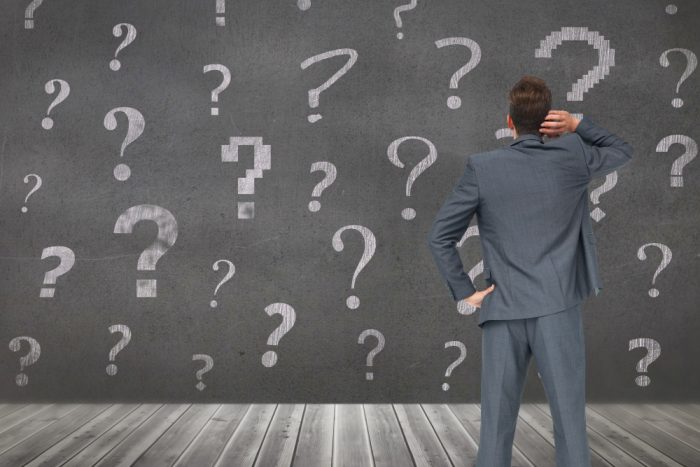 How much ankle support you'll get depends on what type of cleats you're wearing.
The low-top cleats do not provide ankle support. They are not for ankle support, they are lightweight and built for speed.
The mid-top cleats provide some amount of ankle support. Along with that, they are slightly heavy as compared to the low tops.
However, if ankle support is the priority, then high-top cleats are the best. They are designed with this purpose in mind.
Now, when it comes to baseball catchers, they should have mobile ankles. The mobility of ankles helps a catcher to get into the perfect position of catching a pitch.
For that, low top or mid top cleats can be a good option.
Another thing that needs to be considered is that most catchers do not need to run. Sometimes, a catcher has to take initiative and run toward the baseball to catch it.
Just like these super catchers.
But, in most cases, the catcher serves behind the hitter in the squatting down position.
So, if you neglect the rare cases, where you have to take a quick run, the most comfortable cleats you should buy.
If you require ankle support, then go with high tops or mid-tops. If not, then low tops are a good option.
Can You Squat in your Cleats?
Whether you are a softball catcher or a baseball catcher, you need to be in squatting down position a lot.
When buying your cleats, just ask yourself,
Can I squat in these cleats?
The best thing is to take your catching position by wearing your newly purchased cleats. If you are not comfortable in them, then they are not a good fit for you.
The high-top cleats provide good ankle support, but if you prefer high tops, then make sure they're comfortable.
The high tops cover the ankles, so, when you squat down, then the cleats can be uncomfortable around the ankles.
It depends upon the player to the player, but at least think about it before making your final purchase.
Buy Insoles for Comfort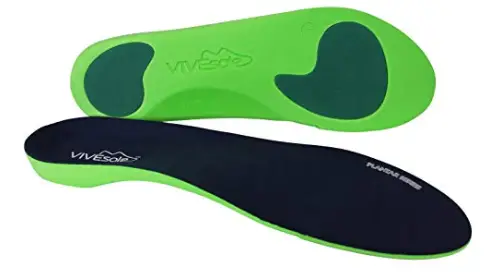 Sometimes, just replacing the insole of your cleats makes them very comfortable.
It is not something that is necessary to buy.
If you are comfortable in your cleats, then there is no need for insoles.
But, for some catchers who have flat feet or high arches, just replacing the insoles can be a lot helpful.
It happens with some players whether they play baseball, softball, soccer or football, they don't find a comfortable pair of cleats. They move from one brand to another, but later they find that they just need the right type of insoles.
Perfect Fitting
If your cleats are not a proper fit for your feet, then you need to change them.
When buying your catcher's cleats, make sure they have some amount of wiggle room for your toes.
If you buy cleats in which your toes are touching the front area of the cleats or they're tight, then they'll not be comfortable when you'll be in the catching position.
In the catching position, you're on your forefeet, and it forces your forefoot in the forward direction. So, tight cleats can be uncomfortable for you.
But, buying loose cleats just for some wiggle room is not recommended. As you wear them, and you break them in, they're going to expand a little.
One thing you should consider is whether you need wide cleats or not.
If you have flat feet or wide feet, then buying a wide pair of cleats can be a good option for you. There are many baseball cleat manufacturers that give the freedom to choose from standard-width or wide-width cleats.
Reinforced Toe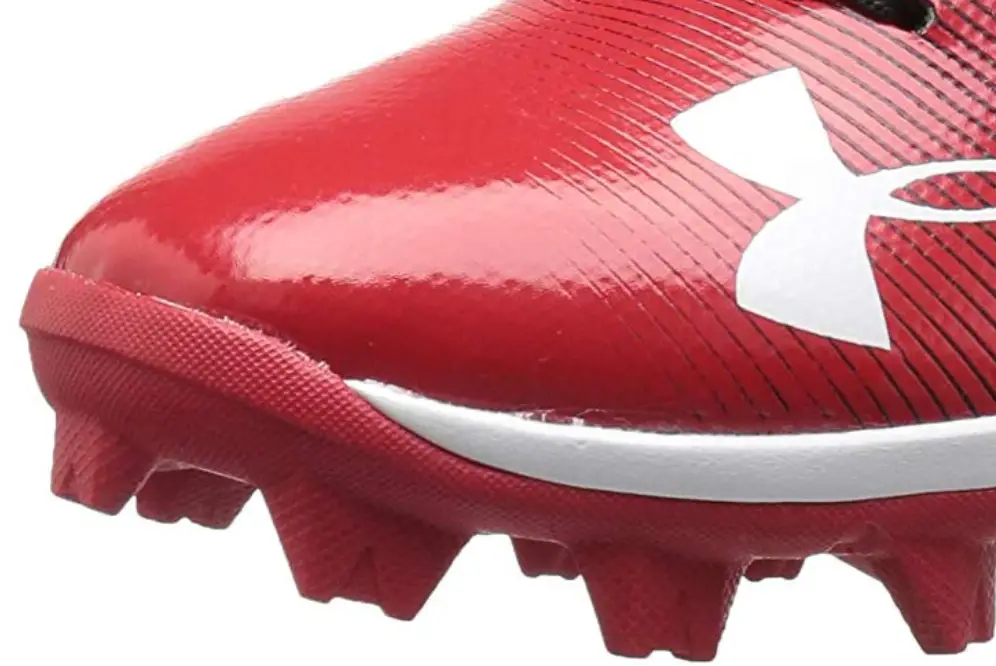 When they're in the catching position, they put a lot of pressure on the toe area of their cleats. Therefore, before buying our catching cleats, make sure they have toe protection or toe reinforcement.
The toe reinforcement helps the cleats to last longer and protects the front part of the cleats from getting damaged.
Synthetic Leather vs. Genuine Leather
The cleats made of genuine leather are much more expensive as compared to the cleats made of synthetic leather.
But, genuine leather cleats are also more durable, breathable, and offer superior quality.
If you are playing at a professional level or if you can afford genuine leather cleats, then go ahead buy one.
But, in the little leagues and high school baseball, most of the players wear synthetic cleats.
Thick Tongue
The thick tongue makes the cleats more comfortable. For the baseball catcher, the tongue of the cleats is an important thing to consider.
As they are more in the squatting position, having a comfortable tongue makes the whole cleats comfortable.
Metal vs. Molded vs. Turf Shoes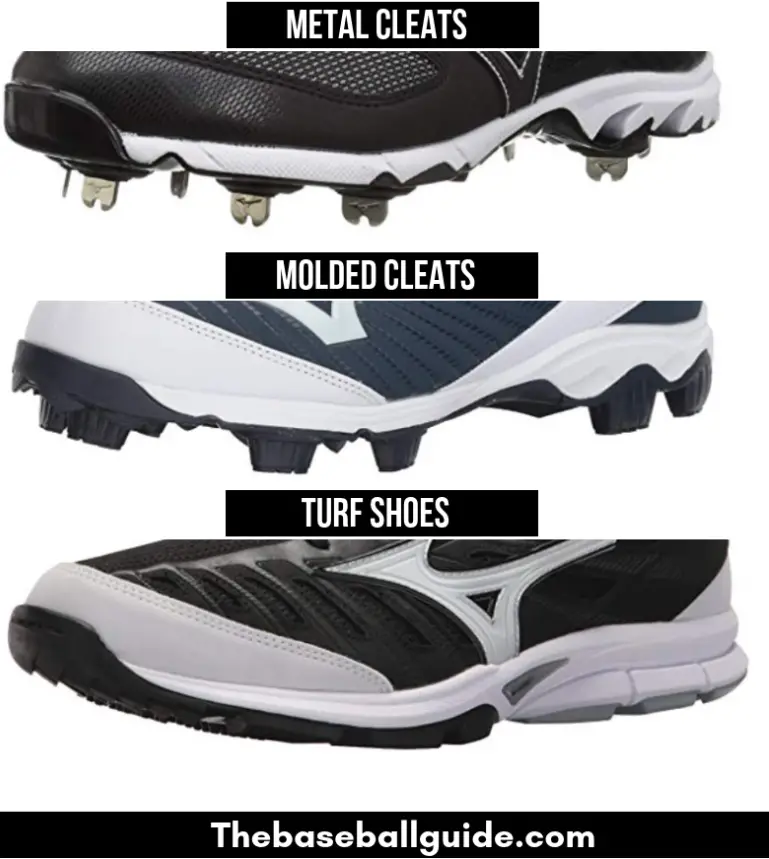 The metal cleats provide more grip on the surface. For baseball catchers, metal cleats are good but they're not necessary.
In most cases, the catcher only has to stay in his position. The catchers do not require a high level of grip which is provided by metal cleats. But, the grip & traction should not be ignored at all because catchers need a certain amount of grip to stay in position.
For that, metal cleats are a good option.
If for some reason, you don't want metal cleats or your league doesn't allow metal cleats, then molded cleats are the alternative.
Molded cleats provide a good grip on the ground, the only difference is that they have rubber spikes instead of metal spikes.
If you are playing on the artificial turf ground or just doing practice, then you should go with turf shoes.
Are You Buying Online?
There are many e-commerce stores from where you can buy your catching cleats.
But, make sure, they're good in returning and refunding because cleats, especially for the catchers, need to be very comfortable around ankles and feet.
So, if you are not fully comfortable, then return and try another.
Final Words
These were some of the best baseball cleats for players at the catching position. . But, whatever cleat you choose, make sure they're comfortable and of proper fitting.
I hope that you found some helpful information in this article. If you've any questions, then feel free to ask in the comment section.