The increase in the crime rate all over the world has led us to devise different ways to protect ourselves and our family. Besides being aware, it is also important to understand the laws and take action accordingly.
Although, the police forces are always on the move they can only do so little. They are laden by the countless laws that need to be followed while taking any action. Thus, there are many times when the criminal gets protected rather being accused of the crime due to unavailability of evidence.
Therefore, it is really important for you to protect and defend yourself if ever any such situation arises. Baseball bats can be the best mode for self-defense for sudden actions and also they can be really handy.
Why baseball bats are used for self-defense?
There are a lot of people especially businessmen or politicians have licensed guns with them at their homes and cars for their protection but not every individual can have the guts as well as the permission to keep them. The common man cannot even afford to buy a gun.
If a person keeps a firearm at home, it should be ensured that they are safely secured in a lock and key facility otherwise it can be a question of safety at home. The kids are highly unsafe around the ammunitions as they think of them as a toy and cause damage to them as well as other people around.
The firearms are not even handy as you cannot ask the intruder to wait as you unlock the safe and load your gun. In times like these, baseball bats come really handy as you will just have to pick them up and defend yourself from any mishappening.
They are a great mode for self-defense and are used mostly by the common man especially at homes. They are also safe as many states prohibit to keep guns at home even the attack with knives is illegal in most of the sates.
The baseball bat gives you better leverage, power, and control. It also provides you with immense confidence and a feeling of protection. The best thing about them is that they can be carried around and used whenever needed.
The baseball bats are suggested to use for defense and protection because they are easy to swing and long enough to help an assaulter away. They help you to keep and feel safe in any situation or place.
How to Choose Baseball bats for Self Defence?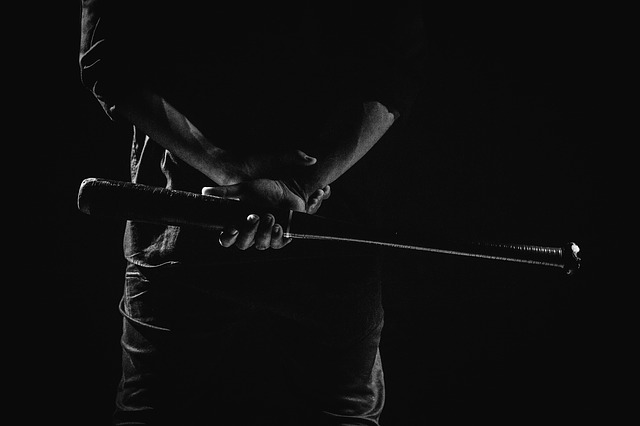 The baseball players already know the kind of baseball bat they need to play with but for beginners, it is very difficult to decide the kind of bat they need that too for the purpose of defense.
There are different types of baseball bats available in the market, but to buy the best baseball bat for yourself depends on your needs and purpose. Below are some of the qualities you should look out for before the purchase of the baseball bat.
Type of Baseball Bat
The baseball bats are made up of different materials for different purposes; they can be made up of wood, aluminum and many more.
Generally, the aluminum bats are preferred over wooden bats for self-defense. The wooden bats are heavy and can be uncomfortable to carry around with you. They are also heavy to handle and cannot be easily swung to pace away the assaulters.
There are wooden baseball bats made up of ash which provides the flexibility to the bats but they start to chip over time. A baseball bat made up of Birchwood is flexible as well as durable but can dent very easily.
The bamboo bats are the best because they offer you strength, flexibility and are also very light. They are also a renewable source, thus adding a plus point.
However, the aluminum baseball bats are light in weight and also have a better impact on the attacker. There are also composite bats that are more expensive than aluminum but lighter than them as they are made up of a combination of chemical materials.
Styles
The baseball bats have different styles to consider along with the material they are made up of. The bats are made up of one single piece which is strong and inflexible. They are also available as hybrids where the handle and the barrel are made up of different materials. This offers the flexibility and when struck with it to an attacker the bat doesn't even vibrate.
The shorter bats should be preferred over long as they are easy to carry around and also to store at home. They are also easy to swing and attack.
Transform your baseball bat as a weapon
Your baseball bat can be made even more dangerous by chopping off some part of the bat to make it sharp and edgy. This also lightens the weight of bat making it easy to swing. You can also chop off some parts of the interior and fill it with lead or other metals to make it an arduous weapon.
There are many other ways to transform your bat like wrapping it up with a barbed or razor wire but can be dangerous to keep at home around children.
Size of a baseball bat
The baseball bats come in various different sizes; some have a short handle and some are short overall likewise some baseball bats have long handled and some with a long handle as well as the barrel.
The shorter bats are easy to carry around with you and also can be used for the decorative purpose at home so that you can keep them at your eyesight. They can be easily used for crushing the attacker as they are mostly light-weight.
The longer baseball bats are hard to carry around as they may not fit in your bag while you travel and also they are sometimes heavy to use for attacking the intruder.
Best Baseball Bats for self-defense
Hard Bodies HBBASEBALLBAT Wood baseball bat
The hard bodies' baseball bat is made up of wood and gives a natural finish to the bat. They generally come in two different colors; black and brown. It is a 32-inch wooden baseball bat giving you a perfect grip.
The length and weight of the baseball bat are perfect to attack an assaulter as it is easy to handle. They can also be carried around and with the grip offered it becomes easy to hit hard the attacker. If you are on a budget, it can be the best option for you as it is totally worth the money you spend on it.
The wood is highly durable with a tough composition and has smooth handling.
Slyk Sterling professional Aluminium Baseball bat
This baseball bat is made up of high-quality aluminum alloy that makes it robust and extraordinarily durable. The baseball bat weighs around 915 grams and has a length of about 86.5 cm. The stick head has a diameter length of about 6.5 cm.
The aluminum alloy offers you with great swing speed. It has an ultra-thin handle that increases the stability and accuracy of the baseball bat to hit the assaulter hard in the face. It provides you with a flawless rubber grip that is slip-resistant.
It is little on the high price range but it is worth the buy as it offers you with all the facilities and features that a defender needs. It is highly versatile. Its length and weight both are perfect to carry around and defend yourself.
The baseball bat is made up of good quality wood offering the bat with durability and toughness. It is has a length of 30 inches which gives you smooth handling.
It is flawlessly balanced which makes it easy to swing. It also has an admirable bat speed so that in no time you can put the assaulter down on their knees. The medium handle helps the hitters who hold the bat close to the bottom with ease and comfort.
The baseball bat has a tapered handle to provide the hitter with a perfect grip and makes it resistant to slip. The large barrel and tapered know give it an end-loaded feel. It weighs nearly 400 grams that is amazing as it can be carried around and won't be hard to lift. It is again a perfect buy if you are on a budget.
Final Words
As now you have got all the information about the baseball bat and how it can be used as a self-defense weapon, we hope that you purchase the best baseball bat for your own security and also for home security.
We hope that this article helps you to get that flawless baseball bat for all your needs.