Baseball catchers carry a lot of gear. Your catcher's bag should have enough space so you can put your mitts, helmets, cleats, bats, and other things you need.
I suggest buying a bag with wheels to carry it easily. You should also think about things like its durability, size, storage space, and price.
So, what is the best catcher's bag in 2023?
In this article, I've shared everything you need to know before buying your ultimate catcher's gear bag.
Comparing Bags for Catchers
| | | | | | |
| --- | --- | --- | --- | --- | --- |
| | | | | | |
| | | | | | |
| | | | | | |
| | | | | | |
| Boombah Rolling Superpack | | | | | |
| | | | | | |
| | | | | | |
| | | | | | |
List of Best Bags for Catchers in 2023
NO ERRORS NO E2 Catchers Bag
NO errors NO E2 Catchers bag is a baseball equipment bag that is equipped with nine pockets and three compartments that are well-ventilated to help keep your wet items dry.
It is 36" long x 12" deep on the inner locker part of the bag.
It has a 36 x12" wide x 12" deep shin guard pocket which will expend you to accommodate knee savers.
There are also two 16" long x 12" wide x 4 deep pockets on the other side.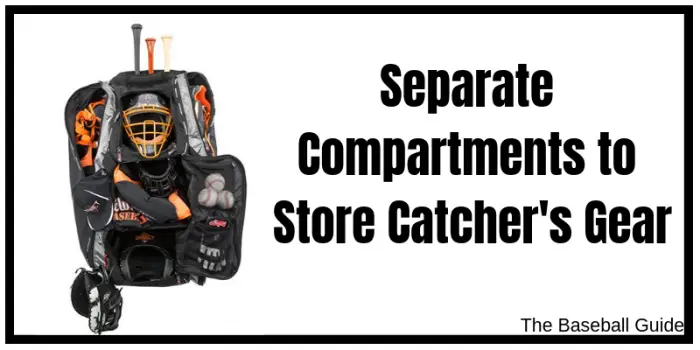 It is made of heavy-duty fabrics thus providing you with the best material.
It has a shelving system, expandable shin guard pocket, and heavy-duty cleat pocket which will help you perfectly in storing all your equipment.
It has plenty of space for your essentials to keep it handy.
This catcher gear bag will provide you with enough room to hold up to three baseball bats, all of a catcher's essential gear. In addition to that, it also has a place for batting and catcher's helmets.
This will help you to keep all the equipment organized way.
It can get access to everything in seconds as its four hideaway hooks will enable and help you to hang it anywhere according to your requirement.
It can roll anywhere with ease as the wheeled design will let you easily handle the gear bag.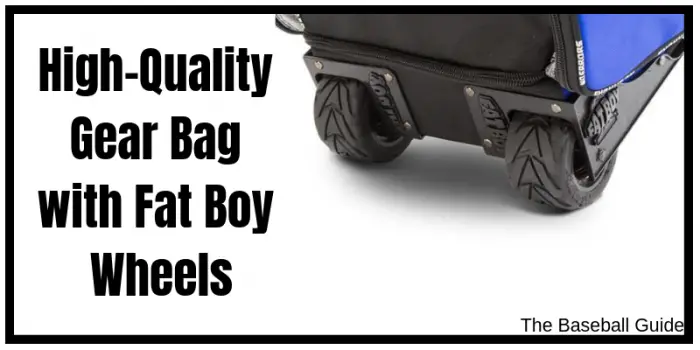 This bag has fat-boy wheels that have heavy-duty treads that will allow the catcher's bag to simply move over the grass, dirt, and any concrete base with equal ease.
This will provide you ease to roll the bag over any of the rough areas.
It has built tough for travel.
This bag is built to outlast. It is made with heavy-duty materials and reinforced stitching, which will help you resist rips and tears.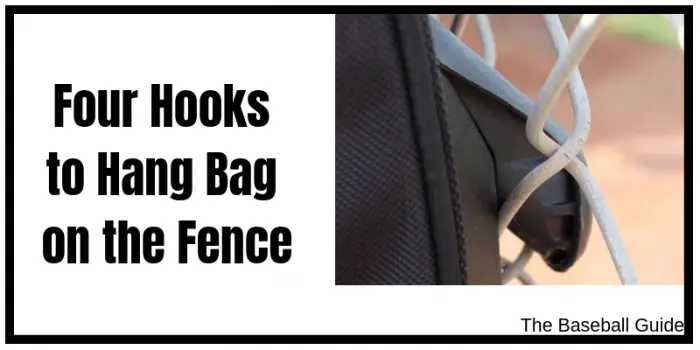 So, the material will help this bag to last long.
All these qualities make this bag a bit expensive.
Easton E700W Wheeled Bag for Catchers
Easton E700W Wheeled bag is made from T420D hex ripstop 600D polyester.
The dimensions of the bag are 36″L x 13″ W x 13″H.
Full Bottom Rail in the bag helps in adding structure and durability to the bottom of the bag. This further makes the bag more long-lasting.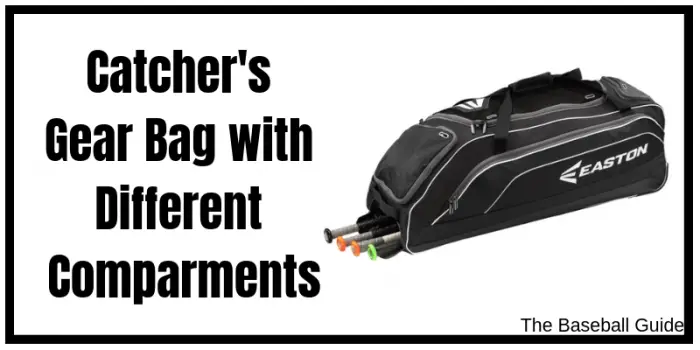 It has heavy-duty inline wheels, which are rugged for excellent mobility so you can move your bag quickly from one place to another.
It has massive lockable zippers providing maximum durability to prevent blowouts.
There are 3 different color options available from which you can choose.
It does not have any hooks to hang on the fence.
Though, it is spacious enough to store catcher's gear, batting helmet, 3 gloves, and 3-4 bats.
There is no separate compartment for an individual bat.
Though, 3-4 bats can be stored in a single compartment which is specially made for bats.
It is an affordable bag with wheels, which means you don't have to spend a lot to get reliable material construction.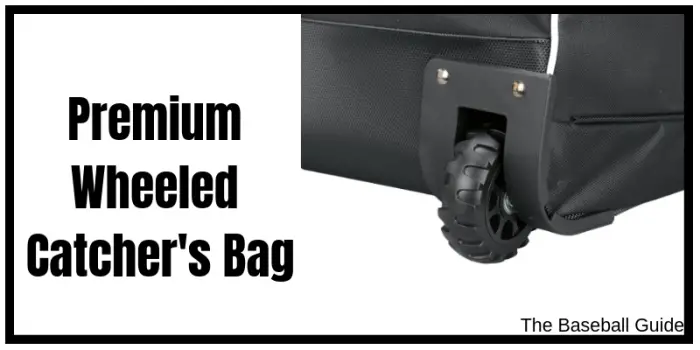 So, it can be perfect for high school players and catchers.
Boombah Brute Rolling Bag
Boombah Brute Rolling Baseball/Softball Bat bag is made from Dark Charcoal/Orange Heavy Duty Nylon Rip-Stop & 600 100% D Polyester.
The dimensions of this roller bag are 35″L x 15″ W x 12.5″T.
It is a high-quality bag that is very resistant to rips or tears. It also has heavy-duty zippers.
It is made from durable material which helps in providing quality to the bag.
The bag is constructed in such a way that the top compartment helps in keeping the dirt away from getting on other items in your bag.
It has a large bottom compartment which will allow easy carrying off shoes or helmets.
There is a large main compartment of the bag that is designed to carry anything from the catcher equipment, glove, balls, helmet, etc.
This will help you in the proper storage of any equipment you require to store.
It has one handle on each end which provides the bag to lift in and out of the vehicle.
The reinforced J-hooks make it easy to hang the bag anywhere you want.
It has large wheels that allow it to roll over anything possible. You can easily roll through any rough area.
It has plastic runners on the bottom of the bag that further adds stability.
There are a lot of color options from which you can choose.
It is an affordable catcher's gear bag.
Rawlings Sporting Goods Yadi Wheeled Catcher's Bag
The Rawlings Sporting Goods Yadi Wheeled Catcher's Bag is a top-of-the-line equipment bag designed specifically for catchers.
It offers excellent storage space, durability, and ease of transportation.
The bag is made from durable material which will help it to last long.
The product dimensions are 37 x 14 x 6 inches.
It has exterior pockets which help you in-store and access your items conveniently.
The extra-large main compartment enables you to store all your essentials without any worries.
It has a removable panel that can be used for customization.
The telescopic pull handle helps you to easily pull your bag.
Transportation is also a breeze with this bag. It has durable wheels and a retractable handle that make it easy to move around.
The handle is adjustable, so users of different heights can find a comfortable position when pulling the bag.
But, this bag is available in the color black.
This is an affordable deal for players without compromising the quality of the baseball bag for catchers.
Under Armour Professional Wheeled Catcher's Bag
The Under Armour Professional Wheeled Catcher's Bag is an excellent piece of equipment for any catcher who needs to transport their gear to games and practices.
This bag is well-designed and durable, with high-quality materials that can withstand the wear and tear of frequent use.
The dimensions of the bag are 5.5 x 11.5 x 35.5 inches.
It has 5 inner sections, which will perfectly fit the catcher's gear, and 1 outer compartment, which can fit up to 4 bats.
The integrated skid rails help in providing tear protection and durability.
It has an anti-sag wrap around the plastic plate.
It has wheels that help in properly rolling the bag on any dry and rough areas.
However, it is available in black color only.
Nevertheless, this bag is considered to be affordable.
Additionally, the bag has multiple compartments, which helps to keep gear organized and easily accessible.
The wheels on this bag are another great feature. They make it easy to move the bag around, even when it's fully loaded with gear. The telescoping handle is also helpful for adjusting the bag's height to fit the user's needs.
It is considered one of the best catcher's bags with wheels for high school baseball players. Its size, organization, and mobility make it a great choice for both youth and adult catchers.
Things to Consider Before Buying a Catcher's Bag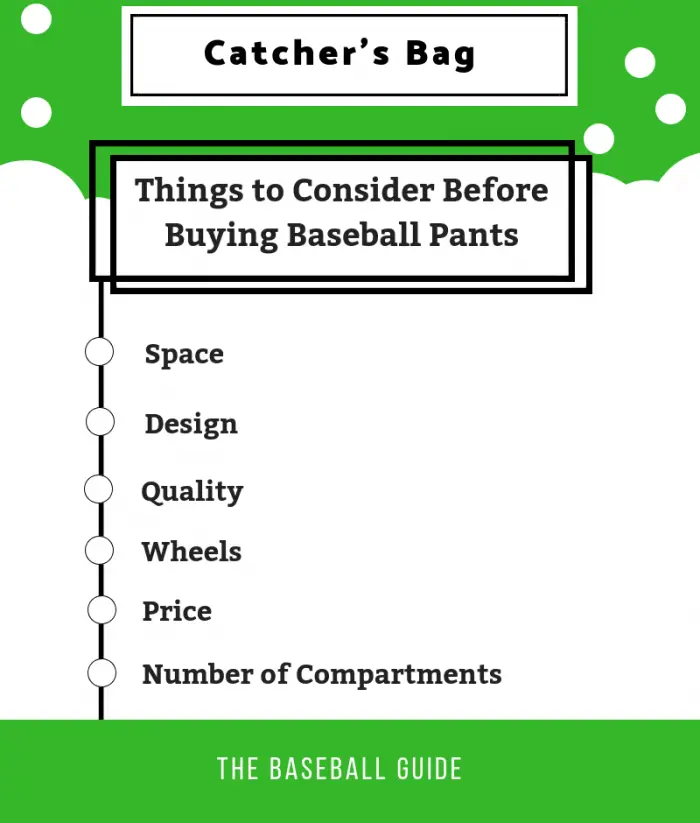 Storage Space You Need
It's always a challenge to cram everything into your catcher's gear bag, which is why you should be careful while selecting them initially. Based on the equipment that you have at your disposal, the size factor comes into the picture.
Even though the players are in the little league, there is a whole lot of stuff that you need to carry from time to time. Some of those vital gears specific to a catcher would include,
Catcher's mitts
Catcher's masks
Chest Protectors
Batting helmets
Baseball bats
Leg Guards and multiple other accessories.
As the player progresses through the ranks and into the professional level, the size criteria come into the fray into a much-increased level than necessary. Many of the MLB Level players keep that in mind when they choose what they need in terms of space for their catcher's bag.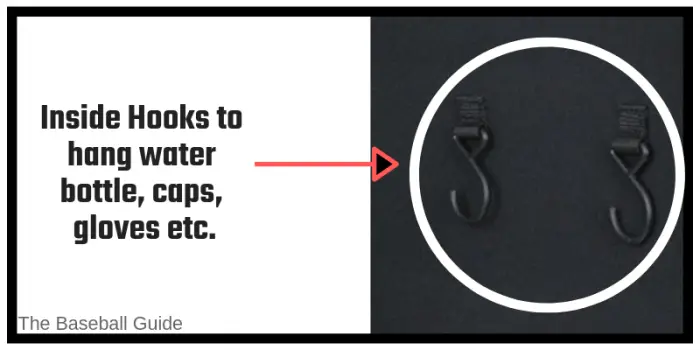 Overall Quality
Another important factor to consider while selecting a baseball catcher's bag is quality. Quality is something that should never be compromised so players have to take it into consideration. Some of the things that players should check out when they are looking out for it are as follows:
Are the zippers maintained for rugged use since they will be constantly used?
Does the bag contain any inline wheels for more comfortable use and comfort? If yes, then check the wheel quality whether they are designed to take into harsh terrains like grasses and gravel, and so on.
Does the product contain additional layers of polyester to insulate it from adverse effects of temperature and other uncontrolled conditions?
Are there inner pockets? If yes, then check their condition. Also, check for the placement of pockets to help you keep your personal and valuable possessions like wallets, and whether they are resistant to scratches or not.
Need for a Wheeled Catcher's Bag
A catcher should always be agile, alert, and fit when he is on the field to marshal his players toward victory. It would be ill luck if some of the notable catchers like Johnny Bench or Roy Campanella or Bill Dickey were to break their backs just because they had a baseball catcher's gear bag with no wheels.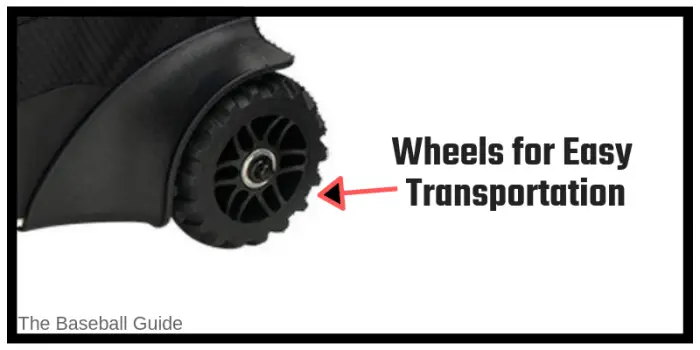 The situation might seem hilarious to some, but the question remains as to whether you should have an alternative to having a wheeled catcher's bag. The answer moves toward the positive side, and there is no question about it.
Bags nowadays come with customized and rugged wheelsets with additional rubber threading so that they can bear harsh problems with much ease. Some of the extra features also include elevated wheels that give the player the advantage of carrying the bag around without having to bend over it continuously.
Think carefully before proceeding forward with your choices.
Separate Compartments
This is another excellent feature of the catcher's gear bag. Having separate compartments for every one of your tools is a great asset to have since that would help you to avoid unnecessary hastiness.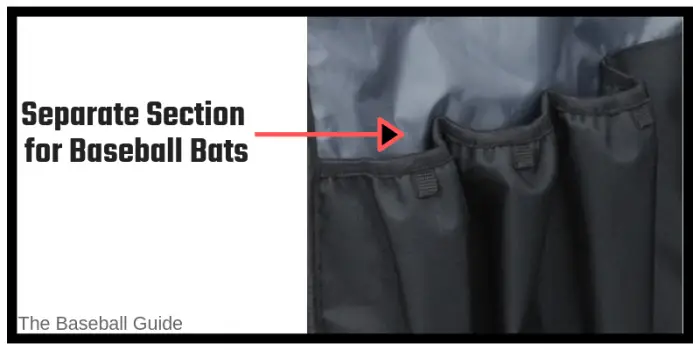 The main advantage of having this inside your bag would be that they can be arranged everything as per their order so that later on they don't need to worry about it. Separate sections are always designed for your catching cleats, mitts, balls, and other gears, which makes it a lot easier to access.
Some of the models are designed so that the players would find them suitable. There are distributions wherein the main one is always big that holds the major gear sets. The top compartment is always standard for the catcher's helmet.
The bottom one can be used to keep your cleats since many of the brands also provide sufficient ventilation in there to keep them fresh.
Affordability
Before going in for the price margins, you should check whether you have the prerequisites fulfilled i.e. the points that are mentioned above. Have you checked everything concerning the quality, and are you willing to spend a little bit more on the right product than the cheap one?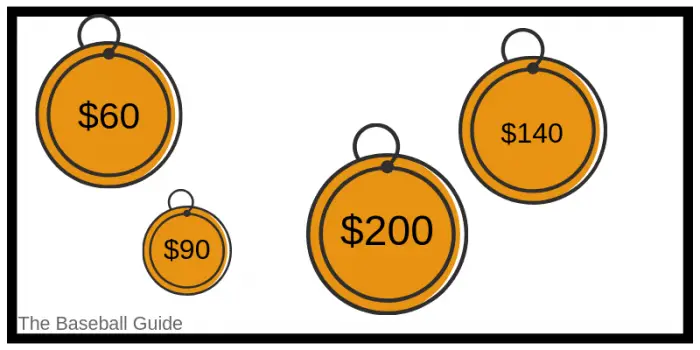 Quality should always come first, and it holds true when buying the catcher's gear bag as well. Some of the well-known brands like Easton, Commander's, and so on rate their bags at close to $200. This is an understandably great estimate if you have looked into everything and are spending it accordingly.
Fiddling around with cheap brands that don't fulfill the criteria would only leave you in a precarious position. The result would mostly include dinted wheels, cheap quality material, chipped-off compartments, etc., which would be enough to make you worry.
Rate the bags from marginal to best in terms of price and then purchase them.
Other Important Features
A catcher's role in the field is the most vital. He steers the game and marshals his troops in the right direction. With enough practice and the right techniques, he would be able to drive the game the way he wants to. That is what a catcher does, and he is, therefore, an integral part of the team.
Apart from his in-field role, he should also be having the equipment that provides him with the comfort of the game with minimum hassles. Apart from the various catcher's gear that he needs to wear throughout the game, he needs to have the perfect gear-based catcher's bag to store his arms.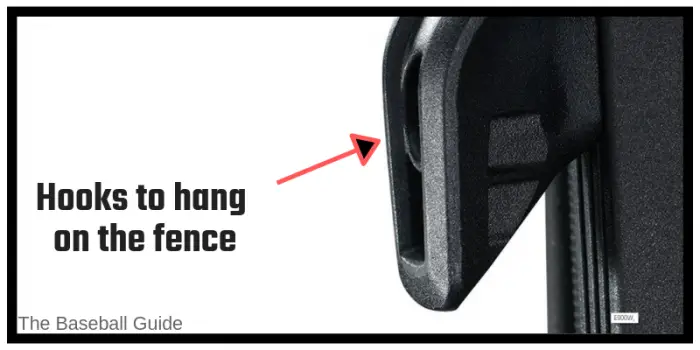 We discussed some of the major features that are covered in them, but there are so much more than the bag should consist of and they are as follows:
The wheel-based catcher's gear bag also consists of a retractable handle that provides comfort to the players, and it is a valuable addition to it.
Rugged zips that surround your bag are just as vital if you use them thoroughly, the bigger they are, the more suitable it would be to use them.
Concerning how big your bag is and how much weight it can ideally support, it also consists of inbuilt hooks, which enable you to hang them anywhere that you wish to.
You can also hang other accessories and items like your water bottles, sunglasses, and other items in customized pockets.
The bags also consist of personalized team name panels to identify yourself with. It's a great addition to have if you are taking an order in bulk.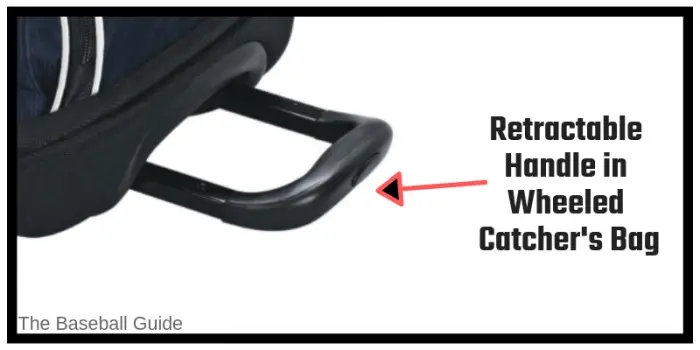 Some of these features should also be taken into consideration when you are scrounging for the perfect catchers' kit bag for novices and professionals. It keeps you aware of the major things that you can check as per the requirements that you have.
Youth catchers' bags are also becoming a range for the players who are taking part in little league baseball tournaments and championships. So even they can check what they need by taking into account the list of features that would prove vital in the long run.
Equipment You Want to Store
If you are getting ready for your game and you are the catcher, then you must be in top shape. More important than that is that you should have your gear ready for lock and load so that you don't fret around your bag later on.
Some of the essential equipment that should be packed in for a baseball or a softball game by the catcher is as follows,
MITTS – A catcher needs to have something substantial in your hand, which is where the mitts come in. It has webbings, provides support, and the right amount of protection to prevent any kind of damage.
MASK– A catcher needs to have a reliable catcher's mask at all times for protection from the batter and the pitcher. It should be handy and easily removable when you have to pursue the ball.
CHEST PROTECTORS – His strongest armor is made up of durable foam and mesh-based substance to protect and ventilate the player as well.
LEG GUARDS – You should be protecting the lower part of your body as well, which is where the leg guards come in. They cover your body from the cleat to your knee, and it also consists of padding for comfort.
FAQs: Best Catcher's Bags in 2023
To further assist you in your search for the best catcher's bag in 2023, we have compiled a list of frequently asked questions and their answers:
1. What should I look for in a catcher's bag?
When choosing a catcher's bag, consider factors such as durability, storage capacity, ease of transportation, and additional features like separate compartments for shoes and gear.
2. Are catcher's bags different from regular sports bags?
Yes, catcher's bags are specifically designed to accommodate the bulky equipment used by catchers. They often have specialized compartments and separate pockets to keep the gear organized and protected.
3. Can I use a regular backpack as a catcher's bag?
While it's technically possible to use a regular backpack, it's not recommended for catchers. Catcher's bags are designed with specific features to accommodate and protect catcher's gear, which is bulkier and heavier than regular sports equipment. Using a dedicated catcher's bag ensures the longevity of your gear and makes transportation much more convenient.
4. Are wheeled catcher's bags better than non-wheeled ones?
Wheeled catcher's bags offer significant advantages in terms of ease of transportation. The wheels allow you to effortlessly roll the bag, saving you from carrying the heavy load on your shoulders. Non-wheeled bags may require you to carry the weight, which can be tiring, especially during long journeys. However, personal preference plays a role, and some players may still prefer non-wheeled bags for their own reasons.
5. How important is durability in a catcher's bag?
Durability is a crucial factor to consider when choosing a catcher's bag. Catchers carry a lot of heavy and bulky gear, and the bag needs to withstand the weight and potential rough handling. Opting for a bag made from sturdy materials with reinforced stitching and robust zippers ensures that it can withstand the demands of the game and last for multiple seasons.
6. Can catcher's bags be used for other sports?
While catcher's bags are specifically designed for baseball and softball catchers, they can also be used for other sports that require similar equipment. For example, they can be suitable for hockey goaltenders or lacrosse goalies who have bulky gear to transport. However, it's important to ensure that the bag has the necessary compartments and storage options to accommodate the specific equipment of the sport you play.
Final Words
The ideal baseball bag for catcher's gear should ultimately be durable and high quality.
You should get the bag with the best wheels as they will help you to drag the bag from one place to another smoothly and hassle-free.
There can be rough areas sometimes that you have to stroll down so make sure that the quality of the wheels is the best.
You should buy a bag that fits within your budget while simultaneously providing you with the best quality material which a lot of brands are offering nowadays.
It can be concluded that you should buy the best bag according to your needs.