*I may get commissions for purchases made through links in this post.*
Buying a baseball backpack isn't easy.
From so many options, you need to find a bag that offers enough space for your gear, and at the same time, it should be durable & budget-friendly.
But, what is the best baseball bag in 2020?
Let's find out.
Comparison of Top Backpacks for Baseball
[table "11" not found /]
Best Baseball Bags in 2020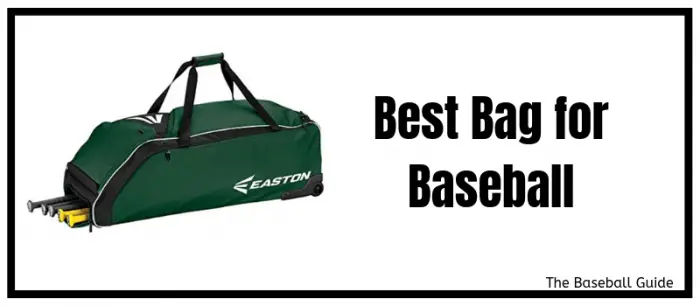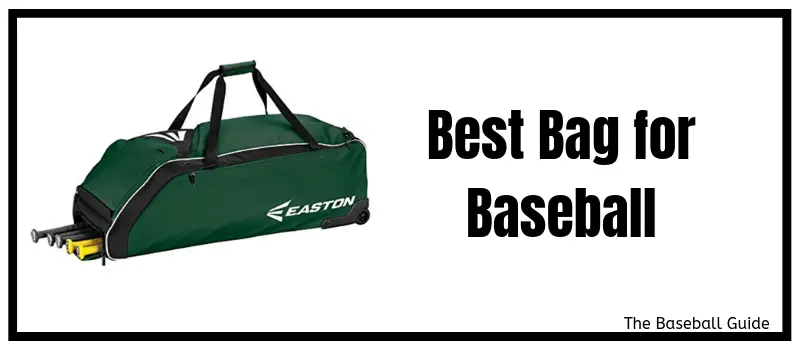 DeMarini Voodoo Rebirth Backpack
One of the best baseball backpacks of 2020, Voodoo Rebirth, has made its presence well-known. This bag comes with a neoprene bat sleeves that are real deal-sealer. This bag helps you rid of the hassle to carry all your equipment to the field as it is large enough to accommodate all your gears in a separate room.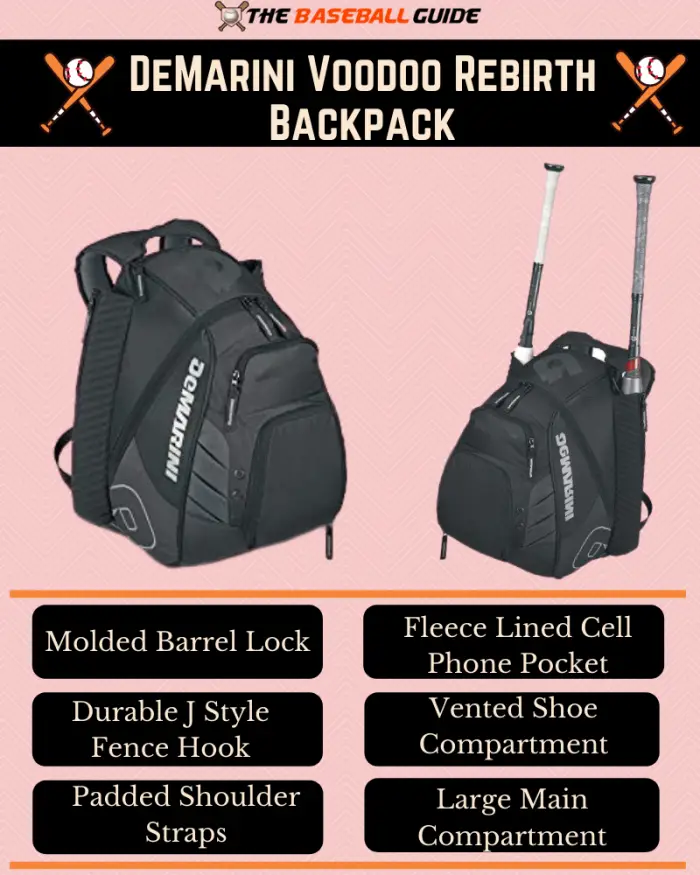 It has a large compartment to fit a helmet and other compartments for your gloves and cleats. There is space for extra equipment and personal items too.
This backpack can hold up to 2 baseball bats. It has a fleece-lined cell phone pocket, a separate vented shoe compartment. The backpack is also built with J style fence hook that promises durability. The base material is composite treated that resists water for rainy days. Apart from that, there are padded shoulder straps and back paneling.
Easton Walk-Off Iv Backpack
Easton's baseball bat bag is built to accommodate all ages. It is a one-bag solution for baseball, softball, or tee-ball, which lets you carry all your equipment together in one bag to the field. Name anything a player needs, and you can put it inside the backpack. It is comfortable to carry around.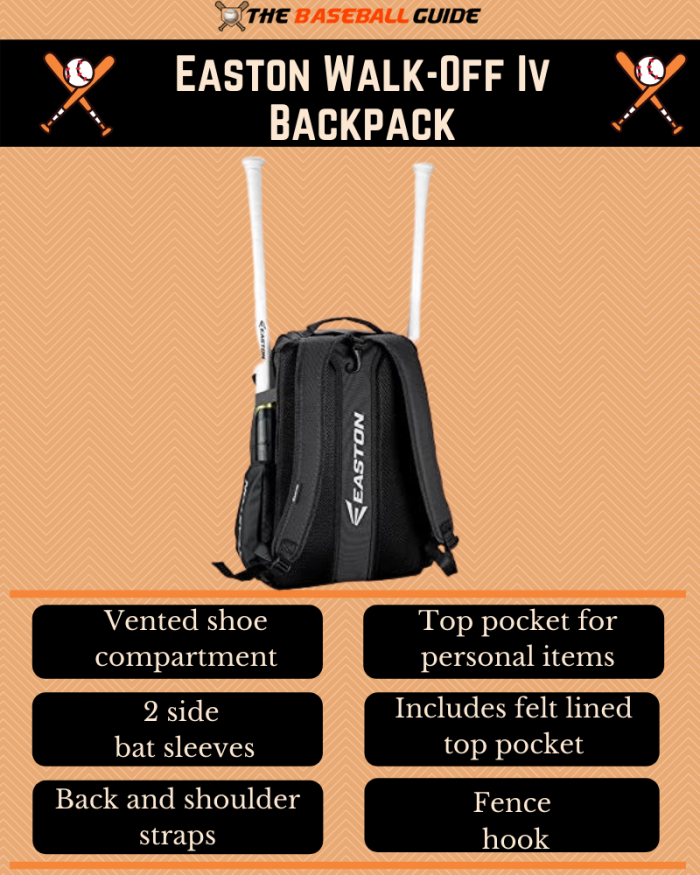 This backpack is more than its storage capacity; it is not only spacious but also conveniently portable. It has adjustable straps to be light on shoulders. As unique and sophisticated it may look, a rugged backpack is built in a manner that enables you to haul it around your way while withstanding even the harshest weather.
It is made with durable 4200 polyester ripstop and nylon fabric. With ventilated back and pockets, the bag allows undisrupted airflow to keep it odorless. Now, no weather condition can ever keep you from being game ready.
There is an external helmet storage facility that saves room for more stuff in the main compartment. There are two side sleeves with added zipper feature for two bats and a bottle. It is also spacious enough to hold your adult-sized baseball cleats.
It has excellent storage space to carry everything essential for your game. It also has a clip if in case you want to hang it from the dugout fence. In a nutshell, this is one of the best baseball bags in the market right now.
Athletico Baseball Bat Bag
This one ranks high in the list of the best bags for baseball. To begin with, let's talk about the storage capacity first. This youth bat bag is designed for players of all ages and is built to accommodate a helmet, glove, cleats, bats, etc. With enough room for everything necessary, this backpack also has space for additional personal things to carry. It has a separate pocket for your phone as well. It can be used for Baseball, T-Ball, and softball. It comes with an external bungee strap and a built-in fence hook to hang it on the fence while you play freely.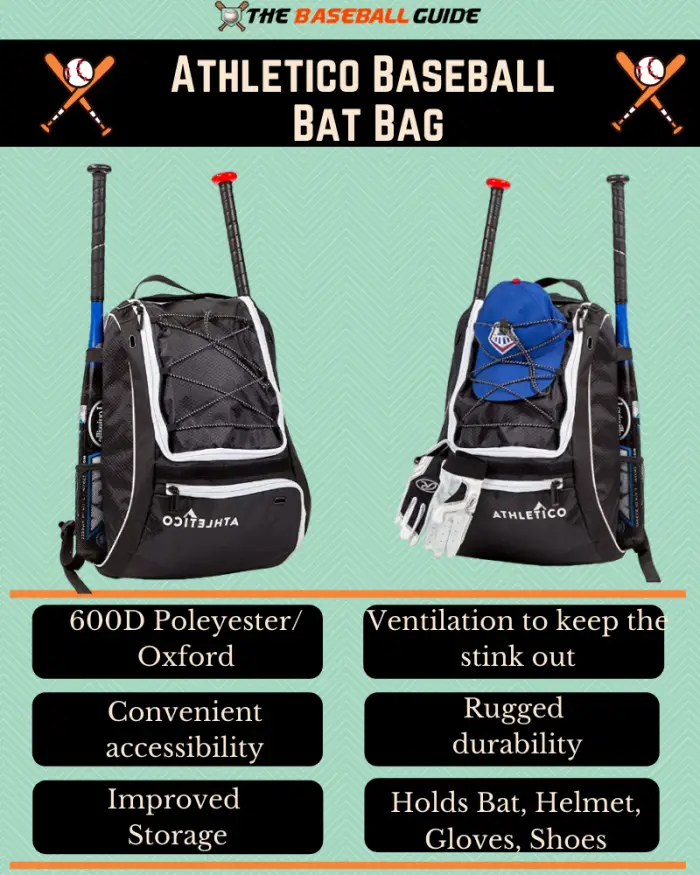 Next comes comfort. For a perfectly comfortable, ergonomic fit, this backpack has adjustable and well-padded straps to help you carry it with ease. The adjustable straps also offer lumbar protection. This is designed in such a way that it can carry all your items and yet not feel bulky. The well ventilated back and pockets keep the airflow going keeping it fresh and odorless as you carry it.
Durability is another non-negligible factor to keep into account. The material used in the making of this backpack is promised to be durable enough to withstand the harshness of the weather. Be it rain or heat; it is built with 600 Denier polyester that guarantees durability. Undoubtedly, this is one of the best baseball bags if you are looking for something which offers more than your average feature with superior quality.
EASTON E210BP Bat & Equipment Backpack Bag
This youth baseball backpack is built to accommodate all the essentials needed for the diamond. The bag is constructed in a way that is highly spacious making it convenient to carry your gears and other personal items as well. It is well-equipped with rubberized pullers too. It is a versatile bag that you can use for not only baseball but also softball and T-ball.
There are separate compartments to keep your stuff organized. A vented separate cleat compartment makes it a desirable deal for the buyers as the airflow is what keeps the luggage bag fresh and odorless.
The comfort is also well taken care of. The back is sufficiently padded, and so are the shoulder straps. Overall it is a dependable and robust baseball equipment bag that will cater to your different requirements.
Easton E310D Player Duffle Bat Bag
This baseball duffle bag is proof that great things do come in small packages. It is a sophisticated bag for college players. On the sides are two zippered sleeves to carry the bats. There are other side pockets for personal items plus a separate vented pocket for holding dirty cleats.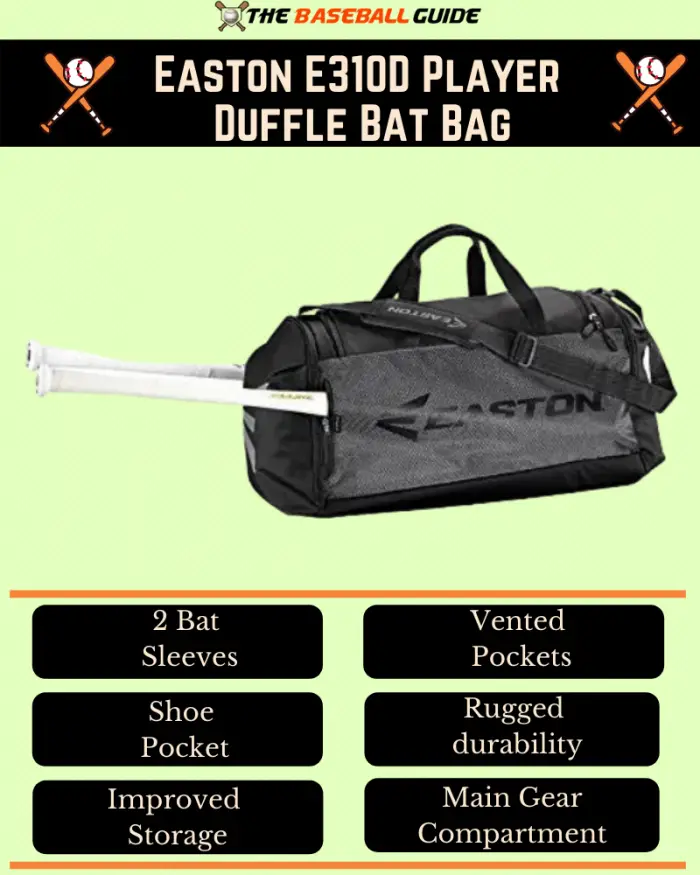 It comes with a padded shoulder strap and a short handle to carry it comfortably. The bag is not big enough to carry your catcher's gear; however, if you want to use it for bare minimum gears or the gym, then it is a perfect choice.
It is a wee bit smaller than most other baseball duffle bags. You have to squeeze in your items if you want to carry them all together. However, the bats and the ball do fit nicely in the side pockets.
The compartments are separated and therefore they further help you to keep your things better organized. Trust me, this is one of the best bat bags for baseball that 2020 has to offer.
Louisville Slugger Youth Genuine Stick Pack
This backpack comes in various colors to choose from. It also has enough space in the compartments for gear, and there are two bat sleeves on either side. There are multiple smaller zippered pockets for your valuables as well. For comfort, the padded shoulder straps are made of foam. It is mostly intended for youth players.
The basic items like the bats, helmet, glove, and even your finest baseball cleats can be easily accommodated. It works perfectly as a baseball or a softball backpack.
Rawlings Sporting Goods Velo Back Pack Gray
This is Rawlings, one of the most devoted baseball brands that we know of and can remember. The backpack is spacious, with two separate sleeves to hold the bats on either side. There is an external helmet holder that is tough and reliable. The main compartment inside can be converted into a game-time shelf. It is also equipped with room for a laptop or a tablet.
It also comes with a hook that you can be used to hang the bag. It is not overly big or bulky at all thus making it an ideal sized backpack.
How to Choose Baseball Bags
Type of Bag
The most fundamental thing that you need to first figure out is what kind of baseball bag you actually need.
Yes, even in this, there are tons of options available as different baseball players have different needs, and they all need to be catered equally.
Some of the most common types of baseball bags available in the market are:
Bat Bags
A bat bag is a traditional bag ideal to accommodate multiple bats comfortably and sufficiently. These bags are long and thin and are often available with fewer compartments. They are a solid choice for players who are required to lug around their bats frequently.
Baseball Duffle Bags
A little more compact than your traditional bag, duffle bags are a great option to carry and organize your gears. They usually come with enough room to hold several bats along with pockets to accommodate different items. They are available in both shoulder straps as well as haul handles for more versatility.
Baseball Backpacks
Deigned like your traditional school bags, baseball backpacks are one of the most preferred choices among the players. The reason being, they not only distribute the weight more evenly as compared to other bags but are also accompanied by multiple compartments to carry your gears and other things.
Wheeled Baseball Bags
As the name itself suggests, this particular type comes with wheels attached to the bottom of the bag so that you can roll it away instead of carrying it around on your shoulders. These bags are more preferred by players or even coaches who have a lot of extra weight to move and therefore choose to wheel it around.
Compartments
I cannot stress enough on the importance of having separate and sizeable compartments in your baseball bags.
You need sufficient space to carry and organize your gears and other similar items for better efficiency and protection.
For example, how do you plan to take your messy cleats back home after a whole day on the field? Or how will you keep your gear protected and scratch-free as you lug them around?
Furthermore, you require enough ventilation to keep these gears dry and moisture-free and, at the same time, prevent your bag from smelling like an old sock.
Some lofty bags even include pockets for personal items like sunglasses and water-bottles along with other exclusive additions like separate shoe compartment, helmet compartment, etc.
Want to keep your gears correctly assembled for safer and easier access? Get a bag with versatile and spacious compartments.
Overall Capacity
While we discuss the customary capacity and its importance in baseball bags, it is crucial to first understand your particular needs along with the number of equipment or gears you plan to carry.
The point is not to get the largest bag available in the market, because eventually, you have to carry the weight of it.
You need to look for a bag big enough to accommodate all your essential items like gloves, your favorite youth helmet, cleats, shoes, etc.
For instance, if you are a hitter, then you will need a bag that can adequately carry your youth baseball bats or even big barrel bats without causing any discomfort.
Or say, if you are someone who has to carry more than one set of gloves along with your best-liked catcher's mitts, then you need to look for bags with bigger compartments sizes along with powerful ventilation.
Undoubtedly, your choice of baseball bag needs to offer a strong overall capacity so that it can carry multiple objects safely and efficiently.
But at the same time, you have to figure out your exact requirements and then work your way up from there.
Comfortable & Durable
All this discussion is pointless if your bag is causing your discomfort or if it gets damaged easily and hastily.
So while you take care of the other features, also make sure that your bag is comfortable and robust enough to withstand regular use in all different seasons.
Double-check the fabric of the bag and choose the one that offers more durable and thicker material.
Make sure that your bag is waterproof and offers enough ventilation along with interior padding- all these properties are essential to keep your gears protected from damages and similar mishaps.
It would be best if you also had comfy padded straps/handles for your shoulder and duffle bags so that you don't get tired of lugging them around all days.
Along with these, you also need to make sure that the quality of zippers offered is sturdy and long-lasting.
This is one of the most common issues with bags that come with multiple pockets; you need to verify the standard of the zipper before you make the final choice.
All these reminders may sound trivial right now, but believe me, they are incredibly vital to make sure that you get your money's worth from your purchase.
Final words
After a lot of research, this was an attempt to write an unbiased review on a couple of great baseball backpacks for all players. A baseball bag is much more than just its style, it is about your comfort and convenience too.
I hope that after reading this article, you'll be able to buy a good baseball bag for your gears.