It is not your typical school bag that you may purchase without much thought.
Although, I'm sure some folks don't even purchase a regular school bag without research.
So, what type of baseball bag do you want to buy: backpack-style or duffle bag?
Below, I have created 2 tables for you where you can see the top-rated backpacks and duffle bags.
Top-Rated Baseball Backpack
Top-Rated Duffle Bags
| | | |
| --- | --- | --- |
| | | |
| | | |
| | | |
| | | |
| Rawlings Hybrid Duffel Backpack | | |
Best Baseball Bags In 2022
The following is a list of some of the best baseball backpacks in 2022.
You'll discover alternatives of bags with huge space, separate compartments, and comfortable carrying options. (So you can keep reading without worrying about wasting your time).
1. DeMarini Voodoo Backpack
This baseball equipment bag is a typical baseball bag with all the required features and is about the same size as a standard-sized bag.
Despite its inconspicuous and hefty look, it has lots of space and is one of the largest backpack-type bags.
It includes a spacious main compartment that can comfortably contain all of your gear, including your helmet, gloves, balls, and other minor items like a change of clothing.
There are two perforated neoprene bat sleeves and a ventilated shoe pocket for your bats and cleats, respectively, which keeps everything organized in this bag.
Your water bottles and mobile phone have their compartment in the backpack.
The bottom of the bag is water-resistant, so you won't have to worry about it becoming wet from the inside out if you put it near water.
The bat also comes with two extra important pockets that you may use to organize your belongings and create more room.
Furthermore, the cushioned shoulder straps and back panel keep you comfortable while carrying the backpack on your back.
So, if you need some additional gear in addition to the primary gear in your bag, you should really consider this bag.
2. Rawlings Legion Backpack
As a baseball player, you'll appreciate the unique design of the Rawlings backpack, which provides plenty of storage space for all of your gear.
It's not too huge, but it's not too little either and is just of the ideal size.
As of this writing, the bag's bat sleeve design has not been copyrighted, although it does make the bat capable of holding three bats.
The glove storage compartment helps you preserve your glove in tip-top condition.
You can also keep your footwear and let them breathe out entirely, thanks to the two extra-large, ventilated shoe compartments on each side.
Compartmentalized mesh air pods are carefully positioned throughout the backpack to provide a cool and pleasant experience while wearing it.
The bat's expertly organized sections maintain this bag the perfect size for the players, making it the best baseball backpack available.
If you're thinking about buying Rawlings Legion Backpack, then you can definitely purchase it without any second thoughts. You can check its price here.
3. Easton Game Ready Youth Baseball & Fastpitch Softball Backpack
Easton's baseball and fastpitch softball backpack is a youth baseball bag that will keep your young athletes organized and ready to play.
The bat is about the right size to carry all your gear comfortably.
You may store a batting helmet and a ball glove in the main compartment.
The bag features two side mesh pockets that are large enough to accommodate either a bat or a water bottle.
The backpack does not have a dedicated cleat pocket, but it does include a front pocket for your personal belongings or anything else that you may want to keep apart from the rest of your gear, which is a nice feature.
It has cushioned back and shoulder straps to make it more comfortable for you to carry it around.
The bag's look is fashionable, with various color choices available, and will make you feel like a professional baseball player as you go onto the field to begin your game.
Featuring a variety of compartments and a stylish design, this youth baseball bag will be an ideal pick for your little gamer.
The Easton Game Ready is perfect for youth baseball players. However, this may not be a good choice for adult players. You can check its price here.
4. Athletico Baseball Bat Bag
Everything is included inside the Athletico bat bag.
The Athletico Baseball Bat Bag offers just enough space inside to store your helmet, pads, and other essentials, while specific pockets and straps on the exterior keep your mitts and bats safe and secure.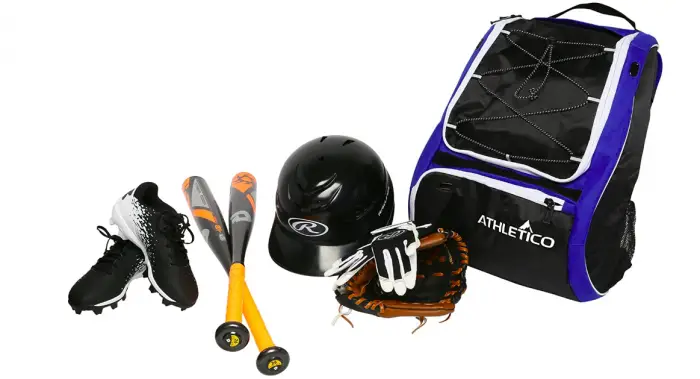 This bag is ideal for all ages, from youth to adults.
Additional pockets to keep keys, cellphones, wallets, and other items and a spacious primary pocket are also present.
It also features a velcro strip that you may use to secure your gloves while they're not in use.
Designed with 600-denier Oxford fabric and polyester, the bag's durability is unquestionable.
In addition to the thoughtfully planned partitions, the bag comes in nine eye-catching color combinations.
As a result, you have your selection of an incredibly sturdy bag.
The Athletico Baseball Bag is perfect if you want a good quality bag at an affordable price. This is one of the most budget-friendly bags and has also been tried & tested by thousands of players. You can check its price here.
5. Easton E100T Player TOTE Youth Baseball & Fastpitch Softball
When it comes to younger players, the E100T is the ideal bag.
The bag has one main pocket for storing all the equipment and has separate space for holding two bats.
It accommodates all of your stuff and has an interior valuables pouch as well as two alternative carrying strap choices.
The bat is composed of 600 Denier polyester with an embossed PVC structure, making it very robust.
The bat is compact and elegant, making it an excellent choice for young players.
The Easton E100T is a good bag and its price is also very less. You can buy it for less than $30. If you want to see the current price, you can check it here.
6. Easton 310D Player Duffle Bag
Easton's 310D Player Duffle keeps players game-ready with a pair of zippered bat sleeves, multiple side pockets for gear and personal items, and a separate side pocket for cleats or shoes.
It is preferred mostly by college-level players. 
The bag features ventilated compartments, which means that foul odors have little chance of surviving and that equipment dries more quickly.
With an adjustable and cushioned sling strap and shorter grip carry straps, things are kept pleasant and ergonomically sound for carrying the backpack.
This little bag has the appearance of a bag that is mature enough to be used by great college team players.
If you like duffle bags, then Easton 310D Duffle Bag is a good option for you, because it's not an expensive bag. Here, you can see its current price.
7. Rawling R1000 Gold Glove Series Equipment Bag
The Rawlings equipment bag is a perfect backpack to carry all your baseball gear easily.
The backpack has two fleece-lined slots in a catchall tray for storing your phone, accessories, and other small items.
The main pocket may be transformed into a game-time shelf, allowing you to easily reach your equipment.
It also has side pockets that are particularly designed for shoe storage.
Besides that, there is a fence carabiner, a daisy chain for external batting glove storage, a customizable protective glove shell crib, and a concealed magnet for simple headphone storage included in this bag. 
How great is it to store your headphones in your baseball bag?
This is something you must think about while selecting your new baseball bag!
If you want a premium Rawlings backpack, then this is the best option for you. It can store all your baseball gear. You should definitely check its price, see if it's in your budget or not.
8. Rawlings Covert Player Duffle Bag
If you want a huge bag to hold all of your gear without worrying about anything being left out, this is the bag for you.
On one end of the bag, there are two bat sleeves and a spacious internal pocket and a mesh valuables pocket, and a ventilated shoe compartment.
The bag is durable with vinyl bottom material which also helps in protection from moisture, and 600D polyester as the main body material.
To summarize, it's a large bat bag with additional moisture protection and useful compartments.
If you want a premium duffle bag, then you should go with Rawlings Covert Duffle Bag. You can see its price here.
9. Boombah Superpack Bat Pack – Backpack Version
While being on the lower end of the list, this bag is incredible and has everything that a baseball player could need in a baseball bag.
It has two bat holders, each of which can accommodate two bats, so overall you'll be able to carry four bats in one single bag.
It contains a separate pocket for holding your cleats and a hook and loop for securing your glove.
Apart from all of these compartments, it features additional pockets to accommodate all your belongings.
The Boombah's Superpack Bat Pack is made of tough 600 Denier fabric that can endure the wear and tear of year-round usage.
You should only purchase this bag if you are a player other than a catcher; otherwise, you should look at other alternatives on the list. If you're a catcher, you can check these options.
If you're a hitter with various bats to choose from, this bag is ideal for you.
If you need a big baseball backpack for your equipment, then Boombah Superpack is great. It's bigger than other bags. Here, you can check its current price.
10. Louisville Slugger Genuine MLB Stick Pack
The Louisville Slugger Genuine Stick Pack is ideal for young baseball players who play the sport seriously and want a functional, stylish bag to match.
The Genuine Stick Pack has two bat sleeves, a main pocket for supplies, and foam cushioned shoulder straps.
This bag is designed for baseball players in their younger years.
All of your equipment will fit perfectly within the valuable zippered pouches.
If you want a backpack that has the logo of your favorite MLB team, then you should buy this LS Stick Bag. Here, you can see its current price.
Final Thoughts
This was all about some of the best baseball bags in 2022.
Every bag has its distinct benefit; if there is a bag with plenty of room on one side, there is another with careful divisions, and still another with a fashionable appearance.
Although there are no baseball bags with wheels on this list, you may feel that they aren't even necessary, and these bags are amazing without them.
I hope this list will help you choose a bag for your equipment.