Rope Bat and Swingrail are both popular and recommended by many players and coaches for improving batting skills.
They both differ when it comes to their appearance and how they can help you with your practices. But both of them are equally beneficial to incorporate into your training.
Since they are quite different, you might wonder which training aid between the two should you get.
Well, that depends on what you're trying to improve and your preferences.
Learn about the distinctive characteristics of the Rope Bat and Swingrail below to find out which product should you buy.
A Nutshell Review of Rope Bat
The Rope Bat is an integrated training tool to help batters make fast and powerful swings.
This patented tool enables batters to train with a real bat as it forces them to remain connected. When the batter swings, the Rope Bat moves along its length to simulate hitting the ball into different regions. The result is an impressive increase in your batting averages for players of all ages. 
Also, by creating centrifugal force, this trainer allows baseball players to create bat speed and get reps in without having to run back and forth from the plate.
The Rope Bat's twelve-inch grip allows hitters who use a 26-inch to a 34-inch real baseball bat to place their hands exactly where they need to be properly balanced.
This training tool can be used by everyone, from little leagues to the big leagues. Its one-size-fits-all design makes it a comfortable fit for everyone.
Rope Bat vs. Swingrail
Using a Rope Bat or a Swingrail in your batting practices will both benefit you in improving your batting skills. It all comes down to what your priority is and what your expectations are when using such training aids.
If you struggle in executing an accurate and powerful swing when hitting the ball, then use a Rope Bat.
It will help the batters work on hitting the ball using their entire body. That is including the arms, hip, and legs. By learning the proper stance and movement, it will help you break your bad habits and common mistakes when hitting.
However, if you find yourself struggling to get and stay inside the baseball, then use a Swingrail instead.
This will help you create muscle memory when hitting the ball so you can feel how to swing properly. Likewise, it helps you maximize your bat speed and develop a good bat swing path.
Rope Bat Hitting System Review
What do Professionals Say about Rope Bat?
What is the Ultimate Rope Bat?
The Ultimate Rope Bat is a self-correcting and training baseball/softball bat. It comes with its patented swing trainer that corrects common flaws among players.
The Rope Bat gives immediate feedback to the hitters in case of a mishit. It also helps them to correct and perfect their hit.
Furthermore, it helps them accelerate and improve their swing technique. It also provides them with the satisfaction of hitting the ball right and hard.
The Ultimate Rope Bat was created by the international coach and a former professional player- Dr. Gary Long; he is also the CEO of Better Baseball, Texas.
It was introduced by coach Long to help 'hitters' master their swings.
In brief, this is a great swing trainer for anyone looking to better their game and strengthen their swing path.
How is Rope Bat Different from Normal Bats?
For starters, players use the Rope bat to improve their swing.
This bat swings and hits the ball by utilizing centrifugal force. As a result, it helps the player remain in sync with his body.
You see if the player swings incorrectly, then the centrifugal force won't work. As a result, the rope won't extend and hit the ball.
Unlike the normal bat, a Rope bat weighs only a few ounces. This helps the player to develop a real connection between his body and the bat. Thus resulting in instant feedback in case of an incorrect swing.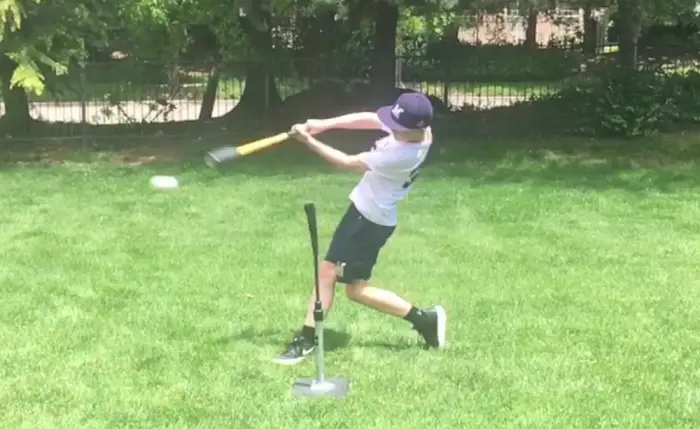 This makes a huge impact and is a significant distinction of what sets it apart from a regular bat.
Rope bat pushes you to master your swings, simultaneously building up power and confidence.
Additionally, a Rope bat is available in adjustable rope length, which makes it ideal for all kinds of players.
How Rope Bat Improves The Hitting Skills?
The Rope bat helps the players to develop an advanced awareness of the 'sweet spot' along with an improved understanding of the bat and hand movement control.
Instead of swinging the bat randomly, this rope bat helps them to accurately hit the ball where they are supposed to.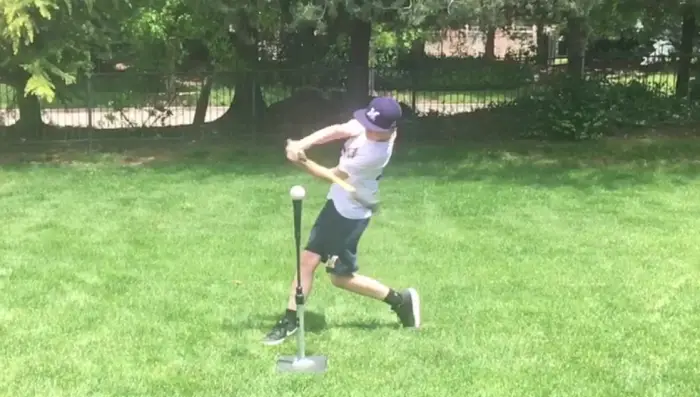 Additionally, it also takes care of looping and casting of the bat, which is a very common problem among the players.
It fixes the issue of 'dropping of hand' before the ball reaches the bat, thus again improving the chances of a brilliant swing.
This bat is a great training tool that fixes common swinging errors among the players, thus helping them figure out how they can maximize their performance and prepare better for the D-day.
It mirrors the flaws of the swing and gives instant feedback in the form of a mishit.
Not only does the Rope Bat helps them to see their flaws but also enables them to correct these mistakes on their own.
What is Included in the Ultimate Rope Bat Hitting System?
Aside from the actual Rope Bat, you will also get:
3/12 Smushballs
a 30-page downloadable hitting guide
a sports tote bag
The Rope Bat should not be used with real baseball/softball. Always use foam balls or light-weighted balls. Hence why they have included a couple of smushballs for your use.
Besides this, there is a detailed hitting guide for your better understanding and a cool tote bag to carry it all.
It's safe to say that Dr. Long and his team have put in a lot of effort to make sure that you get the complete package of what they have to offer.
Overall Quality of Rope Bat
When it comes to the durability of the gear itself, the rope of the bat boasts a robust synthetic material that can easily withstand years of hard-hitting and swinging.
It is a robust and sturdy gear that can last for a long time if you take proper care of it.
In order to increase the life of the bat, you don't have to do much except keep them in a place that is away from direct sunlight, moisture, or extreme temperatures.
Features of the Ultimate Rope Bat
Their most unique selling point is their patented swing trainer that makes it possible to use the centrifugal force and allows the player to stay in sync with his entire body.
Besides this, it also has a 'One size fits all' design where not only a 6-year-old beginner but also a 25-year-old major league player can get the best use out of it.
This is possible because the bat is adjustable and hence can fit the age and size of all the hitters.
The bat is well-structured and straightforward: it has a length of rope with a barrel on one side and a handle on another.
On the handgrip of the bat, there are specific markings that demonstrate a player where to hold it.
These distinguishing marks on the handle are what make the bat so generic and universally valid.
Apart from this, an adjustable rubber O-ring is added to meet the suitable markings; this makes it ideal for all types of players to use it.
The Rope has a 12" grip that enables the hitters who use 26" to 34" regular baseball bats to
Moreover, you can use this rope for both outdoor and indoor practice.
Reasons to Buy Rope Bat Hitting System
If you are somebody who is looking to enhance their swinging dexterity, then that reason in itself is enough to use the Ultimate Rope Bat Hitting System.
This is a self-instructional bat that lets you experience the satisfaction of hitting the ball right after it has reinforced the correct swinging techniques within you.
This bat helps a player to get a better feel for rotational swinging while staying connected to the bat.

This gear teaches them to sync their body with their swing without hitting themselves.
The Rope bat forces the players to keep their hands close to the body and 'inside the ball' because otherwise, they won't be able to hit the ball at all.
In case if they do mishit a ball, then they will receive immediate feedback in a way that will inform them about their incorrect swing.
Not only that, if you face issues with looping and casting of the bat, then this could be your solution for that problem too.
Many players also struggle with 'dropping of hands' as they 'hitch' their bat before the swing; this is prevalent even among the most excellent hitters that can be eliminated by regular Rope bat practice sessions.
Another thing is, that this bat is very compact. So, you can easily carry it in your baseball equipment bag, and take it to your training facility.
Final Words
In conclusion, the Ultimate Rope Bat can be a great training tool for someone who wishes to learn the correct swinging techniques and become a good hitter.
It is a well-tried- and-tested gear that has made many players and coaches happy.
The beauty of this bat is that it doesn't just cater to the needs of one specific type of player.
Any baseball/softball player- whether a beginner or a professional can use this and perfect their swings.
This rope bat is genuinely worth your money because it will not only help you to fix your shortcomings but also build a better stance for you on the field.