*I may get commissions for purchases made through links in this post.*
Players and coaches recommend Rope Bat Hitting System, and they say, "It'll help you to improve your hitting skills".
Is that really true?
Does a rope bat really give you the immediate feedback in case of mishit?
Should you really invest your time and money on Rope Bat?
These are the few questions that everyone asks.
So, in this review of Ultimate Rope Bat, we'll explore how the Rope Bat works, how effective it is, will it really help you to improve your hitting skills, is it worth investing, and much more.
So, let's get started.
Rope Bat Hitting System Review
What Professionals Say about Rope Bat?
Gary Long is personally invested in the development of the young player's swing. With the Rope Bat, he has a tool that can give personal feedback on hand position for any swing. Developing a consistent swing path to the ball and training that habit can be helped by the Rope Bat.
The Rope Bat® really helps my girls timing. They really like the sound of it when they hit it right. The Rope Bat® gives them immediate feedback and allows them to correct their own mistakes. I would certainly recommend it for younger girls as well. Younger girls can pick this up pretty quick, maybe even sooner than older girls.
The Rope Bat® is a fantastic teaching tool for coaches and a fun way for players to improve their swing. This training device will actually force your hitters to stay connected through the swing while staying inside the baseball.  Our kids love it!
What is the Ultimate Rope Bat?
The Ultimate Rope Bat is a self-correcting and training baseball/softball bat that comes with their patented swing trainer, which corrects common flaws among players such as looping and casting of the bat.
It utilizes centrifugal force to reinforce bat strength while teaching the hitters to stay connected by making use of their entire body throughout the swing.
The Rope Bat gives immediate feedback to the hitters in case of a mishit and helps them to correct and perfect their hit.
It helps them to accelerate and improve their swing technique while providing them with the satisfaction of hitting the ball right and hard.
The Ultimate Rope Bat was created by the international coach and a former professional player- Dr. Gary Long; he is also the CEO of Better Baseball, Texas.
It was introduced by coach Long to help 'hitters' master their swings.
In brief, this is a great swing trainer for anyone looking to better their game and strengthen their swing path.
The Story of Rope Bat
Every unique invention has an unusual story behind it, and the Ultimate Rope Bat is no different.
In 2013 in Austin, coach Long was training a 16U Select team, and in that team, he had a player named Jake.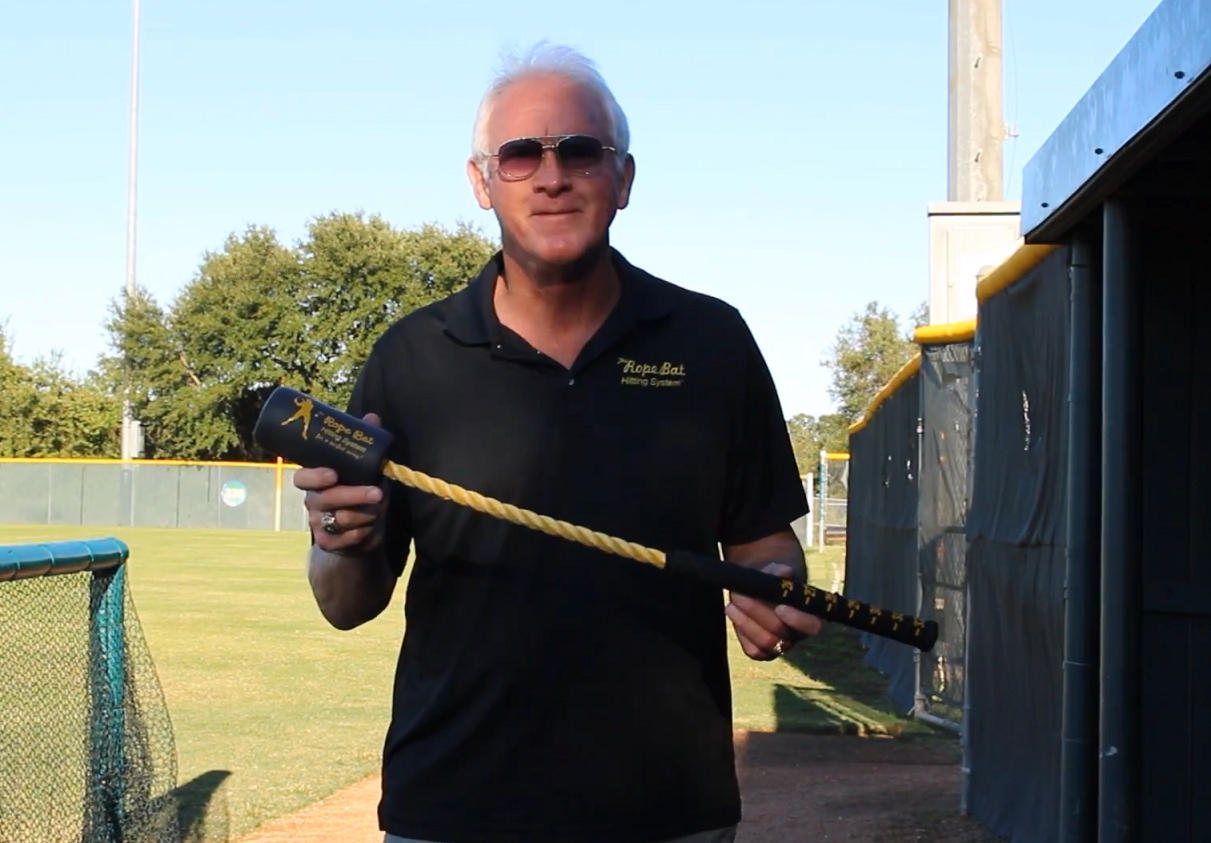 Despite being a fantastic athlete, Jake struggled with his batting.
Dr. Long realized that the problem was that Jake was unable to 'sync' his body in a tactile way, which would enable him to achieve better accuracy and bat-speed.
This desire to improve the 'slack' in Jake's swing is what led to the invention of the Rope Bat.
Dr. Long wanted the players to correct and connect with their swing while allowing them to experience what a perfect hit feels like.
Eventually, Jake was not only able to master his swing, but he was also able to attend college on a baseball scholarship.
How is Rope Bat Different from Normal Bats?
Comparing Rope bats and Normal bats are like comparing apples and oranges- yes, both are fruits, but that's it, they have nothing else in common.
Similarly, in the case of Rope bat and Regular bat, the only thing common between them is that they both are baseball/softball bats. Except for this, there are several variations that make them so different from one another.
For starters, the Rope bat is a practice bat that is used by players to improve their swing.
This bat swings and hits the ball by utilizing the centrifugal force, which helps the player remain in sync with his body.
You see if the player swings incorrectly, then the centrifugal force won't work and so the rope won't extend and hit the ball.
The Rope Bat gives the player immediate feedback in case of a mishit, thus reinforcing proper swing form and technique.
Unlike the normal bat, a Rope bat weighs only a few ounces; this helps the player to develop a real connection between his body and the bat, thus receiving instant feedback in case of an incorrect swing.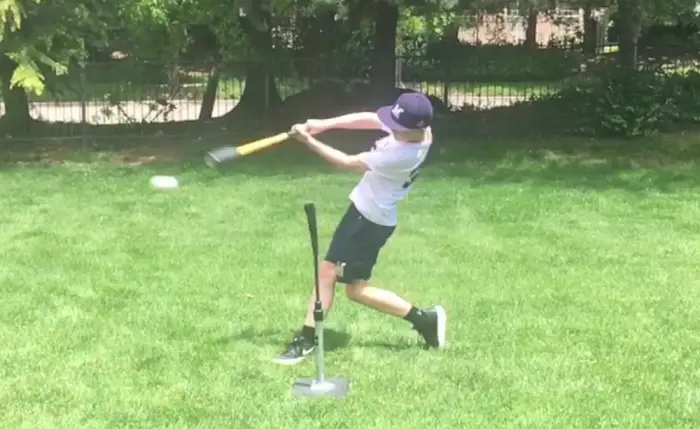 This makes a huge impact and is a significant distinction of what sets it apart from a regular bat.
Rope bat pushes you to master your swings, simultaneously building up power and confidence.
Additionally, a Rope bat is available in adjustable rope length, which makes it ideal for all kinds of players.
The same cannot be stated for the latter; baseball bats can be different for different players as it largely depends on the weight, size, and height of the player.
How Rope Bat Improves The Hitting Skills?
The Rope Bat has helped a lot of players upgrade their swings and enhance their assertiveness on the field.
It is a self-correcting bat that maximizes body connected movements and centrifugal force for better strength, speed, and accuracy.
The Rope bat helps the players to develop an advanced awareness of the 'sweet spot' along with an improved understanding of the bat and hand movement control.
Instead of swinging the bat randomly, this rope bat helps them to accurately hit the ball where they are supposed to.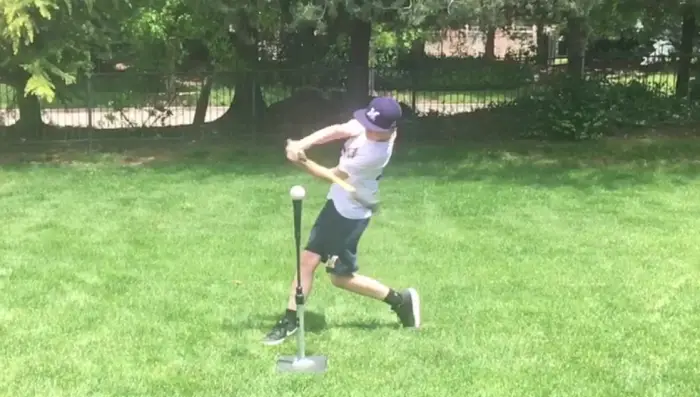 Additionally, it also takes care of looping and casting of the bat, which is a very common problem among the players.
It forces you to swing correctly by giving instant feedback, thus refining your technique.
It also fixes the issue of 'dropping of hand' before the ball reaches the bat, thus again improving the chances of a brilliant swing.
This bat is a great training tool that fixes common swinging errors among the players, thus helping them figure out how they can maximize their performance and prepare better for the D-day.
It mirrors the flaws of the swing and gives instant feedback in the form of a mishit.
There is no doubt that a Rope bat can significantly improve a player's swinging skills; because it not only helps them to see their flaws, but it also enables them to correct these mistakes on their own.
What is Included in the Ultimate Rope Bat Hitting System?
An Ultimate Rope Bat is a unique tool that has proved to be a useful aid for many players.
However, it doesn't just end there; this 'Rope Bat Hitting System' doesn't only include a Rope Bat but also other important stuff, which could make the whole experience more fruitful for you.
This bat is accompanied by:
3/12 Smushballs
a 30-page downloadable hitting guide
a sports tote bag
The Rope Bat should not be used with real baseball/softball; it's always recommended to use foam balls or light-weighted balls, and therefore they have included a couple of smushballs for your use.
Besides this, there is a detailed hitting guide for your better understanding and a cool tote bag to carry it all.
It's safe to say that Dr. Long and his team have put in a lot of effort to make sure that you get the complete package of what they have to offer.
Overall Quality of Rope Bat
The review of anything is incomplete unless we address the quality of the said product.
Coming to the Ultimate Rope Bat Hitting System, the standard of the bat and the service offered by the company both play an equally important role here.
This swing trainer system comes with a 30-day manufacturer warranty, so in case of any manufacturing defect, you can get your bat exchanged within a month from purchase.
Besides this, they also have very prompt customer service, which is reachable through the phone number and the email address mentioned on the official website (ropebat.com).
Now talking about the durability of the gear itself, the rope of the bat is made of a robust synthetic material that can easily withstand years of hard-hitting and swinging.
It is a robust and sturdy gear that can last for a long time if you take proper care of it.
In order to increase the life of the bat, you don't have to do much except keep them in a place that is away from direct sunlight, moisture, or extreme temperatures.
Just remember these two points, and you can easily extend the life of your Rope bat while you master your swings and ace your game.
Features of the Ultimate Rope Bat
Coming to what the Rope Bat has to offer, there are a lot of features that make it such a popular choice among the players, their parents and even coaches.
Their most unique selling point is their patented swing trainer that makes it possible to use the centrifugal force and allows the player to stay in sync with his entire body.
This also resolves multiple mechanical issues and facilitates the immediate feedback reaction, thus informing the player in case of an invalid hit.
Besides this, it also has a 'One size fits all' design where not only a 6-year-old beginner but also a 25-year-old major league player can get the best use out of it.
This is possible because the bat is adjustable and hence can fit the age and size of all the hitters.
The construction of the bat is well structured and straightforward: it has a length of rope with a barrel on one side and a handle on another.
On the handgrip of the bat, there are specific markings that demonstrate a player where to hold it.
These distinguishing marks on the handle are what makes the bat so generic and universally valid.
Apart from this, there is a rubber O-ring that can be readjusted to meet the suitable markings; this makes it ideal for all types of players to use it.
The Rope has a 12" grip that enables the hitters who use a 26" to 34" regular baseball bats to
And what else, this rope can be used to practice both outdoors and indoors.
These are some of the peculiarities that have made the bat so well-liked.
In practice, they are used by several schools, colleges, and even professional players all around the world.
Reasons to Buy Rope Bat Hitting System
If you are somebody who is looking to enhance their swinging dexterity, then that reason in itself is enough to use the Ultimate Rope Bat Hitting System.
This is a self-instructional bat that lets you experience the satisfaction of hitting the ball right after it has reinforced the correct swinging techniques within you.
This bat helps a player to get a better feel for rotational swinging while staying connected to the bat.

Players need to understand the importance of swinging a bat in unison with their body, and the Rope bat helps them to achieve that.
This gear teaches them to sync their body with their swing without hitting themselves.
The Rope bat forces the players to keep their hands close to the body and 'inside the ball' because otherwise, they won't be able to hit the ball at all.
In case if they do mishit a ball, then they will receive immediate feedback in a way that will inform them about their incorrect swing.
Not only that, if you face issues with looping and casting of the bat, then this could be your solution for that problem too.
Many players also struggle with 'dropping of hands' as they 'hitch' their bat before the swing; this is prevalent even among the most excellent hitters that can be eliminated by regular Rope bat practice sessions.
This bat can be a great addition to a player's training routine; it doesn't matter whether they are just getting started or only looking to polish their swings.
Because ultimately, the goal of the rope is to teach you how to swing a bat and not just merely hit a ball
To boil it down, this bat, if used with utmost dedication, can help you to maximize your hitting potential while letting you take complete ownership of the swing.
FAQ about Ultimate Rope Bat Hitting System
Can I Use Real Baseball or Softball to Practice with Rope Bat?
No, it is crucial that you only use foam balls (smushballs), Wiffle balls, or similar light-weighted training balls when you practice with a Rope Bat.
Real baseball or softball might end up damaging or even breaking the bat head, thereby rendering it useless for future use.
Who Should Buy Rope Bat?
Anybody who wants to improve their batting skills and fix their swing flaws can buy a Rope bat. From new players who are facing batting issues to professionals who are looking to master the perfect swing, it caters to all the different needs.
How to Extend the Life of Rope Bat?
To extend the life of your Rope bat, all you have to do is remember two basic pointers as listed below:
Do not store your bat in extreme temperatures (either too cold or too hot)
And do not expose your bat to direct sunlight or moisture for a more extended period.
Follow these two instructions, and your bat will surely last for a longer duration.
Final Words
In conclusion, the Ultimate Rope Bat can be a great training tool for someone who wishes to learn the correct swinging techniques.
It is a well-tried- and-tested gear that has made many players and coaches happy.
The beauty of this bat is that it doesn't just cater to the needs of one specific type of player.
Any baseball/softball player- whether a beginner or a professional can use this and perfect their swings.
This rope bat is genuinely worth your money because it will not only help you to fix your shortcomings but also build a better stance for you on the field.