Let's cut the crap, and move to the big question.
What are the best baseball cleats for pitchers?
There are a few options that you can consider.
But, first, let's look at the softball and baseball cleats that I recommend for pitching.
So, let's get started.
Baseball Cleats for Pitchers
| | | | | |
| --- | --- | --- | --- | --- |
| | | Toe Protection (for pitchers) | | |
| | | | | |
| New Balance 4040 V5 Metal | | | | |
| | | | | |
| | | | | |
| | | | | |
| Mizuno 9-Spike Finch Elite | | | | |
The Most Recommended Baseball Cleats for Pitchers in 2023
New Balance 3000 V4 Metal Baseball Shoe
If you're looking for the best cleats for pitchers, then absolutely go for New Balance 3000 V4 Metal Baseball Shoe. It has impressive quality and features that pitchers can't help but love.
It features New Balance's full-length Fresh Foam midsole designed to provide incredible softness and a relatively lighter feel. The midsole is made with a single piece of foam that delivers a cushiony feel and comfort like no other.
It is also developed in a way to give you more control and mobility which is particularly helpful when pitching. That control and stability on the sole will help you throw accurate and strong pitches on the mound.
The new running shoe-inspired spike plate design is also an advantageous feature for pitchers. It provides excellent traction on the pitcher's mound so you can position yourself exactly as you want and not lose your control to prevent even a slight unwanted slide when making a pitch.
The 8-spike metal plate also provides flexibility allowing you to throw any kind of pitch you need to make.
It has Ultra-Heel cushioning that delivers added softness and support to the heel which is especially beneficial since pitchers tend to change positions and throw all their weight from one foot to another. It also has a synthetic and meshes upper with bootie construction that gives you breathability and a perfect fit.
The New Balance 3000 V4 Metal Baseball Shoe is available in 15 colors to match your uniform and has standard and wide options for people who have wide feet.
However, many noticed that the insole of the cleats wore out quite quickly. In that case, you can use any good insoles in your shoes. If you have flat feet, that insoles will also be useful for you.
Adidas Adizero Afterburner V Baseball Shoe
The Adidas Adizero Afterburner V Baseball Shoe is another superior option that contains both stability and comfort needed when pitching.
To give you excellent stability on the mound, the Sprintframe plate with an external heel is there to deliver a rotational traction zone on any surface. It enables you to maintain your position and have greater control over your body and where you put your weight to throw impressive moving or fastball pitches.
It is also lightweight so it doesn't disrupt your movements and allows you to move quickly and lightly. It also has Sprintskin upper laminated package that delivers added support on the ankle while still allowing you to have freedom for frequent ankle movements with reduced weight.
Along with these is the Ironskin toe cap that delivers reinforcement to the toe area to protect you from injuries. It contains excellent abrasion resistance in the key toe-drag area which is advantageous for pitchers to prevent their toes from sliding off when pitching allowing them to throw the pitch that they like.
These baseball cleats feature a Litestrike EVA midsole that has two times thicker padding to provide better pressure absorption and dispersion giving the pitcher enhanced support and stability when switching up positions without compromising the lightweight feel of the cleats.
It has a sock-like construction that works wonders in the fitting of the cleats by providing a nice custom fit and feel. It also provides great flexibility to give you more freedom in your movements.
The Adidas Adizero Afterburner V Baseball Shoe is available in 18 different colors to match your gear. However, others mentioned that these cleats are not as breathable.
New Balance 4040 V5 TPU Molded Shoes
The 4040 V5 TPU baseball shoe by New Balance is specifically developed with the baseball player's needs and movements in mind. It has incredible flexibility and an even more lightweight feel to it to give you the best performance on the mound.
The ultra-light REVlite midsole is made to be 30% lighter than regular foams. This decreased weight enables you to have better responsiveness and control over your movements to help you throw accurate pitches. It also allows you to move quickly and freely so you can change your position while on the pitcher's mound.
These pitching cleats have TPU molded cleat outsole that delivers outstanding grip and traction on both turf and natural surfaces. It is both flexible and supportive to help you maintain your position while keeping your traction on the ground. The spike plates are strategically placed to keep your balance and stability as you put your weight from one foot to another when making a pitch.
It utilizes a Kinetic Stitch TPU-coated upper that enables the cleats to adapt to your movements and move as you move so you can have maximum mobility and flexibility as well as enhanced zonal strength to match your frequent and abrupt motions while pitching. It also has an additional TPU film overlay on the toes to deliver more support and reinforcement in this area.
These baseball cleats are made with synthetic Nubuck upper with perforations that allow the cleats to maintain breathability and comfort. They also have a thin elasticated molded foam tongue and Nylon combat mesh collar lining for added strength and durability.
The New Balance 4040 V5 TPU Molded Baseball Shoe is available in 15 color options and has a wide selection of sizes that have wide and medium width options. However, many pointed out that the elastic rubber and nylon construction makes the cleats not as stretchable and harder to break in.
Mizuno 9-Spike Dominant IC Low Metal Cleats
The 9-Spike Dominant IC Low Metal baseball cleats are designed by Mizuno to emphasize superior comfort, soft flexibility, and enhanced cushioning. It utilizes Mizuno Wave technology to help players maintain a highly stable base which is needed when pitching.
It works by absorbing the pressure to the ankles while planting the pitcher's feet on the mound ready to make accurate and aggressive pitches. It gives you maximum control over your body and weight all while keeping your balance as you change positions.
These pitcher cleats have a full-length EVA midsole that has enhanced cushioning to keep your feet comfortable. It is also efficient in dispersing the impact and weight as you throw a pitch. It has additional cushioning on the heel to the toes for even more comfort. This cushioning prevents strain on these areas which are prone to putting a lot of pressure when pitching so it is definitely a big help.
It has a 9-spike configuration on the outsole strategically positioned to maximize traction and movement. It delivers incredible grip on the surface to maintain your form and position and to prevent your feet from sliding down. The amount of control that it gives you will help you throw the pitch that you like with great accuracy.
It features Mizuno's proprietary flex construction that controls shoe flex for enhanced performance when throwing a pitch. It naturally flexes and conforms to your natural movements to give you better control.
The Mizuno 9-Spike Dominant IC Low Metal Baseball Cleat is available in six colors. However, others mentioned that these cleats tend to lose their structure and form after a few uses.
Under Armour Yard Low ST Baseball Shoe
These baseball shoes have a low-profile outsole that gives your ankles more mobility and allows you to move freely when throwing a pitch. It has nine metal cleats to deliver grip and traction on the mound to help you maintain stability and balance as you change your position. It also gives you speed and power thanks to its lightweight feel.
It features Charged Cushioning midsole that converts impacts and pressure that you are putting into your feet to power so you can throw your pitches more aggressively.
These pitcher's cleats have molded heels, stretch collars, and textile forefoot that all contribute to the overall comfort and fit of the cleats. It's like wearing your comfortable sneakers when pitching on the mound but with the added features of a good baseball cleat.
The Under Armour Men's Yard Low ST Baseball Shoe has soft suede panels that help in giving you enhanced stability. It is also flexible enough to hug your feet giving you a more natural feeling yet firm enough to hold the shape for that locked-in fit.
Furthermore, it has a plush sock liner that molds to every curve and corner of your feet for the perfect fit. It also has Super-ventilated tongue construction to keep you cool and comfortable while on the mound.
However, a few have noticed slight ripping on the toes forming quite quickly due to dragging and sliding.
Things to Consider Before Purchasing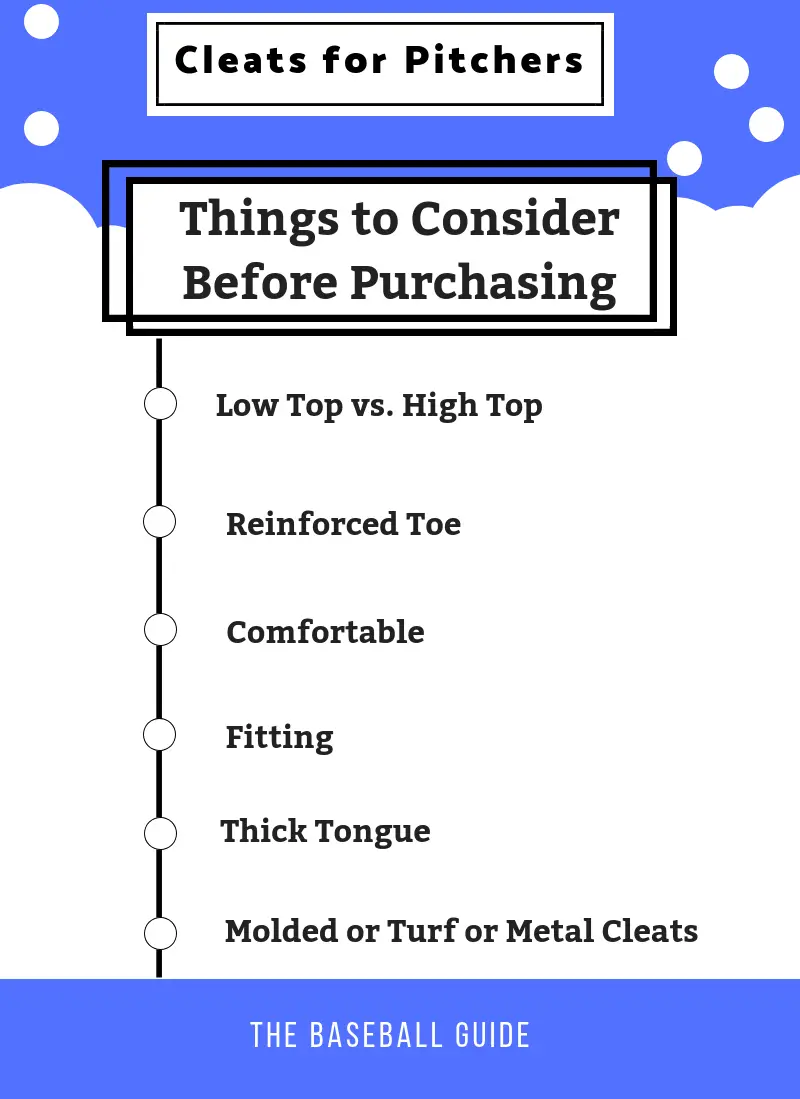 Low Top vs. Mid Top vs. High Top
Whether you need low-top cleats or high-top cleats, it depends on how much ankle support you want.
The high tops provide extra support to the ankles and help to give protection against ankle injuries, but it also restricts ankle movements up to some extent.
However, the low tops do not provide ankle support, but they are also lightweight that help you to gain speed quickly.
The mid-tops offer moderate ankle support and they're good for easy movements.
For a baseball pitcher, choosing low-top or high-top cleats doesn't affect their performance.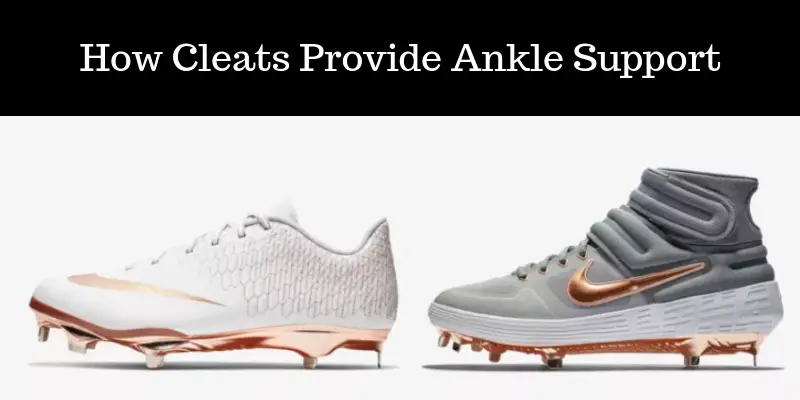 If speed is more important to you, then low-top or mid-top cleats should be your choice.
However, if you want ankle support, then go with high-top cleats.
Construction
The baseball cleats are made of synthetic leather and genuine leather.
The cleats made of genuine leather are more breathable, durable, and of superior quality as compared to synthetic leather.
But, these cleats are also much more expensive. Along with the features, you should take care of how much you can afford.
For most of the young baseball players who play in little leagues or maybe in high school, inexpensive cleats made of synthetic leather should work fine. If you can afford some expensive baseball cleats, then it's your choice.
However, if you are a professional player or playing at such a level where your performance matters a lot, and you can't afford a single element that can reduce your performance, in that case, genuine leather cleats are the best.
Reinforced Toe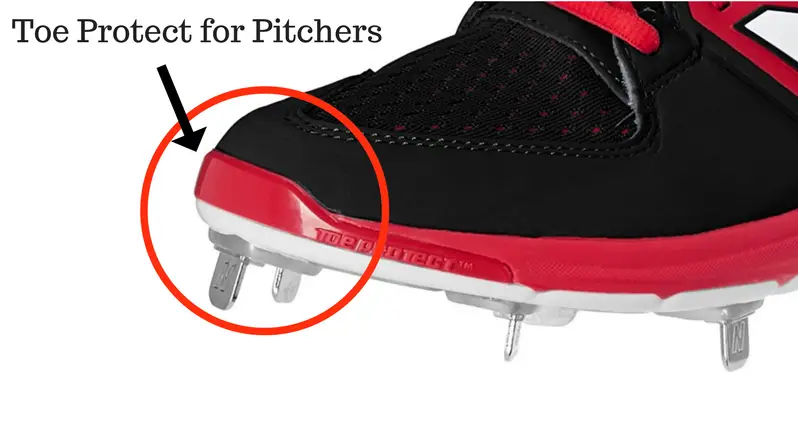 When pitchers throw a pitch, they have a tendency to drag their toes through the dirt when they fall through the rotation. Therefore, to extend the life of your pitching cleats, you should prefer cleats with reinforced toes.
The reinforced toe provides extra protection on the toe area of your cleats and helps them to last longer.
Take a look at this short video (42 seconds long).
Zack Greinke throwing a pitch, and it clearly shows why you need toe protection in your cleats. Focus on his feet.
Perfect Fitting
If you're not comfortable in your cleats, then it'll definitely affect your performance. Your cleats should be perfectly fit in your feet.
When buying your pitcher's shoes, make sure they have some wiggle room for your toes, and allow some movement. But, do not buy a large size just because you want some extra room for your toes.
The gap between your toe and the end of the cleat should not be more than ¼ inches. If you are confused between two sizes, then choose a little tight shoe instead of a loose one.
As you wear them, you'll break them in, and the cleats will expand and they'll become comfortable.
However, if you buy little too loose cleats, then they will stay uncomfortable whether you break them in or not.
If you have flat feet or wide feet, then you need to take extra precautions while purchasing your pitching cleats. There is nothing worse than wearing uncomfortable shoes on the field that are not according to your feet.
If you have flat feet or wide feet, then consider buying wide baseball cleats in which your feet will be comfortable.
Thick Tongue
It is not a deal-breaker, but having cleats with a thick tongue makes them a little more comfortable, and it also stops the dirt from getting inside your cleats.
Metal vs. Molded vs. Turf Shoes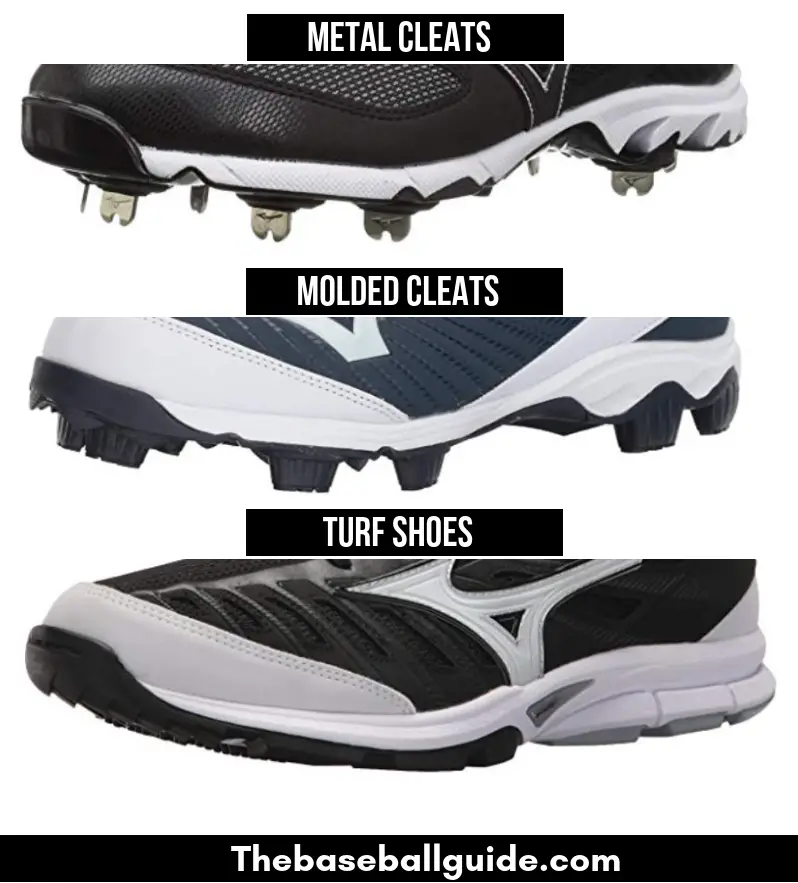 Which type of baseball cleats you should buy depends on a few factors. Let's discuss them.
The metal cleats provide more traction and grip on the ground. If you play on grass and dirt grounds, then metal cleats are perfect for you. As pitchers require more stability to throw an accurate pitch, therefore, buying metal cleats can be a good choice for pitchers whether they are in Baseball or Softball.
Note: Before buying metal cleats, make sure your league allows them because many little leagues don't allow players to wear metal cleats.
In case, your league doesn't allow metal cleats or if you personally don't like metal cleats, then molded cleats are the best alternative you have. They provide good traction and grip, and they are more suitable for soft grounds.
If you play on artificial turf ground, then you shouldn't wear molded or metal cleats. In that case, you should go with turf shoes.
Final Words
These all are good options for baseball pitchers. You can choose anyone from the above these.
There are also some other cleats that I did not mention here, but you can also try them.
But, make sure, whatever baseball cleats you buy, they should have toe protect so that they will last longer.
If I have to select one pair, then as I told you earlier, my personal choice will be New Balance Cleats.
I tried my best to provide you with each and every detail that should be considered before buying the pitching cleats.
If you have any questions, then please ask in the comment section. I'll try my best to answer as soon as possible.