Let's just cut the crap, and move to the big question.
What are the best baseball cleats for pitchers?
And, what are the things that you should consider before buying a pair of pitcher cleats?
Here, I'll try my best to give you a clear idea about what type of cleats should be best for you. Along with that, I'll recommend a few good options that you can consider for your next pair of cleats.
Things to Consider Before Purchasing

Prefer Low Top Cleats
When pitchers throw a pitch, they move their leg, especially ankle. Therefore, a low top cleat is a good option because they will accommodate the ankle movement.
It's not like, the mid top and high top cleats will reduce your performance, but if I've to suggest you the best option then I'll recommend low top.
However, if you need ankle support then go with high top cleats.
Reinforced Toe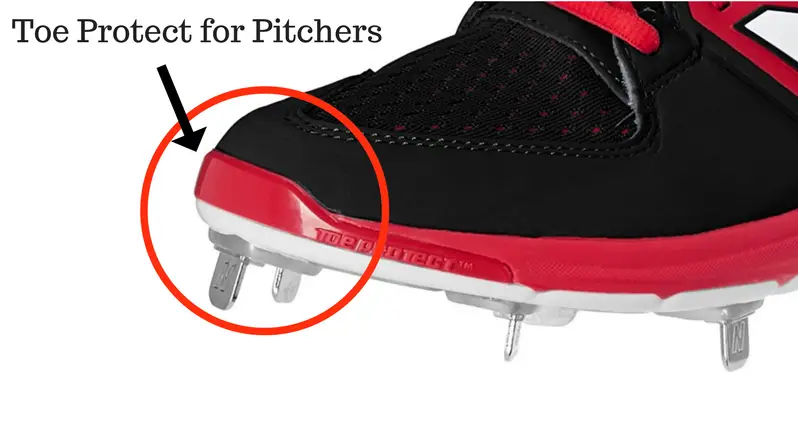 When pitchers throw a pitch, they have a tendency to drag their toe through the dirt when they fall through the rotation. Therefore, to extend the life of your pitcher cleats, prefer cleats with reinforced toe.
Comfortable
Everyone knows that cleats should be comfortable. The cleats should not cause any stress on your foot. If you're not comfortable in your new cleats then it'll affect your performance on the field.
Fitting
Prefer those cleats that provide some wiggle room for your toes, and allow some movement. But, do not buy a large size just because you want extra room for your toes.
Thick Tongue
Make sure, the cleats are not too open from the above after wearing them. This will stop dirt from getting inside your cleats while you're playing on the dirt ground.
Metal or Molded or Turf Shoes
It depends on a few factors whether you should choose metal or molded cleats. Metal Cleats provide more traction on grass and dirt grounds, but various little leagues don't allow wearing metal cleats.
Molded cleats are preferred for the soft grounds. If your league doesn't allow metal cleats, then molded cleats is a good alternate option.
The molded or metal cleats shouldn't wear on the artificial turf ground. If you play on artificial turf, then you should go with turf shoes.
Best Baseball Cleats for Pitchers

I Recommend…
For pitchers, I highly recommend that you try New Balance Men's L3000v3 Series Baseball Cleats.
If you prefer metal spikes, you should try New Balance L3000v3 Metal Cleats.
If you prefer molded cleats, then try New Balance 3000v3 Baseball TPU Cleats.
If you prefer turf shoes, go with NB 3000v3 Baseball Turf Shoes.
But, why should you choose these cleats?
In the recent years, New Balance has manufactured some really awesome cleats. I'm not just saying, they've really produced some really good stuff, and therefore, more and more young as well as professional players moving towards New Balance Cleats.
Everyone knows that these cleats have a great design that is made of textile and synthetic materials.
In the metal cleats, there is a synthetic sole while in the TPU & Turf shoes there is a rubber sole.
Do you know, what makes it the perfect cleats for pitchers?
It is low to a medium top size that supports ankle movement. Yes, you can find various low to medium top cleats, no doubt about that.
The really good feature is that you'll get a toe protect in these cleats. As mentioned earlier, pitchers have a tendency to drag their toe through the dirt when they fall through the rotation. So, this reduces the life of their cleats.
But, as you have a toe protect, it'll protect your cleats toe area from getting damaged every time you drag your toe through the dirt. It is made of a special material that protects the front side of your cleat.  Therefore, that results in an extended life of your baseball shoes.
The debris-free construction reduces the possibility of getting dirt inside your shoes.
There is a dual density sole installed in it; rubber sole & Revlite midsole.
Apart from selecting different colors, you can choose from various different sizes. You may be thinking, well every brand offers different colors and size options.
But, if you want wide cleats because you have a wide or flat foot then there is nothing better than New Balance. If you check their size options, you'll find that they offer 2E size. This is a very helpful feature that clearly tells you that this size is available in the wide width also.
You can also check New Balance's Size Chart that'll help you to pick a perfect size.
No doubt, all the New Balance Cleats whether they're metal, molded or turf based, these are highly comfortable and give you perfect grip on the ground.
New Balance Metal Cleats: Check Price & Reviews
New Balance 3000v3 Molded Cleats: Check Price & Reviews
New Balance 3000v3 Turf Shoes: Check Price & Reviews
Other Good Alternatives for Pitchers
Mizuno 9-Spike Franchise 7 Low Baseball Cleats
Just like New Balance, Mizuno is also becoming very popular when it comes to baseball cleats. Nowadays, young players prefer Mizuno & New Balance cleats than any other brand.
The synthetic sole along with 9 spikes gives you excellent grip on the field and helps you to keep balanced when you pitch a baseball.
The 9 spike advanced outsole is designed in such a way that it provides maximum traction.
The padded tongue along with the full-length midsole also gives you maximum comfort.
As a pitcher, you need forefoot protection of your cleats, and in these Mizuno shoes, they provide ProFlex for extra protection.
Nike Vapor Keystone 2 Low Baseball Cleats
Nike is a big brand that manufactures sports equipment for a wide variety of games. Here, they manufactured a good pair of cleats for pitchers of Softball & Baseball.
These are low cut, lightweight cleats that are made of synthetic leather.
The TPU drag cap protects the front part of your shoes and gives the forefoot more durability.
They're comfortable, stylish, and you have a few color options.
Final Words
These all are good options for you. But, as I mentioned earlier, as per my personal thoughts, New Balance L3000v3 are the best baseball & softball cleats for pitchers.
I hope that this article helped you to choose your favorite pair.