*I may get commissions for purchases made through links in this post.*
To become a good baseball player, you need to do practice.
For practice, you need a good baseball rebounder.
But, the question arises,
What is the best baseball pitch back net that rebounds a ball effectively?
You can choose any rebounder, there are many options available.
But, you should know a few things before buying any pitchback net.
Multiple Angles: Your rebounder net should be able to rebound the balls at different angles.
Easy to Assemble: You should be able to assemble the rebounder in a few minutes.
Accessories: Some rebounders also come with accessories.
This is a detailed article.
You'll get to know a lot about rebounders. So, if you don't have to read the whole article, then the next section is for you. It is a summary of the whole article.
My Personal Recommendation
If I have to recommend you just one baseball pitchback net that rebounds the balls perfectly, then my number one choice will be Rukket Pitch Back Net.
Whether you want to use Baseball or Softball, it's perfect.
Why?
In this rebounder, you'll get an innovative paracord pull handle by which you can adjust your rebounder at four different pitching angles.
So, you will get different kinds of balls like flies or grounders just like the real game by simply adjusting the angle of the net.
The main purpose of buying a bounce-back net for baseball is to improve your skills. With this pitch back net, harder you throw a baseball on it, more speed it'll gain when coming back.
This premium quality rebounder will take your muscle strength, reflexes, hand-eye coordination to the next level. By practicing with a net, you will be able to reduce your reaction time and become a super fast player just like the professionals.
This video shows how you can use this baseball rebounder to improve your skills.
Even if, this is your first baseball bounce back, you can easily assemble it because the process is straight forward and all the instructions are included in it (step by step).
If we talk about the price, then I can only say, you'll not think about the cost. It's quite affordable. If you still doubt it, you can check the price of Rukket Baseball Rebounder yourself.
It is tried & tested by a lot of other baseball players. They're completely satisfied with it and taking their performance to a whole new level.
My 2nd Favorite Rebounder
If for some reason, you don't like Rukket Bounce back net, then you should definitely take a look on SKLZ Fielding Trainer Rebounder.
It is also one of the best rebounders on the market.
This detailed pitch back review video will provide each and every information that you want to know before purchasing any pitch back net.
Best Baseball Rebounder Reviews
Things to Consider Before Buying a Baseball Pitchback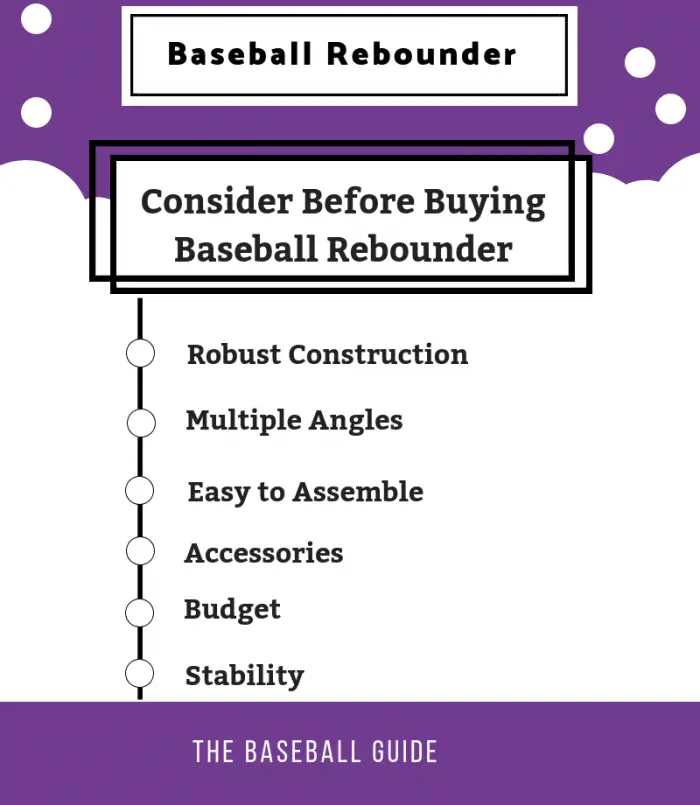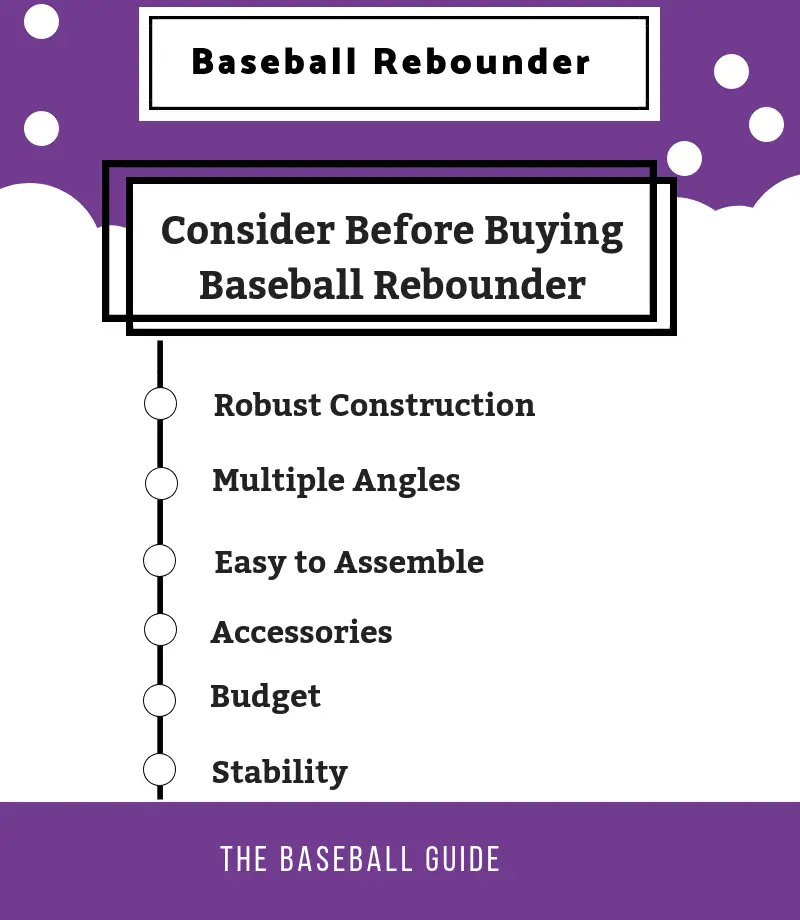 Today's market is filled with a colossal amount of pitching nets, thus it is crucial to pick the right baseball pitch return net. However, this can be a little challenging, especially, if you have no idea what to look for.
For this reason, I have put together important attributes you should look out for in any baseball return net.
Robust Construction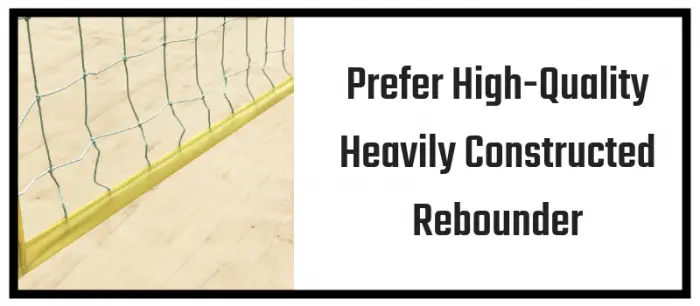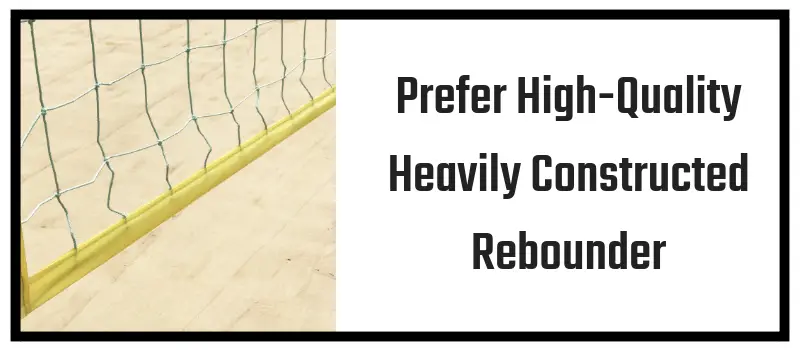 An inexpensive baseball pitch return net could end up with its net torn, frame bent, or broken legs after few months of practice with it.
To be able to get the high-quality pitch back screen, it should have the following physical features: heavy gauge, galvanized steel legs (and also its frames) with a heavy-duty, and 21″polyethylene all-weather net.
Many coaches swear by the 7 x 7 Rukket pitchback net and other high-quality pitch nets because of its 16-gauge Allied Flo-coat, galvanized steel frames, and legs, it durability for up to 4 years of consistent use.
Multiple Angles
The perfect rebounder net should allow you to be able to simulate without hassle – ground balls, line drives, short-hops, pop flies, and much more.
The 7 x 7 Rukket pitchback net, SKLZ Youth Pitchback Rebounder Net, and other quality baseball pitch return net have easily be adjusted into angels to suit the stimulations of your rebounding drills.
It also has a firm stand, no wobbling is experienced when smashing the weighted balls into it. It is important that you can get any angle need for the drills, a net without the easy transition into various angles might not be the right choice for you
Straight-forward Assembly
Unlike conventional baseball pitch return net that takes up all your time to set up or dismantle. Advancement in technology allows installing and disassembly within few minutes.
These latest products install and dismantle in minutes. This allows making optimum use of your practice time practicing than setting up the baseball rebounder net.
The major pitch back manufacturing brands include all the information required for the assembly.
Also for solo practices, or at-home practices, flipping the frame over to the Pro-Catcher side makes it easy to be used as a pitching target. However, after you no longer need to use them, it is easy to store in your equipment room.
Accessories
This is important, you need to make inquiries about the pitch back you're about to purchase, is it merely a pitching net in a frame? Or, does it come with other accessories: a strike zone, a hitting tee, and weighted baseballs?
Certain manufacturers attach one or more of these accessories to the pitching net. These accessories can help you get a better experience with drilling with the net.
It's meaningless to practice almost all day without an aim in mind. This is why you need accessories like strike zones which help pitchers work on improving your target accuracy. They help challenge you to be better and good. There are other accessories you should watch out for – weighted baseballs, extension nets, and replacement nets.
How Much Should You Spend on Rebounder?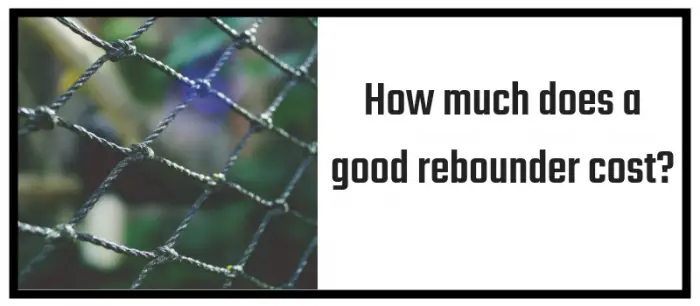 If we talk about the price of a good pitch back for baseball, then you have to spend nearly $80 to $90 or above.
You can also find many baseball return nets at $50 or $60, but as the price goes down, the quality also reduces along with the features.
The cheap rebounders may not provide the functionality of rebounding balls at different angles. The material used in the manufacturing is also low quality. Some players also complain that the net used in the cheap rebounders doesn't last long. The construction is also not heavy.
So, if you can spend nearly $80 to $90, then you'll get a good quality baseball rebounder which can be used for a long time without needing any maintenance.
Stability
When purchasing a baseball bounce back net, online or offline, you should take proper information about the stability of a specific product.
When you are throwing the balls on the pitch back, then it should stay stable, otherwise, it'll rebound the ball in a different undesired direction.
Also, the unstable pitch back net can fall when you'll throw balls on it.
If you are purchasing your baseball pitch back net online, then you can only trust what is written on the product description. In that case, looking at the customer reviews is the best option to find whether a specific rebounder is stable or not.
Rukket Multi-Sport Rebounder
My personal opinion is that Rukket 4x7ft Multi-Sport Rebounder is presently one of the best baseball rebounder on the market you can get today.
When it comes to getting a training tool, which is efficient for all-purpose, travel baseball practice net, then this product is perfect.
Although other pitch back nets like Bownets and Skiz Quickster are also effective they are known to pop baseballs out of the net.
Rukket 4x7ft Multi-Sport Rebounder is regarded as the best training tool for athletes looking to have their skills increased. This conclusion wasn't jumped into, the sporting aid has features that earned it its 5-star reputation among coaches and athletes.

Pros
Multiple Attack Angles
The Rukket rebounder net has 4 different attack angles, which provides you with a means to improve. Using these multiple angles during practice consistently will help you improve a certain skill. It is easy to set the angles of Rukket pitch back net based on the drill: pop-ups, ground balls and simply throwing back and forth.
Perfect Bounce Back
Rukket 4x7ft Multi-Sport Rebounder has a better surface. This is why you get a perfect bounce back which makes practice seem real every time. This feature makes this sporting aid every athletes and coach choice. This net is no way similar to most pitch back nets on market today which have some dead areas on their surface. Therefore, you should expect the ball smashed to return back to you perfectly.
Target Area
Its dimension is 4-foot by 7-foot, which makes it very easy for players to hit the strike zone. It has about over 20 square feet available, making this sporting aid the right choice for anyone with a desire to have their baseball, softball, lacrosse, football, soccer, or other skills perfected.
Durable and Built to Last
This is another added additional benefits for this rebounder nets. We only want a product that is durable and last for a very long time. It has mesh-protected bunnies, designed with – a 1 ¼ inch powder coated metal frame and strong carriage bolt fasteners.
Lifetime Warranty
When purchasing Rukket rebounder net should know it comes with a lifetime warranty and promises you the utmost satisfaction you desire.
Rukket provides you with a replacement whenever you in need of it. There is always a tendency that a part of the sporting aid might be faulty after purchase or when in use, you don't have to worry Rukket got you covered.
Furthermore, ordering for a replacement is not that hectic, all you have to do is send an email to Rukket. They will instantly get it shipped to your location.
Adjustable Settings
When it comes to choice, everyone seems to have wanted different things. This feature allows you to adjust the pitch back net to meet your requirements. In order to achieve various bounce back angles, you can simply get the product adjusted.
Team or personal use
Either you are looking to make use it for the travel team or at-home practice. Baseball schools only used this net whenever a portable practice net is required.
Stability
Even without the ground stake that comes along with pitch back net, it still won't wobble when hit. If you without the ground stake, the net didn't go Topsy-Turvy when hit with a baseball of a higher force, then it definitely will handle anything thrown at it.
Versatile
Many famous nets like the 9 hole Pitchers Pocket are not known to be effective for both hitting and throwing practice. It is very suitable for baseball or softball players to make use of this net during their practice. You can perform actions like a soft toss, hitting off a batting tee, throwing practice for infielders | outfielders | catchers, and pitchers.
Easy to assemble
When it comes to assembling travel nets, aside from the Pitcher's Pocket, Rukket 4x7ft Multi-Sport Rebounder was the easiest of all – with set up time of around ~ 90 seconds and take down time of about ~ 60 seconds. The immediate quickest pitchback net was the Sklz Quickster, with a 2 minute setup time. Although the time difference is huge, the Rukket 4x7ft Multi-Sport Rebounder was not complex / less confusing and just easier, with only a few parts to break and cause trouble.
Cons
It's really hard to put down some cons about Rukket 4x7ft Multi-Sport Rebounder, I can barely thinking of few, no matter how hard I try. It would have been easy to write about the bounce-back, but smashed balls remained in the net. It's a perfect net for anyone looking to get some visible improvements.
SKLZ Youth Pitchback Rebounder Net

When it comes to effective training and assurance of getting your skill improved, I strongly recommended SKLZ Youth Pitchback Rebounder. This pitching back is perfect for training you on – throwing, fielding, and pitching. It is also able to return balls at various angles.

This training tool is a perfect match for youth looking to practice various kicks back. You can take advantage of its metal frame assembles which makes it very simple and quick to get any angle who desire.
Another feature that helps makes this product stand out is its durability. It has it frame designed with metals, netting made with quality materials to make very tough and with this, it is sure to withstand all your training.
Features
It is designed with metal frames, making it very sturdy. But it might not be the most durable of all. However, if you do not smash balls higher than 60 mph then no problems should be experienced.

If you desire to simulate ground balls, line drives, and pop flies, then simple adjustments to angles will do.

It also comes with a ribbon, if knit aptly can by used as Includes a rectangle strike zone target area for pitching.

Setting up the baseball rebounder net is quite easy. It doesn't take more than a few minutes to get started.




It 21 ply net doesn't get damaged by the weather.

The pitchback can be installed outdoors firms and no worries about shaking during training, thanks to ground stakes.

When it no longer in use, folding it up is quite easy, making storing it less hectic.

Extremely competitive price




Pros

Sturdy net help improved throwbacks

Easily adjustable SKLZ PitchBack angles for awesome pitching

Fold-up design for easy storage

Has good ground stakes for stability




Cons




How sturdy the pitchback net depends on the ground surface
Our Verdict
This is a great product helping starters or kids get their skills improved. It isn't pricey as it offers great value. It offers kids basically everything you need.
Champion Sports Multi-Sport Net

Champion Sports Multi-Sport Net Pitch Back Screen is one of the best baseball pitch back rebounders. It has a unique design, but that isn't why it has earned a spot in the Pitch Back Reviews.
It earned the spot because it can be used for multi-sport training. You can make use of these products rest assured that your training with high-quality pitch net. It has a powder-coated steel frame, heavyweight nylon setting and also a target in a square that helps in achieving you improve your accuracy.
In addition to this, many athletes from diverse sports find this product awesome has it is flexible; rotating the pitch back net to any angle is easily achieved.
Features
It is perfect for outdoor use as it has a heavy duty 1 1/4″ Powder coated steel frame and a high-quality nylon netting.

The parts are easy to assemble




It adopts an in-ground stakes method, which gives the pitchback firmer irrespective of the land surface is fixed on.

This training tool can be used to stimulate any types of line drives or pop flies since it can be adjusted into various angles

The pitchback has bounce-back any smashed balls into with high accuracy and response.

Because it frame comes in a Y shape, folding up becomes easy for storage

It has a square target that helps get your accuracy up to par.

It is best used for sports like golf, soccer or baseball.




Pros

Durable

Multi-sport Applications

Reasonably Priced




Cons

Netting Not Proper Size
Our Verdict
When versatility is what to look for then this is becoming the best ball pitchback net you will ever find.
Although it might be slightly pricey with respect to other nets it far more durable than them. It multiple angles makes it fit for any sports stimulation and also constructed to eliminate any form of wobbling when in use.
Champro Infinity Pitchback Screen

Do you require a more comfortable and topnotch rebound screen? If yes, then Champro Infinity Pitchback Screen is for you.
Furthermore, the rebound screen isn't the only reason why I find these pitchback net fascinating. It helps you by recreating a similar real-life experience as though you are on a real pitch. It has high bounce-back accuracy and a real response kick.
Champro infinity pitchback screen is designed with a black powder coated 1 with steel frame, weatherized 30 ply orange P.E. net, 1 mesh strike zone outline, and quality stakes. The dimension for the infinity pitchback baseball screen is 54 x 36 inches wide, which will suffice your training.
Features
The Champro Infinity Pitchback screen is constructed with a powder coated 1 1/4″ steel tube frame.




It seems heavier compared to the flimsy pitchback screens at Walmart. This makes it cumbersome and inconvenient to carry around. However, it makes it eventually more durable than most nets in stores today.

Campro infinity pitchback net measures 72″ H X 42″ W, which is even is perfect for all different height of players.

Its setup is quite easy

It also as a hit zone for players looking to increase their accuracy through target practice.

A weatherized 30 ply P.E net with a 1 ¾ in Mesh provides excellent fast bounce back response. So, be prepared when training with this net, be ready for a quick and accurate bounce back.

There is no need to adjust the net angles for line drives, pop flies, etc. Simply change the point where you throw to obtain various angles of bounce back.

Campro infinity pitchback net is best used for exercise, fielding, Hand-eye coordination, Reaction Time and Target practice.
Pros
Versatile net for various forms of drills

Help beginners become pro

Heavy construction

Colossal Target

Professional Model

High-quality netting

Easy installation and folding
Cons
It has no wheel making it hectic to change its location

Robust construction makes it quite heavy and awkward to carry
Our Verdict
The pitch back net is quick easy to set up and provides you with longer time drills without you compelled to move your feet. It is firm on any terrains and perfect for baseball, softball, basketball, Lacrosse, etc. If you are a coaching multiple sports this is for you.
You can set it up and forget about it.
Easton Adult Playback Elite Baseball Practice Net

When it comes to a practice net that offers quality real game speed bounce back perfect for adults either professional or amateur, then Easton Adult Playback Elite Baseball Practice Net is the right choice for you.
It is the best choice for you as it is made of heavy-duty weatherized netting with adjustable upper bracket for increased training options. It is big enough for training. You can train under no matter what weather condition is, and it is very strong and the netting provides accuracy kick back with the real game speed. Get it now and enjoy.
Features
It has a modernized adjustable hinge which allows multiple drill options: ground balls, line drives, and pop flies

Strong weatherized netting for fast real bounce back response

Long lasting net attachment rubber bands

It requires no tools to assemble, making it quite easy.

It has a dimension of 48″W x 72″H
Crown Sporting Goods Multi-Sport Rebounder

Sometimes we all have a sudden passion for certain things, only to later notice you longer interested in the sport. You don't want to go for expensive products until you are sure.
The Crown Multi-Sport Rebounder is a perfect product to help you improve in any game you decide to play. For pitchers particularly, this net is excellent either on or off of the field drill. When it comes to setting this up, you can do easily without hassle. It also can withstand a lot of smashing without wobbling.
It is also beneficial to individuals who are interested in various sports, such as baseball, lacrosse, soccer, and basketball. However perfect this sounds, it has a poor quality net. You shouldn't expect any supplement gear when you purchase this product. So, it is adviced not too smash too hard or add another pair of ground steaks to prevent wobbling.
Pros
Easy to assemble

Perfect for multiple sports
Cons
No accessories

No warranty

Poor-quality netting
Final Words
So, these were the pitch back reviews that should be read before buying any rebounder from any place.
These will really help you to get a good rebounder at an affordable price.
If you have any questions or queries then feel free to comment in the below.