As a baseball player, wearing the right gear is crucial for achieving peak performance on the field.
While many players focus on getting the perfect bat or glove, they often overlook the importance of wearing the right socks.
The right baseball socks not only provide comfort and support but also help players avoid blisters, foot fatigue, and other foot-related issues.
A pair of socks that is comfortable and snuggly is a great choice to accompany you while you play baseball.
In order to have the best pair of baseball socks, you need to consider their comfort and quality.
In this article, we will be discussing the best baseball socks in 2023 for knickers and pants.
With the below-given guide, I can assure you that you will learn about the best baseball socks and the things to consider before buying them!
List of the Best Baseball Socks in 2023
Unisex UA Over-The-Calf Team Socks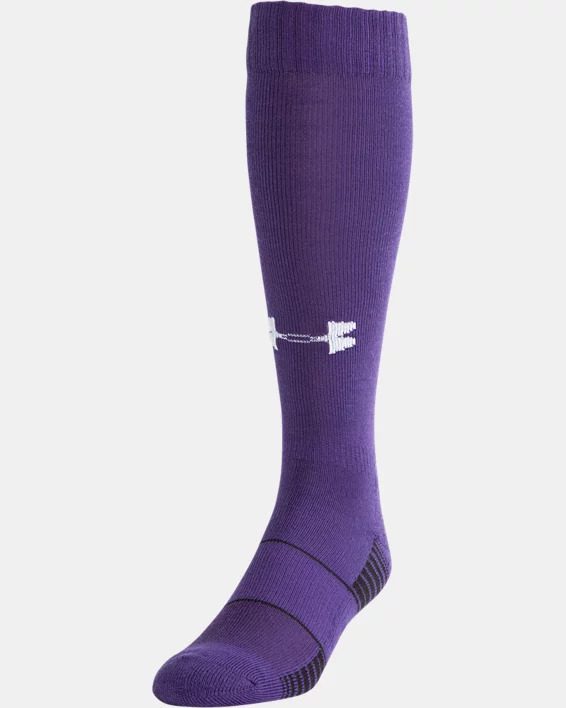 These baseball socks are made with 56% Polyester, 24% Cotton, 17% Nylon, and 3% Spandex. These fabrics are selected to deliver maximum comfort while in-game. It has a nice stretch to it to properly conform to your feet without feeling any constriction on the calf area.
The material helps in wicking away any sweat or moisture and allows the socks to dry fast. Combined with the anti-odor technology utilized by UA to prevent the growth of odor-causing microbes keeps your feet dry, fresh, and comfortable all day.
A strategic half-cushioned footbed is placed designed to absorb and protect your feet from shock and impacts when catching, pitching, and running. It draws all the impacts down to your soles for maximum comfort without being too bulky and unnatural feeling.
It has embedded arch support to help in reducing foot fatigue and bolsters circulation, and joint pressure by supporting and keeping your feet in a natural position.
The contoured Y heel creates the perfect fit by following the natural contours of your heel and enables the baseball socks to freely move as you play.
The UA Over-The-Calf baseball socks are available in 11 different colors that you can choose from and match with your team uniforms. A few, however, pointed out that these baseball socks have a thinner material so take note of that if you're playing in colder seasons or weather.
Talking about my personal verdict, I think the approach of the company is quite clear and that was delivering a splendid product. And I am pretty sure, they have managed to achieve to do so.
Rawlings Baseball Socks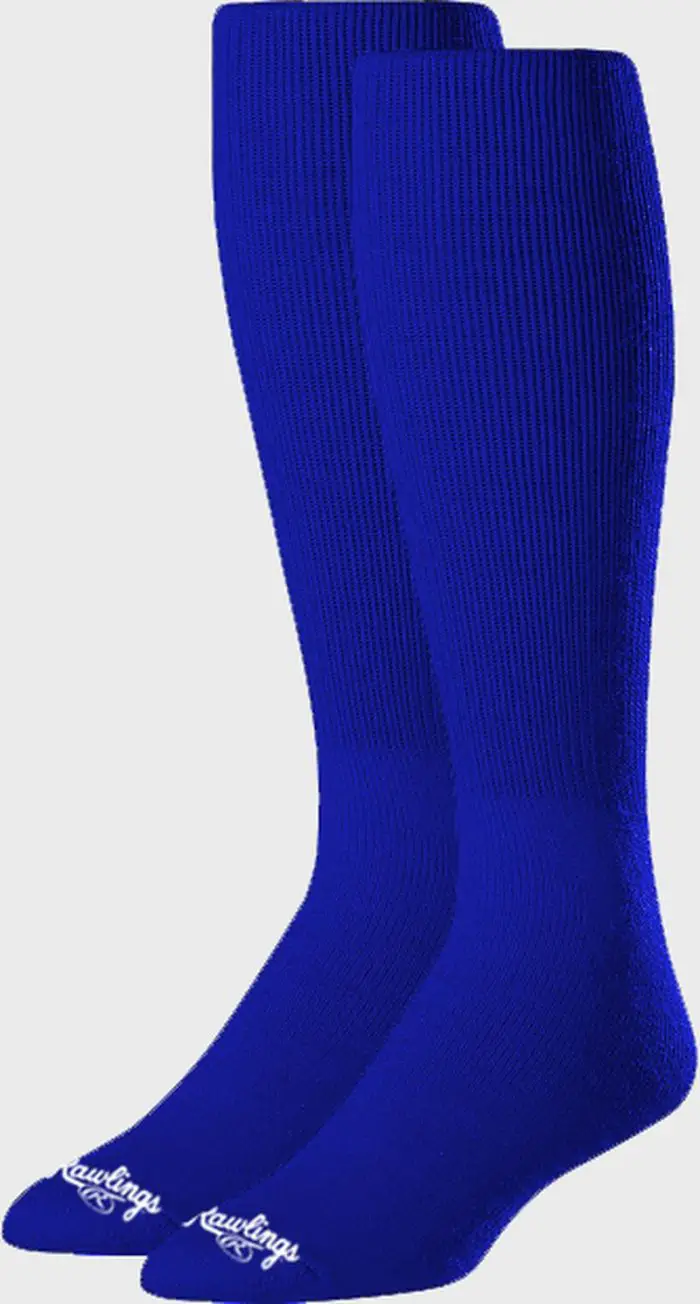 The Rawlings baseball socks have an over-the-calf high socks style made with 80% Acrylic, 16% Nylon, 3% Polyester, and 1% Spandex.
These materials are particularly advantageous in keeping the socks durable and able to hold up through all your baseball games and practices. It is not as stretchable thereby giving you a firmer fit while preventing chafing.
The mesh venting ensures maximum breathability to cool your feet down when the heat on the baseball game is on. It significantly adds to your level of comfort by improving air circulation throughout your feet.
These baseball socks feature a deep heel cup that facilitates the correct positioning of the feet keeping them in place despite your high-impact strides when playing baseball.
It helps in maintaining the lateral stability of the feet by evenly distributing the weight throughout the soles and reducing the pressure on the heel.
The cushioning placed in the footbed and ankle adds support and protection to these areas by ensuring it has efficient shock absorption. The cushion also helps in reducing pain, inflammation, and chafing on the soles and ankles since these are the areas that receive the most pressure.
The Rawlings baseball socks are available in eight different colors. However, some mentioned that these socks are a little too tough and firm hence a break-in period might be required to wear them comfortably.
Okay, that was a lot to talk about. But you know, that it would've been criminal for me to be ignorant about all of the banger specs this thing comes with. I am in love with this product and I definitely rate this high.
Evoshield Throwback Game Baseball Socks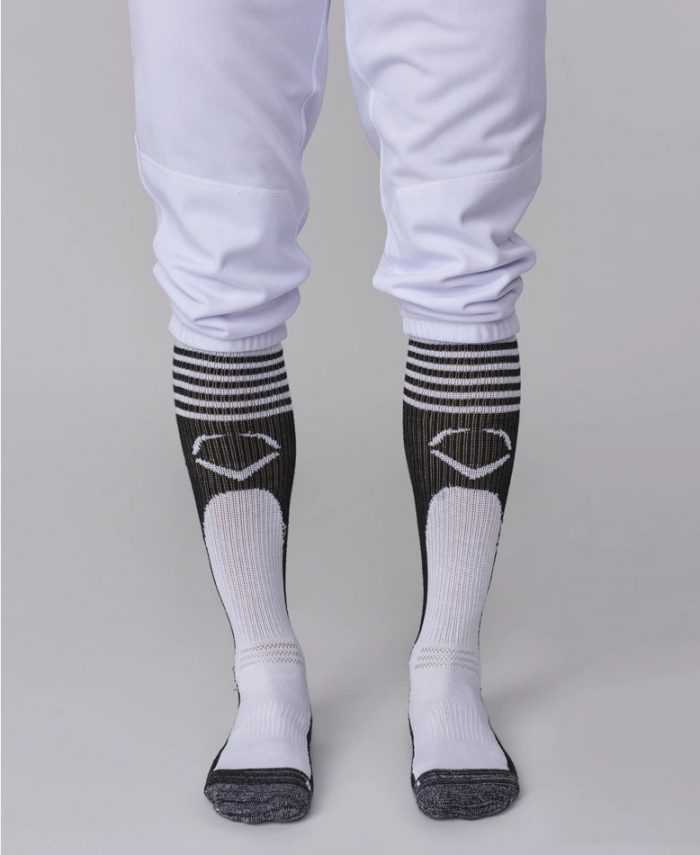 These over-the-calf knee-high socks feature a nostalgic old-school stirrup-style colorway made with 93% Polyester, 6% Spandex, and 1% Nylon. These moisture-wicking fabrics keep your feet dry and allow the socks to dry fast. It is incredibly lightweight, warm, soft yet long-lasting, and durable enough to withstand regular wear.
It has ergonomic cushioning to protect your feet from shock, abrasion, and friction when playing baseball.
The extended Achilles cushioning gives the Achilles tendon superior protection, fit, and comfort. It helps in reducing the load and pressure on the heel and Achilles areas when running in the field as well as helps in absorbing impacts when pitching or catching the baseball.
The accented arch support provides better suspension as it hugs the natural curve of your feet to evenly distribute your weight throughout your soles thereby giving you the balance and stability that you need when playing baseball.
It also acts as a shock absorber and aids in reducing foot fatigue and pain as well as helps in enhancing blood circulation.
The Evoshield Throwback Game baseball socks are available in ten color choices. However, it is not as breathable and can be a little too warm.
I know I know! You're already impressed! I mean who wouldn't be? I am keen to know about your thoughts on this product!
MadSportsStuff Baseball Stirrup Socks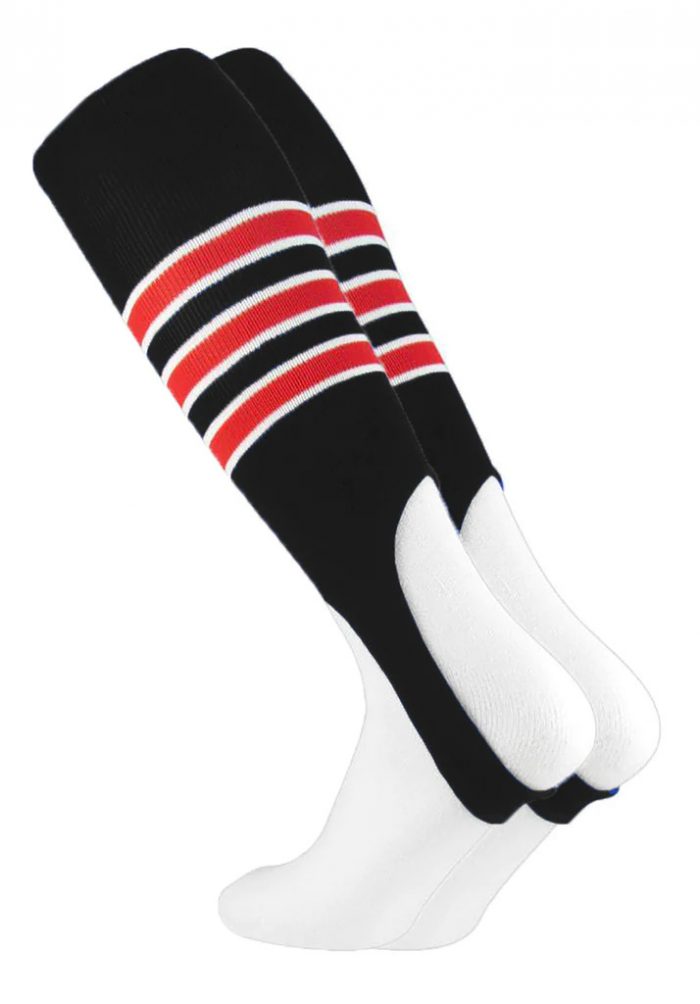 To create world-class baseball stirrups, MadSportsStuff partnered with TCK with these classic stirrups featuring a three-stripe design with featheredge. These baseball stirrups have a stirrup design knit giving you the look of a 7-inch cut stirrup.
It gives you that professional and traditional baseball look without the hassle of separating socks underneath.
These baseball socks contain a blend of 83% polypropylene, 6% nylon, 10% elastic, 1% Lycra spandex. It has an extremely lightweight feel without compromising the thickness and softness. If you want a warm pair of baseball socks, then this is perfect for you.
It is also efficient in wicking away any sweat and moisture from your feet as well as in controlling odor from sweat buildup and bacterial growth.
The arch and ankle compression helps in protecting these areas that are prone to injuries. This compression likewise aids in the recovery of sprained ankles or inflamed arches as well as prevents further injuries since it stabilizes the foot to give you better balance and support.
It has a double-welt top design to keep the stirrups in place and prevent them from sliding off your calf.
However, others wished this design to be a little more stretchable for a more comfortable and less restricting feel.
The MadSportsStuff baseball stirrup socks are available in 19 classic team colors to match your team uniforms.
According to me the most impressive thing about this product is its build quality. It's solid and I am pretty sure that it would be able to endure the workload for a long time!
TCK Elite Performance Baseball Socks
If you are looking for the best baseball socks for knickers, then these TCK Elite Performance baseball socks are the way to go. These socks have an over-the-calf length that hits just below the knee making it the perfect length for baseball knickers to give you that classic look.
These socks are made with 87% Nylon, 10% Elastic, and 3% Spandex utilizing TCK's excellent knitting construction. It has a stretchable feel and incredible elasticity to it without sacrificing the strength and durability of the socks.
It contains moisture-wicking properties to prevent sweat buildup and allows socks to dry fast. Along with it is the breathable mesh and odor control properties to keep your feet fresh and cool all day. It also has a double-welt top to ensure that the socks stay on top of your knickers and don't slip off while in-game.
It has added compression on the arch and ankle which provides support and reduces the risk of injuries, foot fatigue, and pain in these high-pressure areas. It helps in evenly distributing and absorbing the impacts when running, catching, and pitching throughout your feet to lessen the stress and pressure accumulated on the arch and ankle areas.
The TCK Elite Performance baseball socks are available in 27 color options guaranteeing that you can find the right color for your team uniform. However, others noticed that the color tends to fade a lot quicker with frequent washes.
I am impressed with the design of this thing and the attention to detail from the company should be praised!
I mean, this is an all-around product and I can guarantee that you would say the same after getting your hands on it!
Do Baseball Socks Differ from Normal Socks?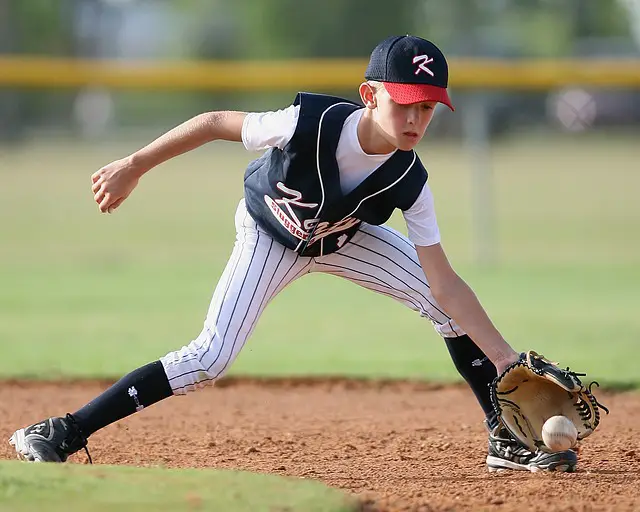 While you speak about the high socks and the regular socks, the 12-inch baseball stirrups have to be pulled up high. Putting the 12-inch cut baseball stirrups will not only make the players look fashionable, owing to how it allows unique colors to gleaming in the noon but will also make the game of baseball trendy.
Baseball socks are usually compressed to limit ankle movement. This is mainly done in order to prevent injuries, but these are also flexible and get tightened over time.
These socks usually pull sweat away to keep your feet dry and are generally made of synthetic fibers or wool, which is preferred over cotton.
Regular socks usually come in varieties, but these are typically cotton-based, and sometimes with minimal polyester or a similar material.
These socks are generally not recommended for rigorous activities and hence not preferred by youth.
Most of the time, sports socks are designed to keep your muscles and tendons from stretching beyond the point of no return while participating in most of the most exhausting activities.
Normal socks which depend on the manufacturer are designed to make you feel comfortable walking around in your everyday life.
How to Choose Baseball Socks
All of us know the importance of socks in sports, right? There are specialized socks for all kinds of sports, from softball to baseball.
Before you plan to purchase socks for baseball, here are a few things you need to consider.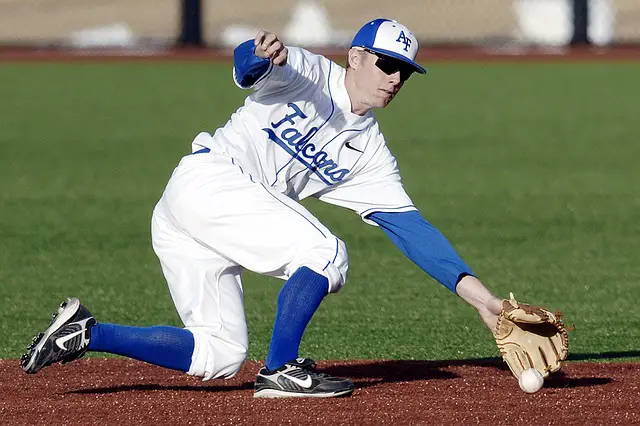 Support for your Feet
Your socks have to be comfortable, no doubt at all that comfort is the only thing you need to look at while you make the purchase.
For instance, your pair of socks should not only have cushioned sole to absorb shocks but should also have an arch and ankle support.
All of this will ensure your feet have got the kind of support they deserve as you play the enjoyable game of baseball.
On top of that, having the right type of support for your feet will also protect you from various injuries.
The Level of Comfort
When it comes to choosing the best socks while you play baseball, comfort has to be a top priority. This is because your performance in the game depends directly upon how comfortable you feel in the game.
When you choose baseball socks, you must make sure that they not only have good cushioning material but also an integrated mesh for added comfort too. You will also be benefited if your pair of socks comes with a flat-toe seam.
Just the Right Size
If you can shrink your pants because you got the wrong size, you cannot do that with your baseball socks.
Finding the right socks for baseball is of utmost importance, and having the right size is mandatory.
Your baseball socks have to be elastic enough to wrap perfectly around your legs without being too tight or too loose.
This will ensure your feet will not get uncomfortable due to the socks that slide down your legs.
On top of that, make sure the socks you choose should go well with your youth baseball cleats. Wearing socks ensure you look good and will help defeat your opponents at the game too.
How to Wear Baseball Socks
The first thing you need to do is to check the length of your knickers. If your baseball pants are cuffed at the ankles, there is no use in wearing stirrups as only one or two inches of them will be exposed.
Stirrups are suitable for people who wear baseball pants that are cuffed at the knees. If you need to opt for a traditional look, you may wear the pants on your upper shin.
Once you are done with that, wear a pair of white socks, aka sanitary socks, over the calf as you won't be showing any skin. Ensure that these sanitary socks are new so that they are elastic in nature and do not swag.
The next step is wearing the stirrups over the socks. These are colored, and it covers the lower leg with a skinny loop that goes around the foot. Ensure the loop is aligned.
Three things determine how high you wear your stirrups, and they are the length of your knickers, the type of your sanitary socks, and your personal preference.
A few players only need the narrow part of the loop to be visible between the cuffs and the shoes. The others want the sleeves to be shown too.
Whichever way you opt for, the stirrups have to be pulled under the pants.
The last step is to check if the stirrups are gripping your limb if it is not, then this can be a safety issue and can also cause a player to trip and fall.
Frequently Asked Questions about Baseball Socks
What are the important factors to consider when buying baseball socks?

When buying baseball socks, you should prioritize their comfort and quality. The material should be able to wick away sweat and moisture, have anti-odor technology, cushioned footbeds, embedded arch support, contoured Y heel, and provide good lateral stability.

Can I wear regular socks for playing baseball?

While you could wear regular socks for playing baseball, it's generally recommended to wear specialized baseball socks instead. Baseball socks are designed to provide better support and protection to your feet and often have features such as cushioning and arch support that can help to reduce foot fatigue and prevent injuries. Additionally, many baseball socks are made with breathable, moisture-wicking materials that can help to keep your feet dry and comfortable during games and practices.

How do I choose the right length of baseball socks?

The right length of baseball socks will depend on your personal preference and the rules of your league. Some players prefer over-the-calf socks that provide additional support and protection to the calf and ankle areas, while others prefer shorter socks that allow for more freedom of movement. Check with your league's rules to make sure that your socks meet any specific requirements, and try out different lengths to find the one that feels most comfortable for you.

How often should I replace my baseball socks?

The frequency with which you should replace your baseball socks will depend on how often you play and how well you take care of them. In general, you should replace your socks when they become worn out, stretched out, or lose their elasticity.
Additionally, if you notice any holes or tears in your socks, it's a good sign that they need to be replaced. To make your socks last longer, try to wash them regularly and avoid exposing them to excessive heat or friction.
Final Words
Choosing the right pair of socks is essential while you play baseball. The ideal pair of socks can prevent any skin infection and bad odor while you wear them for a long period of time.
The right choice of color and design can also enhance your look and make you look attractive.
Hence, select the correct pair of socks for the baseball mentioned above for added support. Stay stylish and also feel comfortable with the best baseball socks available online.