*I may get commissions for purchases made through links in this post.*
Baseball cleats are generally categorized in metal and molded cleats.
Choosing which type of cleats is suitable for you depends on several factors such as age, player level, position, league rules, and others.
One thing that stays the same, however, is that you must invest in good quality baseball cleats to perform your best on the field as well as protect yourself from accidents.
To help you narrow down your choices, I have listed the top 10 best baseball cleats this 2021 with both metal and molded cleat options that you should check out.
You will also find the things you need to know before buying baseball cleats below so let's get started.
Best Baseball Cleats in 2021
New Balance 4040 V5 Metal Baseball Shoe
The New Balance is the 4040 V5 TPU baseball shoe is overall the best baseball cleats on this list this 2021. This new 4040 V5 is the sleekest and most versatile baseball cleat in the 4040 series released by New Balance.
Since these shoes have metal cleats, anyone playing on the field will greatly benefit from it whether you play as an infielder, outfielder, catcher, or pitcher. It is definitely the best all-around baseball cleats.
It features an ultra-light REVlite midsole which is known to be 30% lighter than other foams giving you the most comfortable feel. Since it is lightweight, it will give you better responsiveness when running or changing positions.
The metal cleat outsole enables you to effectively dig into hard dirt infields and grass giving you great traction and stable footing. It has spike plates that are strategically placed to provide both stability and support.
It is made with a finely-tuned Kinetic Stitch TPU-coated upper for maximum mobility and flexibility as well as enhanced zonal strength allowing the cleats to adapt to the natural movements of the players.
Additionally, these cleats have synthetic Nubuck upper containing tiny perforations allowing air to flow through for breathability.
The New Balance 4040 V5 Metal Baseball Shoe is available in 15 colors. Whatever your size is, the wide selection of sizes that has wide and medium width options will sure to cover you.
These baseball cleats have a Nylon construction. As a result, it provides durability and structure but it also does not provide as much stretch making it harder to break-in at first.
Adidas Adizero Afterburner V Baseball Shoe
The Adidas Adizero Afterburner V Baseball Shoe is the lightest metal baseball cleats yet utilizing Adidas' improved Litestrike EVA midsole.
Interestingly, it is constructed with doubled thickness than their previous models which means it has more impact absorption yet they've also developed it to significantly lessen the weight.
What's impressive about these baseball cleats is the Sprintframe plate with an external heel that highlights a rotational footing zone conveying great footing on any surface to assist you in keeping your position behind the plate.
Additionally, it is lightweight so you'll be able to move at high speed as well as allow you to alter positions all while maintaining your footing.
Furthermore, the Sprintskin upper laminated package is there to give you extraordinary bolster without the included weight.
The Ironskin toe cap offers predominant scraped area resistance within the key toe-drag zone allowing the players to dig a toe on the field so you can move without slipping. This support and resistance are also advantageous for holding down your position for longer and keeps the cleats tough in spite of the weight and drive the toes accumulate.
It has a sock-like construction that conforms to the feet giving you a delicate and comfortable feel. Moreover, it gives incredible adaptability giving you more freedom on your movements.
The Adidas Adizero Afterburner V Baseball Shoe is accessible in 18 diverse colors to coordinate your gears. In any case, others specified that these cleats are not as breathable.
Under Armour Yard Low ST Baseball Shoe
If you're looking for the best metal baseball cleats, then the Under Armour Men's Yard Low ST Baseball Shoe will surely satisfy you.
It's like wearing your sneakers but with the features of a good baseball cleat giving you the best of both worlds thanks to its overall construction containing the molded heel, stretch collar, and textile forefoot.
To deliver grip and traction on the mound, it has nine metal cleats to help you maintain stability and balance while you adjust your stance. It is also lightweight so no need to worry about compromising your speed and control when playing.
The low-profile outsole also adds up to the comfortability since the side of the shoe travels underneath below the ankle bone of the foot which prevents your feet from rubbing against the cleats.
It highlights Charged Cushioning midsole around the heel and tongue to provide ultimate step-in comfort while simultaneously converting the impacts and weight that you are placing into your feet into power.
The Under Armour Men's Yard Low ST Baseball Shoe has delicate suede panels that offer assistance in giving you improved stability. Additionally, it adapts to your feet giving you a more natural feeling and locked-in fit.
Moreover, it incorporates a sock liner that molds to each bend and corner of your feet for the ideal fit. It has Super-ventilated tongue construction to keep you cool and comfortable.
Even so, some have noticed slight tearing on the toes from frequent use which can be a problem if you often run and slide around the bases.
Under Armour Harper 4 Mid RM Baseball Shoe
On the other hand, if you're looking for molded cleats also made by Under Armour, go for the Harper 4 Mid RM Baseball Shoe.
The rubber molded cleats provide just the right amount of traction needed by players on almost any surface. It doesn't dig as deep compared to metal cleats yet still gives you a steady footing. As a result, these make the best baseball cleats for outfielders as it enables them to run and change their positions and directions when catching fly balls.
Additionally, it has a mid-cut design that offers ankle support while still having freedom from your movements. It also has an adjustable ankle strap that provides a secured fit with powerful stability and support.
The upper is made with synthetic leather that is incredibly lightweight and durable. When you look closely, Under Armour employed a 3D print throughout the cleats which provide additional abrasion for added durability.
It has a full-length EVA midsole that helps disperse cleat pressure and provides ideal comfort and just the right amount of cushioning.
The Under Armour Harper 4 Mid RM Baseball Shoe is available in four colors. Take note that these cleats are dominantly white so they can be easy to get dirt on and difficult to clean.
New Balance 4040 V5 TPU Molded Baseball Shoe
If you like the New Balance 4040 V5 baseball shoe that is listed on top but you need or prefer a molded cleat option, don't fret because it is also available in a molded cleat option.
The 8-spike plate TPU molded cleat outsole is flexible yet supportive enough to deliver great traction and footing on any surface. It is both adaptable and strong allowing you to dig deep into the field to keep your footing firmly on the ground.
It is built with New Balance's innovative REVlite midsole created to be 30% lighter than other foams. It gives premium responsiveness and toughness as well as maximum comfort as you move.
Just like the 4040 V5 metal cleats, these TPU molded cleats also utilize the Kinetic Stitch TPU-coated upper that works by conforming to your natural movements while simultaneously improving zonal strength. Moreover, it has an extra TPU film overlay on the toes to provide more back and support in this area.
The New Balance 4040 V5 TPU Molded Baseball Shoe is available in 15 colors. You can also choose from the wide selection of sizes that have wide and medium width options.
Like most of New Balance's models, these cleats are as durable but also possess stiffness that makes them hard to break-in.
Mizuno Dominant IC Baseball Shoe
The Dominant IC Low Metal baseball cleats are crafted for innovative comfort, soft flexibility, and superior cushioning.
The new anatomical Last/Shoe Shape gives the players predominant fitting while minimizing control loss and maximizing solid acceleration.
In addition, the new IC Outsole provides improved flexibility due to deliberately placed flex grooves and spike configuration to maximize footing and movement. It conveys great traction on the surface to avoid your feet from sliding down.
The Wave technology by Mizuno is employed to assist players in keeping a steady base. It gives you better control over your body and weight while maintaining footing as you move and alter positions.
These cleats have a full-length EVA midsole that has improved padding to keep your feet comfortable. It is additionally proficient in scattering the impact and weight as you move.
This extra padding avoids strain despite all the pressure and weight accumulated on these zones so it is certainly an enormous advantage.
The bootie construction on the interior of the shoe gives a delicate and secure fit. As a result, it efficiently complements the strong 3-layer upper for an overall impressive fit and feel.
You can get the Mizuno Dominant IC Low Metal Baseball Cleat in six colors. In any case, others specified that these cleats lose their structure and shape after a couple of uses.
Adidas Afterburner 6 Grail MD Cleats
The Adidas Afterburner 6 Grail MD Cleats is a great option if you want the best molded baseball cleats.
The molded rubber outsole delivers traction and grip for quick and agile changes of direction that can be worn on almost any surface. Furthermore, since it is rubber, it makes an ideal option on soft or muddy fields since it will not dig deep in the ground preventing you to get stuck while playing. It just bounces off so you can get back to the game quicker.
It features a one-piece upper with a widened lacing system for a seamless locked-down fit. This also helps in eliminating any unnecessary movement within the shoe. It also has a Nubuck upper which is known to deliver durability and breathability.
The toe cap is further reinforced using abrasion-resistant Ironskin to protect the toe area from tearing due to constant dragging.
The Adidas Afterburner 6 Grail MD Cleats is one of the lightest cleats out there making it the best baseball cleats for speed. If you field and run around the bases constantly, then definitely go for this one.
However, since it is one of the lightest baseball cleats, it also doesn't provide as much padding on the insole which can make it uncomfortable when worn for long hours.
Nike Alpha Huarache Pro Mid Baseball Cleats
Another molded baseball cleats on the list are the Nike Alpha Huarache Pro Mid Baseball Cleats.
It has a mid-cut design that is perfect for players looking for easy movement while still having moderate ankle reinforcement. This way, you are able to move laterally without injuring your ankles because of the extra support it provides. Likewise, this design also enables you to sprint across the field or down the base path as fast as possible.
The TPU plate provides durability and aggressive traction on any surface for excellent stability. It is both sturdy and lightweight allowing you to move and change positions without losing your traction.
In particular, it has eight forefoot cleats and four cleats in heel strategically placed to deliver powerful traction comparable to metal cleats.
The upper is made with synthetic leather that offers extra support at the front and middle of the foot and ankle. It is also relatively softer and much more comfortable without losing its shape.
One of the features that the Alpha Huarache Pro Mid Baseball Cleats take pride in is the full-length Phylon midsole developed to provide the most comfortable feel thanks to its soft cushioning.
This ¾-inch height collar is indeed great for delivering ankle support, however, it also has the tendency to rub against your ankles making it uncomfortable and can lessen your mobility.
Mizuno 9-Spike Advanced Franchise 9 Molded Baseball Cleats
The Mizuno 9-Spike Advanced Franchise 9 Cleat is a high-end rubber molded option suitable for all field types.
It has a rubber stud bottom that provides outstanding traction, durability, and comfort no matter the playing surface. The rubber studs are aligned underneath the foot for ideal comfort while providing the traction you need.
This is particularly advantageous for outfielders who constantly plant their toes hard and deep into the field when chasing fly balls so if you're looking for the best baseball cleats for outfielders, this is a great option for you.
Apart from this, if your main priority is speed when fielding, then these baseball cleats will surely meet your needs. It has a synthetic upper that delivers flexibility since it is not too stiff. The low-cut design, on the other hand, will further provide mobility so you can move and run freely.
These cleats also highlight the full-length midsole and toe-to-heel cushioning for maximum comfort.
However, the Mizuno 9-Spike Advanced Franchise 9 Cleat is not as breathable so it can be uncomfortable when worn for an extensive amount of time.
Under Armour Leadoff Mid RM Baseball Shoe
The Leadoff Mid RM Baseball Shoe is one of the most comfortable cleats by Under Armour.
They have packed in great features on this model such as their soft, padded collar, the right amount of cushioning, and cleats that give you optimum traction without any underfoot pressure to stand true to their claim.
In addition to this, the upper is constructed with synthetic leather that gives you flexibility without compromising the durability of the cleats.
It has a full-length EVA midsole that helps in dispersing cleat pressure across the insole.
The mesh tongue is also incorporated to enhance breathability keeping your feet cool and dry all game long.
Moreover, the rubber molded cleats are designed to give ideal footing and toughness on all field surfaces to keep your balance and stability while on the mound.
Even though the Under Armour Leadoff Mid RM baseball cleat is profoundly durable and comfortable, a few pointed out that it isn't as stretchable.
Things to Consider Before Buying Baseball Cleats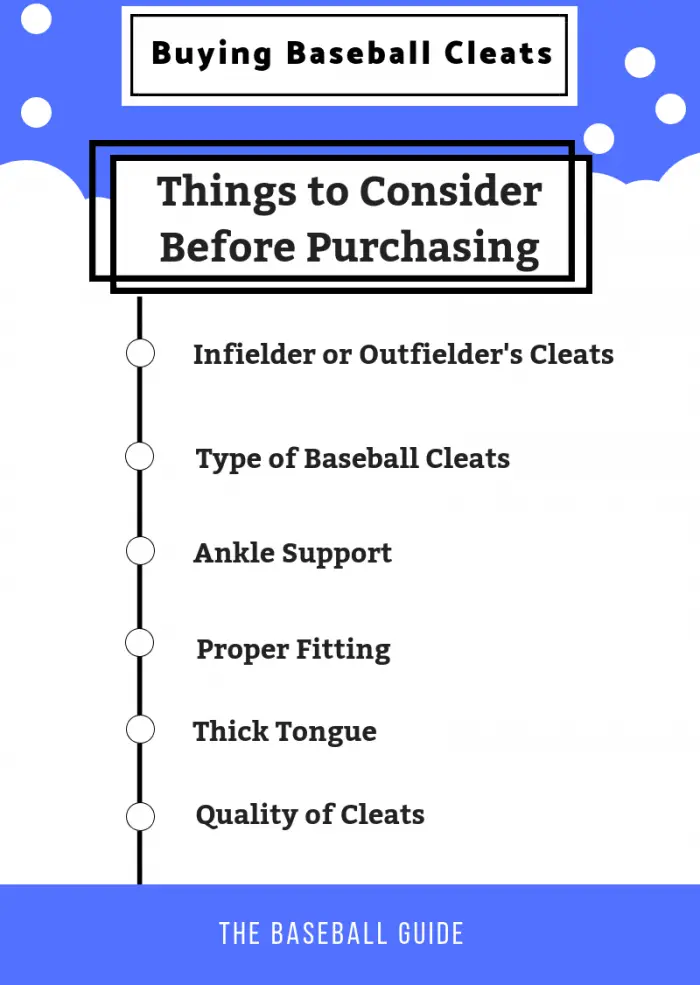 Requirement of Infielders
The infielders include First Base (1B), Second Base (2B), Third Base (3B), and Shortstop (SS).
If you are an infielder, then you must be anyone from above them.
The infielders have to be ready all the time because they can get a ball anytime.
Their baseball cleats should be lightweight, low top or high top as per the requirement of ankle support, and the most important thing is the excellent grip.
The infielders may have to change their direction quickly, and for that, metal cleats give them an excellent grip.
Requirement of Outfielders
The ball doesn't come to outfielders; they have to reach the ball as fast as they can.
For that, they need to run at maximum speed to reach the ball and throw it.
Therefore, they need very lightweight cleats that offer superb grip on the grass area.
Metal cleats are perfect for both grass and dirt surfaces.
But, if the grass area is soft, then you may want to go with molded cleats instead of metal cleats.
Types of Cleats
There are three types of cleats used by young baseball players.
Metal Cleats
Molded Cleats
Turf Shoes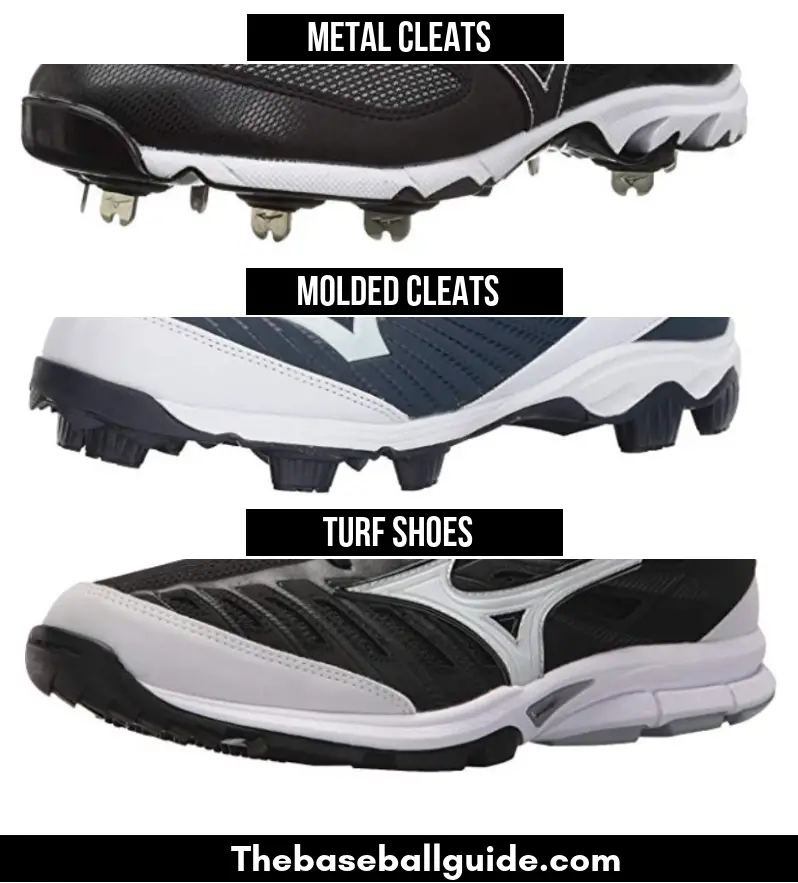 Metal Cleats
As the name suggests, the spikes found on the outsole of these cleats are made with metal. Therefore, these cleats provide the best grip on the field because the metal spikes can dig into even on hard dirt infield areas.
Therefore, metal cleats are one of the best choices for infielders.
But, sometimes, metal cleats can also cause injuries because the cleats provide a great grip on the ground, and it can cause injuries when the player wants to change the direction suddenly.
This rarely happens, but, you should be aware of that.
The metal cleats are very uncomfortable when they're worn on other surfaces like concrete etc.
For the infield ground, there is nothing better than the metal spikes.
However, if you love lightweight cleats, then molded cleats can be a better option for you because they are lighter than metal cleats.
Best Metal Baseball Cleats
No doubt that the best metal cleats for baseball is New Balance L4040v3 Cleats.
These cleats have everything that you want in your superb baseball shoes. They are available in various cool-looking designs which make them one of the coolest cleats.
It has metal spikes, but still, it is still lightweight.
The strategically positioned spikes give you enough grip on the surface and help you to take speedy moves.
In short, they have everything which you want in the cleats.
Molded Cleats
On the other hand, molded baseball cleats have plastic or rubber cleats that are permanently affixed on the sole.
They are stable, strong, and provide a good grip on the dirt and grass surfaces.
You can also wear them on surfaces other than grass & dirt like asphalt and concrete.
The molded cleats last longer as compared to metal cleats and they are also less expensive. They provide good grip, but not as good as the grip of metal cleats.
If the surface is soft, then molded cleats are preferred over the metal cleats because metal cleats can get you stuck in the very soft surfaces, and can decrease your speed along with causing some imbalance.
Best Molded Baseball Cleats
When it comes to the top-performing molded cleats, Nike Huarache 2KFilth Cleats come to my mind.
They are also the most comfortable cleats on the market.
They're lightweight, durable, stylish, and affordable too.
The 12 molded cleats provide perfect grip on the surface, while the lightweight Phylon midsole makes them comfortable from the inside.
If you are thinking about buying molded cleats, then you should definitely try them at least once. In 2020, Nike Huarache 2KFilth Cleats are one of the most comfortable molded cleats available.
Turf Shoes
The turf shoes are also known as training shoes because players wear them when they are practicing away from the field.
These are comfortable and provide adequate grip on artificial turf surfaces.
The turf shoes keep your foot close to the ground, so it reduces the risk of any injuries.
Turf shoes are perfect for artificial turf grounds. You should not wear metal or molded cleats on the artificial turf grounds, because they can't provide good grip and can cause injuries.
Turf shoes are also lighter than metal and molded cleats. But, you can buy just any cleats because they are the lightest shoes on the market. If you're playing in a professional or high school game, then turf shoes may not be the best choice for you.
Best Turf Shoes for Baseball
The New Balance T4040v4 is one of the top-rated turf shoes for the baseball players.
These shoes are available in so many different colors that you can easily pick one of your choices. You can find these shoes in almost all the good color combinations which make them perfect for all types of uniforms of any team.
The rubber sole does not have metal or molded cleats, but still, you'll be surprised to see how effective they're in providing grip on the ground.
Another thing that makes them one of the greatest shoes is that you can find a wide version of a size. If you have wide feet or flat feet, then choosing wide shoes is a good option, and in that condition, you can easily find a wide pair of New Balance Turf Shoes.
Ankle Support
When it comes to buying cleats, the mobility of ankles is very important. The high top, low top, and mid-top cleats are manufactured by keeping the ankle support in mind.
If you need ankle support, in that case, mid-top or high-top cleats are perfect for you as they provide ankle support.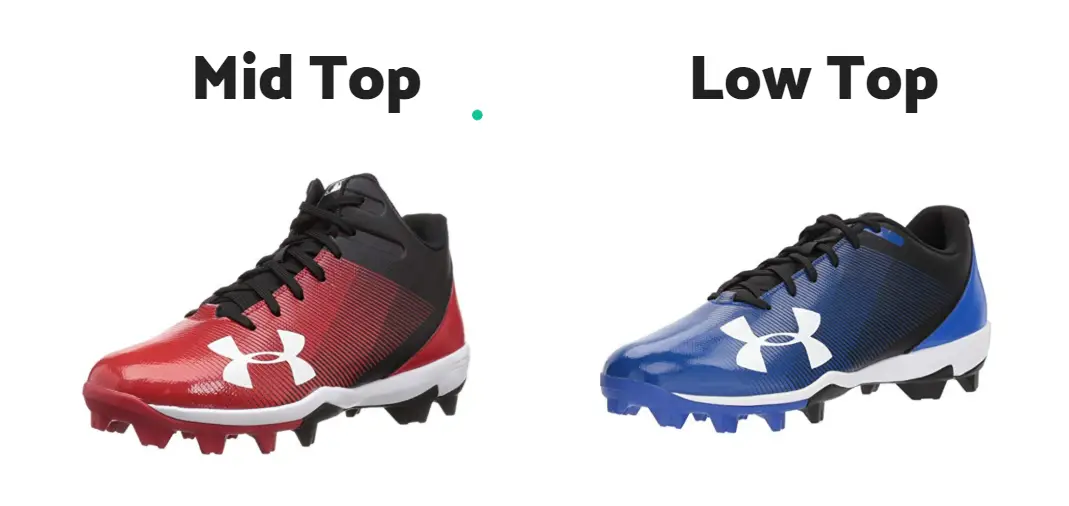 While, the low top cleats help in the mobility of the ankles, and therefore, if you want the fastest baseball cleats, then low top cleats should be your choice.
The low top cleats are also lightweight as compared to the mid top and high top cleats.
So, if you want cleats for speed, then go for the low top because the extra weight can decrease your speed.
Special Requirement (For Flat Feet & Wide Feet)

If you have flat feet or wide feet, and you love playing baseball, then you should consider cleats that are wider than usual, so that your foot will have enough space in your shoe.
Generally, the manufacturers only manufacture one-size cleats, and therefore, it becomes very difficult for the players to wide cleats.
In that case, I highly recommend New Balance Cleats. They give you an option, where you can select the normal version or the wide version of a single size which is very rare in the baseball industry.
If you have wide feet, then you should check my other article where I talked about the best cleats for wide feet baseball players.
While, if you've flat feet then you should read my article about the top baseball cleats for the flat feet.
Position
The cleat requirement changes according to the position of the player.

For Infielders
The infielders stay in the dirt area of the field, which is closest to the batter.
But, according to the requirement, they may have to run on the grass area of the field, which is totally different than the dirt area.
So, you need cleats that provide good grip both on the dirt ground as well as on the grass.
In that case, the best cleats for infielders are metal cleats because they provide an excellent grip on both dirt and grass areas.
But, if the ground is soft, then you may have to switch to the molded cleats because the metal cleats can be stuck in the soft ground, and can decrease your speed.
For Outfielders
The outfielders stay in the grass area of the field, and they have to run a lot during the game.
When the ball is in the sky, they have to run at maximum speed to catch the ball and to throw it to save the game.
So, outfielders require the fastest men's baseball cleats they can get.
For that, I'll recommend metal spikes along with low top is a perfect combination because the metal spikes provide the maximum grip on the field while the low top version will help in the maximum mobility of the ankles.
Along with that, low-top cleats are also lightweight, which is also necessary for speedy moves.
Size
Everyone knows that there is no benefit to getting a top-quality pair of shoes if they're not of the proper size.
So, before buying, measure your foot size, and purchase according to the length of your foot.
You should also measure the width, if you've wide feet, then you need to buy wider shoes.
Material
The men's baseball cleats are made of two types of materials: Genuine Leather and Synthetic.
The genuine leather is more durable & breathable as compared to the synthetic leather.
But, for the superior quality of genuine leather, you also have to pay more.
The synthetic leather cleats are more popular in the youth because they are affordable, comfortable, and provide good support to the feet.
In most cases, you'll find synthetic baseball cleats because these are more preferred by the players as compared to genuine leather shoes.
Whether a certain pair of baseball cleats are lightweight or not, depends on the material used in the manufacturing.
Final Words
We've learned that there are a lot of things that we must consider before buying baseball cleats.
Different positions on the diamond, either infielders or outfielders, require specialized needs that can only be met by a specific type of baseball cleats whether metal, molded, or turf shoes.
There are a lot of great options available today. Some of the best ones are listed above so feel free to check them out.
With all the things we have discussed above, I hope this article has helped you choose the right baseball cleats for you.