When you're on the field, you should only think about how you can win this game. You should do every possible attempt which can lead you to victory.
If you want to win a game, you need to give your 100%. There should be no distractions.
Your clothes, cleats, bats, and helmet should be comfortable.
From all of these, having perfect baseball cleats is the most important.
But why?
You can't run fast and maintain your balance if your cleats are not comfortable, and doesn't provide proper grip.
But, what are the best baseball cleats for youth?
Before, moving towards the cleats for baseball, we should know, what things we should consider when buying baseball cleats.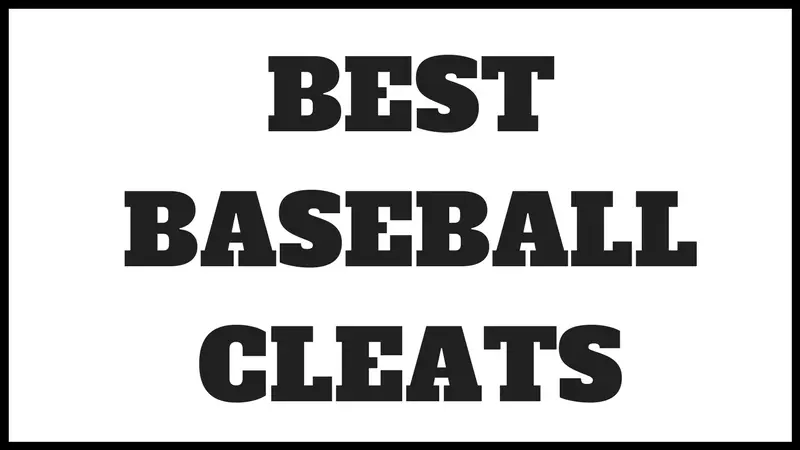 Things to Consider When Buying Baseball Cleats
There are various kinds of baseball cleats on the market. But, it can be confusing to choose and buy baseball cleats.
Before purchasing them, consider these things.
Follow the Rules: There is no use of having a perfect pair of cleats if they're not according to the rules of the league. Many school level tournaments and youth leagues don't allow metal cleats, therefore, it's good to avoid them if you're buying them for kids.
Position: In baseball, position matters a lot. A catcher will prefer a different kind of cleats than middle infielders. A pitcher will want cleats which give them an overall support. Therefore, you should go according to your position.
Size: According to a general rule of thumb, a good fit cleat should have ¼ inches of space between the toe and the front. But, the best baseball cleats for you are those which are comfortable to you. Forget the general rule of thumb.
Special Need: When purchasing the baseball shoes, make sure, they're fulfilling your requirement. If you've heel pain, or you want cleats for ankle support, then they're available on the market.
Material: You can find the perfect cleats in your desired material. You can find them in metal, pure or synthetic leather etc. They have their own advantages and disadvantages.
Best Baseball Cleats 2017
Mizuno Men's 9 Spike Baseball Cleat
Mizuno is a reputed brand when it comes to the manufacturing baseball cleats. They're expert in designing high-quality products in low-cost.
They manufacture durable and reliable products, which stays in the budget.
At first look, Mizuno 9 Spike cleats may appear simplistic, but they're worth the price you'll pay.
If you're a beginner, or if you're position is not defined, then they're best for you. They work well for all positions.
Its classic colors will work with the team jerseys.
In the manufacturing of these cleats, Mizuno used a specially designed rubberized material. The full-length midsole makes them comfortable. Now, you can easily wear them for hours.
Whether you're on turf infield or grass outfield, they'll work well for you.
They may not provide the luxury of leather, but they're stylish, durable, and they'll last the whole season.
Another good thing is that 9 Spike Mizuno Cleats budget-friendly. You don't have to spend much money.
Nike Men's Vapor Keystone 2 Low Baseball Cleat
Nike is the most popular sports brand that manufactures almost everything from jerseys to shoes. Many celebrities prefer cleats of this well-known international brand.
Purchasing a Nike product, "You Get What You Pay For"
Nike manufactures highly durable baseball cleats, which are both comfortable and stylish.
You can trust this brand, whether you're going to a friendly match or a professional league match.
Its durable materials help them to withstand any intense exercises.
These cleats are very flexible which are good for mobility. Its EVA Sockliner makes it lightweight and also provides cushioning which adds to its comfort level.
The solid rubber outsole with the configuration of 12 cleats gives you a perfect grip on the ground. You should definitely check Nike Vapor Keystone.
Adidas Performance Change UP MD 2 K Baseball/Softball Cleat
Adidas is the top rival of Nike. It's an international brand, and it manufactures cleats as good as Nike.
Adidas Performance Change UP offers lightweight cleats which help in the speedy movies. From Adidas, you can expect a good design at an affordable price.
In these cleats, Adidas used synthetic leather to make the price low.
Molded rubber is used in its sole. These cleats will perform well on both grass and dirt.
You'll definitely like the color combination and textile which gives them a sporty look. Adidas provided a full lace-up closure to give a more personalized fit. Apart from it, they're quite comfortable.
If you're looking for the affordable baseball cleats which perform well on every field, then Adidas performance change is a good choice.
New Balance Men's L4040V3 Cleats
New Balance is not the oldest cleats manufacturing brand, but their baseball shoes are highly durable, and they're in demand.
New Balance Men's L4040V3 Cleats get a good response from their users.
These are one of the most comfortable cleats on the market. Synthetic material is used in the manufacturing of these cleats, and they also feature a protective toe overlay.
To increase the comfort level, New Balance added full-length REVlite lightweight foam in them.
These are a great choice for you because they're cheap and comfortable. You can check the details of L4040V3 on Amazon.
Under Armour Boys UA Deception Mid RM Baseball Cleats
Initially, Under Armour was famous for making football cleats, but now, they're considered as one of the expert manufacturers for baseball cleats. They make sportswear for every sport like baseball, softball etc.
The rubber sole is highly durable and allows quick movements. The Company's UA ClutchFit Technology gives a second lightweight skin which provides a powerful support to the ankle.
The midsole has ¾ length to give cushion and comfortable fit. The shock absorption and cleat-pressure dispersion are also important things which add its comfort level.
These rubber molded baseball cleats provide rotational traction configuration with improved rotational capability.
These are a great option for players who need ankle support. You can check other details of Under Armour Cleats here.
New Balance Men's L4040 Metal Low Baseball Shoe
These New Balance Metal Cleats gives you speed, power, and stability. They provide you a low profile look.
To make fast movements, a powerful cushion and grip are present in them.
While taking the quick moves, the low-cut shoe along with eight cleat plate gives you stability and flexibility on the field. A key feature of these cleats is their full-length REVlite foam midsole.
So, these are the top rated baseball cleats in 2017 which you can buy. If you've any questions, then you can write us in the comments section.