BBCOR and USA bats are quite different from each other.
But, if you are not very much familiar with the baseball bats, then you may be feeling confused, and thinking yourself "What is the difference between BBCOR bats and USA bats?".
In this article, I've tried to explain the differences between these two bats in a very simple way.
Let's get started.
What are BBCOR Bats?
Batted Ball of Coefficient of Restitution (BBCOR) is the standard which currently regulates adults baseball bats used in High School and Collegiate play. Normally, the ratio of the ball exit but BBCOR measures the trampoline effect of the bat.
It is a kind of baseball bat made up of a metal alloy made by following specific performance regulations standard which is deemed to be safe by the NCAA and NFHS for college and high school level baseball players. The BBCOR standard ensures that bats are non-wood perform better compared to wooden bats.
What are USA Bats?
USA Baseball bats standard applies to those bats that are under NCAA and NFHS level of play and was implemented on January 1, 2018. The USA Baseball bats standard establishes a standard for performance of youth baseball bats.
After the implementation of the new standard, the metal and composite bats have to feature the USA Bat certification mark to be allowed to play in youth leagues.
Retailers and licensed manufactured of bats began to see the certified baseball bats with the USA baseball mark from 1st September 2017. Some of the Organizations that have implemented USA bats standard are American Amateur Baseball Congress and Dixie Youth Baseball.
Difference Between BBCOR and USA Baseball Bats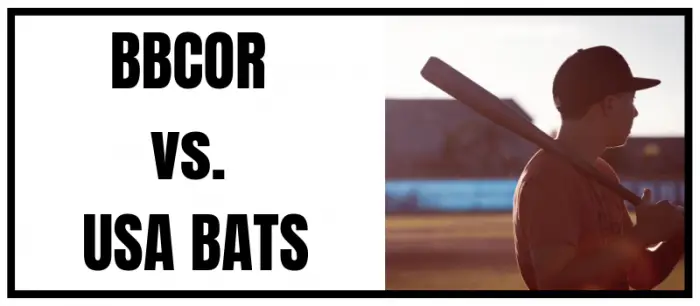 The performance of BBCOR and USA baseball bats are almost identical since both of them are based on the coefficient of restitution from a bat-ball impact. Even though based on the same principle, the scale of results is different due to the use of different test balls and test speeds.
The primary difference between BBCOR bats and USA bats is that USA bats don't have the- 3 drop weight restrictions. Thus lighter in weight USA balls are easier to swing resulting in a higher batting average, but the hit ball speed is not high as compared to the BBCOR bats.
BBCOR certification regulates adult bats performance and BBCOR measures the trampoline effect of the bats. These bats are made only in a drop 3 (-3) or minus 3 and have 25/8'' Barrel.
On the other hand, USA baseball bats are designed to perform like BBCOR bats but don't have drop weights restrictions as in BBCOR balls. Although it also has 25/8'' Barrel or small.
Testing the difference between the performances of both bats is important to address since they both are created for play in different age groups.
Who Should Buy BBCOR Bats?
BBCOR bats are built with – 3-ounce length to weight ratio. These bats are mainly required for uses in High school baseball play and college baseball play. For players in the junior league between ages of 12-14 years, BBCOR is compulsory if a composite model is being used.
For the senior league in the ages of 13-16 years, only BBCOR bats are used. Also in Big leagues, BBCOR certified baseball bats are used in the age groups of 15-18 years with a maximum permitted length of 36 inches. Hitting with a BBCOR bat is much easier and thus junior level players and players of high school and college should buy BBCOR bats.
Top 3 BBCOR Bats
Best BBCOR Bat for 2019
When it comes to a perfect BBCOR bat for 2019, then I'll suggest you should try Louisville Slugger 2019 Meta Prime BBCOR Baseball Bat.
The 3 peice composite design along with the light swinging makes it one of the most trusted bbcor bats.
The 3FX connection system has reduced the vibrations a lot.
The balanced swing weight provides a deadly combination of speed and power that turns a normal hitter into a dangerous homerun machine.
It has everything that you need.
So, in my opinion, you should try Louisville Slugger 2019 Meta Prime Bat atleast once.
If you do not like it (which is very rare), in that case, you should look at these top-rated bbcor bats of 2019.
Who Should Buy USA Bat?
A little league player on the age group of 14 or under must have a USA bat. Players participating in the little league Baseball are only affected by the USA bat standard. Players in Tee Ball, Minor Division & Major Division have to use bat approved through the USA bat standard.
But at the Intermediate Baseball Divisions & Junior League Baseball division, players have an option to use either USA bat or BBCOR bats. Thus players intending to play in the little league Tee Ball, Minor Division & Major Division should by the USA baseball bats.
Top 3 USA Bats
Best USA Bat for 2019
If you want a USA Baseball Bat for 2019, then I recommend Rawlings 2019 5150 USA Baseball Bat for those players who are looking for an affordable bat that comes under $150.
While, if you can spend more than $200, then I'll recommend you try DeMarini 2019 Voodoo Balanced USA Bat.
Both of these bats are tried and tested by a lot of baseball players. So, you can choose any bat based upon your budget.
If you want more options from which you can decide, then you should try one bat from these popular USA Baseball Bats of 2019.
Final Words
A change from wooden to a wood-like standard has been done in BBCOR baseball bats and USA baseball bat because it is found that metal and composite bats are more durable and lightweight than wooden bats.
On the other hand, composite BBCOR bats are lighter than aluminum or alloy BBCOR bat. The BBCOR regulates the amount of energy lost during the contact between the bat and the baseball. You can learn a lot more about bbcor bats in my other article that shares info about best bbcor bats for 2019.
The new USA baseball bat standard was developed by USA Baseball Committee effective from 1st January 2018. Little league Baseball compiled with the new standard.