I'm sure you'll agree with me when I say:
A catcher is one of the most important players in the game.
He needs a high-quality & durable catcher's gear set to protect himself from the fast-coming baseballs toward him.
With so many options available in 2022, you need to buy the best catching gear that is durable, comfortable, and affordable too.
After doing hours of research, we have written this super helpful article that covers almost everything that you need to know before buying a youth catcher's gear.
Youth Catcher's Gear
| | | | | |
| --- | --- | --- | --- | --- |
| | | | | |
| Under Armour Victory Series | | | | |
| Under Armour Converge Victory | | | | |
| | | | | |
Intermediate Catcher's Gear
Adult Catcher's Gear
Best Catcher's Gear Set in 2022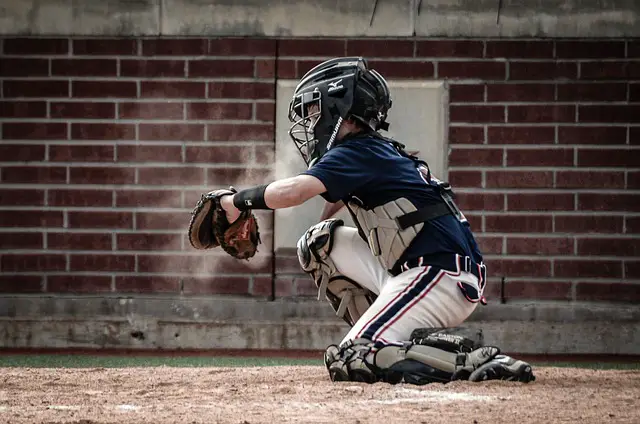 Wilson C1K Catcher's Gear Kit
If you are looking for the best catcher's gear, then definitely check out the C1K Catcher's Gear Kit. Wilson molded this kit after their Pro Stock Catcher's Gear well-known for its durability and sturdiness but built with MLB Prostyle and feel so it doesn't compromise comfort.
The helmet meets the NOCSAE standard to ensure maximum protection and coverage when catching pitches. It gives you unrestricted movements so you stay sharp and agile as well as a maximum field of vision so you can read pitches and focus on the ball. The helmet has a removable moisture-wicking chin pad and adjustable straps to provide a custom fit and has a nice glossy finish to it.
The chest protector features a high-density foam padding that protects the ribs, heart, and stomach by efficiently absorbing and dispersing the impact throughout the surface. It has an angled pad design that enables the ball to fall straight down when blocking wild pitches. It has removable shoulder caps and an over-the-shoulder adjustable harness to keep it in place.
The leg guard has overlapping thigh pieces for maximum coverage to protect your lower thigh down to your leg. It also has inner knee pads for added protection. The leg guard is made with lightweight premium-grade ABS plastic to protect you from the impacts without restricting your movements and position. It also has adjustable metal buckles for easy on and off and to provide a snug fit.
Others pointed out that the helmet can be difficult to put on and remove and can be uncomfortable at times
Mizuno Youth Samurai Catcher's Set
The Youth Samurai Catcher's Set offered by Mizuno provides all-around protection and coverage needed by catchers behind the plate in every season. This catcher's gear for youth is recommended for 12 year old and under.
The helmet is constructed with a strong steel framed mask to protect the front, top, and sides of your head and thin steel bars to increase visibility when catching the ball. It has a 3-layer EVA foam padding for maximum comfort. It also has ventilation strategically placed for added comfort and breathability and an adjustable jaw pad that offers a soft fit and helps in controlling sweat while in-game. This helmet is NOCSAE certified to guarantee the efficiency and quality of the gear for safer gameplay for youth athletes.
The chest protector features a Low Rebound Technology for better ball impact absorption and has a grippy surface that helps in keeping the balls close and preventing them from bouncing far from the catcher when blocking wild pitches. It has detachable wings for more coverage and protection on the sides, a DryLite inner lining to keep you cool and dry, and a strapping system that features dual buckles for a secured fit.
The shin guards have a detachable K-pad to protect your knees which is especially helpful since catchers are in a squatting position most of the time and are prone to get hit by wild pitches in this area. It also has a protective triple-knee cap that provides flexibility to help you bend, crouch, or squat with ease and comfort.
Others noticed that the shin guards run a little long so take note of it if your kids have shorter legs otherwise, many love the great fitting of the helmet and chest protector.
All Star Intermediate System7 Axis Catcher's Set
The All-Star System7 Axis Catcher's Set is one of the best intermediate catcher's gears currently available in the market. It is recommended for baseball players between 12 and 16 years of age.
It has a hockey-style catcher's helmet that meets the NOCSAE standard for safety. It is constructed with a high impact-resistant ABS plastic shell to give you a sturdier and larger protection area and a durable I-BAR steel mask that allows you to have a maximum field of vision behind the plate. It has a backplate with a strap to keep the helmet in place, a removable and washable inner liner for comfort, and an attractive two-color graphite shell finish.
The chest protector also meets the new NOCSAE standard for safety which guarantees to reduce the risk of commotio cordis among catchers. It is made with stainless steel matte black hardware to deliver maximum protection and internal PE protective plates for added safety. The chest protector has improved breakpoints that provide better mobility when blocking and sliding. It also has a DeltaFlex harness to keep it in place and diamond vents on the back to keep you cool.
The leg guards utilize the LINQ pivoting hinge system that offers superior mobility for catchers for easy and comfortable movements and positioning. It has a wider and smoother knee design for improved pivoting and sliding and has a repositionable center knee pad that many catchers love as it allows them to maintain their squatting position comfortably despite frequent and abrupt sliding and blocking motions.
Others pointed out that the hockey-style helmet can be a little tricky to put on and remove and can be difficult to adjust.
Rawlings Velo 2.0 Catcher's Set
The Velo 2.0 Catcher's Set promises to deliver unmatched protection, style, and comfort for catchers behind the plate. This is the best catcher's gear for high school baseball and comes in 10 different color options with an attractive pro-style design.
The hockey-style catcher's helmet has a two-tone matte finish and meets the NOCSAE standard to provide increased safety. It has a high-strength cage that provides excellent impact protection and larger coverage thanks to its longer design that also covers the throat and neck area. The helmet is made with a vented protective ABS shell for durability and breathability. It also has a moisture-wicking liner, an adjustable chin pad for added comfort, and a 3-way adjustable backplate to provide a custom fit.
The chest protector is NOCSAE certified for commotio cordis safety standards. It utilizes Arc Reactor Core combined with polyurethane foam with an engineered polymer plate that acts as a shock absorber for forceful impacts when blocking the ball as well as provides better ball rebound and control. It has a Dynamic Fit System 2.0 four-point shoulder and back harness to deliver a form-fitting control and helps in keeping the chest protector in place while in-game.
The leg guards have a lightweight design to increase mobility and comfort when sliding and blocking and have a triple knee construction for improved protection and extended coverage. It has Heat Exchange foam side flaps that encourage airflow to keep you cool and has an over-the-shoe elastic strap on the toe flap to provide a better fit and additional protection.
Some wished that the fit system and harness of the chest protector can be tightened up more since the chest protector runs a little larger on the size which is especially helpful for players who have skinny body types.
Louisville Slugger Youth PG Series 5 Catcher's Set
The Slugger Youth PG Series 5 Catcher's Set developed by Louisville guarantees to deliver well-rounded maximum protection for youth catchers behind the plate.
It features a NOCSAE certified helmet to provide top-notch protection for safer gameplay. It protects the front, top, and sides of your head from wild pitches to keep you safe and avoid injuries. It also has a moisture-wicking chin pad to wipe away sweat from your face while in-game to keep you comfortable and cool.
The chest protector is constructed with dense memory foam which efficiently absorbs and dissipates the shock across the surface as well as effectively deadens the speed and impact of the ball for better rebound control when blocking. It has a precision pad design that gives you increased mobility and flexibility by allowing the chest protector to move as your body moves thanks to its increased pad breaks which is definitely advantageous when squatting for a long time. It also has an over-the-shoulder harness to keep it in place and perforated mesh lining with a metallic mesh cover that reduces the weight and creates better airflow.
The shin guards are made with high impact-resistant plastic featuring an anatomically-inspired design developed to mimic the body's natural movements and joint placements for a more comfortable feel and more freedom to your movements. It has a double-knee design that allows for a better fitting and less restricted range of motions when squatting, sliding, or blocking.
Others mentioned that the helmet is difficult to wear and remove and can be a little tight.
Easton Elite X Catcher's Set
Easton ensures to take the fit and performance of the Elite X Catcher's Set to a whole new level. This catcher's gear is available in 13 color combinations to coordinate with your team uniform and is recommended for players aging 15 and above.
The helmet has a solid matte shell exterior and black steel cage with a flat middle bar to deliver maximum comfort and increased visibility so you can freely read the pitches and catch the ball. For comfort, the helmet incorporates padding lined with BioDri moisture-wicking fabric and comfortable wrapped padding with breathable air mesh which also works to wick away any sweat and moisture. It has an adjustable extra-wide rear top strap to give you a secured fit and a locked-in feel. This helmet also meets the NOCSAE standard for baseball safety.
The chest protector meets the NOCSAE Commotio Cordis standard to guarantee superior protection for catchers behind the plate. It has stacked memory foam located in the abdomen area to absorb impacts from wild pitches as well as provide the catchers with better rebound control. It also has heavy-duty steel inset waist clips that you can adjust to better conform to your waist giving you that snug form-fitting feel and a four-point web strap system to keep the chest protector tightly pressed against your body.
The leg guards have a triple knee design and a reinforced knee and thigh connection that contribute to the overall flexibility and mobility of the guards allowing the catcher to squat and move with ease and comfort. It has a larger surface area for a better blocking position. It also has removable inner knee and shin pads and toes extensions for additional protection.
However, some noticed that the foam padding inside the helmet has started to fall apart because of the inconsistent stitching around it.
Rawlings Intermediate Renegade 2.0 Catcher's Set
The Renegade 2.0 Catcher's Set features a CoolFlo hockey-style catcher's helmet, lightweight leg guards, and a redesigned chest protector for unparalleled protection without sacrificing comfort. This baseball catcher's gear is recommended for 13-year-old players to 15 years old.
The helmet has a hockey-style catcher's helmet with a high-strength impact-resistant cage that meets the NOCSAE standard for safer gameplay behind the plate. It is also made with a protective ABS shell with COOLFLO venting for breathable comfort like no other. Padding placed inside the helmet is also incorporated to absorb impact from wild pitches to reduce the risks of injuries when hit by the ball.
The chest protector meets the NOCSAE Commotio Cordis standard to provide complete protection and reduce the risk of heart-related injuries and other injuries the catchers are prone to in the ribs and stomach areas. It utilizes Arc Reactor Core with polyurethane foam and engineered polymer plate that absorbs impact from wild pitches as well as helps in reducing the speed and force to give you better rebound control when blocking. It also has Velcro equipped straps to keep it in place and also allows for easy on and off.
The leg guards have a triple knee construction giving you more coverage and protection to this prone to injury area when squatting, sliding, and blocking. The knee is also reinforced for additional protection and comfort. It also has an over-the-shoe elastic strap on the toe flap and an adjustable back harness to deliver the best fit possible.
Others wished that aside from the Velcro straps, the chest protector should have more straps or harnesses for better support and a more secure fit.
What Does Catcher's Gear Set Include?
A catcher always is more susceptible to injuries while in a game. Therefore, it is only vital to attain maximum safety by investing in a catcher's gear set is important.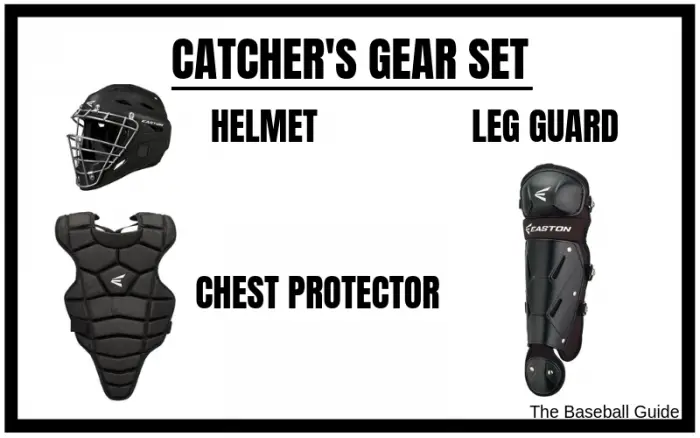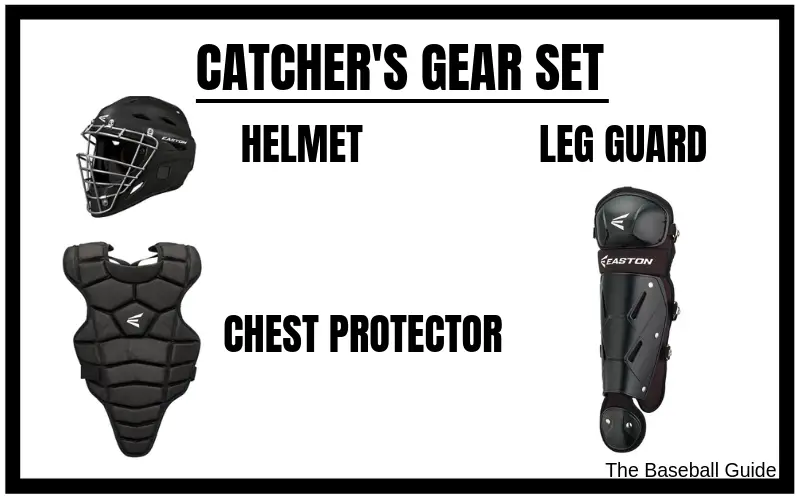 The Catcher's gear set includes a helmet, chest protector, and leg guard.
Catcher's Helmet
A Catcher's helmet is a protective device to keep your head literally in the game and from being hurt. It is a device to protect a catcher from a serious head injury that could lead to a concussion or worse, a hemorrhage.
Usually, a helmet is not too loose, not too tight. However, some helmets come in two pieces with a face mask that can be adjusted according to the catcher's fitting.
Chest Protector
A chest protector is designed in a way to resist an impact. Upon being hit, the chest protector absorbs and distributes the forces of the ball preventing a serious injury such as a broken rib or in worst scenarios, even cardiac death.
Leg Guard
Catcher's leg guards are gears to provide maximum protection from any kind of injury during a game. While manufacturing, it is also kept in mind that the individual wearing them are comfortable and can move around swiftly.
Things to Consider Before Buying Catcher's Gear
The buying instructions can be different for different individuals. Choosing the appropriate catcher's equipment may need more specific nuanced information about the individual that you are buying for or you being the individual yourself and the gear itself.
Depending on their level of play, the needs and preferences of each player vary. Players with more practice time on the ground would need a gear kit that is on the higher end and would last more seasons.
Below mentioned are a few basic pointers to keep in mind while buying a catcher's gear set.
Buying Guide for the Helmet
Besides safety, comfort is another major factor that takes away the show. If you are not comfortable, you will not be a cent percent into the game, there will be a distraction that could either make you perform poorly or result in an accident.
Choosing a suitable helmet for you is the first step towards safety and being a responsible player. It should fit perfectly on your head covering your face as well as your scalp. It should also cover part of your throat.
There are two helmets to choose from, namely, a traditional helmet and the hockey-style helmet. The hockey-style helmet provides the most protection. However, in most higher-level leagues traditional helmet is preferred as it offers a good field of vision. A traditional helmet is light and easy to toss off with an earless back.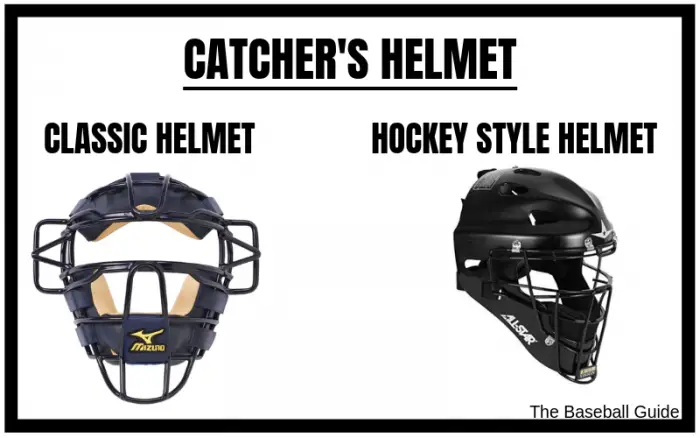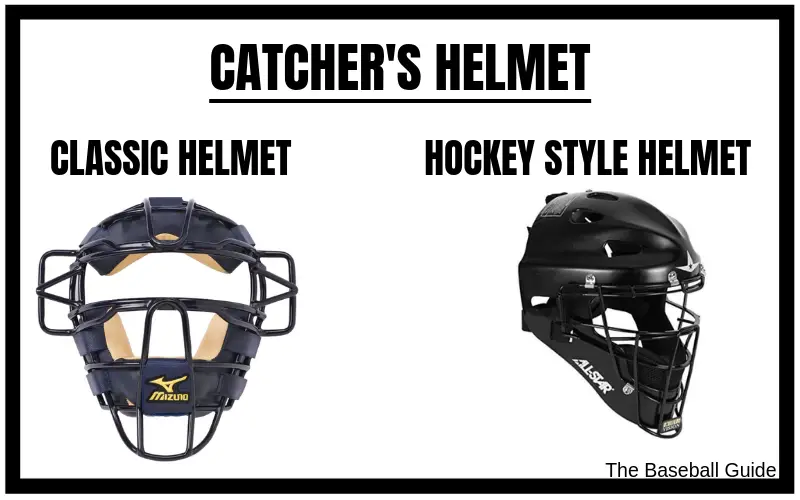 Size
The sizing of the helmet is another pointer to pay attention to. Generally, the helmet comes in two universal sizes, one for adult catcher's gear and one for the youth catcher's gear but some manufacturers also make them as large and small.
Players under 12 years can go for small while anyone above 13 can go for the large.
Buying Guide for the Chest Protector
Another very important part of the gear set is the chest protector. It can be an incorrect fit if not bought with the basic knowledge of the chest gear. Chest protectors are manufactured for both baseball and softball.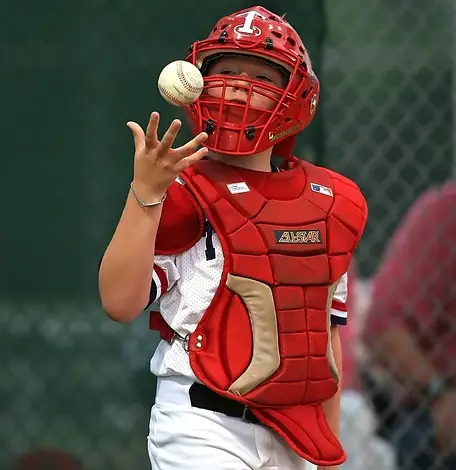 The baseball chest protector comes with a removable groin cover attached with a Velcro or snaps. This groin protector is not needed for high school or higher level baseball players and they should use a cup instead. The groin protector is however needed in most youth leagues.
The basic difference between a softball chest protector and a baseball chest protector is that the former comes with a break in the chest part to accommodate women's shape.
Size
The chest protector is manufactured in roughly three sizes and categorized as youth, intermediate, and adult.
The youth covers ages from 9-12 years, intermediate covers ages between 12-15, while adult covers ages 16 and above. This is, however, a rough estimate.
For better and more accurate sizing, you should always measure your torso from neck down to right above the waistline. The groin is not covered. The chest protector should also cover the stomach from any injuries. The chest gear comes with straps to adjust the fitting. The straps at the back are to hold the chest protector in the right place.
The straps attached at the top are to adjust the size of the chest protector. One should keep in mind while adjusting the straps that the pad should be tight enough to cover the collar bone but not so loose that it comes up to the chin of the catcher while squatting.
Buying Guide for Leg Guards
Leg guards are a godsend for your knees and are a savior from scraping every time you attempt to stop a low pitch in the dirt. They are designed in such a way that they absorb energy or impact and saves your knee from getting seriously wounded. A knee injury otherwise can be really painful and can even cause a dislocation.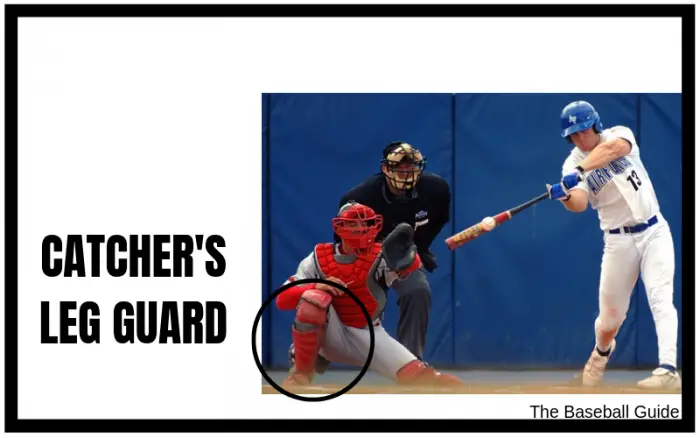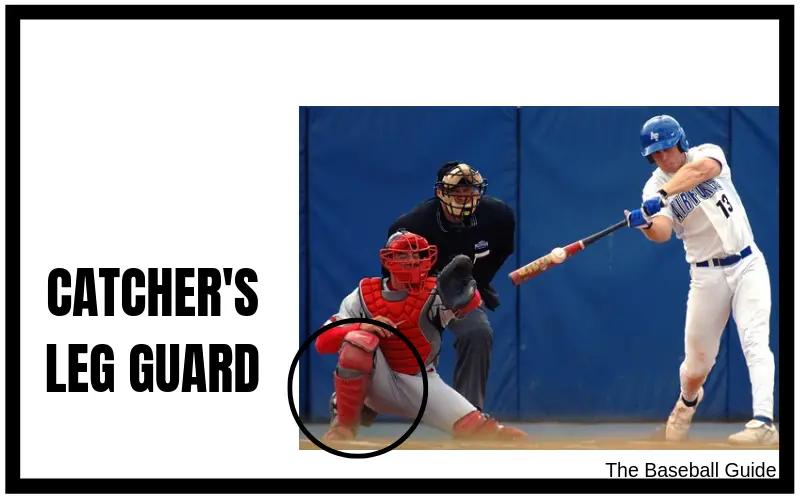 The knee cap is important to look for while buying a catcher's gear. The pad is what saves your knees from any impact or injury.
Size
Just like the Chest protector, the leg guard also is manufactured in three categories, youth, intermediate, and adult. The years ranging from 9-12,12-15 and 16 and above respectively.
To measure for perfect fitting, one should take a cloth measuring tape and take the measurement from the middle of the knee to the ankle. The leg guard is also adjustable and have adjustable straps attached to keep it in place. Other than that, the leg guard has a knee cap which is also adjustable with a Velcro and a strap.
There are toe and foot protectors that come along with the leg guards which are also adjustable.
How to Find What Size Catcher's Gear You Need?
To find the right size catcher's gear that you might need, you will have to take the right measurements of your head, torso, and leg without fail.
Helmet
For the perfect size helmet, you need to take a flexible measurement tape and wrap it around your head over the ears. Be sure to cross it over the occipital bone which feels like a small bump on the back of your head and should be parallel to the floor.
Now, according to your comfortable snug fit by either tightening or loosening the tape, note your measurement in inches. This is the head circumference (give or take an inch or two) you should look for in the helmet while buying a catcher's gear.
Chest Protector
Standing straight in front of a mirror, taking the 0 marked ends of a measuring tape, place it on the top of the sternum and let the other end of the tape fall straight down your body.
The marking of the tape where it reaches your belly button is where you should take the mark. This is the proper measurement for a chest protector.
Leg Guards
Measuring the size from the middle of the knee to the bottom of your shin gives you the right size to buy from the various sizes of leg guards available on your catcher's gear set. Standing up straight and using a measuring tape to measure the length between the middle of your knee cap and the bend of your ankle helps you to take the measurement you will need to get the right-sized leg guards.
Make sure to either wear something really loose so you can roll the sleeves up or something tight so that you almost get the accurate measurement.
Final Words
Accidents are called 'accidents' for a reason. They come unannounced and it is always better to be safe than sorry.
To keep accidents at bay, one can only be prepared to maintain safety and what can be safer than investing in a good quality catcher's gear set, the catcher is at the most vulnerable position during a game of baseball or softball.
These are unbiased reviews of the best catcher's gears that are written after the products are being tried and tested.