*I may get commissions for purchases made through links in this post.*
I'm sure you'll agree with me, when I say:
A catcher is one of the most important player in the game.
He needs high-quality & durable catcher's gear set to protect himself from the fast coming baseballs towards him.
With so many options available in 2020, you need to buy the best catching gear that is durable, comfortable, and affordable too.
After doing hours of research, we have written this super helpful article that covers almost everything that you need to know before buying a youth catcher's gear.
What Does Catcher's Gear Set Include?
A catcher always is more susceptible to injuries while in a game. Therefore, it is only vital to attain maximum safety by investing in a catcher's gear set is important.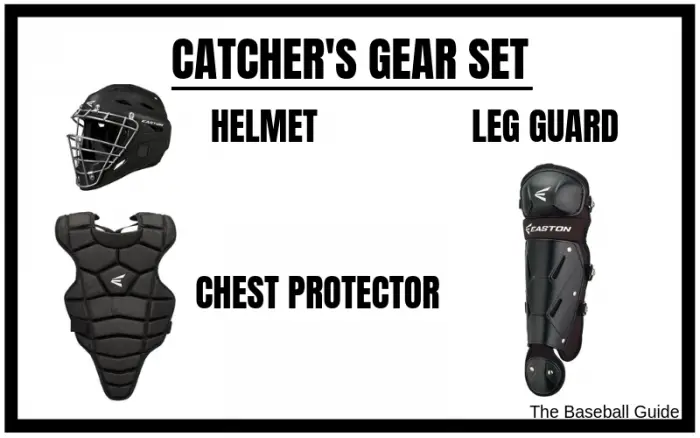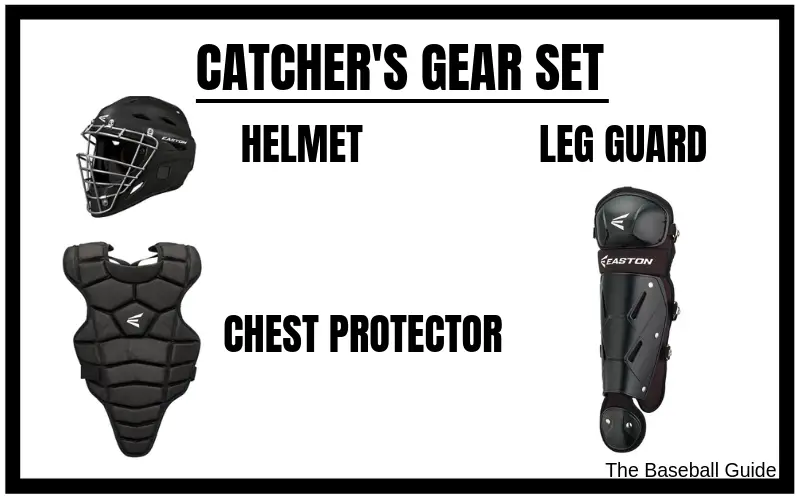 The Catcher's gear set includes a helmet, chest protector and leg guard.
Catcher's Helmet
A Catcher's helmet is a protective device to keep your head literally in the game and from being hurt. It is a device to protect a catcher from a serious head injury which could lead to concussion or worse, a haemorrhage.
Usually, a helmet is not too loose, not too tight. However, some helmets come in two pieces with a face mask that can be adjusted according to the catcher's fitting.
Chest Protector
A chest protector is designed in a way to resist an impact. Upon being hit, the chest protector absorbs and distributes the forces of the ball preventing a serious injury such as a broken rib or in worst scenarios, even cardiac death.
Leg Guard
Catcher's leg guards are gears to provide maximum protection from any kind of injury during a game. While manufacturing, it is also kept in mind that the individual wearing them are comfortable and can move around swiftly.
Things to Consider Before Buying Catcher's Gear
The buying instructions can be different for different individuals. To choose the appropriate catchers equipment may need more specific nuanced information about the individual that you are buying for or you being the individual yourself and the gear itself.
Depending on their level of play, the needs and preferences of each player vary. Players with more practice time on ground would need a gear kit that is on the higher end and would last more seasons.
Below mentioned are the few basic pointers to keep in mind while buying a catcher's gear set.
Buying Guide for the Helmet
Besides safety, comfort is another major factor that takes away the show. If you are not comfortable, you will not be a cent percent into the game, there will be a distraction which could either make you perform poorly or result in an accident.
Choosing a suitable helmet for you is the first step towards safety and being a responsible player. It should fit perfectly on your head covering your face as well as your scalp. It should also cover part of your throat.
There are two helmets to choose from, namely, a traditional helmet and the hockey style helmet. The hockey style helmet provides the most protection. However, in most higher level leagues traditional helmet is preferred as it offers a good field of vision. A traditional helmet is light and easy to toss off with an earless back.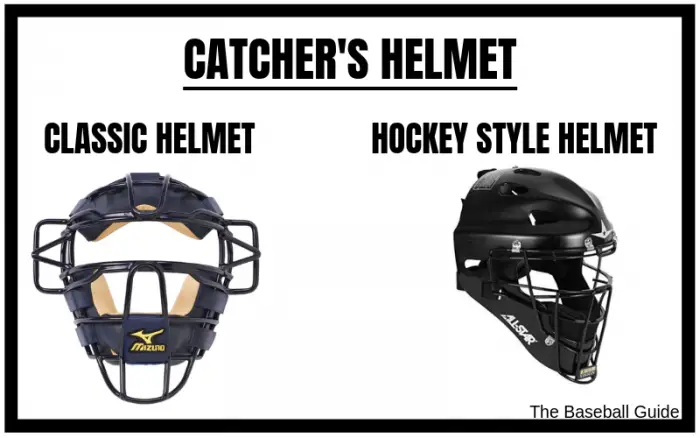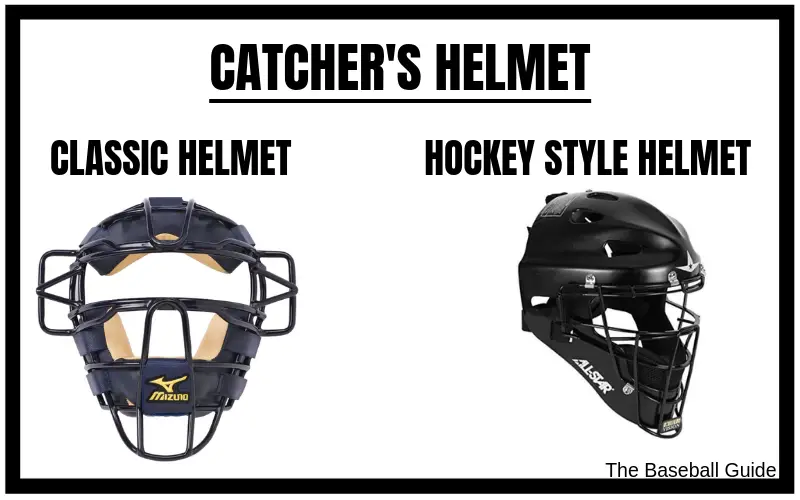 Size
The sizing of the helmet is another pointer to pay attention to. Generally, the helmet comes in two universal sizes, one for adult catcher's gear and one for the youth catcher's gear but some manufacturers also make them as large and small.
Players under 12 years can go for small while anyone above 13 can go for the large.
Buying Guide for the Chest Protector
Another very important part of the gear set is the chest protector. It can be an incorrect fit if not bought with the basic knowledge of the chest gear. Chest protectors are manufactured for both baseball and softball.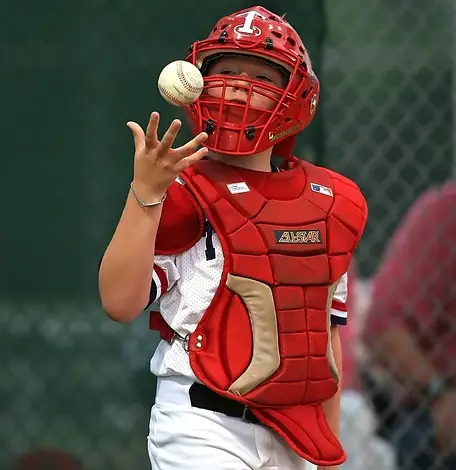 The baseball chest protector comes with a removable groin cover attached with a Velcro or snaps. This groin protector is not needed for high school or higher level baseball players and they should use a cup instead. The groin protector is however needed in most youth leagues.
The basic difference in softball chest protector and baseball chest protector is that the former comes with a break in the chest part to accommodate women's shape.
Size
The chest protector is manufactured in roughly three sizes and categorized as youth, intermediate and adult.
The youth covers ages from 9-12 years, intermediate covers ages between 12-15, while adult covers ages 16 and above. This is, however, a rough estimate.
For better and more accurate sizing, you should always measure your torso from neck down to right above the waistline. The groin is not covered. The chest protector should also cover the stomach from any injuries. The chest gear comes with straps to adjust the fitting. The straps at the back are to hold the chest protector in the right place.
The straps attached at the top are to adjust the size of the chest protector. One should keep in mind while adjusting the straps that the pad should be tight enough to cover the collar bone but not so loose that it comes up to the chin of the catcher while squatting.
Buying Guide for Leg Guards
Leg guards are a godsend for your knees and are a savior from scraping every time you attempt to stop a low pitch in the dirt. They are designed in such a way that they absorb energy or impact and saves your knee from getting seriously wounded. A knee injury otherwise can be really painful and can even cause a dislocation.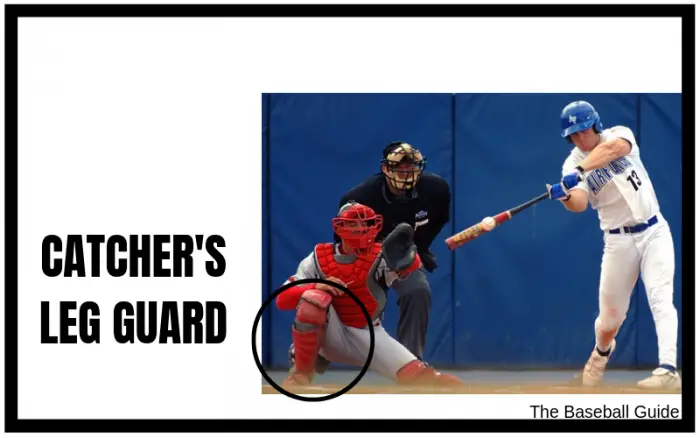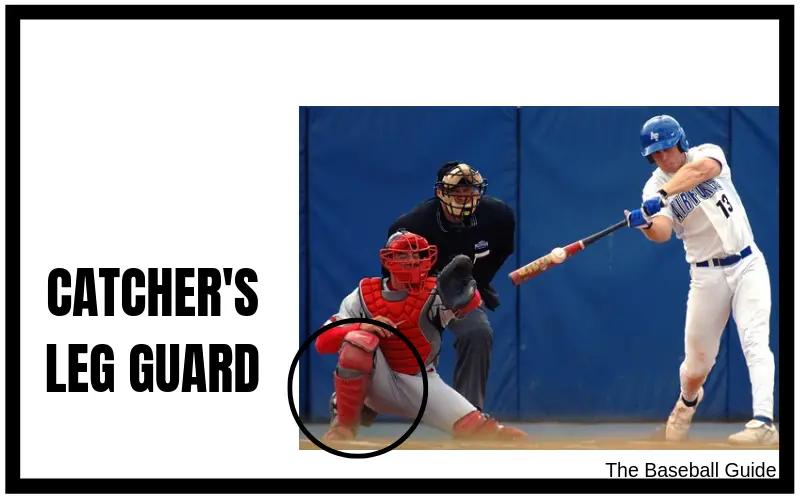 The knee cap is important to look for while buying a catcher's gear. The pad is what saves your knees from any impact or injury.
Size
Just like the Chest protector, the leg guard also is manufactured in three categories, youth, intermediate and adult. The years ranging from 9-12,12-15 and 16 and above respectively.
To measure for perfect fitting, one should take a cloth measuring tape and take the measurement from the middle of the knee to the ankle. The leg guard is also adjustable and have adjustable straps attached to keep it in place. Other than that, the leg guard has a knee cap which is also adjustable with a Velcro and a strap.
There are toe and foot protectors that come along with the leg guards which are also adjustable.
How to Find What Size Catcher's Gear You Need?
To find the right size catcher's gear that you might need, you will have to take right measurements of your head, torso, and leg without fail.
Helmet
For the perfect size helmet, you need to take a flexible measurement tape and wrap it around your head over the ears. Be sure to cross it over the occipital bone which feels like a small bump on the back of your head and should be parallel to the floor.
Now, according to your comfortable snug fit by either tightening or loosening the tape, note your measurement in inches. This is the head circumference (give or take an inch or two) you should look for in the helmet while buying a catcher's gear.
Chest Protector
Standing straight in front of a mirror, taking the 0 marked end of a measuring tape, place it on the top of the sternum and let the other end of the tape fall straight down your body.
The marking of the tape where it reaches your belly button is where you should take the mark. This is the proper measurement for a chest protector.
Leg Guards
Measuring the size from the middle of the knee to the bottom of your shin gives you the right size to buy from the various sizes of leg guards available of your catcher's gear set. Standing up straight and using a measuring tape to measure the length between the middle of your knee cap and the bend of your ankle helps you to take the measurement you will need to get the right sized leg guards.
Make sure to either wear something really loose so you can roll the sleeves up or something tight so that you almost get the accurate measurement.
Best Catcher's Gear Sets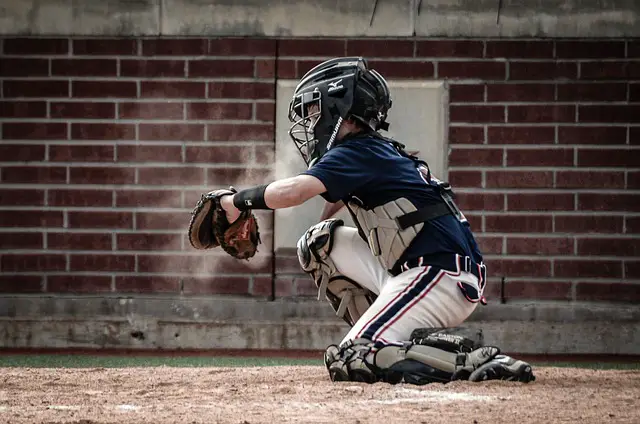 Louisville Slugger Youth PG Series 5 Catchers Set
This catcher's gear set has a sleek helmet included that not only looks good but also aids full protection along with a moisture wicking chin pad. The helmet is a NOCSAE approved one. NOCSAE approval is of the utmost importance. NOCSAE stands for National Operating Committee on Standards for Athletic Equipment.
The chest protector is designed with a precision pad that incorporates into it a high-density foam padding to absorb maximum shock or impact. The chest protector also is equipped with an over-the-shoulder harness for a more comfortable fit. This gear has top-rated chest protection.
The leg guard is designed in such a way that they are anatomically inspired and come with a double knee design. The leg guards facilitate a less restricted range of motion and give the catcher maximum protection. The shin guards come with metal clips.
The gear set is adjustable and can fit anyone between the ages 9 to 12 years.
Pros
The shin guards do not come with a Velcro which is considered a boon by most parents.
The little one can run around in the shin guards, and they won't fall off.
The helmet gives a good field of vision.
The leg guards do not restrict flexibility or movement
The groin protector is removable.
It comes at an affordable price
It is a nice looking set
Cons
The gear set does not come with a bag
The gear set does not come with a throat guard
The helmet can be a little uncomfortable for some and could hurt around the temple region as it can be a little tight. Temple padding creates too much pressure.
Chest pad can be a little loose for more slender kids.
The helmet is not for glasses wearers. Terrible when it comes to comfort.
The hooks of the shin guards might keep coming off.
Easton Youth Black Magic Catcher Box Set
The Easton Youth Black magic catcher Box Set comes with a helmet, a top quality chest protector and a pair of shin guards. The set provides quality protection from top to bottom. The set comes in two sizes, the junior youth, and youth. The junior youth covers age from 6-9 and the youth size covers age between 9-12 years.
The helmet is built with an ABS shell that makes it durable and provides superior protection. The helmet has a steel cage and a soft vinyl chin pad. It is also approved by the National Operating Committee on Standards for Athletic Equipment, NOCSAE.
The chest protector is equipped with Velcro attached closure system. It comes with a double back adjustment system.
The shin guards are great for preventing injury to the knees of your young catcher. It is built with a lockdown closure attachment system with metal clips and a double knee design that makes movements easy. It also has a protective PE shin plate.
Pros
Great product for such an amazing price.
Enough room for your young one to grow into.
This gear set is easy to clean.
The straps are adjustable thereby making the set adjustable for any size.
Visibility with the helmet is great.
The gear set is much lighter making it easier to move around in.
Cons
The helmet could feel a little cheap. Especially the padding of the chin part is crooked.
The face mask could be a little difficult to take off quickly.
Straps could be a little flimsy and could break easily.
The leg guards straps are difficult to stay on. They keep coming off.
The face mask is not so sturdy. Therefore, it is a little iffy on the protection part.
Chest protector can ride up to the neck while crouching for an average sized kid while the fitting would be small for kids above 11.
The donning or removing the gear may need help for some kids.
Under Armour PTH Victory Catchers Kit
This set of catcher's gear is recommended for age group 9-12. The set like any other catcher's set includes a catcher's helmet, a chest protector and leg guards. This catching gear is ideal for entry level or intermediate level players.
Due to the heat outside, while playing a game of baseball, it gets quite stuffy inside the catching gear which might also cause a foul odor. The AEGIS microbe shield helps fight odor-causing microbes.
The catching gear is made of high impact resistant ABS plastic shell designed to absorb and deflect a tremendous force of energy. The inside of the mask is made of soft, breathable, dual-density lining materials. There are ventilation holes to aid better breathability.
The helmet features an I-bar steel cage to allow more vision. The chest guard should be facilitating maximum best protection. Therefore, it uses plastic inserts at throat, sternum, and shoulders to achieve that maximum protection. One needs not to buy separate throat guard as it already is taken care of.
The shin guards are also equipped with sturdy knee pads and shin pads which are washable in nature and are repositionable. This product is not only for boys but also for girls and is available in 4 different colors.
Pros
The equipment is heavy duty and durability is good.
The gear stays in place.
The buckles stay attached.
The helmet provides a great peripheral vision.
The padding of the helmet is very durable.
The shin guards are also comfortable with durable padding. Can take as many hits to the shin and still won't budge.
The gear kit is light in weight and fits well.
Cons
The kit does not come with shoulder straps.
The mask is promised to have 4 different sizes but seems like comes in only one size that too is way too small for even 7-9 years of age.
Helmet.as promised is not that durable.
For some, the chest guard could be a little bit.
There is no Velcro strap for left-handed catchers and which can be a deal breaker for the left-handed catchers.
Mizuno Boy's Youth Samurai Box Set Catchers Gear
The Mizuno Boy's youth samurai box set catcher's gear has all the basic gears which include a helmet, a chest protector and leg guards nicely packed in a gear bag.
The G4 mask is very reliable and is built to accommodate head sizes between 6 1/2 and 7 ½. The measurement of the shin guard is a 14 ½ inches from top to bottom.
The measurement of the G3 chest protector is 14inches measured across and it also includes a removable groin protector. However, there includes no throat protector. This comes in only one color option. The pricing is a reasonable one and it has got a good reputation for durability it seemed to have lasted for several seasons.
Pros
This gear set I equipped with protective pads necessary to save injury prone areas thus boosting the confidence to stop low pitches or even attempt difficult catches.
The chest guard comes with both shoulder straps and is like an armor.
The foam in the chest protector is very dense ensuring maximum safety.
The padding is also comfortable.
It is easily configurable.
The helmet is a perfect snug fit.
The gears come with a bag which makes it an even better deal.
Cons
It does get a bit heated up inside the gear with the added layers of protection.
The helmet could be a tad bit heavy and the linen could come off from all the heating and sweating.
It could have been better with a chin guard.
All-Star Inter System7 Axis Pro Catcher's Set
This is the coolest catcher's gear set of 2020 that comes with all the basic gears for a catcher. The helmet is built with an I-bar steel cage and mesh liner to aid wider peripheral vision and comfort; polycarbonate shell that ensures durability. To resist shock on being hit, an extra band of shock absorbent vinyl is used.
The chest protector is also meant to provide maximum protection from any kind of injury that can target the rib cage or the stomach. The leg guards come with pivoting hinge to allow flexible mobility. This gear set is manufactured for players from age between 12 and 16.
Groin protection is only included in the intermediate and youth set. It does come with an equipment bag.
Pros
This gear fits perfectly.
The chest padding is very effective and it absorbs extreme shocks.
The leg guards fit snugly and are light allowing the catcher to move around.
The helmet provides great visibility.
The gear is durable.
The gear is not bulky at all and is very comfortable.
Cons
The helmet is a wee bit on the heavier side.
Go for actual measurements when buying this product. The age might be a little hard to get.
Rawlings Intermediate Velo Catcher Set
This gear set includes a hockey style helmet ensuring total protection along with the other gears. Rawlings has been an inseparable name attached to baseball. It is the most trusted and reliable among most brands of baseball equipment. Rawlings has always been devoted to the game since time immemorial. This gear set is built for ages 12-15.
The hockey-style helmet is equipped with a high impact resistance cage that provides ultimate shock protection. The chest protector is built with impact absorbing foam. The leg guards have a triple knee design that makes sure mobility is not compromised due to ultimate protection.
This guard is undoubtedly NOCSAE approved which seals the deal already. The COOLFLOA venting technology has 15 vents that let air flow through the helmet that keeps it breathable even with the helmet on. The moisture-wicking padding inside is another sweet deal.
It is light weighted and flexible to keep it comfortable while the game is on. It has heat exchange foam in rib shoulder areas for cooling, therefore, preventing it from heating up inside. There also includes adjustable and removable shoulder caps. The leg guards have impact absorbing foam in the knee.
Pros
It is a great looking fantastically styled gear set.
It is NOCSAE approved.
There is impact absorbing foam in all necessary zones to ensure extra protection.
Includes adjustable straps making it more flexible and wearable by a player of any size.
Final Words
Accidents are called 'accident' for a reason. They come unannounced and it is always better to be safe than sorry.
To keep accidents at bay, one can only be prepared to maintain safety and what can be safer than investing in a good quality catcher's gear set, the catcher is at the most vulnerable position during a game of baseball or softball.
These are unbiased reviews of the best catcher's gears of 2020 that are written after the products are being tried and tested.