*As an Amazon Associate I earn from qualifying purchases. I will get commission for purchases made through links in this post.*
Wilson and Rawlings are the two most tried & trusted brands when it comes to baseball gloves.
But, there are also some other brands that manufacture really good baseball gloves for both outfielders and infielders.
In this article, we are talking about 12 best baseball gloves on the market that you can buy in 2020.
It's a long article, so first, let's do the comparison of some popular gloves of 2020.
Comparison of Top-Rated Baseball Gloves
[table "12" not found /]
Baseball Gloves for Different Positions
There are different fielding positions in the baseball field, and for them, a different type of gloves are used.
You can't use the same glove at every position. So, let's get to know what gloves you need for a specific position.
Catcher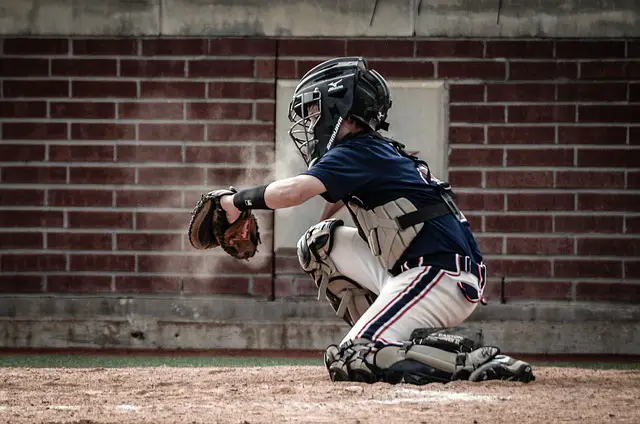 For the baseball catchers, they need special catcher's mitt. Some people also call them catcher's glove.
But, they are different from other gloves because they're designed in such a way that catchers can easily catch the fast coming baseballs without any problem.
The main difference between the catcher's mitt and baseball glove is that in mitts there are no separate fingers like other gloves.
As the catcher needs to catches the fast coming balls in the entire game, therefore, their mitt should not be worn down quickly during the game. Therefore, for that reason, the mitts are generally stiff and takes some time to break in. You can also see this video tutorial about breaking in the mitts.
Their measuring is also different from the standard measuring. They're measured around the circumference of the mitt which is different from the normal gloves.
Whether you're buying catcher's mitt for high school or for outfield players, the same criterion applies.
Infielder
There are four different positions in the infield.
These are:
First Base (1B)
Second Base (2B)
Third Base (3B)
Shortstop (SS)
The infielder gloves like shortstop are shorter and smaller in size as compared to the outfield gloves because the infield players have to reach the ball as soon as possible, and throw the ball quickly. Therefore, for that purpose, these gloves have a shallow & open pocket.
Pitcher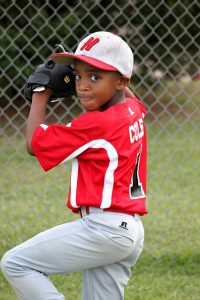 In the first look the pitcher's glove looks similar to the baseball outfielder's glove, but if you look closely then you'll see that there are some minor changes that make it totally different.
The pitcher's gloves are more comfortable because they don't have as much padding as the other gloves. These are also made with the lightweight materials to make them comfortable & lightweight.
The main thing that differentiates the pitcher's gloves with the outfielder's glove is that the pitcher's glove is larger than the standard gloves, and they have closed webbing so that they can hide the ball from the batsmen. The large glove along with the closed webbing prevents the batsmen from guessing the pitch.
Outfielder
The outfield gloves are big and made in such a way that the players can catch the high flying balls. In the manufacturing of these gloves, it is considered that the outfielders may have to dive for the catches or scoop up grounders on the run.
Because of that, these gloves are deeper and longer as compared to others. And, they also provide more support in the fingers.
The H-Web and Trapeze web are the two most popular pocket designs that are used in the manufacturing of the outfield gloves.
Check this short video to know about H-web and trapeze web.
Best Baseball Gloves in 2020
Wilson A2000 Baseball Glove Series
The hyped reputation of Wilsons is there for a reason. Wilsons remains the most preferred choice of Major League Players all across the world. The Wilsons A2000 baseball glove series consists of different types of gloves for different positions and in different lengths with different webbing patterns and colors.
The gloves manufactured for various positions are that of infielders, outfielders, pitchers and catchers.
For outfielders, the different sizes that are available are 12.5",12.25" and 12.75". The 12.5" comes in two colors and is developed with Kirby Puckett design. Even, this is the best outfielder's glove that you can buy.
For infielders, the sizes available are 11.5",11.75",11.25". The 11.5" has 9 different color patterns and styles to choose from. The 11.75" has five color patterns and styles to choose from. And there is 11.25" which has three colors and styles available for infielders.
Pitchers can choose a 12", which has one option available for pitchers or from 11.75" which has two options available in color pattern and style.
Catcher's gloves can be chosen between 32.5" and 33". Each of the sizes is available in one color.
Then there are gloves for first base players that come in 12" with two options.
All these gloves are designed with different webbing patterns that have slightly different functions.
Some of the most common webbing patterns that the A2000 are designed with are the T web, H-web, I-web, pro laced web and half-moon web. The Half-moon web is specially designed in catcher's mitt.
There are some closed pro-laced webs too. The H- web makes it super durable and makes sure the ball is in the glove whereas the I-web ensures balance and support for infielders to have maximum comfort.
Other than the webbing patterns, there are other features that make a Wilsons desirable among most Major League Baseball players. Some of the gloves in this series have a dri-lex wrist lining that wicks away moisture from the hands of the players keeping them cool and dry.
Some of the gloves have a Pedroia fit. Now, Dustin Pedroia is without a doubt one of the best infielders in MLB and he has his own popular fit. The specialty of this fit is that it has longer laces and is for smaller hands and are snugger.
But what goes into making these gloves so very wanted and special is its leather. The leather that they use in the making of their baseball gloves is not any ordinary leather, it is the highest quality leather that one can put their hands on. The pro stock leather that they use makes the gloves easy to break in and super durable which can last for several seasons.
The super skin feature of the Wilsons A2000 is another trademark of this series. The super skin makes them twice as durable and strong than the regular leather but half the weight of it.
Most of the models have dual-welting that makes them more durable and also create a durable pocket and a long-lasting break-in.
Pros
Durability is of top notch.
The dual welting creates a durable pocket.
It takes time to break in which at some cases can also be a negative pointer.
The models with flat finger bindings offer extra comfort.
The pro stock leather used makes them sturdier.
The gloves provide good protection.
They look classy.
Cons
It is difficult to break in.
Wilson A2K Baseball Glove Series
The Wilson A2k series is another great series of gloves with super durable and strong models as options to choose from. The available sizes are 11.5",11.75",12",12.75" and 33". There are different types of gloves available for different positions, like infielders, outfielders, catchers, and pitchers.
The 11.5" has six infielders options to choose from, 11.75" has 5 options to choose from and 12" has 1 infielder's option.
For outfielders, there are six options available in 12.75".
Pitchers have 3 options to choose from 11.75" and 3 options to choose from 12".
33.5" has four options and all are for catchers.
Apart from these, there are options for first baseman and second baseman too.
There is a decent number of color options to choose from in all sizes. Most of these gloves are extra shaped by the finest craftsmen in the factory itself to reduce the break-in time for the users. The rolled dual welting is the feature that helps in retaining long lasting shape.
The palm area has extra cushioned padding for greater comfort and protection and also to provide maximum pocket stability.
The leather that is used is pro stock leather for consistency and flawlessness. The available webbing patterns are H-web, closed pro laced web, single post web, and half-moon web. The trademark feature of these models is the super skin that is two times stronger than any regular leather while the weight is half the weight of the regular leather.
Pros
Three times more shaping is done to reduce break-in time.
All the gloves of this series are very sturdy.
Dual welting creates a durable pocket.
The gloves are flexible.
It is of superior quality material.
Cons
It could be a bit stiff and take a little longer than expected to break-in.
The laces in the webbing could sometimes come off
Rawlings Heart of The Hide Hyper Shell Baseball Glove Series
These gloves are built of top 5% of the available hides. The traditional heart of the hides gloves are usually a bit heavier, however, these two models are an exception. They are a bit lighter than the traditional ones. The patterns are authentic pro ones.
These gloves provide extra protection as they are made of deer-tanned cowhide and there is an added palm lining. For extra comfort, there is a padded thumb sleeve.
Pros
Lighter than traditional gloves.
The gloves provide extra protection.
Very comfortable.
Cons
The strings could be little flair.
Rawlings Renegade Baseball/Softball Glove Series
Style Name: Softball
Hand orientation: right-hand throw
Color: 15" FB/Mod pro H web
This Renegade 15 inch glove is designed for outfield players. It is already factory broken in, to an extent, however, with some more oil work, it is game ready.
This glove is ideal for recreational baseball, slowpitch softball, and fastpitch softball players. Not all of it is leather, there is meshing around outside which makes it lightweight and the shape is retained.
The inside of the glove around the palm region is cushioned and the index fingers are padded which ensures extra comfort and protection. The webbing is H-web that also adds to the sturdiness.
Style name: softball
Hand Orientation: Left-hand throw
Color: 12" Basket web, 14" Basket web
Both these gloves are not meant for one particular position but built for any position. However, the 14" Basket web glove is a slow-pitch adult baseball glove
 They are utility gloves. The web designer is a basket web.
Color: 14" FB/Basket web
This glove is designed for outfield players, has a basket web which makes it possible for the players to play in any position. The rest of the features are similar to the other gloves of this series.
Style name: First Base
Color: 11 ½ ". conv/single post, 12 ½ " conv/single post, 13" FB /Pro H web
All three gloves are ideal for baseball or softball and are designed for both right-hand throw and left-hand throw. They have deep, flexible pockets. The pro mesh design at the back makes it lighter in weight. The palm is cushioned with high-density padding and the index finger region is also padded for extra comfort.
Style name: First Base
Color : 12"conv/basket
It is designed for not just one position but for all positions. This glove comes in for both left hand and right-hand throw. Rest of the features are similar.
Style name: First Base
Color : 31 ½ " FB/1PC , 32 ½ " FB/1 PC
Both these gloves have deep, flexible pockets with a sturdy leather shell palm construction. They have a pro mesh design that keeps them light. They have high density cushioned pads to keep it extra comfortable.
Pros
The gloves come almost broken in.
They are not very stiff.
The inside of the glove is cushioned thus making it comfortable.
They are pretty durable.
The series of gloves are reasonably priced.
The webbing is tight.
A good option for high school infielders and outfielders.
Cons
It is not fully leather.
There are chances of mesh being ripped.
It could be a bit smaller in size than your usual gloves.
The stitching around the finger is not strong enough.
Not suitable to play in a league.
Rawlings Pro Preferred Glove Series
This series of gloves has many sizes available. The available sizes to choose from are 12",12.75",33",11.5",11.25",12.25",11.75".
These gloves are built with premium full-grain kip leather and are padded with 100% wool for pocket formation and shape retention. The palm lining is made of Pittards sheepskin that is moisture-wicking. It is an I-webbed glove.
There are top pro-game day models available in the name of some of the famous professional baseball players like Addison Russel who is a shortstop, J J Hardy, Max Sherzer, Anthony Rizzo, Russel Martin and Kris Bryant.
 The leather laces are Tennessee tanned rawhide leather and are pretty durable. To take care of the comfort the thumb sleeves are padded which also provides extra protection to keep the players at the top of their game. This glove comes already 30% broken in, after a full break-in, it is just ready to cast its spell over the game.
Pros
The quality of lacing is top notch.
The glove is of superior quality.
It is 30% broken in on arrival.
Cons
It comes a little smaller to size.
It might take some time to break in.
Mizuno GMVP1177PSE3 Prime SE Baseball Glove
Hand Orientation: Right-Hand throw
Color: Silver/Red/Royal
This Mizuna baseball glove is flexible with a center pocket design. The edge is strong so as to create a more stable thumb. The leather is oil polished for a softer feel. The palm is lined with steer soft liner. Oil work or mallet work is required for the glove to break in.
Pros
Two-toned lace
It is durable
Not too difficult to break in.
It is made of good quality leather.
Cons
It is not true to size as described. It can come a size smaller.
Mizuno Prospect PowerClose Youth Baseball Glove Series
Hand Orientation: Right-hand throw
Style Name: 11"
Color: Brown Tartan Flex web
The palm liner of the glove is so very soft. The PU palm lining makes it a durable one with added comfort. It is made of full grain pigskin leather. It wicks away perspiration from the skin. It is worn on the left hand.
It is not very difficult to break in. This glove is idle for kids. It is a great entry level glove. It is easy for kids to close the glove in. The pricing is very reasonable. The Tartan Flex web design also helps for an easier close in.
Pros
The quality of the glove is very good.
The leather is soft.
It is durable.
Cons
The glove does not make it clear about the size that it is only good for kids.
Nokona Walnut WB-1150M Baseball Glove 11.5 Modified Trap
Hand orientation: Right hand throw
It is an 11.5 inch sized glove which is modified trap webbed which makes the glove a great choice for both infielders and outfielders. The lacing of the glove is wonderful. The lacing is not loose. The glove is made of Nokona walnut crunch leather giving it great durability and a relatively short break-in period. The glove does not feel sloppy. It will loosen up with use. The back is open.
Pros
The glove is a durable piece of work.
It takes lesser time to break in.
Wonderful lacing work.
Cons
Hard to find any dirt on Nokona Walnut. If one can afford the price, then it is a pretty solid glove.
Rawlings Select Pro Lite Youth Series
This Rawlings outfield glove is a great budget-friendly glove that comes under $100.
There are various reasons to purchase this inexpensive glove.
First of all, whether you throw with your right hand or left hand, you have the option. This glove is available for both the hands.
You can get various sizes in 11 to 12 like 11'', 11.25", 11.50", 11.75" and 12".
Have you heard of Bryce Harper, professional baseball player?
This glove is made after the famous outfielder Bryce Harper's game model, and after wearing this glove, you'll feel like you're wearing a professional glove in your hand.
The Pro H web along with the all-leather lacing is ideal for the use in the outfield position, whether it is in the right, left or center.
The soft leather makes it comfortable and helps it to retain the shape when you use it, while the leather lacing helps to maintain its pocket area.
There is an adequate padding that reduces the shock that you get in catching a ball, and the cushioned finger back lining is also very helpful that makes it very comfortable.
If you want an outfield glove that is very stylish, and you want a specific color, then there is nothing better than this Rawlings glove because this glove is available in various color combinations. So, you have a lot of options to choose from.
One of the big features that makes it popular among the outfielders is that it is 90% broken in from the factory, so you have to do a little work to make it adjustable according to your hand. You just have to 10% break in from your end.
Do you know, what's the best thing about it?
It comes under the 100$ budget mark.
So, even the young players who don't want to spend big money on gloves can easily purchase it.
Pros
Available for both hands
Various color combinations
Various sizes available
Stylish
Well cushioned
Deep pocket area
90% broken in from the factory
Cons
Wilson A1000 Baseball Glove
Wilson is one of the most popular brands that manufacture baseball goods because they produce some high-quality gloves.
If you want to buy a Wilson manufactured outfielder's glove at less than 100$, then Wilson A1000 is good for you. It's an affordable alternative of Wilson A2000.
There are various sizes available from 11.25'' to 12.5'', it can be purchased by a player of any age.
The T-web is a good webbing style that is perfect for the outfielders.
The full-grain leather shell, lining, and laces make it a good fit for such players.
This is also available for both hands, whether you throw with the right hand or left hand, it is for you.
This is a really good glove, but according to some players, this outfielder baseball glove takes some time in the breaking in, while others say that breaking in this glove is very easy and takes no time.
So, if you take that it takes some time in the breaking in, even that, this is really worth the price because it costs less than 100 dollars.
Pros
Various sizes available
Various color combination
T-web
Available for both hands
Durable
Cons
Some players say that it takes some time to break in
Louisville Slugger 2020 Genesis Baseball Glove
The Louisville Slugger Genesis is a perfect glove for the young players who are beginning their basketball journey. A full mesh back with a full leather constructed palm makes it considerably lighter and gives amazing durability.
It is available in both, right hand throw and left hand throw.
This pitcher's glove is available in sizes 10 inches, 10.5 inches, 11 and 11.5 inches, as well as 12 inches. The wrist opening of these Louisville Slugger gloves is made a bit smaller with short finger stalls which makes it ideal for young players with small hands.
The glove also sports an adjustable Velcro wrist strap for a custom fit. Featuring a closed channel weave web and a combination of leather palm/ web with Ballistic nylon shell, the glove comes with a blend of grey, black and white in color.
The gloves are already ready to be played with as the combination of the materials requires a zero break-in period for the glove. The soft and lightweight materials make this glove ideal for infield players, especially for the pitchers.
Pros
The combination of leather and nylon makes the glove lightweight and easier to use.
Small wrist opening and small stalls are preferable for younger players.
Full mesh back and leather palm makes it more durable.
The glove has a minimal break-in period and is easy to break-in.
Cheap baseball glove
Cons
Is not that great in the looks of it, feels a bit cheaper.
Wilson A900 Baseball Glove
The fully leather constructed Wilson A900 Baseball Glove, which sports a 12.5″ is a great budget glove ideal for all weather conditions. The glove has a double palm construction which absorbs shock, provides you protection and efficiently makes it easier to access the ball.
It is specially designed for the left hand and comes with a Pedroia Fit which is suitable for young players with small hands.
The leather of the glove is a step up from the A500 series and ensures the glove to fully break in and suit your hand as you continue using it more.
The glove also has a slim low- profile heel which provides great flexibility and enables faster ball transfers by easy palm opening, which makes it a perfect middle infielders glove. The webbing of A900 makes it more befitting for outfield players.
Pros
Features full leather construction lacing makes increases the glove's durability with a considerably lower price.
Pedroia Fit ensures a snug fit, especially for smaller hands, with a smaller hand opening and short finger stalls.
Double palm construction reinforces pocket with extra protection.
Slim low- profile heel ensures more flexibility, makes it easier to catch.
Good baseball glove under $100.
Cons
A bit stiffer and sloppier than usual gloves and sometimes require more time to break in.
Things to Consider Before Buying Baseball Gloves
This short video is worth watching because some professional MLB players are sharing their tips for choosing their favorite glove.

Difference Between 300$ and 100$ Baseball Glove
If you look at a 300$ baseball glove, you'll find that the high priced gloves are made with pigskin leather, steer hide or from the leather of exotic animals, while the inexpensive or under 100$ gloves are made from the synthetic leather.
There are some other features also that separates them from the inexpensive gloves. But, the main difference is about leather quality.
But, it is very important to note that the quality of leather only determines the durability of your outfield glove.
It will not decide the performance of your glove.
So, don't think that the cheap leather outfield gloves will a hurdle in your performance.
Even, the inexpensive gloves are easy to break in as compared to high priced gloves.
The high priced gloves are manufactured with high-quality leather that lasts for years, and therefore these gloves take a long time in the breaking process.
If you are a high school baseball player, then I recommend that you buy some inexpensive outfield glove that costs less than 100 dollars because as the body grows in this age, so you have to purchase another glove after 2 to 3 years. So, this will lead to investment again in the big high priced glove.
So, in my opinion, the cheap gloves are perfect for the young players, as they can play with for 2 to 3 seasons easily, and after that, they can purchase another one.
Right Hand Throw vs. Left Hand Throw
Before buying any baseball glove it is important to know from which hand do you throw a ball.
If you throw a ball with your right hand, then you'll need a baseball glove for your left hand.
On the major e-commerce websites like Amazon, you will find gloves for the hands (for the left hand and right hand).
But, sometimes, buyers get confused about the right hand & left hand, and they end up purchasing a glove for the wrong hand. Then, they have to replace the glove.
So, before purchasing, it is important to know for which hand you want a glove.
But, how do I know if the glove is for left hand or right hand?
Generally, it is clearly mentioned that the glove is for "Right Hand" or "Left Hand".
Left Hand Throw: As the name suggests, this outfield glove will be for those outfielders who throw with their left hand, and they use a glove in their right hand. So, they will get a Right-Hand Glove.
Right Hand Throw: As the name suggests, this glove is for those outfielders who throw with their right hand, and they need a glove for their right hand.
So, if you throw with your left hand, then you should buy a "Left Hand Throw", or "LHT", "Right-Hand Glove" or "RHG" glove.
While, if you throw with your right hand, then you should buy a "Right Hand Throw" or "RHT", "Left Hand Glove" or "LHG" glove.
Easy to Break In
The outfield baseball gloves under 100$ are generally easy to break in as compared to the high priced gloves.
But, there are some high priced gloves that need a little breaking in, because the company has already done some work on it. But, if someone says that there is no need to break in, then it is not correct. Every glove or mitt needs at least some break-in.
The inexpensive gloves are made with the synthetic leather, and therefore they are easy to break in.
So, before purchasing any glove, make sure to check the product description because some gloves are easier to break in as compared to the other gloves.
You'll find that some brands like Rawlings do some work on their gloves before selling them so that their outfield gloves are easier to break in.
Watch this video to learn about breaking in your glove easily.
Quality of Leather
As told earlier, the leather quality depends on the price you'll pay.
If you are purchasing a high priced 300$ baseball glove, then you will get a glove that is made with pigskin leather, steer hide, or the leather from the exotic animals, while the inexpensive gloves that you get under 100$ price range, those gloves are made with the synthetic leather.
As, the synthetic leather is easy to break in, and it doesn't reduce your performance so there is no need to worry about.
You should consider about the leather quality if you are thinking to use your outfielder glove for the next 5 to 6 years.
While the young players may not need to look at the leather quality because under 100 budget, you'll get gloves made of synthetic leather.
Pocket Area
Your baseball glove should have a good large pocket so that the outfielders can easily catch a flying baseball.
If the pocket area is shallow or not enough deep, then the outfielders may find it difficult to catch and hold the flying baseballs.
But, it should not be of very large otherwise it'll be not comfortable in your hand.
Adjustable Strap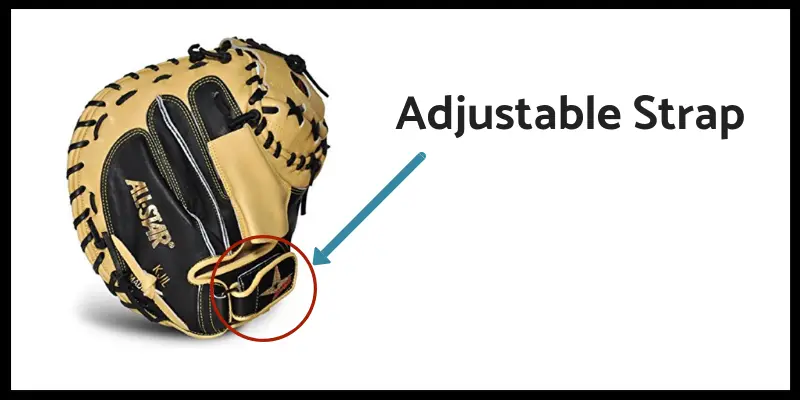 The adjustable strap is a really good feature that can be used to tighten or loosen your outfield glove.
But, this feature is not very common, and you'll not find it in most of the gloves.
If your baseball glove has an adjustable strap, then it will give you another reason to purchase.
But, it's not a deal breaker.
If you find some really good outfield glove, then don't reject it just because it doesn't have an adjustable strap.
Is it a helpful feature?
Yes, it's helpful.
Is it a deal breaker?
Not at all. You can't reject any baseball outfield glove if it doesn't have an adjustable strap.
Padding
The padding helps to reduce or absorb the amount of shock when you catch a ball.
The right amount of padding helps to absorb the shock, and at the same time helps you to catch the ball easily.
Appearance
Whether the looks of a glove is good or not depends on person to person.
Some outfielders find a glove attractive while others may not.
Some prefer dark colored gloves while some prefer light colored.
But, you should not buy a glove by just looking at the appearance.
Sometimes, a poor quality outfield glove is made with a good design and young players buy it. Due to that the glove breaks quickly and doesn't last long.
Top Brands
There are many popular brands that manufacture high-quality outfield gloves under 100$.
But, some brands are clearly dominant in the field of gloves & mitts.
Generally, players prefer the below-mentioned brands:
Rawlings
Wilson
Mizuno
Akadema
All-Star
Easton
Marucci
Louisville Slugger
Nokona
And a few more
Check Your Budget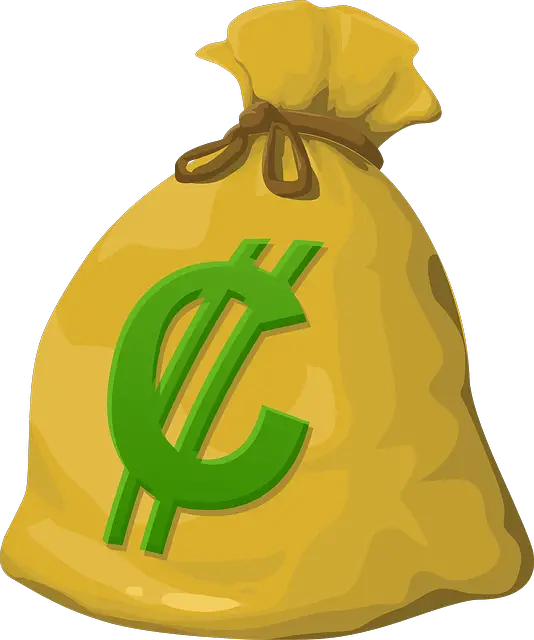 The more you pay, the better quality you'll get.
There is a lot of difference between a 100$ budget glove and a 300$ glove.
But, the biggest and noticeable difference is about the durability of the glove.
The 300$ glove may work for many years without damaging while the 100$ glove may get damaged after a few seasons.
So, it depends on you what gloves you need to buy.
Size
The size is a big thing that you can't ignore.
If you purchase a wrong sized glove, then you can't give your best performance.
Therefore, it's very important to purchase a perfect sized glove as per your age.
| | |
| --- | --- |
| Age | Outfield Glove Size |
| Under 7 years | 9 – 10.5" |
| 8 to 10 years | 10 – 12" |
| 11 to 13 years | 11.75 – 12.75" |
| 14+ years | 12 – 13" |
The above-mentioned size chart for the outfielders as per their age is only to give you an idea.
The actual size can be different from one player to another depending on the hand size and fitness of a player.
Final Words
An outfielder needs a baseball glove that offers a pocket large enough to catch flying baseballs easily, and it should be fit perfectly in the hand.
Along with that, if you are expecting outfield gloves in less than 100$, then those gloves may not last for many years. Those may last for a few seasons, but not for many years.
I hope that I answered all the questions related to the outfield gloves.
If you have any questions, then don't hesitate to ask me in the comment section.