*I may get commissions for purchases made through links in this post.*
It's 2020, but still, you can't just buy any slowpitch softball glove.
Whether you need an infielder or outfielder slowpitch glove, you need to do a lot of research.
When it comes to buying softball gloves, you need to understand that slowpitch gloves are larger in size as compared to the fastpitch gloves.
Along with size, you also have to consider things like:
Pocket size
Break-in period
Leather quality
Webbing style
And a few other things
In this article, I tried to present all the information that is required to purchase your first infielder and outfielder's glove.
If you do not have time to read the whole article, then the next section is perfect for you.
Best Slowpitch Softball Gloves
Wilson A2000 SuperSkin Slowpitch Softball Glove
Glove Type: Outfield
Wilson A2000 has a reputation of being a stiff glove in the beginning and becoming an extension of the hand as it breaks in. It is made out of a high-quality material that is different from leather but proves to be lighter and flexible.
This premium softball glove comes with top-notch construction, and you can be sure to find no fraying stitches, loose threads, or loose knots. It fits comfortably on the hand, and each of the fingers fit perfectly in their respective stalls. The playing side is made out of top quality material, and the palm is made extra thick to help you with difficult catches.
For those who are worried about the pocket size, it is not too big to create problems while digging around for the ball and not too small to let the close calls miss. With Wilson A2000 SuperSkin, you can be sure to catch even the most difficult of the long balls as the ball sticks to the pocket nicely, even if the ball lands on the far end of the pocket.
The dual welting features makes it much worthy of the purchase as it adds on extra durability and a long-lasting break-in. The hot stitching style will surely catch the eyes and the slowpitch specific patterns will make your presence more intimidating than ever.
All in all, it is a pro-stock softball glove for men.
Worth XT Extreme Slowpitch Softball Glove
Glove Type: Outfield
Worth XT Extreme is a beautifully designed softball glove. While a minimum break-in time is required for the glove to perform best, the heavy-duty leather making offers a soft comfy feel allowing players to take this glove right from the wrapper to the game field.
The highlighting feature of Worth XT Extreme glove is that it comes equipped with a Pro H-Web preferred by most slowpitch players. The glove design ensures that once the ball enters the glove, it can never fall out.
Almost all players using this glove have been really happy with their purchase, mainly because it comes with very cushy palm padding and the outer side is also equipped with strong durable leather.
The interesting thing is that Worth XT Extreme is available in various sizes to ensure a perfect fit on each hand. However, the 13″ variation is a little on the short side and is more suitable for playing infield, while the sizes 14″ and above are more suitable for playing outfield.
In any case, this is a premium quality softball glove and players can surely get the right attention with this piece of beauty wrapped around their hands. After all, a good presentation is also a strong quality feature.
Rawlings RSB Adult Slowpitch Softball Glove
Glove Type: Utility (For any position)
This Rawlings RSB Softball glove is what many players look for. This multi-purpose utility glove is suitable for both infield and outfield plays and can be used to play pro softball, recreational adult slowpitch softball, or even baseball. The gloves make has been designed so that it works just as good while playing in any position on the field.
The Basket Web style is a highlighted feature of this product, which offers players a well-shaped deep pocket and total comfort while snagging the ball from the ground and stopping extra-base hits. Moreover, the glove can be broken in very quickly because the brand itself offers a 90% breaking in, and the players have to do just a little to get going.
The neo-flex back and the adjustable straps are the extra pillars of support and comfort, making the glove a perfect fit on any adult hand. The all-leather shell is made to perform while being lightweight and very durable. Also, the soft pads on the palm and the padded lining on the fingers make it one of the best softball gloves available in the market.
The Basket Web version of this glove series is available in four different sizes and there is one more 14-inch variation that offers Pro H Web design, preferred by most softball players. All in all, Rawlings RSB slowpitch gloves live up to its reputation and many players have even declared it as the best softball glove they have ever played with.
Mizuno MVP Prime Slowpitch Softball Glove
Glove Type: Utility
Mizuno MVP Prime is notably one of the best slowpitch softball gloves of the year 2020. The glove has been made with soft bio throwback leather which offers a game-ready performance, extreme comfort, and long-lasting durability. The ultra-soft palm liner adds an extra layer of comfort and also makes it easy to slide in your hand.
The MVP Prime glove is also popular because of its pro-level laces that hold the glove together even after many seasons of gameplay. It also features an H-web pattern which makes it easy to scoop the ball from the ground and a conventional open back design boosts wrist flexibility that allows you to catch even the barely out of reach plays.
It requires breaking in to feel most comfortable, but that effort is greatly minimized thanks to the center-pocket design which allows the glove to break-in in the most versatile manner.
Mizuno MVP Prime is recommended for both infielders and outfielders as it works just as good in both the positions. Moreover, the class vintage style of the glove and the top-notch logo embroidery gives an indescribable pro feeling that will surely boost a player's confidence and presence on the field.
I have also shared a detailed review of Mizuno MVP Prime Glove and if you read it, you'll get a ton of information about it.
Rawlings Player Preferred Adult Softball Glove
Glove Type: Utility (For any position)
Rawlings Player Preferred is a glove that is designed while keeping in mind the diversity of the players. It is a glove that is very suitable for a softball game but is also capable of performing in baseball games as well. It has a utility pattern design that allows players to shift from one field to another without much effort.
The glove is made of full-grain cow leather and is pre-oiled for an easy break-in. When purchased, the glove has a soft feel to it, but after breaking in, the leather becomes more luxurious and adds a better feel to it. Also, Player Preferred is a very durable glove and is dense enough to go through several seasons of gameplay.
The most highlighting thing about this glove is its zero shock padding that allows players to catch the fastest and the most difficult catches without any sting. The H-Web design also ensures that the ball is visible through and keeps you always in the game. It also comes with an adjustable Velcro strap that keeps the glove firm in its place.
Although this glove is utility based, the size of the pocket is more suitable for playing infield when it comes to softball. However, for a baseball game, the same glove might prove to be ideal on the outfield. In any case, Player Preferred is a top-notch glove that breaks in quickly, fits comfortably, and lasts longer than any other cheap glove.
Mizuno Premier Slowpitch Softball Glove
Glove Type: Utility (For any position)
The glove comes with mesh inserts that reduce the overall weight of the glove and gives the players extra flexibility. The glove stays fit due to polyutherane power lock, which is one of the simplest and most secure fit and it also comes with a pull tab for easy removals.
Designed specifically for softball, the Mizuno Premier Glove series is one of the best options adult players and older kids can have. The full-grain leather shell provides great durability giving you confidence that it can last for seasons to come.
The palm lining is also very comfortable and feels well on the hand. The glove is also equipped with Parashock Palm Pads that can absorb the sting from any fastballs and dramatically increases the confidence while taking the difficult catches.
Mizuno flaunts the U Web design on this glove and advertises it as a utility glove. However, the pocket, even though it is well shaped, can prove to be better in the outfield position. Although, pro players can take advantage of the secured pocket and comfortable palm pads in the infield positions as well.
Things to Consider Before Buying Slowpitch Softball Gloves
Infield vs. Outfield Softball Glove
In softball, there are two types of fielders, infielders, and outfielders. When it comes to buying a slowpitch glove, it becomes important to look at your position and then buy a glove accordingly.
Infielder
The infielder gloves are shorter and smaller in size as compared to the gloves for the outfield position.
This is because the players at the infield position have to reach the ball quickly so that they can throw the ball.
For that purpose, if you notice, you'll find that the infielder gloves have a shallow & open pocket.
Outfielder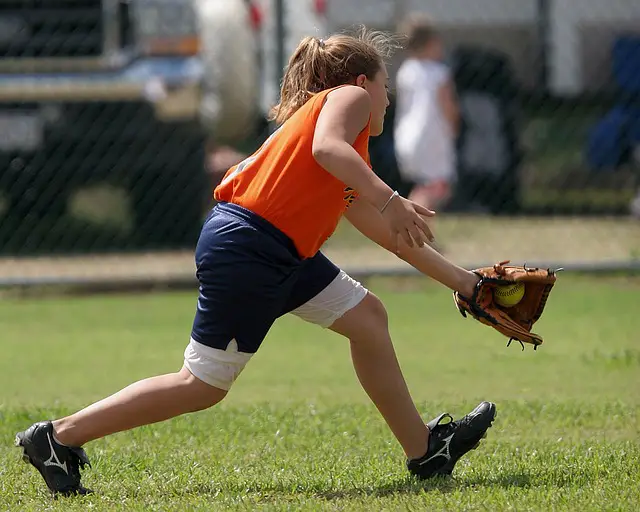 The slowpitch softball outfield gloves are big in size so that the players can easily catch high flying softballs.
Due to this requirement, the outfielder's gloves are deeper and longer as compared to the infielder's gloves.
The H-Web and Trapeze web are the two popular webbing designs that you can find in the outfield gloves.
If you are confused between different webbing styles, then I suggest that you read my article about different glove webbing types, and it'll clear your doubts.
Image Taken By Michel Dangmann
Durability
When buying a slowpitch glove, then durability is one of the most important things that players consider.
If you go to any store or e-commerce store, they say each and every glove is durable. But, how to find which one is more durable?
The durability of an outfield glove depends on the leather quality. Generally, synthetic leather is smooth to break-in, but may not last for years.
While gloves that are made with high-quality leather can last for several years.
This is the major difference between a 50$ glove and a 200$ glove.
The inexpensive gloves also offer good grip, deep pocket, and enough padding, but the main difference is about their durability.
The expensive gloves can last for years, and therefore, if you are purchasing a high-priced slowpitch glove, then you may not need to buy another one for several years.
Right Hand Throw vs. Left Hand Throw
There are some players who throw with their left hand, therefore they need a glove for their right hand.
While some players throw with their right hand, therefore they need a glove for their left hand.
On major e-commerce websites like Amazon, you can find gloves for both hands.
Therefore, when purchasing your slowpitch glove, make sure you check the right glove for your hand because the right-hand glove is different from the left-hand glove.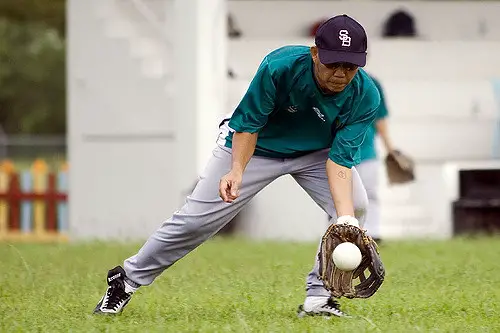 Image Taken by Kong
On most of the websites, it is clearly mentioned in the product description that it is for "Right Hand" or for "Left Hand".
You can find gloves for your left hand as "Right Hand Throw" or "Left Hand Glove".
While the gloves for the right hand are mentioned as "Left Hand Throw" or "Right Hand Throw".
Break-In Period of Slowpitch Glove
The break-in is a major factor that must be considered before purchasing a slow pitch glove.
Generally, the inexpensive gloves are made with synthetic leather, and those gloves are easy to break-in. While the expensive gloves are made with high-quality leather, and therefore these gloves last much longer than the inexpensive gloves.
The expensive gloves can also take some time for break-in.
Before purchasing any slowpitch softball glove, check the product description, whether it is already broken in up to some extent from the factory or not.
You can also read the reviews to check whether this glove is easy to break in or not.
However, breaking in a baseball or softball glove is not a big task. I've written a detailed article about how you can easily break-in a glove, you will surely find valuable information.
In case, if you want to know just one effective way of breaking in a glove, then I'll suggest you that try oiling a glove.
Deep Pocket (Pocket Area)
If you take a look at the outfield glove, you'll find that they all are of the deep pocket.
The purpose of a deep pocket in the outfield's glove is to make it easier for the players to catch softballs.
Brands of Softball Gloves
Many brands manufacture high-quality softball gloves. But, some brands are more successful in manufacturing slowpitch gloves as compared to others.
Some popular brands are DeMarini, Wilson, Miken, Mizuno, and a few others.
When it comes to the outfield gloves, then Wilson, Rawlings, and Miken are top 3 brands that young players prefer as compared to other brands like Mizuno, Louisville Slugger, etc.
Slow Pitch Glove Size
When buying a glove, make sure you purchase the perfect size for yourself.
If the glove is of big size as compared to your hand, then this will not be comfortable as the glove should be.
While a glove shorter in size is also not good for you.
The slow pitch softball glove for the outfield position is slightly larger in size as compared to the other positions.
But, don't purchase a large glove by hoping that it'll help you to take catches easily.
Another thing to remember, baseball and softball gloves are slightly different from each other. So, don't just buy any glove by looking at the size of a baseball glove and hope that it'll do just fine for the slowpitch softball.
Affordability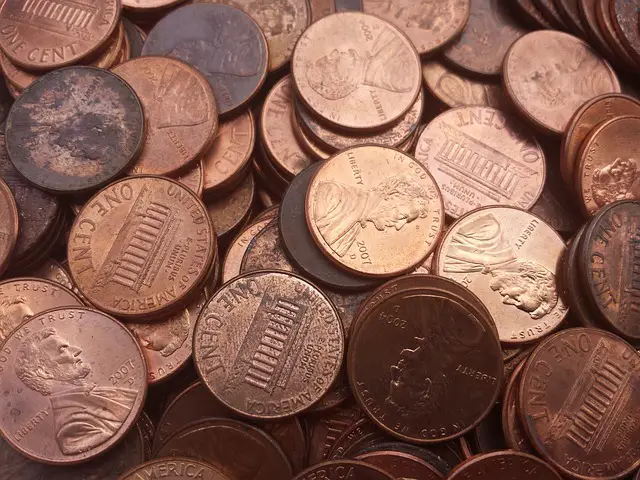 Price is a big point that is the number one thing that most people check.
Generally, you can find some good slowpitch softball gloves under 100$.
But, there are also some really high-quality outfield gloves which are more expensive than 100$.
As the price increases, the quality of a glove increases.
In most of the gloves, the price of a glove decides the durability of a glove. As the high-priced gloves are made with pigskin leather or from the leather of exotic animals so that these gloves can last for years.
While the gloves that you purchase at a price of less than 100$, those gloves are excellent & comfortable, but they may not last for years. They can also work for you for some seasons, but not for 4 to 5 years.
So, if you want to purchase the top-rated slowpitch glove, then you have to spend more than $100.
Wrist Strap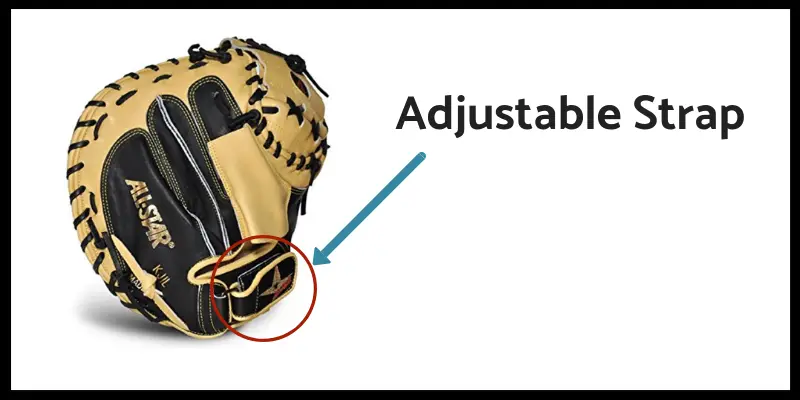 The wrist strap is a really helpful feature, but this is not a necessary functionality for everyone.
The wrist strap can be used to tighten or loosen the fitting of a softball glove.
In many softball gloves, whether they're for outfield or infield, you will not find this feature. But, this is a beneficial feature that makes your slowpitch softball glove far more comfortable than ever.
But, as I told you earlier, this is a feature which you may not find in many gloves.
So, if you don't find this feature, but you like the overall glove, then don't reject it just because of the absence of a wrist strap.
Final Words
On the above, I've mentioned some of the top-rated slowpitch gloves for the players at the outfield position that you can try in 2020.
But, for 2020, my number one recommendation is Wilson A360. It is an excellent glove, which is why it was becoming most player's choice lately. It is great, cozy, and durable over a lot of seasons.
What your pick is, do not forget to have fun with it!