It's 2019, but still you can't just buy any slowpitch softball glove.
Whether you need an infielder or outfielder slowpitch glove, you need to do a lot of research.
When it comes to buying softball gloves, you need to understand that slowpitch gloves are larger in size as compared to the fastpitch gloves.
Along with size, you also have consider things like:
Pocket size
Break-in period
Leather quality
Webbing style
And a few other things
In this article, I tried to present all the information that is required to purchase your first infielder and outfielder's glove.
If you do not have time to read the whole article, then the next section is perfect for you.
My Favorite Slowpitch Glove
If I have to recommend you just one slow pitch glove for 2019, then I'll go with Wilson A360 Slowpitch Glove.
Why?
Because this glove is great for all the positions. Whether you're an infielder or outfielder, you are good to go with this glove.
The closed V-Lace webbing provides optimum performance that you need to catch softballs.
Another great feature is velcro wrist strap. This is a great feature because you can adjust the feel of this glove by using the wrist strap, and it can drastically improve your performance.
When it comes to price, then I have to admit that Wilson A360 Glove is a cheap glove. You do not have to spend a lot of money, and you can purchase it by spending a little amount of money.
But, still, at this price range, it offers quite good performance, and that's why it gets so many great reviews from the satisfied softball players.
However, if price is not an issue for you, then I suggest that you should buy Wilson A2000 Slowpitch Glove.
This is the best slowpitch glove for 2019 that you can find on the market.
I highly recommend that you take a look at the customer reviews of Wilson A2000 before making any purchase.
Things to Consider Before Buying Slowpitch Softball Gloves
Infield vs. Outfield Softball Glove
In softball, there are two types of fielders, infielders and outfielders. When it comes to buying a slowpitch glove, it becomes important to look at your position, and then buy a glove accordingly.
Infielder
The infielder gloves are shorter and smaller in size as compared to the gloves for the outfield position.
This is because the players at infield position have to reach the ball quickly so that they can throw the ball.
For that purpose, if you notice, you'll find that the infielder gloves have a shallow & open pocket.
Outfielder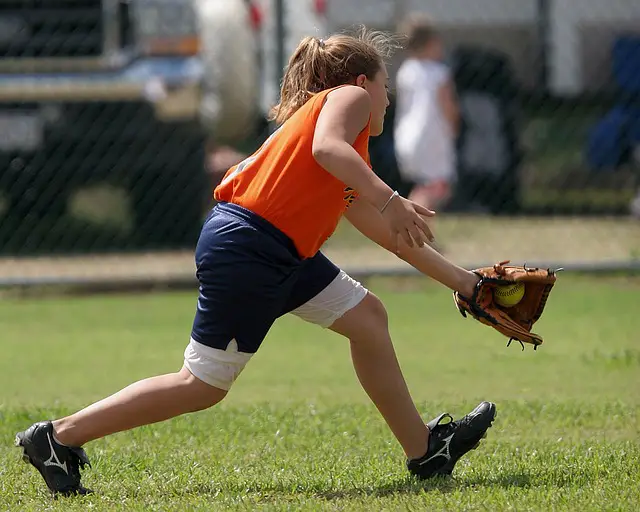 The slowpitch softball outfield gloves are big in size so that the players can easily catch high flying softballs.
Due to this requirement, the outfielding gloves are deeper and longer as compared to the infielding gloves.
The H-Web and Trapeze web are the two popular webbing designs that you can find in the outfield gloves.
Image Taken By Michel Dangmann
Durability
When buying a slowpitch glove, then durability is one of the most important things that players consider.
If you go to any store or e-commerce store, they say each and every glove is durable. But, how to find which one is more durable?
The durability of an outfield glove depends on the leather quality. Generally, synthetic leather is easy to break in, but may not last for years.
While gloves that are made with the high-quality leather can lasts for several years.
This is the major difference between a 50$ glove and a 200$ glove.
The inexpensive gloves also offer good grip, deep pocket, and enough padding, but the main difference is about their durability.
The expensive gloves can last for years, and therefore, if you are purchasing a high-priced slowpitch glove, then you may not need to buy another one for several years.
Right Hand Throw vs. Left Hand Throw
There are some players who throw with their left hand, therefore they need a glove for their right hand.
While some players throw with their right hand, therefore they need a glove for their left hand.
On the major e-commerce websites like Amazon, you can find gloves for both the hands.
Therefore, when purchasing your slowpitch glove, make sure you check the right glove for your hand because the right-hand glove is different from the left-hand glove.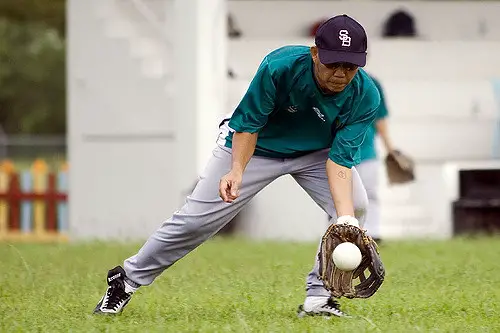 Image Taken by Kong
On most of the websites, it is clearly mentioned in the product description that it is for "Right Hand" or for "Left Hand".
You can find gloves for your left hand as "Right Hand Throw" or "Left Hand Glove".
While the gloves for right hand are mentioned as "Left Hand Throw" or "Right Hand Throw".
Break-In Period of Slowpitch Glove
The break-in is a major factor that must be considered before purchasing a slowpitch glove.
Generally, the inexpensive gloves are made with synthetic leather, and those gloves are easy to break in. While the expensive gloves are made with the high-quality leather, and therefore these gloves last much longer than the inexpensive gloves.
The expensive gloves can also take some time for break-in.
Before purchasing any slowpitch softball glove, check the product description whether it is already broken in up to some extent from the factory or not.
You can also read the reviews to check whether this glove is easy to break in or not.
Deep Pocket (Pocket Area)
If you take a look at the outfield glove, you'll find that they all are of the deep pocket.
The purpose of a deep pocket in the outfield's glove is to make it easier for the players to catch softballs.
Brands of Softball Gloves
There are many brands that manufacture high-quality softball gloves. But, there are some brands that are more successful in manufacturing slowpitch gloves as compared to others.
Some popular brands are DeMarini, Wilson, Miken, Mizuno, and a few others.
When it comes to the outfield gloves, then Wilson, Rawlings, and Miken are top 3 brands that young players prefer as compared to other brands like Mizuno, Louisville Slugger etc.
Slow Pitch Glove Size
When buying a glove, make sure you purchase the perfect size for yourself.
If the glove is of big size as compared to your hand, then this will not be comfortable as the glove should be.
While a glove shorter in size is also not good for you.
The slow pitch softball glove for the outfield position is slightly larger in size as compared to the other positions.
But, don't purchase a large glove by hoping that it'll help you to take catches easily.
Affordability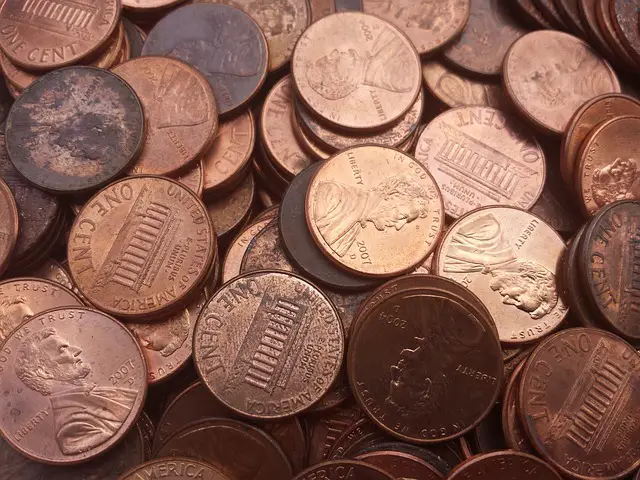 Price is a big point that is the number one thing that most people check.
Generally, you can find some good slowpitch softball gloves under 100$.
But, there are also some really high-quality outfield gloves which are more expensive than 100$.
As the price increases, the quality of a glove increases.
In most of the gloves, the price of a glove decides the durability of a glove. As the high-priced gloves are made with pigskin leather or from the leather of exotic animals, so these gloves can last for years.
While the gloves that you purchase at a price of less than 100$, those gloves are good & comfortable but they may not last for years. They can also work for you for some seasons, but not for 4 to 5 years.
So, if you want to purchase the top rated slowpitch glove, then you have to spend more than $100.
Wrist Strap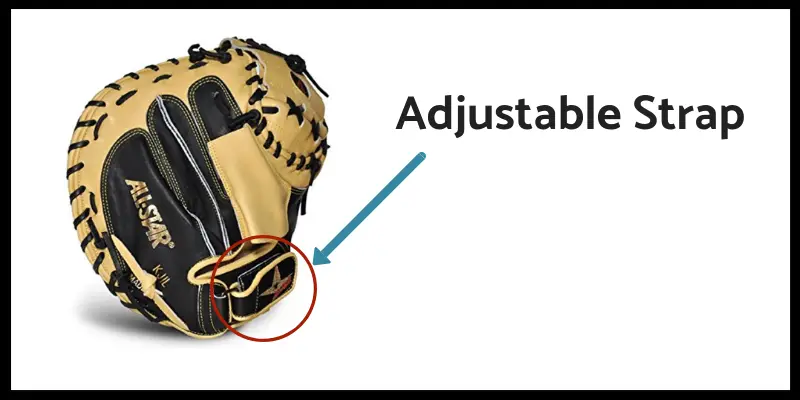 The wrist strap is a really helpful feature, but this is not a necessary functionality for everyone.
The wrist strap can be used to tighten or loosen the fitting of a softball glove.
In many softball gloves, whether they're for outfield or infield, you will not find this feature. But, this is a really helpful feature that makes your slowpitch softball glove far more comfortable than ever.
But, as I told you earlier, this is a feature which you may not find in many gloves.
So, if you don't find this feature, but you like the overall glove, then don't reject it just because of the absence of a wrist strap.
Best Slowpitch Softball Gloves in 2019
Wilson A360 Slowpitch Glove
Wilson's A360 model is one the best softball gloves for outfielders you can purchase in 2019. It is an excellent score for both beginners and intermediate softball players, but players with more experience and competition would likely look and desire glove with additional features.
Despite this little downside, it comes with an economical and perfect for your kids to make use of during practice. Purchasing this product at that affordable price won't come with regrets; the glove is top notch and made with the high-quality material.
Key Features and Design
Wilson has always been known to put hand orientation into consideration each time they make their gloves. It is also perfect irrespective of your hand orientation: right and left-hand throws.
The slow pitch glove is constructed of pure leather with an extremely soft feeling. This shows that Wilson A360 will not provide you with a durable glove but also maximal protection and
The material for this glove is pure leather, but it feels very soft meaning that you will get not only a durable glove but also maximum protection and coziness.
It is imperative that you are of the size of a glove before making a purchase. Wilson made the glove about 14 inches so it fits appropriately when used by most adults. So, it's perfect for the outfield position. However, some might find this product a little bigger.
Wilson A360 glove has the following attributes: high-quality leather material, pocket depth, and design, and the padding, which all sum up to make it a perfect glove for any ideal playing positions aside from the batter position.
This softball glove, Wilson A360, seems to appeal players looking for a large-sized softball glove due to its split hinge web. Aside from the large size, the web design enhances a better feel of the softball while playing.
When it comes to slow pitch, a glove excellent in its design, size, and style make it more right for slowpitch softball.
Pros
Available for both throws: left and right-hand
This glove can be used for any softball positions on the field
It does not feel heavy rather very light and cozy when worn in your hand
The glove usually takes about a few days to break in
This glove is constructed using topnotch, world-class comfortable paddings available on market today
It has a very reasonable, economical price tag
Wilson had all gloves in the A360 Series long lasting
A360 series have all gloves looking stylishly and very artistically appealing
Perfect for the outfield play
Cons
When vigorously used; Laces start giving issues: they don't stay intact anymore
If you looking to make it more durable then you will work on the stitching
Some softball players find the fact that the glove coming from China disturbing
Although the glove breaks in quickly, it may still feel a little bit stiff
The sizes are not as exact as described in their description
The Verdict
A great score from Wilson, readily available to all irrespective of your budget. The glove may not be for professional players but still, offer quality service making it a well-priced slow pitch glove.
It is a great choice if you are not certain of the position you want to play, Wilson A360 can help you adapt to any softball positions. The glove was designed to be versatile and catch up with your requirements anytime.
With great features that a young player needs, this is my number one recommendation for the outfield glove.
In this year, they have made some improvements that make it even better for the outfield position.
Easton Salvo Slowpitch Glove
The Easton Salvo is probably better addressed as a bat, however, the Salvo name can also be used to mean softball glove. The Salvo slowpitch glove is an excellent pick for players playing the slowpitch softball.
The Easton Salvo glove is very soft and reliable, which are the benefits most players watch out for when trying to have their skills increased.
Key Features and Design
Easton design Salvo series using a leather – 365 steer hide, which provides you with durability and comfort. This both still do not affect how structurally complete the softball glove is.
Salvo has a double deep pocket feature making the glove remarkable. This feature is deeper and broader, which makes it very easy to both catch and keep softballs.
The Lock Down wrist strap provides you with a way to have the glove perfectly secured and fit comfortably regardless of the different hand sizes.
Has VRS padding on the glove palm that aid attenuation of shock and rebounds. Hence you get utmost comfort.
Easton adopts a strategical mesh design making the gloves lighter and flexible without hassle.
Pros
Has 365 steer hide leather making it soft and more durable
Decent palm padding which your hand protect against rebounds and absorb shock.
Softball players will love the wider and deeper pocket.
Awesome snagging line shots and shagging fly balls
It is also perfect for players with large hands.
Custom and secure fit using the Lock Down adjustable strap
Comes in both left and right-handed throwers.
Lighter and flexible due to awesome mesh inserts.
Cons
Quite stiff when purchased
Break-in time takes a bit longer
The material inside amass a lot of sweat
According to customers – material wrinkles after a while
The Verdict
Easton Salvo Elite Series is another world class and highly reliable slow pitch softball glove. It is a great choice for individuals with slowpitch.
Although it comes with a smaller price tag when compared to other slowpitch gloves, the glove offers standard features making it awesome for those looking for an entry or mid-end glove.
Easton is also considered as a good manufacturer for the softball bats & gloves. But, if we talk about 2019, then Wilson is way ahead as compared to the Easton, if we talk about outfield glove for slow pitch.
Miken KO Series Slowpitch Glove
The Miken has an awesome slowpitch series – Koalition series (shortened KO series), day after day they appear to capture softball players interest with its great features.
Miken has been in the sports industry for a long time, they are popularly known for the great featured bats, however now they have come up with a standard glove to give you the desired fun and satisfaction.
Key Features and Design
Mikan made all KO series with USA leather with a full-grained shell, making the glove reliable, soft, light and comfortable.
Miken uses PORON technology, a technology to have the glove padding in the palm to reduce the increase to avoid hand sting.
Poron XRD Palm Pads in the glove helps you handle any effects of Ball impact like shock.
The KO gloves fit a bit smaller to size but are overall very comfortable once broken in.
Pros
Synthetic
Soft & Lightweight
Durable
Full-Grain Leather Shell for Game-Ready feel
Palm padding to give more protection
Great glove for a well-priced product
Priced in the mid-tier but you still get some excellent quality leather – although may not be top-tier premium leather, still very durable and will hold up well for multiple seasons.
Overall very nice look and feel
Cons
Takes a bit more time to break in
Fits slightly small to size
The Verdict
The popular brand, Miken, was able to achieve this high level of popularity because of their bats. Meanwhile, the Koalition line of gloves is a decent option for softball players at the outfield position wanting to get a new great slow pitch glove.
In recent years, Miken has gained some popularity. Now, in 2019, they are becoming one of the top choices for the softball players.
DeMarini Diablo Softball Glove
One feature that makes DeMarini Diablo is the fact that the glove is perfect for both baseball and slowpitch. However, it performs better as a slow pitch softball glove due to.its large and deep pocket dimension and mesh inserts.
Key Features and Design
DeMarini Diablo uses topnotch leather – ECCO leather to come up with this awesome score. ECCO leather help make certain that you feel cozy and comfortable immediately after purchase.
The slowpitch glove does not accumulate sweat from fingers and wrist. The Dri-lex breathable lining takes care of not only that but also has a palm reinforcement that decreases stinging.
Image taken by Michel Dangmann
Another feature is it decent leather which makes it a game-ready glove with minimal broken-in. Hence, you don't have to wait hours before use.
Pros
Soft, cozy and broken in immediately out of its package
Very reasonably priced and not too pricey
Great glove for beginner or amateurs
Perfect for those with players with large hands
Comfortable shock-absorbent palm padding
Dri-lex breathable wrist and finger lining to reduce gloves from amassing sweat.
Can be used at the outfield position
Cons
Not the most topnotch leather.
May not be perfect for smaller hands.
The Verdict
If you looking for slow pitch glove that doesn't have your wallet drained or blown up – DeMarini is the right score in 2019.
The glove is game-ready, without an existing break-in period. Conclusively, it is a great glove at a decent price, with fewer dislikes.
Mizuno: Premier Slowpitch Glove
Mizuno, over the years, has proven himself to all softball players why they earned a spot as one of the best and leading brand in the slowpitch softball glove industry.
The slow pitch softball glove, GPM, has both style and durability integrated with the newest technology. It ensures that all players do not only find this glove comfortable, productive but also economical.
The use of GPM isn't limited to use as a slowpitch softball but also ideal as a fastpitch softball glove. This is an amazing glove with enormous benefits, which has made it possible to become well-known and used among most softball players today.
Key Features and Design
Quality material
The GPM is constructed with a full grain leather shell. This provides you with the assurance needed to be certain that the glove will serve you for a longer duration once you break it in.
Web
It adopts a web form known as Arched Tartan Web. One thing about this web form is the fact that makes this slow pitch softball glove equally ideal for fastpitch softball.
ParaShock Palm Pad gives you that excellent and ensuring safety by making sure you get fewer softball shocks and rebounds.
Pocket
The GPM 1403 also has an extra deep, inmost pocket, which makes the glove ideal for play in any positions in slow pitch. It can use be used at most playing positions in fastpitch.
Adjustable Wrist Strap
PowerLock Adjustability offers you a very quick and also one of the highly secure fits you need or looking forward to from any slowpitch softball glove. There is another advantage to this PowerLock Adjustability – it makes sure that the GPM glove fits every different hand sizes without problems.
Size
It is a 14" inch glove. Its size enables it to be an excellent choice for both adult slowpitch and fastpitch softball players.
Design
Premier GMP 1403 has an awesome design – open back, which has earned it as of top quality gloves and most softball players choice today. This is because Premier GMP 1403 makes it fit any hand sizes.
Pros
The glove is made with full grain leather for utmost toughness and lastingness Shell.
It is also constructed with Parashock palm pad to have all repeated shocks absorbed. This helps to heighten comfort and protection the glove offers.
Designed to have Mesh inserts in glove, in order to have the glove weight decreased for a wonderful playtime.
With the aid of a polyurethane power lock strap, the glove gives a customized fit.
An economical price makes it a perfect choice for smaller budgets.
It has all the features that a good outfielder's slow pitch glove need.
Cons
Minute time to break-in to get this glove game-ready.
Not every softball player find the Open-back design pleasing.
The Verdict
This topnotch slow pitch softball glove is certain to offer you world class experience. Are you a recreational softball player with the desire for an excellent glove at a great price? Then, this is a perfect choice for you.
Final Words
On the above, I've mentioned some of the top-rated slowpitch gloves for the players at the outfield position that you can try in 2019.
But, for 2019, my number one recommendation is Wilson A360. It is an excellent glove, which is why it was becoming most player's choice lately. It is great, cozy, and durable over a lot of seasons.
What your pick is, do not forget to have fun with it!