If you somehow landed up over here, you're looking for some cheap gloves I'm guessing. 
But to comb through a variety of these gloves will be a little difficult. So here's a list of the best budget-friendly gloves out there with a very affordable price range. 
Let's jump into it, shall we? 
Best Baseball Gloves Under $100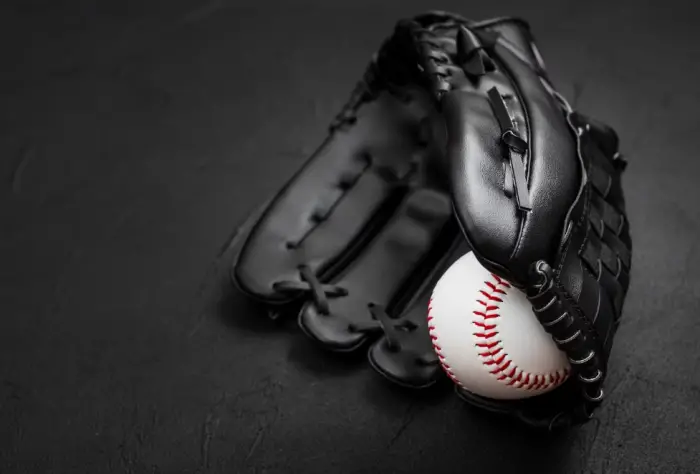 Franklin Sports Baseball Glove 
The Franklin Baseball gloves are one of the best, honestly, these are surprisingly quite cheap, budget-friendly, and affordable and you should get these if you are looking for something affordable but also versatile in characteristics. 
They have an easy break-in period, and the leather is made of soft material and therefore is super lightweight making these super easy to play catch with. These will be game ready for any type of game you want those being either baseball or softball. These come in both hand orientations that is left-hand throw and even right-hand throw 
They are also adjustable and though having a higher break in they are quite durable too. The Franklin Sports Baseball Glove is complete with an adjustable wrist strap and contour system for a customizable fit, fitting everyone comfortably and according to their performance. 
Pros: 
Budget-friendly 
Great quality 
Quicker break-in 
Adjustable 
Cons:
Has drawbacks for longevity purposes
Rawlings Player Preferred Glove
Well, we have Rawlings on the List next! And you'd expect because it is such a big brand it'd be impossible to get it affordable right? Well, you are wrong, these gloves are inexpensive and also super beginner friendly. 
The Rawlings gloves have an 80% break In from the factory so you don't have to go through any extra hassle of trying and getting it to break in. Plus these gloves are available in many specific styles and are also designed to customizable fit your hand size properly. So you can be assured that your size specifications are true to yourself. 
They will last you for a good couple of months so you can always try and experiment with new ones if you like, while also looking for something good for you. But overall, they are quite cheap for a beginner baseball learner. 
Pros: 
Beginner friendly 
Longstanding name 
Good break-in 
Customizable fit for each player 
Cons: 
Can cause wear and tear easily 
Rawlings Player Series Youth Glove 
If you are a beginner or maybe you are looking for your kid who is just starting. But also you don't wanna compromise on the brand but, wanna look for something that is well within your budget. 
The Rawlings Player Series Youth Gloves are just the choice, these are an absolute steal, they come in both hand orientations a.k.a Right Hand Throw and Left Hand Throw. They come in different colors and are specifically catered towards the age. 
The gloves have a soft pliable shell for young athletes to close and control in the early stages of the game. So you won't have to go throw the hassle of trying to break these in or anything like that. So these gloves are worth something under $100. 
Pros: 
Soft pliable shell 
Under 100$ 
Comes in specific styles 
Tried and tested by many 
Cons: 
The durability factor is highly compromised 
Mizuno Prospect Series Glove
So here we have another glove that's super affordable and something that is well within the 100$ range. These are the Mizuno Prospect Gloves. Now if you're someone who is a beginner in the field of baseball then these gloves are perfect. 
They have a very simple option range size to choose from and they come in both hand orientations so that's all the more awesome to work with if you're just starting off or maybe you want them for some recreational purposes. 
They are made from pigskin leather and they have a soft butter palm liner. So that lining kind of increases the feel and comfort of these gloves. They have another type of lining called Mzo lining that keeps you from sweating too much in the glove. 
So the Mizuno Prospect series gloves are your best shot if you are looking for something, not with any over-the-top features, but also something lightweight, thus giving you enough mobility to work with. 
Pros: 
Best gloves under $100 
No over-the-top features 
Has premium quality leather 
Cons: 
Not much trial and testing done 
Comes in one size specification 
Rawlings Select Pro Lite Glove 
We have another Rawlings on this list, with a very good price range once again. These gloves are fairly cheap too if you wanna kick off your baseball game, but you're just a beginner. They are lightweight enough to ensure that you have good enough mobility, and freedom of moving while also providing you enough flexibility. 
These come with a good discount from their original price, so you should try and add this to your list. These come in both hand orientations and they have each specification of size listed that can be used for utility purposes. 
These gloves have a soft shell and also a lining to provide you utmost comfort when playing a baseball game. They also have a shock reduction system too, so you can be sure that any hard hits that come your way will all be absorbed into those gloves, preventing any sort of injury or damage. 
Pros: 
Gives comfort and mobility 
Has soft shell 
Great for utility purposes 
Great for recreational purposes 
Cons: 
Not as good as player preferred series 
Longevity compromised 
Wilson A500 Glove
A budget-friendly list wouldn't be complete without the Wilson A500. They are catered to the designs of the player well enough while providing them with enough options to choose what they desire too. 
Since a lot of beginners tend to use these gloves, they come with a discount of around 10 to 20% from their original price, now if you ask me that's quite a steal! I mean to get a Wilsons for something under 100$ is worth the shot. 
Wilsons never fails to deliver the utmost customer satisfaction to gain your loyalty towards them and their products. They come in different colors and different styles so you can be sure to choose from their range of amazing options. 
They come in all sizes that are mostly included for utility purposes and of course, if you wanna go a notch up further you can show off these gloves at your next recreational baseball event. The gloves come with adjustable straps which are super necessary. Also almost forgot to mention they do have dual welting which gives you increased support throughout the game.  
Pros: 
Gives support during the game 
Dual welting technology present 
Comes in different sizes 
Considerably cheap gloves 
Cons:
Does not have as much premium quality as other Wilson Series
Rawlings Renegade Glove 
The Rawlings Renegade glove is somewhat like its player-preferred series in terms of look. But it's comparatively cheaper than the player-preferred series. Hey also come in few options therefore it won't confuse you on what to choose. 
And personally, if I were a beginner I would try and avoid gloves that have a wide range of options, the limited the options the lesser the confusion, and more of the process of selection is easier. 
They have gloves in both hand orientations just like any other gloves. They mostly come in 13 inches only but in various styles and colors. The Rawlings renegade has different options to choose from like baseball, softball, or catcher. So that doesn't confuse you and you have an ease of selecting the right gloves for you. 
Pros: 
Cheaper than Player Preferred Series 
Comes in different options but specific
Beginner friendly 
Cons: 
Comes in only one size specification 
Rawlings Sandlot Series 
Rawlings as a brand has a lot of cheap options out there. Giving some sort of freedom when choosing something that is right for you, and also increasing the love of baseball that their entire customer base as well as they share.
The Rawlings Sandlot gloves are exactly what these gloves come in limited options to choose from as well as different styles and color options that you are free to choose from. They come in at 11.5 inches only so, that's the only size option available, but even Rawlings makes sure to try and customize its style towards your needs for sure. 
They have an I web which is super versatile to work within the beginner stages of your baseball game. They have extra padded protection so you can try and protect yourself from all those hard-hit impacts and forced balls that come your way. The Rawlings Sandlot series is one of the famous cheap budget-friendly gloves out there so you should invest a pair if you get the chance. 
Pros: 
Budget Friendly 
Shock Pad Protection
Famous series 
Cons: 
Like most durability is Highly compromised 
Mizuno Franchise Baseball Glove
And we've come to the last of our list! Now here we have the Mizuno Franchise Baseball Glove. So these gloves in terms of looks, look super expensive but honestly speaking they are quite cheap and at times they have a lot of its discounted rates present, so that's another added benefit. 
They come in all types of sizes you can choose from so that's a really great added advantage that you have there. They come with premium quality leather and lacing. The pocket laced under the web helps for pocket formation so you don't have to go through any tedious purpose of trying to shape them. 
Just like the other Mizuno gloves that I have suggested these come with the Mzo Lining that decreases perspiration within the gloves. They have Parashock Plus Pad gloves feature so that kind of helps and deadens the impact of the ball. They have lacing patterns that sort of keep the shape and integrity of the glove, through the rigors of playing. They come in both hand orientations as well as in many different styles and colors. So, you can for sure consider these on your next purchase. 
Pros: 
Richer look and feel 
Come in different sizes 
Beginner friendly 
Affordable
Cons: 
Not much trial and testing done 
So, I guess now you can choose a good quality baseball glove that won't break the bank.