If you landed on this article, means you're looking for the best outfield gloves out there and I know that this can be tough for you in the field of many of the best-branded gloves out there. 
Well, here is a list of the best gloves out there that you should for sure consider. 
Let's jump right into it! 
Best Outfield Baseball Gloves
So here's a compilation of the best outfielder gloves out there to enhance your performance as an outfielder. 
Wilson 2023 A2000 Outfield Glove 
The classic A2000! You could never doubt this pair of gloves because they are the best series in the game and they have everything there is to it. From performing with the pros to excelling with amateurs these gloves give you their all in terms of performance. 
The Wilson A200 is known for its deep pockets which are really good for outfielders to catch balls at longer distances, they also have added protection and padding to protect yourself from those hard impact balls that come your way. 
These gloves also have dual-welting giving you proper protection and stability while playing the game and maintaining the glove shape. The web design is perfect, H-Web is really good as see-through gloves and catching the ball while it's mid-air. These gloves are the best baseball glove for outfielding. 
Pros:
High-quality construction
Durable materials
Excellent pocket formation
Deep pockets
Quick break-in period
Cons:
May feel stiff initially
Slightly heavier compared to some other outfield gloves
Rawlings Pro Preferred Glove
We all know that Rawlings is the best out there and in terms of delivering performance and quality Rawlings doesn't miss a beat of it one bit. That's why I love the Rawlings brand the most and you should definitely consider it too. 
The Rawlings Pro preferred gloves have a larger size that is necessary for outfielders giving them the ability to track the ball easily, whilst also securing it. The deep pockets also enhance this feature of theirs and enable them to have good ball control and also to trap it securely as mentioned previously. So you can without a doubt say that these function as the best outfielders' gloves. 
A Trapeze-web is present for the glove giving them enough visibility and versatility while also constituting the deep pocket formation that allows them to trap balls effectively. There is also extra padding in the areas where hard-impacted balls may be targeted at, thus absorbing all of the force present. 
Pros:
Premium quality craftsmanship
Top-notch leather construction
Exceptional durability
Customizable features available
The quick and easy break-in process
Cons:
Higher price range
Mostly designed for pros rather than amateurs 
Wilson A2K Glove 
The A2K's have been one of the most premium gloves out there in the market. With the amount of finesse and fine craftsmanship, it is created giving attention to detail in each of the parts. You or anyone who loves baseball know that these gloves cost a fortune but for a worthwhile reason. 
The Wilson A2K gloves have double Palm construction which is absolutely necessary when making outfield gloves to absorb all that shock that is coming your way in full force. They also have rolled dual welting giving them excellent shape and stability and maintaining those even throughout the rough hits and diving catches.
They have a lot of webbing options to choose from, so if you've been on the field long enough and want to go for a more customizable option then you should definitely choose the Wilson A2K. 
Pros:
Premium craftsmanship and top-grade leather
Pro-level patterns for outfield play
Double palm construction for added durability
Rolled dual welting for shape retention and quick break-in
Customizable options for personalization
Cons:
Higher price range
Harder to Break in 
Nokona Walnut Series Glove  
Now these gloves may not sound like it, but they have a fame and game of their own, they are as longstanding as compared to Wilson and Rawlings itself so they've been out in the market for quite some time. They provide an excellent performance factor while giving you excellent quality as well. 
These gloves have walnut crunch leather present in them giving them the perfect quality and longevity. Giving them a vintage appearance and also the feel of flexibility and enough mobility too. 
The Nokona Walnut Series Gloves are designed in such a way as to give flexibility, comfort, performance, and functionality thus adhering to the function of providing you the best outfielder performance.  
Pros:
Premium quality construction
Made from high-quality, durable Walnut Crunch leather
Classic and timeless design
Handcrafted in the USA
Excellent break-in process
Cons:
Higher price range
May take longer to fully break in compared to some other gloves
Rawling Heart Of The Hide 
The Heart of the Hide is the classic and one of the Pros recommended these are perfect to give you the necessary performance and deliver quality to you. Don't think anything twice and snatch the opportunity of buying these gloves on your next purchase!
Because honestly, the HOH delivers Pro Patterns that will help you enhance your outfielder performance extremely. Making them without any hesitation, the best baseball glove for outfield. They have deep pockets present that are able to catch high-flying balls while having secure ball retention as well. 
They also have extra padding to protect you from all of those impact hard-hit balls that are coming your way. The Rawlings Heart of The Hide also has durable construction making these robust and also helping them to withstand the rigors of the game. 
Pros:
Premium steer hide leather
Professional outfield patterns
Deep pocket for secure catches
Pro-grade padding for extra protection
Cons:
Higher price range
Designed for experienced players 
Longer time to break in 
Buckler Phalanx Series Outfield Glove 
Now I know that probably you may not have heard about these gloves. But I guarantee you that we have put these on the list for a reason. They have exceptional quality and a good amount of durability too. 
These are made from dual welting and split solid web to create a more durable pocket. They have cushioned sheepskin present and full grain cow leather present on the palm and finger back lining to provide maximum comfort and to absorb all the shocks that come your way. 
Of course, they have extra thickness provided on each of the fingers to provide support and also to prevent damage or injury completely. 
The Buckler Phalanx Series Outfield Glove feel is extremely perfect making them as if you are catching the ball yourself. It also comes in a somewhat affordable price range so if you are looking for something that would last you up for seasons then this is the one. 
Pros:
They Dual Welting 
Sheepskin Cushioning 
Various web types 
Perfect pockets 
Affordable 
Cons:
Not Game ready enough 
Not any long-withstanding name in the industry 
Rawlings R9 Series Glove
And of course, I had to end this list with another one of our favorite Rawlings. One can never go wrong with Rawlings in no absolute possible way. These are handcrafted to perfection delivering quality and standard perfection in each of the gloves they create. 
Well, let's say first off, that these gloves have an entirely lightweight design so this allows outfielders to move quite quickly and flexibly. The gloves are designed to give outfield-specific patterns that are curated to provide a larger catching surface and a deeper pocket for securing flying balls. 
The Rawlings R9 Series is designed to give padding and cushioning in all the right places of impact. They also come in quite an affordable price if you're looking to not commit fully or for just casually experimenting with different gloves. 
Pros:
High-quality construction and materials
Durable and long-lasting performance
Affordable price range
Lightweight and comfortable design
Quick break-in process
Cons:
Less variety in available models and sizes
May not have the same level of craftsmanship as top-tier gloves
How To Choose Outfield Gloves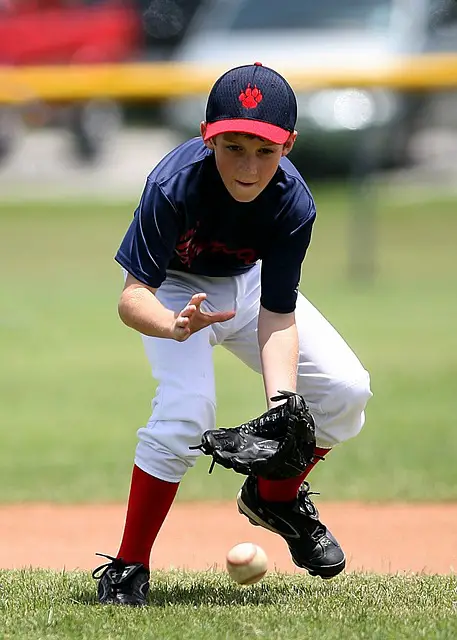 You should for sure check out the following characteristics when selecting a glove for yourself, these are some of the factors to look out for to get the best outfielders glove: 
Size 
Normally the outfield gloves range somewhere between 12.5" – 12.75". These gloves are bigger which is perfect for outfielders since they need something bigger to catch a hold of the ball. 
Webbing
The webbing is a completely important factor to consider, outfielders try to track the ball with their eyes. The gloves need to have enough visibility. The H-Web, Trapeze-Web, and Dual-Post Web are necessary for terms of visibility and even ball control. 
Padding And Protection
Of course, you have to try and consider this factor for sure, outfielders need to catch balls from farther distances plus also have to try and avoid those hard-impact balls. So therefore you must definitely consider something that will give you ultimate protection while also trying to give you mobility and flexibility.
Weight
You should consider something on the lighter side rather than something that is unnecessarily heavy. This will be advantageous since you can have quite the control on the field while maneuvering around easier than most.