I know you must be trying to find the right Catchers Mitt, but you're caught in a dilemma about what to choose. And how to choose? 
There are so many brands out there in the markets, what's the difference, what would be the one best suited for you?
Well don't worry I'm here with a list for you that combines all the best catcher's mitts out there and spoiler alert ahead but some are even recommended by some of the best MLB players out there. 
So let's dive right into it!
Best Catcher's Gloves in 2023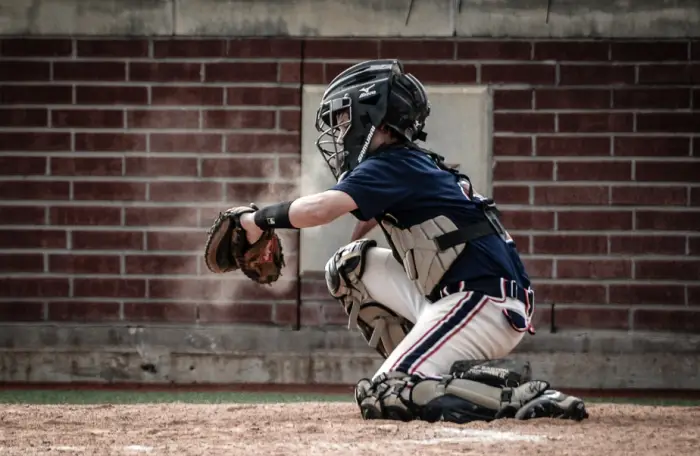 All Stars Catcher's Mitt 
So here we gave the All Stars Cacther's Mitt, they are perfect for caching those rough hits that come your way. These will withstand the rigors of the game. 
It comes in both hand orientations and has specific size specifications explicitly designed for catchers. Catering to their needs and playstyle. These are designed to be comfortable and protective from all of those hard-impacted balls coming your way. 
Moreover, these are streamlined perfectly to fit you in a way that won't cause you any distress during the game while also providing you with necessary support throughout the game. But here's the catch (no pun intended) these catching mitts are not as broken in as much as you'd get your regular gloves. The gloves are not soft in the beginning and tend to be super hard at first, so it's not very easy to work with in the beginning.
But that's what contributes to its longevity factor and they can last you up to for a good couple of years. 
Pros:
Durable 
Comfortable 
Good size specification 
Cons: 
A little pricier 
The break-in period is long  
Rawling's R9 Catcher's Mitt
A list wouldn't be complete without mentioning Rawlings. The Rawlings R9 Catcher's mitt is the perfect type of glove mentioned for any catcher. They have a longstanding name in the industry, for their quality and functions. 
They give you enough comfort while protecting you from those immense shocks on the balls. They have anti-shock protection diverging those hard-hit balls that will come your way at immense speed. They have both hand orientations, with a single-piece solid web. This is perfect for catchers in terms of catching those balls and securing them in your hand. 
They come in game ready, they have soft durable all-leather shells to play with right away. The gloves come in with 80% factory break-in and 20% is to be done by you. The Rawlings R9 glove comes with impact protection, they have a reinforced palm pad and padded thumb loop for coverage and comfort.
Pros: 
Perfect price 
Has good protection 
Perfect size specification 
Cons: 
Wilson A2000 Catcher's Mitt
Next on this list, we have the Wilson's A2000 Catcher's mitt. They're are extremely perfect for you. Not only catered to your design but these catching mitts are used by some of the famous MLB players out there like Julio Rodriguez and even Robbie Ray. 
The Wilson A2000 in terms of quality is exemplary, they use Pro Stock Leather which gives it, its unmatched durability and rugged feeling as well. They have ProLux Leather which gives you the perfect feel and comfort factor all around the seasons. The all-new comfort sleeve is the finishing touch, concealing the binding in the wrist for better support ever than before.
These come in 33.5" which is perfect for catchers since they do require a glove that is bigger for trapping the ball quickly and effectively. The DriLex binding that's present inside gives you all the more comfort by absorbing any sweat, that may cause distraction during the game. This allows you to have an immense focus on the game.
Pros:
Unmatched durability 
DriLex technology 
Perfect size 
Cons: 
Mizuno MVP Catcher's Mitt
We have the Mizuno MVP series, so these catcher's gloves are quite exceptional in terms of quality and durability. They have Bio Soft Leather, they have professional style smooth leather that is the perfect balance of oil and softness for exceptional feel and firm control. 
These have professional-level lacing that's done on them, which includes durable lace that's offered for professional-level gloves. These have the extra padded thum slot for ultimate protection and they also have center pocket designed patterns, these naturally center the pocket under the index finger for the most versatile break-in ever. 
These come in both hand orientations and have a size specification of 34" that are absolutely perfect, since the bigger the size of the gloves the better it is to trap the ball that comes to you in full force. These gloves also provide ultimate protection from the hard impact balls that come to you, therefore absorbing all the force that comes your way. These make the Mizuno MVP series the best catcher's mitt. 
Pros: 
Professional level gloves 
Ultimate protection 
Perfectly sized 
Cons: 
They are quite heavy 
Expensive 
Longer Break- in 
Rawlings Pro Preferred Catchers Mitt
Here's another top catcher's mitt on this list. Now amongst the Rawlings series, the most notable series that they have and use is the Rawlings Pro Preferred.  These gloves are used by most MLB players, and they include Carlos Correa, Javier Baez, Manny Machado, and Mike Trout. 
They are more expensive than most of the gloves recommended here in this article and for a valid reason too. These gloves are specifically designed for the pros, therefore, if you wear these you'll feel like your playing like one of the Pro's quite literally. These come in 33" with 1 piece of solid web, in different colors and styles. What makes them a really good catcher's glove is because of the way that they are designed to constitute the components and feel of the Pro designs. 
These gloves will last you a good long time because of their immense break-in of about 30% done in the factory and 70% done by you. So if you wanna consider getting these gloves on your next purchase, don't let anything stop you. 
Pros: 
Durable 
Pro designs 
Good Webbing 
Cons: 
Really Costly 
Bigger Break-in
Rawlings Player Preferred Catcher's Mitt
The Rawlings Player Preferred series is the last glove on our list that we recommend. Now if you're looking for something that is cheap and affordable while still getting all the qualities and functionalities of the other gloves then the Rawlings player preferred series is for you. 
They come in 33" with the particular size specification needed for catcher gloves. They have 1 piece of solid web and full-grain leather for that additional quality. What's great about these gloves is that you can always try and invest and experiment with something more. 
These catcher's gloves come with a break-in of 80% and 20% is to be done with you. The Player Preferred series come with adjustable straps making these easy for you to adjust during the game. These absorb all the shock that comes to you in the form of hard-hitting balls pitched toward you.
Pros: 
Affordable 
Comes in game ready 
Comes ith good protection 
Cons: 
Durability is highly compromised 
Frequently Asked Questions 
Should I get a 33 or 34 Catchers Mitt? 
 So to put it simply this all depends on personal preference and how your playstyle. The 33" glove gives more mobility and flexibility to work with while the 34" glove gives a larger target for pitchers and, therefore, trapping the ball is quite easier. 
Are 35 inches catcher's mitt too big? 
So 35 inches according to me is quite big since it's too huge to control the ball with and it might provide a good catching surface area, but it will be quite difficult to control. You need somewhere around 32.4 to 34.5 inches for optimal control and securement of the ball. 
How do I know what size catcher's mitt I need? 
If you wanna know what size is best suited for you. You should experiment with different options that are out there. You can also measure the circumference of your hand just above the thumb and below the knuckles.
Can Catchers use first-base mitts?
Yes, catchers can use first-base mitts if they want to that is. Catcher's mitts are designed to have extra padding and a deeper pocket to accommodate the demands of catching, some catchers may find larger and flexible much more better in a first base mitt rather than what they use in a Catchers's mitt. 
Conclusion
Personally, any type of glove is good for you, if you are willing to commit to a particular type of glove then go for something expensive. But if you wanna try and test out different options then you should go for something on the cheaper side that won't last you that long. This all depends on your personal preference after all.