If you're an avid baseball player or a professional catcher, then you know the importance of having a high-quality catcher's mitt.
A good catcher's mitt is an investment that will help you perform better on the field, making your catching job easier, and preventing injuries.
But, what is your budget, and what size do you need?
Considering every factor, I've chosen the products that will fit under every category.
In this article, we will explore the best catcher's mitts in 2023 that are both cheap and expensive, and the features that make them stand out.
So, let's check them out!
Comparison of Best Catcher's Mitts in 2023: Affordable and High-End Options
| | | | |
| --- | --- | --- | --- |
| | | | |
| Wilson A2K Catcher's Mitt | Has an extended palm and deeper pocket | | |
| All Star Pro Elite Series Baseball Catcher's Mitt | Has a stiffer feel and holds its shape longer | | |
| Wilson A2000 Catcher's Mitt | Made with American Pro Stock Steerhide Leather | | |
| Akadema AGC98 Prodigy Series Glove | | | |
| Mizuno Prospect GXC105 Youth Catcher's Mitt | PowerLock Technology for a secured grip | | |
Best Catcher's Mitts in 2023
Wilson A2K Catcher's Mitt
Wilson's new addition to their industry-leading baseball gloves is the A2K M1D Baseball Catcher's Mitt.
This brand-new model offers a lot of impressive features that catchers will be sure to instantly love. Like the other models manufactured by Wilson, the A2K catcher's glove is made with Pro Stock Select Leather chosen for its consistency and lawlessness.
I am impressed with the design of this thing and the attention to detail from the company should be praised! I mean, this is an all-around product and I can guarantee that you would say the same after getting your hands on it!
It is guaranteed durable and has incomparable break-in as the other gloves in the A2000 series. If you like the Wilson A2000 series but you want a more updated version, then this is the best catcher's mitt for you.
The main difference in the construction of this glove compared to the previous ones is the all-new SnakeSkin style incorporated in this glove. It offers a sleeker and more attractive look while ensuring that the glove holds its shape for longer.
This glove features an extended palm and deeper pocket to help reduce rebound when catching fastballs or breaking balls. It also has Double Palm Construction which is a thin piece of leather placed between the palm liner and outer shell for maximum pocket stability.
The A2K M1D Baseball Catcher's Mitt measures 33.5 inches and is suitable for right-hand throwers.
I am absolutely baffled by this product. For me, the quality of the product is top-notch and I think what makes it even better is the grip. If I have to buy the next gloves, I am definitely ranking this high on the list.
All Star Pro Elite Series Baseball Catcher's Mitt
This All Star Pro Elite catcher's mitt is one of the most popular mitts worn by many pros designed for all the serious baseball players out there. It is made with only the finest materials and hand craftsmanship by All Star to ensure top-tier quality on the mound.
The exclusive Japanese tanned steer hide material gives the gloves maximum durability that is certain to last for a long time.
It has a stiffer feel and holds its shape longer compared to other mitts perfect for elite players. Because of its stiff feel, it can take some time and more work to break in this glove, nonetheless, once broken in, this glove will fit and snug your hand like a dream.
This glove is available in multiple sizes to fit your preference. You can get it in 32-inch, 33.5-inch, and 35-inch sizes.
It has an extended pocket and a deeper profiled toe to heighten your ability to trap and secure fastballs as well as scoop down grounders and low pitches. The Reinforced Closed Web is also employed for added catching support
It has an open-back design to provide more flexibility in the wrist and hand for better hand movements. It also has a finger hood for a snug fit as well as a Velcro wrist strap to keep the glove tightly secure around your wrist.
Talking about my personal verdict, I think the approach of the company is quite clear and that was delivering a splendid product. And I am pretty sure, they have managed to achieve to do so.
Wilson A2000 Catcher's Mitt
Another excellent baseball glove by Wilson is the A2000 Catcher's Mitt developed specifically for active catchers behind the plate. It is crafted with an American Pro Stock Steerhide Leather meticulously selected due to its rugged durability, firm structure, and unmatched comfort.
It has a stiffer feel so you might need to do a little work when breaking it in, however, it also has a smoother break-in process which enables you to shape the glove to conform to your hands better allowing you to gain the best fit possible. Inside the glove is the Dri-Lex Wrist Lining to keep your hands cool and dry making this glove a perfect all-season mitt.
This catcher's mitt has an open-back design giving you more freedom on your hands and wrist for better responsiveness. It utilizes a Half Moon Web pattern that creates a deeper pocket needed by catchers when catching fastballs and moving fastballs allowing them to secure the ball from their grip.
It also offers more flexibility to prevent the ball from popping out the mitt. It also has dual welting for improved pocket stability and better support.
The Wilson A2000 Catcher's Mitt is available in a 33-inch size which can fit high school to adult-sized hands.
Okay, that was a lot to talk about. But you know, that it would've been criminal for me to be ignorant about all of the banger specs this thing comes with. I am in love with this product and I definitely rate this high.
Akadema AGC98 Prodigy Series Glove
The Akadema AGC98 glove is designed by Hall of Famer Gary Carter who is an American professional baseball catcher to ensure the gloves have all the features and designs that all catchers, whether a beginner or a pro, will need and love.
It also utilizes several technologies developed by Akadema to guarantee the highest quality and most efficient catcher's mitt for all baseball players.
The glove features Akadema's patent-pending Stress Wedge technology placed between the index finger and thumb which offers shock-absorbing protection for the hand against injury and sting when receiving the ball.
It also offers two additional Finger Hammocks allowing the fingers to be firmly positioned and more secure in the glove to prevent the ball from escaping the catcher's grip.
The overall design of the AGC98 glove mimics the praying mantis position to facilitate better ball grasp and security. It has increased pocket size and easier ball retention while allowing easier ball release and transfer.
The glove uses a spiral lock web pattern that provides improved catching support without losing control over your hand positioning.
The glove is handcrafted with a select U.S. Steerhide pocket, AkademaLyte leather on the back, and Akadema ¼" Rawhide lacing. It has a 32-inch circumference pattern and is available for right and left-hand throwers.
However, some mentioned that the leather is not as soft and flexible making it hard to break in the gloves and the quality of the leather appears to be rubbery but not soft.
I know I know! You're already impressed! I mean who wouldn't be? I am keen to know about your thoughts on this product!
Mizuno Prospect GXC105 Youth Catcher's Mitt
Mizuno Prospect GXC105 catcher's mitt is probably the best catcher's mitt for high school and youth players currently available in the market. It has features designed to help younger players improve their catching skills.
First is the PowerClose Technology that helps younger players who are struggling to have a secure grip on the ball to close the mitt with less hassle and effort which is essential as a catcher.
It also has PowerLock technology to further help for easy mitt open and close by removing the last two loops on the webbing to increase flexibility and to make sure that the catcher retains his secured grip once the mitt is closed.
The glove features a PU ButterSoft Palm Liner that is incredibly soft without sacrificing durability. It also has Mizuno's exclusive Parashock Palm Pad that efficiently absorbs the impact from catching aggressive pitches to minimize the risk of pain and to reduce the sting feeling when catching.
The Mizuno Prospect GXC105 Youth Catcher's Mitt is available in both right and left-hand throwers and comes in 32.5-inch size. It is also made with soft leather making it easier to break-in for immediate use, however, some stated that the leather is a little too soft and tends to lose its structure quicker.
According to me the most impressive thing about this product is its build quality. It's solid and I am pretty sure that it would be able to endure the workload for a long time!
Things to Consider Before Buying a Catcher's Mitt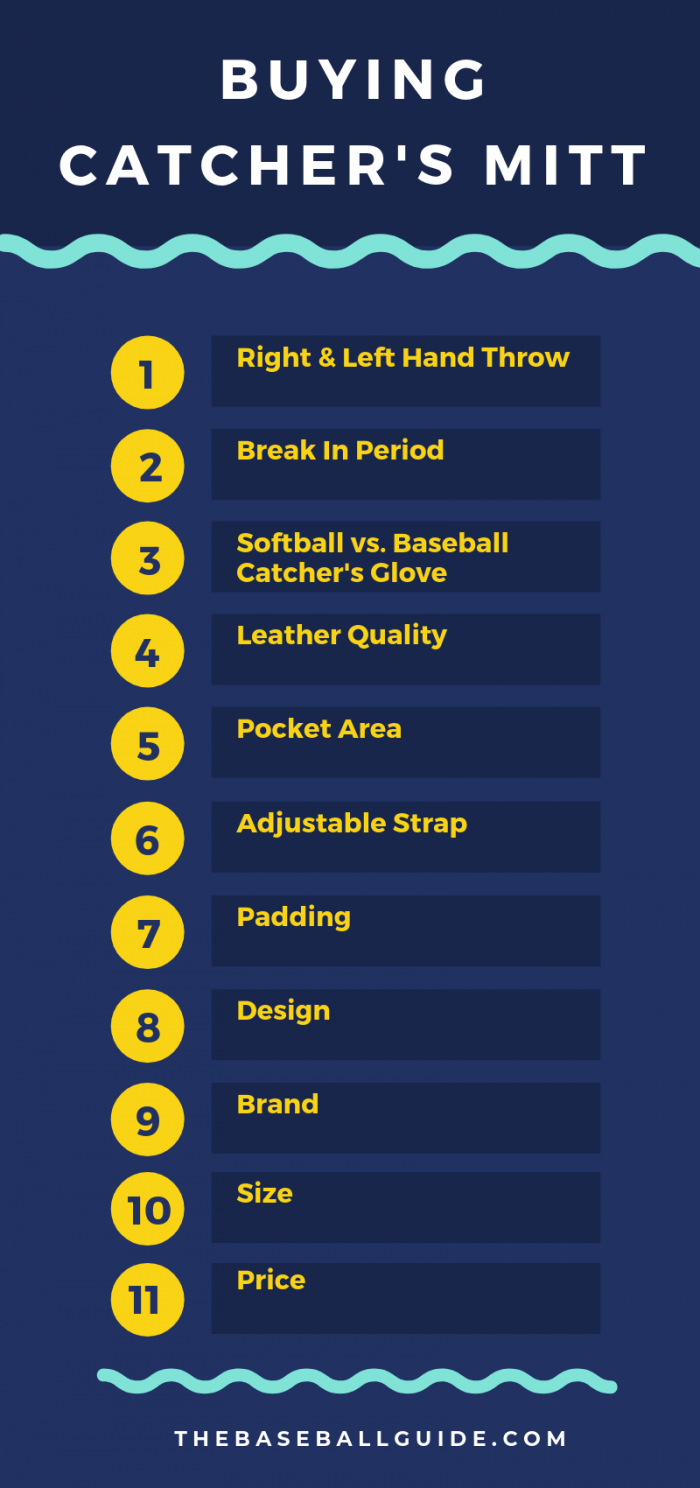 Right Hand Throw vs. Left Hand Throw Mitt
On e-commerce websites like Amazon, you can find both types of mitt (Left Hand Mitt and Right Hand Mitt).
But, sometimes, buyers get confused, and they purchase a mitt for the wrong hand. So, you should be careful about that.
Now, the question is,
How to tell if the mitt is for left hand or right hand?
On the major e-commerce websites, they clearly state that a particular mitt is for "Left Hand" or "Right Hand."
On Amazon, you'll see that mostly they describe it as "Left Hand Throw" or "Right Hand Throw."
Left Hand Throw: The "Left Hand Throw" means the player who throws a ball using his left hand, and therefore, he'll need a mitt for his right hand.
Right Hand Throw: The "Right Hand Throw" means that the player who throws a ball using his right hand, and therefore, he'll need a mitt for his left hand.
So, if you throw a ball with the left hand, then you need to buy a mitt of "Left Hand Throw," "Right Hand Glove," "LHT," and "RHG."
While, if you throw a ball with the right hand, then you need to buy a mitt of "Right Hand Throw," "Left Hand Glove," "RHT," and "LHG."
Easy to Break-In
Your new catcher's mitt must be easy to break-in.
If you go to a shop, and the shopkeeper tries to sell you a baseball glove by saying that there is no need to break-in, then he is lying.
Whether you are purchasing a 350$ catcher's mitt or just a 45$ glove, there is at least little requirement of breaking in.
The break-in time may be less because the company has already done some work on it. But, if someone says, there is no need for a break-in, then it is not correct.
So, if your mitt is easy to break in, then the glove will adjust according to your hand quickly. Otherwise, you may have to try some methods to break in the mitt.
But, after breaking in the mitt, it does not affect the performance.
So, it is incorrect to say that the mitt, which is easy to break-in, will give better performance as compared to other mitts that take some time.
You can watch this video to learn about how to break-in the glove. You can also watch this video that also explains breaking in mitts.
Softball vs. Baseball Catcher's Glove
There is a little difference between the baseball and softball mitt.
As the softball is larger than the baseball, therefore, to catch the ball, softball mitts have deeper pockets and thinner sidewalls.
So, do not buy a softball mitt by thinking that both the games are similar. This mistake can affect your performance. So, it'll be good to acquire all the information about how baseball gloves are different from softball gloves.
Leather Quality of Mitt
The quality of the leather is a significant factor that determines the price of a mitt.
Usually, the cheap mitts are made from synthetic leather or pigskin leather. So, they are soft and not very durable.
While high-priced gloves & mitts are made from high-quality leather that can be from steer hide or the leather from exotic animals.
You should note that the quality of leather determines how many seasons your mitt will last.
So, please, do not take it as the cheap leather mitts will be a hurdle in your performance.
The only difference quality of leather creates the durability of the mitt.
For young players, the quality of the leather is not a deal-breaker.
If a 12-year-old baseball catcher buys a 300$ mitt because of its durability, then he may not be able to use it for the next 2 to 3 years. At this age, the body grows, and after one or two years, he will need another glove.
So, in my opinion, for youth, there is no need to invest in high-quality leather mitts, because you have to buy another one after some time.
If you can afford it, then go ahead, your son or daughter will really love that mitt.
Pocket Area of the Mitt
Your glove should form a functional pocket that can hold a fast-coming baseball.
With the perfect size pocket area, it becomes very easy to catch and control the ball.
The pocket area really affects the performance, so if you are purchasing the mitt from a sports shop, then you should take a close look at the pocket area.
If the pocket area is shallow, then it may be challenging to catch and hold the balls. At the same time, a deep pocket gives you comfort and helps you to capture and hold the ball in your mitt quickly.
So, the catchers should go for the mitts with a deep pocket.
Mitts with Adjustable Strap
In some catcher's mitt, you'll get an adjustable strap.
This strap is beneficial to tighten or loosen the mitt.
But, mostly, you'll not find it in the mitts and gloves because it is not very necessary.
Yes, if your mitt has an adjustable strap, it'll be helpful and give you another reason to buy a specific mitt.
But, it is not a deal-breaker.
So, you should not reject a good quality mitt just because of the absence of an adjustable strap.
There are very fewer mitts in which you'll find an adjustable strap.
Yes, it is helpful for some players, but for most of the players, it is not necessary.
If you want to see a budget-friendly mitt that comes with an adjustable strap, then take a look at Wilson A360 Youth Catcher's Mitt.
While, if you want to see a high-priced mitt that offers an adjustable strap, then take a look at All-Star Pro Elite CM3000SBT Catcher's Mitt.
If you want to know more about CM3000SBT Mitt, then you should read my other article about the All-Star Pro CM3000SBT Review.
Padding
The catcher's mitt should have the right amount of padding so that it can absorb the shock. But, at the same time, you should also be able to catch the balls easily.
Some infield players prefer super skin models and shallow pockets, but that depends on the position.
So, you need a mitt having the right amount of padding that can absorb the impact of fast-coming pitches.
Looks
This depends on person to person.
Some catchers like dark color mitts while some prefer a light one.
Here, one thing that you should consider before buying a mitt is that sometimes people buy mitts by just looking at their appearance.
The appearance of the glove matters, but the performance is more important than looks.
I think almost all the mitts are nice looking. You just need to take proper care of it and clean it from time to time.
Brands that make Catcher's Glove
Many popular brands manufacture youth catcher's mitt for baseball players.
But, some brands dominate the field of catcher's mitt.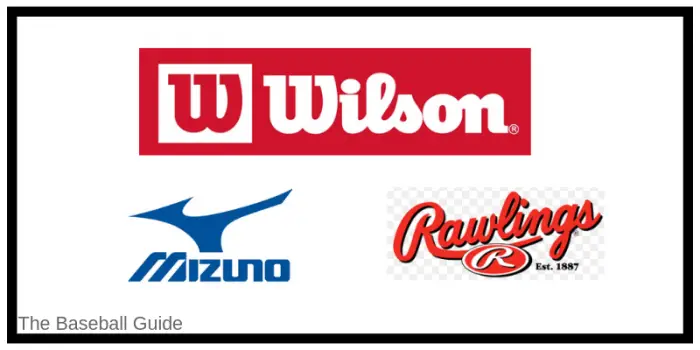 In most of cases, young players prefer buying mitts of the below-mentioned brands:
Wilson
Rawlings
Akadema
Mizuno
All-Star
It doesn't mean that the brands other than the above-mentioned don't manufacture good mitts.
There are also some other brands like Easton, Nokona, Marucci, Louisville Slugger, and a few more that manufacture good quality mitts and gloves.
But, as I told you earlier, in the market of the mitt, some brands are more dominant over others.
Price
You can buy a catcher's mitt in the range of 35$ to 400$.
It depends on you how much you want to spend.
One thing to keep in mind is that, if you are buying a mitt for youth like 12 or 13 years old players, then you should not purchase an expensive glove.
The high-priced mitts are more durable and last for many seasons. But, at this age, children grow fast.
Therefore, the mitt they are using now may not be a proper fit for them after 2 years.
So, you may have to buy another mitt of large size after 2 to 3 years.
But, if you can afford a high-priced mitt again after 2 years, then go ahead. Your son or daughter will really love professional mitt.
However, as a general rule, you can find a good mitt at under $100. But, if you want to invest, then you can also find a $300 mitt.
Perfect Sized Mitt
When buying a catcher's mitt, size is one of the most important things.
You can ignore design, looks, adjustable strap, or brand, but you can't ignore the size.
I can't give enough stress on that.
The mitts are measured differently as compared to the baseball glove. The mitts are measured from the circumference of the glove for capturing the entire catching area of the mitt.
Generally, under 13 years old catchers need 32.5 inches or less, while for above 13 years old catchers, they need 32.5 inches or more.
What size catcher's mitt good for high school?
The most common size of the catcher's mitt for any child in High School age is between 32.5 to 34 inches. Some children prefer a large glove with a larger catching surface, and some prefer a small mitt for a quicker ball transfer. On the other hand, for 13 to 14 years old children, a 32-inch catcher mitt can be the right choice.
What size catcher's mitt good for the youth?
When it comes to the young baseball catcher, sometimes it depends on the ability of the catchers, which demand their defensive status and acquire their own pitcher's trust.
In every game, the ability of the catcher to receive the ball makes a difference in every game they play. In general, young catchers of 8 to 10 years old wear 30 inches to the 31-inch mitt. On the other hand, children between the ages of 11years to 13years can wear mitt sizes 30 to 32 inches.
How to Measure Size of a Catcher's Mitt?
There is a difference between a baseball glove and a catcher's mitt as the mitt doesn't have individual fingers. The mitts are designed in such a way that they can control wild pitches more comfortably than any outfielder's glove.
Because the construction of the mitt is different from the glove, therefore, a different way to measure the size is required. The circumference measures the catcher's mitts, and they can range from 31 to 34 ½ inches. This is the overall size for the standard mitts from the top brands. To get a more specific size, you may need to have a more customized mitt.
Final Words
These are not the only mitts that are available out there.
There are also some other great mitts that you can try and purchase because without it, you can't become a good catcher.
Even, you should also try a different mitt this year, and see how it goes. There are many great options available in 2023.
But, whenever you go out for purchase, make sure you understand that a high-priced mitt will last for a few years because of the high-quality leather. You may also want to buy a glove that helps you in catching signals.
So, you may not want to spend that much amount on catchers gloves for high school baseball because you may have to replace the glove after some time.
But, you should also note that the high-priced mitt also takes some time to break in. You can't expect that both the high-priced and budget-friendly glove will break-in at the same amount of time.
The other features, like design, adjustability, are essential factors, but they are not the deal-breakers.