You must be looking for the perfect catcher's mitt for your child. I know this can be difficult because most brands specialize in children's baseball mitts. But what about youth catcher's mitt, are they really worth it?
Well, I know the painstaking process of trying to find the right brand, that ensures your child's comfort while also giving them enough liberty to move flexibly with it. 
So I've come up with a list that has the best mitts catered towards your child's taste. 
Best Youth Catcher's Mitt for Baseball
Rawlings R9 Youth Pro Taper Mitt 
First on the list we have Rawlings, I'll put it out there blatantly but one can never go wrong with Rawlings! These mitts are absolutely perfect because they come in great quality and the right type of designs catered towards your child. 
The Rawlings R9 Youth Pro Taper Mitt mitts are game ready right out of the box, they come in with a soft, durable all-leather shell that is specifically designed to play with right away. They are 32" which is actually perfect for kids who are in the age range of 14 and above. 
I suggest that if you buy these mitts bring them for your kids who are already committed to playing on the field and will be able to perform with these mitts flexibly. Let's also consider the fact that the mitts are designed to be lightweight, therefore making mobility all the easier.  
Not to mention that these mitts are recommended by most MLB players out there, so your kid is gonna feel like the Pros in no time!
Pros: 
Pro Design 
Lightweight 
Durable and longevity 
Perfect for 14 ages and above 
Cons: 
Can be on the expensive side 
Wilson A360 Catcher's Mitt 
So we have the Wilson A360, the mitts right off the bat are super cheap so that's a plus point if you are looking to clearly experiment with different types of mitts for your kid. 
Let's talk quality-wise, we know that the Wilsons are quite longstanding in terms of name and fame, right after Rawlings, so with utmost honesty, these mitts are your best bet to go for your kids in the early stages of baseball learning. They have a carbonite shell leather that helps to lose the weight of the mitt thus making it lightweight. 
These mitts are the best catcher's mitts for 12 years old since they come with a size specification of 31.5 inches which makes them perfect for 11 -13 year kids. Moreover, these mitts have adjustable velcro straps making them perfect, if the size doesn't seem to fit your kid then the adjustability factor really comes into good play. 
Pros: 
Budget-friendly 
Adjustability factor present 
Carbonite leather for lightweight property 
Cons: 
Wear and tear easily created 
Longevity compromised 
Best Youth Catchers Mitt for Softball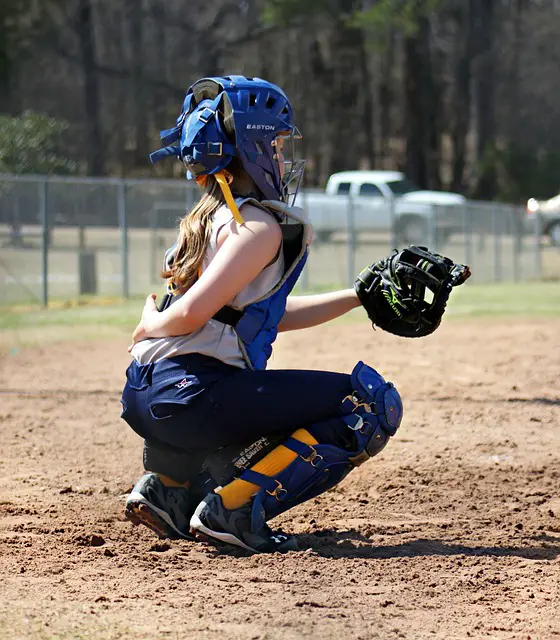 Rawlings R9 Series Softball Mitt 
The Rawlings R9 series Softball mitt is a perfect combination of flexibility and mobility. The mitts are designed to give comfort to kids while enjoying the most there is to the game. 
The mitts are designed and approved by Pro Fastpitch Elite players which makes these extremely useful. Let me also add that these mitts have an H web present allowing a perfect pocket to be found, without the need for you to try to shape them. 
These mitts are the best softball catcher's mitts for 10 years old. They come in 33 inches which is quite perfect for softball. They have padded thumb loops and reinforced palm and finger back lining to protect your kids from all those extra hard hits that come your way. The Rawlings R9 Series Softball Mitt also come in game ready and with adjustable straps, making them the ultimate mitts for your kid to show their skills off. 
Pros: 
Ultimate Protection 
Game ready 
Durable 
Perfect for 10 years of age 
Cons: 
They come in a little pricier than most mitts
Mizuno Prospect GXC112 Youth Catchers Mitt 
The Mizuno Prospect GXC112 youth catcher's mitt comes at a very affordable price. So if your kid is in the initial stages of learning baseball then this is the best mitt, since your child can always try and test out other mitts. 
They come in 31.5 inches which is perfect for 10 -12 years of age so that they can try and hone their skills. The mitts come with durable laces that they offer in most of their professional-level mitts. The Mizuno Prospect mitts come with Bio Soft Leather, they have the perfect balance of softness and firmness that gives your kids some sort of control whilst playing on the field.
These mitts come in both hand orientations. The mitts come in game-ready so, kids do not have to worry about the breaking in of the mitts or any other factor. Overall the Mizuno Prospect GXC112 mitt series is really a great choice of mitts to choose from. 
Pros: 
Affordable 
Come in game ready 
Perfect for the age group of 10-12 years 
Cons: 
The durability factor is highly compromised 
Conclusion 
In the end, this all depends on what your child wants and seeks. You can choose the types of mitts that are suggested here, but when it comes down to performance and playstyle you'd know what's best for your kid. 
You might have to try and test out a few of the options that are presented here to see what's best suited and well-catered to your kid's taste. If your kids are really committed to getting into the game, then the expensive ones are worth your short. But if your kid is indecisive, then I'd suggest going with something cheaper for the timing.