Let me guess, you are looking for the ultimate bag that will carry all your sporting equipment and hold them, together in place as well? 
Well, fear no more! I'm here to give you a detailed review of the best softball bags. 
I'll get right into it! 
Best Overall Softball Bag
Rawlings Storm Girls Softball Bag
The Rawlings Storm Girls Softball bag is perfect for game day. The bag is perfectly designed to store all components of your sporting equipment. It has perfectly designed pockets for strategized compartment organization. A large main component with dual zippers to store your major sporting gear. 
They also have a separate compartment, which comes with bat sleeves to store your bat. The bag is designed to be extremely durable and comfortable as well, this bag includes padded shoulder straps and back paneling to ensure you carry your bag in comfort. They have an integrated fence hook, to keep your softball bag out of the dirt, mud, and grime, making your gear stay ready for action. 
Pros: 
Storage space 
Padded shoulder straps 
Comfort 
Pockets for each sporting gears
Cons: 
Best Youth Softball Bag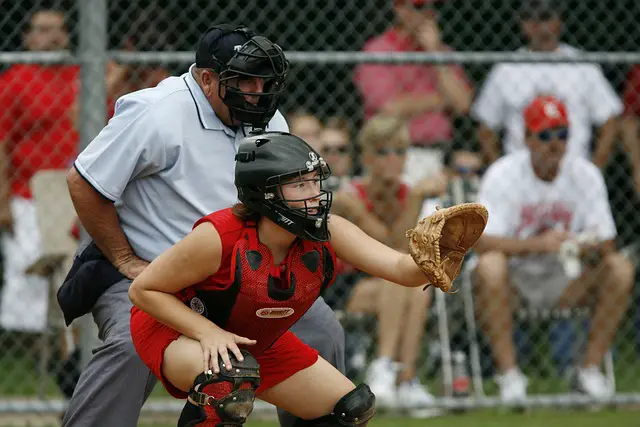 Easton Game Ready Softball Bag
EASTON has always specialized in delivering the best sporting goods. They have the best type of bags and are catered to the people's taste as per they want it and what they desire most in a bag. These are designed for intermediate players and will be game ready in no time. 
The bag also has a big main compartment, that is super easy to store. This compartment can fit both batting and even a ball glove. They have two mesh side pockets. That can either fit a bat or even your water bottle. They also have a front pocket for easy storage of your personal items or anything else that you wanted to be separated from your gear.  They also have padded back and shoulder straps for easy carrying and comfort. Moreover, these also have fence hooks to keep your bag away from the dirt or grime protecting your gear easily. 
Pros: 
Padded back 
Shoulder straps 
Easy compartment 
Fence hook 
Cons: 
Best Rolling Softball Bag
Easton Wheeled Softball Bag
This wheeled bag is perfect for any softball player to carry their equipment quite easily. They have all the features that you need in a baseball bag, they are absolutely perfect to carry anywhere and everywhere. The company makes the bag durable enough to survive the long rigors of its being used. 
This feature ultra-durable construction which is pretty neat if you ask me. Then they also have a top-vented compartment which is ideal for helmets, ball gloves, or cleats. So this is really great in order to separate the rest of your sporting gear from your cleats. They have a large pocket for personal organization. A center padded compartment that will fit up to 6 bats. They have inline skate wheels for smooth transportation, which will be super easy to carry anywhere and everywhere super easily. 
Pros: 
Durable construction 
Inline skate wheels 
Center padded compartment 
Ventilated pocket 
Cons: 
Can be on the pricier side
Other Great Softball Bags in 2023
Matein Softball Bag
The MATEIN softball bag is another great option for you to consider on your next splurge of spending. If you are looking for any other great option other than the ones listed above then this is definitely the one. So if you wanna try something for a change then this is the best one out there. 
These have a great dimension in order to keep your baseball or even softball equipment quite easily without even the hassle of trying to fit each component. This is spacious enough to fit most of your sporting equipment easily without even trying too much. They have 2 side pockets and even a water bottle space to carry your goods, so once again super handy. These are also super lightweight and comfortable. They also have a shoe compartment for easy storage and retrieval whenever you need them. 
Pros: 
shoe compartment
Water bottle storage 
Bat storage 
Good enough storage
Cons: 
Athletico Softball Backpack
This is also a really great softball bag. They are water resistant, which may be already too early to say but these are really the best fastpitch bags out there. They have the game ready with all your gear in one place, perfect for youth to adults. These are made of breathable and ventilated fabric which can air out your cleats quite easily. 
This also has really great storage area, with a large main storage area, they even have extra spaces to hold the key and an extra pocket to hold the keys, smartphones, wallets, and more. So they are pretty good honestly in terms of giving you the best type of backpack. Bags also feature an integrated fence hook for the dugout. A front bungee cord to store hats and even gloves. They also have a vented shoe compartment for easy airing out. 
Pros: 
Bungee cord for hanging hats or gloves 
Compartment 
Easy storage 
Fence hook 
Cons: 
Easton Reflex Fastpitch Backpack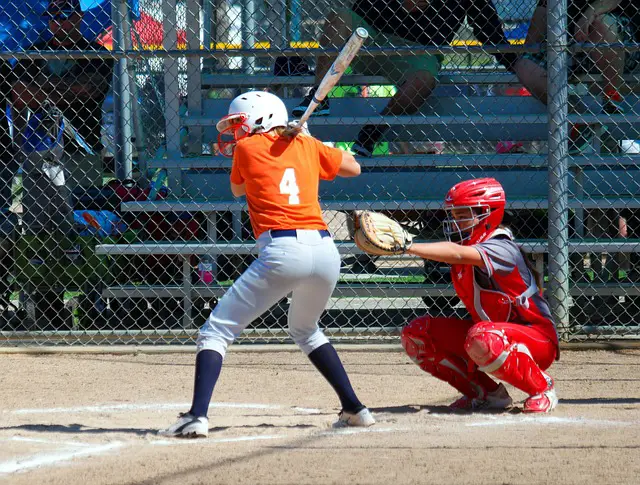 The EASTON Reflex fastpitch backpack is one-of-a-kind and is perfect to take your sporting equipment to the next level of storing and accessing easily. They have a spacious main compartment where you can store your helmets, bats, or any other sporting equipment. This also has top-loading compartment access that allows you to easily access your gear. 
Two full-length bats also can be stored easily as well. They have also expendable mesh pockets which can easily store your shoes so you have enough breathing area for airing out your shoes so that the odor doesn't escape or go through your other sporting goods. So they are pretty good if you ask me and are one of the best sporting bags out there. They are affordable and are a really great choice for those looking for other sporting options. 
Pros: 
Sporting compartment 
Ventilated pocket 
Affordable 
Cons: 
Easton E100T Softball Bag
The Easton E100T is the perfect fastpitch bag you can take out there. They have everything that you need in a bag. From the compartments to storing each and everything properly. The bag is designed for easy carrying and handling. 
They have a main compartment for storing easily and an easy tote bag design for easy handling and transportation. They have separate bat pockets that can hold 2 bats.  Fence hook for the bag to not get any dirt on your sporting gear while still maintaining integrity at the same time. They have a shoulder strap for easy handling and usage as well. So another great option for you to work with other than the bags suggested in this article. The Easton E100T will give you all the things that you look for in a softball bag. 
Pros: 
Easy storage 
Compartment segregation 
Easy to put in your softball gear
Cons: 
How to Choose a Softball Bag
Size and Capacity 
The most crucial thing is to seek something that can hold all of your equipment and personal items. You don't want to spend a lot of money on something that won't transport your belongings or that will just break after one use. Carry something solid and durable that has enough room to accommodate your other belongings. 
Durability 
This issue is typically taken into consideration while designing high-end bags. Something that can hold a lot of stuff and is strong enough to carry the majority of your belongings. Even with the smallest amount of power, bags should be strong enough to carry the majority of stuff. 
Comfort and Mobility 
If the bags you have can't be carried on the terrain you travel on, look for ones with thick straps. Since it shouldn't in any way hurt your shoulders, something that is simple to carry should be taken into account. Additionally, they must be equipped with wheels that can easily traverse any surface. 
Ventilation 
It is very obvious that this is really an important factor to consider when buying your catcher's bag. They should be able to ventilate any of your odorous and sweaty catching gears or cleats. 
Final Thoughts
There is the article and this is the list of the best bags out there that are easy to carry around plus they are awesome enough to work with and store your equipment quite easily. This is all up to your personal preference and the way you want to take your equipment.